The Gasparilla Pirate Festival is a Mardi Gras-like event that has been celebrated in Tampa, Florida, for over 100 years. It's named after a mythical pirate, José Gaspar (aka Gasparilla) who supposedly plied the southwest Florida waters in the latter part of the 18thcentury and early 19thcentury. It started when Ye Mystic Krewe of Gasparilla formed in Tampa in 1904 to celebrate the liberation of the city from this pirate. As with the Mardi Gras krewes in New Orleans, the purpose was to parade and party. It took hold, and the festival has been held every January, with a few exceptions, since 1904.
As with any festival worth celebrating, reasons to extend the celebration are often sought. That is the case with the Gasparilla Concours d'Elegance (https://www.gasparillaconcours.com). The concours also offered an opportunity to raise money for the Shriner's Hospital for Children in Tampa. It is more than just a car show, though. It starts with a reenactment of the 1909 Great Endurance Run from Tampa to Jacksonville. This year, the antique autos competing in the Endurance Run finished at Amelia Island and were displayed in that concours' Cars & Coffee event on Saturday, March 9, 2019. The run was won by Milt and Rosemary Roorda in their 1909 Ford Model T Speedster. The concours weekend, April 12-14, 2019, began with a charity cocktail party on Friday, had the concours on Saturday, and finished with a tour of historic Tampa.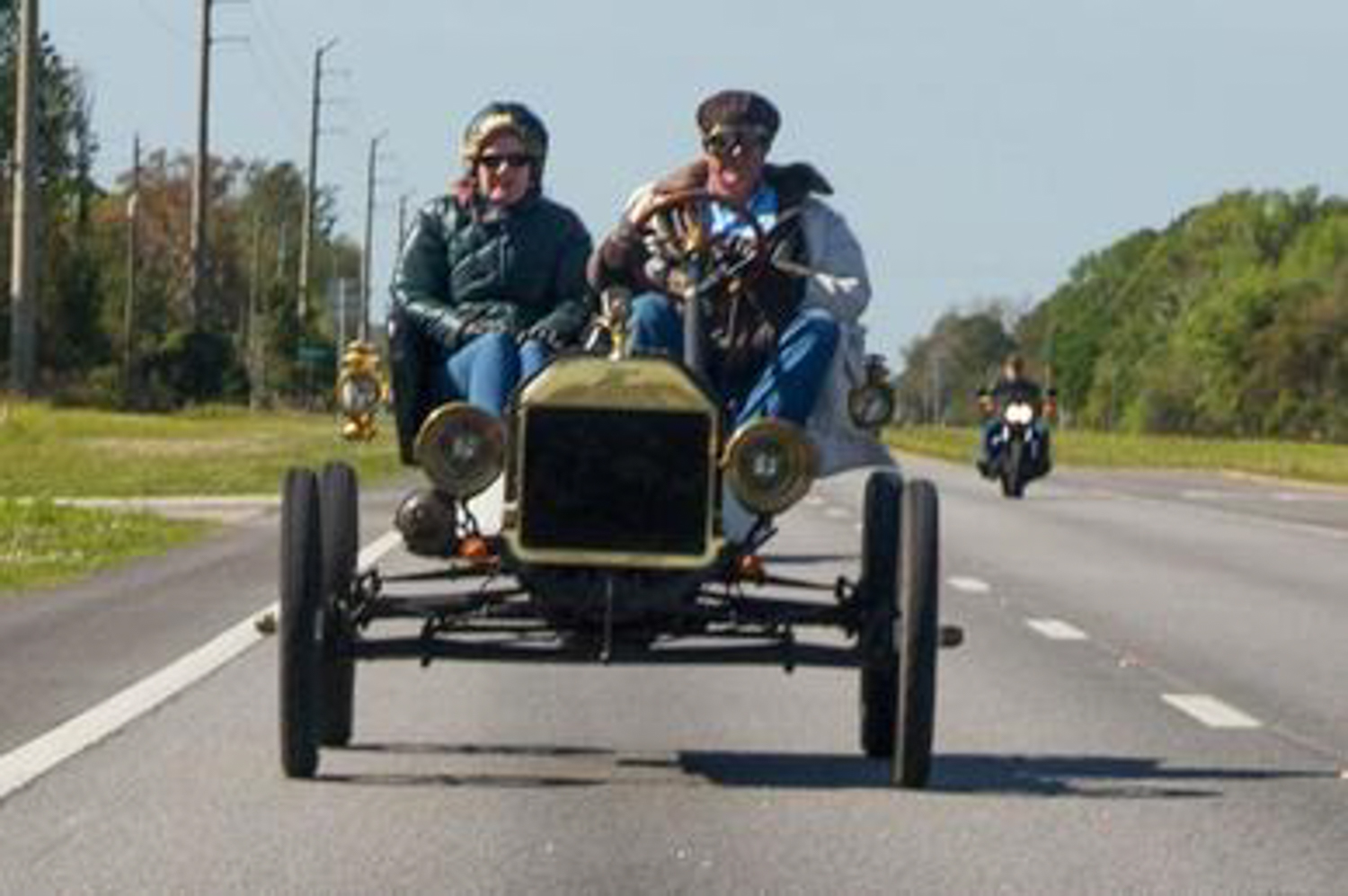 This was the first Gasparilla Concours d'Elegance, and, while there were a few glitches, it was a very enjoyable show. It is a relatively small concours, still including well over 100 cars and motorcycles, as well as a couple firetrucks and a replica of a 1770 Fardier de Cugnot, a steam-powered French artillery carriage – the first self-propelled vehicle in the world – created for the Tampa Bay Automobile Museum. Another important vehicle on display was President Woodrow Wilson's 1919 Pierce Arrow limousine on loan from the Woodrow Wilson Presidential Library and Museum in Staunton, Virginia, his birthplace. President Wilson first rode in the limo when he returned from Europe after negotiating the Treaty of Versailles that ended World War I. He was so infatuated with the Pierce Arrow that friends bought it for him after his second term as President.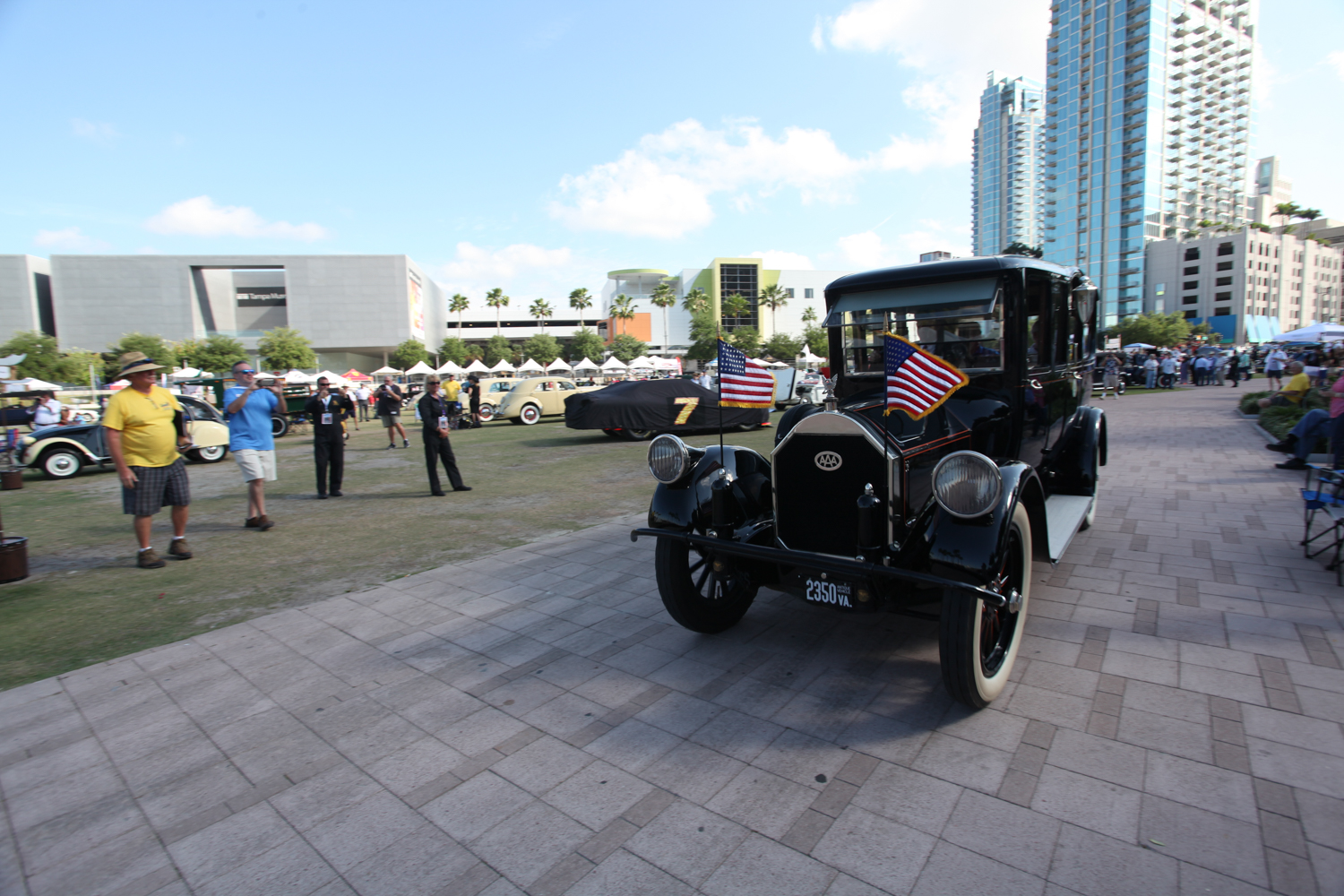 The field was eclectic. There were Brass Era cars, and there were American muscle cars. There were cars with engines as big as 428 cid and as small as 300 cc. There were beautiful cars and "ugly ducklings." The oldest automobile was a 1906 Ford Model N. The newest was a 2018 Chevrolet Camaro SS #7 racecar from JR (Earnhardt) Motorsports driven to five victories in the NASCAR Xfinity Series by Justin Allgaier.
The organizers did a fine job in arranging a beautiful location for the event, and they enticed owners of important automobiles to show their cars. As said, there were a few glitches, as can be expected at a first time event, but they were quickly overcome. Hopefully, the Gasparilla Concours d'Elegance will become a fixture on the calendar of shows – it's a keeper! And their goal of raising money for the Shriner's Hospital for Children in Tampa is an honorable one. They were able to donate $20,000 to the hospital this year; may they continue to raise funds for the hospital for many years.
Best of Show:
Concours de Sport – 1935 Jaguar SS1 Coupe, Eduardo and Michelle Zavala
Concours d'Elegance – 1954 Mercedes 300B, James Jones
Best in Class
Class 100 – Brass Era up to 1915 – 1913 Stanley Model 64, Marvin and Linda Feldman
Class 200 – Roaring '20s, 1920 to 1929 – 1928 Nash Model 336, Douglas Williams
Class 300 – Great Classics, 1925 to 1942 – 1940 Cadillac 60 Special, Bob Defreitas
Class 400 – Foreign Sports/Racing, up to 1959 – 1948 Allard M1, Frank Rubino
Class 500 – Foreign Sports/Racing, 1960 + – 1967 Datsun Sports 2000, Steve Tetreault
Class 600 – American Sports/Racing, up to 1978 – 1970 Oldsmobile 442 W40, Ron McHugh
Class 700 – Heritage/Preservation, up to 1978 – 1963 Chrysler Newport, Deb Rebuck
Class 800 – Heartbeat of America – Corvettes, up to 1978 – 1954 Chevrolet Corvette, Bob Patrick
Class 900 – Factory Muscle Cars, up to 1978 – 1965 Pontiac GTO, Tom and Linda Schmidt
Class 1000 – Foreign Cars, up to 1978 – 1957 BMW Isetta 300, Larry and Christine Pope
Class 1100 – American Production, Pre-War up to 1942 – 1936 Chrysler Airflow, Mark and Hillary Becker
Class 1200 – American Production, Post-War 1943-1978 – 1958 Ford Skyliner, Derek Hennecke
Class 1300 – Motorcycles, up to 1978 – 1961 Triumph Bonneville, Dan Mays
Class 1400 – Firetrucks, up to 1978 – 1929 White Firetruck, Tom Herman
[button link="https://sportscardigest.com//gasparilla-concours-subscriber-photo-gallery/" color="blue"]Subscribers click here for 3 more pages of photos from Gasparilla[/button]