Sports Car Digest and Vintage Road and Race are composed of writers and photographers from around the world, all focused upon providing authoritative content, commentary and stunning images to our audience of enthusiasts. In addition to many that choose to be anonymous, here are some of our amazing contributors.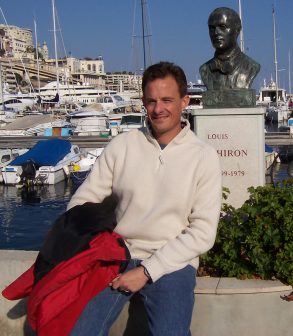 Casey Annis
FOUNDER & EDITOR (VRR)
Casey M. Annis is the Founder and Editor of Vintage Racecar/Vintage Roadcar magazine, the Petersen Museum's Finish Line and Petersen Quarterly, Alfa Owner, and The Oily Rag magazines. He founded Parabolica Publishing in 1997 after a career in biology, anatomy and neurobiology. Along with this passion for automobiles Casey is a long distance open-ocean paddleboard racer who's competed in the 32-mile Catalina to Manhattan Beach race and the 32-mile Molokai to Oahu race. Casey still contributes and writes about the world of vintage road and race cars and runs the daily operations for this website.
Our Team of Contributors & Authors
We have worked with hundreds of amazing contributors over the years and we want to make sure we thank them and showcase some of them here. Below we have listed all our current authors and photographers as well as people we have worked with over the years across both publications.
Brad Fox

Chris Willows

Chuck Andersen

Craig Edwards

Csaba Kiss

Dan R. Boyd

David Ferguson

David Gooley

Dennis Gray

Dirk de Jager

Dom Miliano

Ed Lenahan

Eli Solomon

Eric Drumwright

Fred Sickler

Gary Horstkorta
Griffith Bean

Hal Crocker

Howard Koby

J. Michael Hemsley

Jackie Buys

Jamie Doyle (SCD Founder)

Jeff Mach

Jeff Schabowski

Jeff Walker

Jim hatfield

Jim Richardson

John Wright

John Zimmermann

Jorge A. Guasso

Julien Mahiels

Karl Ludvigsen
Kyle Burt

Larry Edsall

Leigh Dorrington

Len Clarke

Lizett Bond

Louis Galanos

Marcel Hundscheid

Marco Zanello

Martin Swig

Michael DiPleco

Michael Stucker

Mike Matune

Pavel Novitski

Peter Falkner

Peter Lutz

Raffi Minasian
Rex McAfee

Rich Martin

Rick Carey

Rick Shultz

Robert Young

Roger Dixon

Sean Smith

Stephen Mitchell

Steve Natale

Steve Oom

Tim Scott

Tony Adamowicz

Trevor Ely

Victor Varela

Will Silk

William Edgar