Clemente Biondetti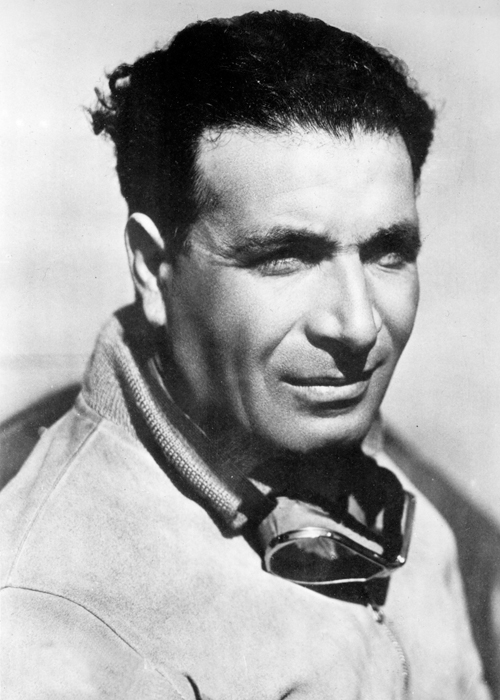 Describing Clemente Biondetti as colorful is like saying the Sears Tower in Chicago is tall. Unpredictable, imaginative, irascible, gentle, gruff, fascinating, stubborn, generous, outspoken, he was all of those things. He was also the only man to win the Mille Miglia four times, an extraordinary feat of skill, concentration and raw courage.
Born in 1898, Biondetti grew up to be a headstrong young man who did not like compromises, preferred everything to be straightforward and hated to be pushed around just a little more than he hated snobbery. He was forthright to the point of seeming brusque, yet underneath that jagged exterior was a kind and gentle person: as well as the greatest road racer of his day.
From an early age, Biondetti loved speed. He started racing motorcycles in 1924 and rode for Norton before progressing to four wheels, none of which sat well with his mother. She was saddened and disappointed that, instead of working with his brothers in the building trade, he had decided to become what she considered a sort of hare-brained playboy, risking his life racing bikes, then cars. But he kept her sweet by saying one day he would buy her a beautiful house and take her out in his expensive new car; and that is just what he did.
Biondetti first competed in the Mille Miglia in 1936 and showed the world what to expect in the years ahead: he came fourth in a sports car-bodied Alfa Romeo P3 Grand Prix racer, finishing just over 15 minutes behind his best friend Carlo Pintacuda.
An odd couple those two, because the diminutive Pintacuda was the quintessence of the Hollywood matinee idol, all immaculately slicked-back hair, Errol Flynn good looks and smart clothes: Biondetti's ponderous features and dishevelled appearance made him look like a peasant whose clothes were well-worn hand-me-downs.
Good looks or peasant's features, tailor's dummy or rumpled ruffian, the two of them dominated the Mille Miglia in the mid-to-late Thirties. Pintacuda scored two victories, a second and a third in the four races 1935-1938 and when Biondetti chalked up the first of his four wins in 1938 in an Alfa Romeo 8C 2900C, it was his friend Carlo Pintacuda who took second place, two minutes behind him in another Alfa.
Biondetti's first Mille Miglia victory was given little publicity, as he was a sworn enemy of the ruling Fascists and they knew it; the blackshirts put the word out and their puppet editors all but ignored the Florentine's success, turning it into a mute victory. Biondetti, who should have become a national hero that year, was furious.
Public opinion was outraged for another reason. During the 1938 Mille Miglia, a Lancia Aprilia cannoned off a railroad crossing in Bologna and tore into the crowd, killing three adults and seven children, so the Fascists banned the race. There was no Mille Miglia in 1939, but a race of sorts did take place in 1940. It was called the Grand Prix of Brescia, a watered-down affair aimed at minimizing public outcry, and was run over nine laps of an 103-mile Brescia-Cremona-Mantua-Brescia triangle. The winner was BMW 328 driver Baron Huschke von Hanstein, whose overalls were emblazoned with the insignia of the Nazi SS mass murderers. War had come to the Mille Miglia.
As the hostilities had stopped motor racing in its tracks, Clemente Biondetti decided he had better rearrange his life. First, he hid his Norton and Harley Davidson motorbikes in a remote barn amid the gentle rolling hills of his native Tuscany: then he set about organizing a new source of income. He and Pintacuda went into a business the rough-hewn Florentine grew to love: they bought and sold paintings. Little could be further from Biondetti's panel-beater appearance than the sophisticated world of art, but he was captivated by it and remained an art lover until his dying day.
Biondetti also joined the partisans – the Italian resistance – and fought the hated Axis forces and their collaborators until they were defeated.
In 1947, with the Fascists no longer in power, the press did justice to Biondetti's second Mille Miglia win for Alfa Romeo: he became a national figure at last.
And Biondetti's exploits lived up to his new hero status: in both 1948 and 1949 he won the Mille Miglia and the Targa Florio for Ferrari. He was making good money, too, but he spent a lot. He used to say, "Money is either round to roll around or paper so that it can fly. It should never stick to your hands." And it never did.
Between races, Biondetti did not really do much. He would prepare as well as he could for his races. Perhaps he would call in at Pasquino Ermini's workshop and socialize with the mechanics. Later, he set up his own workshop, where he employed three men and a boy; the lad was Michele Cortini, who became Clemente's riding mechanic in one of the three XK120s entered by Jaguar for the 1951 Mille Miglia. Unfortunately, the four-time winner retired when the XK's water hose burst.
Biondetti had no head for business: he was a racing driver, not a businessman. In fact, he never really had a job apart from driving race cars, but he did become involved in a number of projects. He started a restaurant, which later burned down, called "La Beffa" (The Practical Joke) in Via Bolognese, Florence, from which his friends would catch a brief glimpse of him competing in the Mille Miglia. He bought and sold property as well as paintings; he had his own workshop; he tried to build a car of his own design, but it was a disaster. The prototype had an engine made up of eight Norton cylinders, all in line. Not surprisingly, it never worked properly: everything went its own way and sounded like metallic madness.
There was no Mille Miglia glory to be had in 1952, when Biondetti's works Ferrari caught fire while refuelling at Siena. There was not much in 1953, when he could only manage eighth in his factory Lancia D20. But, with fatal illness tightening its deadly grip on him, Biondetti's fourth place in 1954 in a Ferrari 275S was the equivalent of a healthy man's victory. He came in little more than 49 minutes behind the winner, Alberto Ascari, having maintained an average of 82 mph for 12 hrs 15 mins 36 secs, just over 15 minutes behind third-place Luigi Musso. An outstanding achievement.
Ten months later, the king of the road was dead.