American racing legend Mickey Thompson was a man in a hurry. He competed in numerous types of motorsport during his career and was always at the leading edge. Among his many accomplishments, he was credited with inventing the "slingshot" dragster that put the driver behind the rear wheels for better traction; he was also the first driver to hit 120 MPH in the quarter mile and the first man on Earth to surpass 400 MPH, a feat he accomplished in the Challenger I, a four-engine Pontiac-powered land speed-record car of his own design and construction.
In the late 1950s, Thompson was more closely associated with Pontiac performance than any other racer on the American scene, so when Pontiac Division General Manager Semon "Bunkie" Knudsen was appointed to manage Chevrolet in 1961, it was almost inevitable that he would choose Thompson as an early recipient of Chevrolet's new 1963 Corvette Sting Ray Z06, Zora Arkus-Duntov's factory-weaponized racing Corvette.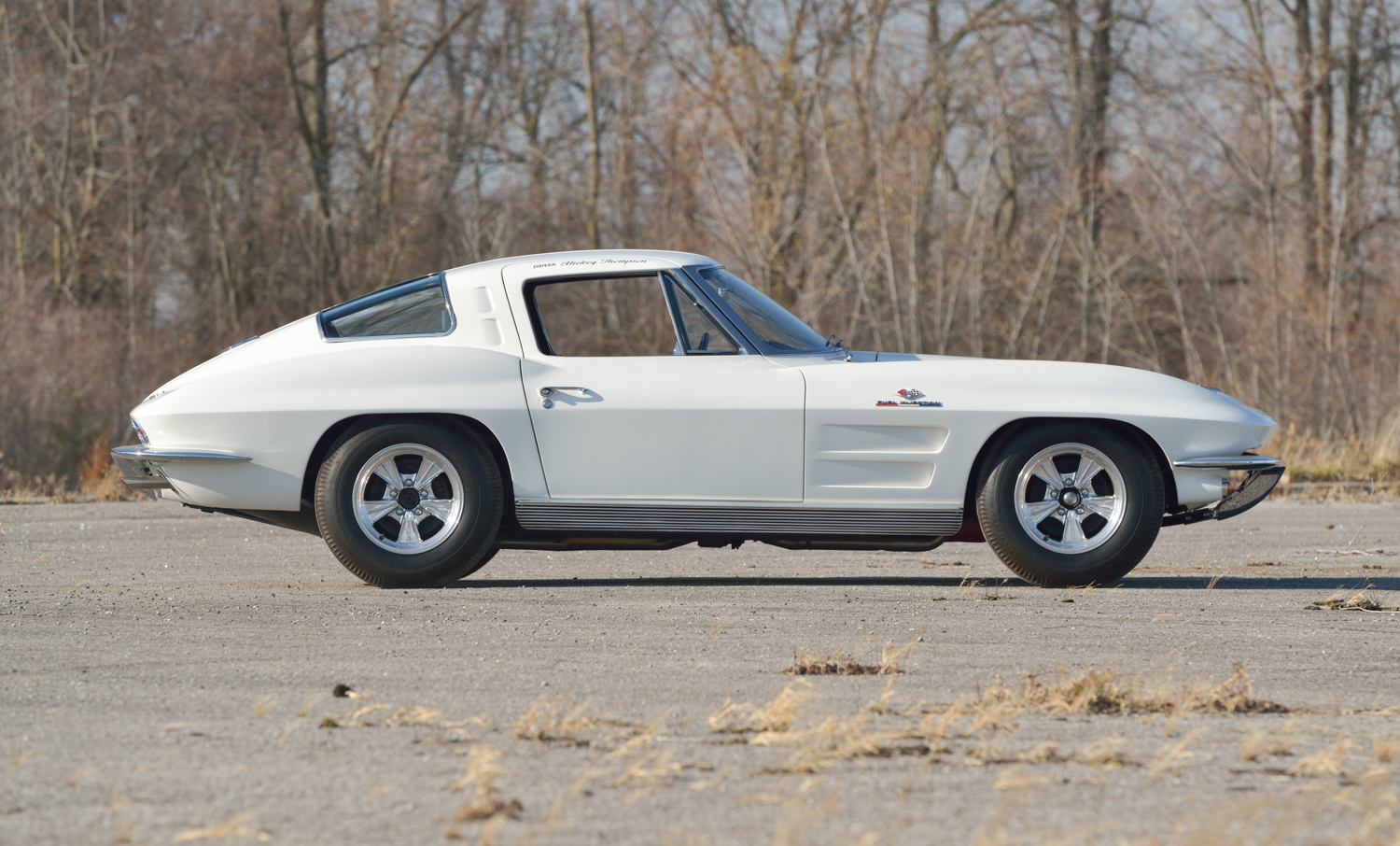 Thompson eventually came to possess not one Z06 but a total of five, a circumstance that has led to some confusion over the years as to their individual histories. The most persistent mystery has surrounded the car Thompson used as his personal driver and to promote his new line of high-performance wheels in partnership with Rader Wheels. Before delving into that story, however, it is necessary to revisit the histories of the other four Z06 coupes raced by Thompson.
Two Z06 coupes, a Daytona Blue car wearing No. 3 and a silver No. 4, were prepared with their factory 327/360 HP fuel-injected engines for the Daytona Continental Three Hours race on February 17, 1963. The other two, a silver No. 3 and a white No. 4, were modified with Chevrolet's secret new 427 CI "Mystery Motors" for the Daytona American Challenge race the previous day, February 16.
In addition to the 427 engines, these two Z06 coupes received numerous other modifications that were consistent with the methods used during that period by Holman and Moody in preparing cars for NASCAR competition. These included four extra shock absorbers, flat aluminum floors, frame reinforcement welds, a large adjustable front sway bar on a welded bracket and large exhaust exits through the frame rails in front of the rear wheels. Additionally, a reinforcing brace extended from behind the driver through the floor to the right front frame rail to counteract the G-force loads caused by the steep banking at Daytona. Along with these chassis modifications, one of the most unique characteristics was the oversized six-lug rear spindles and front hubs, in contrast to the standard five on production cars.
The fifth Mickey Thompson Z06, also white and bearing Serial No. 6844, remained in virtually stock configuration. For years, it was claimed that Thompson used this car in the 1964 Bonneville Speed Trials to test and promote Sears Allstate tires. The tests were highly publicized; photographs showing Thompson in a white Corvette Z06 coupe at speed on the salt were published throughout the automotive press.
When collector Mike Pillsbury discovered 6844 in Southern California in the early 1980s, he believed it to be the Sears/Allstate Tire Test Car, or the "Bonneville car" as it later came to be called. It was presented in Noland Adams' "Corvette Restoration Guide," and was also listed in the Big Tank Survey and the Registry of Corvette Race Cars. It was accepted into the Bloomington Gold Special Collection in 1995 and the Chicago Chevy VetteFest Ultimate Showcase in 1996. It received the NCRS Special Interest Award at Cypress Gardens Florida in 1997. It was then put on display at the National Corvette Museum for 18 months, during which it was shown at the NCRS National Meet in Collinsville, Illinois, in July 1998, where it again won the Special Interest Award. The car also appeared in over a dozen feature magazine articles.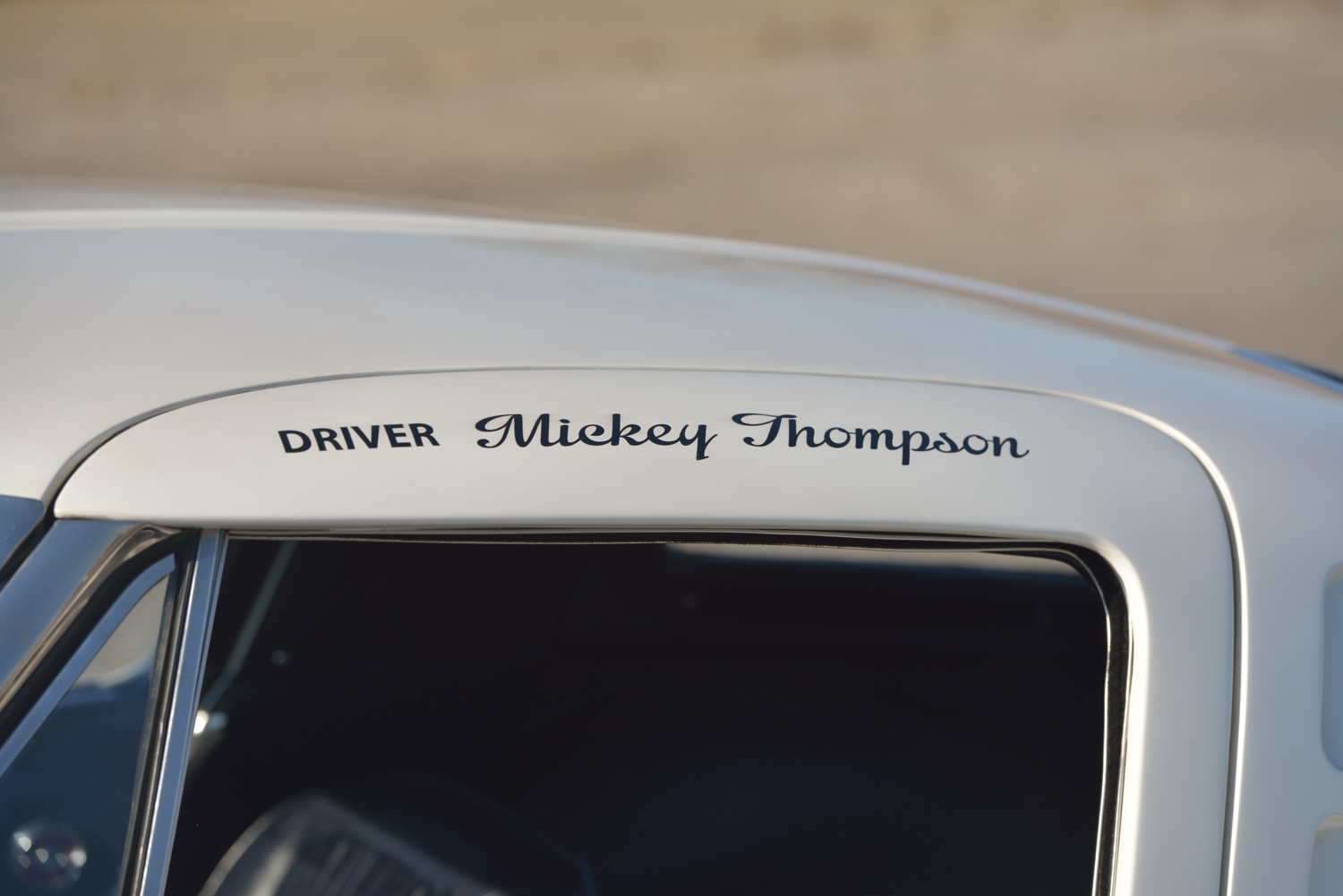 But the first hint of its actual history appeared early on when Pillsbury and fellow Corvette specialist Mike Scott discovered Thompson's Chevron credit card—featuring an expiration date of November 1964—inside the driver's door. Pillsbury confirmed the card's origins in a personal conversation with Mickey Thompson, and it has been part of the car's documentation ever since.
In 1994, Pillsbury sold 6844 to Bill Lacy of Florissant, Missouri. Lacy began restoring the car under the same mistaken impression about its history, an impression shared by many others for years after its completion, as indicated by the aforementioned wealth of awards and honors.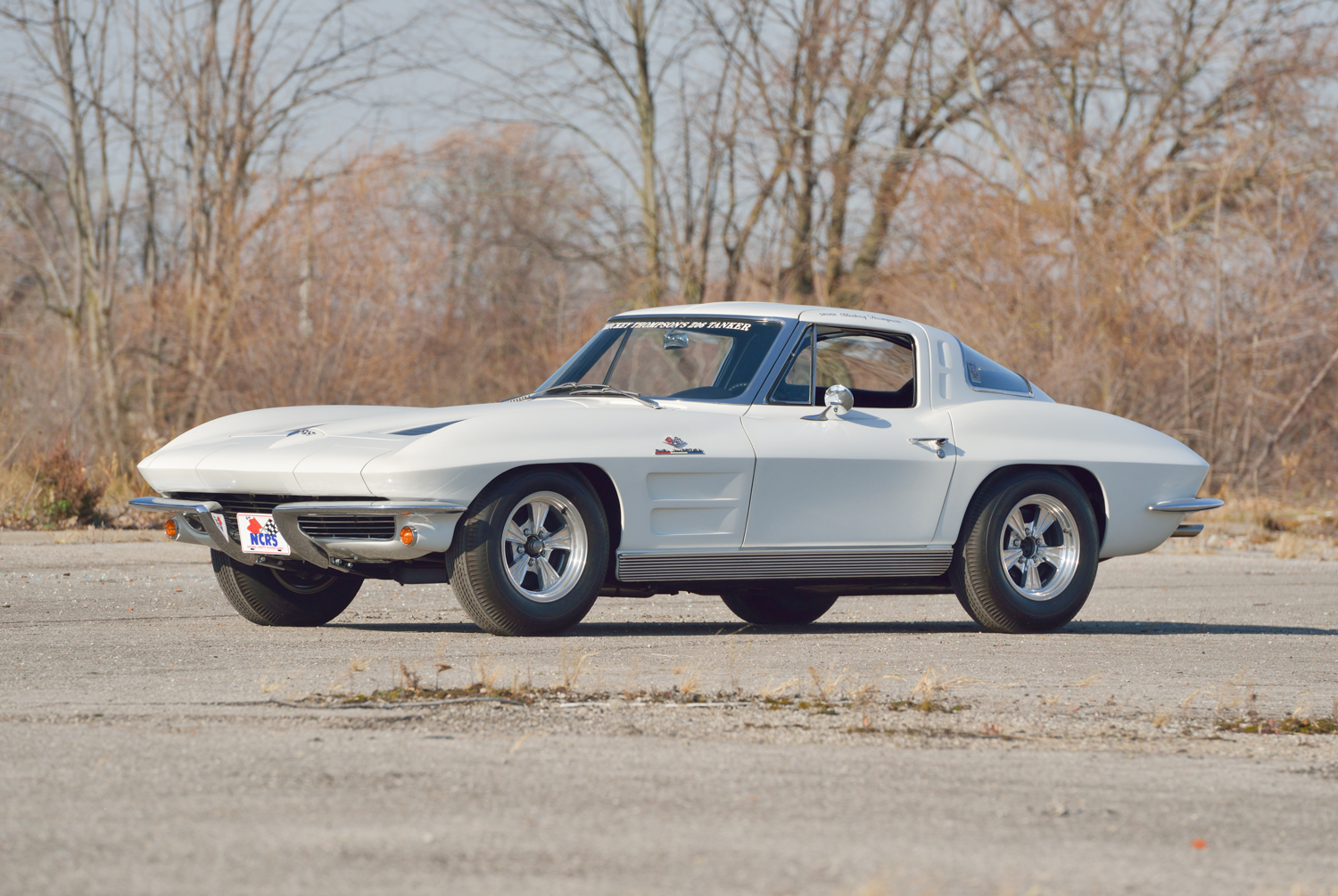 Despite this impressive body of accolades, enough observers had raised questions over the years that doubts persisted as to the car's origins. To determine the truth once and for all, in early 2012, Mecum Auctions' Founder Dana Mecum hired Prove It, a forensic investigation service created and headed by Bloomington Gold founder and Corvette preservation expert David Burroughs. Burroughs' research team, which included Eric Gill and Franz Estereicher, both highly respected Z06 authorities, conducted a thorough forensic investigation, examining period photographs, interviewing expert witnesses, including Lacy, and examining relevant materials associated with 6844.
In June 2012, the Prove It team issued a report detailing the investigation's findings. Using the "same general procedure commonly used in courts throughout the United States called Preponderance of Evidence," they were able to determine that 6844 was in fact not the Bonneville Car. Specifically, photos taken during the Bonneville event revealed "that the exhaust exits, anti-sway bar, and the much longer shock absorbers and fenderwell cut-outs used for Daytona are still evident at Bonneville."
The report further stated that because only one of the two white Z06 Corvettes was prepared in accordance with documented Holman & Moody modifications, it was logical to infer 6844 was not the Bonneville car because 6844 would have borne, at the very least, "permanent and significant scars of alteration to both body and frame," whereas a pre-restoration video by Lacy shows "no evidence of either the current installation of these NASCAR modifications or any repair from them.
"The frame was nearly perfectly preserved and intact per factory production. Engine compartment fenderwells were also intact with no evidence whatsoever of ever being cut out for installation of the extra-long front shock absorbers. The original 1963 white fiberglass floor remains in #6844 and has never been removed, according to Lacy. These facts are confirmed by Lacy who clearly remembers how nicely preserved (and stock) the frame and body were before any restoration was begun. Although the [front inner] fender wells were replaced with the current ones, Lacy stated that the originals were never cut out and the Lacy video on-file confirms that."
Simply put, the white Daytona car and the white Bonneville car are one and the same, meaning that 6844 was in fact Thompson's daily driver and the same car that appeared in the Rader Wheels advertising photographs. This conclusion is also supported by photographs taken at Bonneville of a white fuel-injected coupe, equipped with Rader-Mickey Thompson prototype wheels, that is identical to the car that appeared in the magazine ads for the same wheels.
Another very important piece of evidence, overlooked for years but included in the report, was a letter written to Corvette Fever Magazine by the late Doug Hooper, who won the three-hour production race prior to the October 13, 1962, Los Angeles Times Grand Prix at Riverside in Thompson's Daytona Blue Z06. Commenting on a story about Thompson in the December 1998 issue, Hooper listed the four Thompson racing Z06 Corvettes and wrote, "There was another white one that Mickey used as his personal driver. That car was left stock." He then concluded, "Maybe that was Mickey's street car."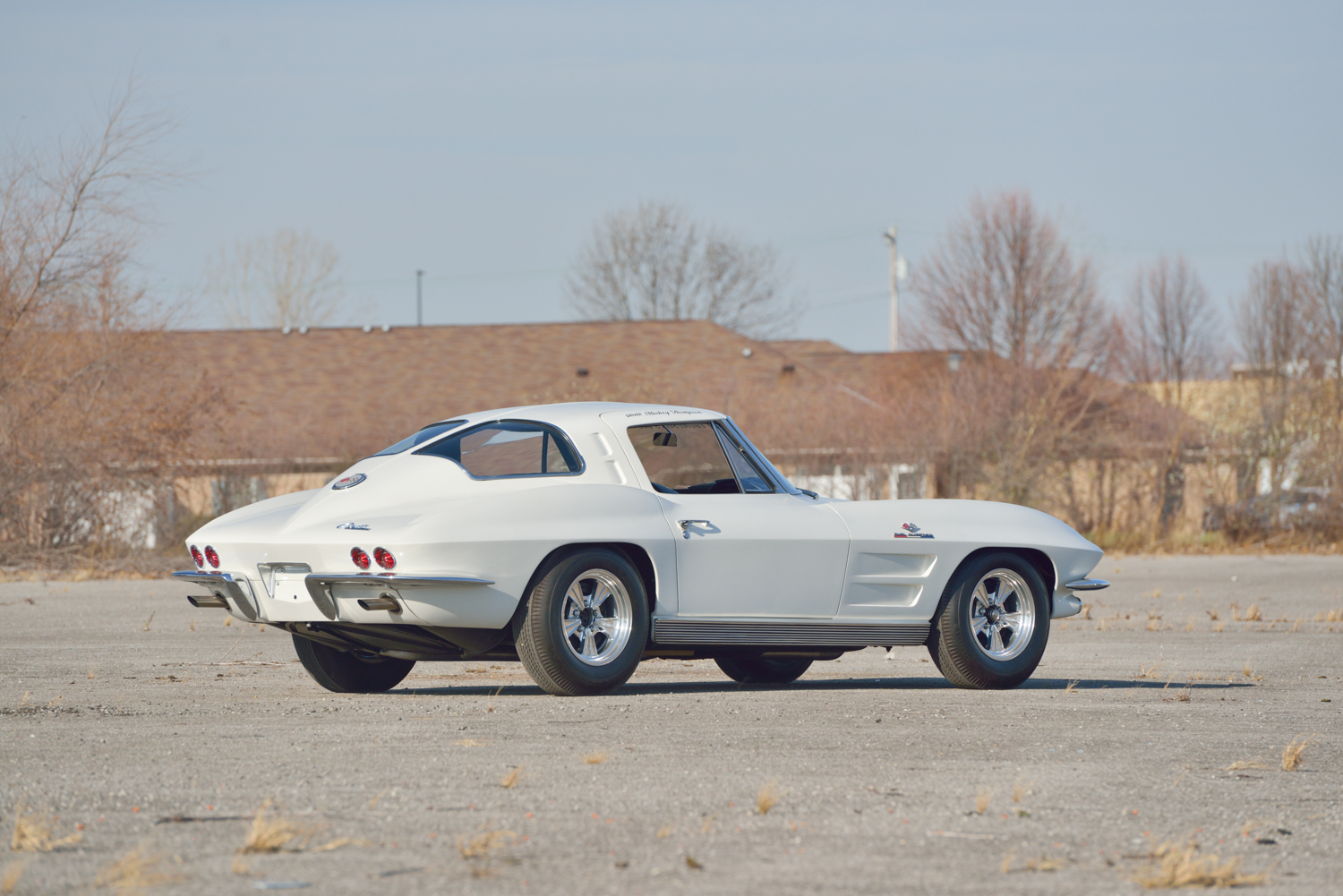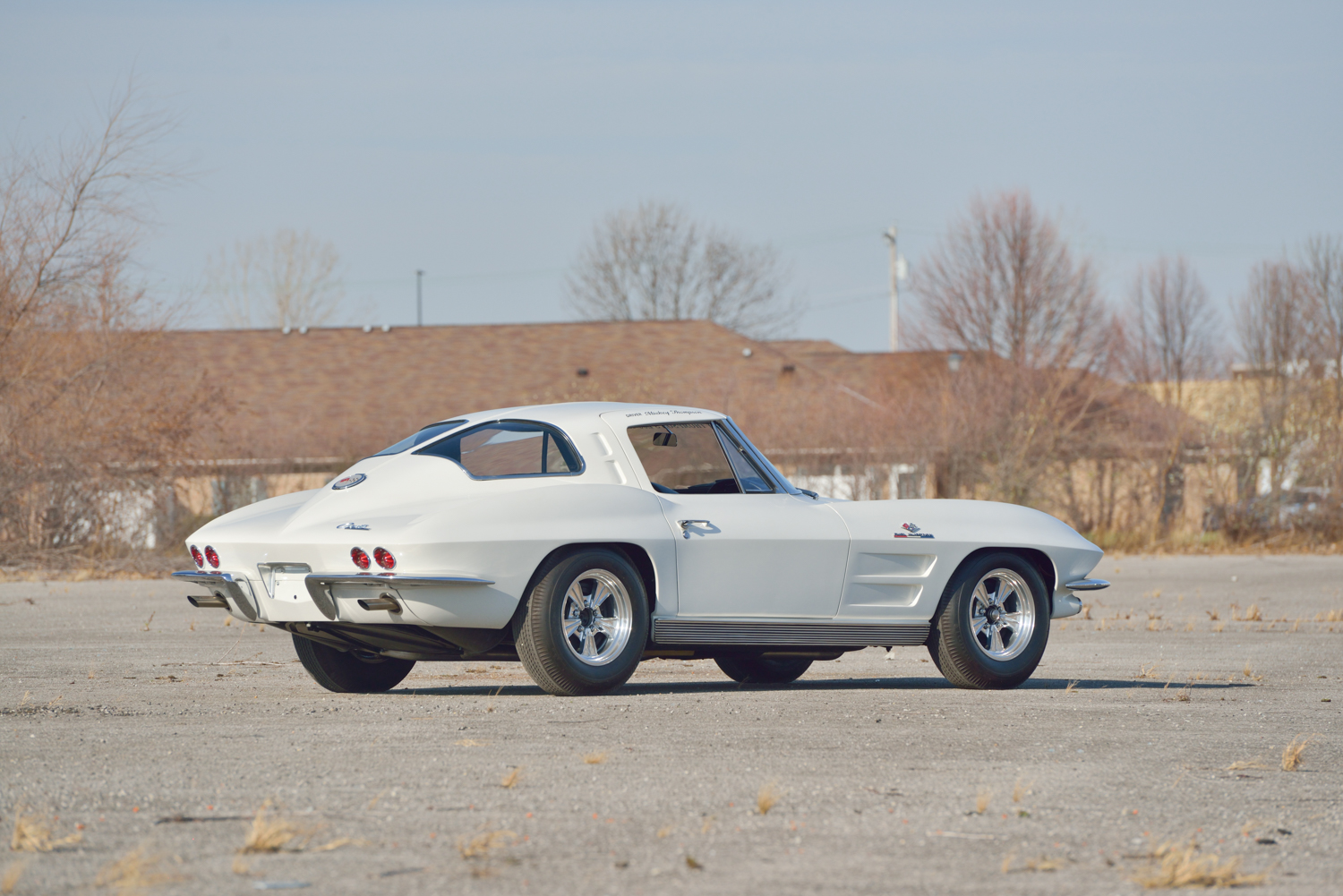 In addition to concluding that 6844 could not be the white Z06 modified, prepared for or raced at Daytona, Bonneville or Riverside, Burroughs' report also provides persuasive evidence that it was "the fifth Mickey Thompson Z06 Corvette—a very rare and unique vehicle in its own right." First, the Chevron credit card, the expiration date of which places it "within the period of Thompson's likely use of the car as his personal driver." Mechanical details common to the other Thompson Z06 Corvettes and the aforementioned photographs are also part of this body of evidence.
It is fair to ask how 6844 could have been confused with the Bonneville car for so long, a matter also addressed in Burroughs' report. It comes down to the fact that more connected and corroborated documentation emerged over the years and, when through the efforts of Burroughs and his team it was amassed and examined as a whole, the mystery was finally solved to the satisfaction of everyone involved in the Prove It investigation. Now this rare piece of Corvette and Mickey Thompson history is set to change hands at Mecum Auction's Kissimmee sale January 7–16. For more information visit www.mecum.com