Virtually unbeatable in competition and on the road, Ferrari racing cars—long before they were ever considered multimillion-dollar collectibles—were workhorses simply intended to win races and prove engineering advancements. Raced to their limits and subject to the many hazards of the track, they lived hard lives and were often modified and updated to stay competitive. Born to race and boasting a second-place finish at the 1952 24 Hours of Le Mans, this 1952 Ferrari 340 America retains its heart and soul—its original 4.1L V-12 engine and original Chassis No. 0202A—and presents beautifully in original-style Vignale coachwork fitted by the Ferrari Classiche Department in Italy that celebrates its Ferrari racing heritage in period-correct French Racing Blue No. 14 livery, just like it wore to the podium at Le Mans.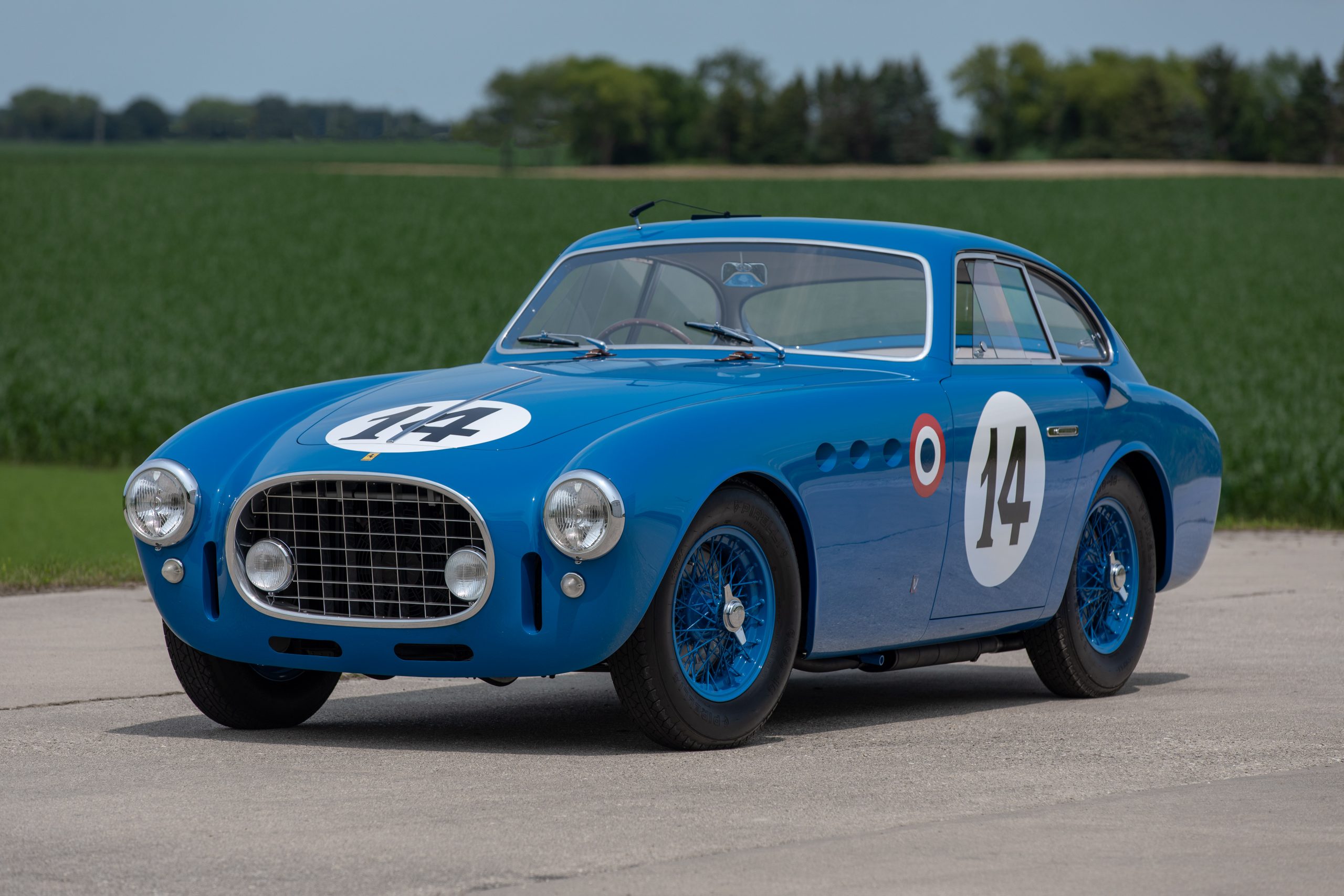 Aurelio Lampredi's venerable "long block" Ferrari V-12 powerplant arrived in 1950, satisfying the need for even more power and development scope at the Ferrari factory. American racers quickly recognized Ferrari's winning ways, and to broaden the marque's reach, a small batch of "big-bore," Lampredi-powered racing cars derived from the 340 F1 were unleashed: the 4.1L 340 America.
Typical of Ferrari practice during the marque's early years, 340 production was small, with as few as 24 examples of the 340 America built from 1951-53, according to marque historians. Other variations included the 340 Mexico, purpose-built for the Mexican Carrera Panamericana in 1952, plus the 340 MM, with the "MM" suffix celebrating Luigi Villoresi's 1951 Mille Miglia victory for Ferrari.
Chassis No. 0202A was originally fitted with Vignale Berlinetta coachwork finished in French Racing Blue, the livery and configuration it is seen in today. Debuted at the 1952 24 Hours of Le Mans, 0202A finished second in class (S5.0) and fifth overall with Andre Simon and Lucien Vincent co-driving for America's Ferrari representative, Luigi Chinetti. Chassis No. 0202A was then sold to René Marchand of Paris, who finished second with it at Circuit Bressuire two weeks after the car's Le Mans podium finish, followed by entries at Italy's Circuito di Senigallia and at Montlhèry in France, where 0202A finished sixth overall with Vincent driving at the September 1952 Coupe d'Automne.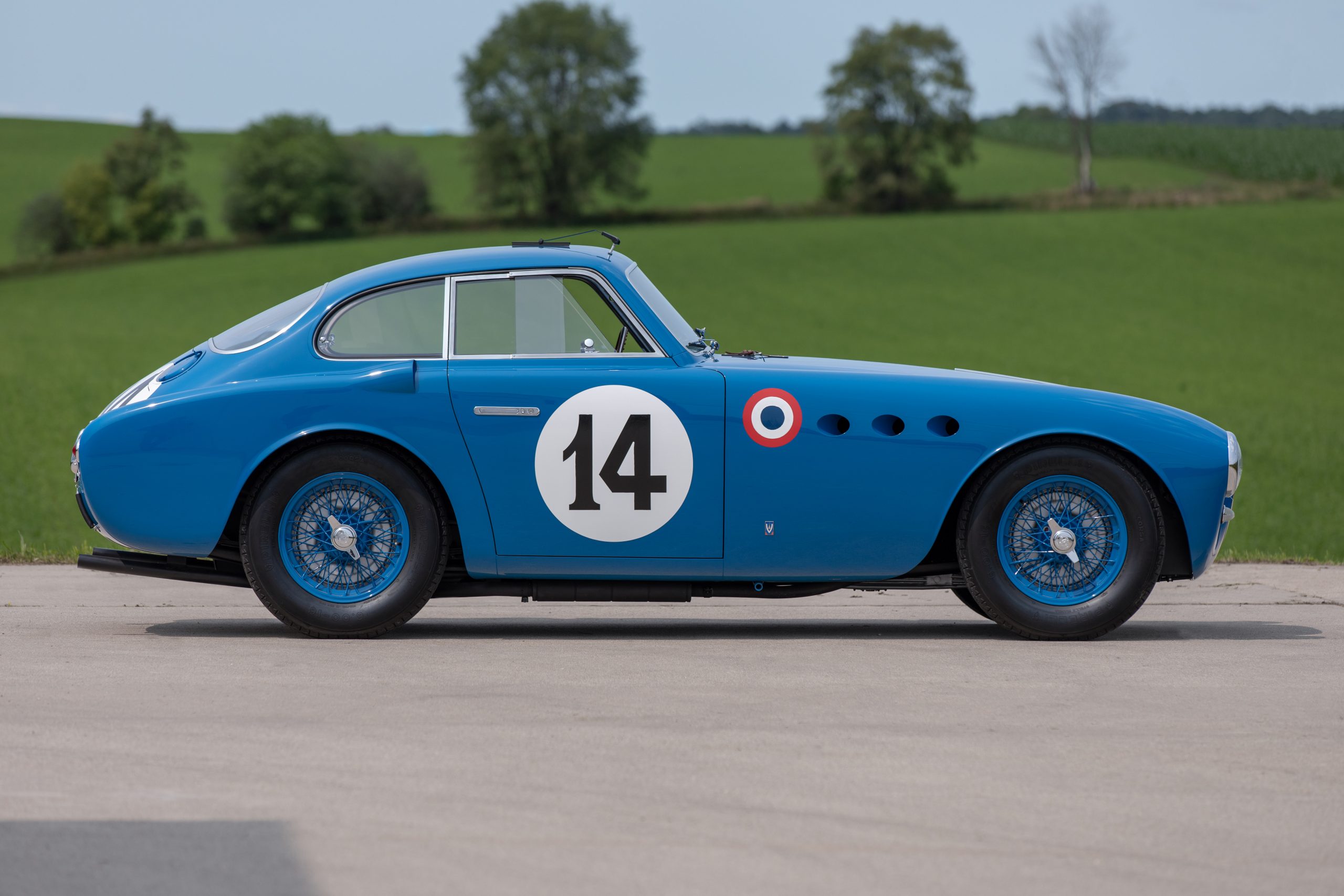 A rebuild was completed at the Ferrari factory in early 1953, including a repaint in Rosso Scuro (Dark Red), with 0202A subsequently purchased via Luigi Chinetti by Bill Devin, a well-known Californian racer and exotic car dealer. Devin entered the car into the April 1953 SCCA Lone Star National Sports Car Races at Bergstrom Air Force Base near Austin, Texas, where it was driven to fifth in C/Modified and sixth overall by successful Southern Californian driver Jack McAfee, who also drove Ferrari sports racers for Tony Parravano and John Edgar during the 1950s.
By September 1953, 0202A was with fast-rising American sports car and eventual Grand Prix driver Masten Gregory, who finished second in class (C/Modified) and third overall with 0202A at the September 1953 SCCA Madera, California, road race. Gregory scored his best result with 0202A at the May 1954 SCCA Iowa Regional Trophy Race, finishing second in Class (C/Modified) and second overall.
In 1955, the Ferrari was passed to George Sawyer, a Californian racer who rebuilt the car with a new body in the style of the Bangert Manta Ray and entered it as a "340 Mexico Special" into several races, with the car photographed in this form at least once during June 1955 at Santa Rosa, California, before the car was acquired by Bill Owens of Houston, Texas, in 1958. A final circa-1960 SCCA race entry is known at Mansfield, Louisiana, followed by ownership in Utah and then Illinois, where Mike Sanfilippo purchased the car in 1991, eventually selling it to Ferrari collector and restorer Tom Shaughnessy in June 2006.
Under Shaughnessy's stewardship, a meticulous rebuild and restoration was performed by the Ferrari Classiche Department in Italy, with the body beautifully recreated and retrimmed by an Italian specialist to exacting standards in the style of the original Vignale Berlinetta coachwork. The original 4.1L V-12 engine was located by Shaughnessy, mated to a proper 4-speed manual gearbox and reunited with the chassis during the restoration, reuniting the original heart and soul of the Ferrari. Both the chassis and engine were confirmed authentic by noted Ferrari historian, Marcel Massini, who has also verified the rich and extensive provenance of 0202A.
Finished in period-correct French Racing Blue livery and the race No. 14 that graced the car at its Le Mans debut, 0202A made its post-restoration debut at the Ferrari North America display held at the 2019 Pebble Beach Concours d'Elegance. Certified by Ferrari Classiche, the "Red Book" accompanying 0202A bears a white stripe, signifying this 340 America's exceptional status as a significant competition Ferrari. Another book with the vehicle contains a wealth of additional documentation, including period photographs, news clippings, race results and extensive pre-restoration and restoration photographs. Beautifully restored and certified by Ferrari Classiche with full factory documentation, this unique piece of Ferrari history will be crossing the auction block at Mecum's Monterey sale August 12–14.
For more information visit www.mecum.com