A selection of American Brass, Classic, and post-War automobiles will be among the headline offerings at the 2017 RM Sotheby's Hershey auction, scheduled for October 5-6 at the Hershey Lodge in Pennsylvania. Set during the AACA Eastern Regional Fall Meet, RM Sotheby's 11th annual Hershey sale will feature 140 cars and motorcycles along with a selection of memorabilia.
Led by the 'no reserve' Thomas F. Derro Collection, the Hershey auction presents a selection of American Classics. Latest highlights include a 1936 Cadillac V-16 Convertible Sedan by Fleetwood, engine 51102222. One of six built for the model year, the car was gifted to the Chicago Museum of Science in 1949 where it was displayed until 2008 when acquired by its current owner. It received a full restoration, including a refinishing in its original Phantom Metallic color. The V-16 Cadillac has been exhibited since 2008, including a class award at the Pebble Beach Concours (Est. $700,000 – $850,000).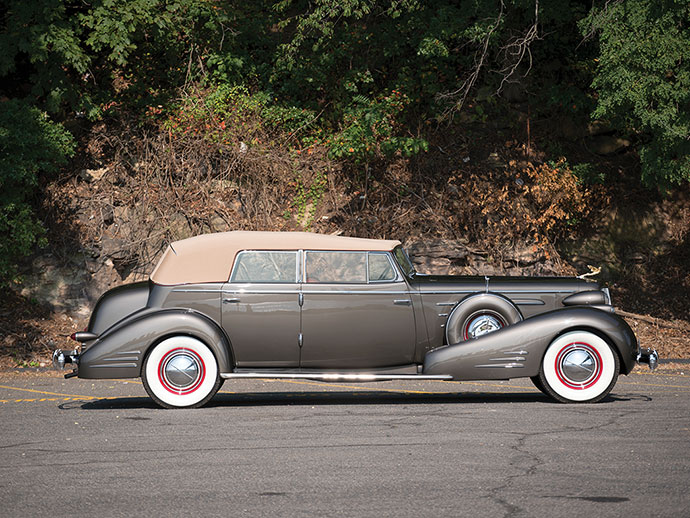 Additional American Classics on offer at the 2017 RM Sotheby's Hershey auction include three configurations of the Packard Twelve. Leading the group is a restored 1933 Packard Twelve Convertible Victoria, vehicle 647-25. One of four surviving Tenth Series examples, the Convertible Victoria has spent long periods of time with just a handful of private owners (Est. $475,000 – $600,000). Also on offer is a 1934 Packard Twelve 2/4-Passenger Coupe, chassis 902316, one of eight examples known to exist. Retaining its original body, engine, and chassis, the Coupe is offered with a provenance that includes chauffeuring Jayne Mansfield in the 1961 Indianapolis 500 Parade (Est. $325,000 – $375,000). Completing the group is a 1935 Packard Twelve Sport Phaeton, vehicle 821-202, one of four examples produced that year. the Sport Phaeton is offered at Hershey with known history from new, and presented with a well-preserved restoration and in driving order (Est. $475,000 – $575,000).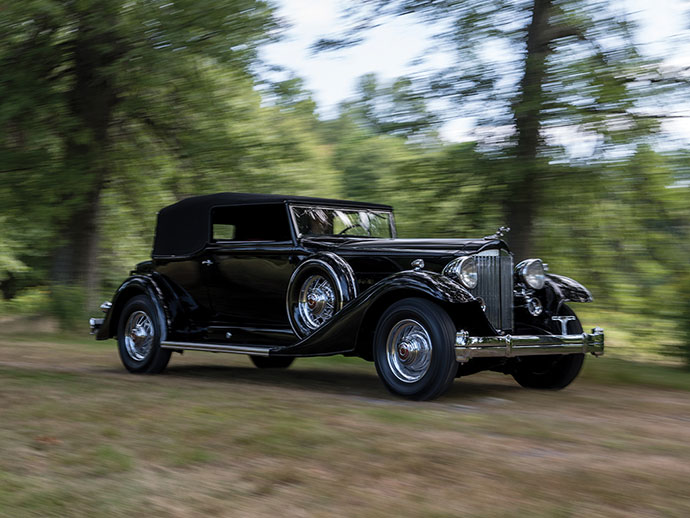 "This year's sale has all of the outstanding, interesting and desired classic cars one would anticipate seeing at our Hershey auction," said Gord Duff, Global Head of Auctions, RM Sotheby's. "A mainstay of our calendar and as much an auction destination for many enthusiasts as Pebble Beach or Monterey, we look forward to an always eventful and entertaining week at Hershey. Wet or dry, rain or shine, it's where the die-hard enthusiasts come to play".
Representing an entirely different passion for the American automobile, the 2017 RM Sotheby's Hershey auction will also present six cars from the collection of the late Ralph Whitworth. The group is highlighted by the 1932 Ford 'Pete Henderson' Roadster, the car that famously beat a quarter horse in 1944. As the story goes, back in 1944, a guy with a quick quarter horse won countless bets challenging hot cars to a race. The Pete Henderson Roadster, however, had a reputation as the quickest car in the San Fernando Valley. With Pete behind the wheel, in a specially staged race held in La Habra, and witnessed by a large crowd, this deuce was the only car that ever won (Est. $160,000 – $180,000).
As a long-time supporter of the AACA, RM Sotheby's will offer a 1971 Fiat 850 Spider at this year's Hershey sale, with all proceeds to benefit the AACA Library & Research Center and the resources they provide enthusiasts free of charge. Not only is the 850 Spider a late-production model with the most powerful engine available, but the lucky winning bidder will also find an undisclosed amount of cash in the car's trunk, just to sweeten the deal. This offering is made possible by longtime friends of RM Sotheby's and the AACA, Joseph and Margie Cassini, Wayne Carini, and Ralph Marano.
For more information, including the digital catalog, visit www.rmsothebys.com or call +1 519 352 4575.
[Source: RM Sotheby's]