The late Benny Parsons became best-remembered by many fans during NASCAR's explosive growth in the 1990s, as a smiling color commentator and announcer on the top-level Cup Series television programming on ESPN. This vocation made him more familiar than many retired drivers, but Parsons' true legacy was one of championships and driving. This car, the original 1973 No. 72 Chevrolet Chevelle that Parsons piloted dramatically to a world title late that season, is perhaps the very best memento of a storied and successful career in circle-track racing and will be offered for sale at Mecum Auctions' January 3–13 sale in Kissimmee, Florida.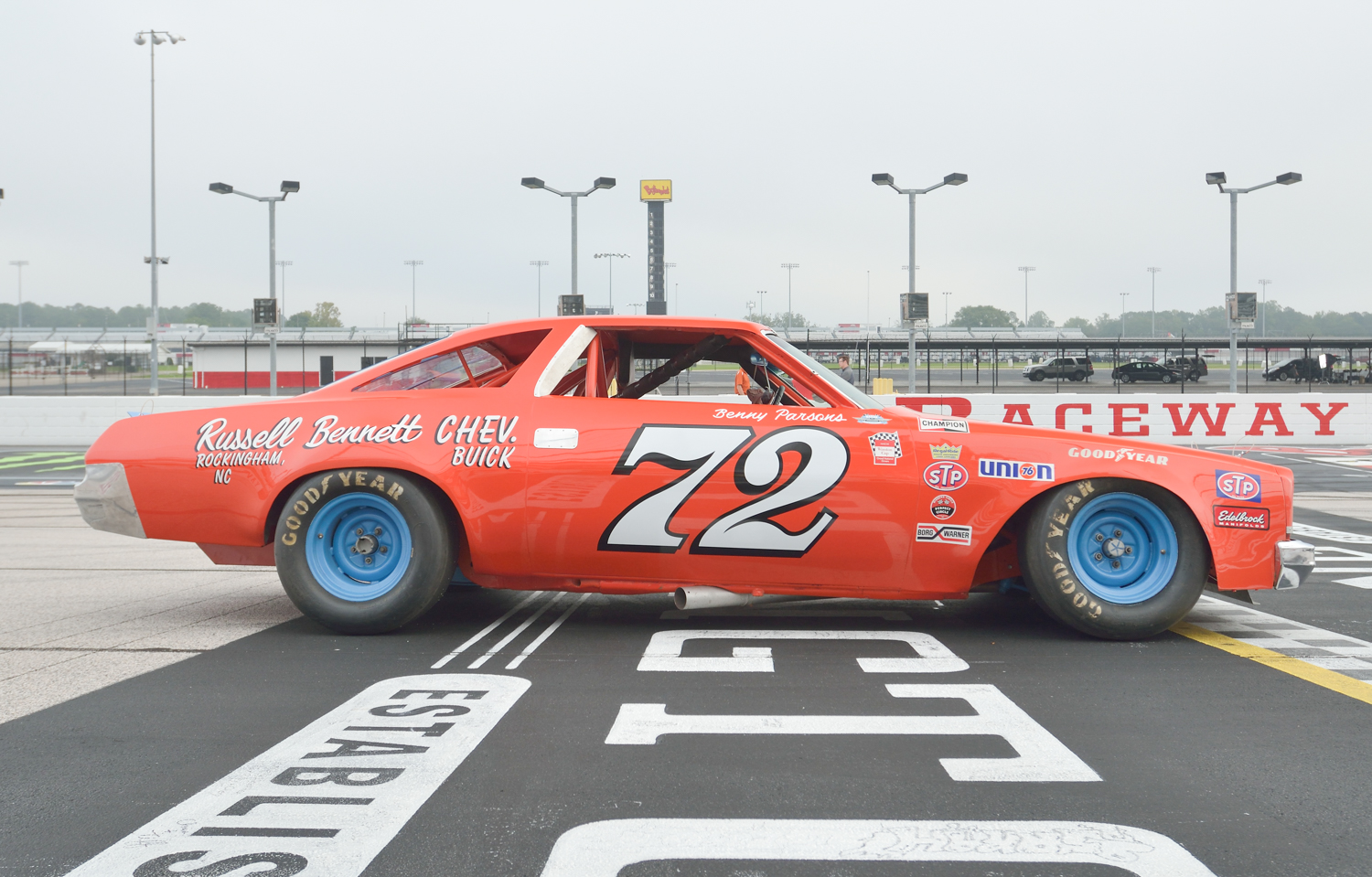 As rebuilt today, original crew member Tex Powell, and as others who were part of that winning effort, have brought this car back to a race-ready condition, still fully capable of the performances that era produced. Located following a number of years of hard service, the car was refreshed by the team using the same tools and techniques that had made it a winner that year, and it now accurately reflects the standard Parsons set in 1973.
Parsons had grown up in the North Carolina hills of Wilkes County, relocating with his family to Detroit where he drove a taxicab as part of the family business. After a start in the sportsman ranks, Parsons became a more serious racer in the Midwest, winning back-to-back ARCA titles in 1968-'69. After moving back south to start racing full-time on the Grand National Series, he began driving the No. 72 L.G. DeWitt-entered DeWitt Racing car, first with a Ford, then a Chevrolet for 1973. A fearless and fierce competitor, Parsons, whom even Richard Petty credited with a love of driving, took home a win at Bristol and 21 top-15 finishes in 27 events that year before the season-ending 28th race at Rockingham.
He had led the points since May, but a lap-13 collision ripped the entire side off the No. 72, which was unceremoniously towed back to the pits on a wrecker. Led by passion, a major thrash ensued that saw the team, plus sympathetic members from other teams, install and weld-in the complete door bars from another entry and replace all front and rear suspension to get Parsons back on track again by lap 135. Missing an entire side of the vehicle, he could not race with this package, but he put enough laps on the scoreboard to retain his points lead by 67 points, take home the 1973 NASCAR Championship over Cale Yarborough, and become the only driver to win championships in both ARCA and NASCAR's GN series up to that time.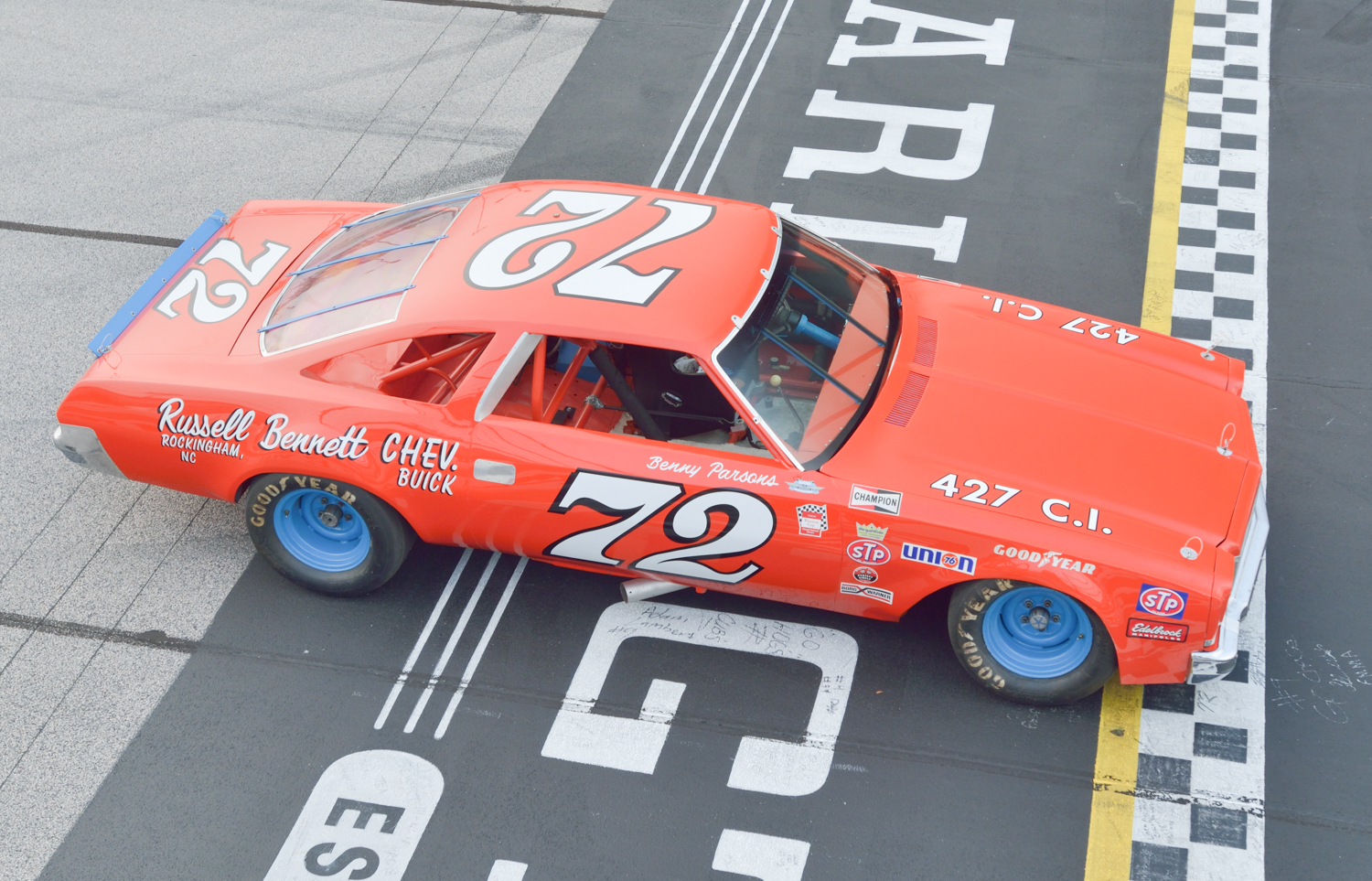 How good was Parsons? He finished between third and fifth in series season points the remainder of the decade, 1974 to 1980, winning the 1975 Daytona 500 in the process. Retiring to the broadcast booth in 1988, where he was a familiar face until his passing from cancer in 2007, Parsons has been honored by being inducted into the International Motorsports Hall of Fame (1994), NASCAR's Top 50 Drivers (1998) and the NASCAR Hall of Fame (2017). This car was finished in time for that occasion and was displayed for one year in the Hall of Honor.
Restored to its 1973 race-ready condition by Powell and members of the same crew that manned the Championship team, today the No. 72 Chevrolet sports a period-exact 427 Chevrolet engine rebuilt by GM's Research and Development group in Detroit, backed by a T-10 Transmission and a 9-3/8 Ford differential. It features correct-design exhaust for the era. Inside, this car retains the original seat recovered by the same man who originally upholstered it, the 1973 NASCAR roll cage, Stewart Warner gauges, Jones tach and Simpson safety belt. The wheels are Holman Moody and the tires are Goodyear bias-ply. A final touch was the original gas cap, which one team member had kept since the 1973 Championship.
Benny Parsons, praised as a gentleman by his peers, would have appreciated the effort. One lucky new owner will now have the opportunity to become part of that legacy as its first owner since its restoration was completed.
For more information visit www.mecum.com