Five rare Ferrari America models owned by Jack E. Thomas of St. Louis, will be part of the 2018 Milwaukee Concours d'Elegance, Aug. 5, in Veterans Park. The last time this collection was on public display was at The Quail Motorsport gathering, in 2011.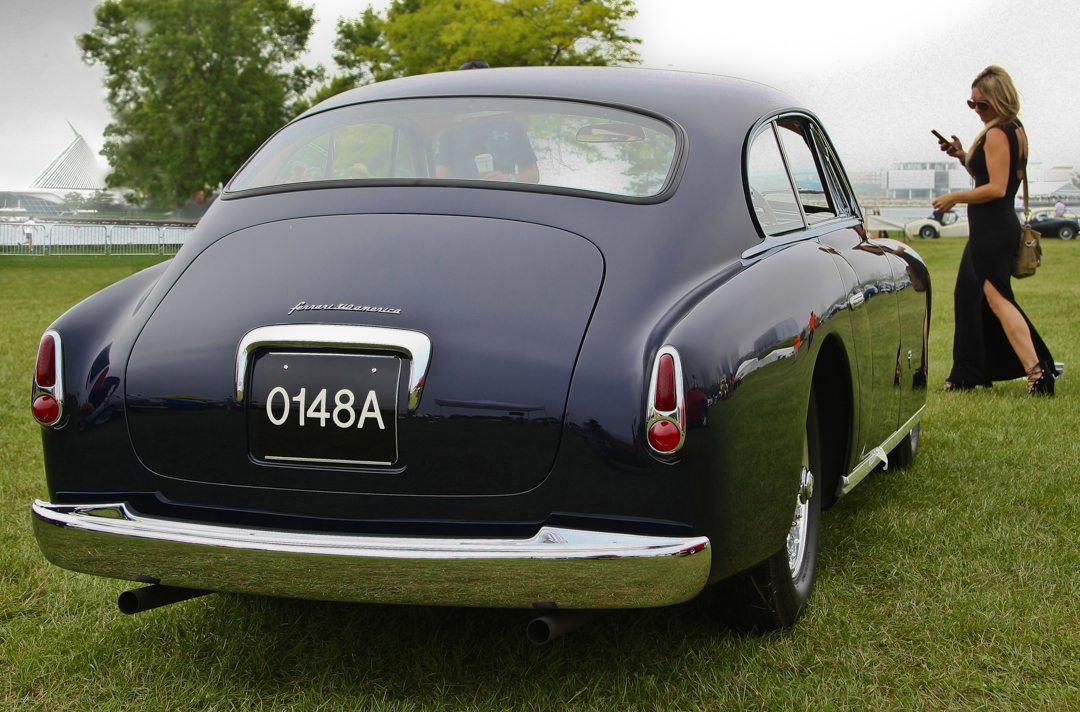 The Ferraris that are part of the Thomas collection that will be on the show field include:
1951 Ferrari 340 America. There were only 23 of these models produced and believed to be the only alloy-bodied car in the very limited series. It was the first Ferrari road car to have the big Lampredi engine. Features a 4101 cc V12 listed at 220 hp, at 6,000 rpm. This car was the next last 340 built by Ferrari. Original owner was Michel Paul Cavallier of France who was a close friend of Enzo Ferrari and the owner of a gear-box manufacturer. The car was special ordered for Mr. Cavallier with a tuned engine and competition camshafts. It subsequently had several more owners before Thomas acquired it in 2001. He raced it at Laguna Seca, Sebring and Moroso. "Chassis number 0148A has a certain visual appeal, especially when viewed from the rear quarter. The easily recognizable quickly sloping fastback roof line, coupled with a long, drawn-out hood, was very appropriate for the time and make a strong statement about this muscular car," Thomas said.
1953 Ferrari 342 America. This car defines understated elegance in a true GT or grand-touring car in every sense of the word. Rare – only six 342s were built in the four months they were made and just two were Pininfarina cabriolets. The model was conceived as an ultra-exclusive, large and luxurious boulevardier. Compared to the 340 America, the 342 boasted a longer wheelbase and a wider front and rear track. Powered by a 4.5-liter, V12 4101 cc engine making 200 hp at 5,000 rpm. The 342 is strictly a grand-touring car, while the 340 is a dual-purpose street/race car. The 342 is substantially larger and heavier and has a very large passenger compartment. This car was displayed at the 1953 New York International Motor Show.
1955 Ferrari 375 America. This 375 America chassis 0355GT was custom built for Gianni Agnelli, the founder of Fiat in Italy, the first Italian car for the masses. This car is the "crown jewel of my collection," said Thomas. "It was the 1955 Turin Salon car, and best represents my theme of custom-coachwork and the marvelous collaboration between Ferrari and Pininfarina." It represented breakthrough ideas for road-going Ferraris of the era in the areas of engine, suspension and brakes. The power plant is a 4522 CC V-12, with 300 hp at 6,400 rpm and a quoted top speed of 144-155 mph.
Twelve 375 Americas were built. Motion Products, Neenah, took two years to restore the vehicle for Thomas. It features a dark, lustrous green exterior, a deep ruby red top and red leather interior. Thomas purchased it in 2001.
The car won its class in 2003 at Pebble Beach, scoring 100 points, one of only six Ferraris ever to do so at that concours. It also won best restoration, the Motoring Press Award and was runner up to another Ferrari for Best of Show. It has won Best of Show at numerous other concours competitions in the U.S.
1956 Ferrari 410 Superamerica. This is one of only 34 Superamericas produced. Chassis number 0479SA was exhibited at the 1956 Auto Show of Turin. It sports a sharply contrasting white body and black roof. The theme is repeated on the black leather seats with white piping. The 4.9-litre engine was the largest power plant ever placed in a classic GT Ferrari. All-alloy power plant featured single overhead cam, two valves per cylinder and three Weber carburetors. Additional features include 2800 mm wheelbase, independent front suspension with wishbones, coil springs and an anti-roll bar. In this car Thomas has competed in two Colorado Grands, one Copperstate 1000 and has logged many miles in St. Louis and Florida.
1963 Ferrari 400 Superamerica. This is the first Ferrari Thomas owned. It earned the Platinum award at the 1999 Cavalino Classic in Palm Beach. Features a 3967 cc V12 engine rated at 340 hp at 7,000 rpm. The car has Koni shocks and Dunlop disc brakes on all four wheels. The car has independent front suspension, double wishbones, telescopic shocks, coil springs and anti-roll bar. It is the definition of sleek with its pop-up headlamps, smooth nose, long tapered tail, covered rear wheels and sparkling Borrani wire wheels. The 400 Superamerica was an elegantly powerful flagship and the last Ferrari available with custom coachwork. Only 47 were produced.
"I've always been fascinated with history and art, plus I'm involved with several companies that have strong traditions of innovative engineering. I also like to go fast. These machines are among the ultimate automobiles of their era, exquisite rolling sculptures with fabulous stories behind them. They represent some of the finest examples of postwar custom coachwork, high speed, grand touring vehicles ever produced," said Thomas.
"I am often asked why I decided to concentrate on sports cars from the 1950s and early 1960s (and why the collection is decidedly European in orientation. Historically, this decade and a half was a time of great optimism where anything was possible. Postwar Europe was emerging from a decade of war and rebuilding, and there was a pent-up energy to express talents that had been repressed during most of the 1940s."
"We are truly excited to include the Jack E. Thomas Ferrari America collection in the 2018 Milwaukee Concours d'Elegance," said Mike O'Krongly, president – The Masterpiece Ltd., which hosts the concours weekend of events. "Our thanks go to Jim Wallner and the team at Motion Products, Inc., Neenah for assisting in procuring this collection for our event."
"Outstanding automobiles of whatever age, especially sports cars, also have a visceral appeal that transcends the notion that a car is merely a utilitarian form of conveyance. A rare and elegant sports car stimulates you visually and invokes a sense of awe as you hear its finely tuned motor come to life. Great cars attract our attention and appeal to us as magnificent examples of the successful integration of superlative mechanical components, beautiful interiors and great body styles," Thomas said.
For more information visit https://www.milwaukeeconcours.com