The 23rd annual Greenwich (Connecticut) Concours d'Elegance was held once again in the beautiful waterfront Roger Sherman Baldwin Park.  This concours has long been deemed one of the premier shows of classic cars in the United States, but this year was even more special.  Highlighted this year was an accumulation of Cunningham road and team cars never seen before.  The show included nearly every Cunningham ever built, plus an assortment of Briggs Cunningham's team cars from a sexy D-Type Jaguar to a bulbous Maserati coupe.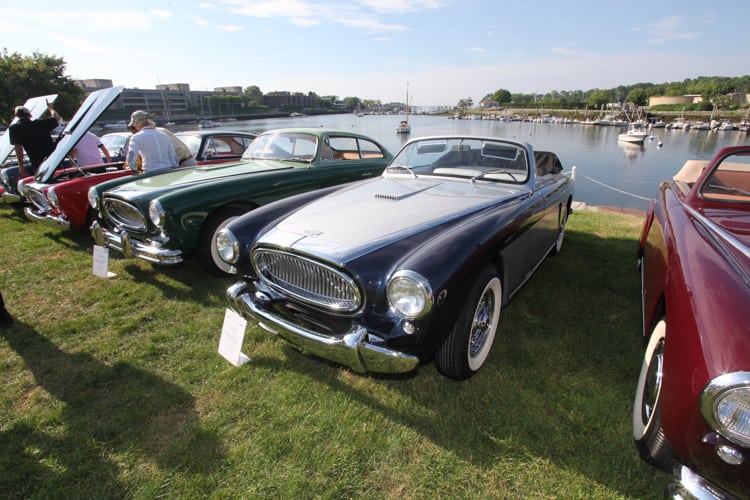 The show field is smaller than many, but the organizers approach that as an opportunity rather than a problem. Saturday, the concours emphasized American automobiles and motorcycles.  Sunday the focus was on imported automobiles and motorcycles. There was some overlap – the Cunningham cars were shown on both days, and some significant other vehicles, such as a new Ford GT and Burt Munro's Indian streamliner, were also on the field both days.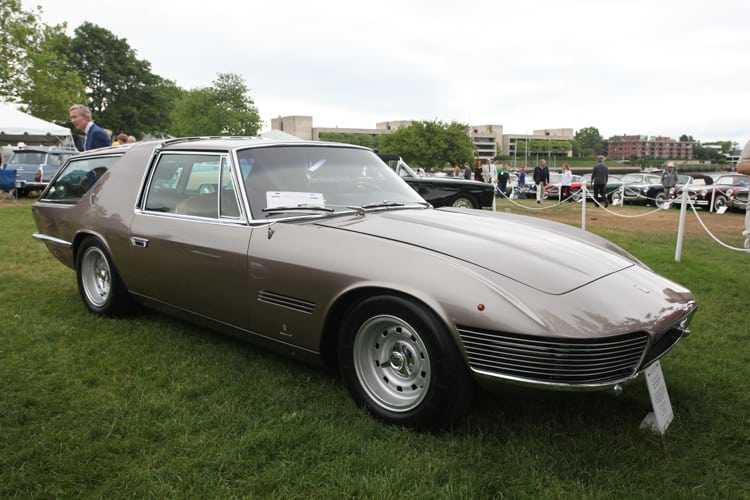 Entries were eclectic.  There were three Russian automobiles from the Cold War era.  There was a Ghia-bodied Jaguar.  There was an…um, unusual looking Ferrari Shooting Brake… unusual is being kind.  Dave Garroway's SS 100 was there.  Cars ranged from a 1904 Knox Tuxedo to the aforementioned 2018 Ford GT.  The mix of cars and motorcycles was perfect – no one could leave that show without seeing something, or many things, that made them smile.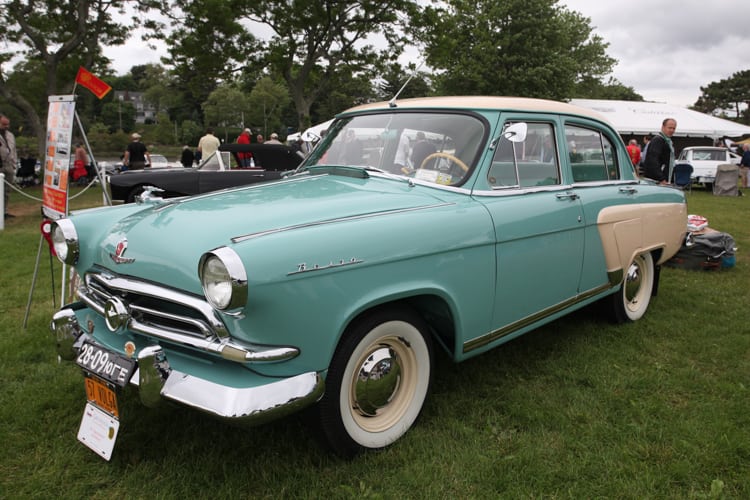 At Saturday's Concours Americana, the 1934 Packard Convertible Victoria of Judge Joseph and Margie Cassini III received the American Best of Show-Elegance Award, and the American Best of Show-Sport Award went to the 1952 Cunningham C-3 of Joseph Robillard.
"The World's Fastest Indian" – the 1920 Indian Scout Streamliner owned by Clyde Crouch – was named The Most Outstanding Motorcycle-American, while the Most Outstanding Motorcycle-International Award was claimed by the 1974 Ducati 750 Super Sport of David Miller.
The 1971 OSSA Pioneer of Billy Blythe, selected by Dr. Fred Simeone, received the HVA Heritage Award. Receiving this award is considered a high honor in the collector world for both cars and motorcycles.
On Sunday, the International Best of Show-Sport Award was presented to the 1957 Ferrari 335 Sport Spider Scaglietti of Scuderia N.E., while the 1935 SS1 Tourer owned by Colin Seid and Richard Annis received the International Best of Show-Elegance Award.
The coveted People's Choice Award-American went to the 1948 Tucker Twin Turbo owned by Jack and Carolyn Kiely. The Tucker was built by IDA Automotive and was driven to the award ceremony by Sean Tucker, the grandson of Preston Tucker. The 1955 Cunningham C-6R of the Collier Collection at The Rev's Institute was the People's Choice-International winner.
This is definitely a show that deserves a return visit.