Four extremely rare and unique Shelby Cobras from the Steven Juliano Collection will be sold at Mecum's May 14–19 Indy Spring Classic sale, in Indianapolis, Indiana. Each of the four Cobras on offer, represent not only a rare or highly desirable variation, but also one restored to the most exacting specifications.
1967 SHELBY 427 S/C COBRA ROADSTER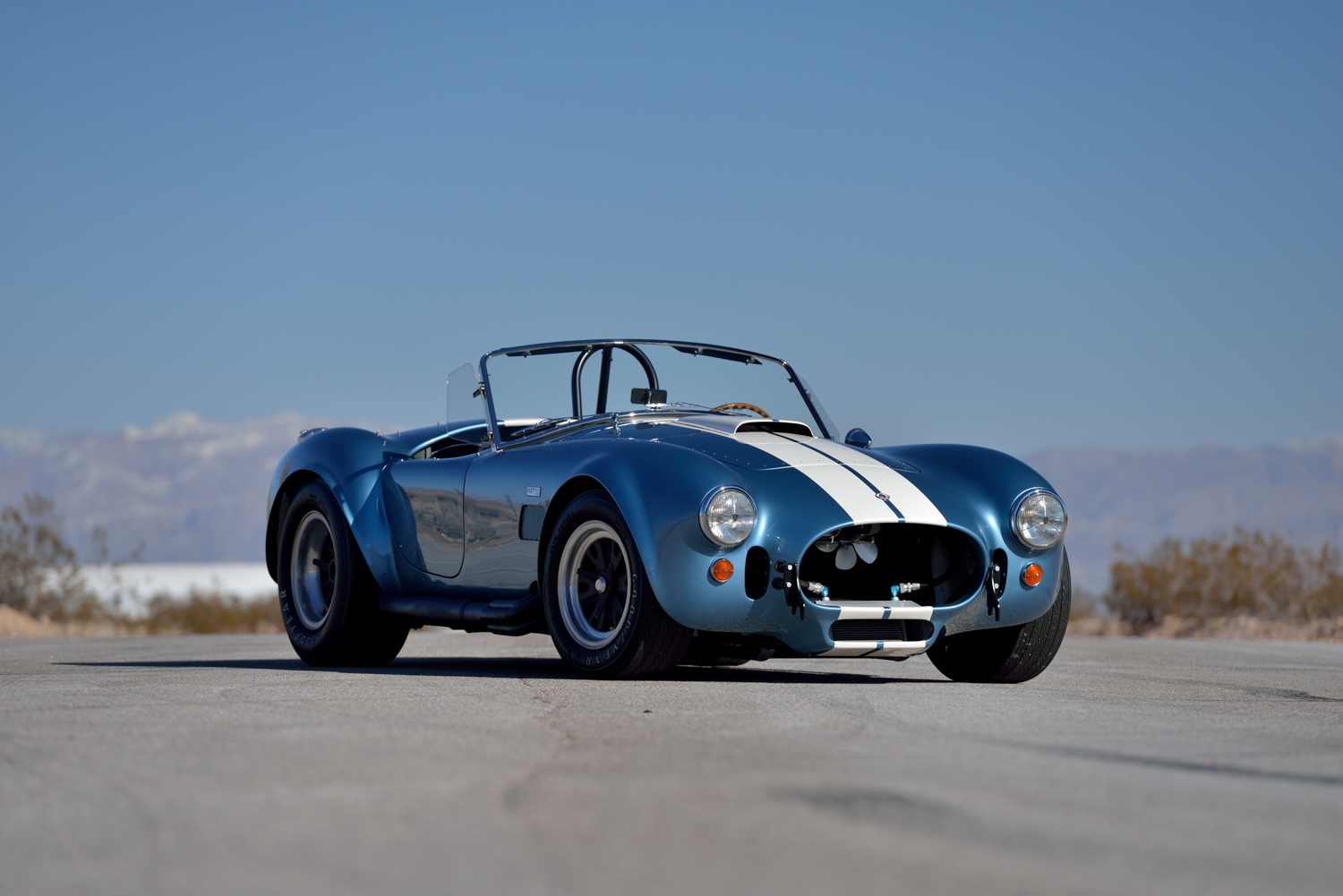 This 1967 Shelby 427 Cobra, CSX3042, is one of just 29 original factory-produced S/C (Semi-Competition) examples. Ordered new by John Grappone of Grappone Ford at the New England Ford Dealers 1967 new car introduction in Boston, Massachusetts, in October 1966, it is in superb concours-quality condition and shows just 10,760 original miles. Its five-owner history, thoroughly documented and chronicled in the Shelby Registry, begins with Grappone, who purchased the car for $7,395 and took delivery of this Sapphire Blue factory S/C at his Concord, New Hampshire, dealership on October 28, 1966.
Shortly thereafter, when Grappone learned that 427 Cobra production was being terminated, it was decided that Grappone Ford would keep this top-spec 427 Cobra for itself. In early 1967, Grappone Ford disassembled the 427 and installed a set of Holman Moody medium riser heads, raising compression from 10.4:1 to 12.5:1 and requiring shaving the dual-quad intake manifold to fit. This significant modification made CSX3042 more fearsome than ever, and the Grappone S/C is reported to have amassed an extensive winning record through dozens of late-night confrontations against other northern New England street racers.
In September 1967, Ford invited Grappone and CSX3042 to a new car introduction event at Bryar Motorsports Park. Grappone temporarily lost control while chauffeuring a Ford executive around the track, entering wide into a turn and veering off the track into a sandy runoff area. The Cobra's damage was limited to the windshield, left front fender and nose panels, likely paling in comparison to the damage to Grappone's ego and reputation with a certain Ford executive. Cobra specialist Kurt Hardy repaired CSX3042 over the winter of 1967-68, adding narrow white Lemans stripes over the Sapphire Blue paint in the process.
Grappone drove CSX3042 sparingly after that, one of its rare outings being the 1974 SOA convention in Reading, Pennsylvania, where it showed an odometer reading of approximately 5,000 miles. In the spring of 1982, gold futures trader Dan Turman of Gilford, Connecticut, boldly walked into Grappone Ford and offered Alan Grappone cash on the spot for CSX3042, despite the fact that it was not for sale. Turman kept counting out from a roll of bills until Grappone accepted his offer of $107,000, making CSX3042 the last "new" Cobra to be sold from a Shelby American dealer out of inventory. It also cleared a profit for Grappone of more than $99,000, likely the highest figure to that time.
After two years, Turman put CSX3042 up for sale to raise capital for a business deal in case a loan application fell through. When it failed to materialize, he contacted three prospective buyers, including Ned Scudder, a condominium sales manager who also happened to be SAAC's official Cobra Registrar. Competing against the two other potential buyers and racing against time, Scudder closed his office and hurried into Manhattan to be the first to deliver a $75,000 check to Turman's office.
In late 1984, Scudder commissioned Geoff Howard of Accurate Restorations in Danbury, Connecticut, to perform a general freshening that included new Black Imron paint on the chassis, new Koni shocks, Aeroquip brake lines, a new radiator core, rebuilt carburetors, repainted side pipes, a completely rebuilt suspension and several mechanical upgrades. 100 Point Restorations reapplied the white stripes Turman had earlier removed. Scudder showed the completed CSX3042 at the 4th Annual Tri-State SAAC Auto Show in Shawnee, Pennsylvania, in May 1986, where it was awarded Best in Show. It won First Place at the New Hope, Pennsylvania, Auto Show three consecutive years, 1985-87, and appeared at other SAAC events throughout Scudder's ownership.
Late in 1996, at approximately 10,000 miles, Scudder delivered CSX3042 to Phil Spaid of Jamesville, New York, for a body-off restoration, which included an engine rebuild by Ron Mack of Grand Haven, Michigan, and new paint by Randy DeLisio of Clyde, New York, who finished it in 1966 Ford Sapphire Blue with Hertz Gold stripes.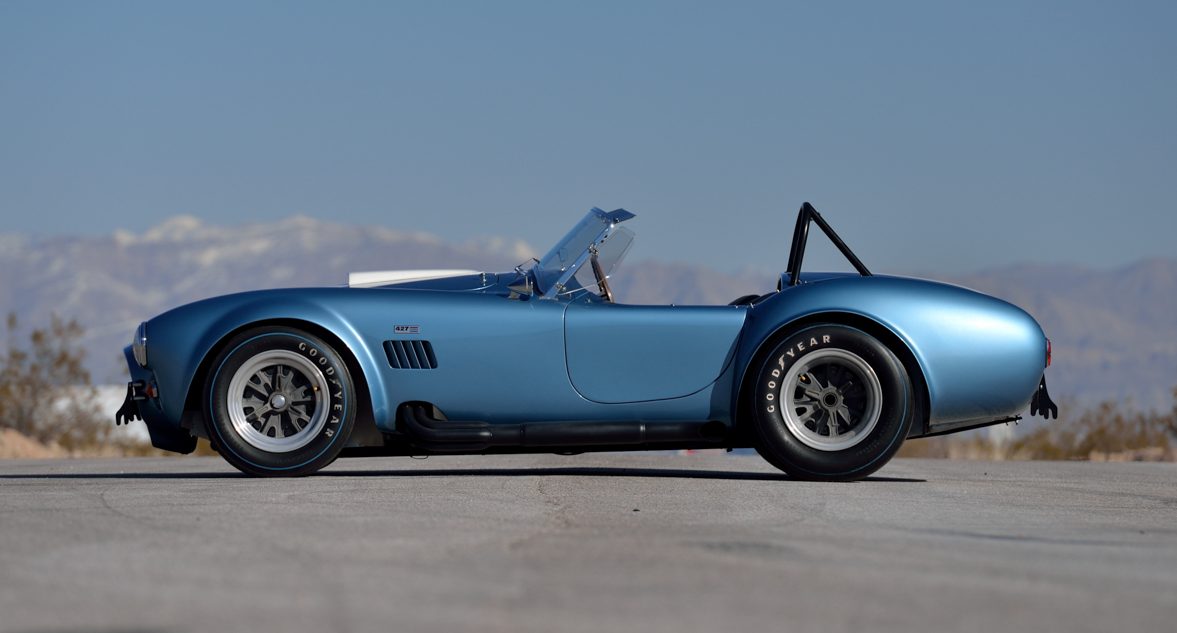 In 2002, the completed car won the Premier Award in Concours judging at SAAC-27 in Fontana, California. Ever on the alert for all things Cobra, Scudder managed to secure CSX3042's original Goodyear Blue Streak tires from Grappone Ford Sales Manager Stan Hallinan, who had carefully stored them away some 30 years earlier. Scudder mounted them on CSX3042's original magnesium Halibrand wheels and reserved them for show duty only. After 20 years of ownership, in 2004, SAAC Cobra Registrar Scudder finally decided to part with his prized S/C, selling CSX3042 to Wayne Odle of Mountain Lakes, New Jersey, who had the gold stripes, side pipes and wheel centers all painted white.
In 2005, CSX3042 underwent another professional restoration, this time by renowned Cobra specialist Mike McCluskey of Torrance, California. It was stripped bare and repainted in light metallic blue with Wimbledon White stripes, and the engine was reconfigured with a single Holley 4-barrel and aluminum air box. In 2007, Odle sold the car to Steven Juliano, who predictably decided to make CSX3042 the most correct and perfect 427 S/C Cobra possible. He enlisted the help of Dave Riley, and the duo invested substantial time and effort returning the car to its present concours-quality and unimpeachably correct condition.
More important to note is the fact that, like all of Juliano's Cobras, CSX3042 is completely devoid of any reproduction parts. It still wears its original tires, repatriated by Scudder all those years ago, as well as only original or NOS parts throughout the entire car. For the uninitiated, this may not seem like an important distinction, but rest assured, this is a herculean feat for any Cobra, let alone a factory competition specification example with their myriad unique parts.
Today, CSX3042 is rightfully regarded as the finest 427 S/C Cobra extant, and thanks to Juliano's efforts, it will serve as a reference-level example for generations to come. Its impressive history is well documented from new and has been celebrated since 1974, when it was first shown in the SOA newsletter. In addition to a detailed entry in the "World Registry of Cobras and GT40s," it has appeared in three issues of "The Shelby American," and in "Cars Illustrated," "Muscle Mustangs and Fast Fords," "Cool Classics – Cobra" by Jay Schleifer and "AC Cobra: The Truth Behind the Anglo-American Legend" by Rinsey Mills.
In the world of 427 Street Cobras, the 29 factory S/C examples will always be regarded as the ultimate versions. And in the world of 427 S/C Cobras, CSX3042, the one Steven Juliano picked over all others and spent years perfecting, has no equal.
1964 SHELBY 289 COBRA ROADSTER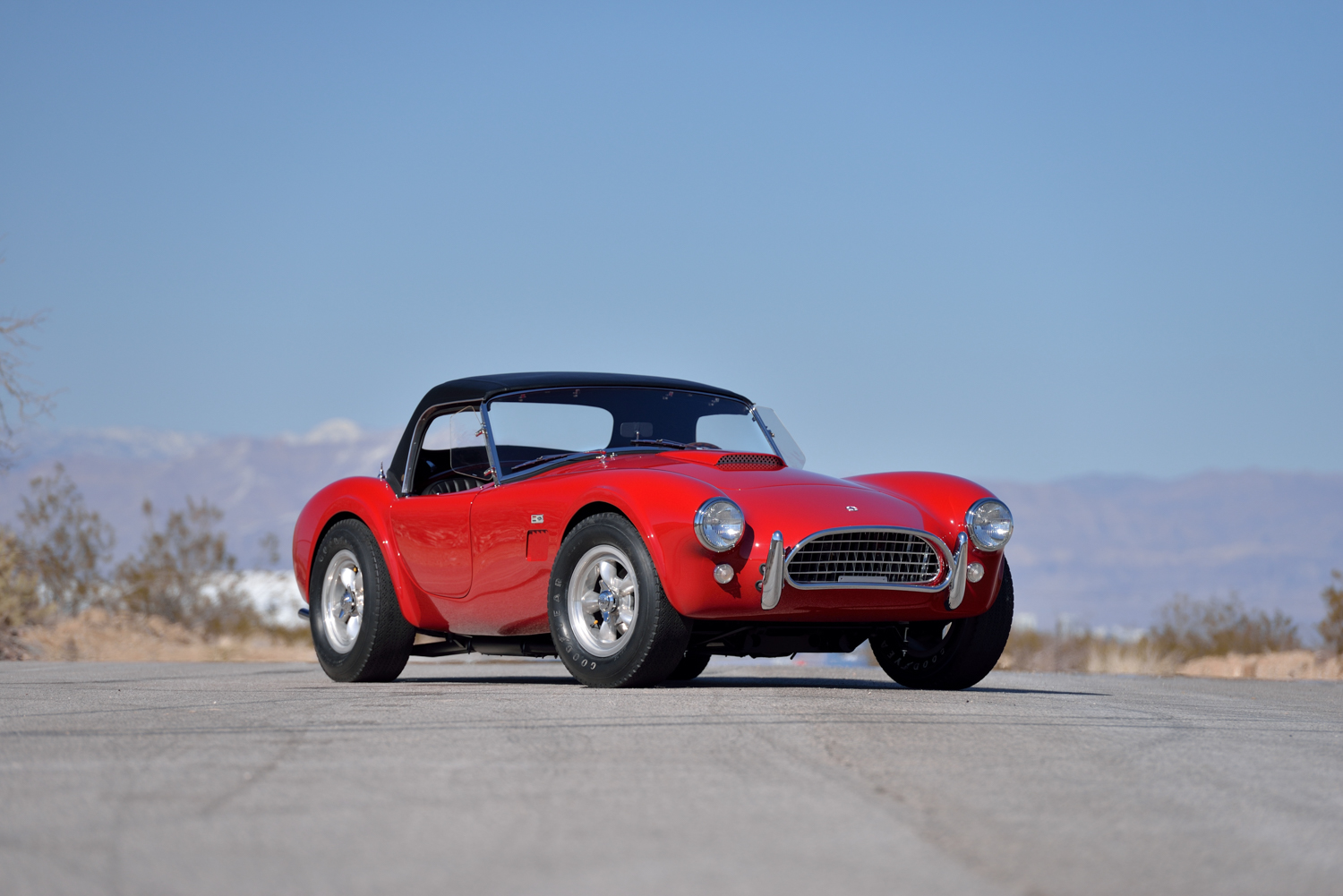 This one-of-one 1964 factory Stage III Shelby 289 Street Cobra Roadster from the Steven Juliano Estate Collection is also one of the most extensively factory-optioned Cobras ever built. Billed to Shelby American on April 27, 1964, and shipped to Los Angeles on May 6 aboard the SS Dintledyk, Serial No. CSX2416 was ordered by Frye's Ford of Belleville, Kansas, and was specified with a sufficient number of options to attract the attention of the Shelby American accounting department, which listed every item adding up to its staggering $8,684.05 original MSRP in the company ledger.
Ordered in Princess Blue with a black interior, the breakdown of its list of optional extras began with a Stage III-spec 289 CI engine with four Weber downdraft carburetors, adding an extra $2,595 to the car's $5,195 list price (minus a $608 credit for the standard 289 CI engine) right out of the gate. The dealer invoice dated August 6, 1964, also listed a hood scoop and cold air box, finned aluminum Cobra rocker-arm covers, engine-oil cooler, anti-freeze, polished American Racing magnesium wheels, a front grille guard and rear bumper guards, wind wings, sun visors, auxiliary hardtop, sway bars, side curtains, a heater, seat belts, radio with antenna, a custom exhaust system that rerouted the standard exhaust under the car with all four pipes passing through glass-pack mufflers, and unique quad chromed exhaust tips. These items, together with a freight charge of $200 for shipping from Shelby American in Los Angeles to Frye's Ford, amounted to that breathtaking $8,684.05 total.
While it was specially ordered, it is not known if Frye's Ford ordered CSX2416 for inventory; in any case, it was sold to Brent Ascough Jr. of Topeka, Kansas, who immediately sent the still brand-new Cobra back to Shelby American to have it repainted in Ford Rangoon Red. After its completion, legendary Shelby photographer Dave Friedman recognized CSX2416 as more than "just another Cobra" and photographed it in front of Shelby's office at 3221 Carter St., adjacent to the famed original Shelby shop at 1042 Princeton Dr. in Venice, California. The photo later appeared on page 86 of Friedman's book, "Shelby Cobra: The Shelby American Original Archives, 1962-1965," and on page 20 of Colin Comer's "The Complete Book of Shelby Automobiles."
Any early racing history by either Ascough or Frye's is unknown, but in 1972, noted Cobra and GT40 collector Les Lindley of Anaheim, California, purchased CSX2416. Lindley added wide wheel flares and had the car repainted in Bronze Metallic by none other than Junior's House of Color. He also exchanged the original American Racing wheels for wider chromed wires, added chromed side pipes and a chromed roll bar, and replaced the original black interior with tan leather upholstery. CSX2416 finished in second place overall at the inaugural Monterey Historic Automobile Races in August 1974, and then appeared in the fall 1975 issue of "Old Cars Illustrated" with California vanity plates reading "SUNCAR."
Lindley kept CSX2416 until 2011, when he quietly offered both it and his Gumball Rally 427 Cobra, CSX3243, for sale to a select few collectors. Donnie Gould quickly took ownership, then sold CSX2416 to Donn Vickrey of Carlsbad, California, with an odometer reading of 49,830 miles. After a mechanical restoration completed in late 2011, CSX2416 appeared at the 2012 Monterey Motorsports Reunion at Laguna Seca, still wearing bronze paint but with the flares returned to the original configuration. Vickrey initially planned to further restore CSX2416, but then sold it to David Lerian of Los Angeles in April 2014.
By this time, Steven Juliano, with the help of Ned Scudder and Colin Comer, realized that this bronze-colored 289 Cobra was the ultimate-specification Stage III car featured in Comer and Friedman's books. That was all it took for Juliano to move, quickly, to acquire CSX2416 and embark on what would be his last, but perhaps his most significant Cobra restoration of all. In typical Juliano fashion, meticulous research was paramount to not only determine exactly how CSX2416 looked when it left Shelby American but also to find every correct original or NOS part to do so. Thankfully, the research and restoration team of Juliano and Dave Riley were no strangers to this routine, and after four intense years of painstaking effort, CSX2416 was completed and back in the Juliano garage just weeks before his passing. Juliano described having all four members of his ultimate Cobra collection finally under one roof as an "indescribable joy." And it is certainly understandable, even by just admiring this singular and indisputably ultimate-specification Stage III 289 Street Cobra known as CSX2416. Make no mistake, the unfortunate passing of its champion Steven Juliano has created an unrepeatable opportunity to own, and premiere on the show circuit, this incredible Cobra.
1965 SHELBY FACTORY STAGE III 289 COBRA DRAGONSNAKE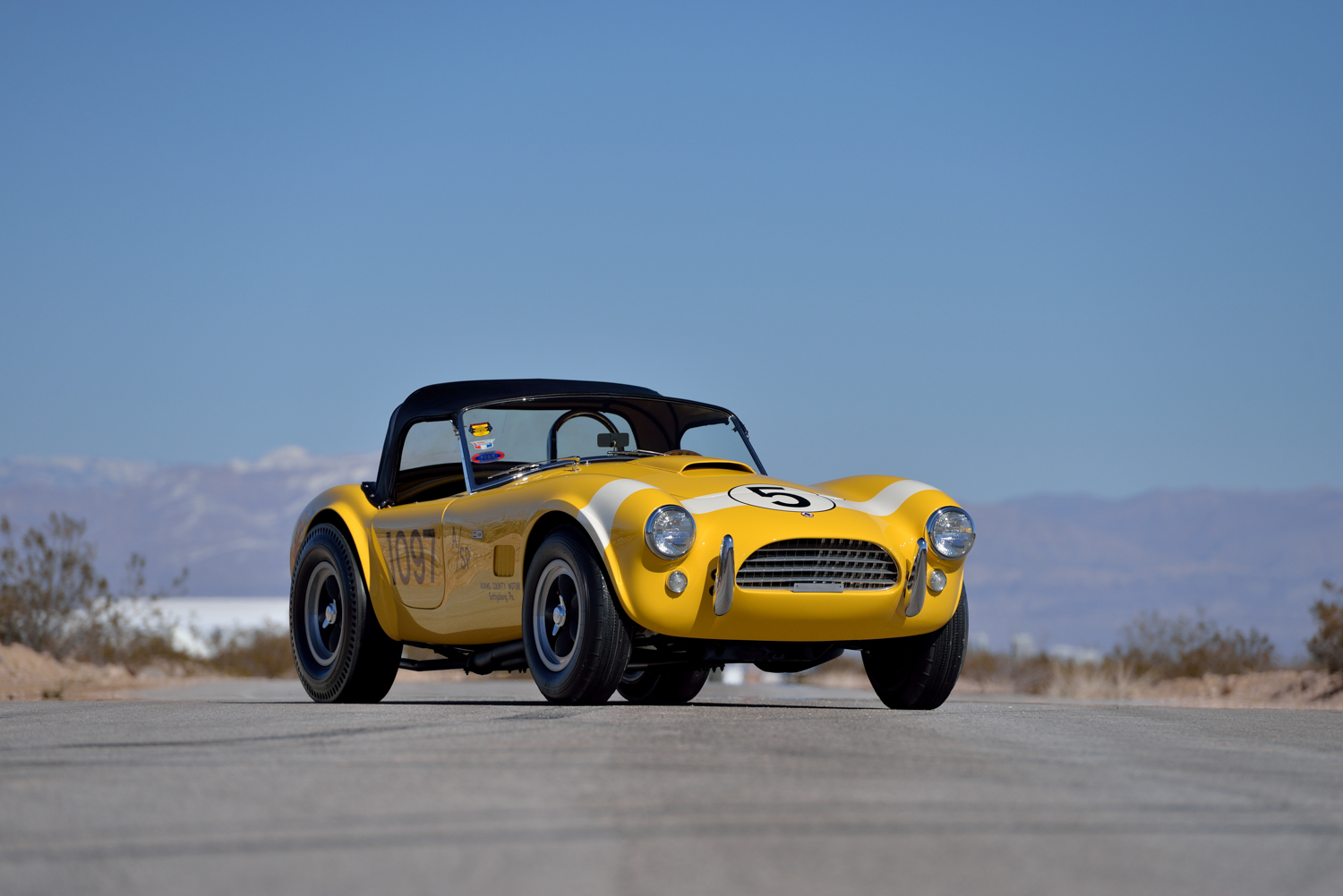 One of just five original factory Dragonsnake Cobras ever built by Shelby American, CSX2427 is literally one of just a handful of these much-storied factory Competition Cobras. CSX2427 is also the only factory Stage III, quadruple Weber-carbureted Dragonsnake Cobra produced. CSX2427 was ordered new by Don Reimer of Gettysburg, Pennsylvania, who with his younger brother Mike took delivery of the car from Adams County Motors Corp. Invoiced to that Gettysburg Ford dealer on August 3, 1964, at $8,695 plus a $305 freight charge for a total of $9,000, the car arrived wearing special-order yellow paint to match the color of the Reimer brothers' Thunderbird tow vehicle.
After a few shakedown runs at a local airfield, the Reimer brothers began racing at the now legendary York U.S. 30 Drag-O-Way, with Mike at the controls and Don managing the team, competing in both A/Modified and AA/Modified Production racing with great success, as well as running at the Indianapolis Nationals that year. It was a serious effort involving a small crew with matching yellow uniforms and a sharp aluminum car hauler complete with Cobra signage.
But at the end of the season, Mike decided to return to school the following year and his father decided the car had to be sold. Even the ad placed in the December 1965 issue of "Car and Driver" magazine had a professional ring to it, reading, "SELL – 1965 Cobra – built by Shelby American especially for drags, complete with special suspension system, drag shocks, modified springs, dyno tuned headers, mag wheels, chrome roll bar, Hurst shifter, M&H Racemaster slicks, 4.56 rear. $4650.00 firm. Also will sell many extras: mag wheel and tire, new clutch and pressure plate, aluminum oil pan, Webers including many jets, trailer. Reason for selling, son returned to college."
It is not known if the second owner, Doug Casey of Chesterton, Indiana, continued to race CSX2427, but its third owner, Dodge Olmsted of Arlington, Virginia, purchased it on July 14, 1966, and modified the car for road racing, competing in several SCCA events. Olmsted later repainted CSX2427 Candy Apple Red after repairing it from an on-track shunt. Harold Hammond of Ohio became the next owner of CSX2427 in May 1969 and later sold it to Howard Heath of Columbus, Ohio; at that time, the car was painted yellow again and had spline-drive wire wheels installed. After moving to Canada, Heath repainted the car silver.
Peter Klutt of the Shelby Shop (later renamed Legendary Motor Cars) near Toronto, Ontario, purchased CSX2427 in 1988 after learning of it at a car show. After showing the bare body and chassis at SAAC-18 at Watkins Glen, New York, in July 1993, Klutt brought the completed Cobra to SAAC-20 in Atlanta, Georgia, in July 1995, where it appeared in yellow with a black interior. In addition to sporting 5-spoke American Racing wheels, a hood scoop and a chromed roll bar, the car's rear wheel wells were shorn of their sides in correct Dragonsnake form.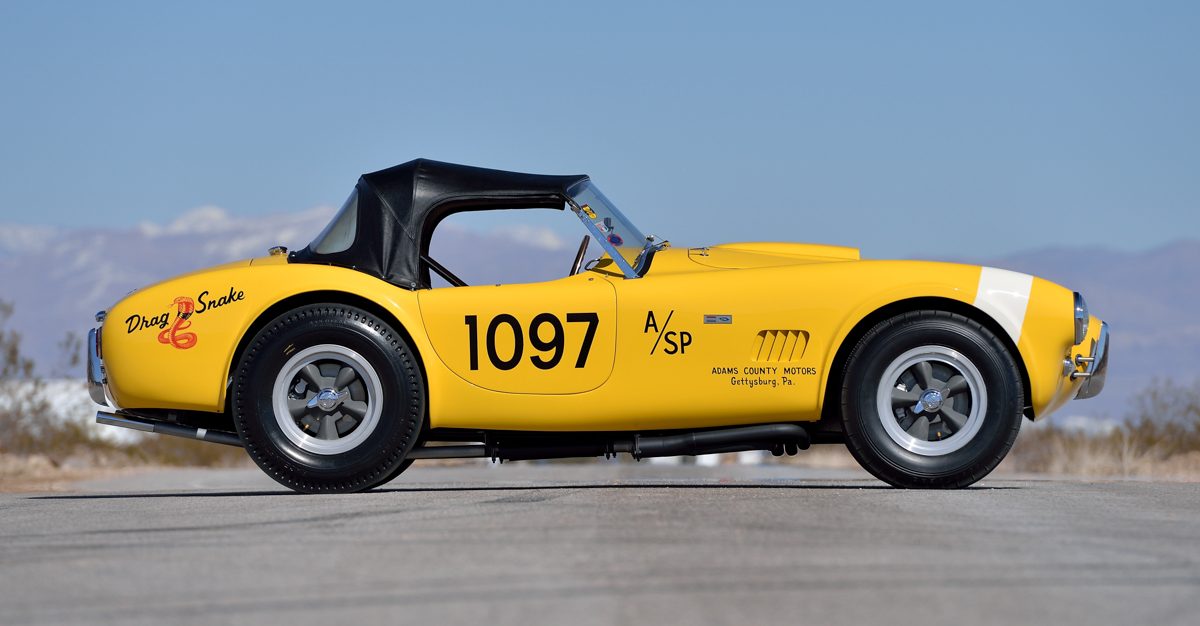 CSX2427 was awarded Silver in the Cobra Concours class at SAAC-20, after which Legendary Motor Cars advertised it for sale with this description: "One of two factory 289 Dragonsnake Cobras built [sic]. Custom ordered yellow in color … 3,596 original miles, complete documented history since new … Factory stage III with Webers … NHRA and SCCA race history … Perhaps the finest, rarest Cobra in the world."
Offered by Legendary in tandem with a Ford Thunderbolt, CSX2427's subsequent owner history reads like a who's who of the high-end car collecting world. It was first purchased in 1996 by Chris Cox (Prova International) from Raleigh, North Carolina, who later sold it to Richard Scaife of Pittsburgh, Pennsylvania. Scaife offered it at auction in January 2001, and it sold for $190,000 to Harry Yeagey of Ohio, who traded it to Rich Mason of Carson City, Nevada, in April 2004. Mason converted CSX2427 back to road-racing configuration and ran it on the vintage racing circuit before selling it to Steven Juliano in February 2007.
Juliano and Dave Riley soon embarked on their typical concours-level restoration that returned CSX2427 to its precise original Dragonsnake configuration, during which Juliano consulted with 2427's original driver Mike Reimer to assure maximum authenticity. The completed CSX2427 was awarded the coveted Division 1 Premiere Award at SAAC-34 in August 2009 in Wampum, Pennsylvania. It should also be noted that CSX2427 attained the highest points score in SAAC judging history to that point, an accomplishment that reflects the late Juliano's passion for perfection and absolute historical accuracy down to the smallest detail. In addition to that honor, this unique Dragonsnake Cobra has appeared in numerous publications and books, and it was selected by Ford to be featured in Ford's tent during the Cobra 50th Anniversary celebration at the 2012 Monterey Motorsports Reunion at Laguna Seca. It's all very fitting for what is unquestionably one of the finest-quality restored Competition Cobras in existence, and justification for the tireless efforts of its late caretaker Steven Juliano who wouldn't have it any other way.
1966 SHELBY 427 COBRA ROADSTER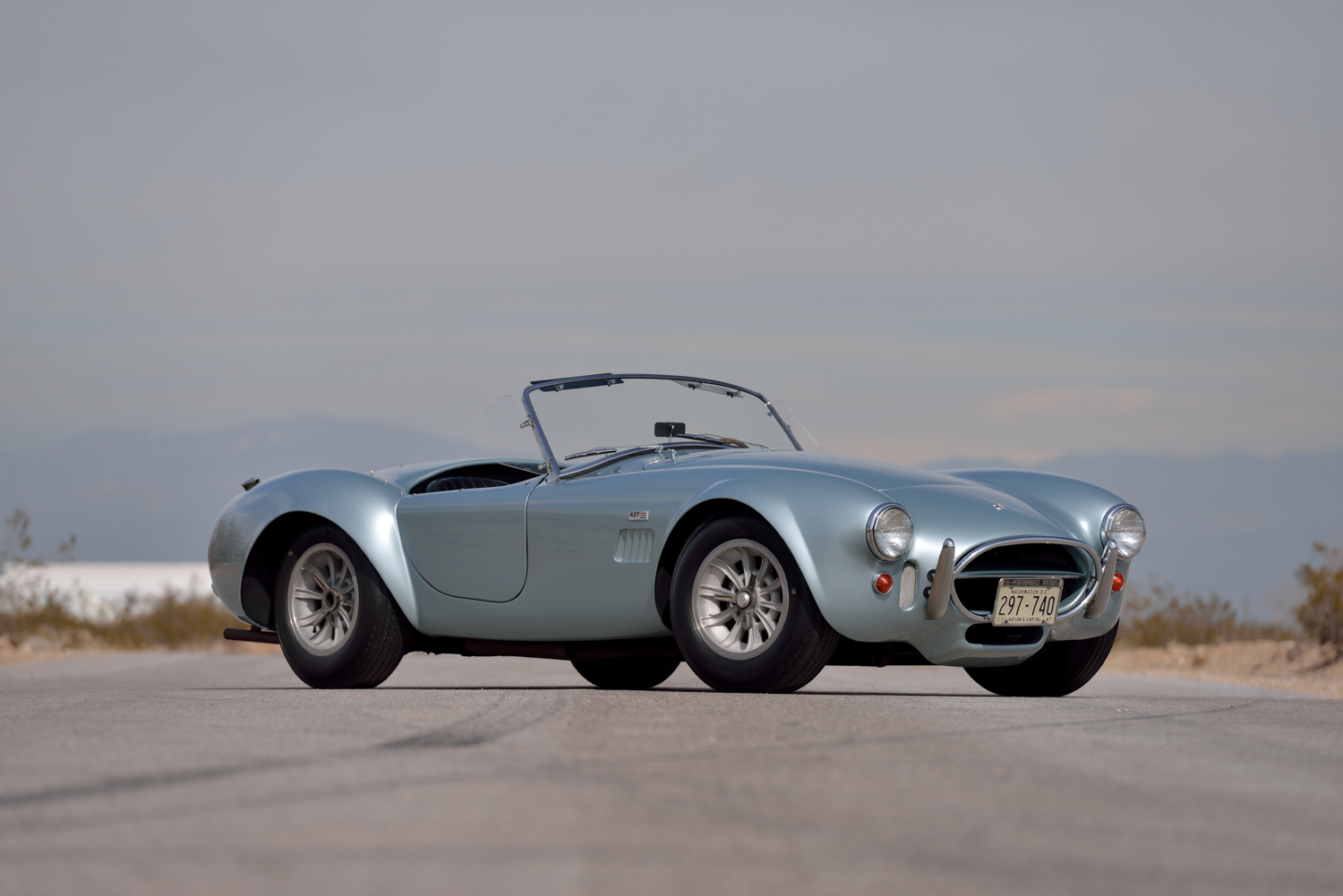 This 1966 Shelby 427 Cobra, CSX3173, much like the other Cobras from the Juliano Collection, is regarded as simply the best of its breed. Shelby American records show that it was billed to the company on September 2, 1965, shipped to Los Angeles, and Work Order No. 18065, "Build 427 Street Cobra CSX3173," opened on December 8 and closed on January 6, 1966. On invoice A 1715 dated January 7, 1966, Shelby billed Archway Motors, Inc., of Baltimore, Maryland, a total of $6,398, including a truck freight charge of $310. CSX3173 arrived at Archway as ordered, painted in Silver Mink metallic with a black interior and packing a genuine dual-quad FE side-oiler 427 CI V-8 with cross-bolted mains.
Its first owner, Dodge Olmsted of Arlington, Virginia, took delivery on February 12, 1966. In April 1966, Olmsted brought the car, now with 1,335 miles on the odometer, to Koons Ford in Falls Church, Virginia, to have a crimped brake line replaced and a proper hanger fabricated and installed; the work was done under warranty at a cost of $29. Olmsted owned the car barely five months, selling it to Doug Casey of Chesterton, Indiana, on July 14, 1966.
Casey drove CSX3173 only briefly, but he certainly seems to have enjoyed it while he did, because his ad in the October 15, 1966, issue of "Autoweek" advertised the car at "6000 miles, perfect condition." Casey also placed ads in the November 1966 issue of "Road & Track" priced at $6,800 and the December 1966 issue of "Car Life," stating "1966 Cobra 427. Silver/black, 6000 miles, perfect. Original cross-bolted 2-4V 427, not a 428. Best offer over $6200. May trade for cheaper street or competition car."
By 1968, the car appeared repainted in black and was purchased by William Pickford of Washington, DC. CSX3173 was again advertised for sale in July 1970 as "1966 Cobra 427, black, black exterior, new tires, mint condition. $8000." Federal Park Police Officer Gordon Creed of Virginia responded, buying the Cobra and taking advantage of his effective exemption from speeding tickets to engage in the occasional street race on the George Washington Parkway in Maryland, often against his friend Don Silawsky of Edgewater, Maryland, in CSX3350.
Creed kept the car until the summer of 1972, when he ran an ad stating "1967 Cobra 427 Roadster, No. 3173, considered the ultimate sports car at 500 hp, black with black leather interior, Halibrand mags with new 10" belted tires, Blaupunkt AM-FM stereo, capacitive discharge ignition, tonneau & top, never raced. Immaculate. $8900."
James Currie of Erie, Pennsylvania, became the new owner, driving CSX3173 for almost seven years. During that time Currie made a number of cosmetic and mechanical improvements, including repainting the car to its original silver metallic and replacing the exhaust system, before announcing in the spring of 1978 that he was open to offers. "It is in excellent shape," his ad concluded, "if interested, send offer." While it is not known if Currie received the $40,000 he reportedly wanted, he eventually sold CSX3173 to Jim Southard of Marietta, Georgia, in late 1978. Southard later offered the car at $48,000, after which Dick Steamer of Mendon, New York, purchased it.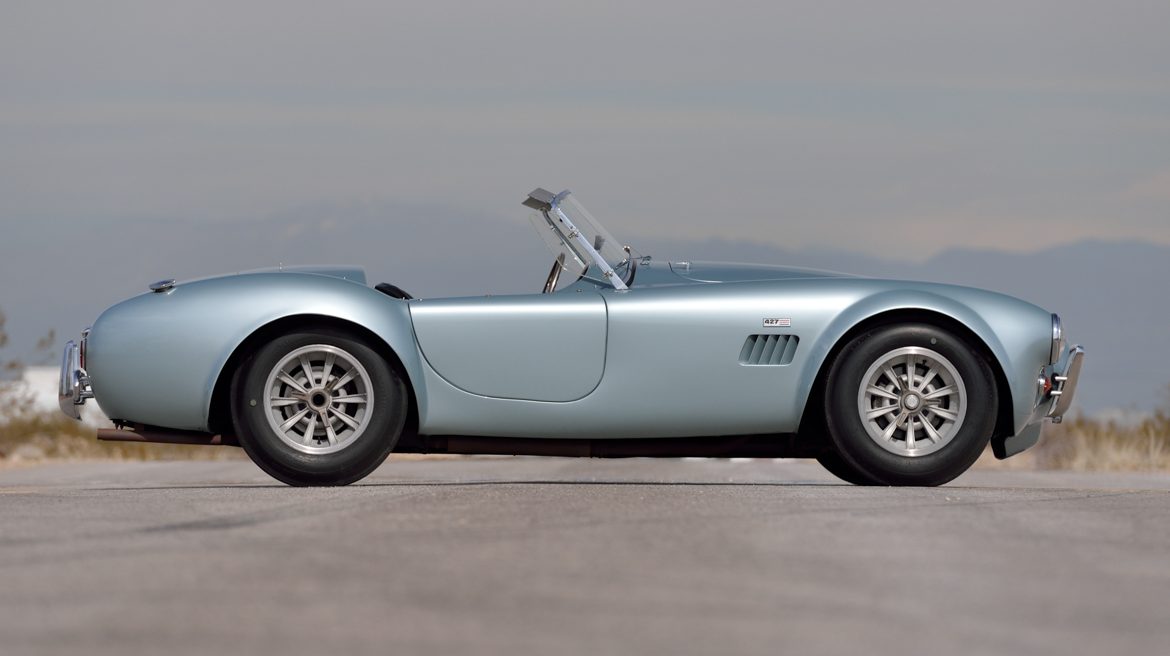 In 1986, California resident Walt Somerville purchased CSX3173, before offering it for sale at $250,000 in July 1987 with Sunburst knock-off wheels and an original Blue Dot spare tire in the trunk.
In August 1987, CSX3173 was sold to the Japanese Fromo Corporation and exported to Japan. Following ownership by a series of four owners in Japan, in 2007, CSX3173 returned to the United States and was discreetly offered for sale. Steven Juliano bought the car in 2010 and, along with Dave Riley, endeavored to make the low-mile and completely unmolested CSX3173 into the most correct and accurate 427 Street Cobra possible. Expertly refinished in its original and stunning Silver Mink color, every detail of the car was made to be correct to the smallest detail. A Juliano hallmark, only original or NOS parts were used, from its original set of five 8.15×15 Goodyear Blue Dot tires to all-original weather equipment, right down to NOS 1966 spark plugs, air and even oil filters. It is a car that quite simply, in the words of SAAC Cobra Registrar Ned Scudder, is "so good most concours judges don't even understand it."
Juliano displayed CSX3173 once, at the 2012 SAAC National Convention at Watkins Glen, but otherwise it has never left his private collection. With only 260 original "427" Street Cobras produced, once one deducts the roughly 100 examples that left the factory with 428 Police Interceptor engines, that leaves roughly just 160 true 427 Cobras. From that number, deduct the large number that have had their engines, or worse, replaced or have been crashed, salvaged or simply destroyed, and there just aren't a lot of truly pure 427 Street Cobras in the world today. And that was what led Juliano to pick CSX3173 as his ideal 427 Street Cobra. It is indeed perhaps the finest and most correct example that exists today, in one of the rarest colors available, with a fully documented ownership history, its original Shelby American window sticker and simply unobtainable original parts throughout. It is no exaggeration to say it is likely impossible to duplicate the quality and correctness of CSX3173 at any cost. It is also not hyperbole that this car being publically available for the first time in more than three decades is indeed an opportunity for an astute collector who fails to settle for second best, just like Steven Juliano.
For more information on Mecum's Indy sale and the Steven Juliano Collection visit www.mecum.com