At some point in his time collecting, it occurred to Todd Werner that there was a reason the cars he was amassing had become so popular to begin with, and that reason was their racecar counterparts, specifically those that actually took to the racetracks with the precise goal of propelling their respective makes and models not only to the finish line, but also into the limelight.
As just about every baby boomer-era enthusiast knows, there was a time when the adage "Win on Sunday, Sell on Monday" was an automotive truism. And, as a result, many of the muscle cars that grew to become icons of the time owe the entirety of their popularity to their race-prepared brethren. It was that realization that compelled Werner to shift the focus of his collection. Having already acquired top-quality examples of his favorite muscle cars, he found himself wondering what to pursue next, when it dawned on him: why not seek out the cars that "made" the cars? And so began the journey that would ultimately lead to the creation of one of the world's most historically significant collections of vintage race and muscle cars.
In large part due to that top-shelf nature of Werner's cars, he has typically been one to hold onto the vehicles he acquires, noting that others have even jokingly referred to his garage as a black hole. But bidders at Mecum Auctions' Harrisburg sale, this July 31 through August 3,  will have the rare opportunity to bid on more than 40 cars and even a few motorcycles, with 42 of the 44 vehicles from Werner's collection being offered at no reserve. Some of the significant highlights include: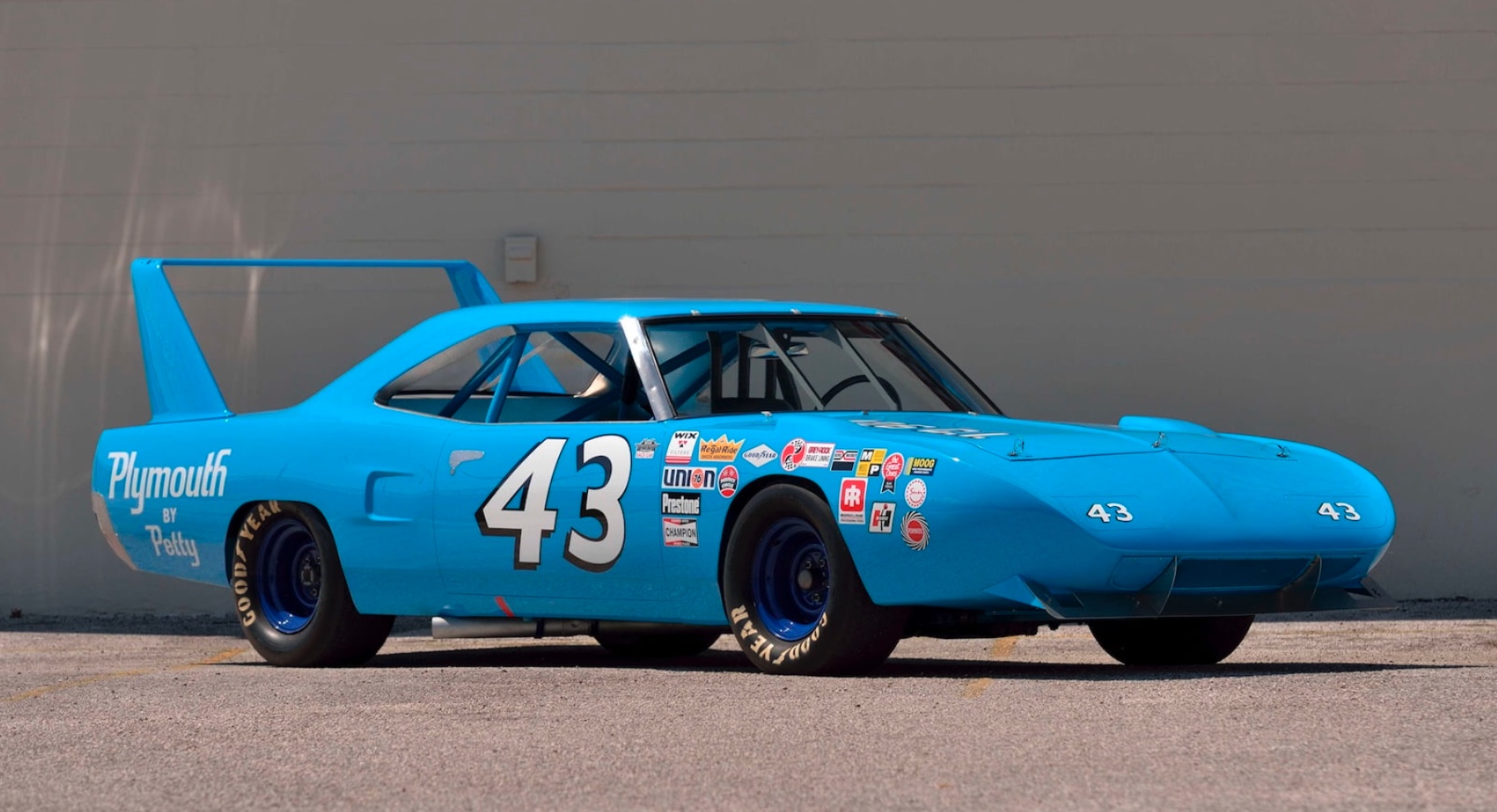 The Plymouth Superbird was only legal in NASCAR for one season, and this example is Richard Petty's No. 43 car from that year. Drawing upon the Dodge Charger Daytona, the Superbird package was released to get "King Richard" back into a Plymouth after the team had switched to Ford for 1969. Indeed, only a midseason mishap kept Petty from winning the 1970 championship, as this car and his others scored 18 race wins and 31 top 10 finishes for him that season. Verified by its Ray Nichels chassis and original Petty construction, this car was first believed to have been the version raced by teammate Pete Hamilton until further research proved it to be Petty's own. The restoration was performed at Petty's Garage using original or NOS parts, with the engine built by Maurice Petty and his son, Timmy Petty. Original or NOS sheet metal inventory was also supplied by Petty Enterprises, and the car's race suspension has been tuned by Petty's racing staff to potentially run at 200-plus MPH on today's superspeedways. Among the verification was identifying original, correct rivet holes in the floorboard matching 1970-era photographs. Richard Petty later hand-fabricated the arch under the shifter to match photos from 1970. Original crew members Richie Barz and Dale Inman of Petty Enterprises have visually confirmed this car as well. Under the hood of this legendary wing is a Petty Enterprises 426 Hemi V-8 engine with NASCAR intake, Holley carburetor and cowl-induction scoop. This is backed with a 4-speed manual transmission and Dana rear end. The exterior has the noted Superbird components, all painted in Petty Blue with No. 43 lettering and decals. Inside is the Nichels-built cage, taped steering wheel, Hurst shifter, tachometer, gauges and associated correct NASCAR equipment. Goodyear racing tires on steel wheels finish it off. Restored by Petty's Garage and signed by Richard himself, this may be the most famous Superbird of all and the most notable car residing in the Werner collection. This is the single most recognized automobile in American racing history.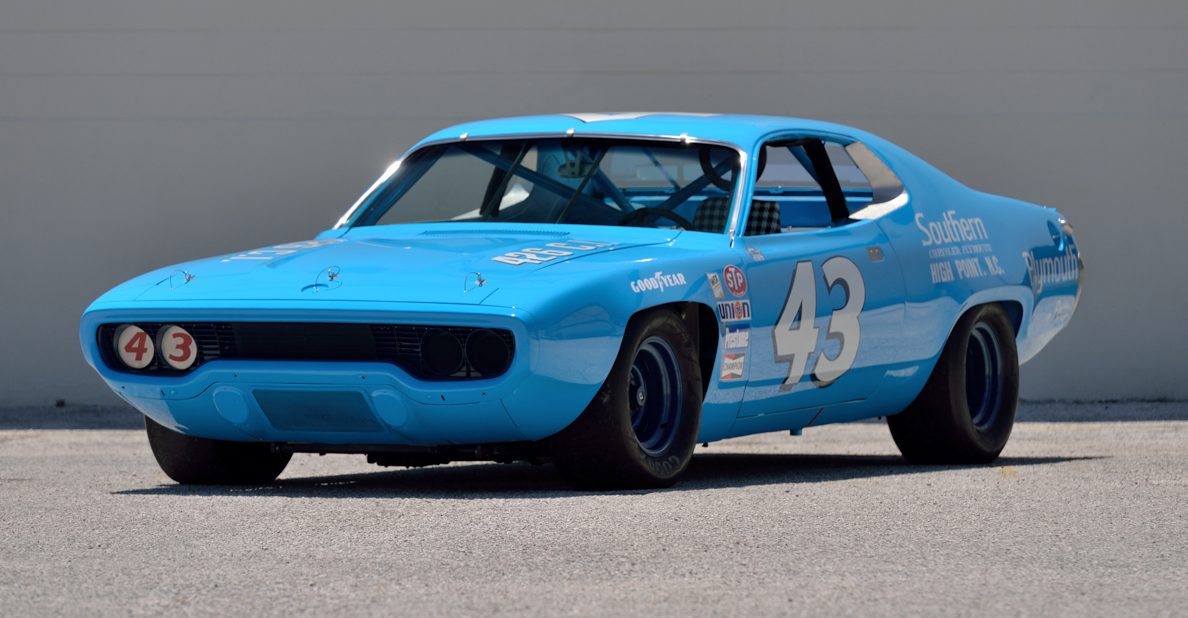 The 1970s would be a big deal for Richard Petty, as he would win NASCAR Grand National championships in 1971, 1972, 1974, 1975 and 1979. The car offered here is the one that got it all started, claiming the first-ever Winston Cup Series crown posted, Petty's third series title and propelling him to the $1 million mark in total career prize money. The just-released '71 G-series body design proved its worth, and beyond being a 1971 NASCAR Grand National championship-winning car, this would be the last stock car to win a NASCAR Grand National championship using a production-based body and engine. One of only two Chrysler fully sponsored factory cars for 1971, this car would also uphold the final full-season honor for Plymouth, as Petty used a Dodge for part of his 1972 campaign. The car was delivered to Petty Enterprises' shop as a body-in-white, and Petty scored an incredible 21 race wins—19 in this car—and 38 top-five finishes in NASCAR's final "long season." It even visited the White House that year by presidential invitation. Now restored to its 1971 configuration, this car features a rebuilt 426 CI Hemi NASCAR-detailed engine with the bathtub intake and cowl induction. Behind this is an A833 4-speed manual transmission with Hurst shifter and an 8.75-inch Mopar rear end. Of course, the gorgeous body is covered in trademark Petty Blue with period-exact lettering and decals. The interior features a black plaid seat and Petty's cushioned peace-sign headrest, as well as a custom dash, Prestolite ignition parts and taped steering wheel. Chrysler's torsion-bar front suspension with reinforced A-arms and dual shocks and rear leaf-spring suspension with tubular shocks remain in place. Body changes from stock include the blocked-off headlight and tail-lamp openings, rear-bumper aero covers, a mesh grille and 15×8-inch steel racing wheels. With an album of restoration photos included, this car has been showcased in "Hot Rod" magazine and was prominently featured at the 2009 Woodward Dream Cruise. This is Petty's last Plymouth-sponsored car, the first STP-sponsored car and the last Plymouth that Petty drove in competition.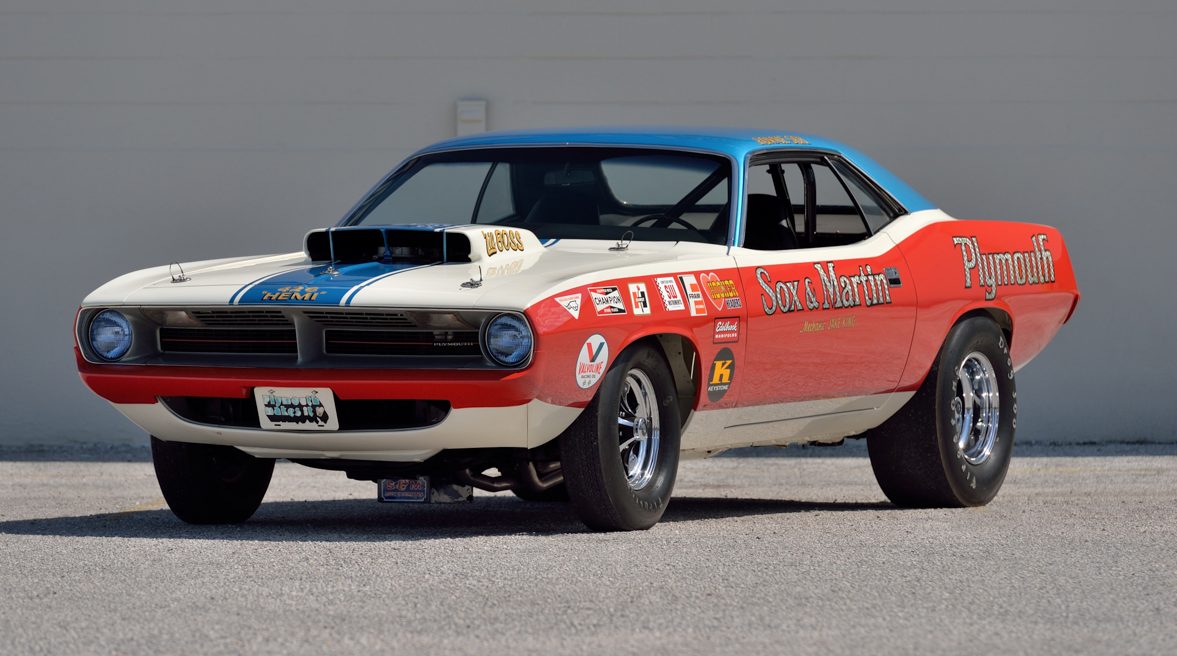 The 1970 Hemi Cuda was a huge release in the history of muscle cars, but there is only one factory-built drag-car Hemi Cuda with a VIN that was produced for the Sox & Martin team: this one. By 1970, NHRA was forwarding acid-dipped bodies to its race teams for conversion. Not as well remembered is that the rules still required enough OEM trim that many teams also received a Street Hemi E-body to complete that conversion. This car likely exists because it was rebuilt into a test and clinic car by Ronnie Sox and Buddy Martin. It served as a test bed and was then dressed up to actively compete in AHRA's GT-1 class and Super Stock class, where team driver Herb McCandless and Ronnie Sox successfully took it to a World Championship in AHRA, also winning in several GT-1 PSS wins. Now considered the only professional-level drag-racing E-body Hemi Cuda with a factory Hemi VIN tag, this car is equipped with a 426 Hemi V-8 engine that hosts a rare Chrysler prototype independent-runner tunnel ram with twin 4500-series Holley 4-barrel race carburetors. This serious engine also has a solid-roller camshaft, 13.0:1 compression, Hooker headers, rev-limiter and cool can. The engine is backed by an A833 4-speed transmission and 4.88 Dana 60 rear end with chrome cover. Presented stunningly in the legendary red, white and blue team livery, this car has a black bucket-seat interior, Hurst shifter, cable-driven tachometer and period-installed gauging. Well-known within the Mopar hobby and restored to competition specifications, this car also has Keystone wheels, correct Firestone Drag 500 slicks and an original broadcast sheet. Gorgeous with correct decals and excellent painted-on team lettering, this Plymouth is instantly recognizable by those who remember the glory days of racing. However, only this car can lay claim to being a true Sox & Martin drag-racing vehicle whose origins were a production-line-built 1970 Hemi Cuda.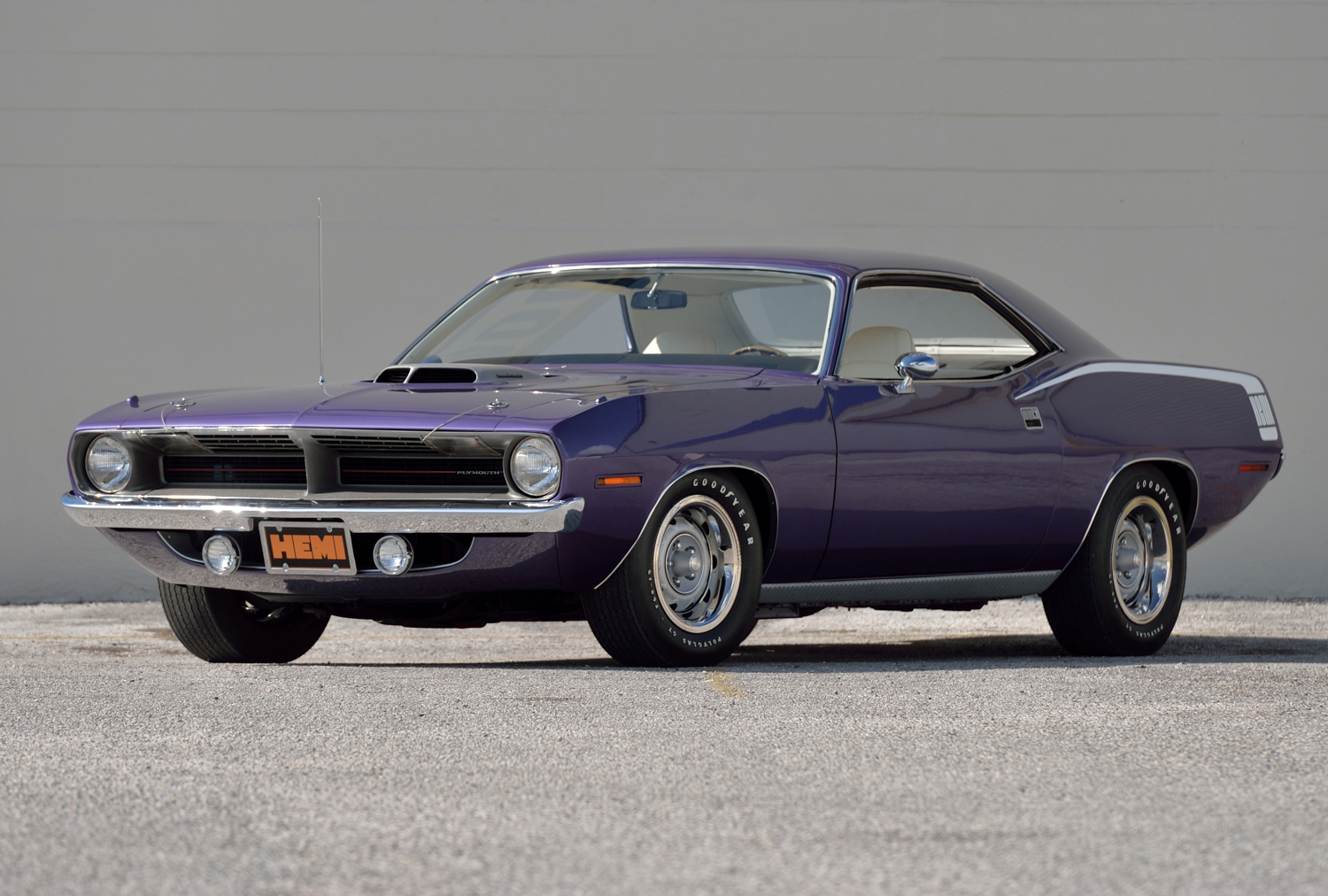 The crazy color choice was part of the era, and any 1970 Cuda painted in FC7 In-Violet Metallic was an eyeful. Of course, also optioning that Hemi engine beneath the argent Shaker scoop added to its mystique and to this car's desirability today. The Hemi engine was already legendary by this time, and changes for 1970 in terms of cam design had made it more civilized for regular use. Nonetheless, this 426/425 HP V-8 engine retained its race-bred internal parts, 10.25:1 compression, a pair of 4-barrel Carter carburetors, H-pipe exhaust system and a fearsome reputation on Main Street. A fast mover by any measurement, this particular E-body Plymouth also features the desirable A34 Super Track Pak, alluding to the 4-speed manual transmission and 4.10 Dana 60 Sure Grip differential. Like all real Hemi cars, performance-level frame and suspension components were automatically packaged into the construction as well. The factory color combination is In-Violet Metallic with a white interior and graphics, which in this case includes the white Hemi side stripes on each rear quarter panel. Inside are high-back bucket seats, the Hurst Pistol Grip shifter, A62 Rallye dash appointments with tach, wood-grain-design trim and steering wheel, an AM radio with 8-track player and auxiliary rear speaker, power windows, and the A01 Light Group. Outside, this Cuda has the right stuff—dual sideview mirrors, rocker moldings, J45 hood pins, road lamps, chrome exhaust tips and "hemicuda" callout tags on the Shaker. The crowning touch is 15-inch Rallye wheels with Goodyear Polyglas GT tires, with the wheel wells additionally accented with thin chrome trim. Provenance for this car includes its owner's manual, two fender tags and three factory broadcast sheets verifying its as-built status. At the time of its release, nobody knew that the E-body Hemi Cuda would last but two model seasons. Considered a pinnacle of the performance era, ownership of this car's combination of color, driveline and optional equipment will be treasured by its next caretaker.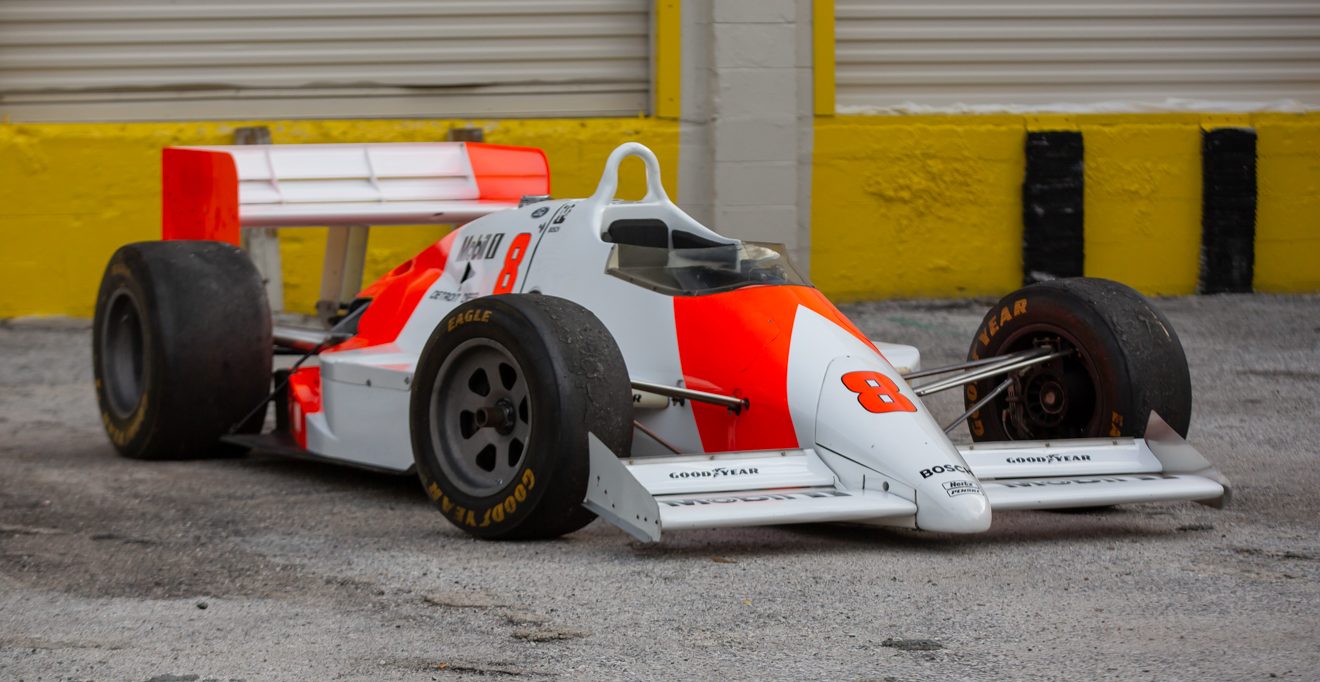 This March 87C Indy car was one of 33 built by the ultra-successful March Engineering Ltd. of Bicester, England, for the 1987 CART/PPG IndyCar World Series. Currently finished in bright red and white Team Penske livery, the car was first utilized as a Machinist Union racing team backup car for drivers Josele Garza, Pancho Carter and Kevin Cogan. It was later used as a test car for future Indianapolis 500 winner Buddy Lazier. Powered by the all-conquering 2.65L Cosworth DFX turbocharged V-8 engine mated to a Hewland gearbox, this machine currently sports the road-course/short-oval wing configuration typical of the period. When March Engineering decided to enter IndyCar racing for the 1981 season, the firm had no idea that its designs would prove so successful that a short three years later an incredible 30 of the 33 starters would use March chassis. In 1983, after two years of near misses in March cars, the legendary Tom Sneva drove a new March 83C to a stirring victory in which he overcame a father-son tandem, first passing Al Unser Jr., who was relentlessly blocking Sneva, and in short order dispatching Al Unser to win the Indianapolis 500. It ushered in an era of March dominance at Indianapolis, where its cars won five consecutive runnings of the famous race. In 1984, Sneva was set to battle Rick Mears for the win—both using March 84C chassis—when he suffered a CV joint failure late in the race, leaving Mears to speed to victory. Wins followed in 1985 for Danny Sullivan, 1986 for Bobby Rahal and 1987 for Al Unser. Built using the state-of-the-art materials available in the 1980s, the March 87C on offer here features a honeycomb aluminum monocoque chassis design with a molded composite upper section, a specially designed fuel cell, dry-sump oil/water system, side-mount radiators, dual-wishbone/pull-rod front suspension, Koni shocks, Mallory Pro Shield plug wires, Willans Racing belts, Momo steering wheel and Goodyear Eagle racing tires. The purebred racer marks a time when new Indy cars were introduced every year, and much of the paddock was happy that their car of choice was built by March.
For more information on the Todd Werner Collection visit https://www.mecum.com/auctions/harrisburg-2019/collections/todd-werner-collection/