Italy and France each have beautiful and robust cultures with diverse offerings and unique perspectives. And while each is unique in their approach, the French share a great deal of their artistic passion with Italian culture. Great art, beautiful opera, fantastic cuisine, and a way of life that celebrates passionate expressions inclusive of romantic language, poetry, as well as artful if not quirky cinema. Ettore Bugatti and his family left Italy and set up shop in France to be free from the fascist government that ruled Italy at that time. Though not the last Italian-French partnership, Bugatti did a great deal to enhance the value of multinational partnerships and the importance of artistic exchange within each culture. When Citroën and Maserati joined forces, the resultant Citroën SM delivered the powerful one-two punch of Italian artistry backed by the audacity of French engineering.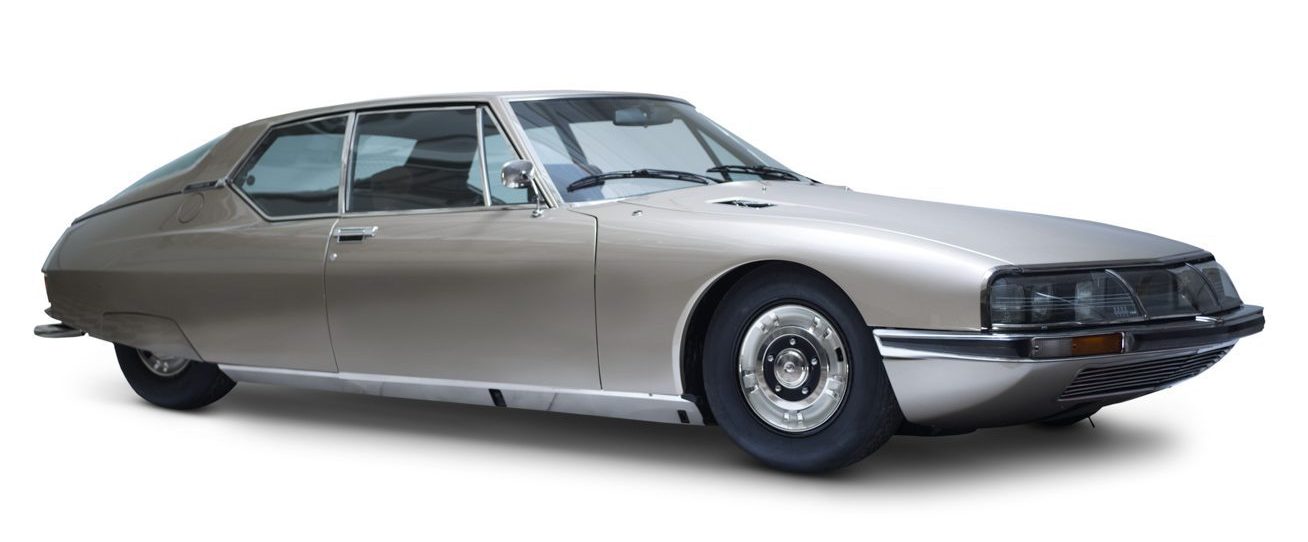 The Citroën SM is rightfully regarded as one of most breathtaking automobiles ever conceived. The original design, now more than 50 years old, continues to impress generations of viewers who are fortunate to stumble across one at a car show or better still find one hovering across the highway as though it had just arrived from another planet. By 1970 Citroën had already established themselves as progressive Avante Gardiers of design, but they had further distinguished themselves with significant mechanical prowess with the Traction Avant and the economical and painfully endearing 2CV.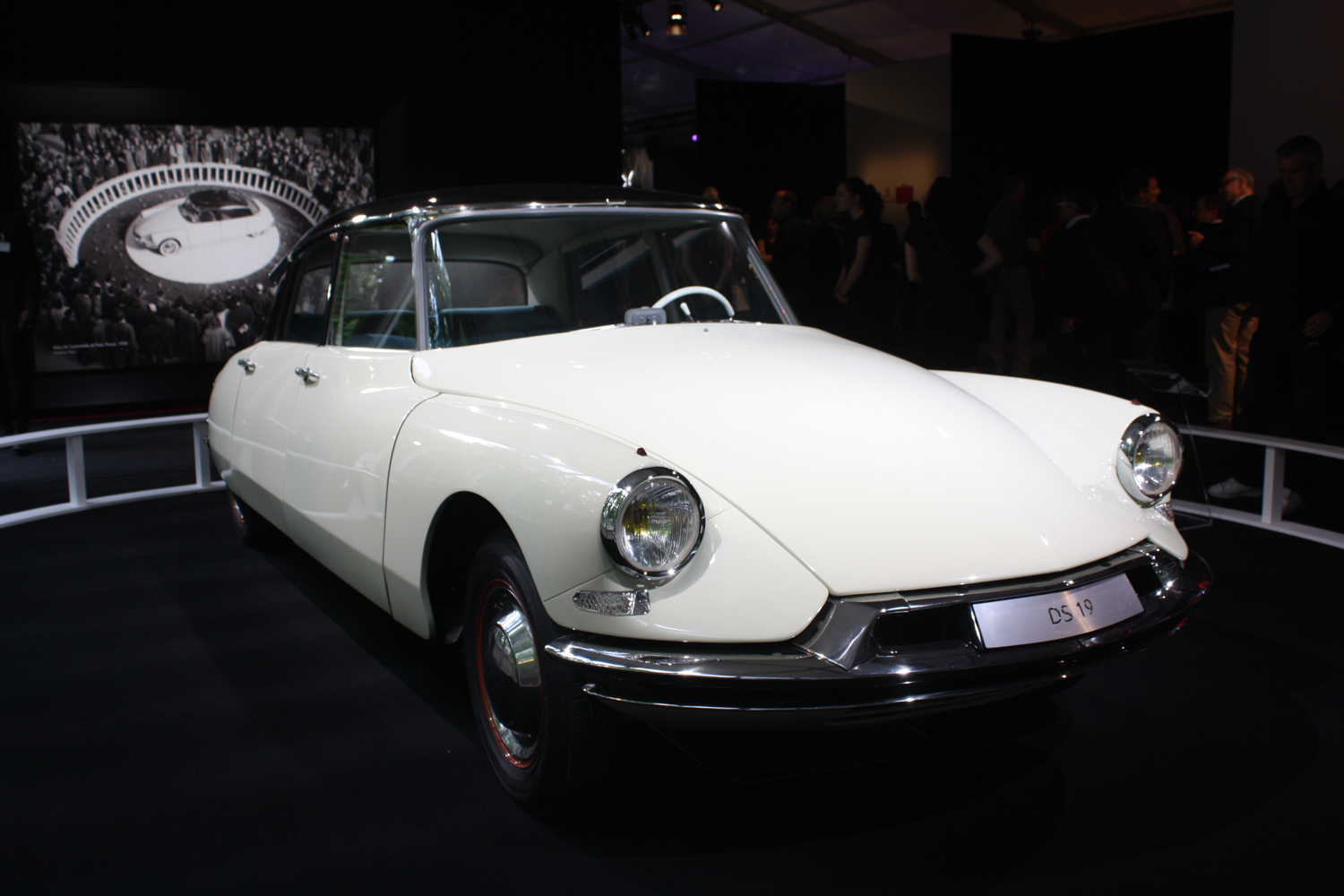 By any standard of excellence, however, all their previous achievements paled in comparison with the introduction of the incomparable DS. Packed with numerous automotive firsts including the use of mass production disc brakes and adjustable height oleopneumatic suspension, one could easily begin to believe there was simply no way to top such a fantastic car. But all that changed at the 1970 Geneva Motor Show when Citroën delivered what is still regarded as one of the most impressive motorcars of the 20th century; the unmistakable Citroën SM.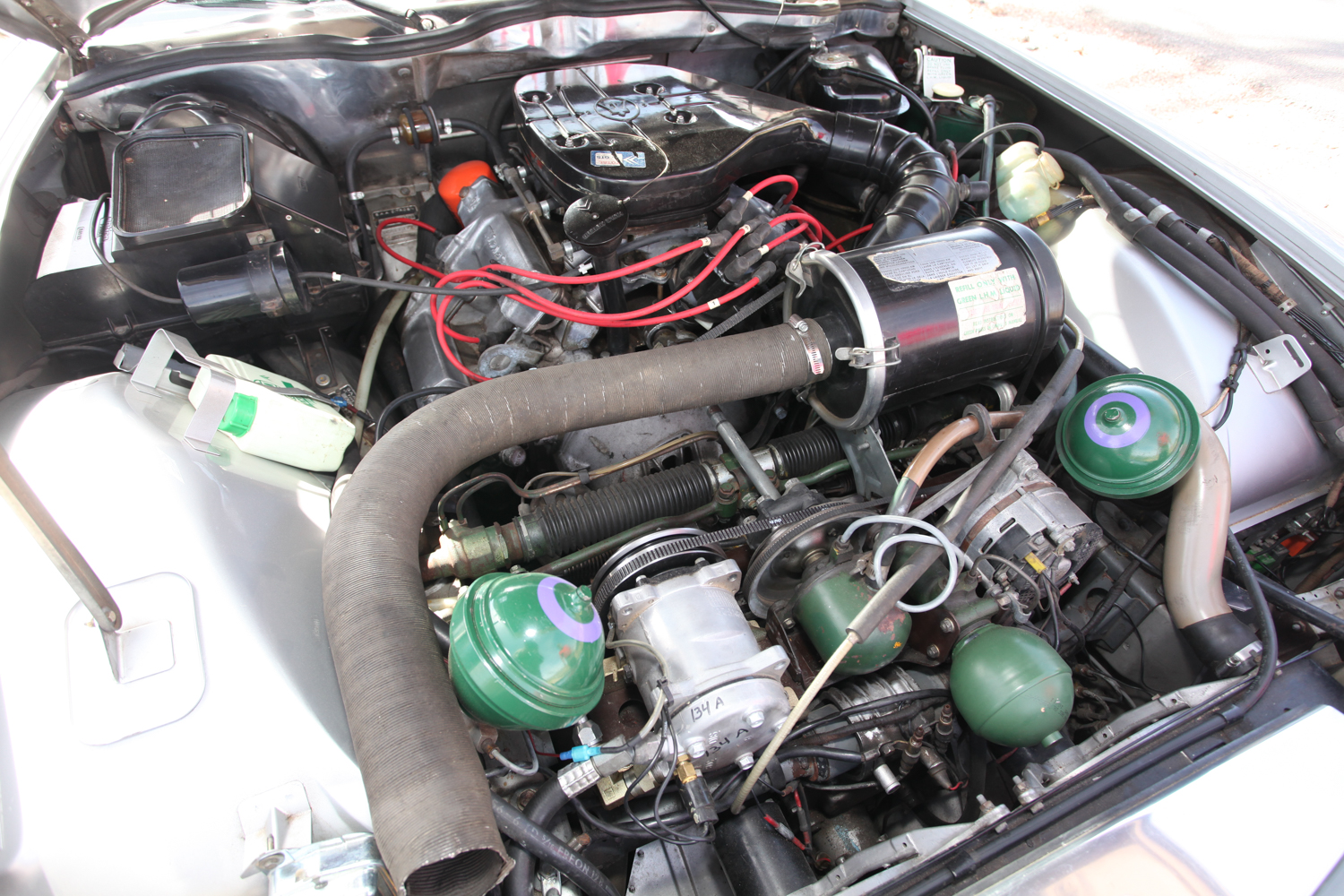 With the benefit of their purchase of the financially ailing Maserati, Citroën tapped their internal engineering team to develop a six-cylinder engine that would serve as the power plant for both the Maserati Merak, and the new Citroën. Though a seemingly challenging pairing, the pasta and escargot somehow worked. The 90-degree, quad-cam V6 delivered remarkably smooth power with a level of performance efficiency that served both the sporting Merak and the more Grand Touring SM. The visually arresting body design was very aerodynamically efficient, employing a tall Kamm tail, smooth roofline, and expansive glass including an impossibly expensive rear glass hatch that itself was a feat of engineering.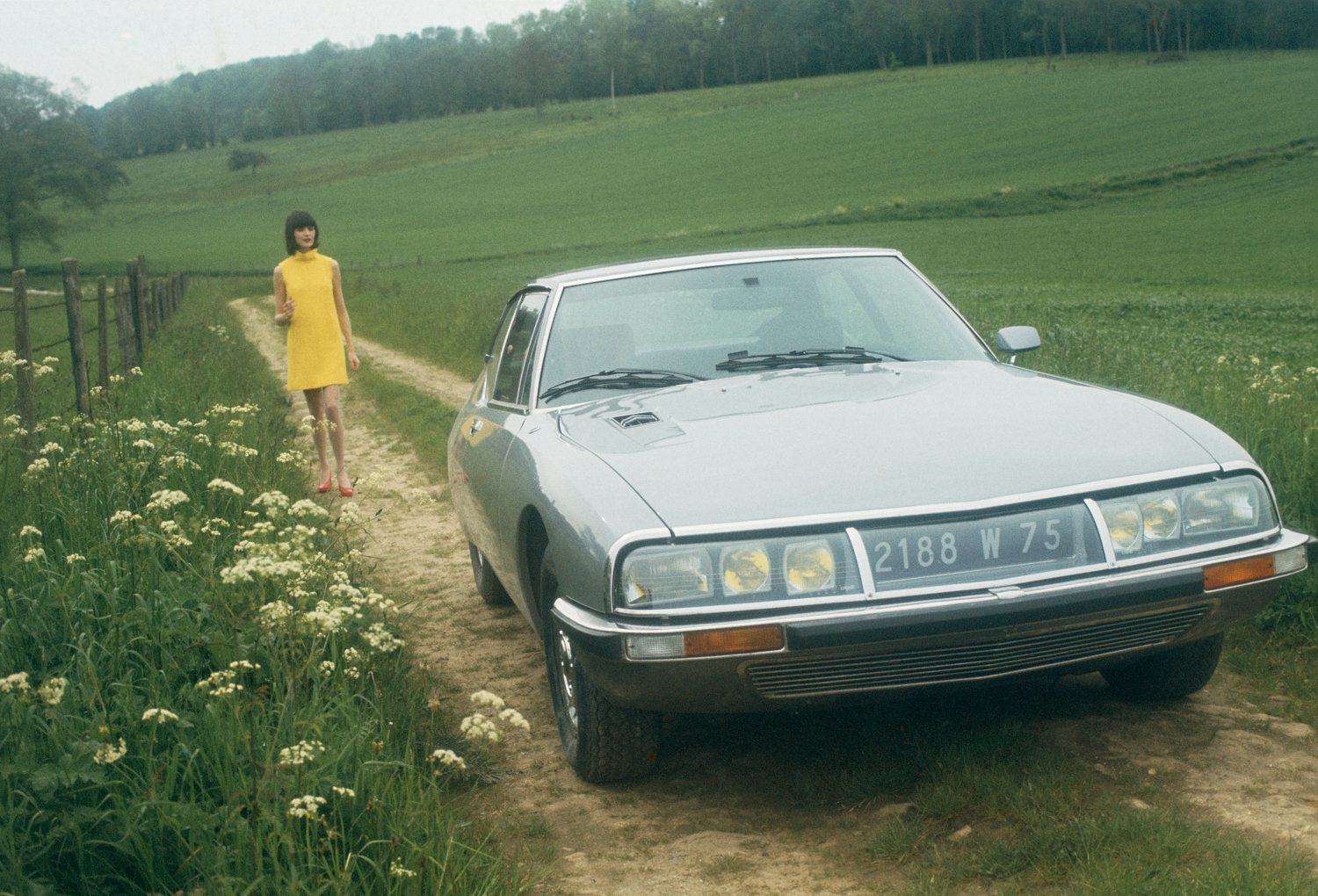 Stunning exterior design elements continued throughout the car including partially covered rear wheels, and a very wide front track which narrowed dramatically at the rear. This not only improved high-speed stability, it gave the car a sinister forward presence, as though it was lunging forward even while sitting still. And while most of these features were visually exciting, they also contributed to a remarkable if not impossible and previously unachievable coefficient of drag of just .26, an astonishingly low number for a production car of any era, let alone a sedan available to the general public. As with the DS, Citroën leveraged previous technology including disc brakes all round (inboard at the front to reduce unsprung weight), automatically adjusted hydraulic brake bias using weight distribution sensors, adjustable oleopneumatic suspension, and variable assist power steering. All this in a singular car of flagship pricing, while America built lumbering solid axle, drum brake cars still feeding the waning Muscle Car movement that demanded straight line power as the pinnacle of automotive performance.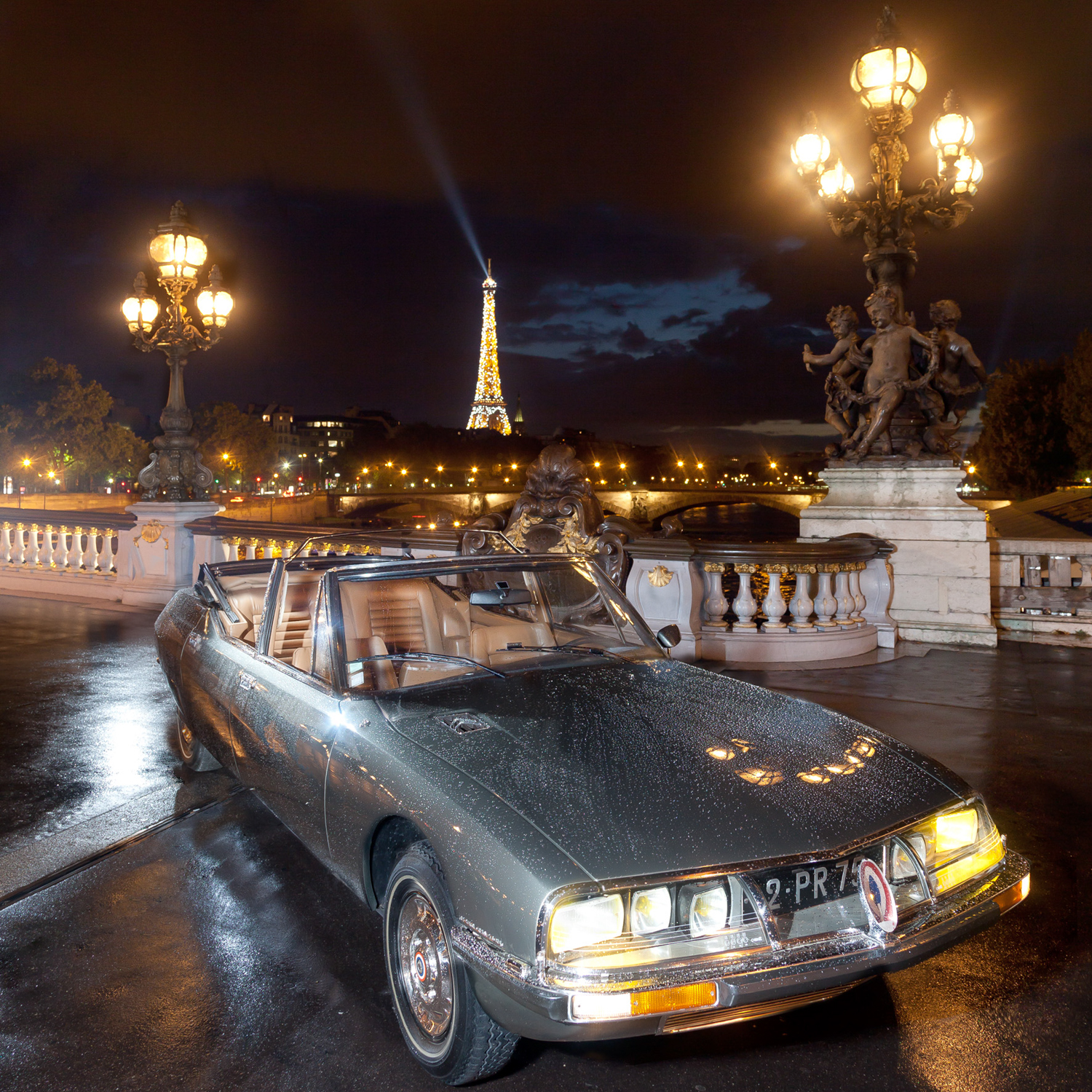 Upon release, the automotive press unanimously praised the Citroën SM as one of the most technically advanced automobiles of the century. It was not only a phenomenal road car it was shockingly quick, capable of 140 mph top speeds, and could manage a wide range of roadways or varied terrains due to the dynamic suspension and incomparable handling. In 1971, Road & Track pronounced it as one of the 10 Best Cars in the World, followed by achieving the 1972 Motor Trend Car of the Year award.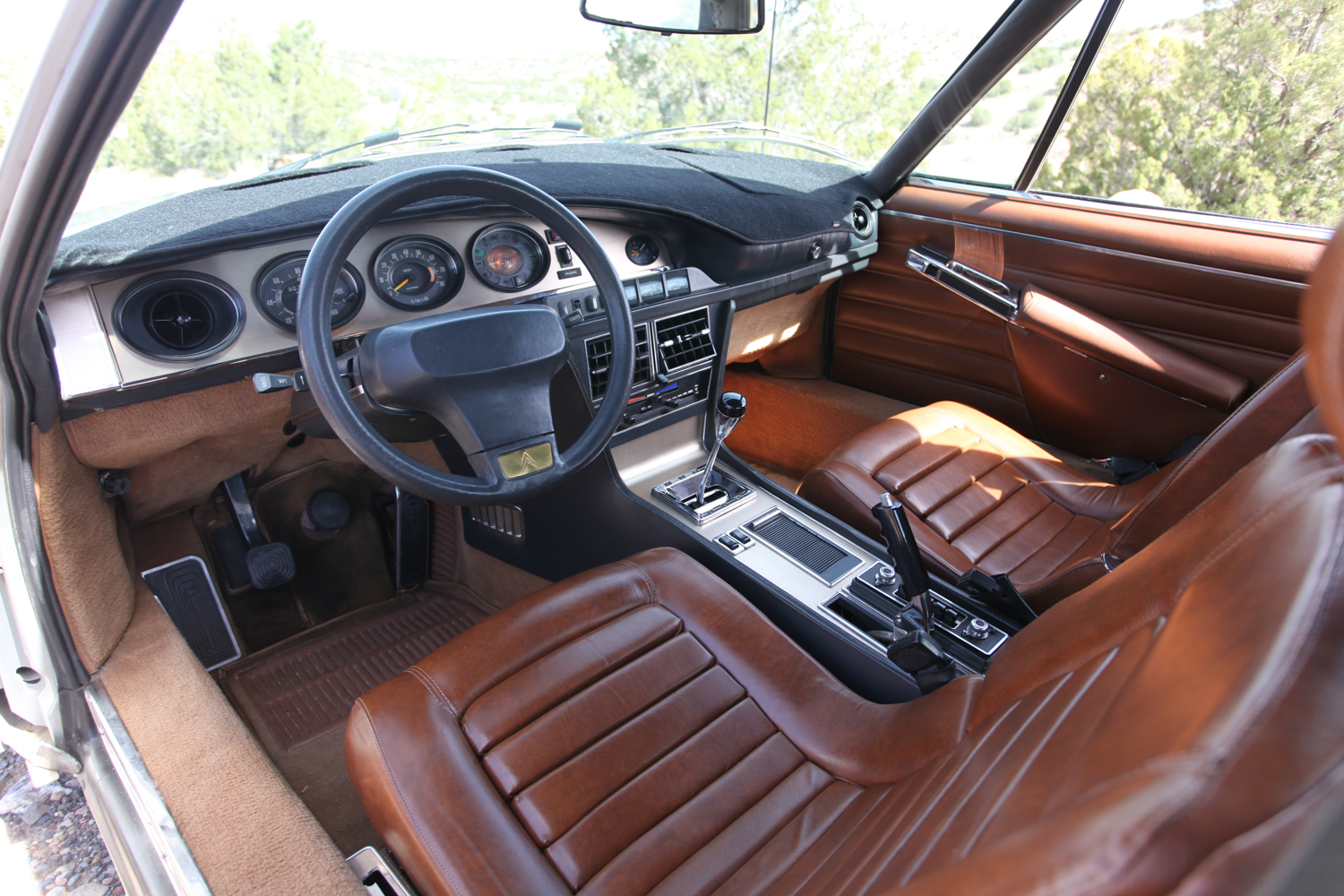 Designed by the illustrious and enormously talented Robert Opron, the SM was by all accounts a stunning achievement of design and automotive production. Opron was greatly influenced by aircraft but also by the mechanical artistry and combined power of structure as art. Fluidly blending these ideas into one design was a challenge, but Opron pulled it off. Looking at the car even in today's context, there was quite simply nothing at all like it and still today, no one has dared to copy it. The panoramic glass, the headlight design and clear cluster fascia, the rear hatch, and the covered rear wheels are all remarkable singular design elements, but in the SM Opron delivers them all in a Bouillabaisse of such exquisite unity that one struggles to find even a small portion of the design that does not work in concert with the total theme.
When elevated to a suitable driving height using the unique suspension, the car develops a taut upright muscularity that gives the impression of an airplane about to take flight. Yet, in the lowered parked position, the design appears to almost melt into the asphalt, impossibly low with surfaces pulled in perfect tension from the wide front fenders to the tapered rear chrome uprights, once again evoking aviation themes. The powerful and commanding SM delivers in every respect. Even the interior of the SM is a statement of futurism and elegance with contoured seats, sweeping dashboard, and the unique Citroën single-hub steering wheel.
Bold when new, and a remarkable blend of two proud cultures, the Citroën SM remains today a hallmark of automotive design featuring unparalleled excellence, innovation, and individuality in a partnership that will hopefully one day be repeated. The raw Italian power unleashed within the tradition of French Avant Garde futurism remains today a continued example of how diverse people can work together to achieve a powerful expression of both cultures, without compromising each of their unique and desirable traits.