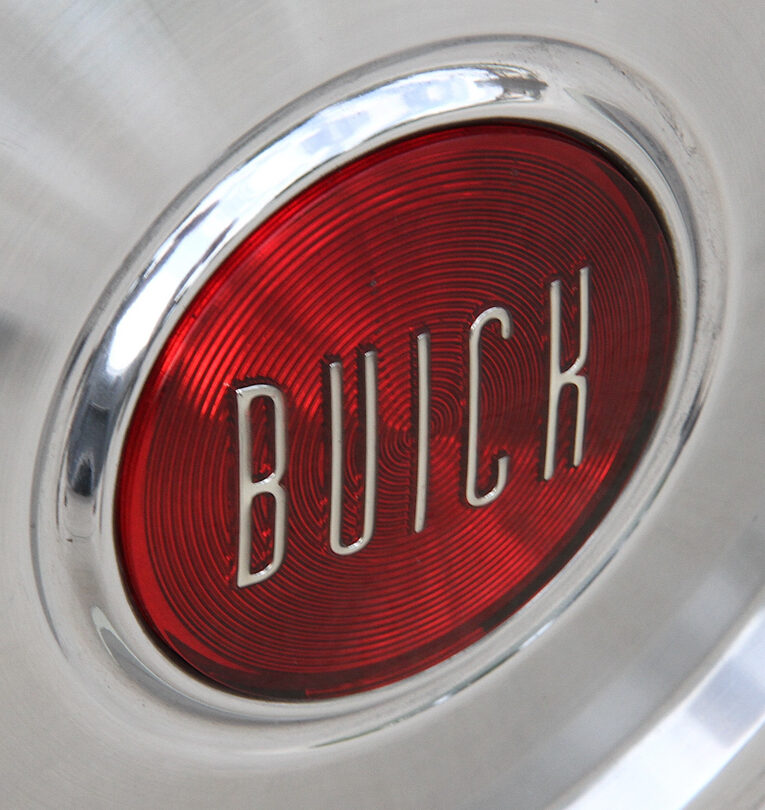 Photographer Dave Gooley and I drove over to Gus' Barbeque in Paramount, California, – a diner devoted exclusively to meat – for our weekly pastrami and beer "business" luncheon. We pulled into the parking lot in my '40 LaSalle coupe, and to our surprise, there were several other vintage cars there. One of them stood out above the others as particularly impressive.
It was a 1957 Buick Special, resplendent in its Kearney Green and Dover White paint scheme with subtle red accent speer. I was pleased to see it because in my estimation, it was the most beautiful of the mid-century Buicks, and that is saying something. The overall look is luxurious yet sporty, exciting yet elegant. And the Special was a bargain in its day, at $2,596. That was only $358 dollars more than a Chevy Bel Air. It is no wonder that, in 1957, Buick was fourth in sales after the low-priced three that year.
The one in Gus's lot turned out to be owned by a fellow named Jerry Kirby, who was inside with his fellow silverbacks having their usual Tuesday get together. Dave and I grabbed our sandwiches at the counter and sauntered over to the group to ask who owned the Buick. "I do," said Jerry, a burly fellow wearing a Navy cap, who looked like he had been sent from central casting to play the part of a retired sailor.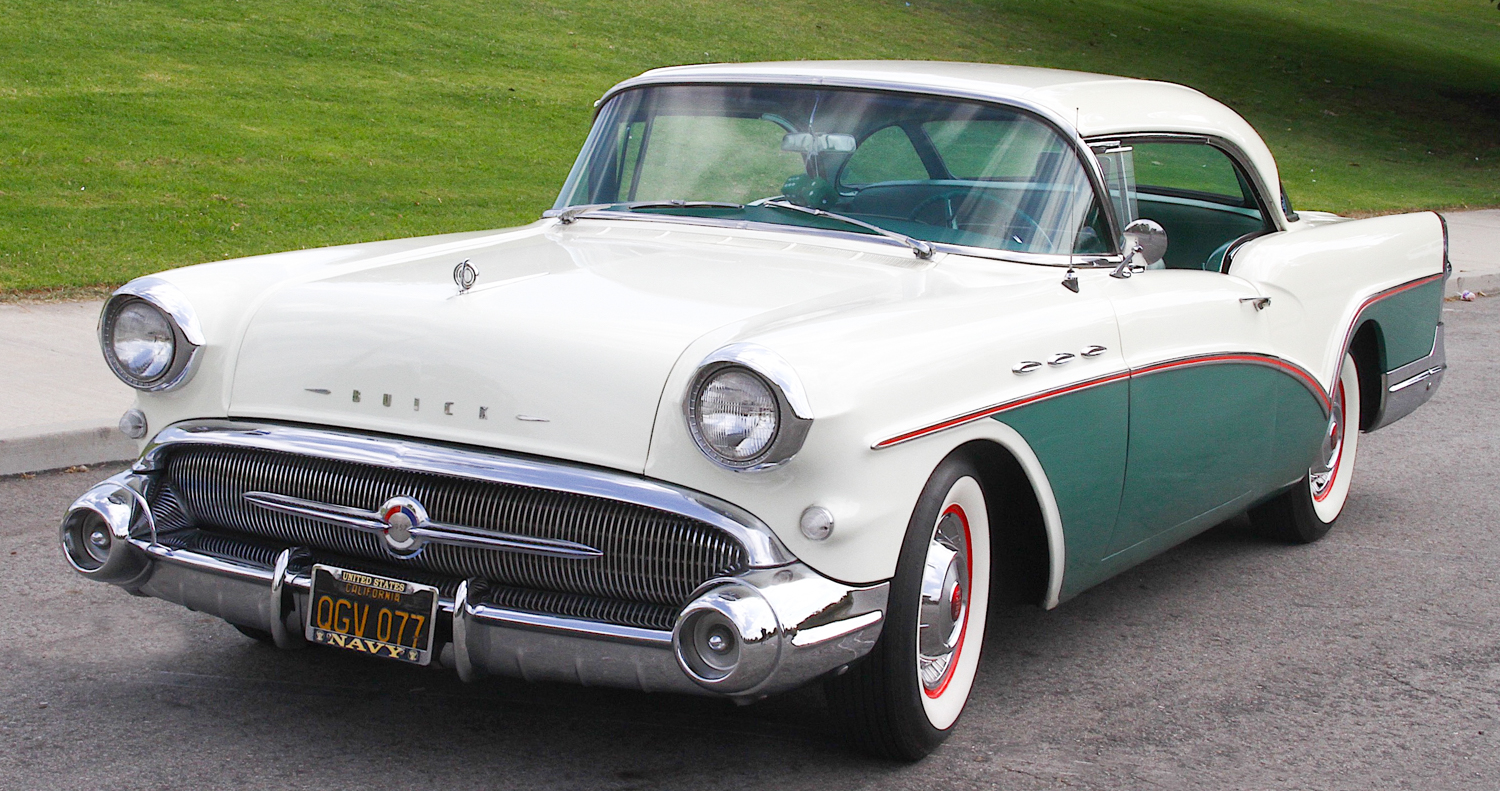 The guys were reserved at first, but lightened up when I pointed out my LaSalle in the parking lot. From then on we were in. Jerry told us that his Buick was essentially a remarkably preserved original. He had knick-knacked on it over the years, refurbishing and repairing things as needed, but he told us it was in great shape when he bought it many years ago. We had a great lunch with the guys, and arranged a test drive and photography session of Kirby's Special later that week.
We met at a local park. Dave and I were sitting awaiting Jerry's arrival sipping cups of coffee, when Jerry appeared in his Special. The handsome machine hove into view, making that inimitable rumble of a big American V8. The sound took me back to my youth, when Buick conveyed the message that "I am doing well, and doing it in style." The 1957 Buicks were not as majestic as the Cadillacs of the day, but they were generally sportier. Their look implied more excitement and less gravitas.
Dave grabs his camera and climbs into the big back seat, and Jerry hands me the keys and jumps in on the driver's side. My days as the drive-off man at a carwash in the early '60s come flooding back. I give the ignition key a half turn, depress the gas pedal three quarters down, and the big 364-cubic-inch Buick Fireball V8 comes to life with a rumble, and then settles into a subtle mutter.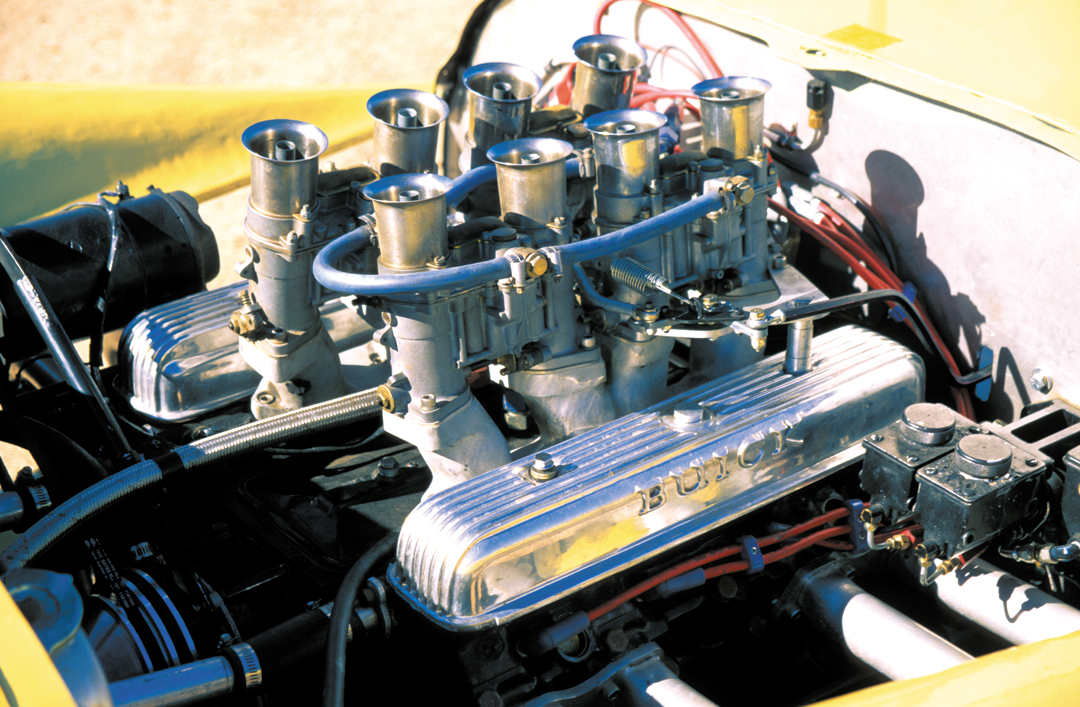 Buick's V8 engine of the late '50s was nicknamed the Nailhead because its intake and exhaust valves were rather small, looked like nails, and were arranged vertically, which resulted in a fairly large displacement, but compact engine. Hot rodders sometimes used Nailheads because they would fit into small spaces, such as under the hood of a '40 Ford, and they were easy to access once in place.
In the 1950s and '60s the Chrysler Hemis and Chevrolet small blocks were the most popular engines among hot rodders, but legendary drag racer Tommy Ivo was first to break nine seconds in the quarter mile and exceed 170 miles per hour on pump gas using two Buick Nailhead V8s mounted side by side in a slingshot dragster. He later topped that by building a four–engine Buick dragster that was shear madness to drive. The Nailhead, like Buick engines before it, was rugged and over engineered, so it could be tweaked to produce a lot of power.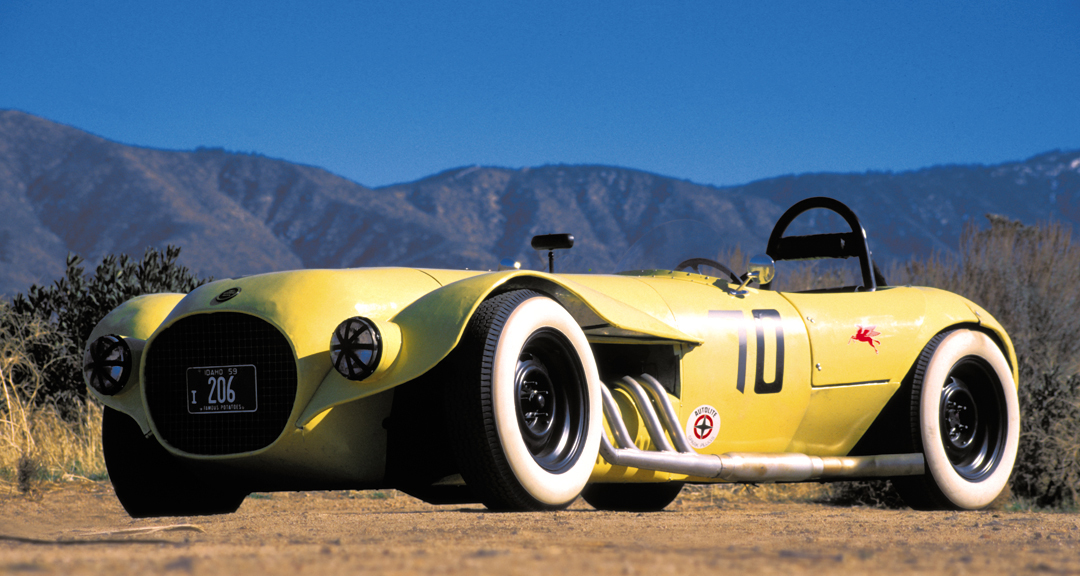 Max Balchowski, the builder of the Old Yeller racers that first ate up Jaguars, Maseratis and Ferraris in 1959 and later, used Buick Nailhead V8 engines in many of his cars. His junkyard dog creations looked rough and almost laughably crude, but left the European aristocrats in the weeds. He cobbled together his creations out of junk in his shop in Hollywood, right down to the second-hand white sidewall tires that he ran primarily because they were the right size.
As I reacquaint myself with the controls in Jerry's '57, I am impressed with the handsome padded dash, below which is a large horizontally arrayed instrument panel with a full compliment of gages, including a horizontal band speedometer a foot wide, and easy to read at a glance. The interior is very roomy, with acres of foot and head room, and the seats are as comfy as your living room sofa.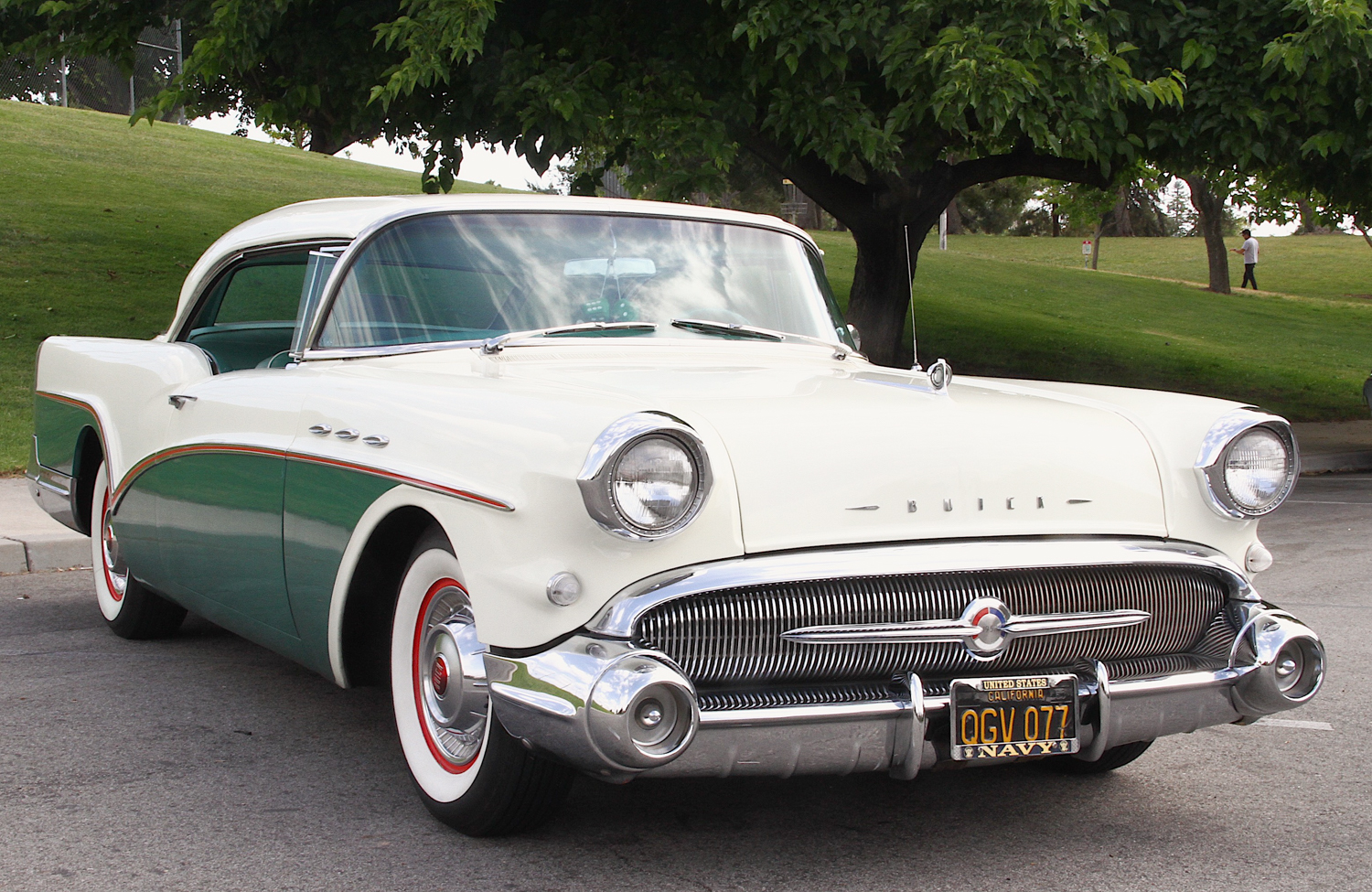 I pull the Dynaflow automatic transmission into Drive. It was first used in M18 tanks in World War II, and later in the Roadmaster in 1948, and then was redesigned in 1953 as the Twin Turbo. The engine builds torque, and we ooze away smoothly, with no gears shifting at all. That's because there is no mechanical link between the engine and the transmission.
It works because one hydraulic turbine spools up and spins a second one adjacent to it in a tight chamber, thanks to fluid dynamics. As a result the engine revs smoothly and evenly as the car picks up speed, and keeps right on going to over a 100 mph without much fuss.  Of course, it helps that Jerry's Special has a very torquey big V8, and a numerically low 3.07:1 differential in it.
Steering is easy and predictable, though I remember from my carwash days that if the engine quits, it takes real muscle to steer against the resulting inert power steering hydraulic system, and ditto for the brakes. The power brakes only require a light touch when the engine is running, and are quite good for the era, especially when you consider that they have the momentous task of slowing and stopping two tons of automobile. The car is softly sprung, with coil springs at all four corners and rides as if on a cloud.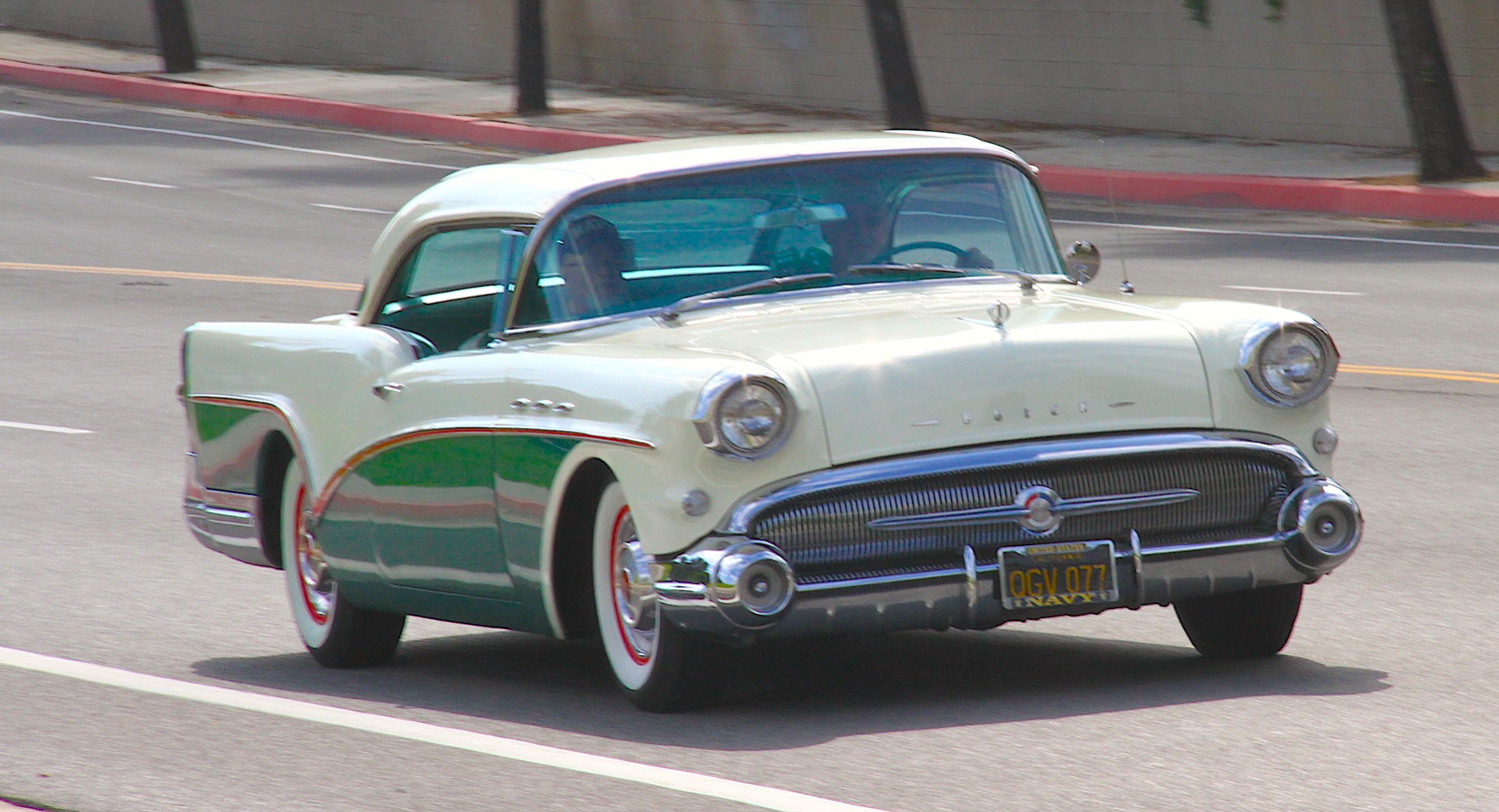 There is some body lean when cornering, and the car is by no means agile by today's standards, but if you use the old highway patrolman's technique of gripping the wheel with one hand and stuffing it with the other, it corners predictably. After all, this was an American car designed for Dwight Eisenhower's new interstate highway system, where it would be right at home in West Texas, with the engine merely loafing along at 70 miles per hour, and with a top speed of 112 if you need it.
The three chrome portholes on the front fenders, dubbed Ventiports by the company, are vestigial, and the number tells us that Jerry's Buick is a Special, because the more expensive Super, Century, and Roadmaster models sported four of them on each side. These iconic fake exhaust ports were first used when GM designer Ned Nickles added them to his 1949 Buick with small lights in them, timed to the spark plugs to resemble aircraft exhaust. The lights were scrapped for production, but the vents were functional on earlier models to enhance engine cooling.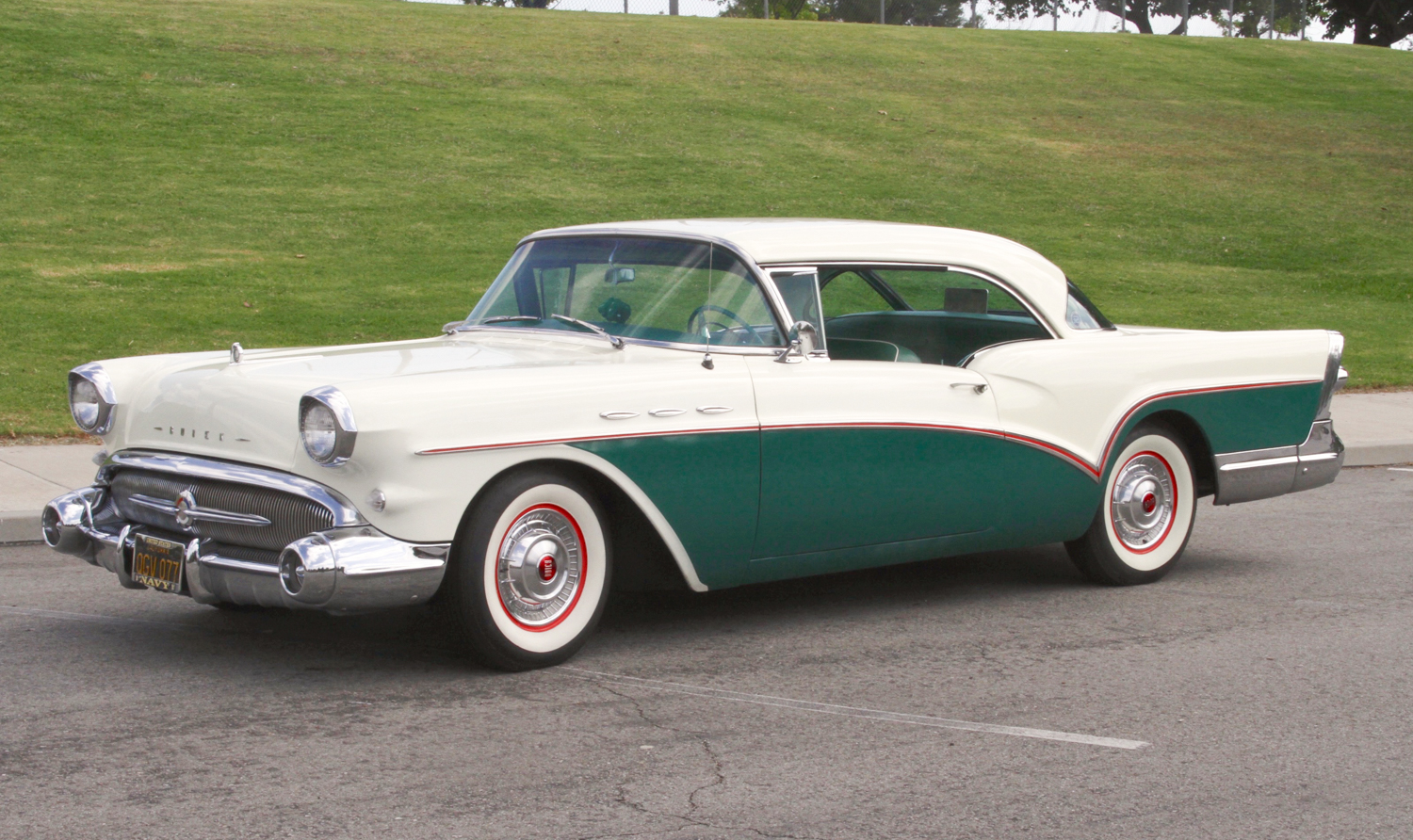 And while all of the Buick models for 1957 share the same 364-cubic-inch engine, the more expensive models were equipped with four-barrel carburetors, and had a slightly higher compression ratio of 10.0:1, as opposed to 9.5:1 for the Special. But even with the milder tuning and its two-barrel Carter carburetor, the engine pumped out a respectable 250 horsepower. And truth be told, a two-barrel is just as good as a four-barrel except at high rpm when the secondaries of a four-barrel kick in for more punch.
Transmission choices were Buick's tried-and-true Dynaflow automatic, or a column shift three-speed manual. These were mated to a closed, torque-tube driveline that Buick continued to use long after most other carmakers went to open Hotckiss drivelines with two universal joints. A torque tube arrangement was more difficult to work on, with only one universal joint at the front, but the configuration was necessary to prevent misalignment of the rear axle during spirited acceleration over uneven terrain with the rear coil springs.
Today, with the demise of Oldsmobile, Buick is now the oldest American auto brand still in production, and was the marque that started it all for General Motors. The company was founded as the Buick Auto-Vim and Power Company, in 1899, by chief engineer Walter Marr, and made stationary engines for farm and industrial applications initially. Marr developed an innovative overhead valve engine for the original company, but then left in 1901.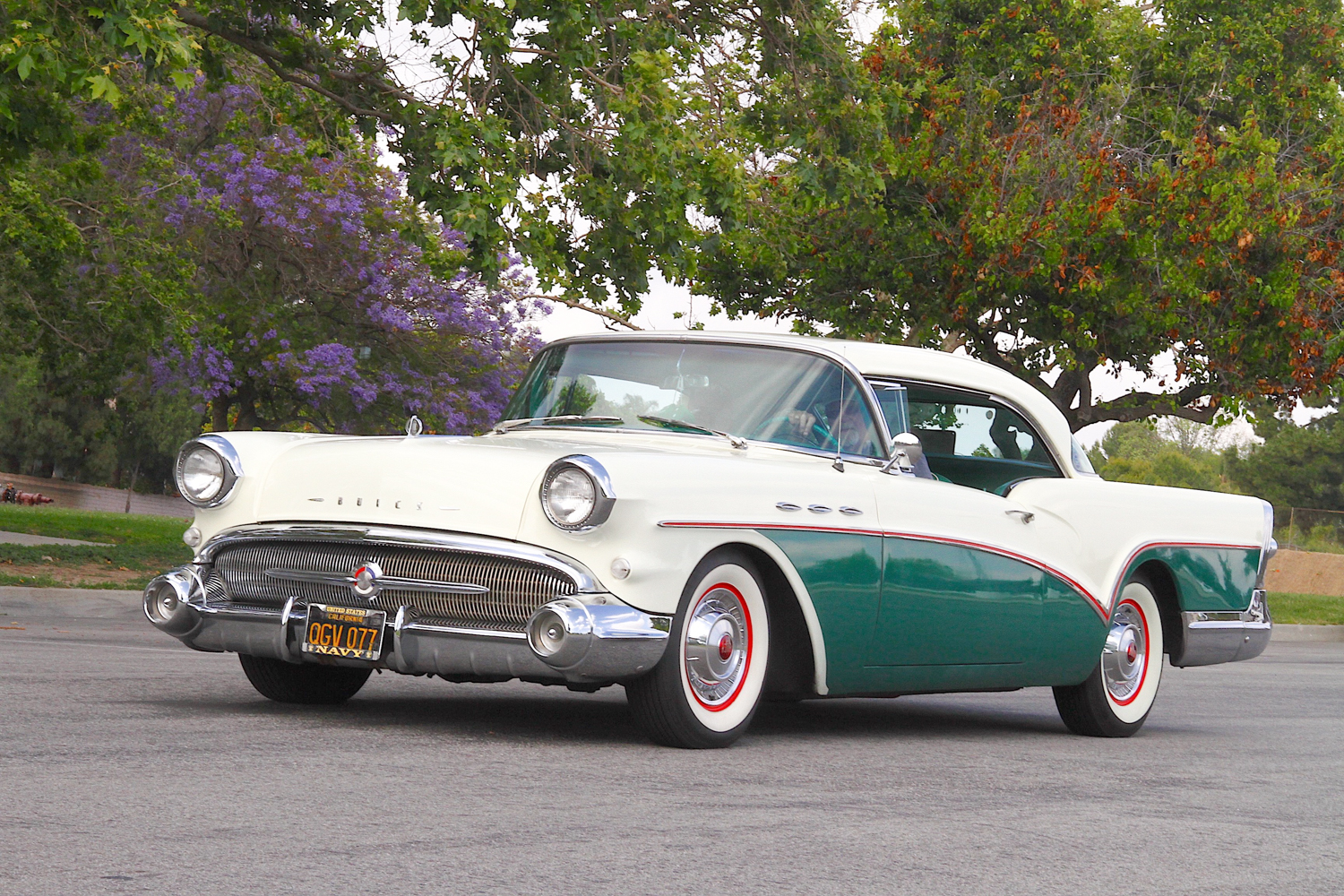 His replacement, Eugene Richard, patented Marr's engine in 1902, and the firm was incorporated as the Buick Motor Company in 1903. It was then acquired by David Dunbar Buick , in May of 1903. Buick made his fortune manufacturing ceramic-coated plumbing fixtures. He then brought in William "Billy" Crapo Durant to manage the company in 1904. And by 1906 Durant had taken over and bought out David Buick for $110,000 dollars.
The first Buick automobile offered to the public was the 1904 Model B, and a total of 37 were produced that year. But William Durant was a gutsy entrepreneur, and prodded Buick to become the largest automaker in America within the next few years. The rugged dependable Buick was a great success, and with his profits, Durant acquired other automakers in 1908 and 1909, including Oldsmobile, Cadillac and Oakland (which later evolved into Pontiac) and he named his new corporation General Motors.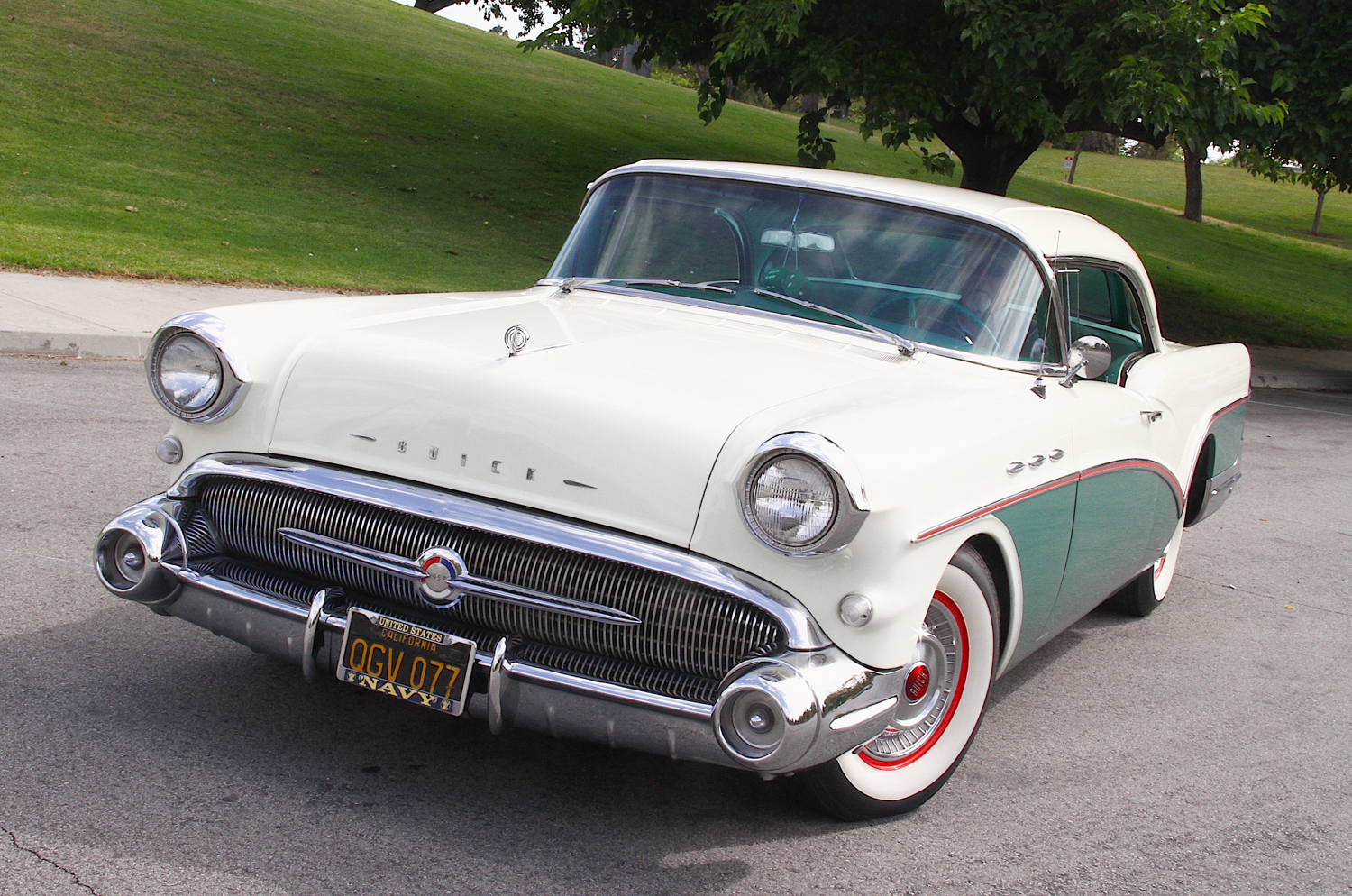 Though Cadillac was the company's prestige brand, Buick was more sporty and racy. In 1909 at Indianapolis Motor Speedway – two years before the first Indy 500 — Bob Burman piloting a Buick, won the Prest-O-lite 250 mile race averaging 53 miles per hour. In fact, three of the nine cars that finished the race were Buicks.
A later milestone came in 1938 after Buick's big, long-stroke straight-eight engines, which were  introduced originally in 1931. They were later bumped up to 320-cubic-inches, with domed pistons added to increase compression, and they propelled the new Buicks to 103 miles per hour – resulting in the new model dubbed the Century. And three years later in 1941 Buick replaced Packard as the fastest American production car for that year by adding  twin carburetors for better fuel distribution in their long intake inline manifolds, on the Century.
Buick engines long had a reputation for performance and durability, but added to that, from the 1930s on, was handsome styling thanks to Harley Earl's Art and Colour Section, as the design department at General Motors was called originally. Earl began his design career at General Motors in the late 1920s when he designed the first LaSalle – Cadillac's less expensive companion make – in just six months. He then went on to manage the styling of the entire General Motors line until he retired in 1958.
Just about the time Earl had made his name as a designer, the Great Depression hit, and styling became ever more critical as the market for new cars diminished. It was too expensive to reengineer cars every year, so the automakers depended on styling changes to make their offerings look new and fresh. It was called designed-in obsolescence, and it sold cars, and made design departments crucial to success.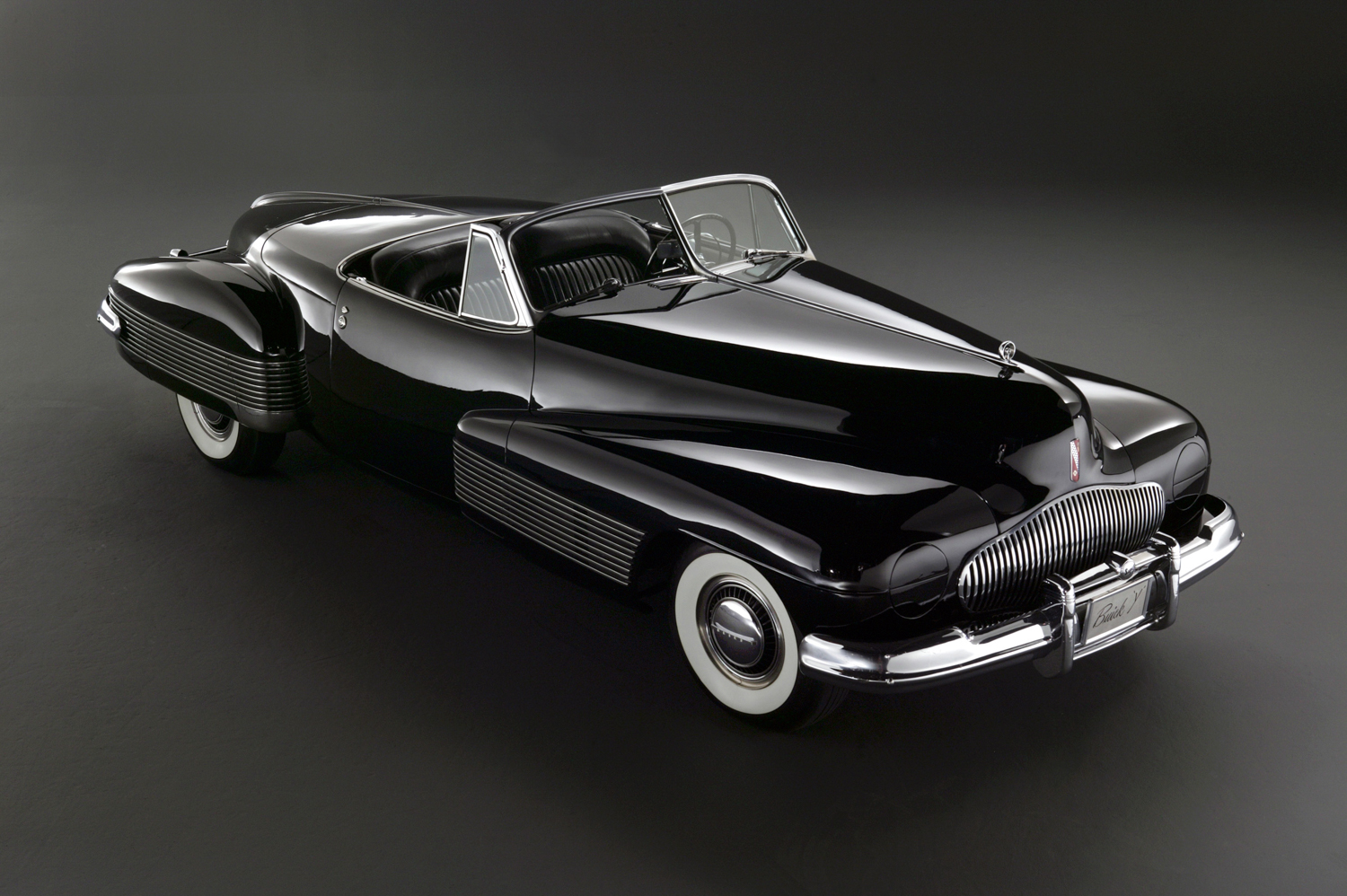 General Motors' first concept car in 1938 was called the Buick Y-Job. It was done as a design exercise and to try new technology. It used a Buick Super chassis and was created by Harley Earl himself. The Y Job turned out to be a prescient predictor of the future, and featured many of the styling ques found on Kirby's 1957 Special, such as the gunsight hood ornament, wrap-around bumpers, flush door handles, and particularly the vertical waterfall grille.
The Y job was a fully drivable prototype and became Harley Earl's personal car that he drove until 1951when a new concept car called the Buick LeSabre debuted. The LeSabre styling borrowed strongly from the  frontline fighter jet of the Korean war called the F-86 Sabrejet, with its round center air intake in front, winglike fenders, long fins, and jet exhaust rounded tail.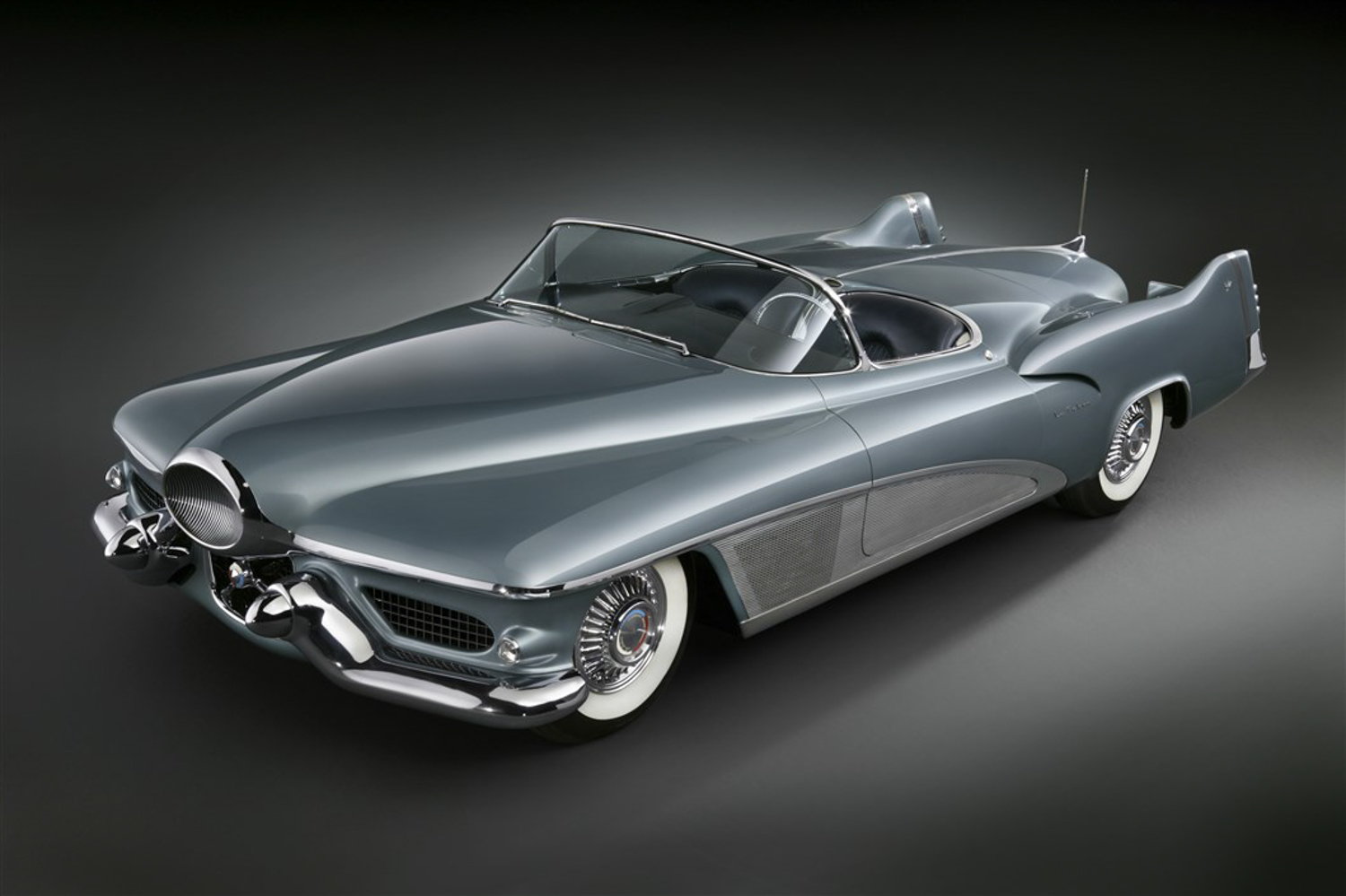 The styling of Jerry's Special was an evolution of both the pre-war Y-Job and the post-war LeSabre concept cars, and came at a time when American automobile design was arguably in its golden age. Kirby's car is still the basic mid-century GM shoebox, but very tastefully accented with its identifying swooping beltline, the afore mentioned Ventiports, and swept back tail fins. Even the wraparound windshield had a supersonic look about it.
In 1957 General Motors was at its zenith, and Buick went all out to offer a broad range of models, with no less than 36 exterior color options, as well as 47 different interior hues and fabrics to individualize and personalize your car. Of course, some of these options were exclusive to the more expensive models, but back then, money talked, and special orders did not upset them.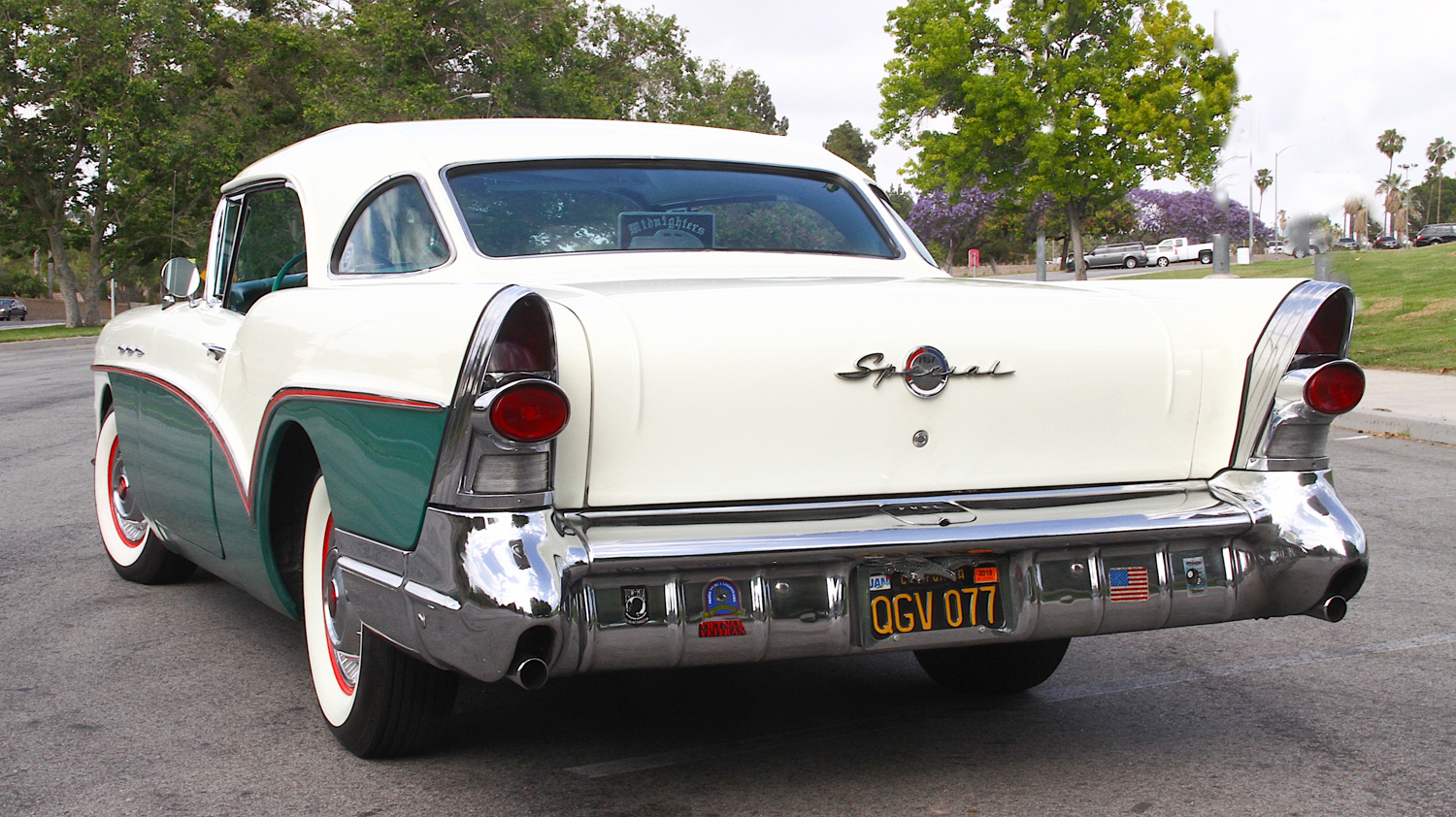 All of this sporty magnificence rode a massive and superbly engineered chassis and drive train that insured comfort, power, and dependability. I know this, because after my carwash job I worked on more than a few Buicks of the period in my pump jockey days. They seldom needed more than an oil change and lube job. The 1958 Models were a bit heavier and laden with brightwork, and then the radically all new '59  models trumpeted the ascendence of Bill Mitchell to head the General Motors design department.
There are those who would say the last real Buick made in America was built in 2010 when the Flint Michigan plant closed down. New models don't even carry the Buick logo anymore in the U.S., with the moniker Avenir being touted as a sub-brand. However, the division is still going strong in China where 80 percent of Buick production is being sold, and where the company's cars are being built by a joint partnership with General Motors and a state-owned Chinese company.
The Buick Tri-shield badge originally adopted in 1937 —which was derived from David Dunbar Buick's family coat of arms — is still being used, but the name Buick is gone, so if you want a real American Buick you will need to find one like Jerry's. It is with a mixture of sadness and nostalgia that we take our leave of Jerry Kirby and his classic Buick, and I must say, it is aptly named, and indeed special. Dave and I climb into my  LaSalle and drive away, yearning for the days when there was no such thing as a "small" American car.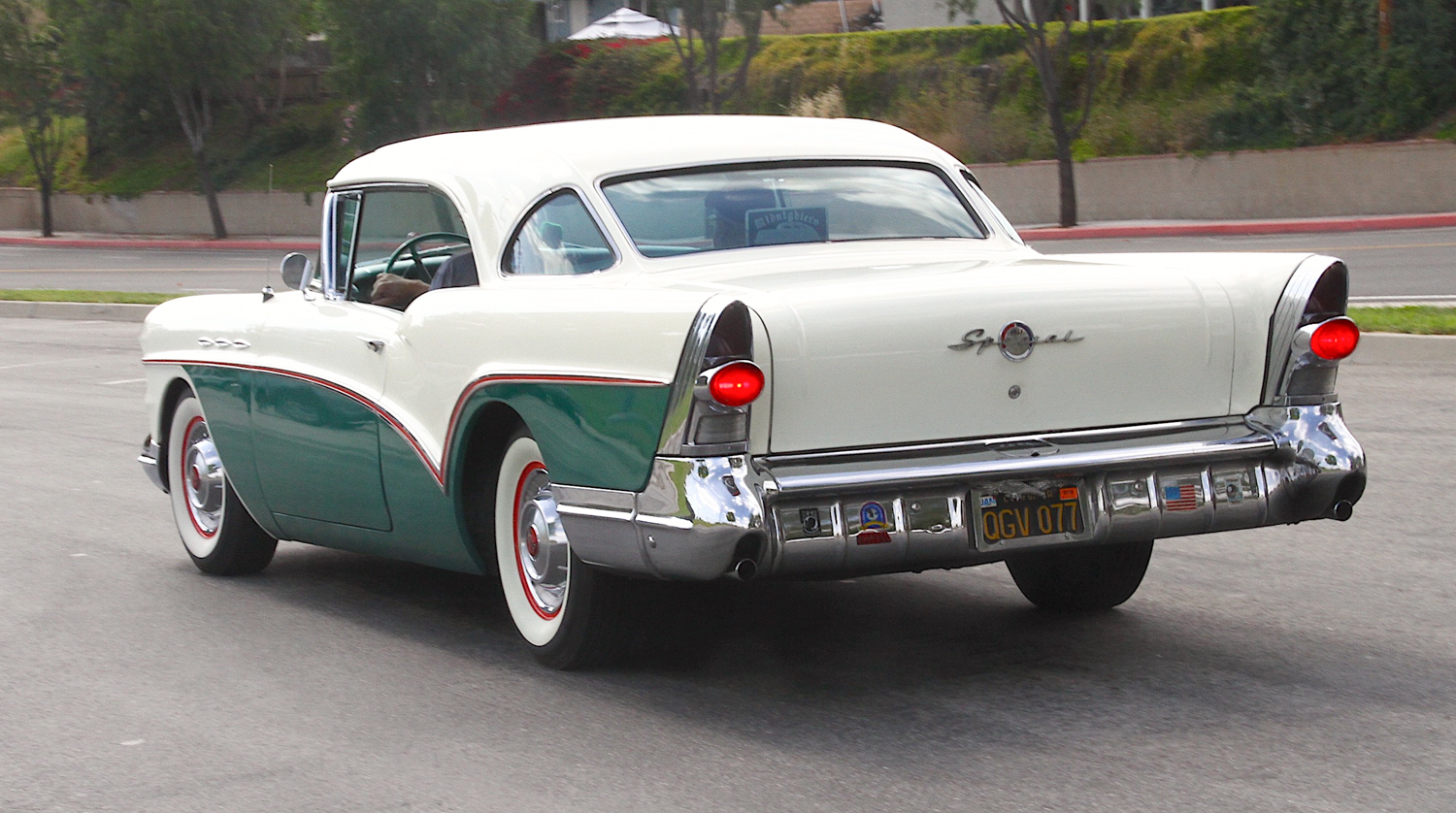 Specifications
| | |
| --- | --- |
| Production Years for Series | 1949 – 1958 |
| Price | $2,594-$3,165 |
| Weight | 4010 lbs | 1818.905 kg |
| Length | 208.4 in | 5293 mm. |
| Wheelbase | 122.0 in | 3099 mm. |
| Front Track | 59.5 in | 1511 mm. |
| Rear Track | 59.5 in | 1511 mm. |
| Engine Location | Front |
| Drive Type | Rear Wheel |
| Displacement | 5965 cc | 364.0 cu in. | 6.0 L. V8 |
| Power | 250 BHP (184 KW) @ 4400 RPM |
| Bore | 4.1 in | 105 mm. |
| Stroke | 3.4 in | 86 mm. |
| Compression | 9.5:1 |
| Main Bearings | 5 |
| Cylinder Block | Cast-iron |
| Transmission | Automatic, Dynaflow |
| Tires | 7.10 x 15 |
Production Figures
Total Production for 1957 :
405,086
Total 1957 Series 40 Special production :
220,242
Convertible Coupe 2 dr. 6 P :
8,505
Hardtop 2 dr. 6 P :
50,563
Hardtop Coupe 2 dr. 6 P :
64,425
Riviera Station Wagon 4 dr. 6 P :
6,817
Sedan 4 dr. 6 P :
59,739
Sedan 2 dr. 6 P :
23,180
Station Wagon 4 dr. 6 P :
7,013