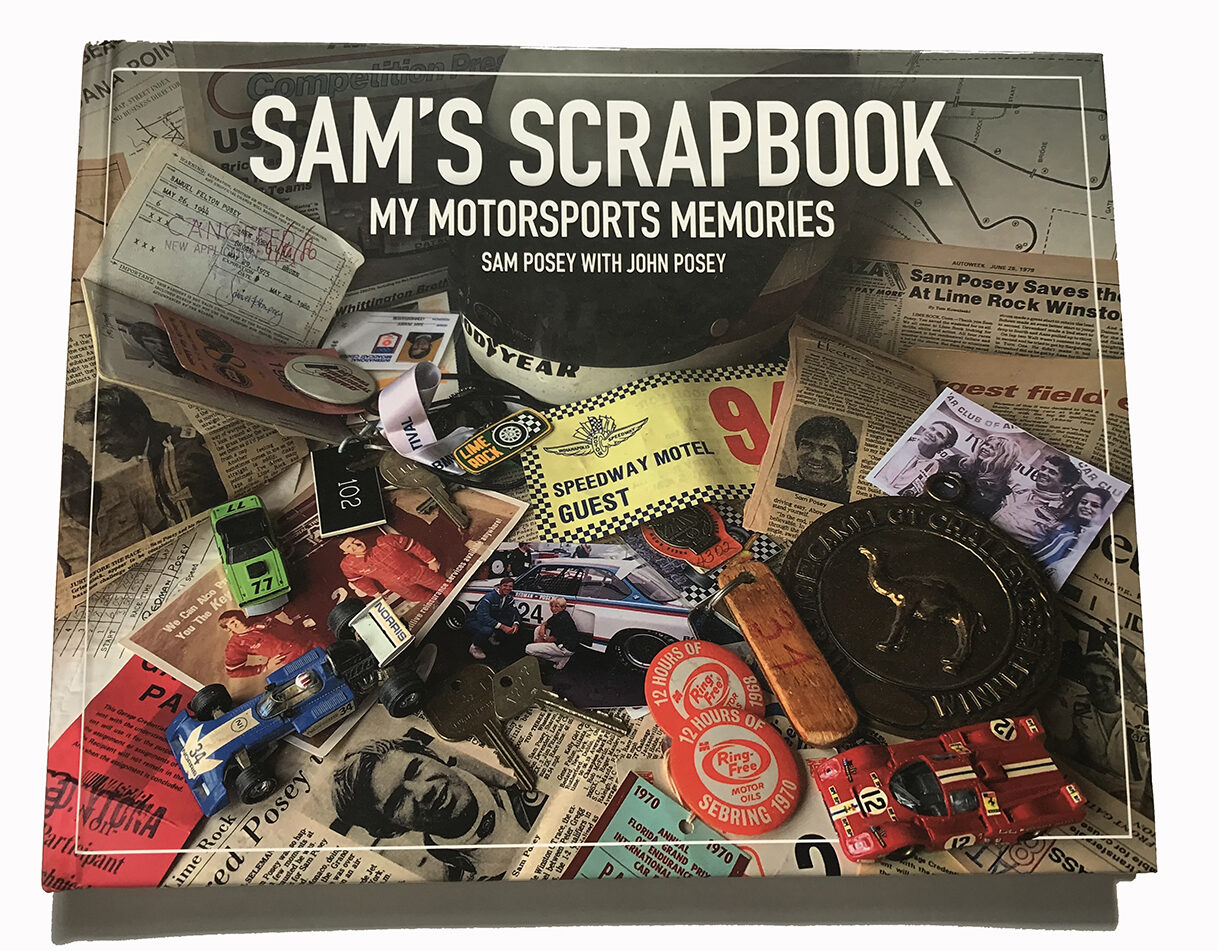 Sam's Scrapbook:
My motorsports memories
By Sam Posey with John Posey
Even the most casual racing enthusiast will recognize the name Sam Posey. Posey raced a huge variety of sports cars, saloons and open-wheel machines in numerous racing arenas — Can-Am, USRRC, Trans-Am, IMSA, Indy, NASCAR, Formula 5000 and Formula 1 — against rivals and friends such as George Follmer, Parnelli Jones, Mark Donohue, Peter Revson, Dan Gurney, David Hobbs and Brian Redman. And after Sam hung up his racing helmet, he went on to become a highly regarded TV racing commentator and author, all resulting in him being inducted into the Motorsports Hall of fame in 2016. So it would go without saying that Sam might have a few interesting stories to tell!
"Sam's Scrapbook" is an erudite and entertaining look back at some of the more significant, funny and thoughtful events in Sam's rich racing life. As the name implies, it is organized in scrapbook format, with over 275 photos from Sam's private collection, many of them never published before.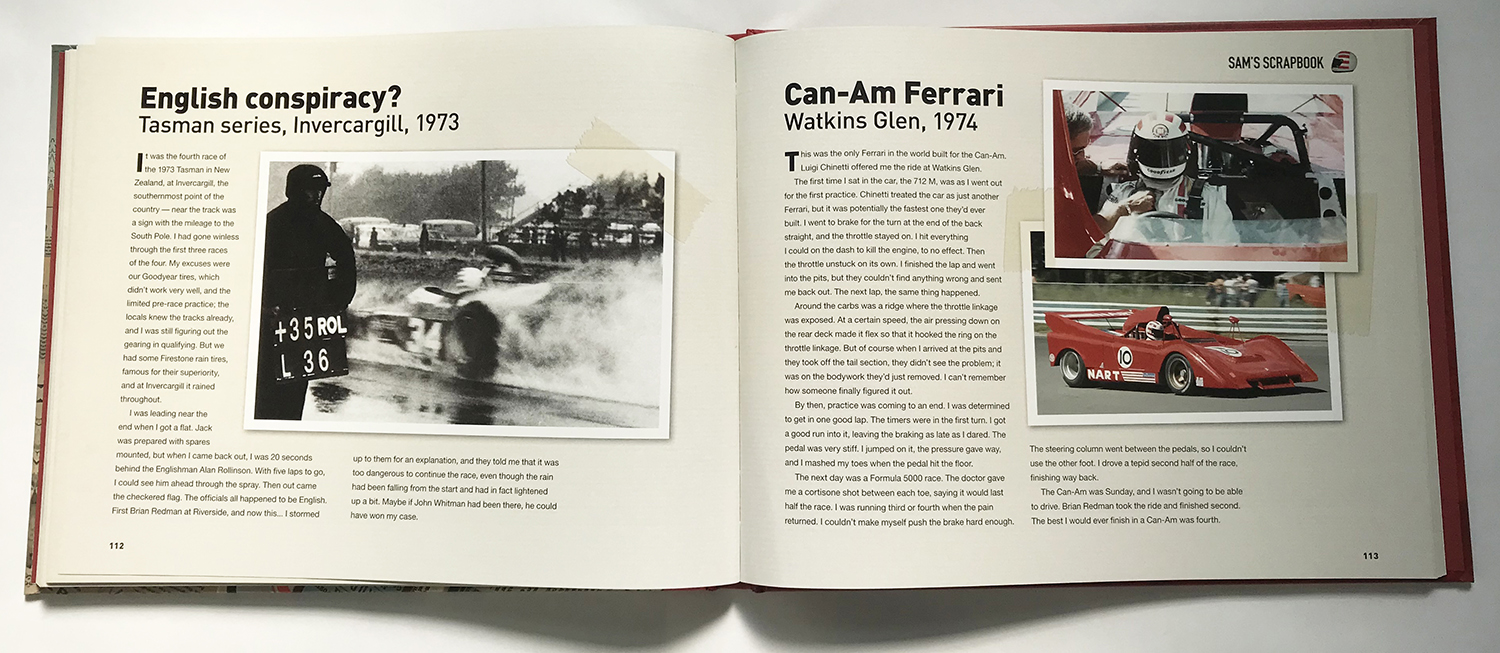 The range of topics covered includes:
Sam's early days: racing around his mother's house on a farm in Connecticut against his friend John Whitman.
The start of his career: driving at Lime Rock, his local track, under the mentorship of John Fitch; a ride as the then-youngest American at Le Mans, with a Bizzarrini in 1966.
Can-Am: racing against John Surtees, Bruce McLaren and Jim Hall in this famous "anything goes" sports car championship with a car he and Ray Caldwell designed and built.
Trans-Am: competing in this spectacular saloon series during its golden age, first for Roger Penske and then as a factory driver for Dodge, against George Follmer, Parnelli Jones and Swede Savage.
Later years at Le Mans: finishing third overall in a Ferrari 512 M with the North American Racing Team (NART) team in 1971; driving the first BMW 3.0 CSL 'Art Car' in 1975, featuring a paint scheme by American sculptor Alexander Calder.
Open-wheel racing: a duel with Dan Gurney in the USAC Championship, finishing fifth at Indy in 1972; two drives for John Surtees in Formula 1; battling his friend and rival David Hobbs on the track and off in Formula 5000.
Even more variety: three years of off-road adventures in the Baja 1000; rides with the BMW factory team at Sebring and Daytona; and his late career in the IMSA championship with actor Paul Newman and Brian Redman.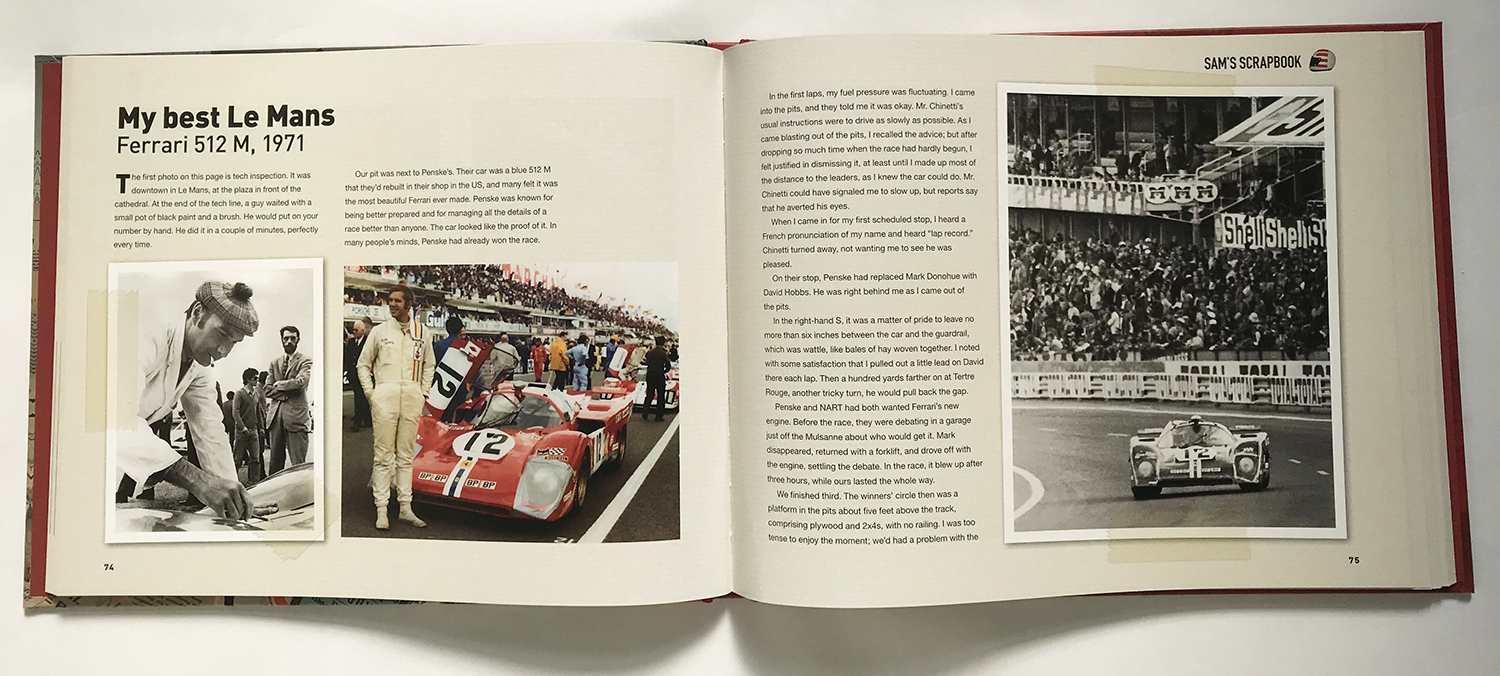 Anything Sam writes is a treat, but "Sam's Scrapbook" is particularly so because it's like sitting down with Sam, next to a warm fireside, and listening to hours of insider stories. Treat yourself, you won't be sorry.
US price: $40.00
ISBN: 9781910505656
Format: 8.3in x 10.6in (landscape)
Hardback
Page extent: 160
Illustration: approximately 275 photos