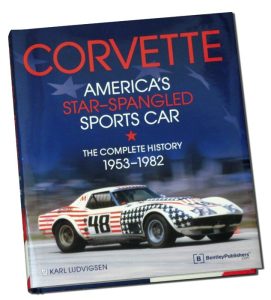 Corvette – America's Star-Spangled Sports Car
By Karl Ludvigsen
This is an updated, expanded reprint of a book originally published in 1973 that more than doubles the previous page count and adds full-color capability throughout. The original edition, which was the first book to be devoted to a single car model, has been revised and reorganized in addition to growing larger, but remains a definitive source for anything related to the C1, C2 and C3 model Corvettes.
As such it presents the reader with a complete chronicle of all things Corvette, beginning with a bit of prehistory as American tastes turned toward sporting vehicles with only two seats in the aftermath of World War II. It then looks  at the development of fiberglass, the construction material that helped make the Corvette unique among mass-produced cars, before telling how GM styling chief Harley Earl put his design stamp on the car.
From there Ludvigsen goes on to provide just about every detail a Corvette lover could want as he traces the history of the car through the first 30 years of its life on both street and racetrack. Consequently, anyone with any interest at all in Corvettes should consider adding this book to their library.
Available for US$149.95 from enthusiast bookstores or direct from publisher Bentley Publishers at (800) 423-4595 or www.bentleypublishers.com
Reviewed by John Zimmermann

There's an old adage that says the victors get to write the history, and so it seems that, even though no "victor" has been officially crowned in the battle for supremacy in American auto racing, NASCAR is taking on that task. Of course, no organization can be faulted for promoting its own cause, but the feeling that history not written by that organization is being usurped to further its cause is not a good one.
This book about Road America is from local-history specialist Arcadia Publishing, part of its NASCAR Library Collection, which brands and merchandises some American road racing circuits as essentially NASCAR tracks. While it's always good to see such history books, the attempt to sell something as something it isn't just doesn't seem quite kosher.
All that aside, this little 127-page tome provides a glimpse of all that has transpired at Road America since it opened in 1955, but to have a third of its 127 pages devoted to six races over those 60 seasons doesn't seem quite right (see above). What is actually there chronicles the growth and development of the circuit often called America's National Park of Speed, using mainly photographs with story captions to tell the track's tale by touching on the highpoints of that history.
Available for US$21.99 from enthusiast bookstores or direct from Arcadia at www.arcadiapublishing.com
Reviewed by John Zimmermann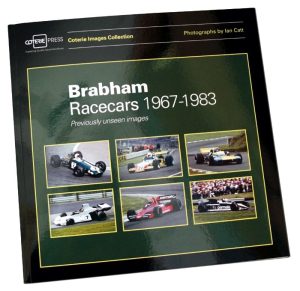 Brabham Racecars 1967-1983
By Ian Catt
On first look, it seems curious that a book about a specific marque would not cover its entire history but somehow—perhaps because the author wasn't on the scene before 1967—this one does. What good is an incomplete history book?
Of course this one is published as a photo essay and not a complete history, so perhaps that gets it a pass. It is evident, however, that over the years author Catt put his press passes to good use to go behind the scenes looking to capture the inner workings of the sport.
Employing the format of long story captions to accompany the dominant photography, the book starts its story the year after Sir Jack had won his third World Championship—and scored his marque's first constructors cup—devoting six of its 126 pages to Denny Hulme's world title and the team's second and final Constructors Championship.
From there it provides a through-the-years look at Brabham offerings in F1 and occasionally the lower formulae, as well as a look at the Brabham Indycars, culminating in the last, best years for the marque as Nelson Piquet became World Champion in 1983. Available for US$29.95 from enthusiast bookstores or direct from publisher Coterie at www.coteriepress.com
Reviewed by John Zimmermann