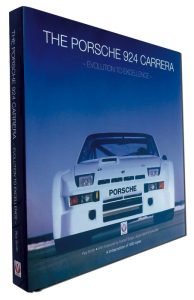 The Porsche 924 Carrera: Evolution to Excellence
by Roy Smith
When you hear author Roy Smith has trawled through the Porsche archives to produce this book, be prepared for a most forensic fingertip search and evidence gathering, leaving no stone unturned. The book is written in a very human style with stories from those who designed, built, developed and drove the car. It examines the reason this rare supercar failed, and also gives account of component malfunction—something not usually associated with German engineering. The text is fully supported by 400 images, diagrams and blueprints, many direct from Porsche. Forewords by Messrs. Bell, Barth and Singer provide a stamp of approval.
When one considers the name Porsche it is the iconic rear-engined 911 that springs to mind, or the might of the mid-engined 956 and 962 models dominating the world of endurance racing, so thinking of a front-engined Porsche takes time to assimilate, though the "forgotten" 924 was such a beast. The story begins with the embryonic styling exercise exhibited at the 1979 Frankfurt Motor Show and follows through to the production of sufficient numbers to satisfy homologation requirements to enter three modified roadcars in the 1980 Le Mans 24 Hours, where they finished 6th, 12th and 13th. Racing models were built and developed by drivers including Derek Bell, Jürgen Barth and Walter Röhrl. Along with the man at the helm of Porsche's Racing Department, Norbert Singer, they share detailed accounts of their experiences and the history of this remarkable supercar. The print run is limited to just 1,500, so make sure you get your copy now! Available for US$120/£75 from Veloce Publishing at www.veloce.co.uk
Reviewed by Mike Jiggle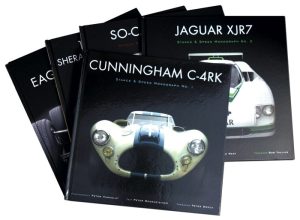 The Monograph Series
by Stance & Speed Books
Stance & Speed's "Monograph Series" is aimed at people who like cars, as each 32-page hardcover book examines one significant automobile and the history surrounding it. The series will eventually include a wide variety of cars, road racers, dragsters, hot rods, one-off coach-built masterpieces, land speed record cars and more, with new books on further subjects introduced at regular intervals.
The first five examples examine Briggs Cunningham's eponymous C-4RK, Bob Tullius' Jaguar XJR-7, Alex Xydias' hot rod So-Cal Coupe, A.J. Foyt's Indy-winning Sheraton-Thompson Special Watson-Offy and Dan Gurney's Belgian Grand Prix-winning Eagle-Weslake.
Primary photography is by Peter Harholdt, supplemented by additional period photos. Leading automotive writers provide each book's accompanying text, and a foreword by an important figure in each car's history is featured. For these initial five offerings, the Cunningham text is penned by Peter Bodensteiner, the Jaguar by Ted West, the hot rod by Ken Gross, the Watson by Donald Davidson and the Eagle by Bob Varsha.
Available for US$24.95 from leading automotive booksellers, directly from the publisher at www.stanceandspeed.com or from Amazon.com. When dealing with the publisher, a "first five" special offer is available of all five books for $79.95, which includes domestic shipping.
Reviewed by John Zimmermann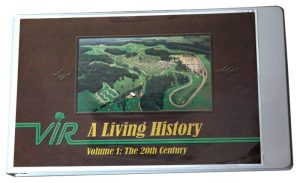 A Living History of Virginia International Raceway
by William J. King
This history lesson was originally set to be published in segments, and we reviewed the first of those back in May of 2013. That plan has now been abandoned, however, and the entire project finished at once, so that we recently received a full set of pages taking the story from the earliest days of the site, way back in the 19th century, through to its resurrection from disuse and decay at the turn of the 21st century.
As we wrote nearly two years ago: author "King's narrative, intimately illustrated by a fine selection of photographs and maps from the VIR archives, begins by reviewing the ownership records of the land for the venue as it passed from hand to hand in the various families that wrote its history."
The new parts of the book take the reader from the track's inaugural weekend in 1957 through to its closure in 1974, then fill in any missing bits with Appendices addressing Lap Records, Race Winners, famed drivers and SCCA National Champions who raced there, a Tribute to the Volunteer Workers who made it all possible, and a closing segment with comments about the place. The full ring-bound volume is available directly from the track for $70 at http://virnow.com/about-vir/merchandise/. If you previously ordered the first installment, you should be able to get the rest for $35.
Reviewed by John Zimmermann