I remember talking to John Surtees a couple of years ago, and our conversation revolved around his many successes. With seven motorcycle World Championships, the 1964 F1 World Championship and the inaugural Can-Am Championship in 1966, to name but three, John wasn't short of silverware. He did, however, cut me a little short by saying, "It's not what you've achieved yesterday, it's what you're going to achieve today and tomorrow." This explained immediately the drive, passion and single mindedness that had been with him all his life, sometimes to his detriment, but always with a belief that his actions would realize great things. For those who asked, his simple defense was somewhat determined too, "The main thing is that whatever I've done, I've done from the heart."
This verve and enthusiasm of "Big John" (above, Hal Crocker photo) was all in his DNA, his father being a very enthusiastic motorcycle garage owner, dealer and rider. The duo went on to race together in sidecars with father at the helm of the Vincent and his agile son in the chair—of course they won their first grass-track race. After that very successful father and son debut in the early 1950s, no more than a handful of years passed before John Surtees became the man to beat at both 350cc and 500cc, the pinnacle of the two-wheeled sport. He became an instant idol of the Italian motorcycle "tifosi" when he unflinchingly decided to leave the British Norton team, which lacked the necessary investment, and move successfully to MV Augusta. The latter end of the 1950s found Surtees dominating the sport, not only winning World Championships, but also becoming the first man to win three Senior TT motorcycle races on the Isle of Man in consecutive years.
After being given an opportunity to try his hand on four wheels at Goodwood, firstly by Aston Martin in the DBR1, then in the Vanwall F1 car, he was astounded to find that both Reg Parnell and David Yorke were ready to offer him driving contracts. Shortly afterward, contractual restrictions precluded him from racing anything other than Italian motorcycles, so he entered his first four-wheel race—at his beloved Goodwood circuit—in Ken Tyrrell's Formula Junior Lotus 18. Vying against the young "Flying Scot," Jim Clark, he may have won his debut race had he not made an elementary driving error. However, finishing 2nd in this first race led Colin Chapman to offering him an F1 racing contract! Despite a retirement at Monaco, the first of his four GP races in the 1960 season, Chapman's belief in Surtees was entirely justified when John took a podium place, finishing 2nd in the British GP at Silverstone. An unlucky incident with the tramlines at Oporto then cost him a possible first GP win in the 1960 Portuguese GP.
Politics got in the way of an extension to Surtees' contract with Chapman's Team Lotus, and the new F1 star drove a Cooper-Climax for the Yeoman Credit Racing Team in 1961 and a Lola-Climax for the Bowmaker-Yeoman Racing Team for 1962. Surtees' talent didn't go unnoticed by other team managers, and it was at the extraordinary second time of asking that Enzo Ferrari eventually got his man for 1963.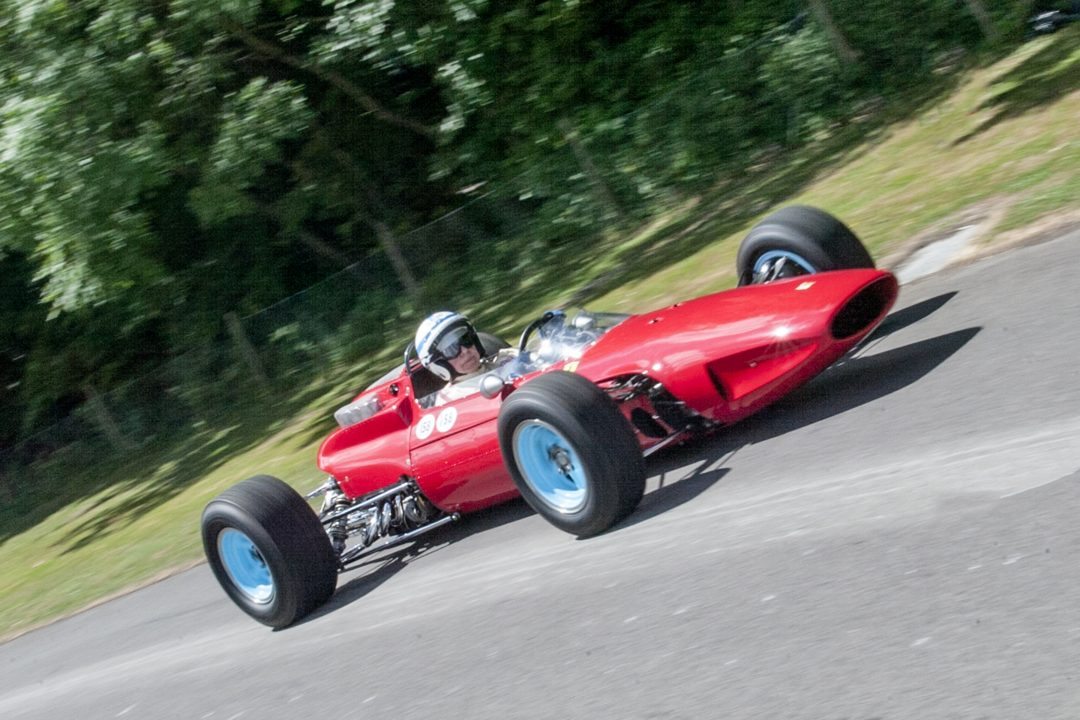 Surtees' first GP victory came that season at the German GP on the Nürburgring in the Ferrari 156. Repeating that victory the following year, he added a win at Monza to podium positions in Holland, Great Britain and America, so that by the final race of the season Surtees remained in the frame for the 1964 F1 title. Into the very dramatic season finale, three drivers—Hill in the BRM, Clark in the Lotus and Surtees in the NART Ferrari—held a chance of winning the title. As Dan Gurney took the race victory in a Brabham-Climax, Surtees finished 2nd, with Bandini, who honored team instructions to let Surtees through, taking 3rd. Clark's engine seized and Hill's car was damaged in a collision with Bandini, so John Surtees became the 1964 F1 World Champion—adding it to his two-wheel World Championships, a feat that is unlikely ever to be repeated. At this time too, it was reported that Enzo Ferrari was tiring of motor racing, but the Surtees championship victory kept the prancing horse on track.
Come 1965 and John was lucky to escape with his life following a serious accident at Mosport Park in Canada aboard his Lola T70-Chevrolet. A suspension failure sent the car into a barrier, turning it end over end before coming to rest on top of a hapless Surtees. The resulting injuries caused his left side to be four inches shorter than his right, damaging his leg, pelvis and spine, rupturing his kidneys and leaving him fighting for life itself. Miraculously, just six moths later, he had recovered and was back testing. Despite the accident, he'd lost none of his ability, as proven by him winning again in both sports cars and F1.
Once again, the politics of motor racing intervened, sending Surtees walking away from Ferrari after his 1966 Belgian GP victory. Looking back, he thought the inside team troubles of the 1965 and 1966 seasons cost both him and the prancing horse two almost certain World Championships. From there, until he formed his own racing team, Surtees was a bit of an F1 journeyman with spells at Cooper, Honda and BRM. It was at this time that his personal trait of being a hands-on perfectionist came to the fore, which sometimes "rubbed people the wrong way." It was really no surprise that John expanded Team Surtees into F1 for 1970, as well as F2 and F5000.
Over the next eight years Surtees F1 cars started 119 races and, as well as entering himself to drive, he gave Grand Prix opportunities to Derek Bell, Carlos Pace, Andrea de Adamich, Mike Hailwood and Jochen Mass among others. Despite successes in F2 and F5000, his best efforts with the F1 cars didn't fully realize potential, and he retired the team from the F1 World Championship at the conclusion of the 1978 season, selling his FOCA entry to Frank Williams.
Turning to property investment and family life, John withdrew from motor racing. He and his second wife Jane, the nurse who had tended to him in hospital following his 1965 accident, settled down and had three children—two girls and a boy. It was his son, Henry, who got John back into the sport he loved. After being introduced to karting by a friend, Henry told his father that racing was what he wanted to do. So, in the first years of the new millennium, father and son went karting. Like his father, Henry was talented and rose through the various steps from karting, to Junior Ginettas, to formula racing and eventually Formula Two—the revitalized series Surtees Sr. had won as a constructor with Mike Hailwood way back in 1972. During that time too, there grew a very special father and son bond that was most evident.
This new "love affair" with motor racing led John to attend many Goodwood Festival and Revival meetings, and reunited him with some of the machinery with which he'd had much success. He also got to drive examples of race and competition cars from the Mercedes Museum—the W125 being his favorite. He supported and became the Great Britain team manager of the now defunct A1 Grand Prix series. As Ambassador of the Racing Steps Foundation John offered those with racing talent and no budget incredible opportunities, nurturing these youngsters to become stars of the future.
Sadly, tragedy struck and Henry succumbed to injuries sustained in what could only be described as a freak accident. During an F2 meeting at Brands Hatch an errant wheel from a crashing car struck his head as he drove past. Obviously, John and the family were devastated by this, but rather than let this drag them down, "new life" was offered to a number of patients requiring a transplant. The formation of the Henry Surtees Foundation gave a new impetus to John's remaining years. It was done with his trademark awe-inspiring tenacity, turning a personal tragedy into an incredible charity, which has saved countless lives throughout the UK. Since its formation the Foundation has worked with the Air Ambulance and Blood Bike groups, as well as the "Blood on Board" program that allows at-scene blood transfusions for accident victims whose lives are at risk.
The pits and paddocks of the many motor racing venues John Surtees frequented have lost a unique individual with infectious warmth, a mischievous smile and a great personality who will be sadly missed Vintage Racecar takes this opportunity to offer sincere condolences to John's wife Jane and his daughters Edwina and Leonora. If you'd like to leave a message of condolence please visit www.henrysurteesfoundation.co.uk
Vintage Racecar's June issue will be dedicated to John Surtees.