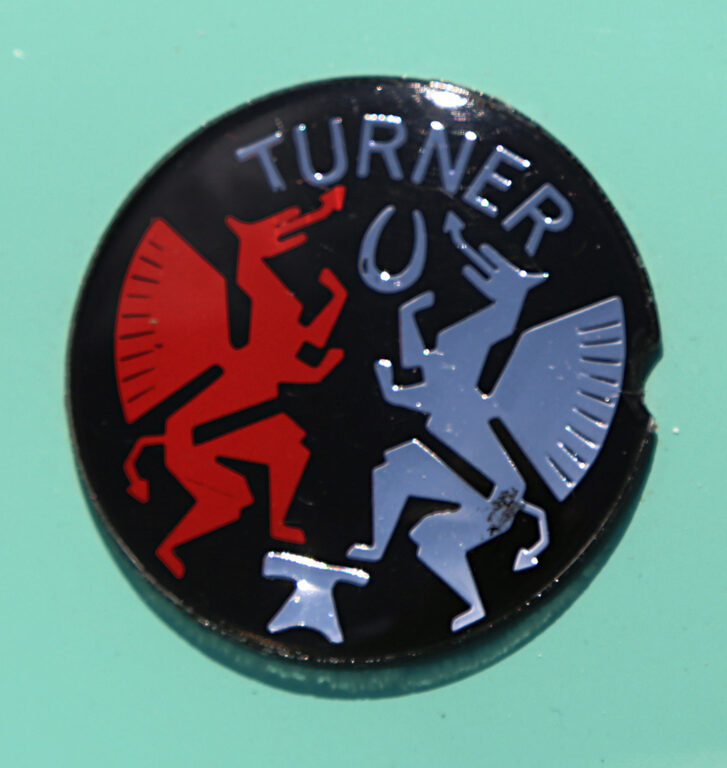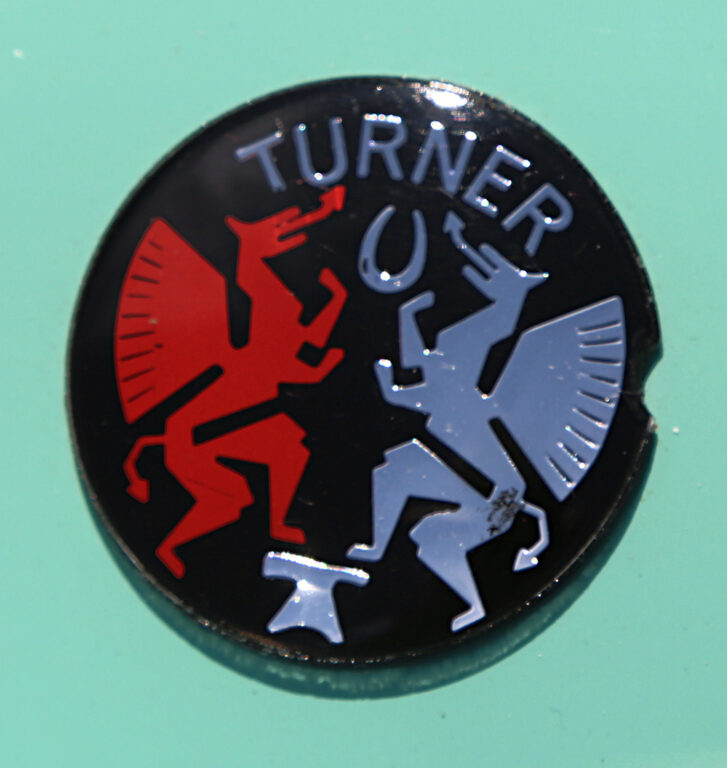 People were standing around this tiny roadster on display at the Hillsborough Concours, attracting a crowd, all day. It's unusual design, high-quality restoration with attention to detail and striking peppermint-green over red color scheme made this little car one of the biggest head-turners of the day. Most people had no idea exactly was it was. Its proud owner was there to answer any questions, the first one being, "What is it?"
The answer: a 1959 Turner 950 Sport.
The Turner Sports Car company was the brainchild of Welsh engineer Jack Turner (1916–2011).  The first Turners were constructed at The Old Smithy in Seisdon, South Staffordshire, England, before the company relocated to 32 Merridale Street, Wolverhampton around 1953, then later relocating in 1956 to its final location at Pendeford Aerodrome in Wolverhampton where car production continued through until early 1966 when production ceased. According to the Turner Sports Cars website, a total of 670 Turner cars were produced.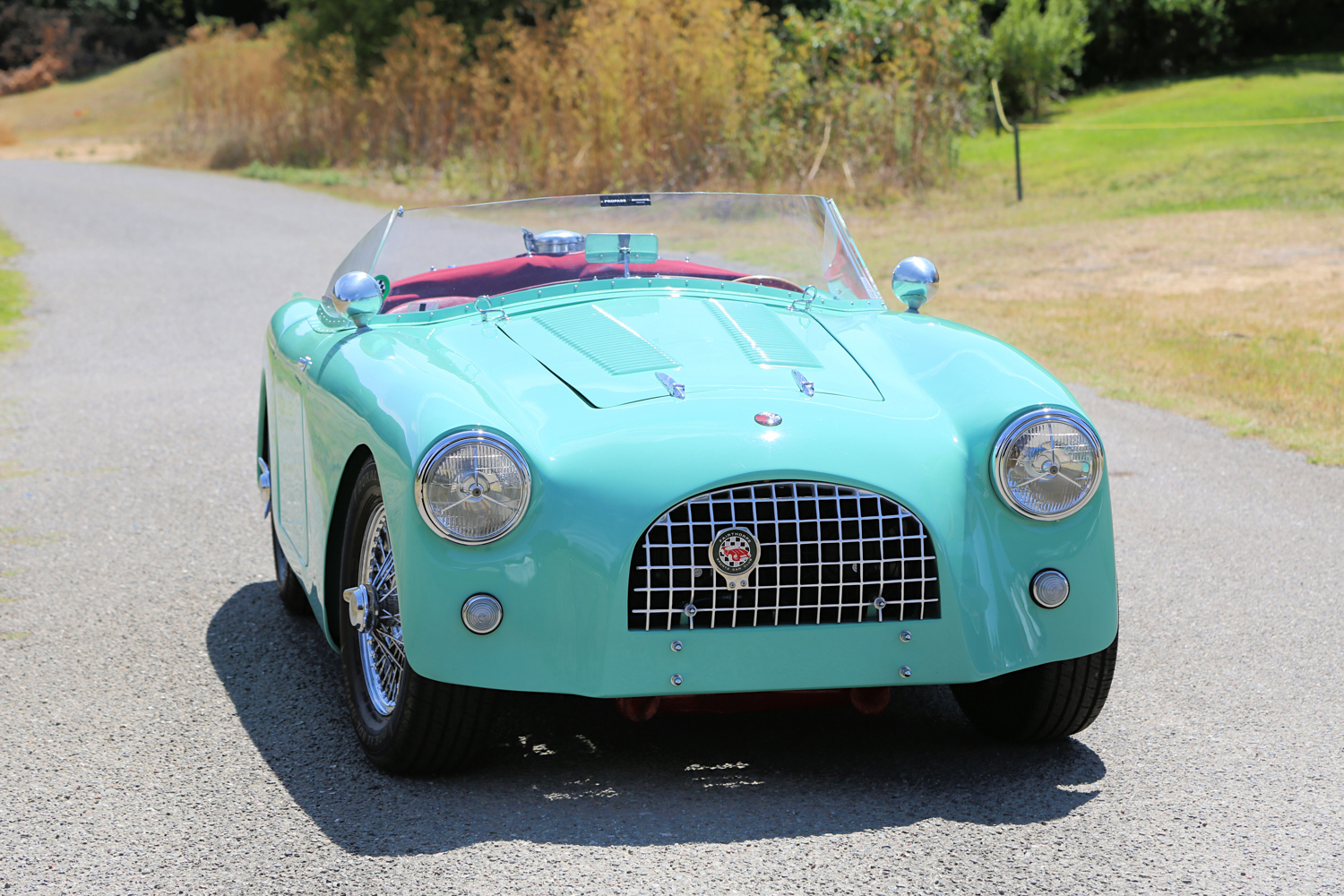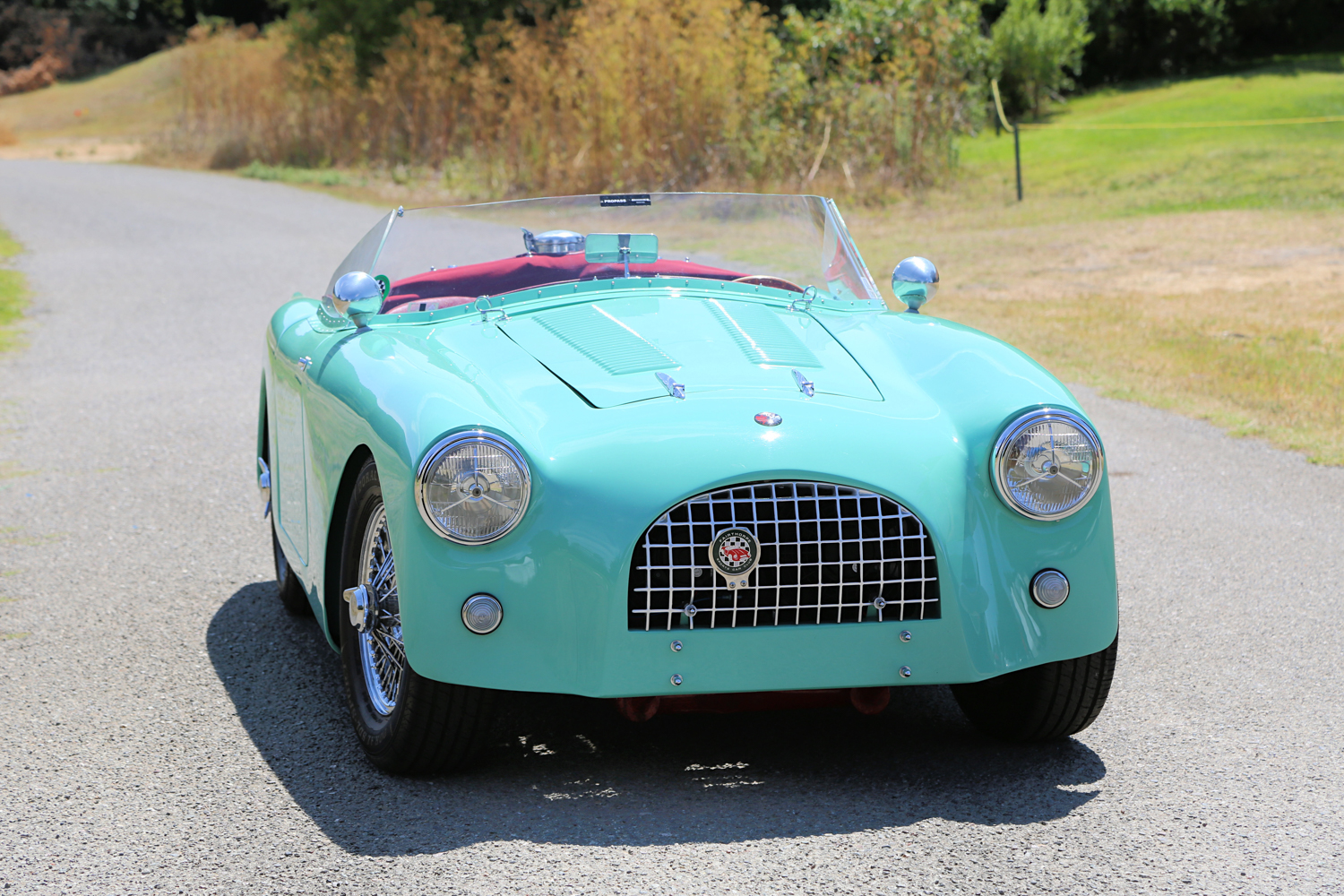 Well-established as a racing car specialist and racecar builder, Jack Turner decided in 1954 to produce a simple, affordable, entry-level sports car. These cars featured a large diameter steel tube ladder frame chassis (except the GT model), a steel or fiberglass body depending on the year, and running gear and power plants from a variety of sources such as Austin A Series, Coventry Climax and Ford. Early Turner racecars (of which nine chassis are known to have been built) were sometimes fitted with engines designed and built by Jack Turner himself.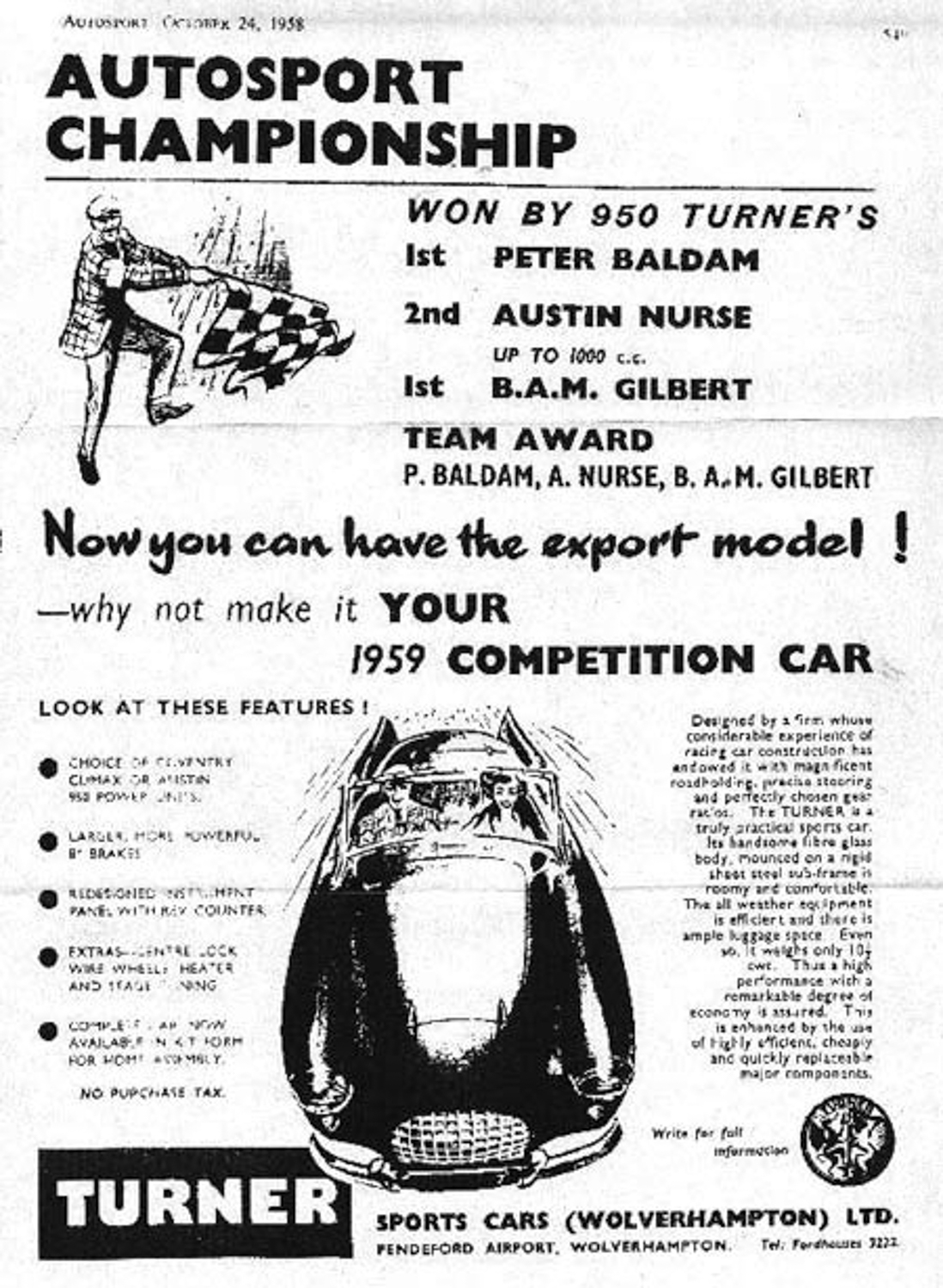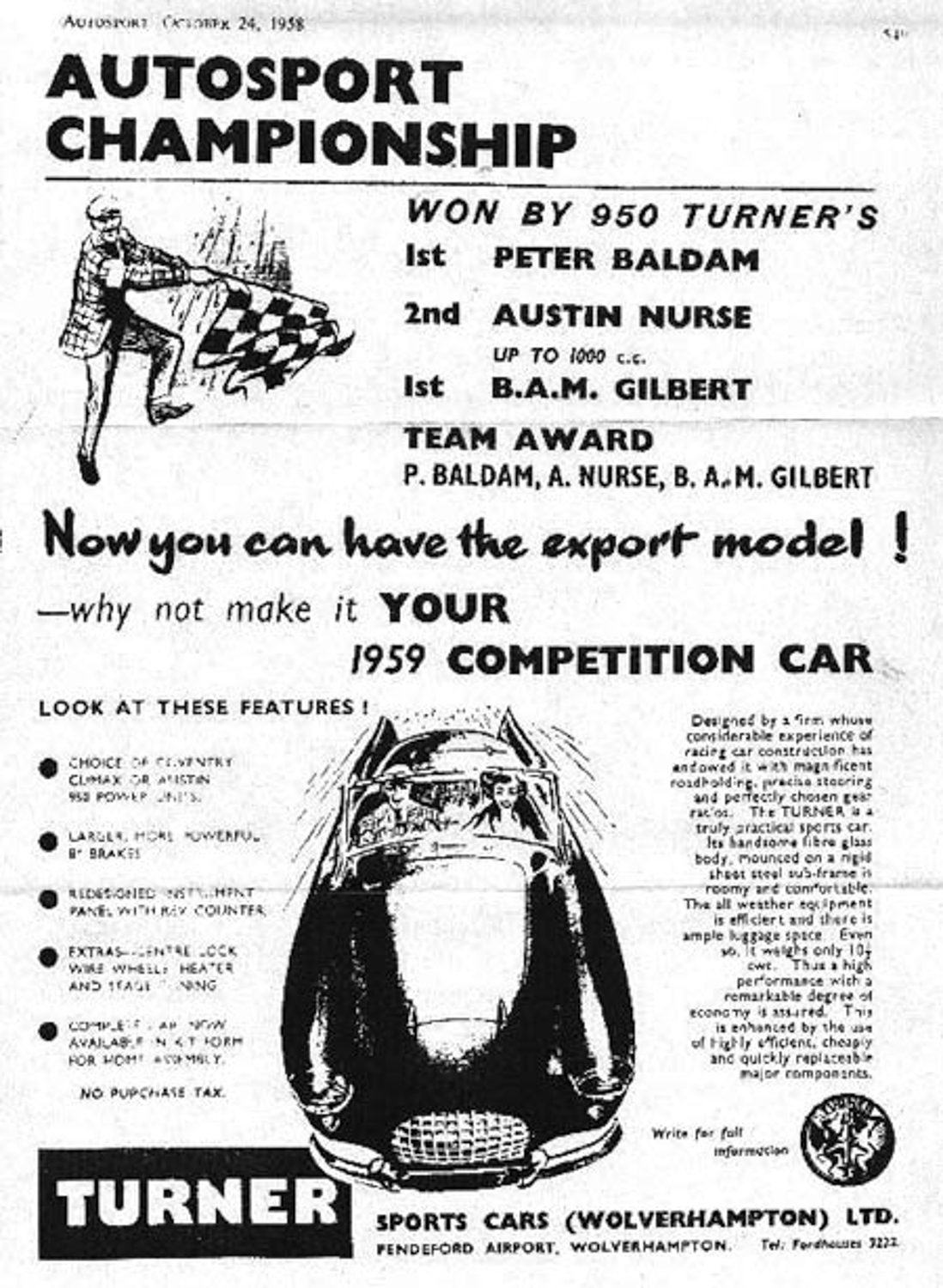 The Turner Sports Cars company produced lightweight sports cars with an excellent power to weight ratio, and were well respected for their exceptional handling abilities, both on the road and on the track. Besides delivering a lot of driving pleasure to their owners on the road, Turners excelled in motor sports and racing competitions.  In the United Kingdom, they won the Team Prize in 1958 and 1959 and a Class Championship win in the 1960 Autosport Championship, as well as many individual successes in club racing between 1956 and 1966 and beyond. Their initial success was in the 1000-cc class with cars fitted with BMC A series engines and later in the higher classes with Coventry Climax FWA and FWE engines, as well as with Ford engines.
In the United States, Turners won the 1957 and 1958 Sam Collier Memorial Trophy race and were entered at Sebring in 1959 and 1960. Turner also won three SCCA D-Production National races in 1966. Additionally, they have won a number of SCCA F-Production National Championships over the years. Turner Sports Cars were well known to "surprise" the more established brands such as Lotus, MG and Healey both on the race track and the road.  They continue to be successful in historic motor sport events around the world to this day.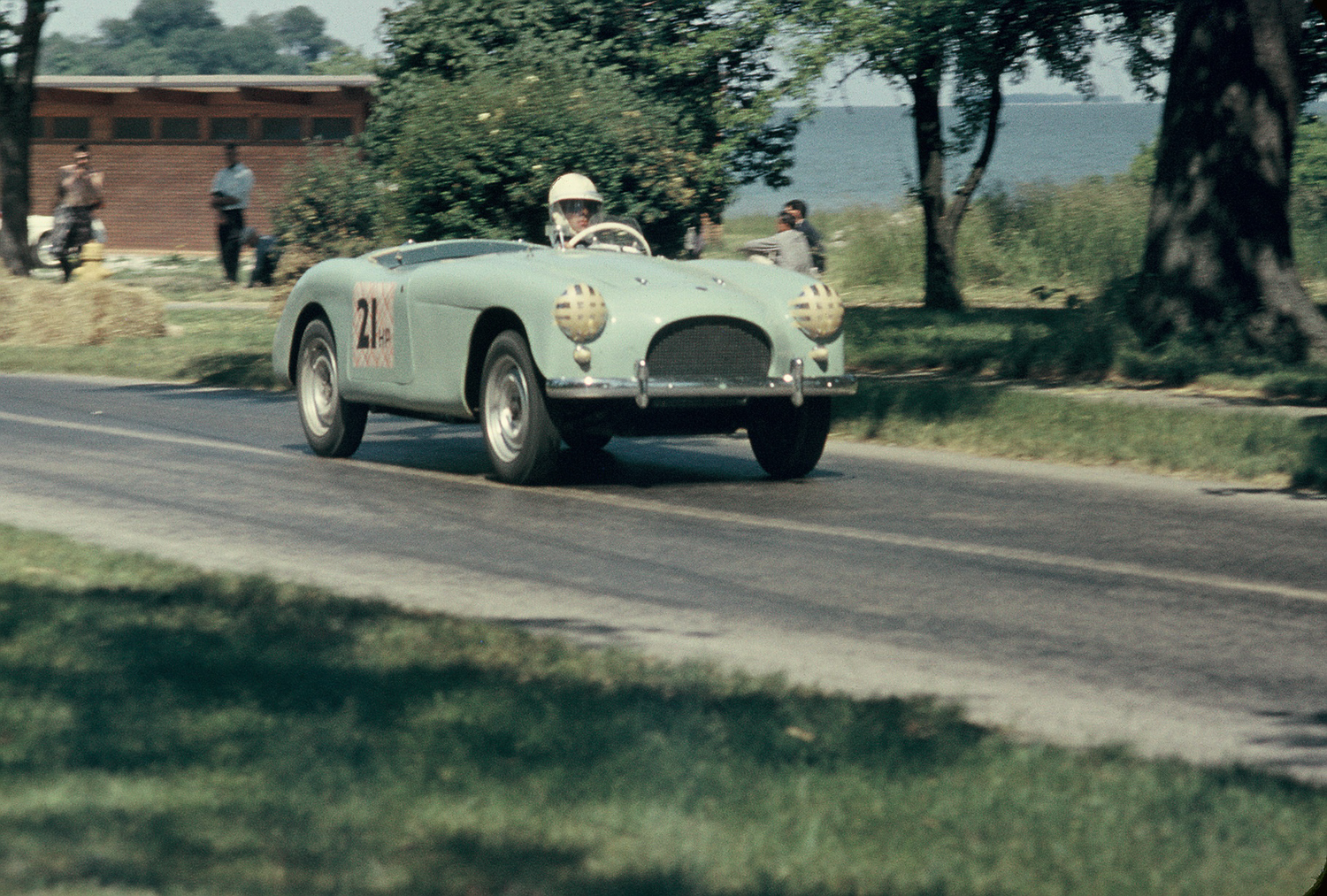 The first complete production car was the Turner A30 Sports, a two-seater also known as the 803 and using an 803-cc Austin A30 engine, transmission and suspension. The car featured a simple ladder frame chassis and open fiberglass two-seater sports bodywork. As BMC would not supply components directly, they had to be purchased from dealers, which increased the price of the car. In 1956, the more powerful 948-cc engine from the Austin A35 was used and the model renamed the Turner 950 Sports, but, apart from fully hydraulic brakes with optional front discs, was otherwise unchanged.
Tri-City Sports Cars was founded by Dale Edward Smith in 1957.  It was located a few miles north of Massillon, Ohio, in somewhat of the center of a triangle formed by Akron, Canton and Massillon, thus the name Tri-City.  The establishment was operated by Dale and his lovely wife, Betty, until Dale's passing in 1986. They were the first and largest importer of Turner Sports Cars.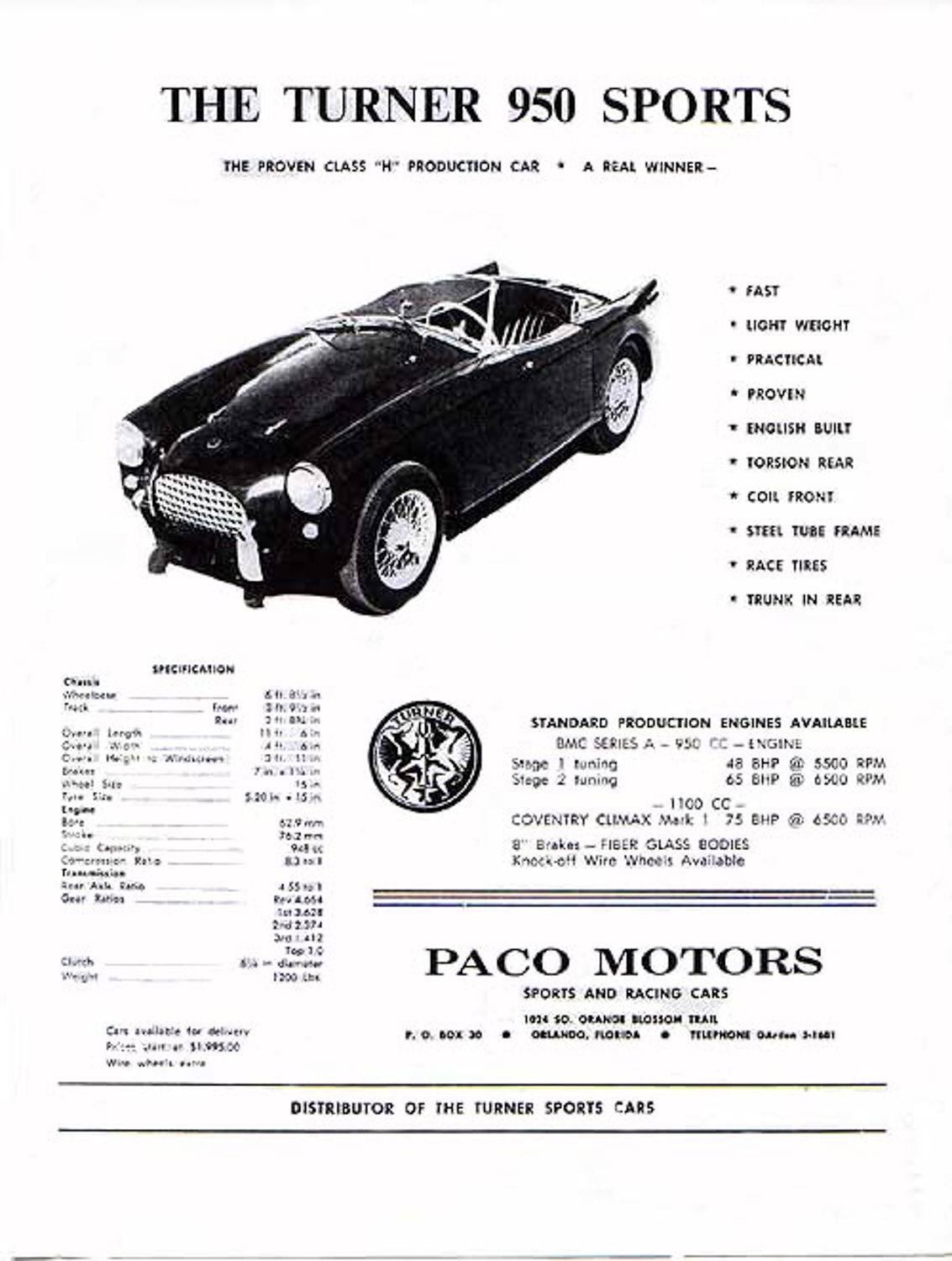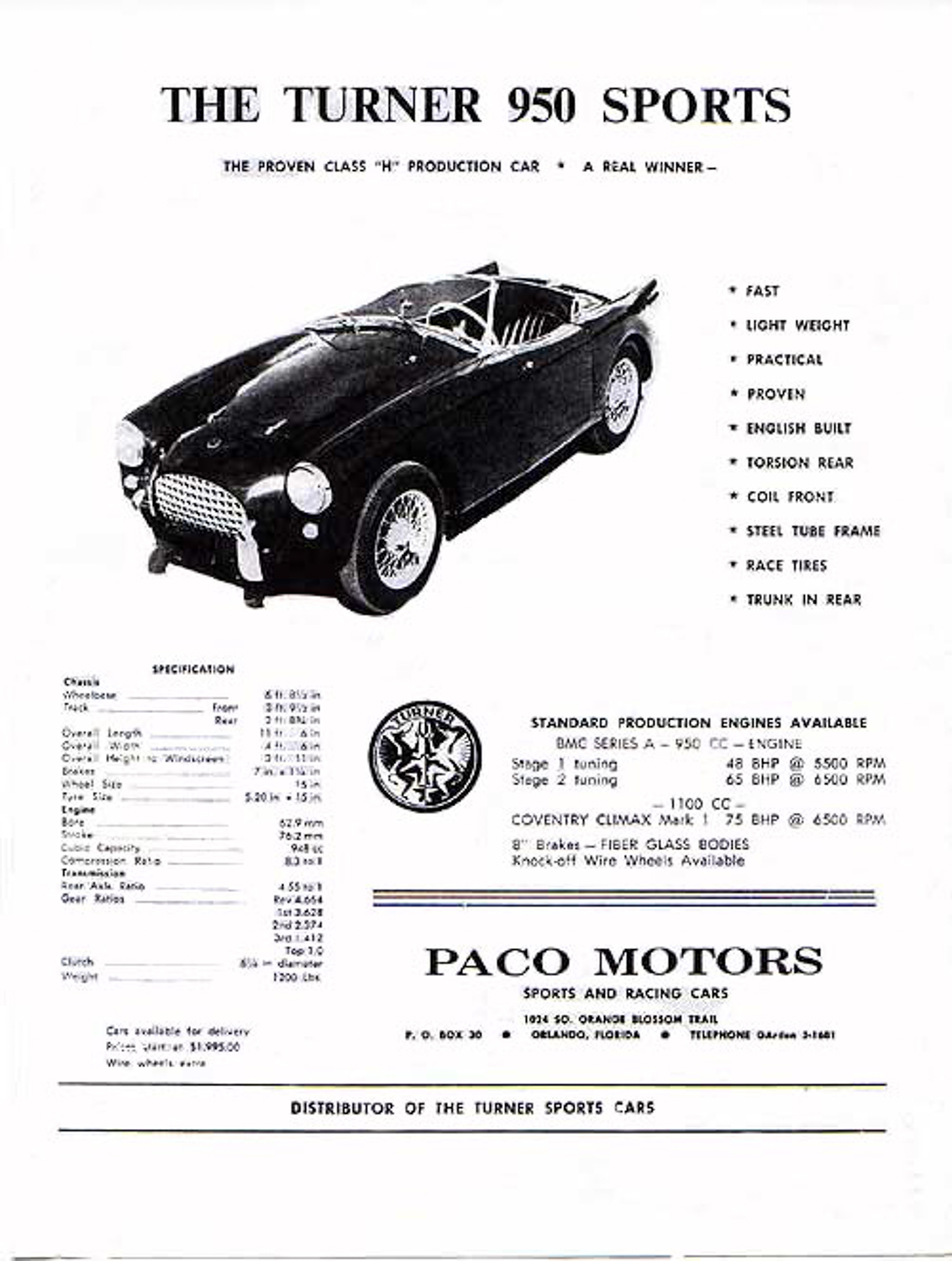 The early Turner factory records were destroyed, and the records from Tri-City have sadly also been destroyed.  It is thought that Dale imported approximately 60 Turner cars. This is nearly ten per-cent of Turner's total production.
According to Jay Carano, who worked for Dale Edward from 1959 to 1963, "Dale purchased his first Turner, a white, right-hand drive 803, in the Columbus, Ohio area early in 1958. After racing an MG-TD for the two previous years, Dale was really impressed with the performance of the 803. He contacted Jack Turner in Wolverhampton, England, to inquire about a dealership.  He was thus awarded the exclusive right to import Turners for the entire United States, excluding the state of Florida. He did however, also import some to Florida. Factory records remain for verification of this contract. Dale really did love the little 803 and said since fins on rear fenders were such a styling rage with American cars, he suggested to Jack Turner that maybe they could put some fins on the 803 to improve marketability in the United States. Jack agreed with this idea, and the 950S was born!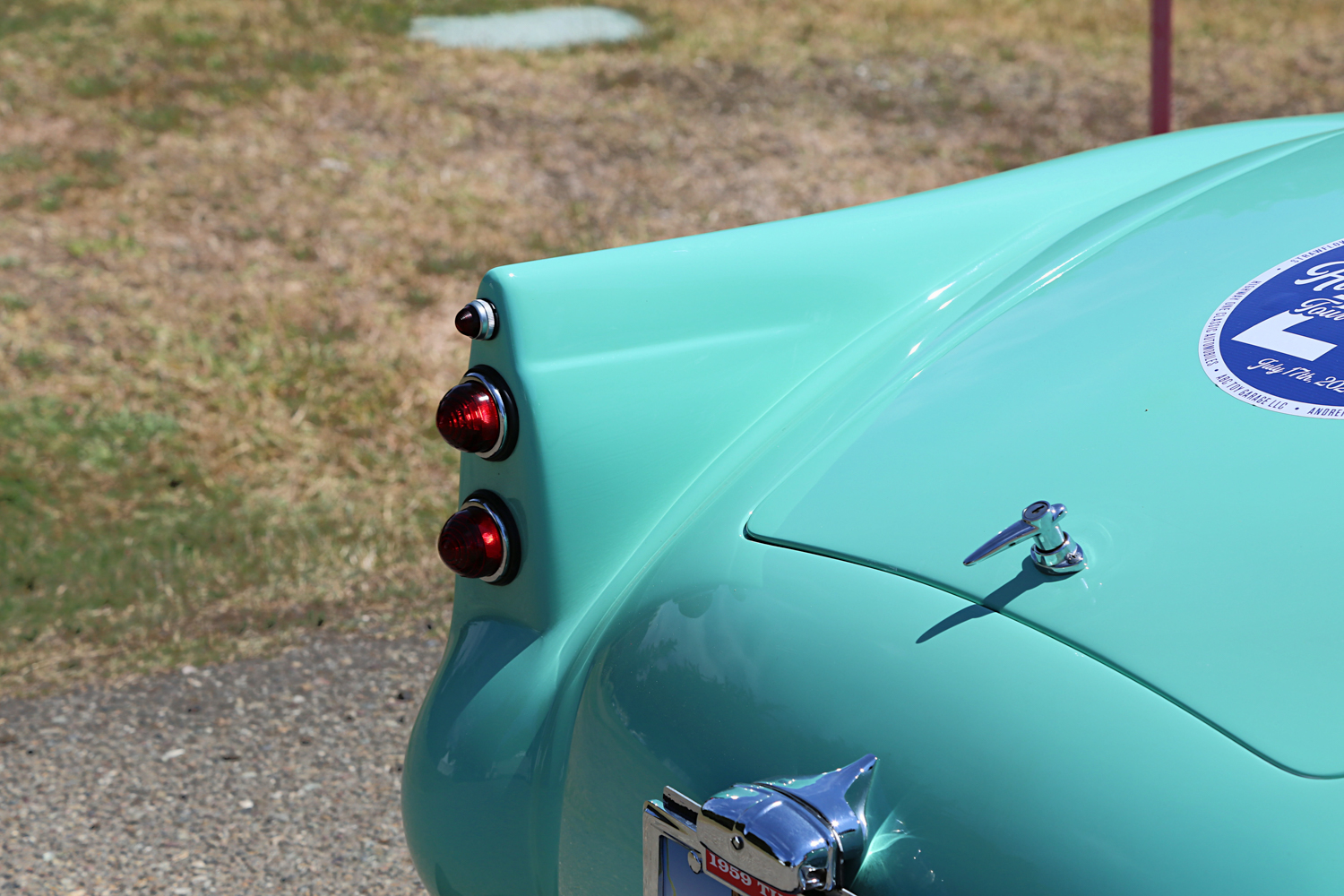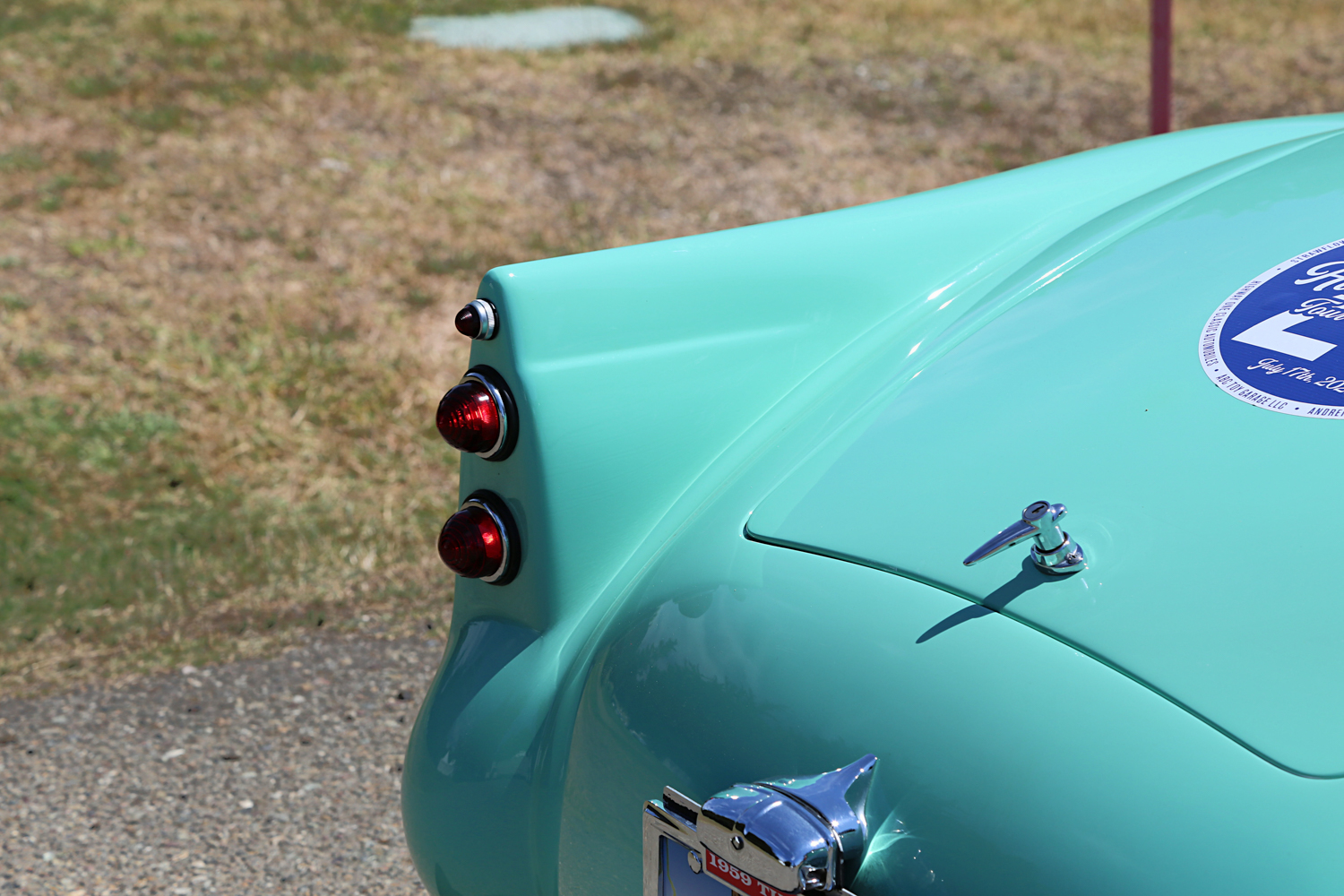 "Dale was very adamant about promoting Turners in the U.S. and made arrangements for the cars to appear in several national magazines for road tests and articles. The Turner Climax that appears in the May 1959 issue of Motor Trend magazine, and is described in the May 1959 issue of Foreign Cars Illustrated and Auto Sport magazines, became Dale's second racecar. He had a dealer network across the country and brought the cars into ports in New York, Cleveland, Baltimore, Houston, Los Angeles and Port Everglades.  Some of these cars went straight to his dealers. The concentration of Turners in the northeast U.S. is because most of the cars were sold by Dale directly from Tri-City. Some were converted into racecars and were active in SCCA club racing in those days. Many were simply driven on the street for pleasure."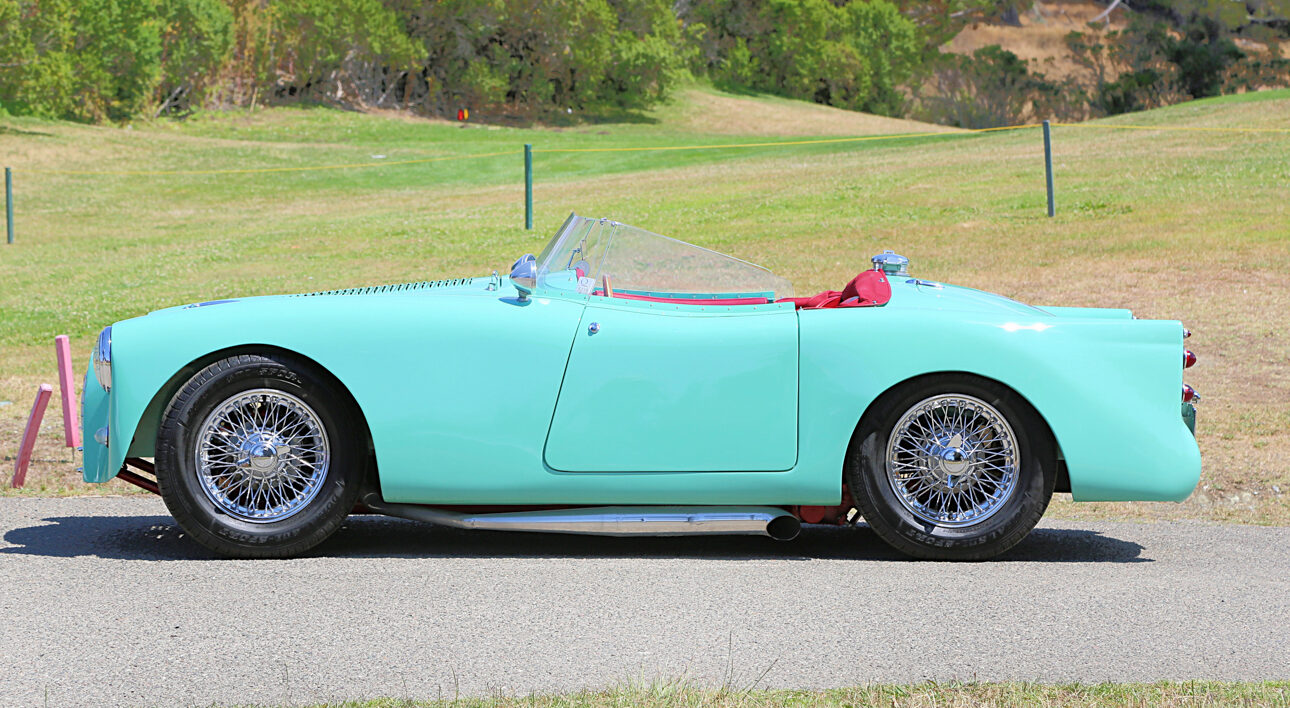 Public Reaction
In May of 1959, Motor Trend magazine tested a new 950 S in a story comically called "Shy on Looks, But a Real Goer!"  Some of their observations are entertaining to read today: "'EASY TO DRIVE – easy to look at – easy to keep' is a two-thirds correct slogan devised by promoters of the Turner sportscar.  The middle description – 'easy to look at' – is a little unrealistic.  This, plus the fact that when the top is erected the middle bow rests disconcertingly on one's scalp, is about the only thing not 'easy' about the Stage I Coventry Climax-powered Turner – except for those who think the $3170 (p.o.e. Cleveland) price tag too high for a single-overhead-cam-engined car."  They also wrote: "It's doubtful how much good the fins will do aerodynamically, but they are distinctive.  Bumpers are fragile, but 'glass body is strong." Perhaps the best quote is this: "Since Turner is a racecar, weather equipment is more legal than actual.  With roof erected, there isn't space enough for long hair."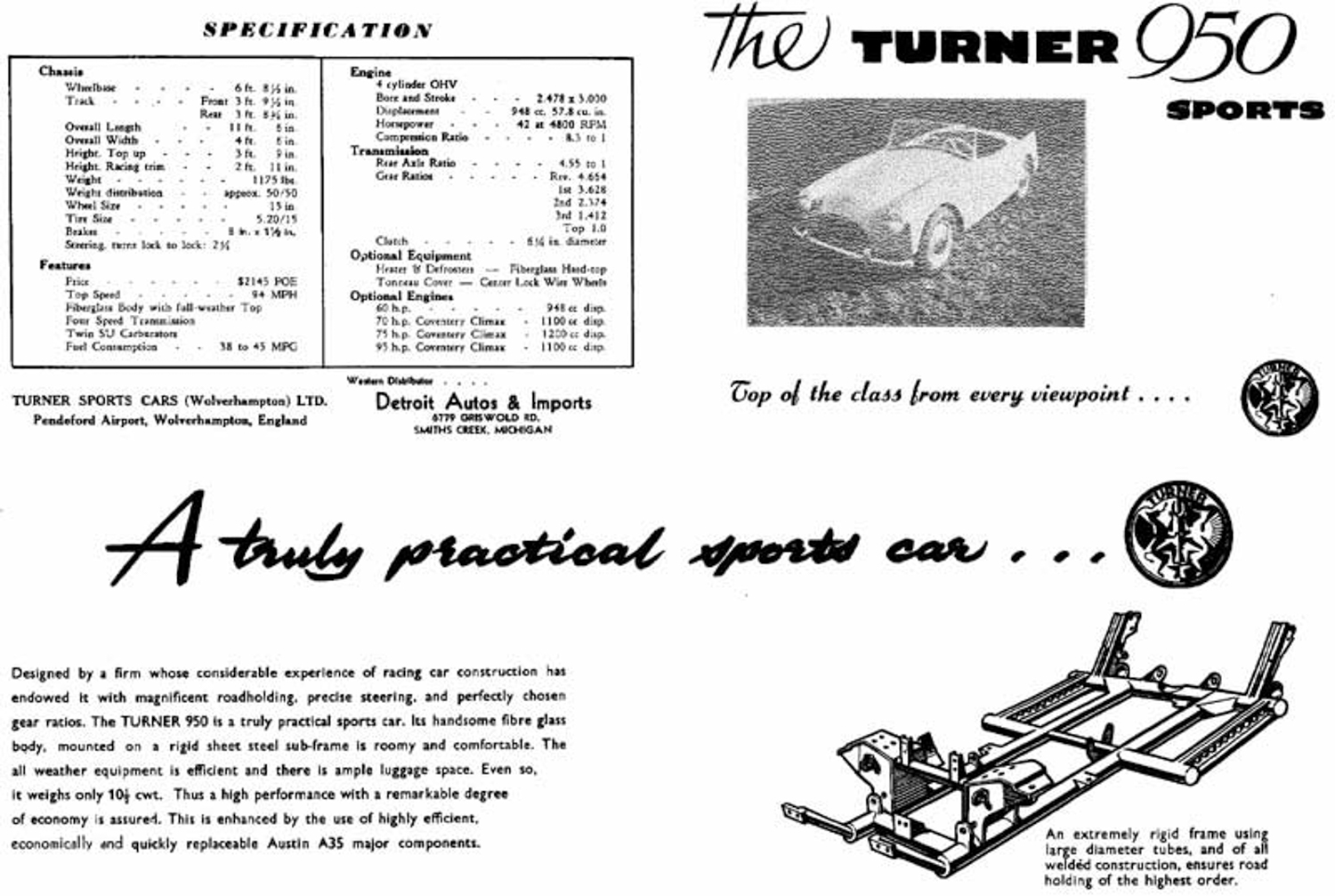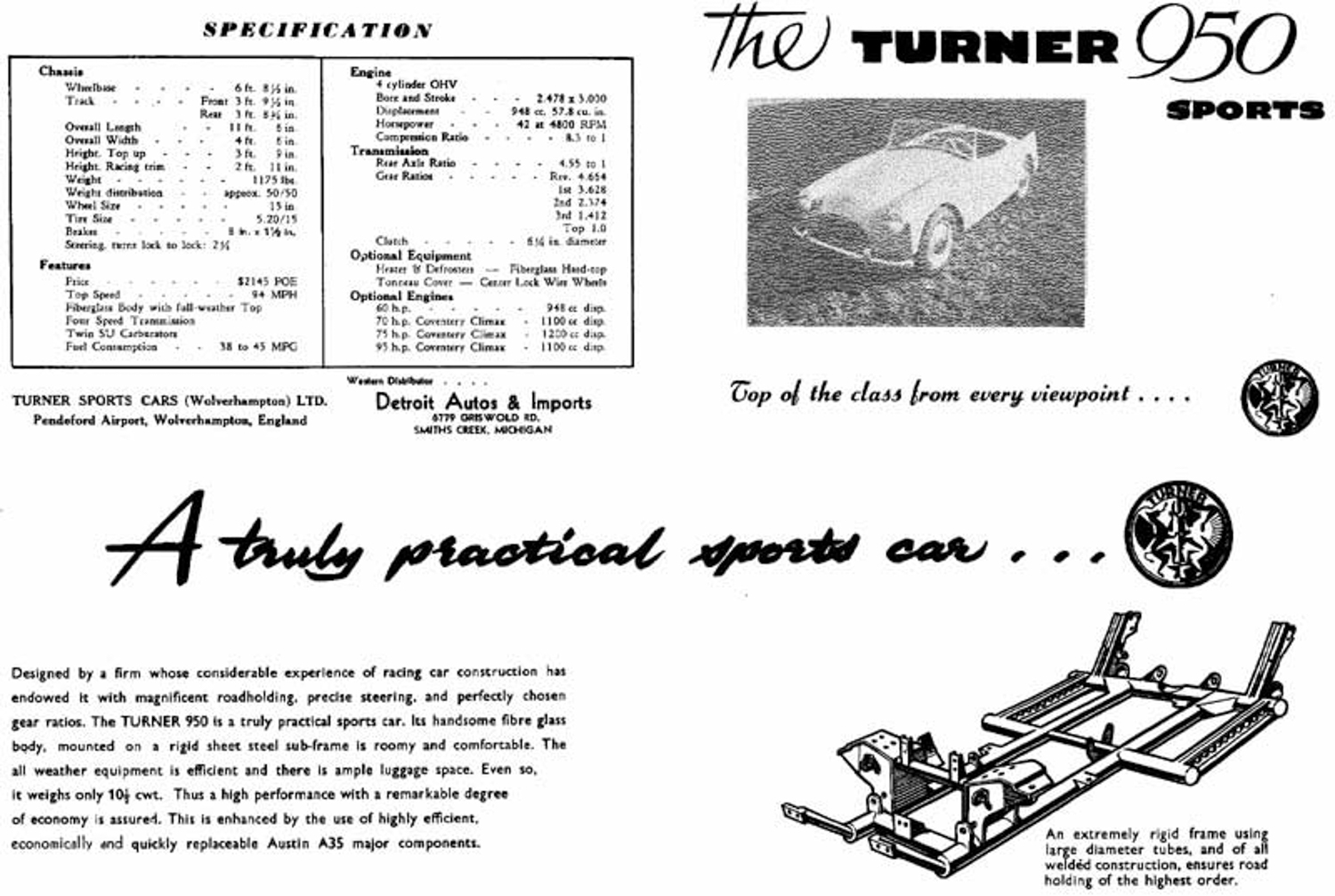 All kidding aside, Motor Trend liked the car: "The car's discomforts seem to disappear upon the realization that here is a driving machine with more fortitude than its designers had imagination."
Autosport magazine tested a 950S for their February 20, 1959 issue entitled "A Lively, Practical Two-Seater Sports Car." The magazine made this somewhat cheeky comment: "Quite excellent is the luggage boot, for sports cars are often used for long distance touring, and nothing is so annoying as having to explain to the lady on your left that there is only room for a toothbrush and a bikini." They also pointed out "Cockpit is well set-up and the seating position a little higher than on most sports cars.  It is comfortable and the machine is a satisfactory shopping car in addition to its sporting nature."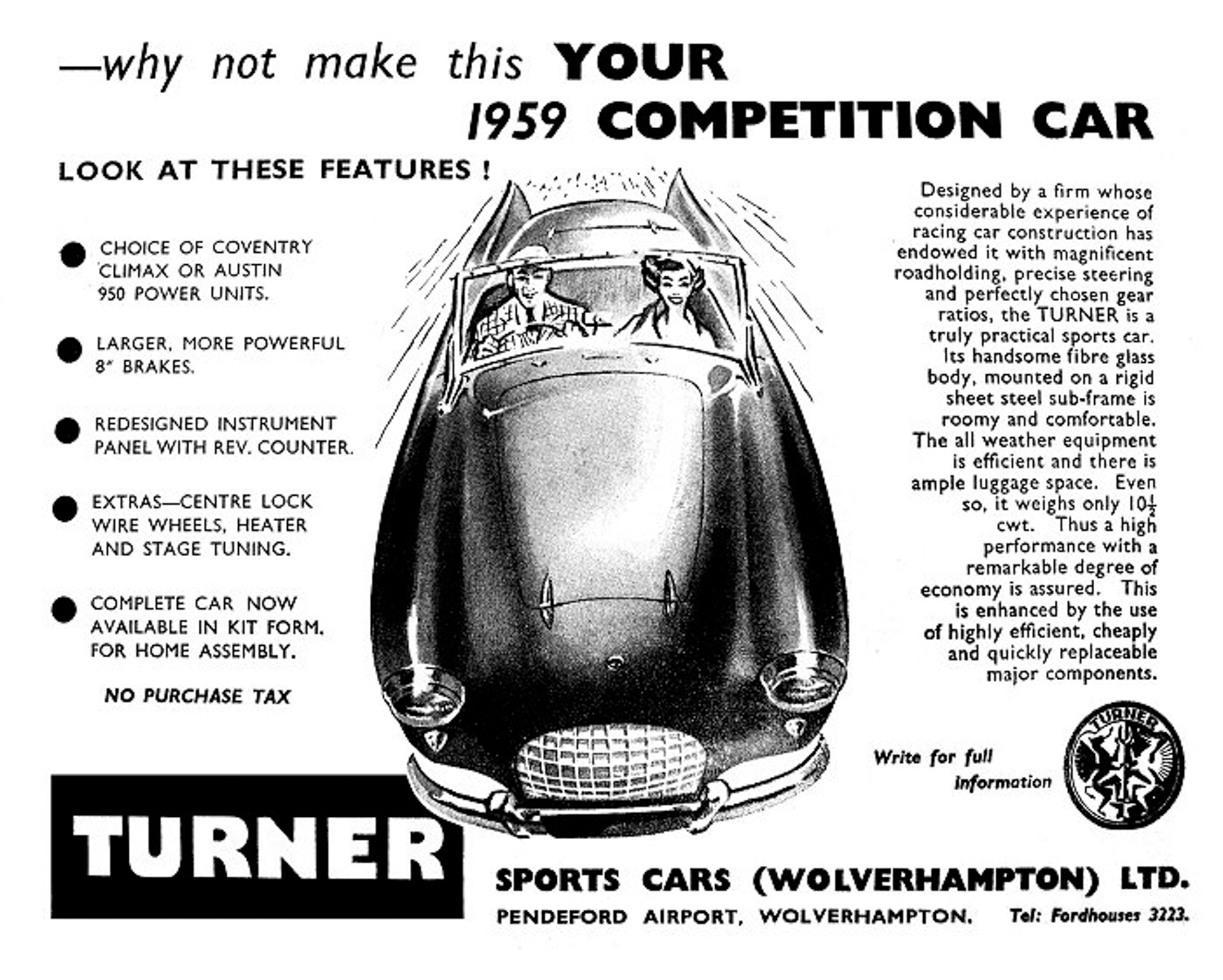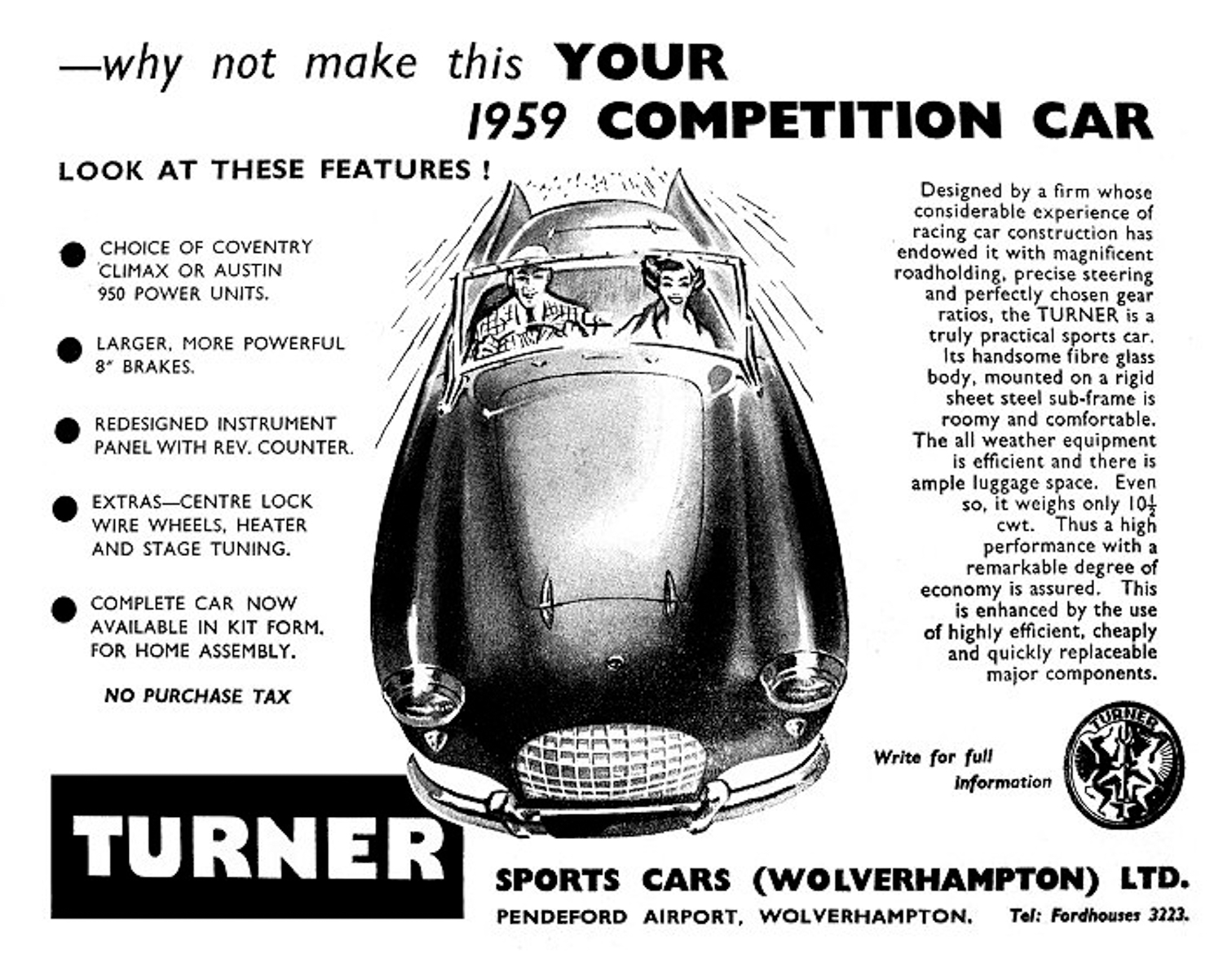 Getting down to business, Autocar said "At the excellent timed maximum speed of 93.7 m.p.h., the small machine was perfectly steady and rode the bumps well, in spite of its short wheelbase.  The time of 17.8 secs. for the standing quarter-mile must be regarded as sensational for a car of only 950-c.c.  It was made possible by the close-ration gearbox, which allows 60 and 80 m.p.h. to be exceeded on second and third speeds respectively.  The up changes may be made as quickly as the hand will move without any sound or shock, and although the clutch smelt a little during the performance tests, it always gripped instantly after a snap change.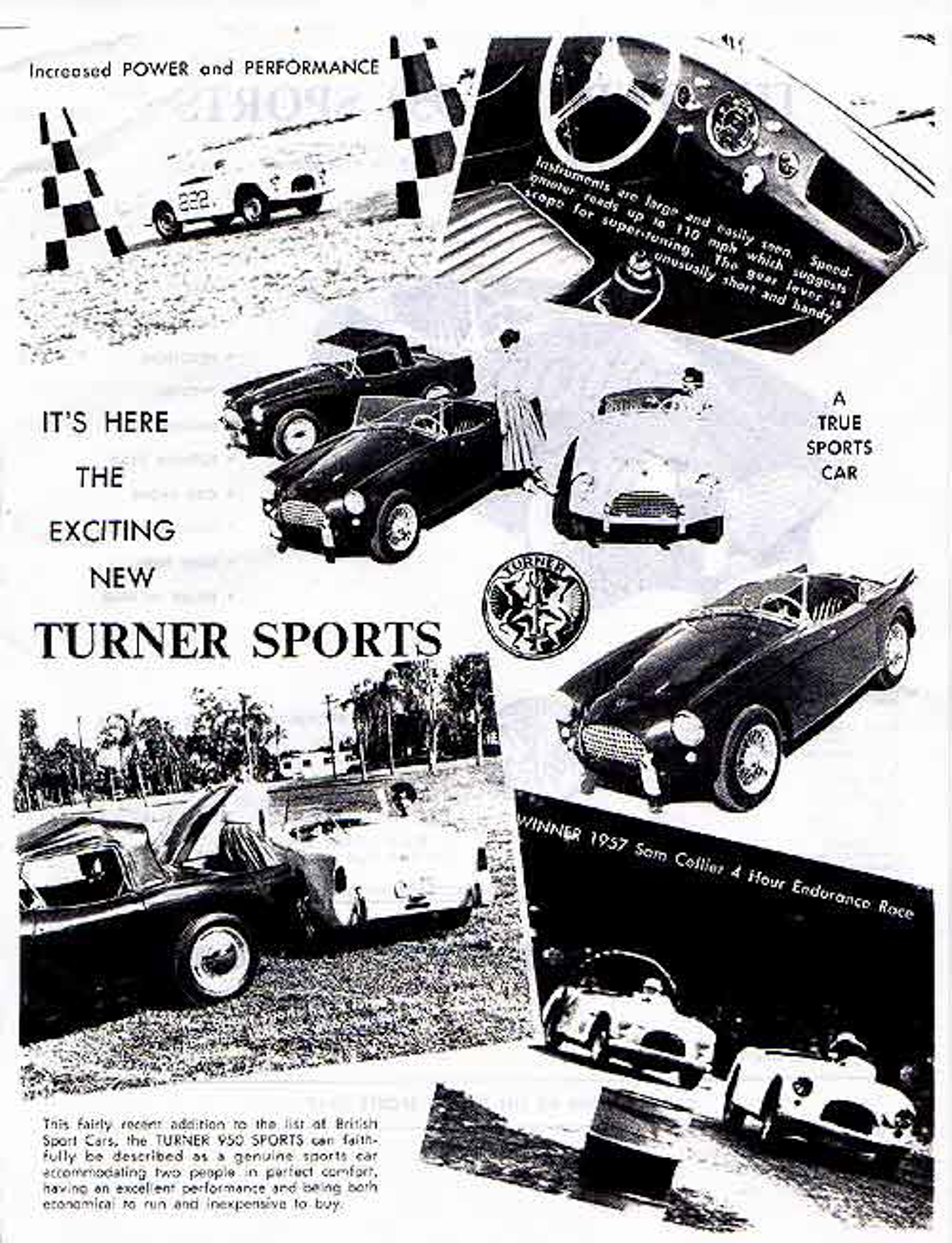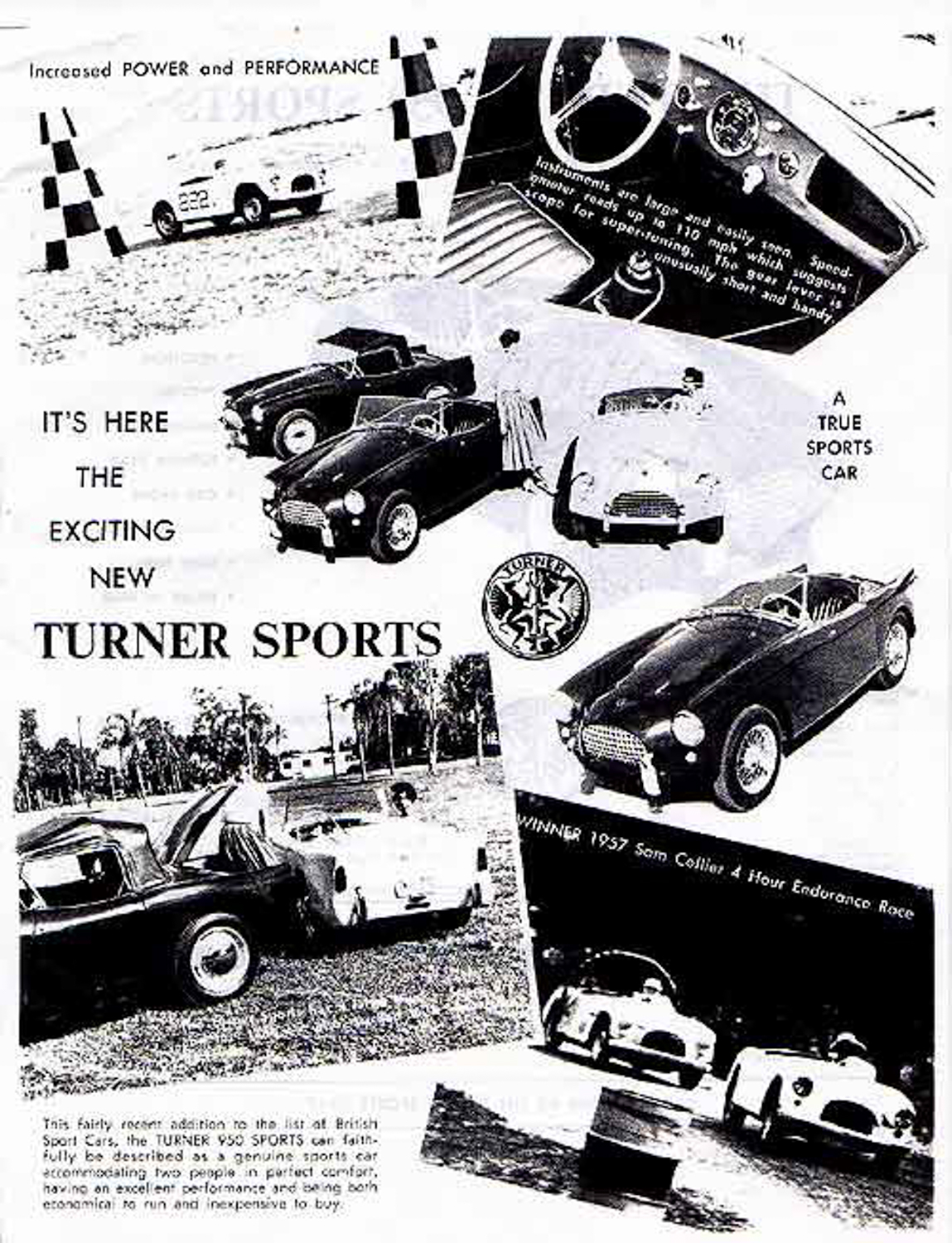 The riding comfort is good at all times, with no tendency to pitch.  The steering is 'quick' enough to allow rapid skid correction when the roads are icy, and the pedals are well arranged for 'heel-and-toe'.  The brakes cope easily with a projectile of such moderate weight. Roadholding is definitely a strong feature of the Turner.  The little car is too low to roll appreciably, and it seems to enjoy fast cornering.  The rear axle is well behaved, being positively located against bounce or judder during violent acceleration or braking.  Even when bumps are struck during fast cornering, the amount of rear end breakaway is quite moderate.  The problems of obtaining good roadholding are considerable when a proprietary rear axle is used on a light car.  In this case, the positive location of the beam, allied with the strategic positioning of the telescopic dampers, gives roadholding which approaches that of some more complex designs."
All the magazines liked the 950 Sport, but simply couldn't help themselves from making a few snarky comments.
The History of Turner 30/168
This Turner 950-S, serial number 30/168, was built late 1958 and sold new by the aforementioned Tri-City Sports Cars in Massillon, Ohio. Its history is largely unknown until it was acquired by Scooter Gabel in 1994. The car was in rough condition when Scooter found it. It was equipped with a roll bar and looked to have been used as a SCCA racecar.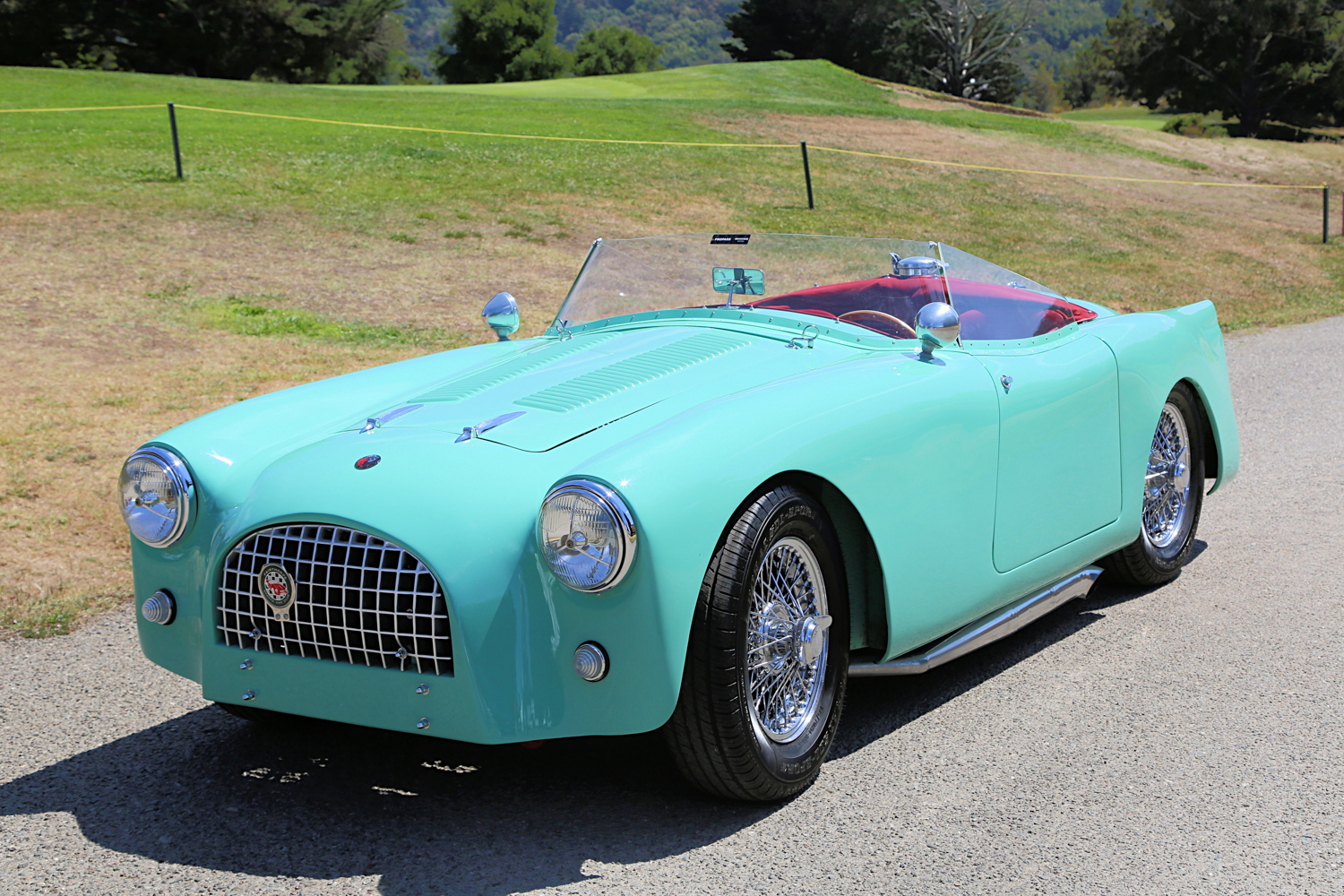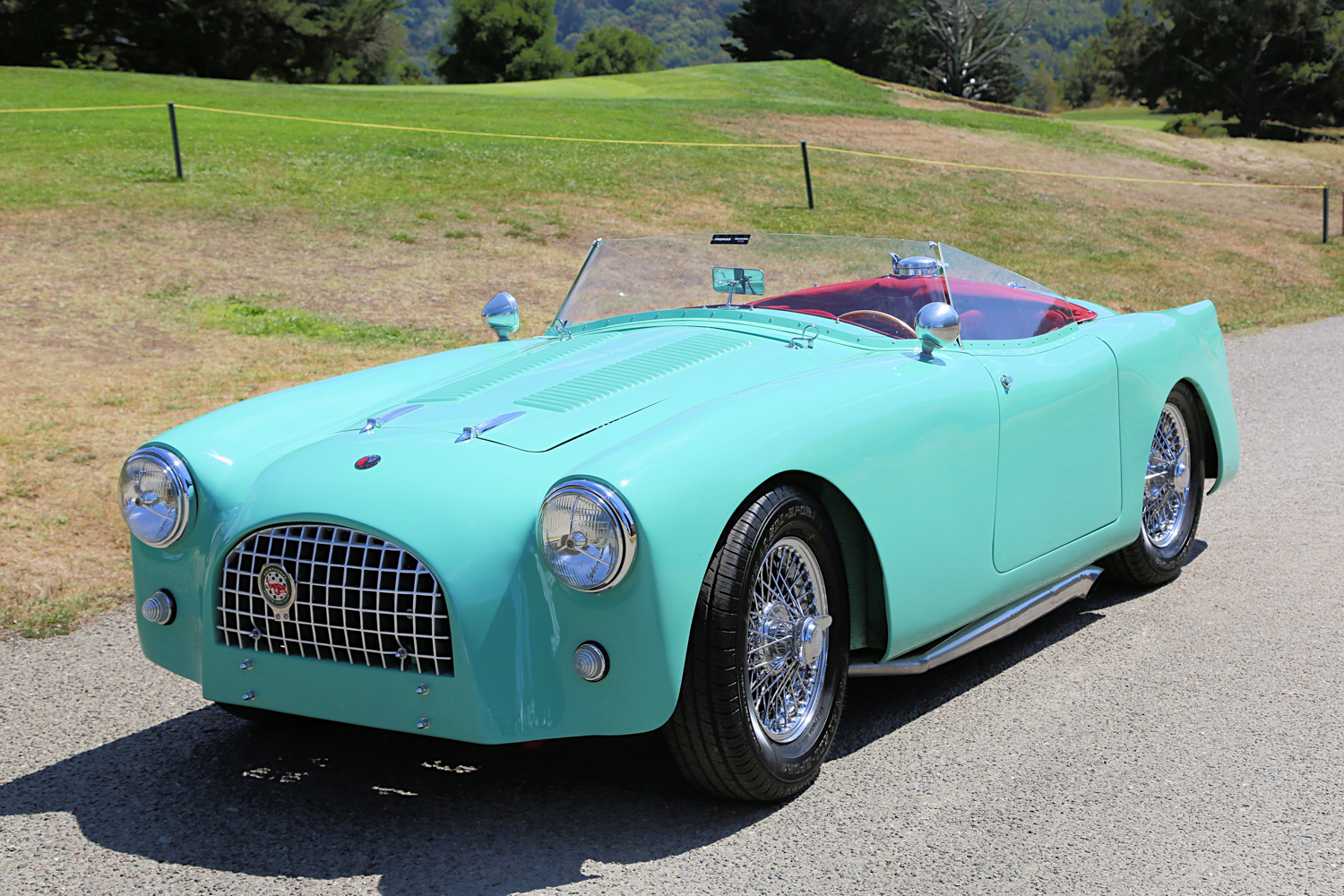 "My dad had four Turners and still has one," explains Scooter. "A street car MK1. I thought a 950 had a better body shape. Most people consider them ugly, but I knew with some subtle mods it would be an attractive car."
Scooter's goal was to create the most beautiful Tuner 950 he could, making many custom changes to its appearance and drivetrain, but thoughtfully retaining a period racer esthetic. After growing up around his father's Turners, watching him race and enjoy the cars for many years, Scooter was uniquely qualified to do a comprehensive restoration on a Turner 950. Additionally, he knew what items he wanted to modify to enhance the features of the design, a knowledge learned from studying Turners for so long.
"When I got the car, it was just a crashed body with rusty doors on a tired frame," recalls Scooter. "Most of the interior sheet metal had to be remade. I did that by doing rows of staggered rivets that were installed after paint as opposed to stitch welding it. Because… again, it looked better."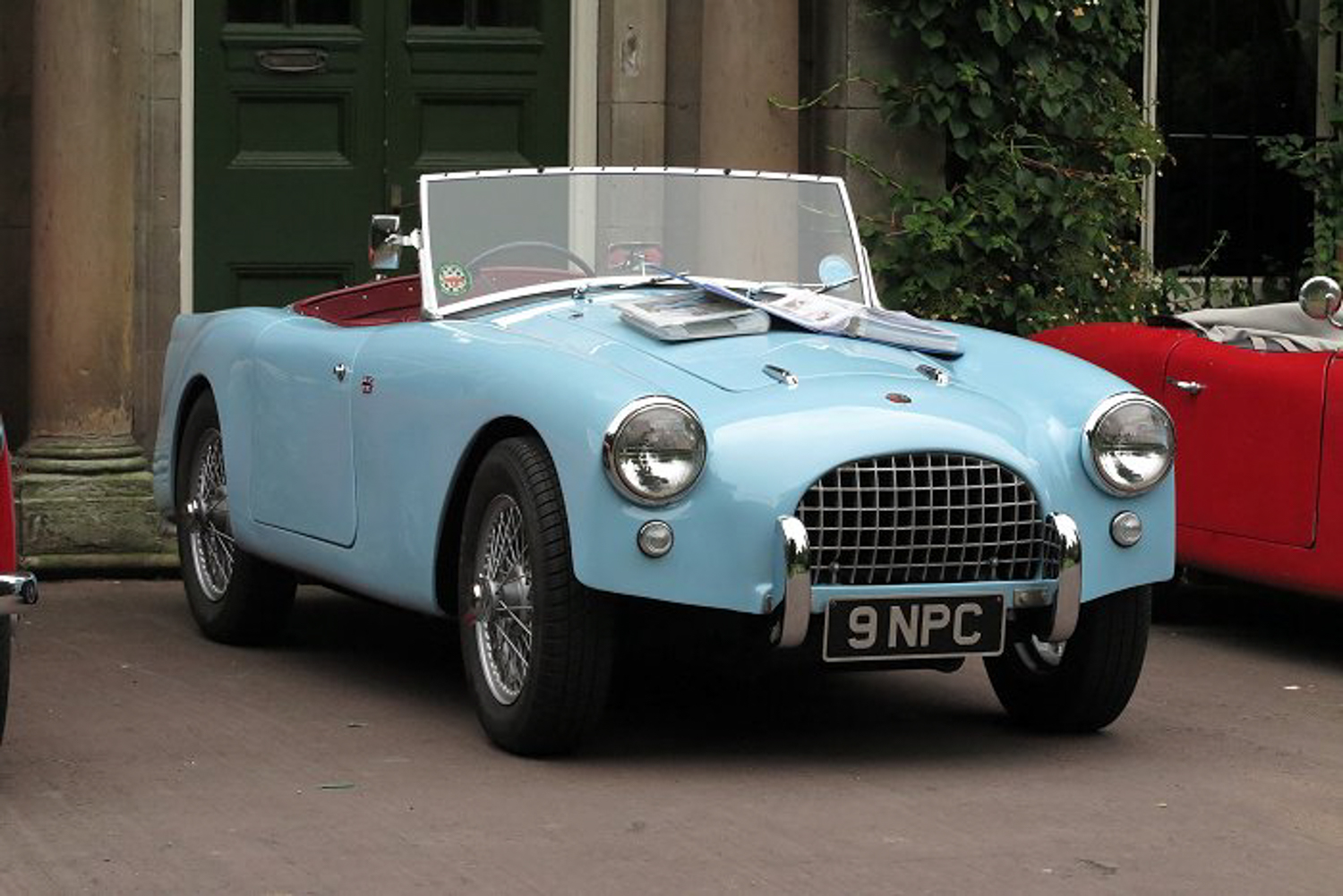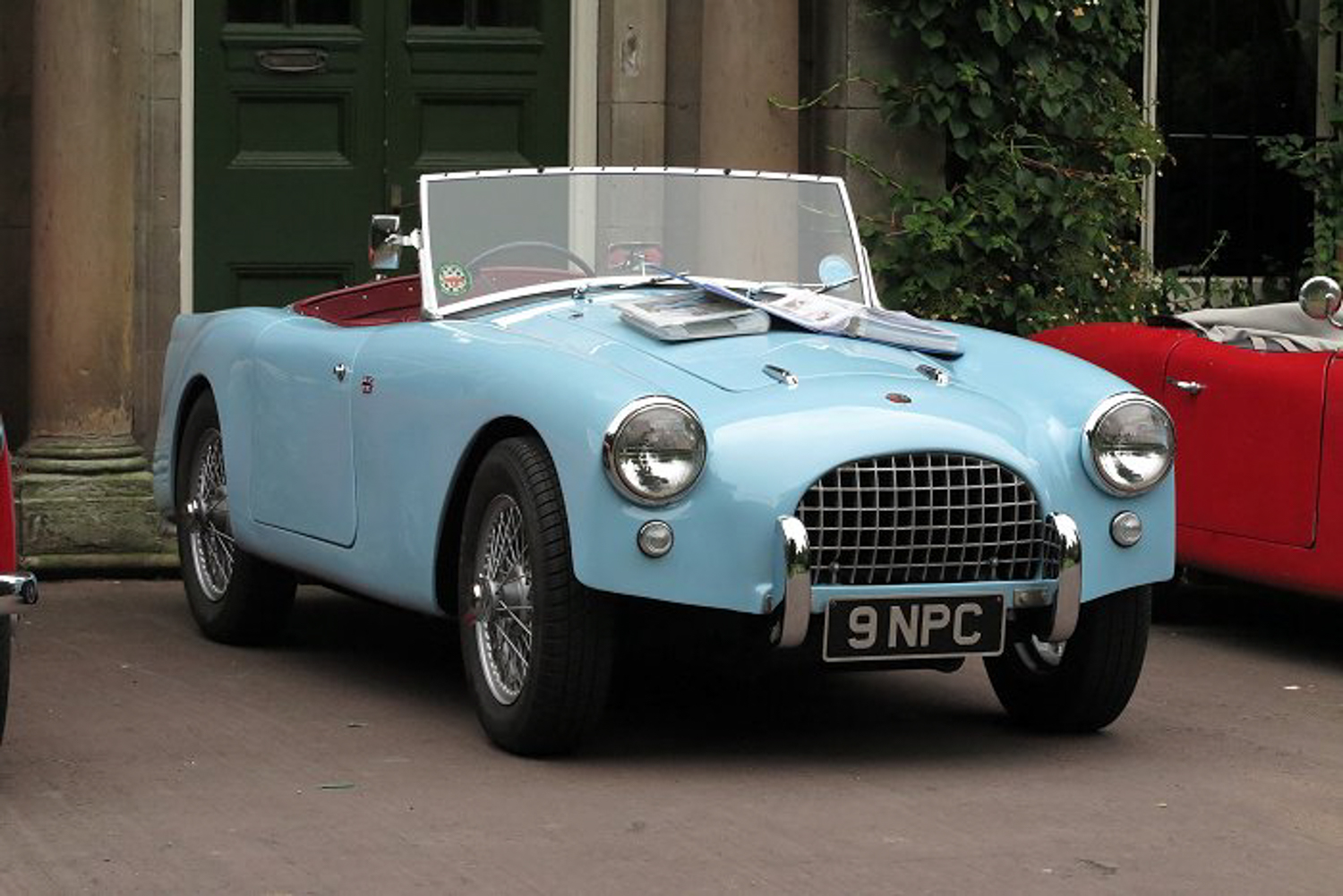 Among the many modifications were extending the nose of the car by three inches and a modification of the grill. The hood was hand-made with custom louvers punched in. The underside of the hood was polished, not painted. Another interesting detail is the hood latches, which are the same ones used on early Ferraris.  Also, the giant Monza cap has an aluminum fill tube connecting it to the gas tank. Typically, you have to open the trunk to fuel up a Turner. The taillights are typical English beehives, but not stock on a Turner. The little lights on the top are military surplus and serve as turn signals. The side and rear-view mirrors are from a Cobra catalog. The front and rear bumperettes were deleted.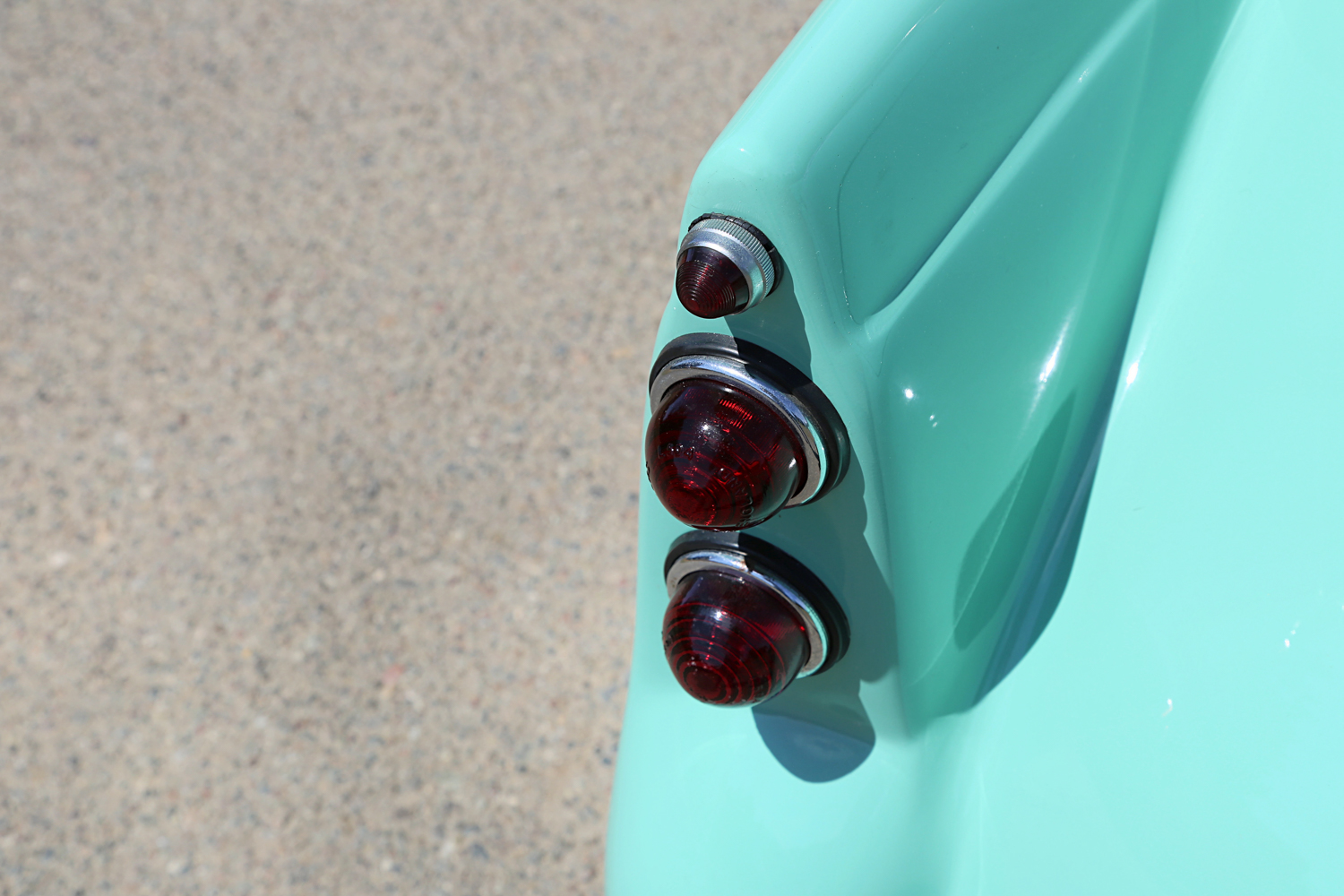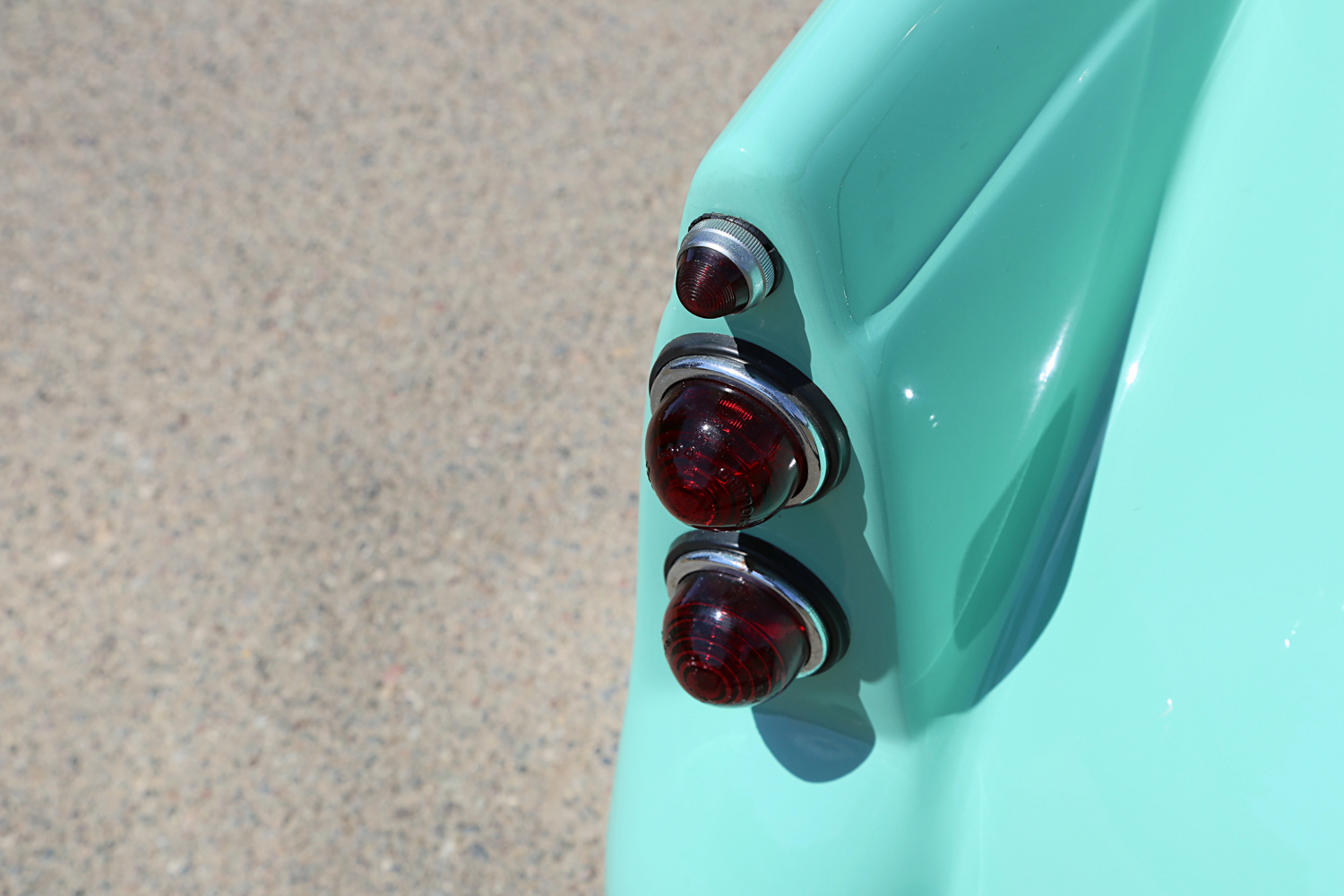 Perhaps the most eye-catching custom feature is the low-cut, wrap-around windscreen and side window treatment adopted from a Jaguar D-Type on a custom frame.
Inside, the dash was made with 3/16″ aluminum and houses a set of TR3 gauges. The tach converted to electric from mechanical.  The custom-made door panels which have storage pockets, the door releases were made from E-Type hood latches and the steering wheel is a four-spoke Moto Lita.  The interior was VERY nicely done and there's also a tonneau.
Under the hood is a BMC A 4-cylinder engine that is .040" over 1275 with a competition head, header and light flywheel mated to a Nissan 5-speed manual transmission. Scooter ran 1.5″ SU carbs, however the car is currently fitted with a Weber 40 DCOE side-draft. The radiator and pipes are custom, as is the exhaust and wiring.  An auxiliary oil-cooler has been fitted along with braided stainless fuel and water lines. The suspension bushings are all Delrin. The rear end is a Detroit-Locker. Front brakes are Girling Disc with drums in the rear. Scooter mounted Minilite wheels with 3-eared knock-offs, however the car currently has 14" chrome wire wheels and Doral SDL-Sport tires.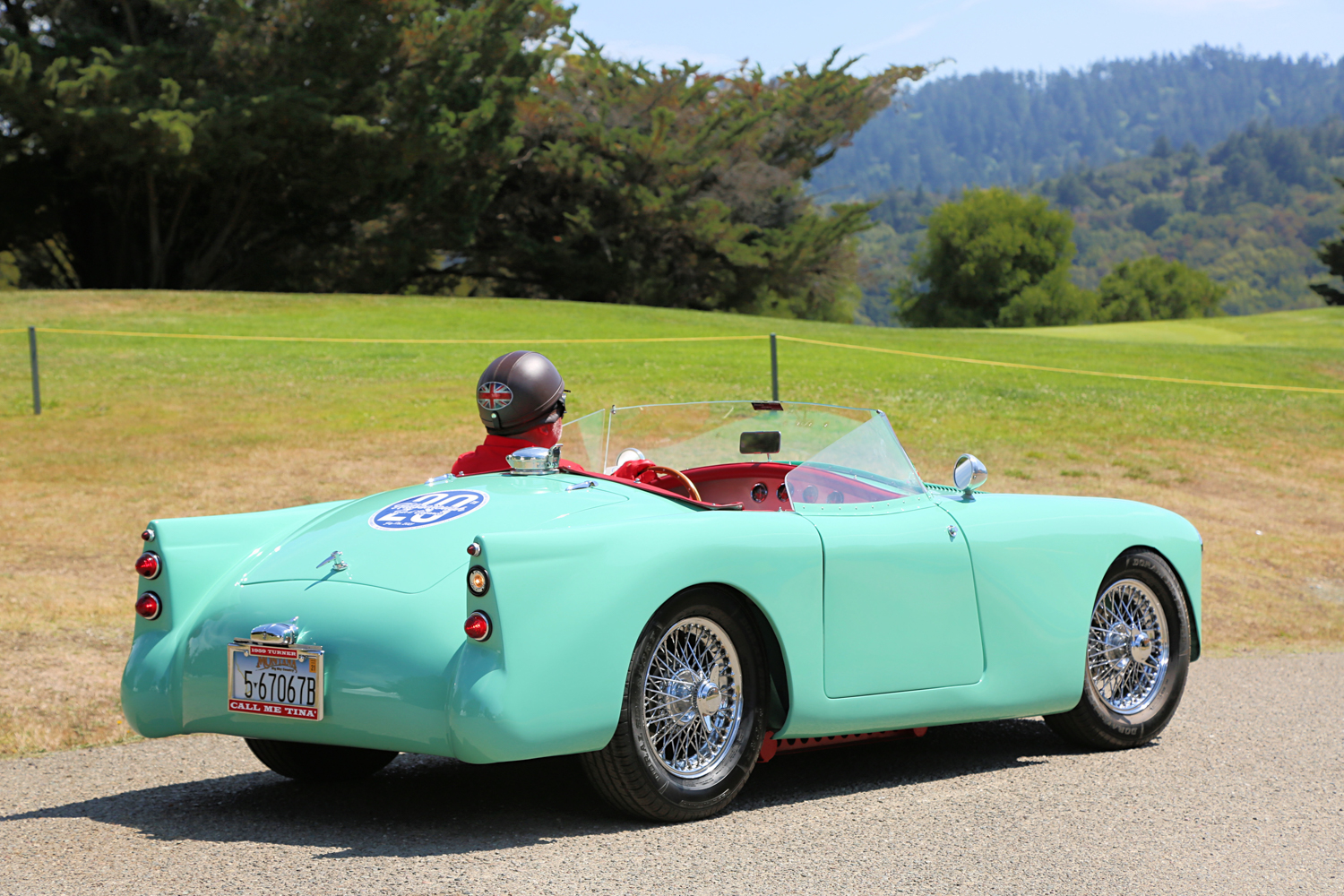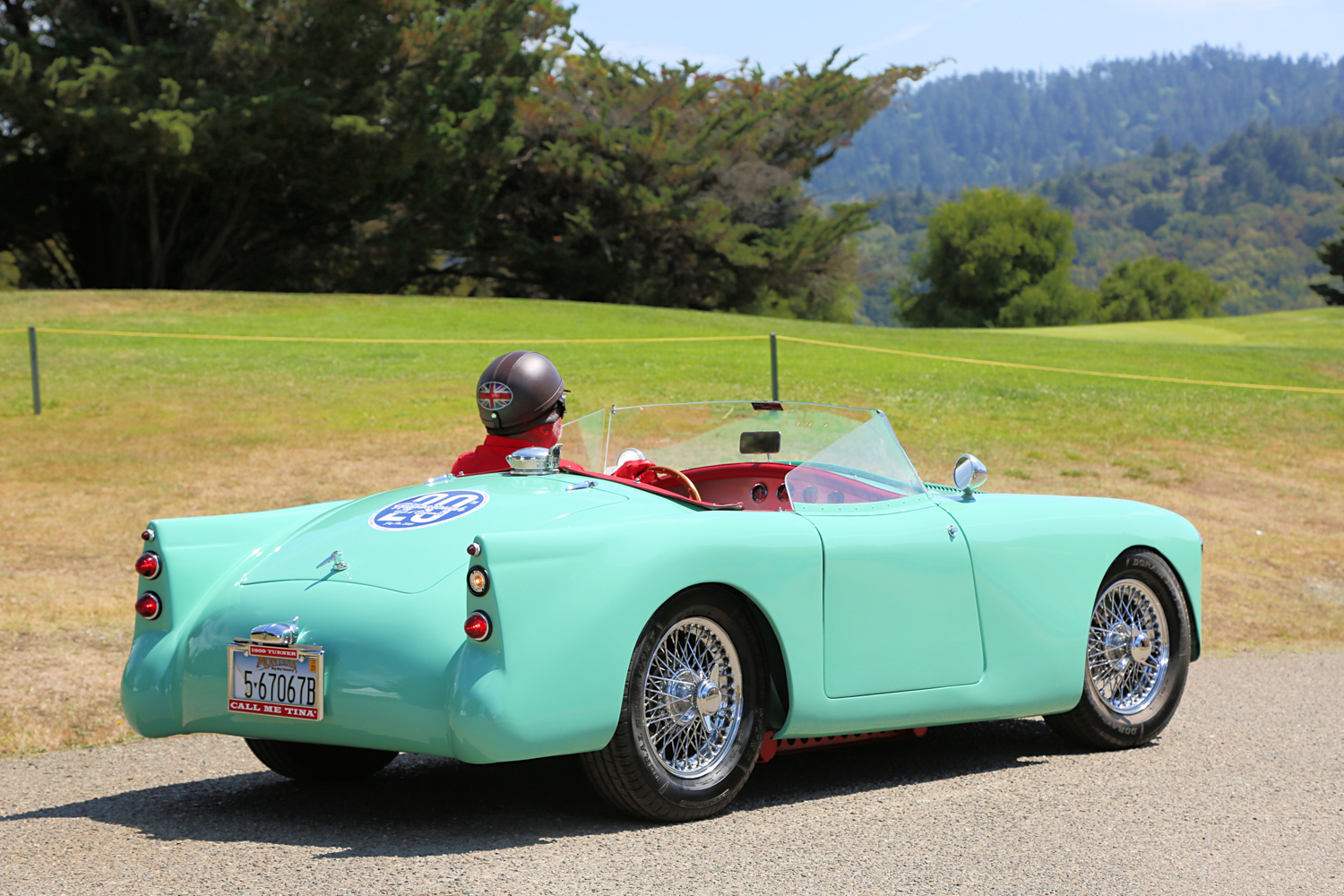 Originally, the car was painted a different shade of green. Scooter custom mixed the current color based on the color of his racing helmet. Scooter painted the frame and other components red to complement the interior.  "My friends questioned my sanity when it came out of the spray booth, but everyone loved it when the car was finished."
The restoration took the better part of ten years, then Scooter sold the Turner in 2005. Reflecting back on the project, "I wasted a lot of my youth on this thing. I can't tell you why I chose to do this car. It's far from the last one I've gone to great lengths to restore. A few years ago, I did a similar car called the Johnny Wright Special. I still have that one. I won Amelia Island Concours with it in 2017 and showed it at the Quail in '18. At some point it will go to Pebble."
Subsequently, the car was offered for sale by a dealer in Vero Beach, Florida, before being acquired by its current owner.
The Turner Today
Today the Turner is owned by Tony Blevins, who purchased the car in 2018.  Tony is a senior Apple Executive and is a life-long and self-proclaimed gearhead and no stranger to unique automobiles such as this Turner 950-S, which he bought sight-unseen and without an inspection of any kind.  His current stable of cars includes a 1969 Mini Cooper S complete w/ Union Jack Flag, a 1974 Triumph TR6 in ultra-rare Magenta, a 1967 Jaguar XKE OTS, a 1987 TVR 420 SEAC (1 of 37), 1957 Austin-Healey 100-6, 1972 DeTomaso Pantera GTS (1 of 8 Euro models exported to USA), a 1974 DeTomaso Pantera GTS Group 4, a rare 1965 Honda S600 roadster, and a 1971 Land Rover Series IIA 109 among other collectables.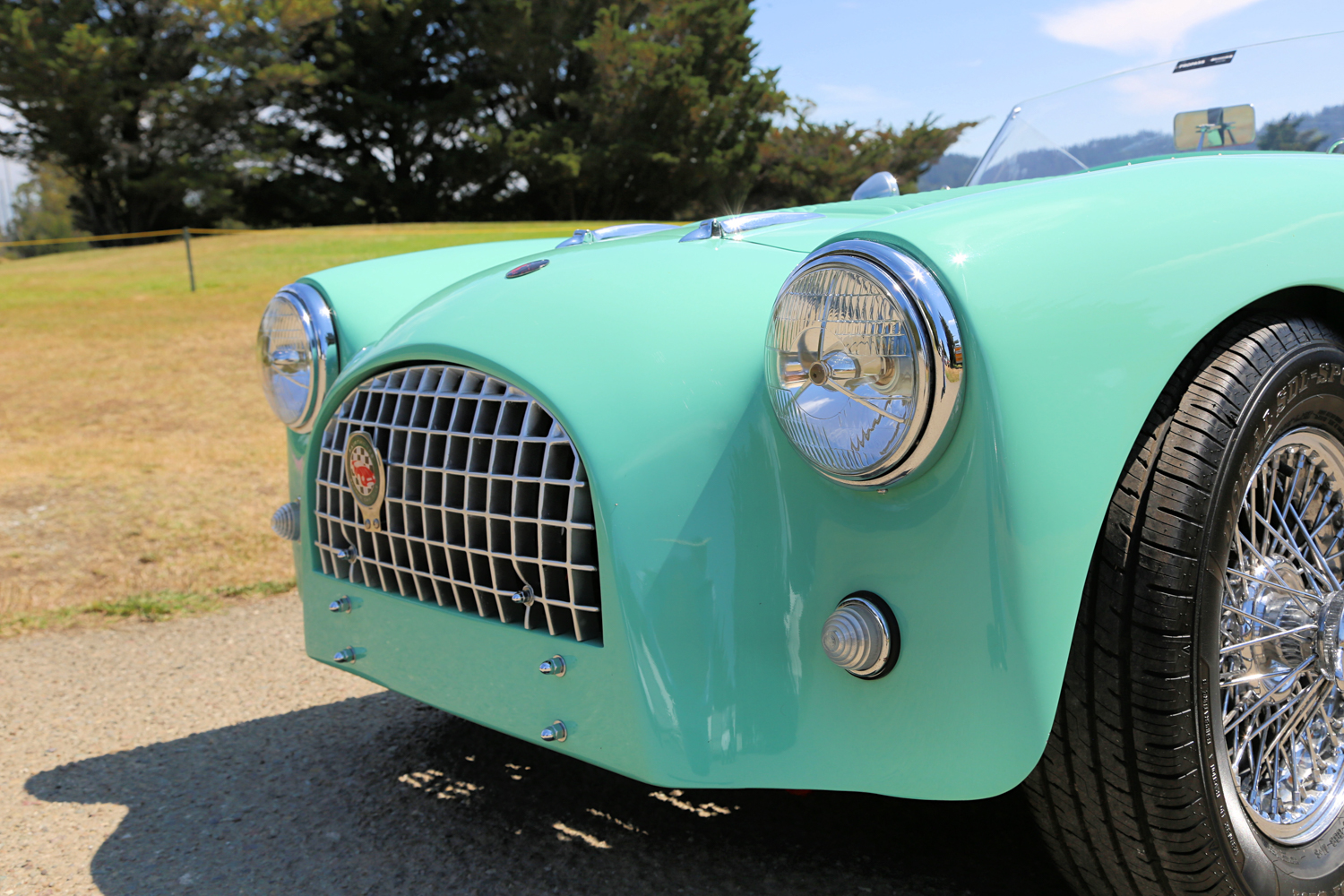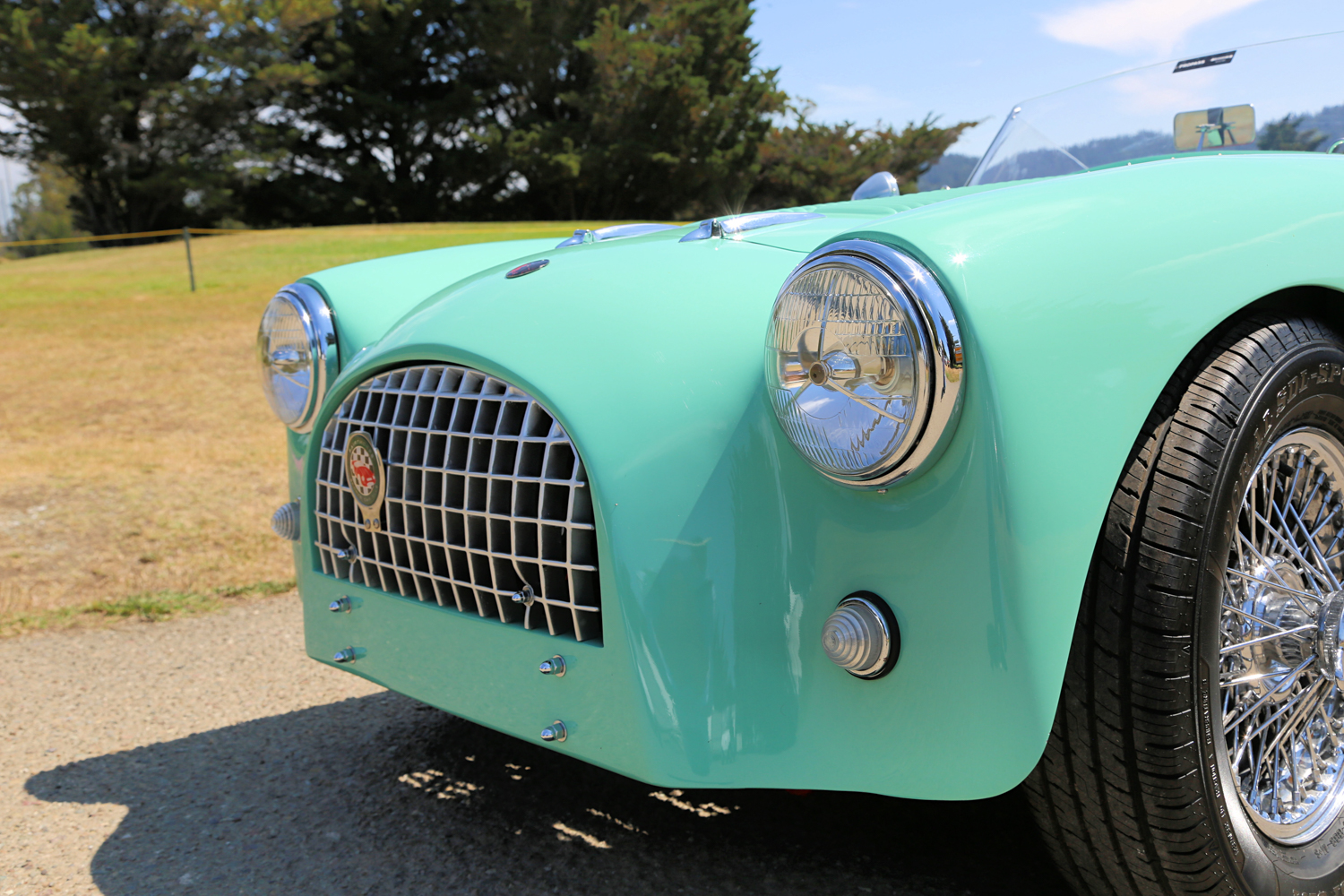 "Managing my existing fleet has been quite a handful given how busy I've been at work etc.", says Tony, "therefore, I asked my girlfriend to stop me from buying any more cars and adding to my existing workload and car maintenance headaches.  She readily agreed.  However, I ran across the Turner quite accidentally on the web. I showed it to her on my phone fully expecting that she would fulfill her rejection commitment.  Instead, she said 'Oh My God – I love it and I already have a dress to wear that matches it!' So, I bought it.
"I've been around cars (unusual/exotic) my whole life and was President of the Triumph club, yet had never even heard of a Turner.  I subscribed to British Car magazine since its inception in 1989 and it turns out that they did an article on a Turner but I didn't notice or read it…unfortunately."
Driving Impressions
Tony describes what it is like to drive this very special Turner 950-S- "It drives precisely as you would expect a racecar would.  It roars to life at the touch of the push-button starter and is VERY loud as it uses a single side exit straight pipe.  The engine pulls readily and strongly to 5500 rpm. I haven't pushed it further as that seems to be its sweet spot. The Datsun 5-speed has been modified to be very close ratio and it clicks neatly and firmly into all gears.  The brakes (front discs) are adequate but will lock up if pressed. The car is very quick due to its light weight (just under 1300 pounds). Colin Chapman was right— weight is the enemy of speed.  The key to Turner's racing success was its unique rear-end configuration.  It's very effective for that purpose but even set to its softest setting, its brutally harsh on California's notoriously rough highways.
"I really like the suicide doors and thought they were cool right up until the point that the driver's side latch malfunctioned and it flew open! I was traveling on Hwy 280 at about 70 mph, just south of San Francisco, when it happened.  Thankfully, I didn't go sliding down the road due to my personal low center of gravity.  All those years of drinking real ales instead of lite beers finally paid off !!!!"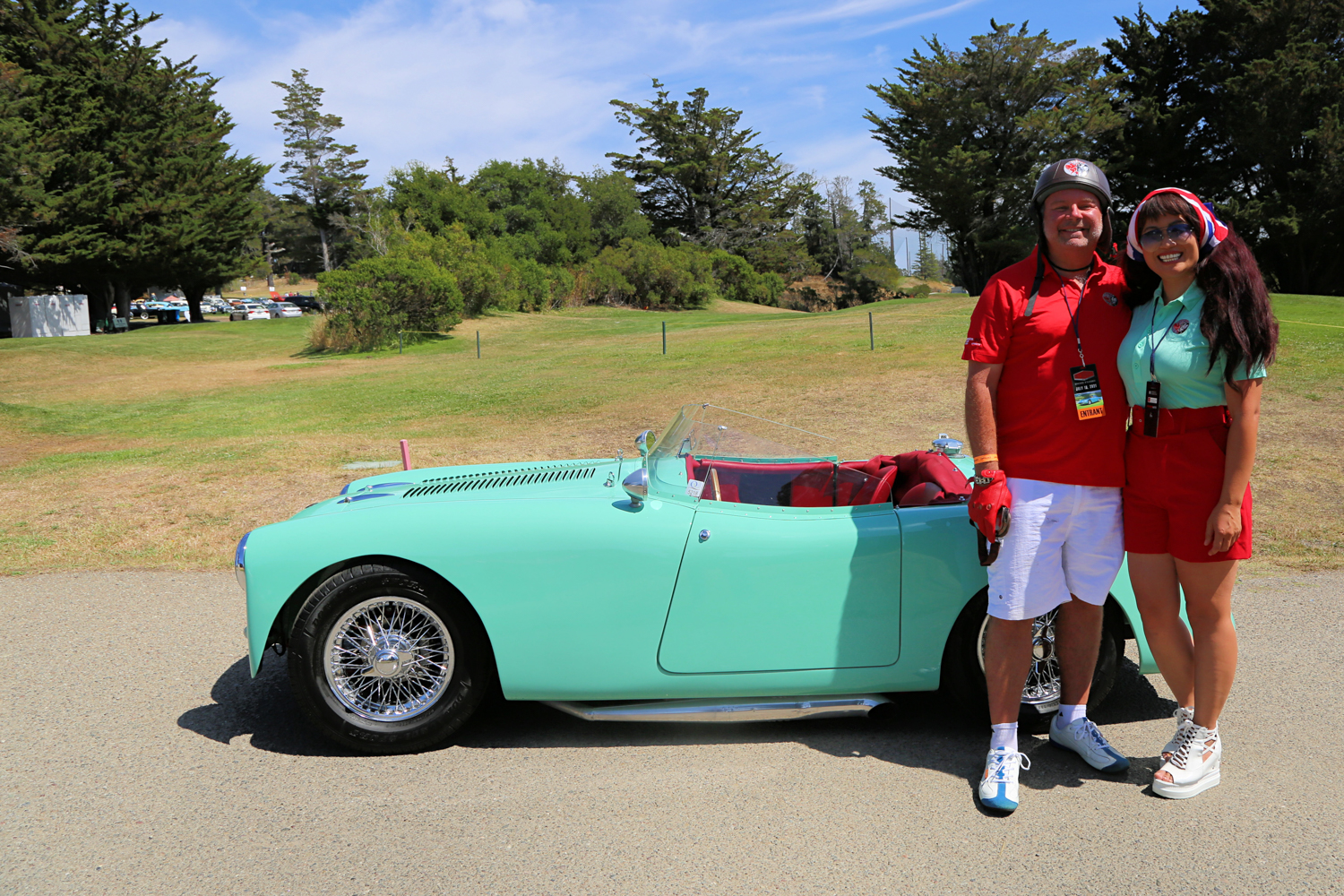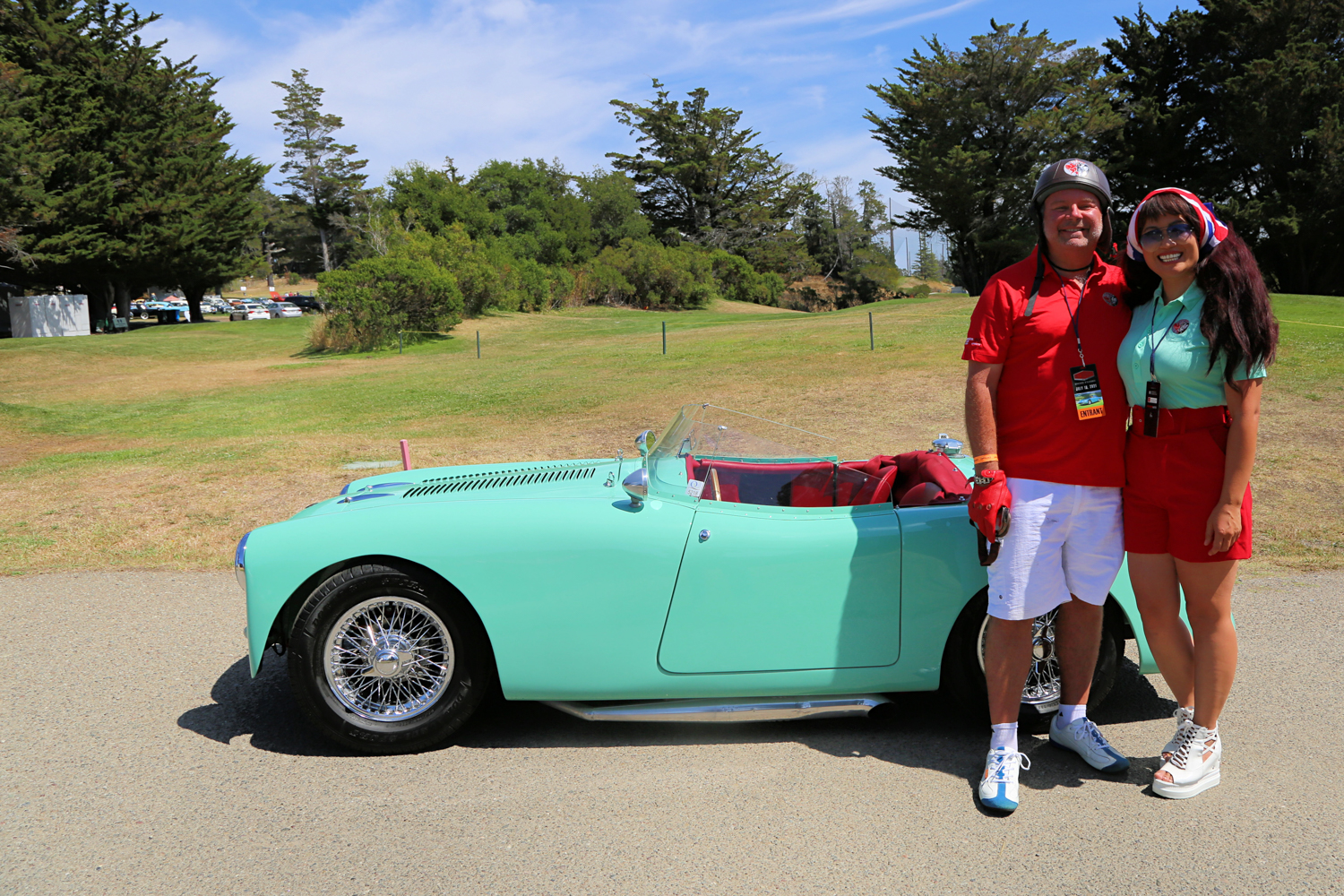 Tony is a Turner super-fan. When we meet at the Hillsborough Concours d'Elegance he and his girlfriend were wearing color coordinating Turner logo shirts. Tony even had a Turner logo vintage-style racing helmet. It is always great to see people that really love and enjoy driving their vintage cars.