Long-time British saloon and sports car driver Gerry Marshall died at Silverstone on April 21 of a heart attack, while driving an ex-IROC Richard Petty Camaro. Born in 1941, Marshall was considered one of the winningest U.K. drivers on record. His professional driving career spanned four decades, having started winning in Minis in 1964.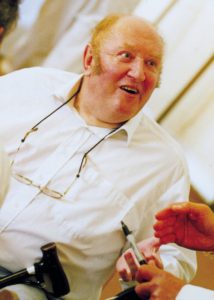 He is remembered for his flamboyant and often aggressive driving of the Dealer Team Vauxhall Firenzas in the 1970s, and his larger-than-life behavior off-track. He epitomized that group of hard-drinking, high-living racing drivers that attracted crowds in the past, though in recent years his poor health and a change of attitude towards drinking and driving witnessed a lessening of his popularity.
He drove a range of sports cars, particularly Aston Martins, and many historic cars in the last decade. His style was often sideways and forceful, and accidents at Goodwood in 2004 brought many complaints about recklessness in historic racing in the U.K.
Submitted by Ed McDonough