1990 Ferrari F40
It has been 30 years since the last car ordered by Enzo Ferrari reached its first owners. That car, the F40, was in honor of the firm's 40th anniversary, and it was kept very quiet until it was shown, first to a few Ferrari dealers and then at the Frankfurt Auto Show. At the car's launch, Ferrari looked back at how the idea for the F40 came about. He said, "It started in June, last year, when I suggested to the board a car which would be a reminder of the great days at Le Mans when you could drive a car or race it." The F40 was the result, and it is definitely a racecar on the street. Ferrari called it "The Best Ferrari Ever."
Enzo Ferrari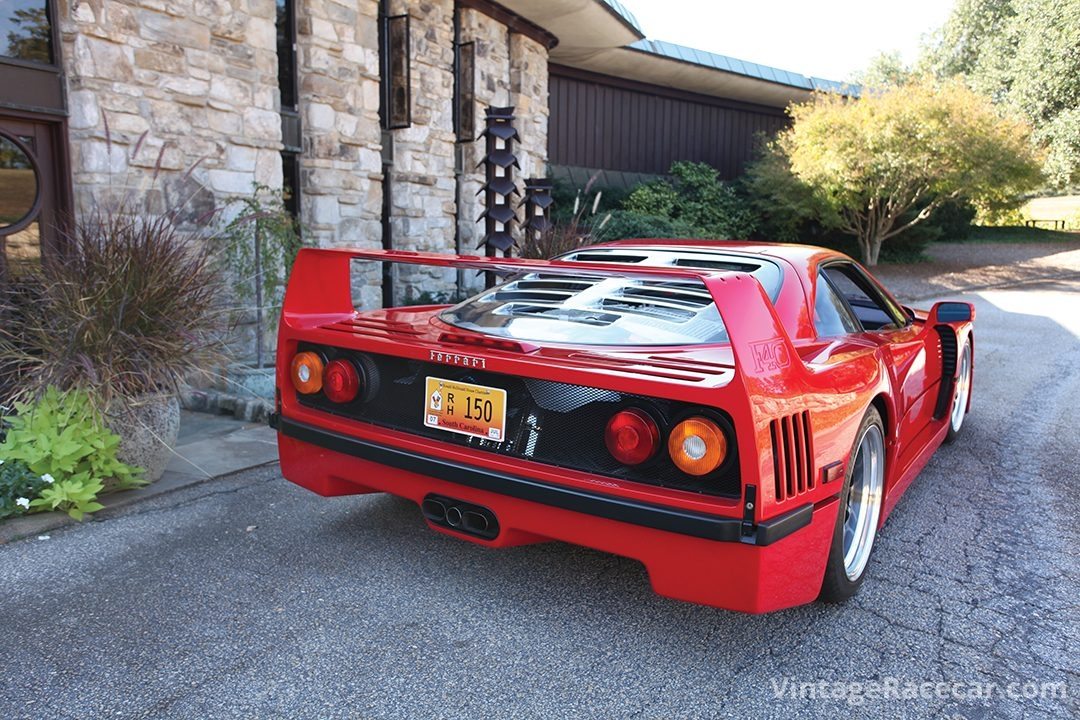 Since this profile is about a car built to recognize an anniversary, it is useful to review how the man and the company reached that anniversary. To start with, Enzo Ferrari's life was anything but routine. He was born in Modena on February 18, 1898, but deep snow prevented his birth from being recorded for two days, so February 20, 1898, is the date shown on his birth certificate. His father, Alfredo Ferrari Sr., operated a metalworking shop next to his home, and this is where his sons, Enzo and Alfredo Jr., were introduced to things mechanical. Alfredo Sr. was the first in the area to have an automobile, and soon thererafter added auto repair to his business.
Enzo wasn't enthused about school, but he did have ambitions. In the book The Ultimate History of Ferrari, Brian Laban quotes Ferrari saying, "…my boyhood ambitions, in chronological order, were to be an opera singer, a sports writer and lastly a racing driver." In an Automobile Quarterly article titled "My Memories," (Volume III No. 1) Ferrari said, "The first had reluctantly to be put aside as I had neither voice nor ear." But he was successful in pursuing his other two interests. His first job was as a sports writer for La Gazetta dello Sport. More will be said about his time involved in motorsports.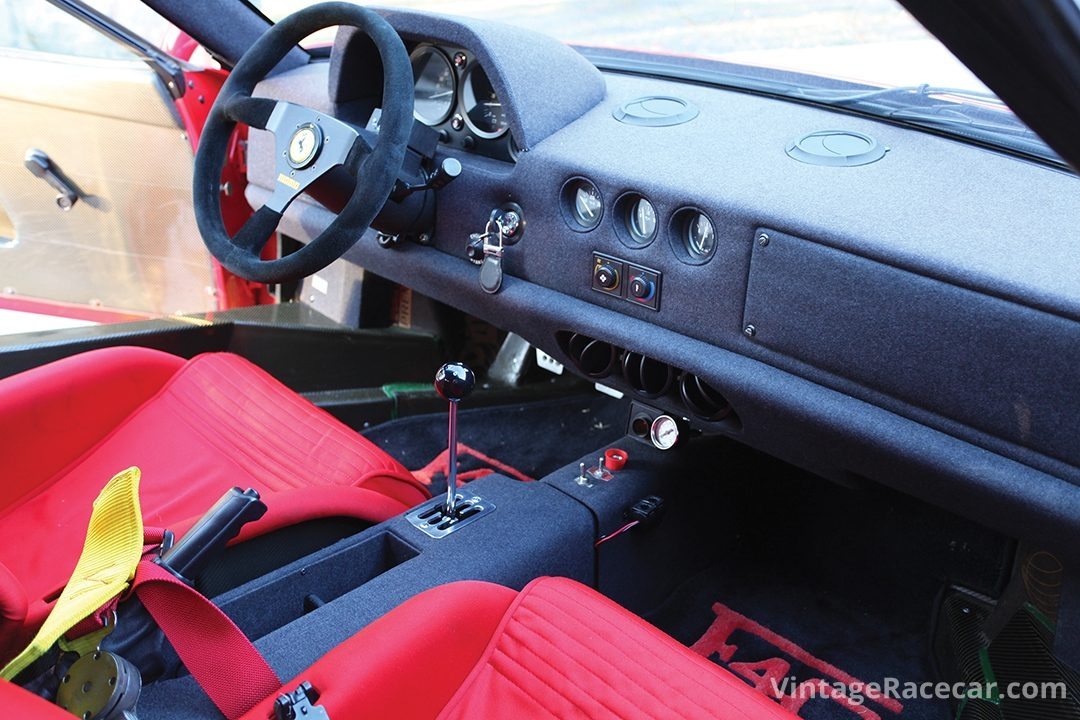 In 1917, Ferrari was drafted into the Italian army, where he spent his time shoeing mules for the 3rd Mountain Artillery fighting the Austrians during WWI. After the war, he worked for a company rebuilding surplus light and medium vehicles for civilian use. He would drive the rebuilt chassis from Turin to Milan, where they would be rebodied. In Milan, he met people involved in racing, including Felice Nazzaro and Ugo Sivocci. Sivocci introduced Ferrari to the management at Construzione Mecchanicale Nazionale, where he was hired as a test driver. It was with CMN where Ferrari became a racing driver. In October 1919, he raced a stripped CMN at the Poggio di Bercetta hillclimb where he finished 4th in the three-liter class. The next month, he finished 9th at the Targa Florio in a CMN.
The year 1920 proved to be a milestone for Ferrari. He joined Alfa Romeo as a test driver and racer. He took 2nd at that year's Targa Florio, but his most significant race came on June 17, 1923. It was at the Circuito del Savio that Ferrari won the race against strong competition, but he also earned the respect of Count Enrico Baracca. The Count's son, Francesco Baracca was Italy's top ace during WWI, scoring 34 kills before he was shot down and killed over the Austrian front. He carried a Cavallino Rampante —a black, prancing horse on a white background—on the side of his plane. The crest was cut from the wrecked plane and given to the Count and Countess. The Contess Baracca gave the emblem to Ferrari to bring him luck. Ferrari accepted the emblem, and replaced the white background with yellow, creating an image that is now one of the most recognizable in the world.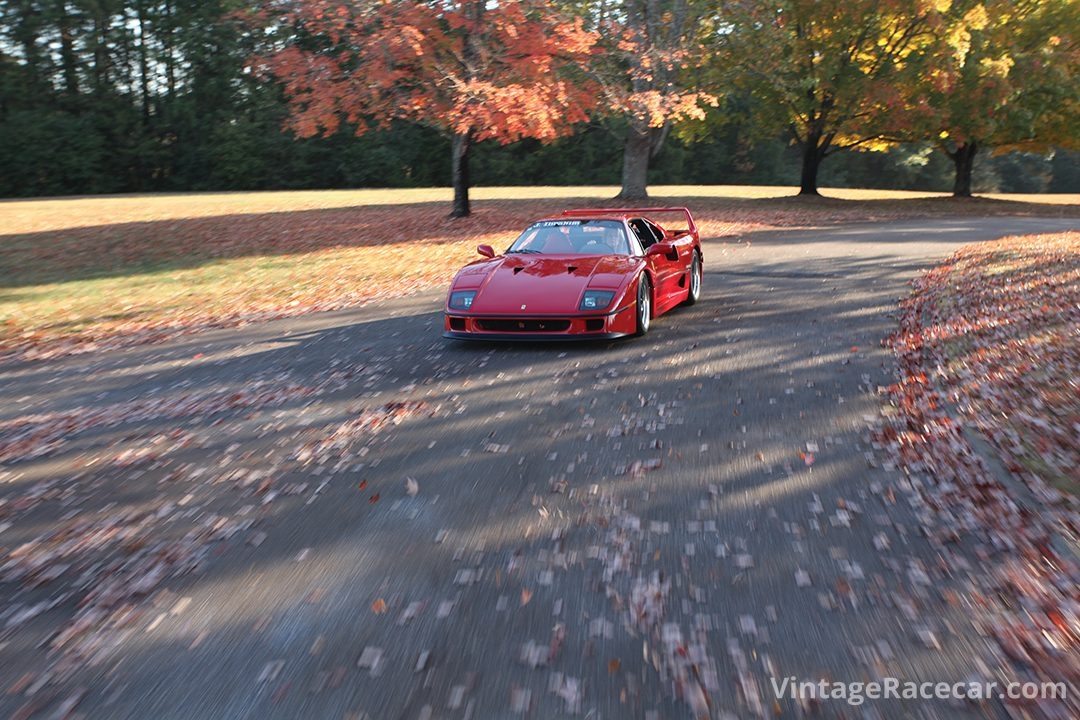 Ferrari suffered from ill health and, after the death of his friend Sivocci in 1924, gave up racing as a driver. Instead, he took over Alfa Romeo's racing team. When Alfa decided to pull back from racing, Ferrari created Scuderia Ferrari to race the Alfas for the manufacturer. That lasted until 1939, when Alfa bought the team from Ferrari. Ferrari then formed Auto Avio Costruzione to build and race his own cars, although he was embargoed from putting his own name on a car for four years. He built two open two-seater cars called Vettura 815s for the Brescia Grand Prix in 1940, but both failed to finish. Then came WWII. Auto Avio Costruzione built machine tools for the Axis and suffered the Allied bombing raids as a result.
SEFAC Ferrari
The company remained Auto Avio Costruzione after WWII until it was reorganized in 1960, when it became Societá Esercizio Fabbriche Automobili e Corse (SEFAC). In My Memories, Ferrari said, "I always hankered after a 12-cylinder, recalling early photographs of a Packard that had raced at Indianapolis in 1924 and a Delage that came in 2nd at Lyons in 1924." When he hired Gioachino Colombo, his first V12s were inevitable. The first Ferrari was a 125 in March 1947. The 125 began the long-used system for designating Ferrari models by the capacity of one engine cylinder. It had a 1.5-liter, 60-degree 12-cylinder engine (125×12 = 1500). Only two of the cars were built—Ferrari believing that you didn't need many customers, just the right ones. Racing was Ferrari's primary interest and roadcars helped finance the marque's racing. The first roadcar, the 166, used a two-liter V12. Versions of the car were also used in competition, and in May 1948 Clemente Biondetti drove a 166 to win the Mille Miglia.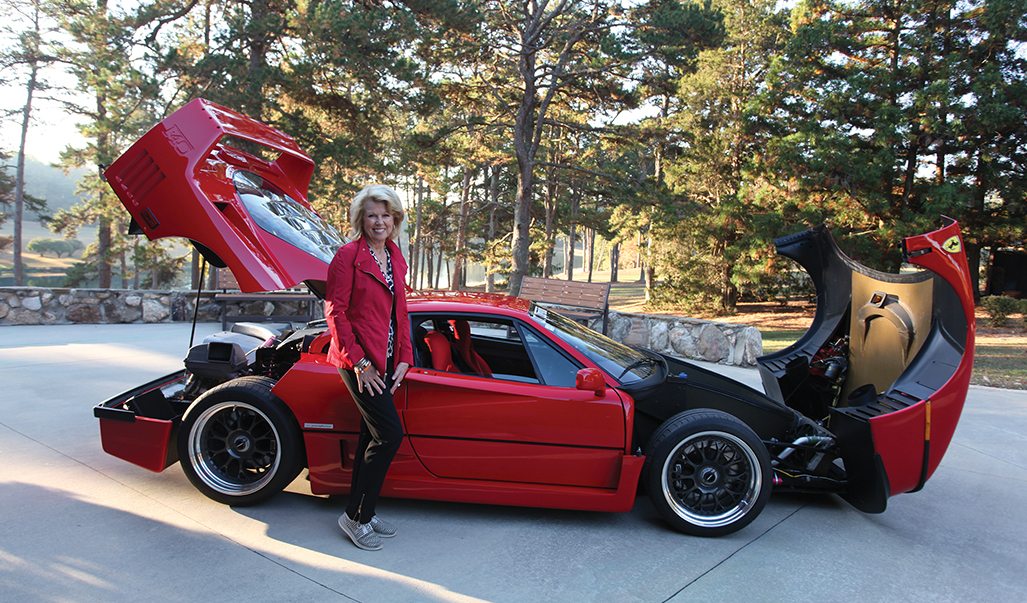 As Ferrari automobiles scored more wins in races, interest in the cars increased and demand for the cars allowed Ferrari to develop both racecars and roadcars. But his focus was primarily on the engines. Laban reported that Ferrari said, "I always gave great importance to the engine and much less to the chassis, endeavoring to squeeze out as much power as possible in the conviction that it is engine power which is not 50 percent but 80 percent responsible for success on the track. . . . when one has the extra power, chassis deficiencies are not a handicap." This focus on the engine helps explain Ferrari's late adoption of disc brakes and mid-engines.
With the successes in racing, the resulting increases in production, and the introduction of the cars to America by Luigi Chinetti, there was plenty of opportunity for innovation at Ferrari. In My Memories, Ferrari said, "I am interested in promoting new developments. I should like to put something new in my cars every morning —an inclination that terrifies my staff…." There was plenty of innovation. In addition to things like disc brakes and mid-mounted engines, Ferrari developed new engine configurations—V6, V8, flat-12. The cars that resulted were fantastic—racecars and roadcars.
F40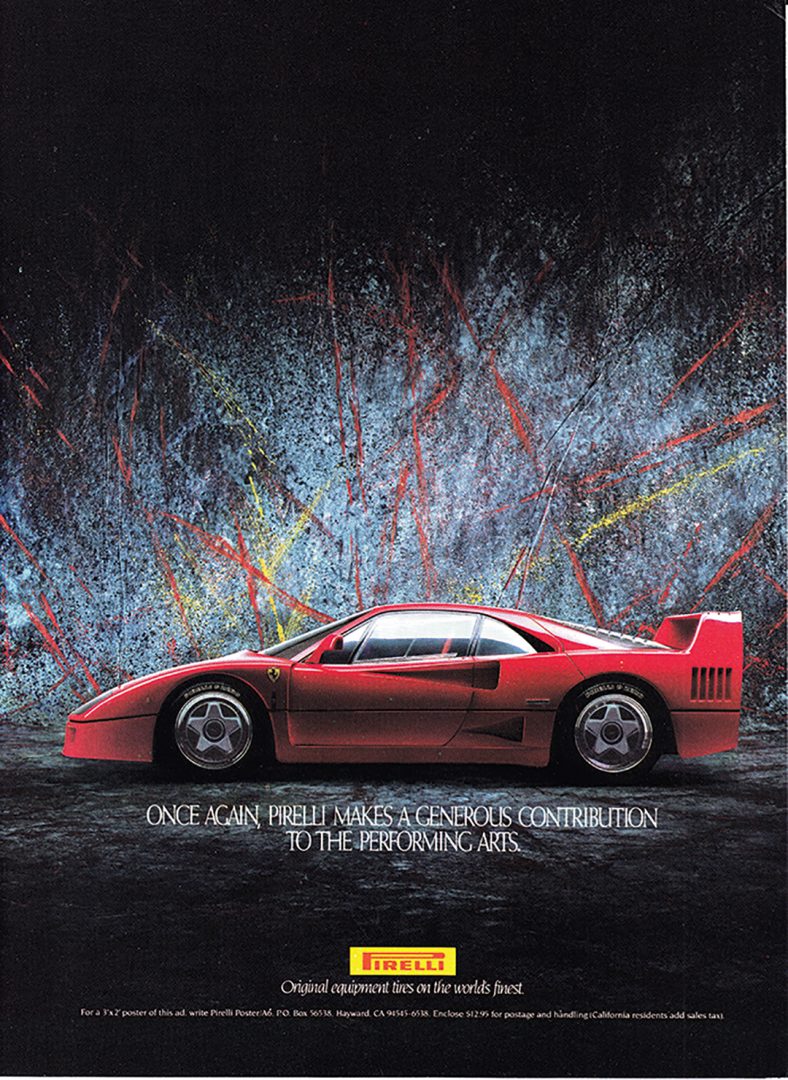 When Enzo Ferrari decided that the company needed an anniversary present, there wasn't a lot of time for the normal model development. What normally takes several years had to be compressed into about 13 months. The new Alfa Romeo Giulia surprised nearly everyone with its shorter than normal two-and-one-half year development, and the F40 was to be on the road in less than half that time. The goal, though, was clear—a streetable racecar—no, or relatively few, compromises. The F40 would be much like the 166 in that it could be used on the road or taken to the track. The team that undertook the task included three key people. Ermanno Bonfiglioli, head of Ferrari special projects, led the team. Pininfarina designer Leonardo Fioravanti was tasked with making the car slippery and attractive. Test driver Dario Benuzzi got to figure out what tweaks were needed to make the car perform as desired.
Several projects existed that helped shorten the development time of the F40. Probably the most important was the Ferrari 288 GTO Evoluzione. That development exercise, on the standard 288, tested the turbo V8 that was to be used in the F40. There was also a prototype, all-wheel-drive, four-liter V8-engined car that used a fluid flywheel to control wheelspin. A prototype front-engined, long-wheelbase 2+2 cabriolet that used composite materials in the chassis showed that composites could be used in a roadcar. Each of these Ferraris influenced the design of the F40 and helped the development team meet the time constraints.
Ferrari was surprisingly successful at keeping the development of the F40 quiet. The car would include a mix of traditional and advanced ideas, so the team had to be careful that signs of a special project didn't get noticed by anyone who might mention the odd things going on in Maranello. The test program at the Nardo circuit included 15,000 miles at 150 mph and 48-hour tests at an average speed of 187 mph, and resulted in improvements in the turbos, tires, shocks and brakes. Amazing that no one saw this amazing car being tested…or at least no one who talked about it!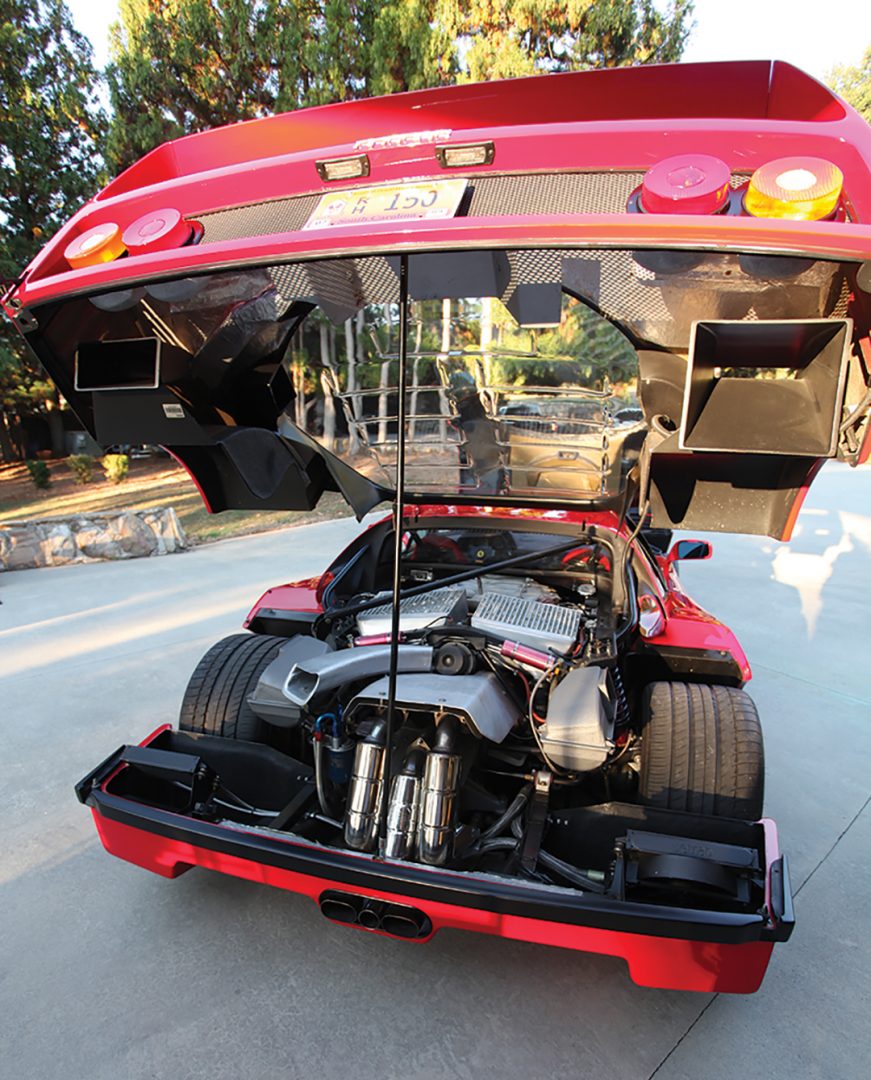 The engine for the 288 EVO had been developed for Group B, a class that the FIA killed after a number of rally accidents and fatalities, but it served as the basis for the F40's power plant. The EVO's displacement was 2855-cc; it was enlarged to 2936-cc for the F40. The two turbochargers were IHI water-cooled units with a 1.1 bar boost, compared to 0.8 bar for the EVO. It was coupled to a five-speed transmission and limited-slip differential. There was extensive use of magnesium to keep weight down—the oil sump, cylinder head covers, intake manifolds and bellhousing all used the expensive metal. The crankshaft was ducted for better lubrication, connecting rod bushes were made of silver/cadmium, the 32 valves had hollow stems and heads, and the inlet manifold's eight butterflies operated as one. The engine was fed and ignited by a Weber-Marelli injection and ignition system with sequential injection and four coils with dual outputs. The result was an engine that produced 478 hp and 425 lb-ft of torque. One test by an Italian magazine clocked the car at 202 mph, making it the first 200+ mph production car.
The chassis was conventional, using a tubular steel space frame that provides good stiffness and allows for mounting the engine and suspension. But designers also used Kevlar and carbon fiber to add stiffness and save weight. The floorpan was based on the 288 GTO, scuttle and doorsills used composites, and panels were moulded from Kevlar and bonded to the frame. The chassis was three times as rigid and 20 percent lighter than it would have been if it used traditional materials. Laban, in his book, said, "It was a complicated, time-consuming and wildly expensive way to build an automobile." Customers had been saying that Ferraris had gotten soft, too comfortable; the F40 was going to be anything but soft.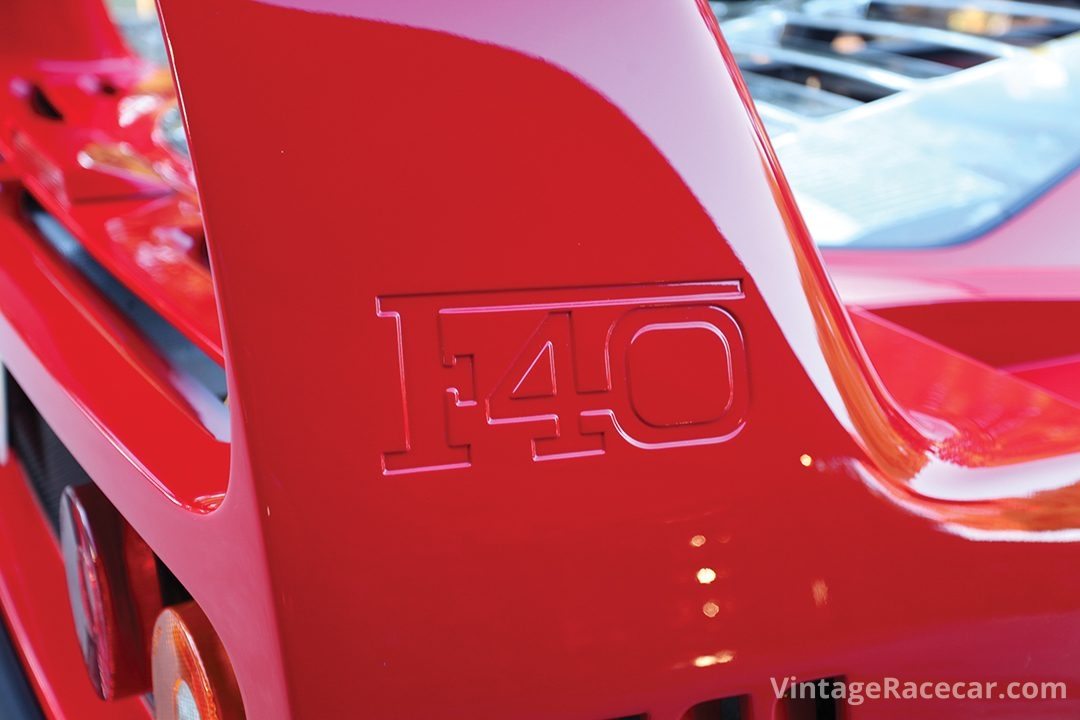 The suspension, front and rear, used double wishbones, coaxial shocks and anti-roll bars. Ride height could be controlled by the driver using a switch on the dash that operated on the shocks. There were three settings, normal, high-speed, which lowered the car .75 inches (19-mm), and parking, which raised the car .75 inches. Brake discs had aluminum cores with iron surfaces and were ventilated radially and cross-drilled. Four-piston calipers provided plenty of stopping power. There was no power assist or ABS. Steering was rack and pinion. A driver's car it was.
Fioravanti's task was to make this car both attractive and very slippery while keeping the weight down. His design was dramatic, with a chiseled nose, a center section reminiscent of a 328, and a large, functional rear wing. He said, "We threw ourselves headlong into the work. Extensive research at the wind tunnel went into aerodynamic optimization to achieve coefficients appropriate for the most powerful Ferrari road car ever." What they achieved was a Cd of 0.34 for the car without the rear wing. While the car was designed at Pininfarina, the bodies were built in Maranello. There were concerns about stability and cooling, since the frontal area was so small, so attention was paid to both. NACA ducts were added to the nose and side panels, slots to allow hot air to escape were put in the rear side panels, and the lightweight Plexiglas rear window/engine cover was slotted to allow engine heat to escape, although it did little to help rearward vision. To help the stability, two partial undertrays were designed. Under the front section of the car was one to smooth airflow, and the other behind the engine had diffusers.
Weight was saved everywhere possible. The doors, hood and trunk lid were carbon fiber. The door shells weighted only 3.3 pounds each. Kevlar and aluminum were used in the panels. Inside the car, the seats allowed for adjustment for reach only and were slotted for racing belts.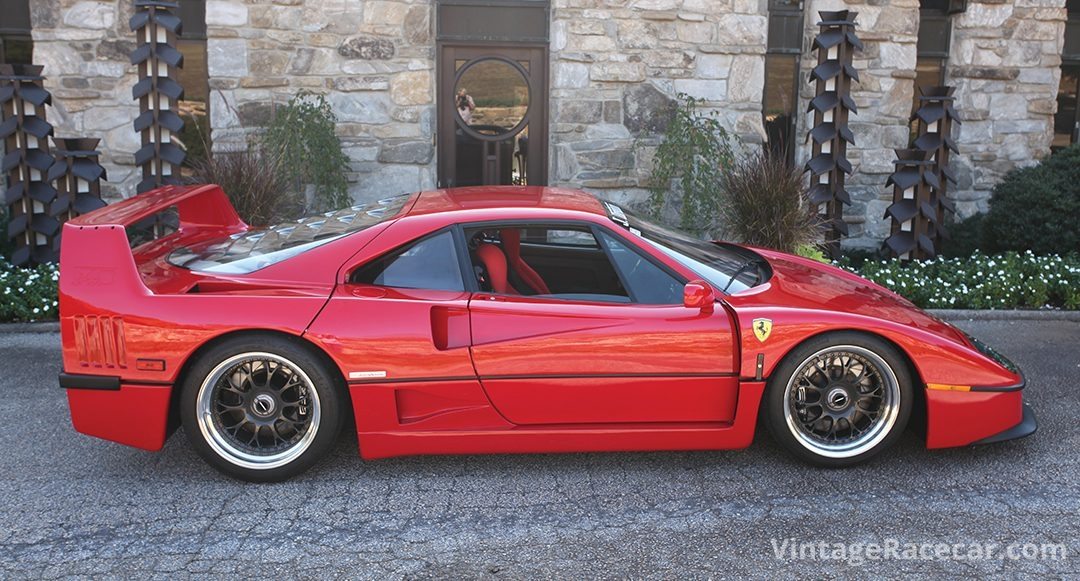 There were no electric windows, in fact, the first 50 cars had sliding Lexan windows. There was no interior door handle—the door was opened by pulling a cord. There was no central locking and no remote side mirror adjustment. There was no carpet or door trim. There was not even a spare tire or jack. Even the pedals were drilled to save weight. There was a roll bar; it was hidden by panels behind the seats.
Attention to weight resulted in a car that weighed 2425 pounds or 1100-kilograms. Gordon Murray, who was not a fan of the F40, noted in the July 1990 issue of Motor Trend that "It's the lack of weight that makes the Ferrari so exciting. There's nothing else magic about the car at all." Murray's opinion was apparently not shared by many others. The car was first shown to select dealers in July 1987. Bonfiglioli commented about that event, "I have never experienced a presentation like that of the F40. When the car was unveiled, a buzz passed through the room followed by thunderous applause. No one, except for the close associates of Enzo Ferrari, had yet seen it. Indeed, the company had cloaked the development and testing of that car in unusual secrecy. And the surprise at such a stylistic leap was almost a shock." After the car's public showing at the Frankfurt Auto Show, thousands submitted their requests to buy one of the 450 cars to be made, even at a sticker price of $399,150, plus a significant markup by dealers. Maybe it was the free trip for two to Maranello so the new owner could be taught how to drive the car that influenced buyers—nah, it was as Benuzzi described, "We obtained precisely the car we wanted, with few comforts and no compromises. With no power steering, power brakes or electronic devices, it demands the skill and commitment of the driver but generously repays it." The F40 was a car that was purposeful, a total lack of compromise. Its controls were heavy at low speed, it was noisy at speed, it was unforgiving, and it was fast. Because of demand, 1315 were built between 1988-1991, 213 of which were built to U.S. specs, meeting both safety and emissions regulations.
SN: 88451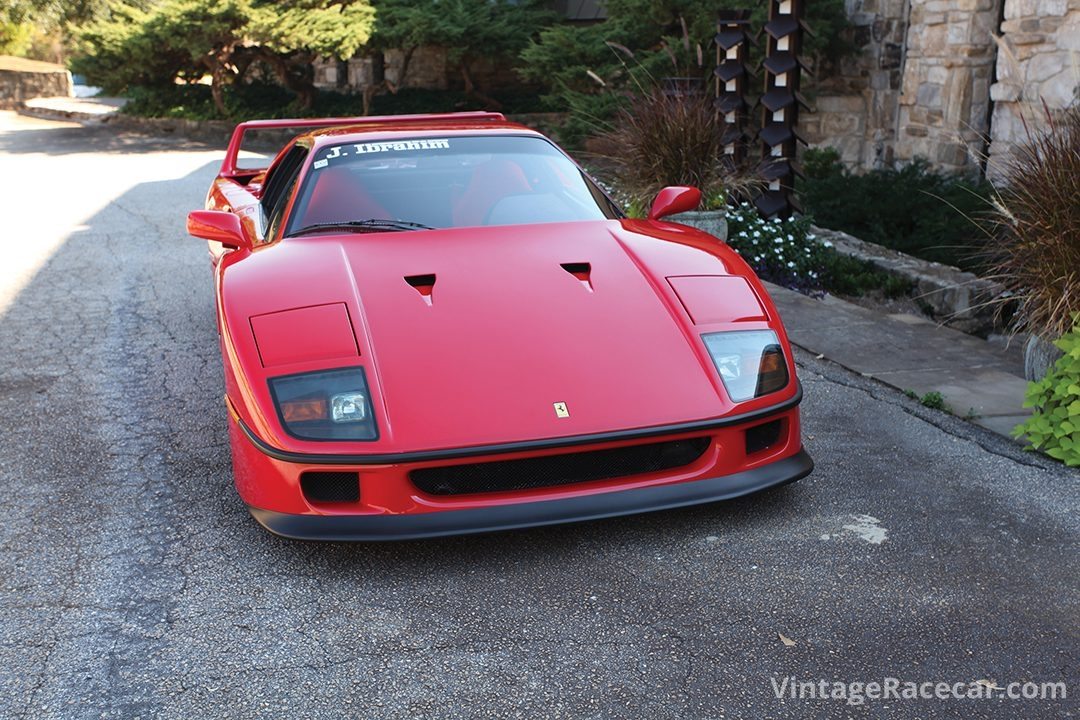 Julie Ibrahim is a rarity—a female Ferrari owner. She has four Ferraris, including the 512 BBi profiled in the January 2017 issue of Vintage Roadcar. Ibrahim describes herself as a "car girl." That is obvious when you see her garage, which includes an Alfa GTV, Lotus Elise, and Isetta, in addition to her daily drivers. The Isetta was the star of a "Driven" article in the June 2017 issue of Vintage Roadcar.
Sadly, she became a sole owner of the Ferraris when her husband, Dr. Ibrahim M. Ibrahim, collapsed on the golf course and died. Her husband was dedicated to Clemson University and started what became a very successful soccer program for the school. He was very charismatic and was known to many as "Coach." The F40 profiled here is the last Ferrari he bought before his death. Coach had wanted an F40 but had not found one. A friend, David Scott, President of the Ferrari Club of South Carolina, saw one being auctioned in Tampa, Florida, and told Coach about it. Friends went to the auction to bid for Coach, and the bidding was spirited. The other bidder was an agent for Sammy Hagar, the Red Rocker. The agent chose a poor time to leave the room to talk on the phone, and the F40 was hammered sold to Coach.
Ibrahim's F40 is like all other F40s, it's a brutal, raw machine that takes skill to drive. It was a car she wanted to learn how to drive, so she took it to Road America, where she was tutored by Tim Gallagher and Scott, who participates in the Ferrari Challenge series. She says she hit 160 on the uphill straight at Road America, and that, "Turn one comes quickly." Ibrahim likes to drive in bare feet, but that's not possible with the F40 because the clutch is very stiff, and she needs the stiffness of the shoe sole to push down the drilled pedal. Personally, she loves the F40, saying, "The seats are cloth covered carbon fiber, and they hug you. It feels like you are in a cockpit (Ibrahim is also a pilot). It's nice being a woman in it, because it fits me really well."
Driving Impressions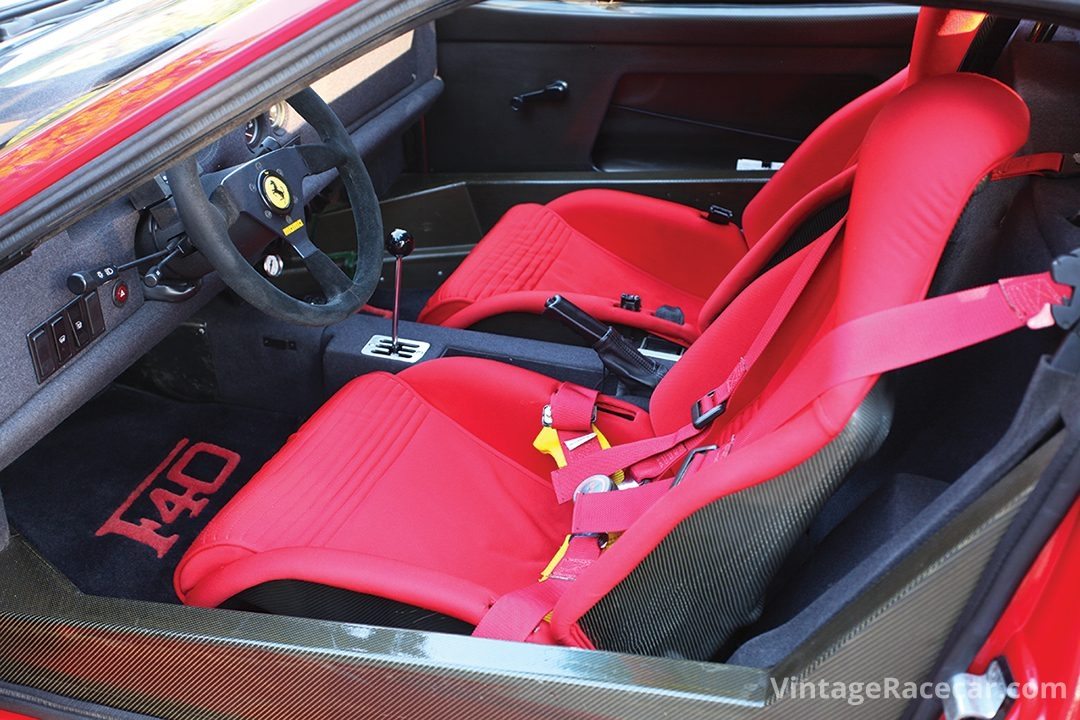 It was a beautiful day—perfect to drive a couple of Ferraris. I had driven Ibrahim's 512BBi earlier, and there was little in the way of instruction needed before I was on my way in it. The F40 was quite different. There was plenty advice about the F40. I was reminded that this car is a simple machine—analog, not digital. And it is raw. There is no power steering, power brakes, traction control, not even interior door handles. Ibrahim stressed that before instructing me on how to get into the car. "Open the door carefully, get your feet in, and then drop your bottom into the seat." She was right—this is not an easy car to enter or exit. She also warned me that it is easy to be going much too fast, especially for local laws. "When the turbos kick in, it flies!" It is easy to lose the car in the wet, but thankfully, it was nice and dry for my drive that day.
After two tries, I was able to maneuver my body over the broad Kevlar sill, past the roll bar brace, and into the driver's seat. First thing I noticed was a reminder of the era when the car was built—it has a "mouse on a track" seat belt. It made me chuckle thinking about horrid rental cars I had driven in that era. But none of those rental cars had seats that held you so firmly, and they certainly didn't have a suede-covered steering wheel that felt so good in your hands. The seats were very firm, so I wondered about a long trip in them. The F40 has a 26.4-gallon gas tank that is said to be good for 600 miles. Not sure I could do all 600 without a break. Familiarization with the gauges and controls was quick and simple. The car has the necessary gauges and actually has few controls. The gated five-speed shifter is pretty standard, the only caution is that you have to push down before engaging reverse.
After the familiarization, I turned the key, listened to the fuel pump, looked around to make sure everything appeared to be as it should, and pressed the starter button to the left and below the key—it's a streetable racecar, so it has a starter button. The engine roars to life as soon as the button is pushed, and what a sound. With little sound deadening, the noise of the engine is right in the cockpit with you. It's immediately obvious that conversation is not going to be an option once on the road.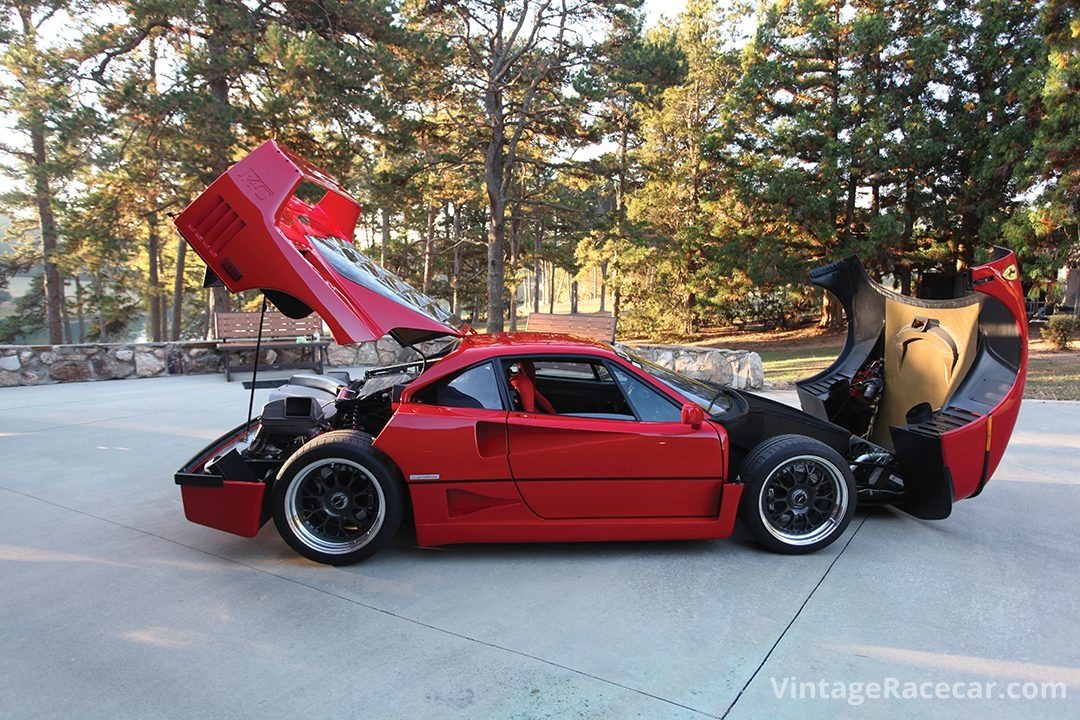 Thankfully, Ibrahim has a nice circular driveway to experience the car at low speed. A couple laps of the driveway, and it was onto the local two-lane for an experience of a lifetime – one of the best! The car is quite smooth at low speeds, a tractability that belies its behavior when the right foot is pushed down. On the local road, my thoughts about conversation were proven accurate—the car really is very noisy from both tire and engine noises. The F40 is also very stiff, so it gets a bit lively over bumps or on rough roads; it's important to have a light grip on the steering wheel. Except for a few rough spots, this road was quite nice, so I got braver on those nice stretches. Shifts are tight, and the shifter slides through the gates smoothly. Then it was time to apply some right foot, and HOLEY SCHAMOLEY! Acceleration at revs over 3000 is startling! This car is FAST! I can see why Ibrahim cautioned about wet roads. That was so much fun, I did it over and over again. When the road was straight, I slowed so I could punch it, then experience the great handling of the car through the tree-lined corners on this great road. The car handles like a racecar—flat and without drama, at least without drama as long as you don't overdo the corner. Grip is incredible, although I am not going to drive someone else's car in any way that might exceed the car's, or especially my, abilities. Steering is precise, and the brakes are so good I wondered if I had lost any fillings when I stepped hard on the middle pedal. This really was a drive to remember.
Doing the research for this profile, I came across two comments that summarize the F40 very well. The first is from a road test by Rich Ceppos in the February issue of Car and Driver: [The F40] "harkens back to a time—the late 1950s and before—when makes like Ferrari, Maserati, Jaguar and Porsche built sports and GT cars for the road that could be raced with a minimum of modifications. . . . None of them were comfortable, tractable, or reliable. What they offered was unvarnished excitement—the raw, elemental racecar experience for the street." The best description of the F40, though, came from an article in the November 1989 issue of Car magazine. Giancarlo Perini and Jose Rosinski said, [It] is the fastest, the most exhilarating, the most demanding, the daftest, the most valuable, the least comfortable, the best handling, the most stable at speed, the least practical; the nearest thing to a no-compromise supercar."
Thank you, Ms, Ibrahim, for allowing me to experience your cars.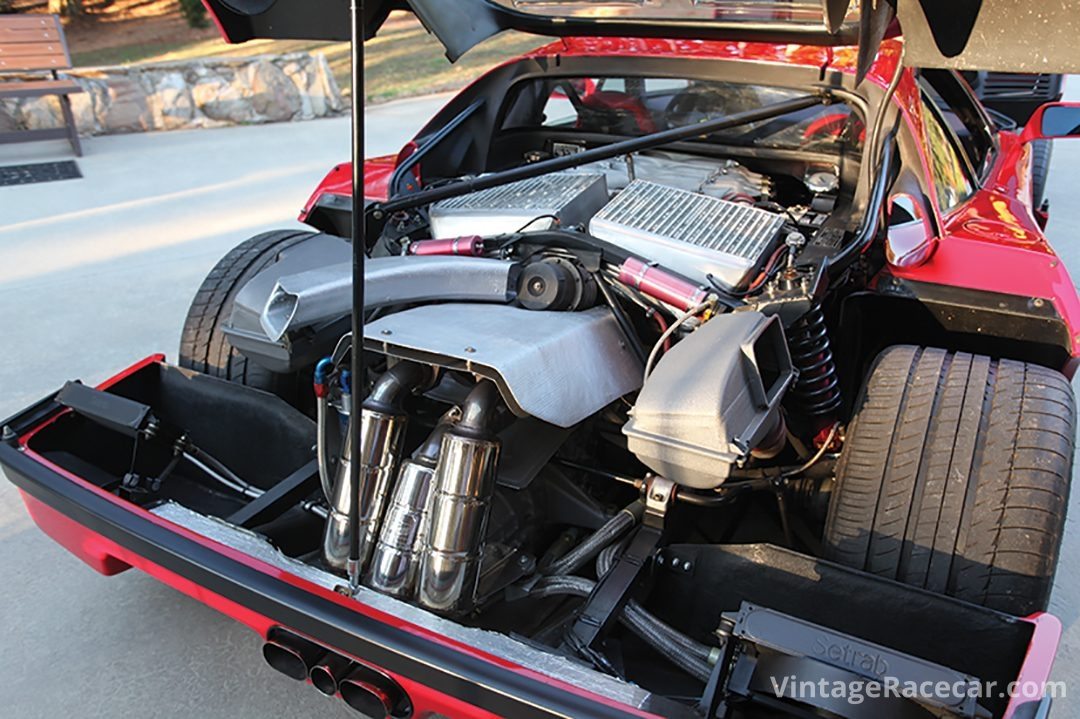 Specifications
Chassis: Square section tubular steel with composites bonded to the frame
Body: Composites, principally Kevlar
Engine: Four-Cam V8
Displacement: 2936 cc
Bore/Stroke: 82 millimeters/69 millimeters
Horespower: 478 bhp @ 7000 rpm
Torque: 425 lb-ft @ 4000 rpm
Induction: Twin IHI turbochargers with Behr intercooler
Engine control: Weber-Marelli electronic ignition and injection
Transmission: 5-speed manual
Suspension: Double wishbones front and rear, coil springs, Koni shocks
Brakes: Brembo four caliper discs
Steering: Rack and pinion
Length: 174 inches
Width: 78 inches
Height: 44 inches
Wheelbase: 96 inches
Weight: 2425 pounds
Wheels: 8×17 front, 13×17 rear
Tires: 245/40 ZR 17 front, 335/35 ZR 17 rear
Click here to order either the printed version of this issue or a pdf download of the print version.