"100 miles per hour speed with 100 percent comfort and docility." This proclamation was made in an advertisement that appeared for the Bentley 8-Litre in the April 17th, 1931 issue of Autocar magazine, touting the performance of what Bentley claimed was, "The world's finest car". Nearly a century later, many enthusiasts today agree. These are bold statements, especially when, in 1931, cars like the Duesenberg, Rolls-Royce Phantom ll, Hispano-Suzia H6C 8-Litre, Cadillac V-16, and several other magnificent automobiles were being made. The 8-Litre was W.O. Bentley's finest grand tourer. It was also the last car he designed for Bentley Motors.
In the 1920s, W.O. Bentley's cars had earned a solid reputation and were highly competitive in sporting events, including the first winning of the 24 Hour Le Mans race for a British car in 1924 and subsequently winning four more times before 1931.
Despite impressive racing triumphs, by the end of the 1920s the finances of Bentley Motors were precarious indeed. The company was still not able to sell enough cars, for a high enough price, to make a profit. There was already a large number of manufacturers battling in the market for smaller and cheaper cars, but as far as Britain was concerned there was only one real competitor for the ultra-luxury market, the Rolls-Royce.
For 1930, Bentley decided to create a faster, better handling luxury car than the Rolls-Royce by producing what many historians consider his engineering masterpiece, the mighty 8-Litre.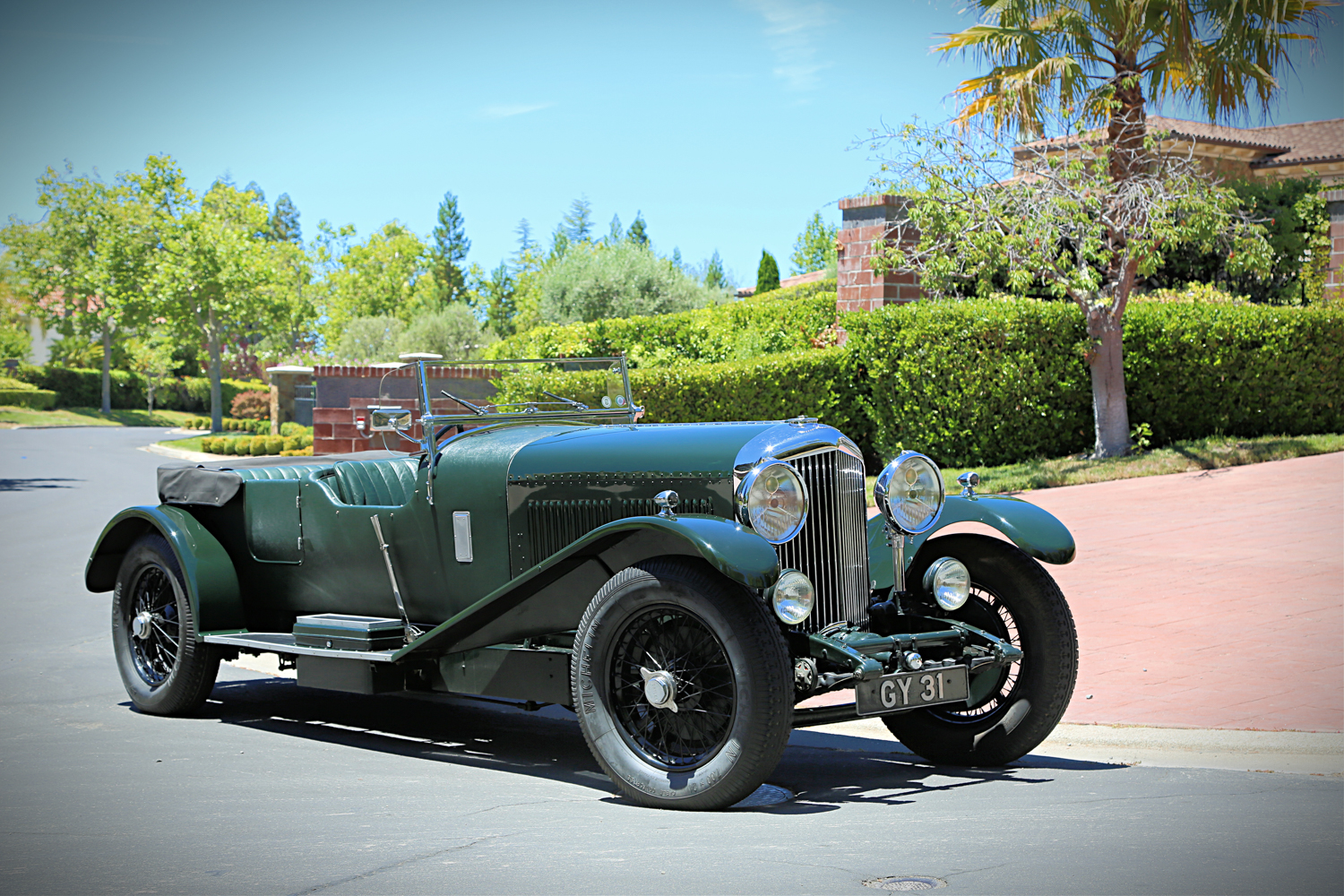 At the heart of the 8-Litre is an amazing engine and drivetrain
The 8-Liter represents an evolutionary step in the development of the Bentley engine, combining proven features of the 6½-Liter model with the latest engineering advances.  W.O. never liked the legendary "Blower" Bentleys developed by Sir Henry "Tim" Birkin, thinking it corrupted his engine design and added to much stress to the engine. "Every engine we built was conceived with an eye first on reliability," Bentley explained, "then on smoothness and silence, and lastly on sheer power output. Of course, we were after power output, but not by any falsely induced means; and I always held that the supercharger applied to the Bentley engine was a false inducer. [It] was against all my engineering principles." (History would prove him right, as the Blower Bentleys proved unreliable in many races).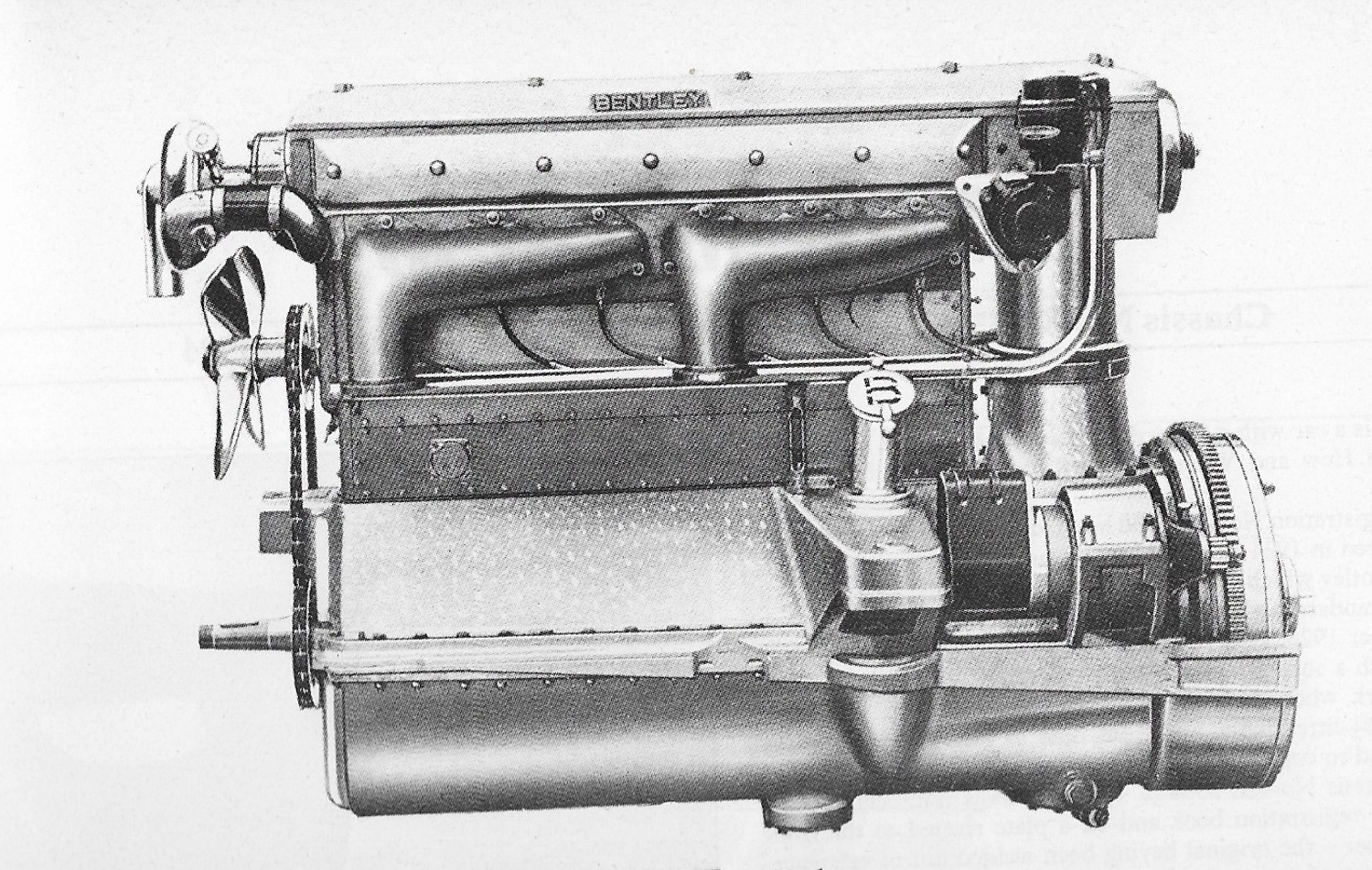 Rather than trying to squeeze more power from the existing 6½-Liter engine, W. O. Bentley followed his long-preferred method of improving performance and simply enlarged it, increasing the bore size from 100 to 110-mm. The 8-Litre's straight-six engine used a one-piece iron block and non-detachable cylinder head with a crankcase made from Elektron, a magnesium alloy. Elektron consists of varying amounts of alloying elements, up to 9.5%, added to the magnesium resulting in changes to mechanical properties such as increased tensile strength, creep resistance, thermal stability or corrosion resistance. It also is unusually light and has a specific gravity of about 1.8 compared with the 2.8 of aluminum alloy, or the 7.9 of steel.
The engine utilized an overhead camshaft driven by a Bentley patented "three-throw drive" system of triple connecting rods with, as with all earlier Bentleys, featured four valves per cylinder and twin-spark ignition (coil and magneto), which were state-of-the-art at the time. The engine had a bore of 4.3 inches and a stroke of 5.5 inches, giving a total capacity of 487.2 cubic inches and used aluminum alloy pistons. The engine was rated at an impressive 220 brake horsepower. Its 8-litre capacity made it the largest-engined car on sale in the UK at the time.
Although the 8-Liter's engine followed conventional Bentley practice, its gearbox, designated "F-type", was radically different from its predecessors, the redesign having been necessitated by the greatly increased power and torque it was required to transmit, as well as the quest for silence. The 8-litre engine was shifted through a newly designed four-speed gearbox (constant mesh third) with a single-plate dry clutch which sent power through a hypoid bevel final drive to the rear axle.
Both engine and gearbox were each mounted at three points on rubber to isolate the chassis and body from vibration. Unlike many cars of the time, neither the engine nor the gearbox contributed to the bracing of the chassis.

The 8-Litre chassis was available with either a 144-inch wheelbase or a longer 156-inch wheelbase. Three were built with a 138-inch wheelbase. The massive chassis frame was entirely new, being of the "double drop" design that enabled overall height to be reduced and the center of gravity lowered, these aims also dictating the use of a hypoid-bevel rear axle. Seven tubular cross members resulted in a much stronger and less flexible frame than before.
The revised suspension system consisted of long semi-elliptic leaf springs that were controlled by double acting dampers, friction on the front and hydraulic on the rear axle, Bentley & Draper shock absorbers and all four 21″ Rudge-Whitworth wire center-lock wheels were fitted with Dewandre vacuum-servo-assisted (15.7 in) drum brakes, the forward brakes being of Bentley-Perrott design. Steering was by worm and sector, while castor action could be adjusted to the driver's needs. There was also a centralized chassis lubrication system that included the gaitered springs but not for the front axle or the clutch withdrawal system. All of these features made for increased smoothness and stability, both vital considerations when designing a large and weighty vehicle capable of three-figure speeds.
As was customary at the time, the customer bought the rolling chassis from Bentley and could choose from any number of the great coachbuilders to fit it with a body. Anything from a limousine down to an open two-seater could be specified.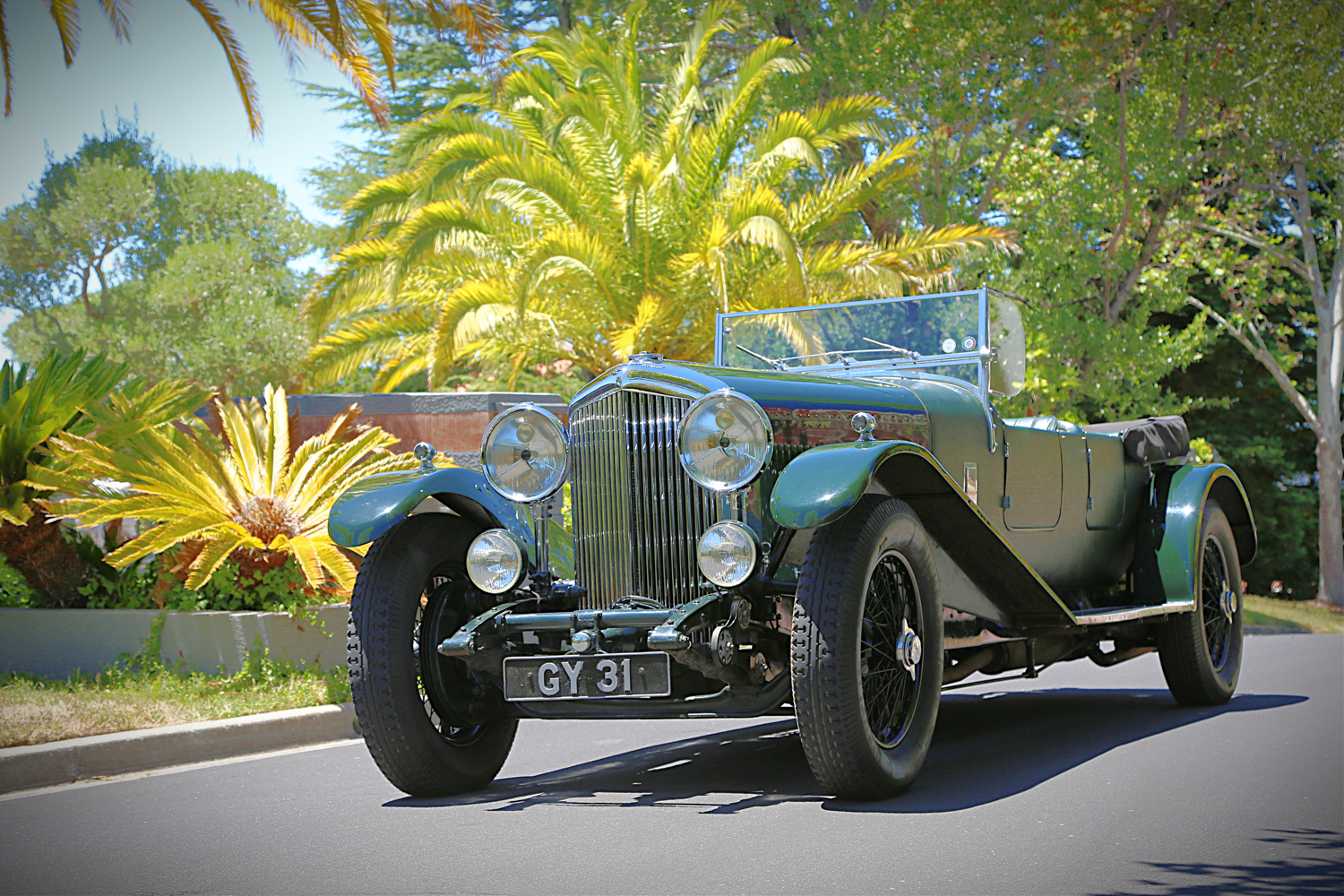 The 8-Litre Introduced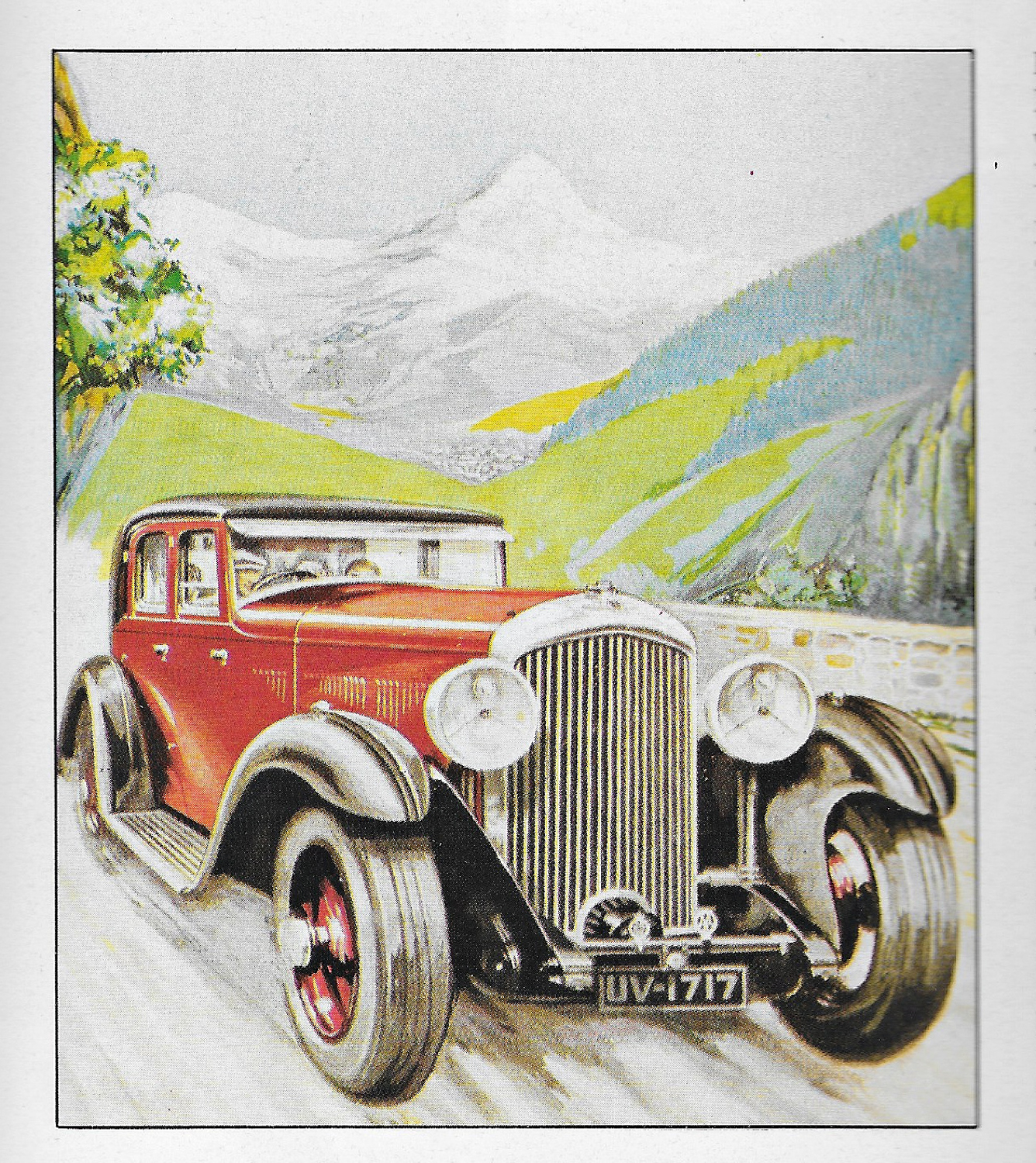 Announced on September 15th, 1930, and launched at the London Olympia Motor Show in October 1930,  the car competed head-to-head with Rolls-Royce's Phantom ll. The engine was just as quiet, the ride just as comfortable, the coachwork could be created to whatever the customer desired and, perhaps most importantly from a prestige point of view, it was faster.  Bentley claimed the car was capable of achieving up to 125 mph with a guaranteed top speed of over 100 mph.
At the time of the 8-Litre's launch, W.O. declared, "I have always wanted to produce a dead silent 100 mph car, and now I think we have done it." Such was the power of the car's massive straight-6 engine, that the company guaranteed it would be capable of at least 100 mph, regardless of the chosen coachwork. In December of 1930, The Autocar magazine recorded a ½-mile terminal speed of 101.12 mph in a Bentley 8-Litre, stating "Motoring in its very highest form" and "tremendous performance". Between 1930 and 1939, Britain's foremost motoring magazine bettered that figure only once, while testing an Alfa Romeo 8C 2300.  Interestingly, the very same car was tested again by Autocar on April 4th, 1954, and it was still capable of 100 mph. The 8-Liter remained the fastest production Bentley until the R-Type Continental's arrival in 1953. Famous car collector Jay Leno owns an 8-Liter saloon and also claims to have exceeded 100 mph in his car.
Authors John Adams and Roberts wrote of the 8-Litre in their book A Pride of Bentleys in 1978: "Tremendous flexibility was embodied in the car, and even with heavy luxurious coachwork, and with a driver and three or more passengers, it still had genuine 100 mph performance, with a maximum bhp being developed at a little over 3,200 rpm, it was the first closed saloon car to lap Brooklands at over 100 mph, a further example of the useable power it possessed."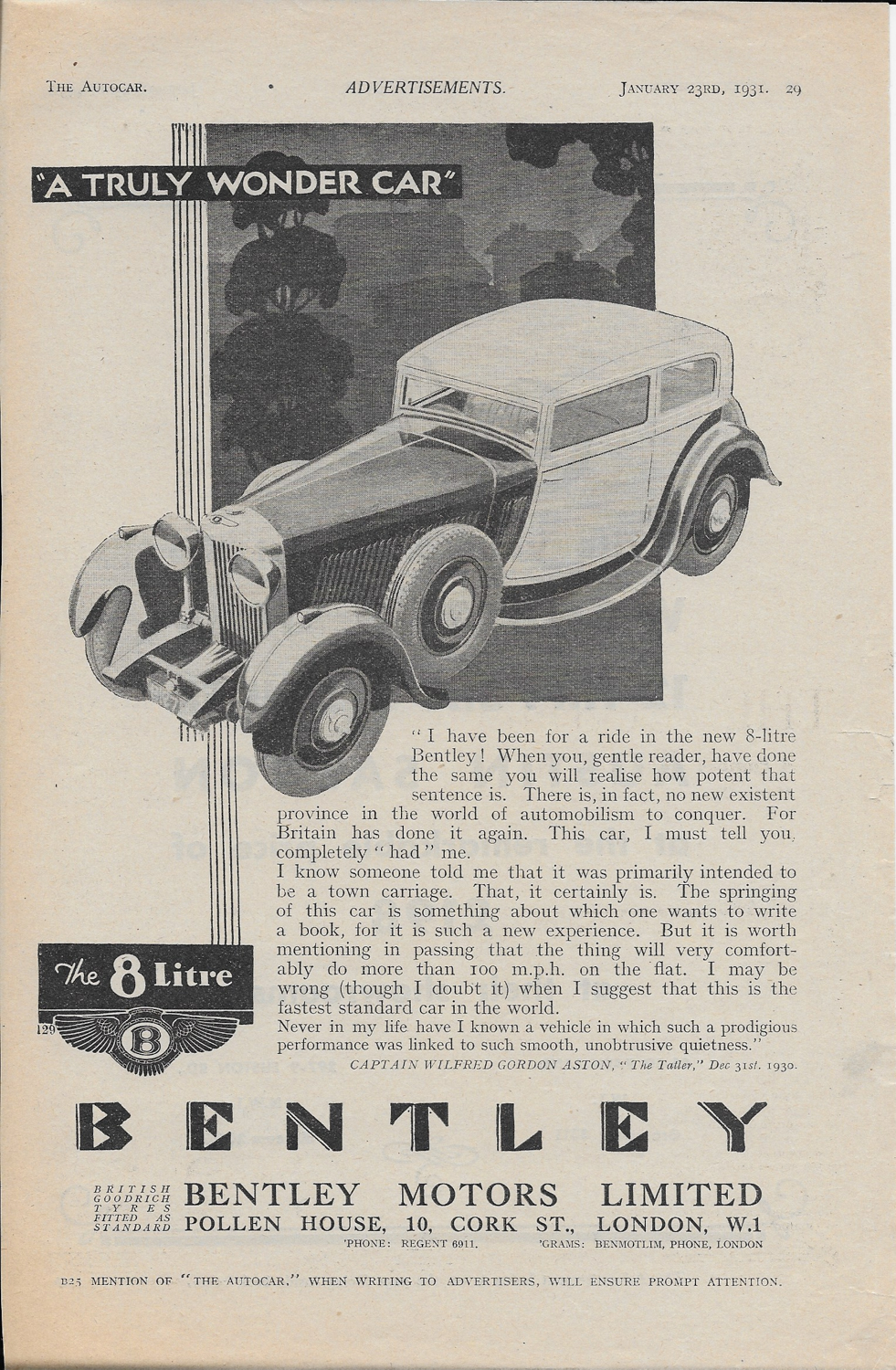 Accolades for the new Bentley model came from all corners of the motoring press and beyond when it was introduced, prompting Bentley's marketing efforts to include running a series of magazine ads quoting the praise they received. "The designer is to be congratulated on producing a car which no country in the world can surpass," said the Manchester Guardian. "The thing will very comfortably do more than 100 m.p.h. on the flat. I may be wrong (though I doubt it) when I suggest that this may be the fastest car in the world," wrote Captain Wilfred Gordon Aston in The Tatler, going on to say, "Never in my life have I known a vehicle in which such a prodigious performance was linked to such a smooth, unobtrusive quietness."
The first production 8-Litre car, YF 5001, was delivered to the music hall star "Gentleman" Jack Buchanan in October 1930. W.O. claimed the second car made, chassis YF 5002, as his personal car, commissioning H.J. Mulliner to build a saloon body on the 12-foot short-wheelbase chassis. Originally registered GK 706, this car was W.O.'s personal transport from October 1930 for the next two years. He drove his 8-Litre for thousands of miles around Britain and Europe, and recalled travelling from Dieppe to Cannes, "…in the day, without having to switch on the lights, cruising at around 85 mph for hour after hour." For a present, his wife commissioned a painting by celebrated artist Ray Nockholds showing her back-seat view of W.O. at the wheel.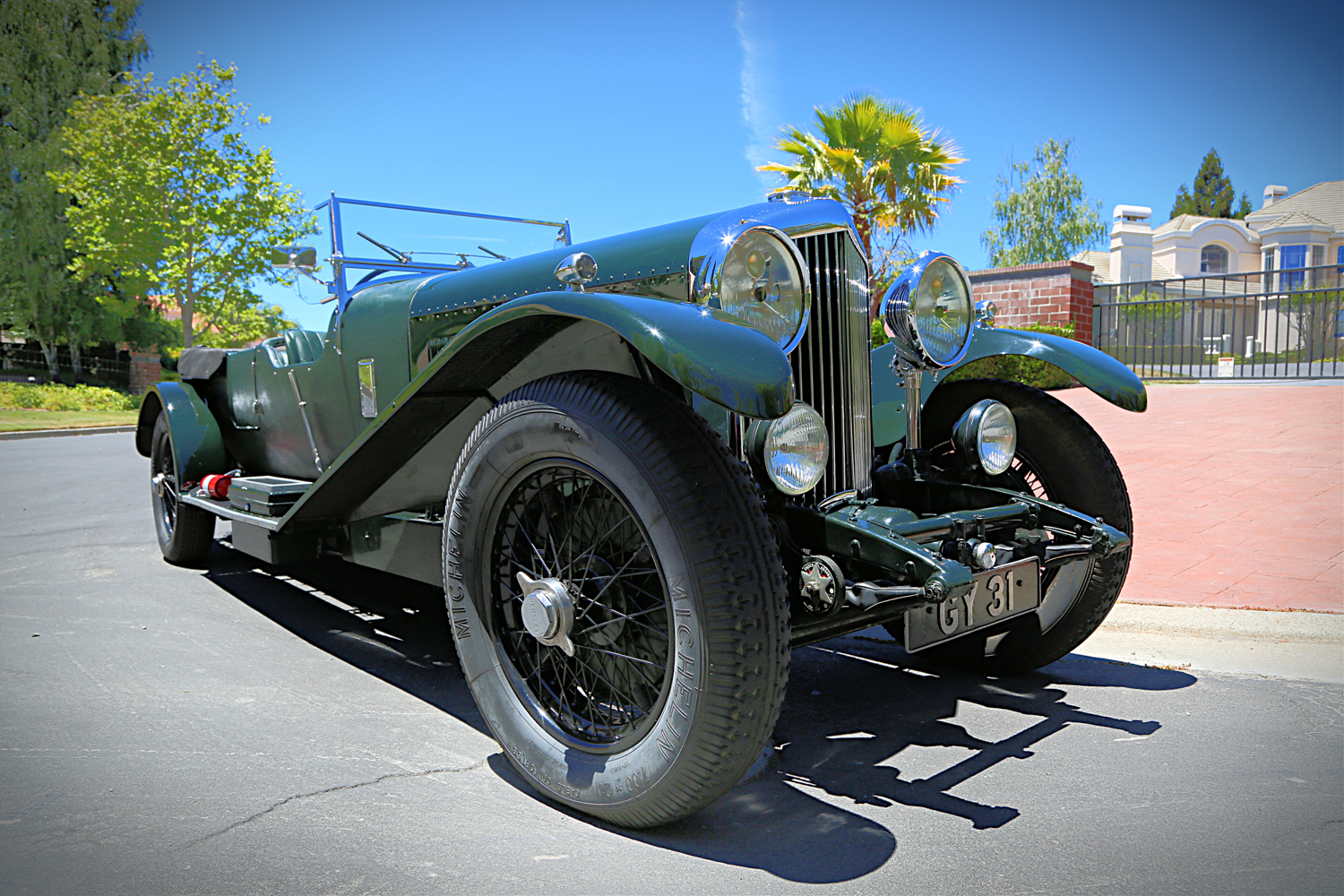 End of an Era
The 8-Litre was intended for the very wealthiest segment of the world's automotive buyers. Unfortunately, The Great Depression began in the previous year and the market for luxurious cars had waned. Bentley's finances had been shaky for many years and Woolf Barnato, who won Le Mans three times in a Bentley, was the firm's financial backer in the late '20s. He had been forced to contribute more money on several occasions, but rather than ease the company's financial worries the 8-Litre only exasperated them. After only 100 of magnificent machines had been produced, the company was placed into receivership just months after its introduction.
Rolls-Royce had been seriously worried by competition from Bentley, especially after the 8-Litre was launched, and they decided to try to acquire it. However, it had to be bought from the receivers and there was the possibility of a bidding war, particularly if a company as large and wealthy as Rolls-Royce expressed an interest.
The Napier engineering company, which was also currently building luxury cars, put in a bid. However, it was topped, at the last minute, by a company called the British Central Equitable Trust, which proved to be just a front organization for Rolls-Royce. W.O. Bentley was reported to be deeply disappointed, particularly when he found out that Barnato not only received a considerable sum for his shares but he was also, a few years later, appointed to the board of the new company which by now had been completely absorbed by Rolls-Royce. In the meanwhile, W.O was to work under contract for Rolls-Royce until 1935, a poor exchange for the loss of his company car. Production of the 8-Litre was discontinued after Rolls-Royce took over the company, in order to remove a competitor for their own Phantom.
As a measure of W.O.Bentley's business acumen, he had never registered the Bentley trade name. Rolls-Royce spared no time registering the name themselves. This meant that from then on W.O. had no legal rights whatsoever to interfere in the manufacture of future cars that bore his own name. Rolls-Royce indeed didn't allow him to make any major decisions in the future – in fact, they kept him as far away from the design decision making process as possible.  W.O. left the company just as soon as his contract ended to join Lagonda. An era had come to an end.
Chassis No. YX5109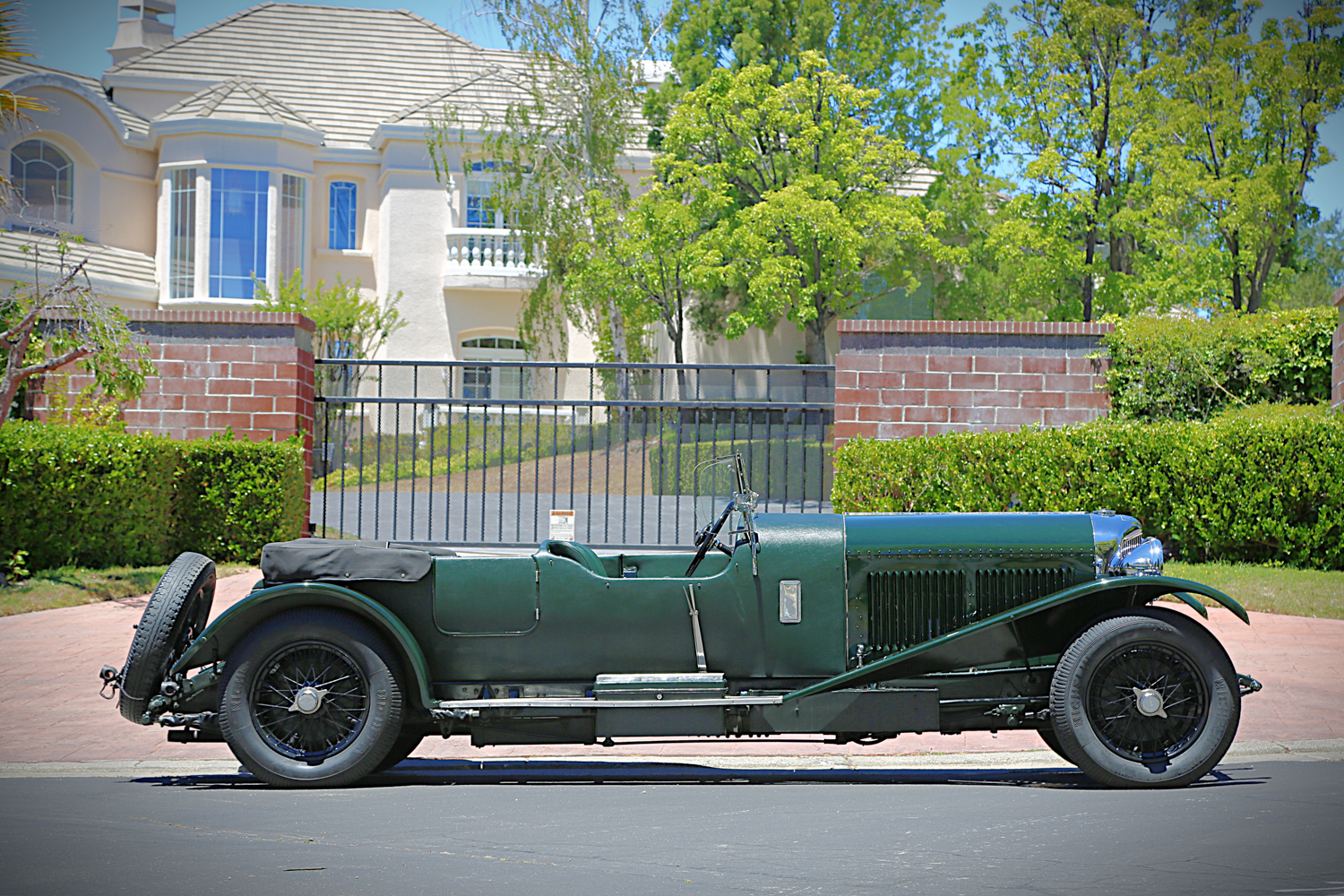 This 8-Litre delivered new to London's famed agency of Jack Barclay Ltd. wearing formal Sedanca de Ville Coachwork by Freestone & Webb. Given the timing of its purchase by the first recorded owner G. Henscher as mid-1932, it seems likely that perhaps the car was used by Barclay staff as a demonstrator. Michael Hay's book on the model notes that prior to acquisition by Henscher, the car had already covered more than 2,400 miles and that when sold, it was sold as 'second-hand' and was to receive a new rear glass, and a full structural service of the bodywork and a polishing by Freestone & Webb prior to its delivery. The car continued to be maintained by the factory until just before the war.
The known ownership history of YX5109 is relatively uncomplicated, the car being the property of Joseph Perry of Birmingham just before the war and remaining with him until 1947 when acquired by Col. Walton in 1947, at which point it is known to have spent some time in Scotland. In 1962, the car was the property of a Willy P. Dale and later traded through Dan Margulies to Barry Eastick.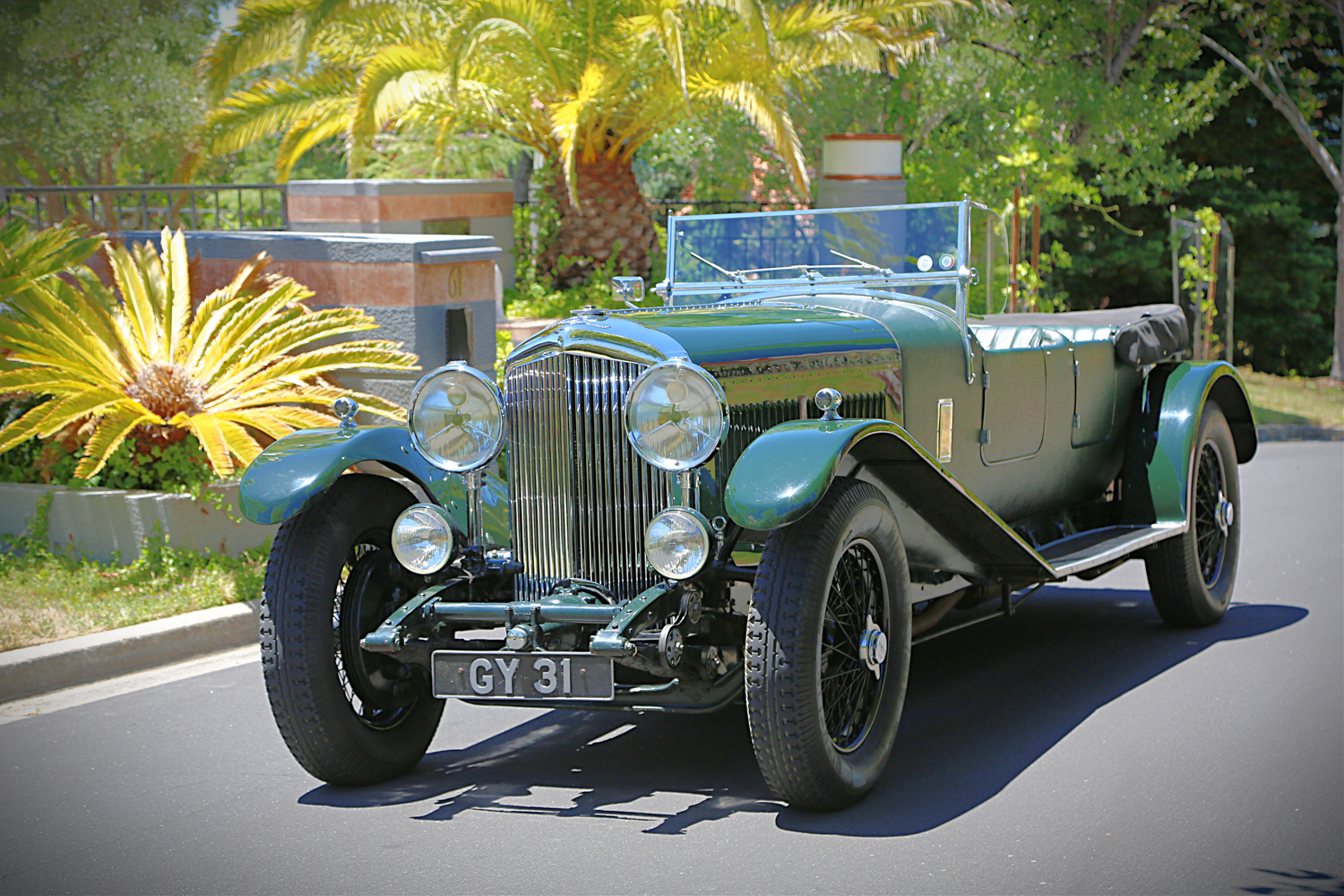 YX 5109 was restored in the 1970s by Hoffman and Mountford, at which point it was rebodied in the guise of the earlier 4½ and Speed Six 'Le Mans' fabric touring bodies, a style which was famously only fitted to one 8-Litre car. James Pearce's eye for a good-looking sports tourer was arguably second to none and the bodywork fitted to this car is extremely well designed, in that despite retaining its original 13-ft chassis, the length of the car is obscured in its good proportions. The entire process took over 2 years from 1974 to 1976 at a cost of close to $30,000 – a tremendous price for a restoration at the time. On its completion, it was shown at the Bentley Drivers Club Dorchester House meet in 1978 and later at the Kensington Gardens meet, in the 1980s. Soon afterward, YX 5109 made its way to America and was acquired by Bill Chadwick of Dallas, Texas. Chadwick showed the car at the RROC Regional Meet in Salado, Texas, in 1986. In 1988, the 8 Liter was sent to Elmdown Engineering and received a full engine rebuild with new shell bearings, a Phoenix crankshaft, rods and full-flow oil filter were fitted. Later, a Laycock heavy-duty overdrive was also fitted, allowing effortless touring at high speeds. The 8 Liter was later acquired by Charles H. Brown in 1995. Brown brought it back to his coach-house in the UK until 2013, where it was driven sparingly and well maintained during his 18-year stewardship, including a thorough service by Elmdown. Since 2013, the big Bentley was carefully maintained in a private collection before coming to the Blackhawk Collection in California where it resides as of this writing.
Driving Impressions
I had an opportunity to ask noted Rolls-Royce and Bentley expert and author of the book Superfinds, Michael Kliebenstein from Germany about his experiences driving an 8-Litre:
"Handling an open 8-litre Bentley in city traffic initially feels a bit like maneuvering a torpedo gunboat in the close confines of Monaco harbor. It wants to run wide, but at the same time feels restraint and majestic in any surroundings.
"The burbling soundtrack indeed very similar to a Second World War Gun Boat.
"Steering is heavy, but not as heavy as say, a Mercedes-Benz SS Kompressor of the same period. And nowhere as nimble as a Bugatti Type 43A or Alfa 8c. Nevertheless the 8-litre is a fast old thing. Very fast indeed.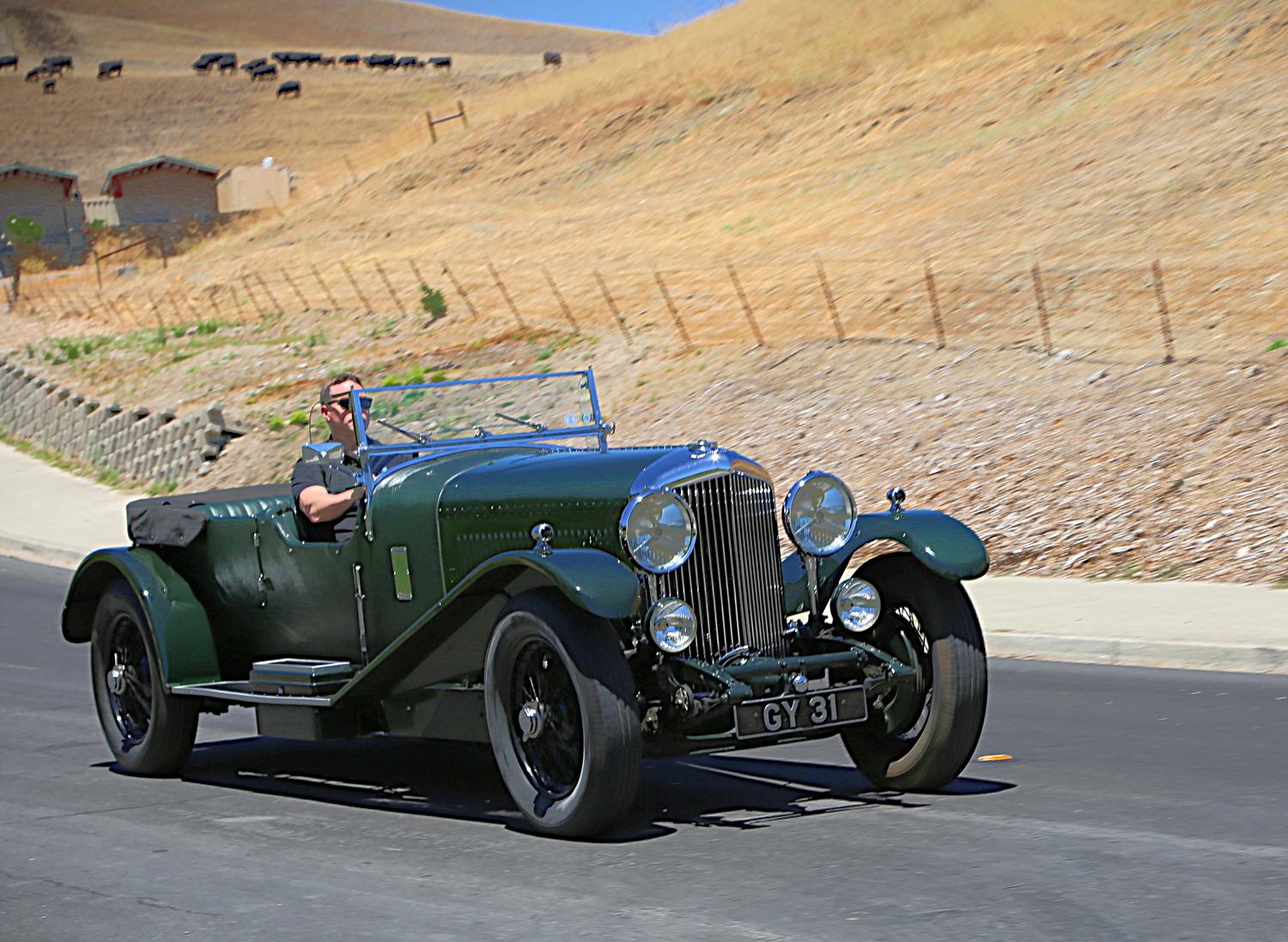 "There is something special about entering a modern motorway in a W.O. Bentley. As is common with the 4.5-litre Blower or 6 1/2 Speed Six, with the 8-litre Bentley you immediately enter the left lane in 3rd gear and start overtaking anything in sight. Simply because you can.
"Roaring past lesser traffic you change reluctantly in 4th gear showing just 1.800 revs on the huge plate sized speedometer.
"You're doing something like 90 miles average with no hint of overstretching the mechanics. 100 miles can be easily achieved when pushed, but by then the wind is blowing your head off.
"I have to say that I prefer the 8-litre to the kompressor equipped 4.5-litre Blower. Simply because the 8-litre feels so much more relaxed and powerful.
"The natural torque of the huge in-line six. always gets me.
"Also, I feel that I am quicker in building an inner relationship with the non-kompressor cars. I just love their relaxed nature. Pure magic."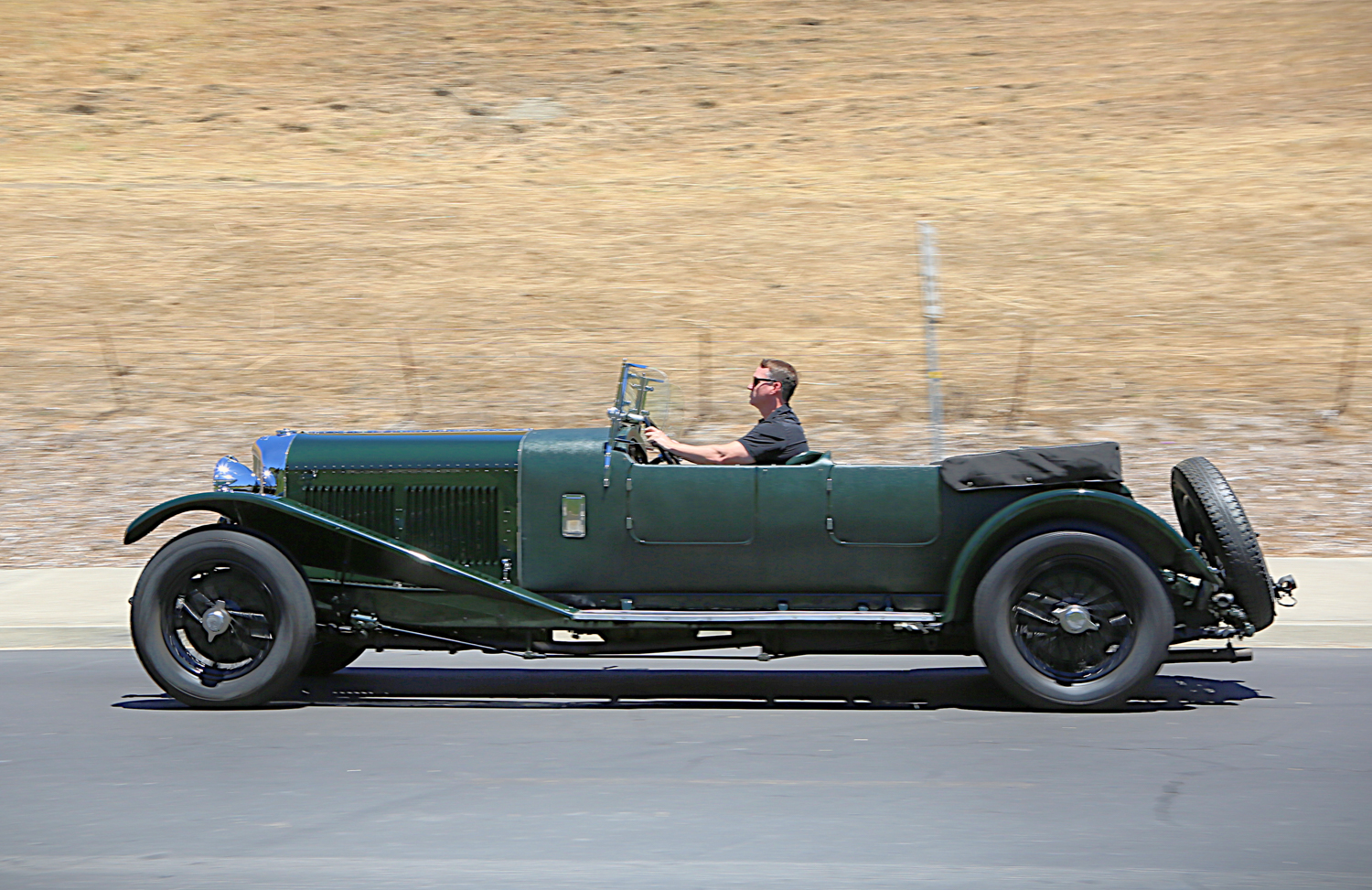 David Berthon, an Australian collector and well-known automotive journalist, had this to say about driving an 8-Litre Bentley in a 2015 story written for the Trade Unique Cars website:
"There's something very special about driving a vintage Bentley.
"Big and brutish, they have a special quality that stands them apart. From its very beginnings Bentley has featured large capacity engines producing prodigious levels of torque at low rpm, offering effortless performance and endurance.
"As we pull away from the kerb in a superb example of W.O.'s last defining classic, the awesome 1931 8-litre, I marvel at the feeling of enormous power and immense torque.
"One of three in Australia from a production run of just 100 cars, this is indeed a special car.
"However, keeping the fuel up to the furnace at high speed via twin SU carbies was its biggest problem, especially on a hot day, and most 8-litres today have had their vacuum tank bypassed by the installation of twin SU electric pumps.
"I've been fortunate to drive all of W.O. Bentley's different models, including a shorter chassis 8-litre; however, none has been as enjoyable to drive as this one
"A big car by any measure, it sits the driver roughly amidships of an overall length of a little more than 5.4 metres. Some idea of its long wheelbase can be measured by the fact it has a turning circle of 17 metres.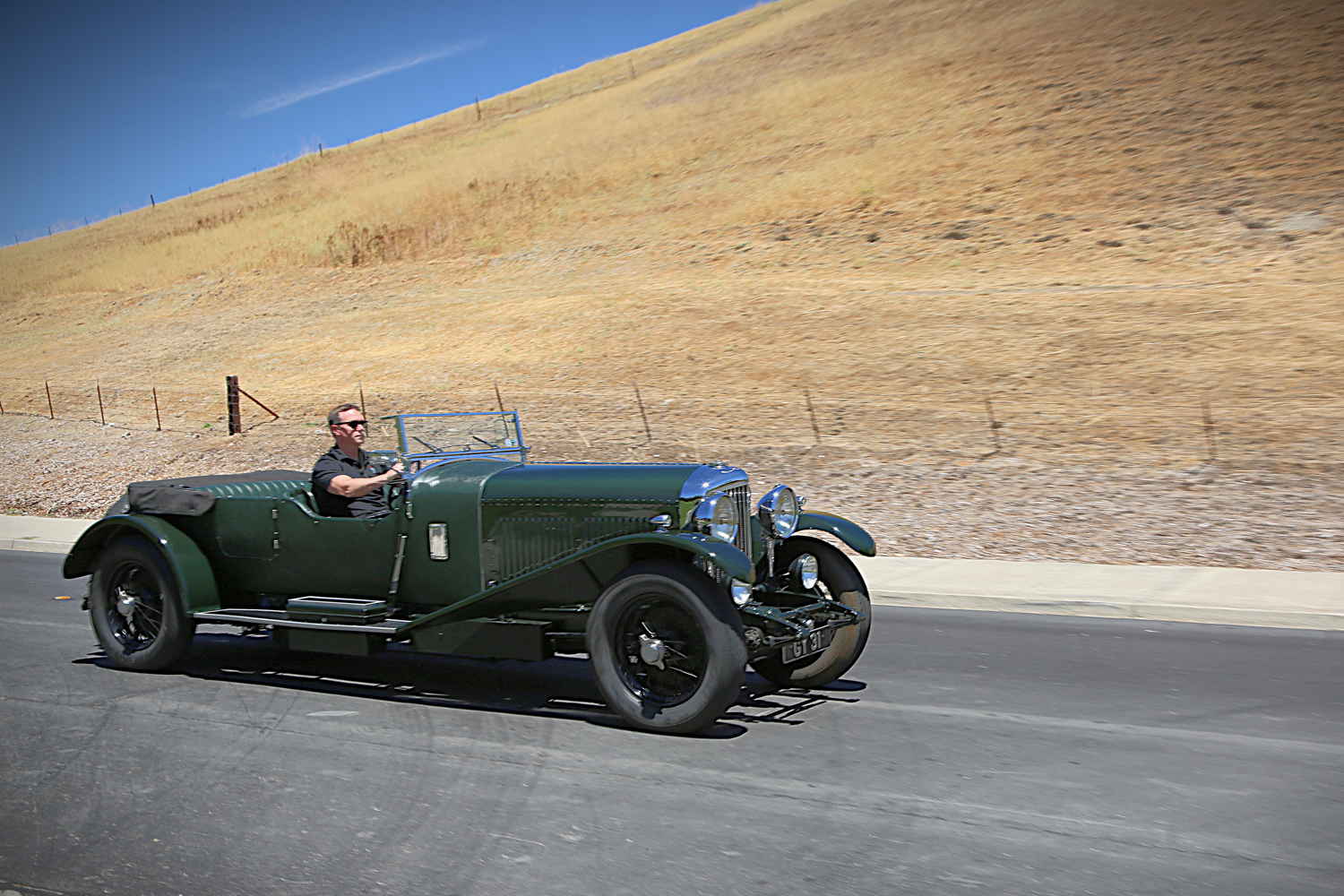 "Bentley employed a single plate dry clutch which I half suspected would be touchy given the output it has to handle; however, the pedal pressure is surprisingly light and the take up smooth and snatch-free.
"Likewise, the worm and sector steering, despite a relatively fast ratio by vintage standards, does not unduly load up at slow speed and is relatively easy to handle. On the open road the 8-litre is a really easy car to drive, although in suburban traffic you become very conscious of its weight and overall dimensions.
"The gearbox is perhaps the biggest challenge, not the easiest vintage Bentley shift, and it takes a little time to become familiar with road speed and engine revs before you can execute a clean change.
"What impresses is the refinement the chassis offers given its stunning performance capability. There is no fuss or bother in the way it performs and, compared to an 8-litre Hispano-Suiza, it is far quieter in the drivetrain and goes about its business in a far more subtle way. It's somewhat docile on a light throttle, yet give the car its head and it responds with a stirring performance. On the open road at a steady 110km/hour the engine feels like it's just ticking over but instantly responds to a boot full of throttle with startling acceleration.
"Poor brakes can be the Achilles heel on many vintage cars ­­– not on the 8-litre however and here Bentley employed a Dewandre vacuum-servo system with his own compensating device working on generous 400mm drums. They are so powerful you could mistake them for a modern hydraulic system, have great pedal feel, and they give you confidence moving such a heavy car in and around traffic.
"Few vintage cars today can offer the performance, exhilaration and drivability of an 8-litre Bentley. Whilst it doesn't have the Speed 6's racing heritage and Le Mans 24 Hour association, the 8-litre is today one of the world's great collector cars, witnessed by its amazing survival rate.
Given the cosmetic condition of the car it is somewhat difficult to believe that its transformation and restoration was completed nearly 45 years ago, as the car still presents extremely well. Almost a half a century of age and use has graced it with a soft patina. I was able to drive this machine a short distance up and down some hills. I was impressed with the torque and power of the engine. First gear was not needed, even from a dead stop going uphill. The long wheelbase of the car renders a 3-point turn into a 6-point turn, but this is not a car to zip around town in – it yearns for the open road. Looking down the long hood, glancing at the wooden dashboard packed full of gauges, clutching the big steering wheel while massaging the gearbox into it's next gear, the 8-Litre is a truly incredible machine. W.O.'s last and greatest creation at the company that bears his name will forever be one of the most coveted cars of all time.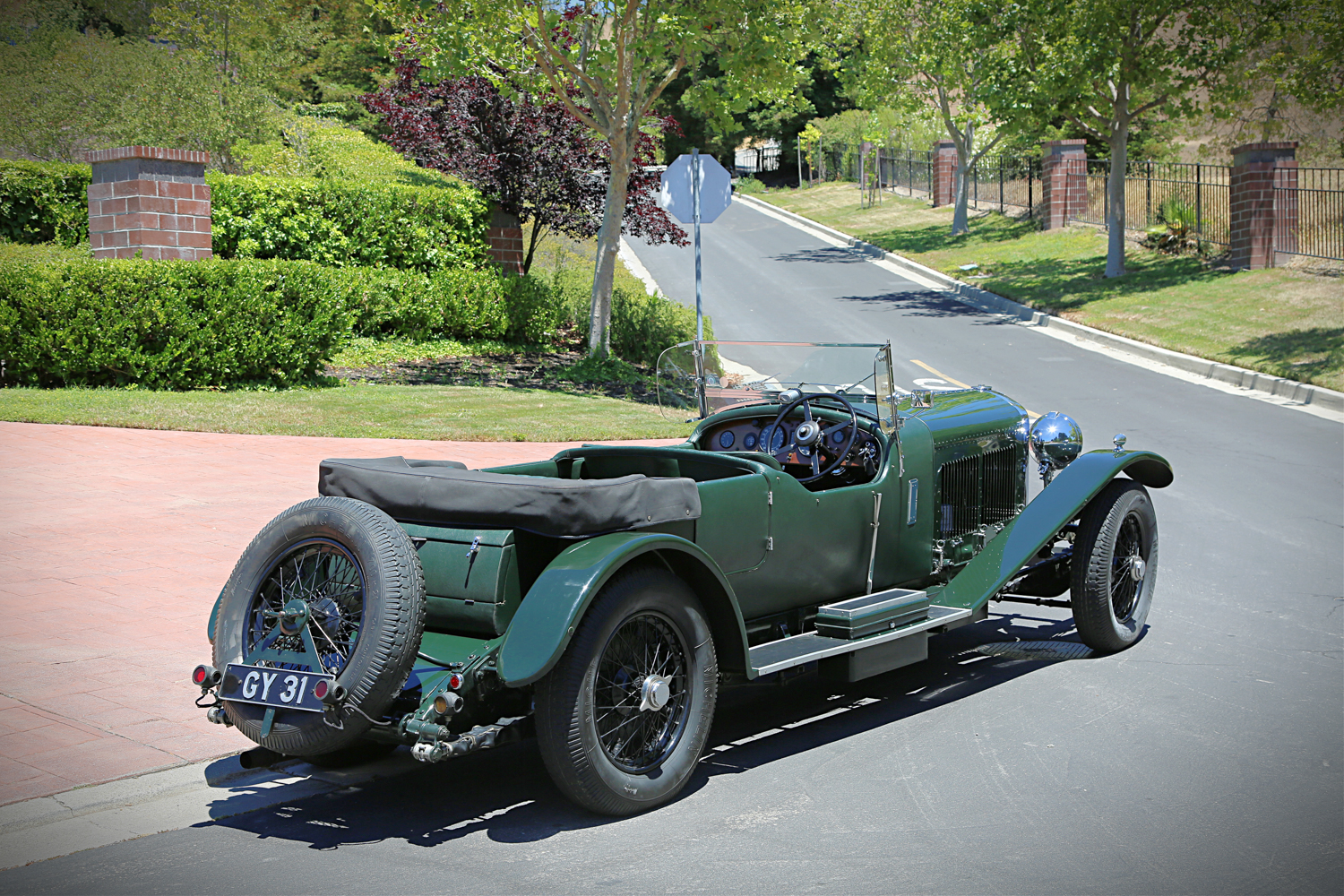 SPECIFICATIONS
1931 Bentley 8-Litre
Engine 7983cc straight-six, single overhead camshaft, four valves per cylinder, dual-ignition, Twin SU carburetors,
Gearbox Four-speed with constant mesh third.
Brakes 400mm. drums with vacuum servo assistance
Steering Worm and sector
Wheels 21-inch well base rims with 700 x 21-inch tires
Top Speed 104 mph