Once again the Fountain Gardens at Hampton Court Palace played host to 50 of the world's rarest cars for the 2020 Concours of Elegance competing for the Pullman Trophy  "Best in Show" which is voted by the owners of the competing cars . Featuring coachbuilt masterpieces joined by Formula One racers throughout the ages, modern day hypercars and Le Mans 24 Hours winners. On Saturday and Sunday they were joined by some the UK's best car clubs, including the Aston Martin Owners Club, Ferrari Owners Club, Jaguar Drivers Club and Porsche Club GB who showcased 40 of the rarest and most impressive cars owned by their members. An independent panel of expert judges went on to a pick a winner, which will be included as part of the main Concours event for 2021.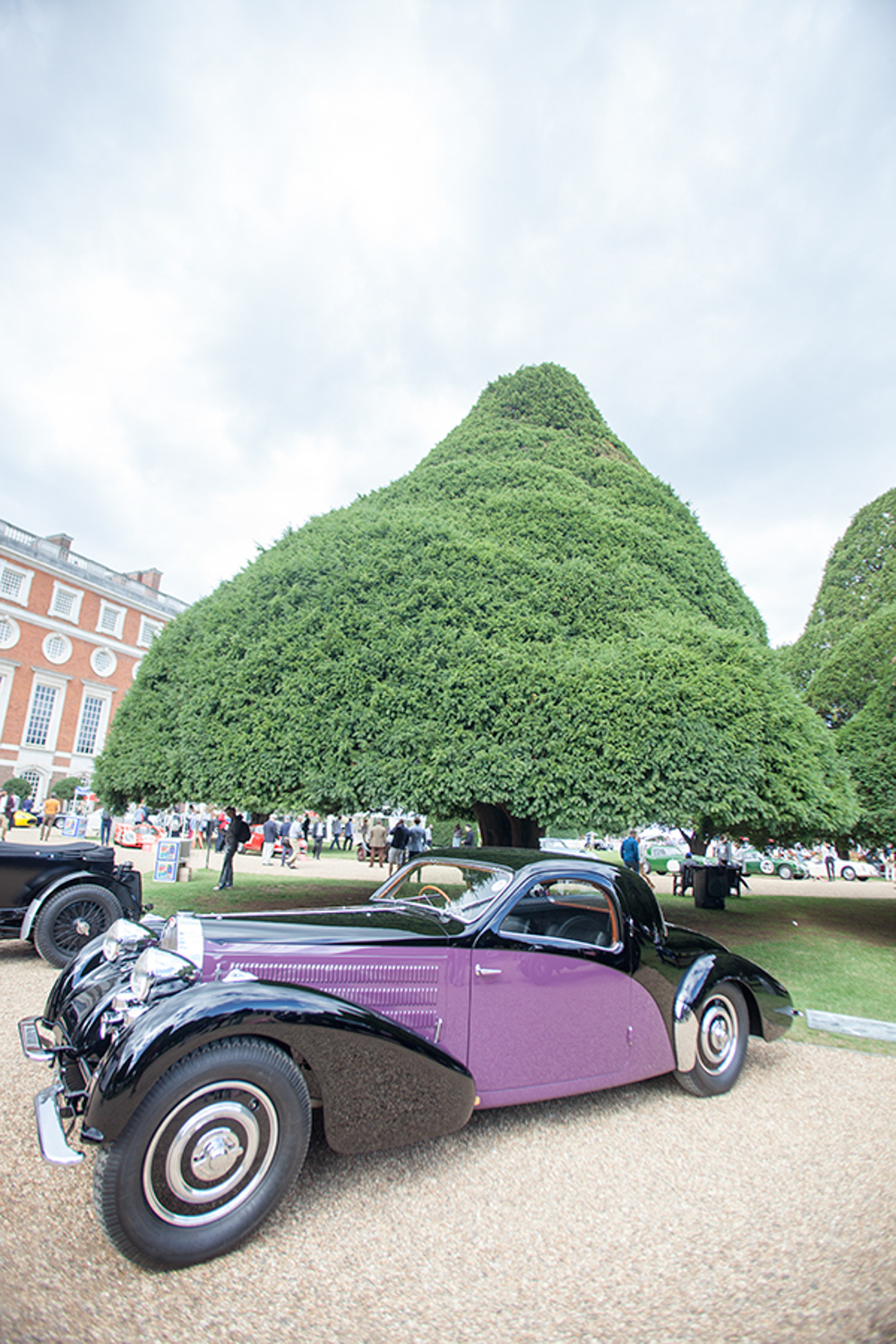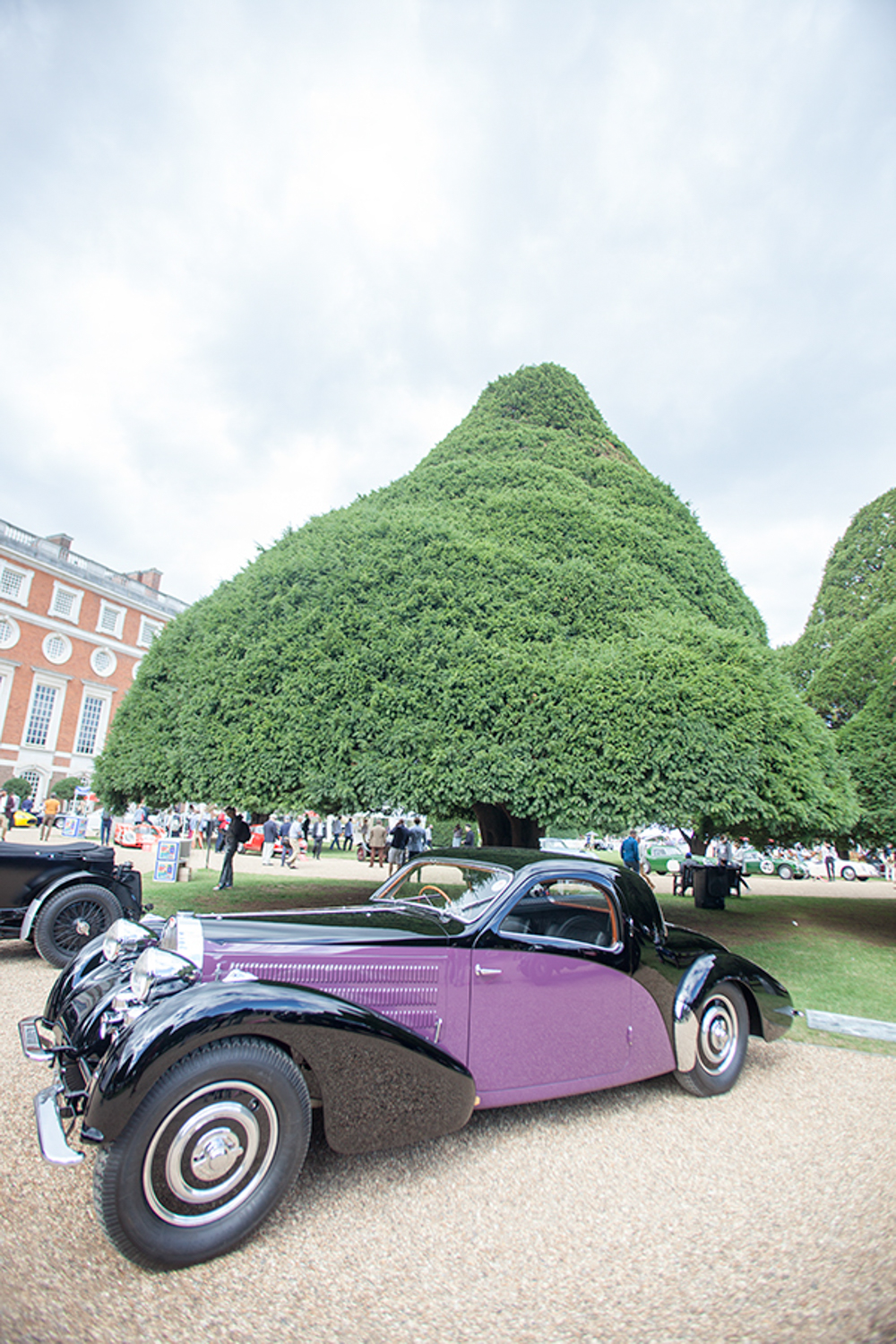 Arguably the Coachbuilt category attracted the most unusual cars harking back to the time when the world's most advanced cars could be bought as a rolling chassis to be bodied at the coachworks of your choice. Beauties such as the Jaguar XK150 S Bertone, the sole remaining example of three XK150 bare chassis sent to Bertone in Turin, to be bodied as prototype fixed-head coupes styled by Scaglione. Another unique classic in this section was the 1938 Bugatti Type 57 Atalante Gangloff commissioned by French industrialist Fernand Crouzet who told coachbuilder and stylist Gangloff he wanted a one-off created on a Type 57 chassis. Its unique features included long rear wings, a bootlid-mounted spare-wheel mount, single back window, special bumpers and disc wheels.
There are only two Bentley 4.5-Litre Drophead sports coupés still in existence with bodywork by Salmons & Sons, the legendary Newport Pagnell coachworks that was to become the home of Aston Martin. The 1928 aluminium-bodied example exhibited in the Coachbuilt catagory was the personal car of company owner Mr Fred Salmons – giving rise to its affectionate name "Mr Fred."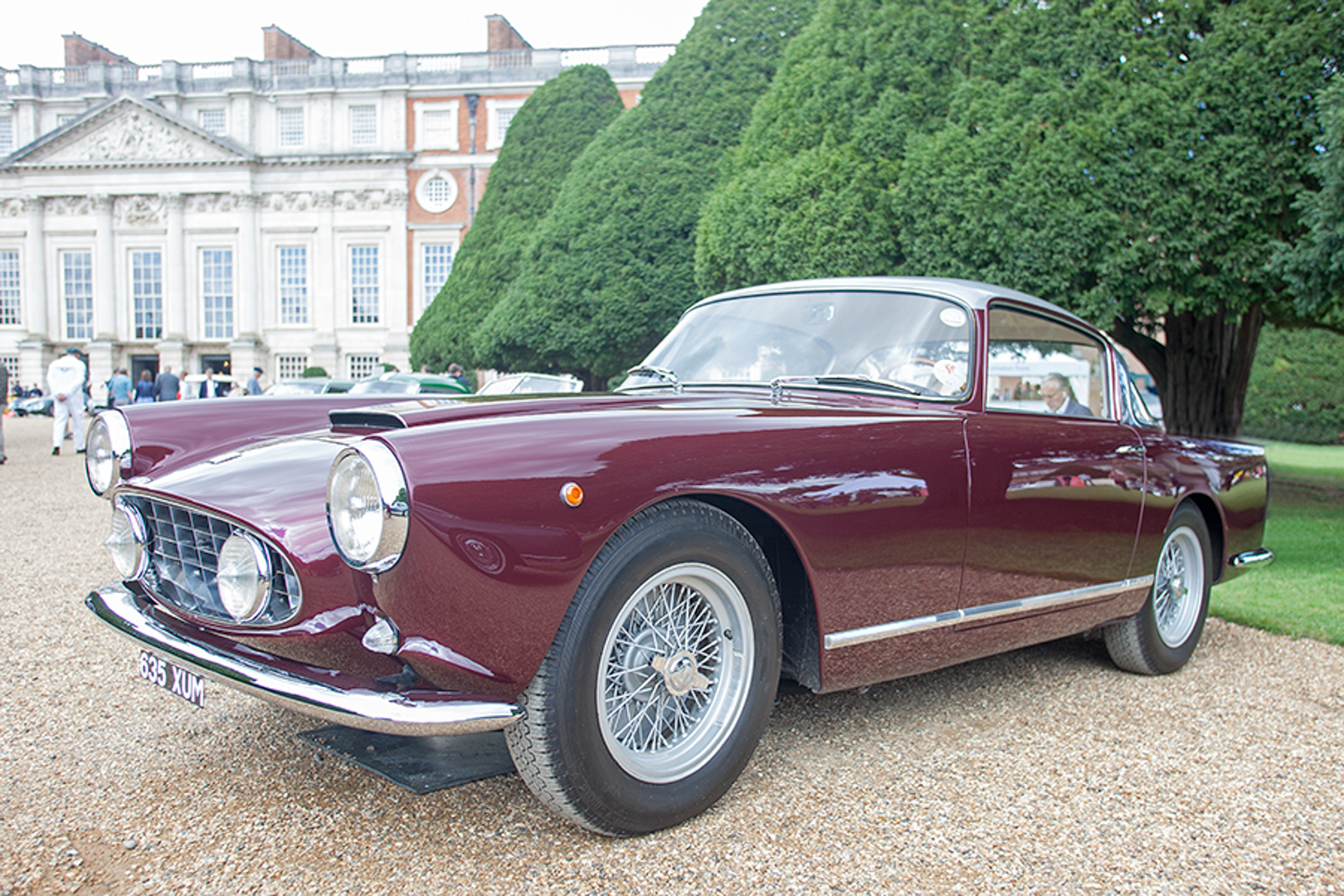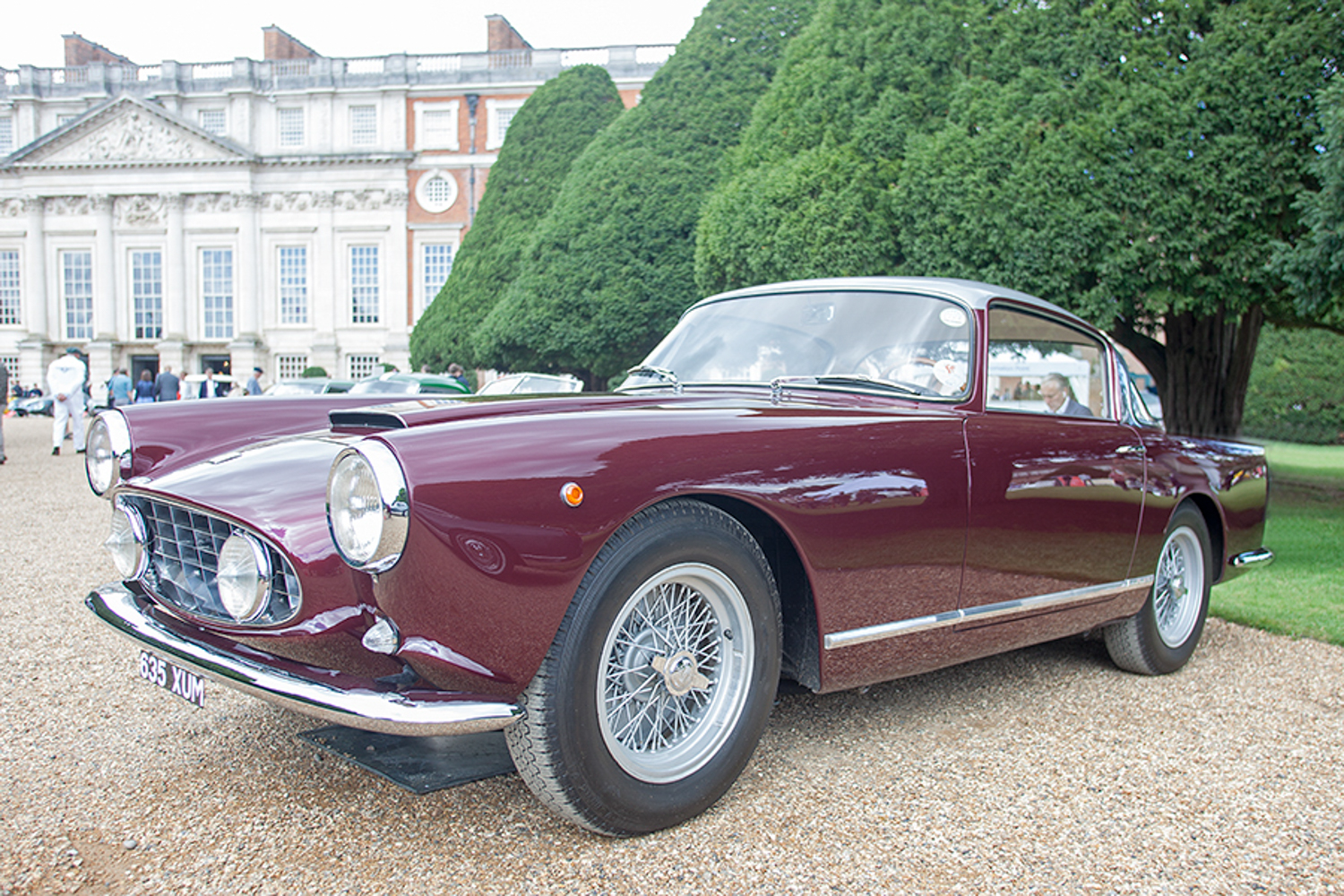 Pininfarina is one of the World's best know coachbuilders and during 1956 orders for the Ferrari 250 outstripped the capacity of Pininfarina's original facility. Work was outsourced to other coachbuilders, with Ezio Ellena and his Carrozzeria Ellena factory being one. Most of Ezio's cars followed the Pininfarina specification but the model on display at the Concours is unique, it was the 17th car Carrozzeria produced and features an elegant higher roof bodyline.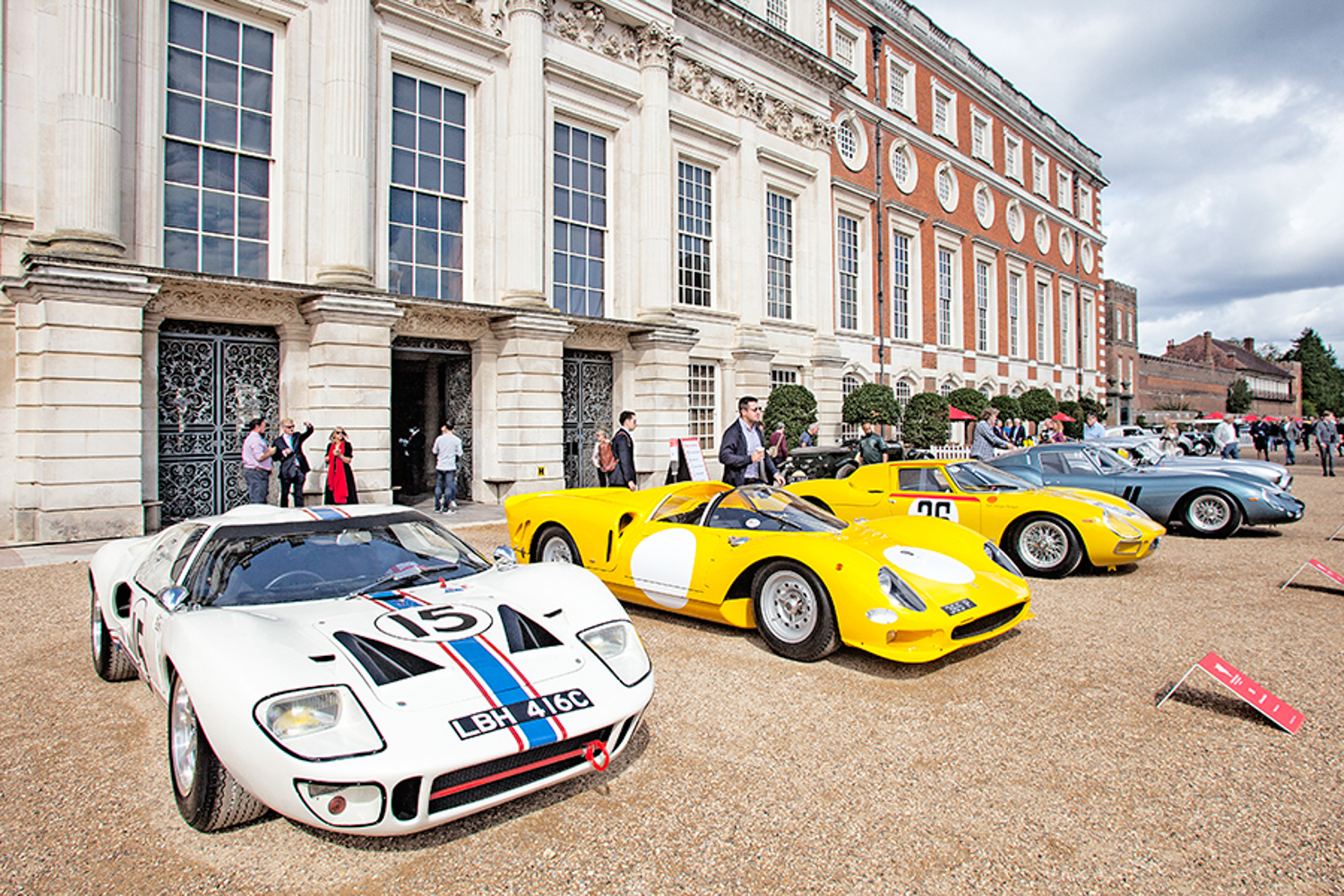 It's now more than half a century since Ford challenged Ferrari for dominance at Le Mans with Ford finally breaking Ferrari's strangle hold in 1966. This era was commemorated with a line up of some of the participants in front of the palace's East Front. Representing Ferrari a 250 LM, 365 P2 and 250 GTO, with the Ford camp fielding a GT40, and AC Cobra. Interestingly, two of the Ferraris, the 250LM and 365 P2, were displayed in Belgium racing yellow of the Ecurie Francorchamps team.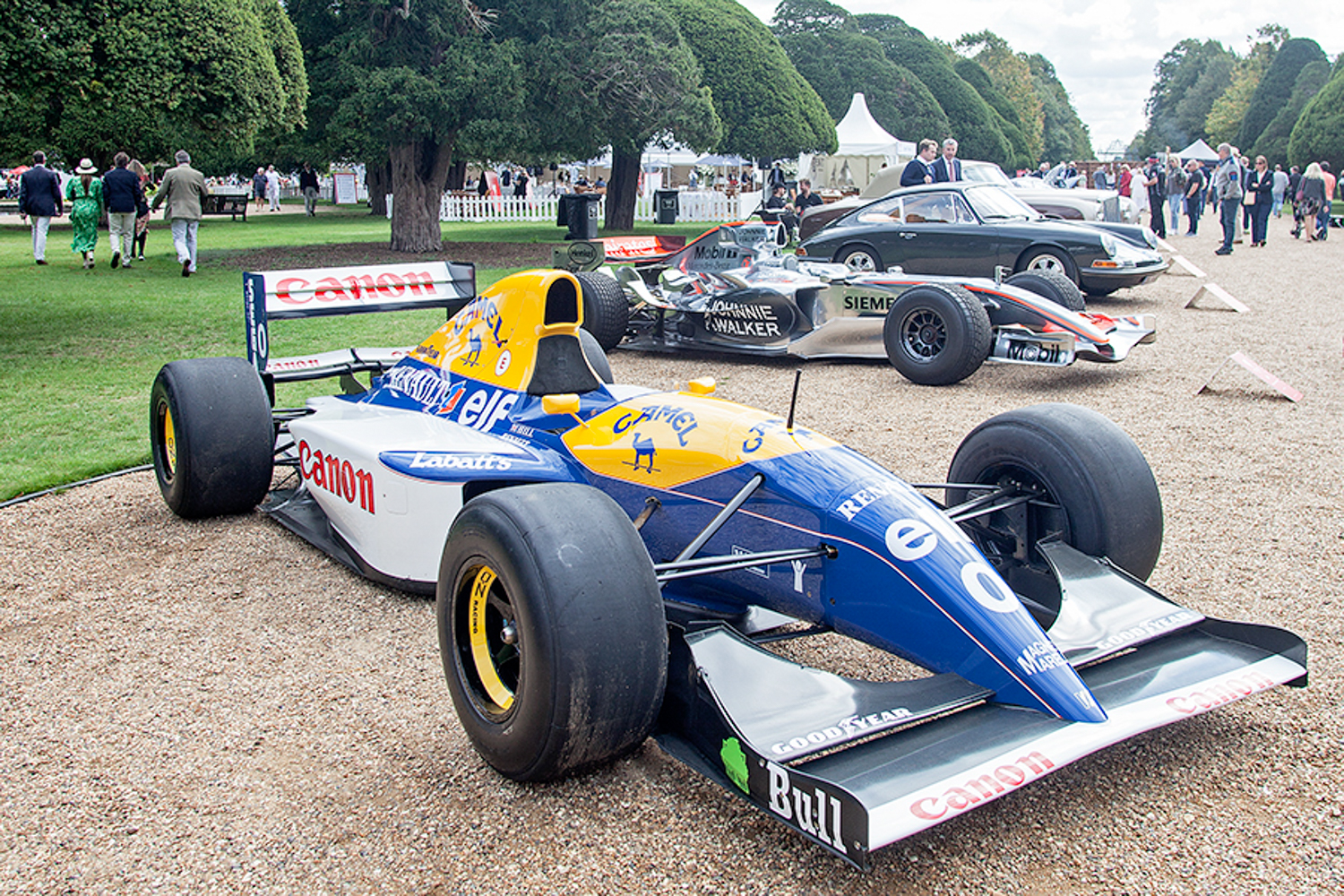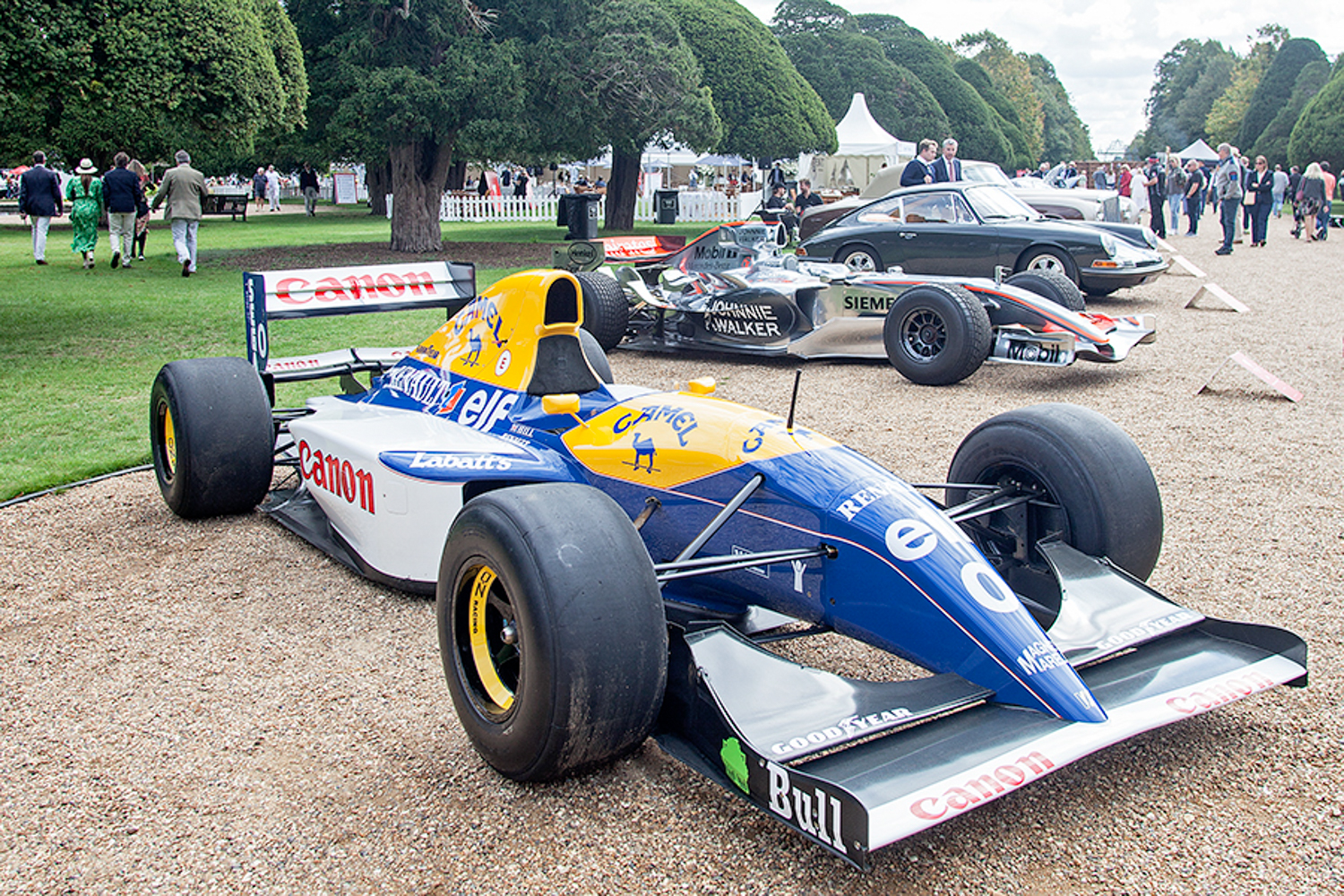 Refreshingly more racers were on display to celebrate the Formula One Championship's 70th anniversary starting with a Maserati 250F and concluding with ex-Montoya McLaren MP4-20. Poignantly this display included Damon Hill's Williams FW15C over the weekend when the Williams family retired from their team.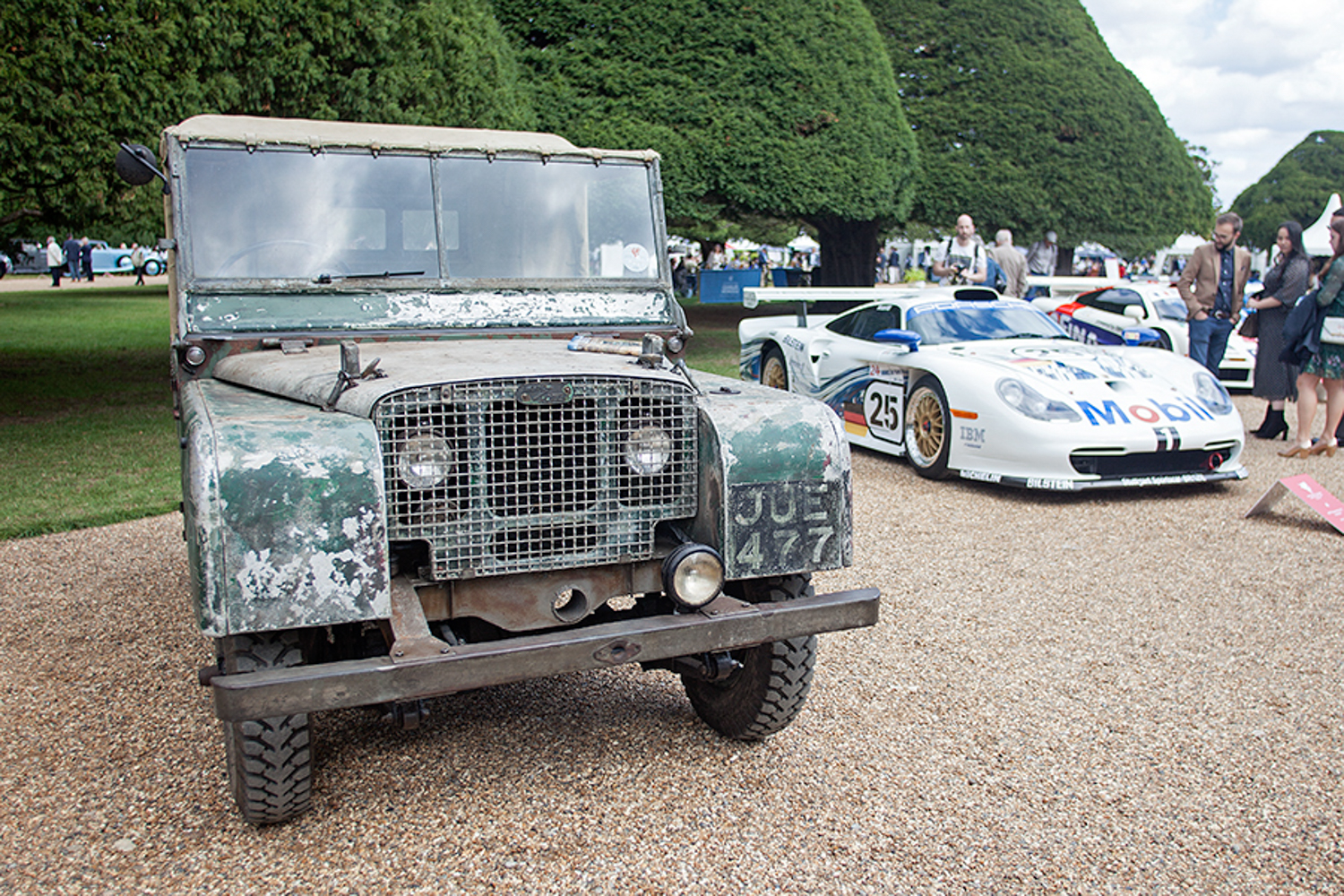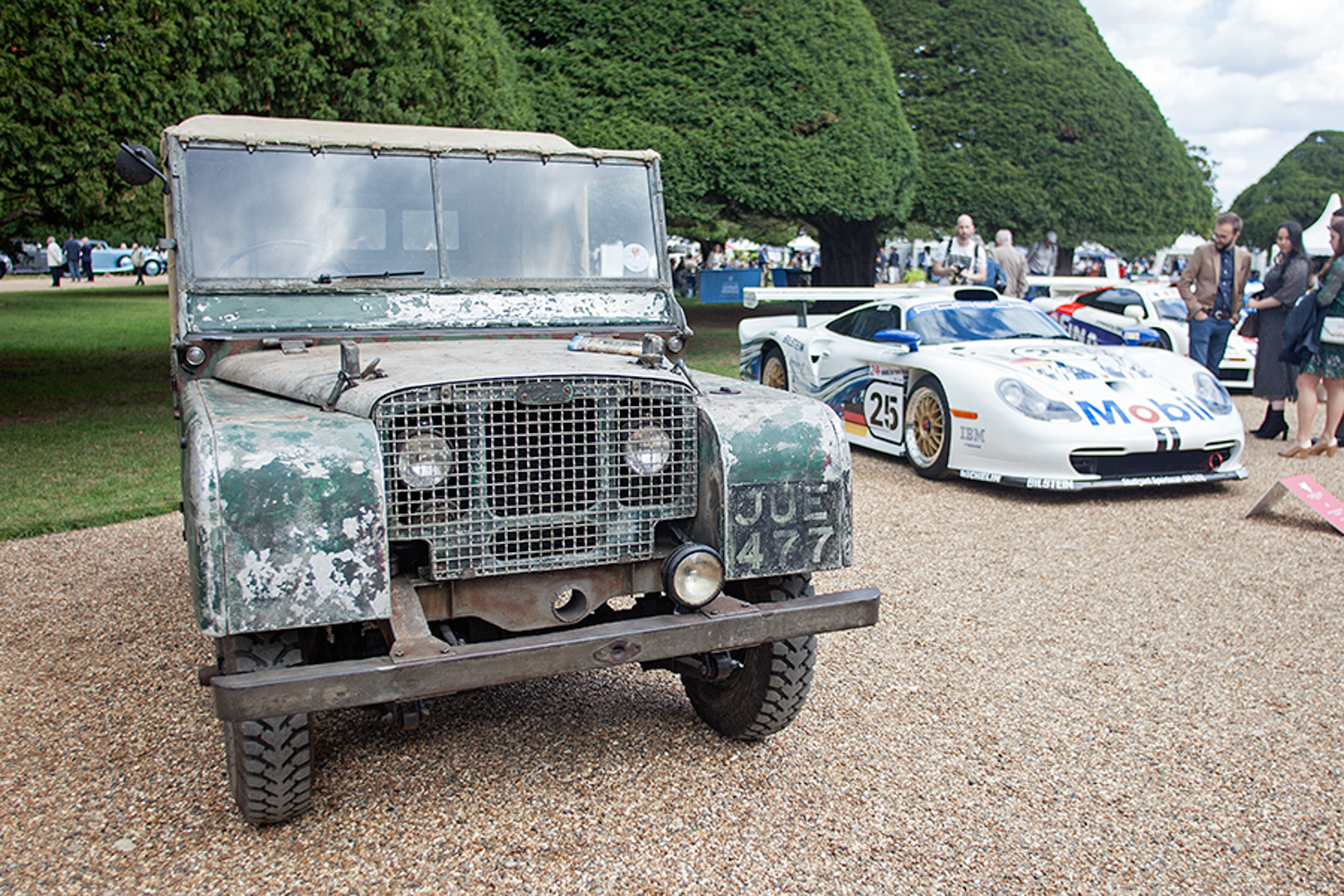 Concours or concours condition once referred to a vehicle that had been restored back to original, or better, factory condition. This requirement for a competition winner has over the past few years somewhat changed with the word "patina" now much in evidence, taking this fashion to its limits and displayed on the hallowed lawns of Hampton Court was Land Rover Model 80 production No1. Surrounded by some of the most beautiful and desirable cars on the planet was the 1950-'60s workhorse of farmers from around the world in anything but what would have been concours condition a few years ago. Built in July 1948, chassis no 860001 was the first of thousands and 20 years later found itself on a Northumberland farm exposed to the elements where it stayed for a further half a century. Finally the significance of 860001 was realized and it has been preserved and restored over a three-year period keeping as much of its original DNA as possible including 72 years of wear and tear on the bodywork. A shocking sight on a concours lawn but with patina to die for!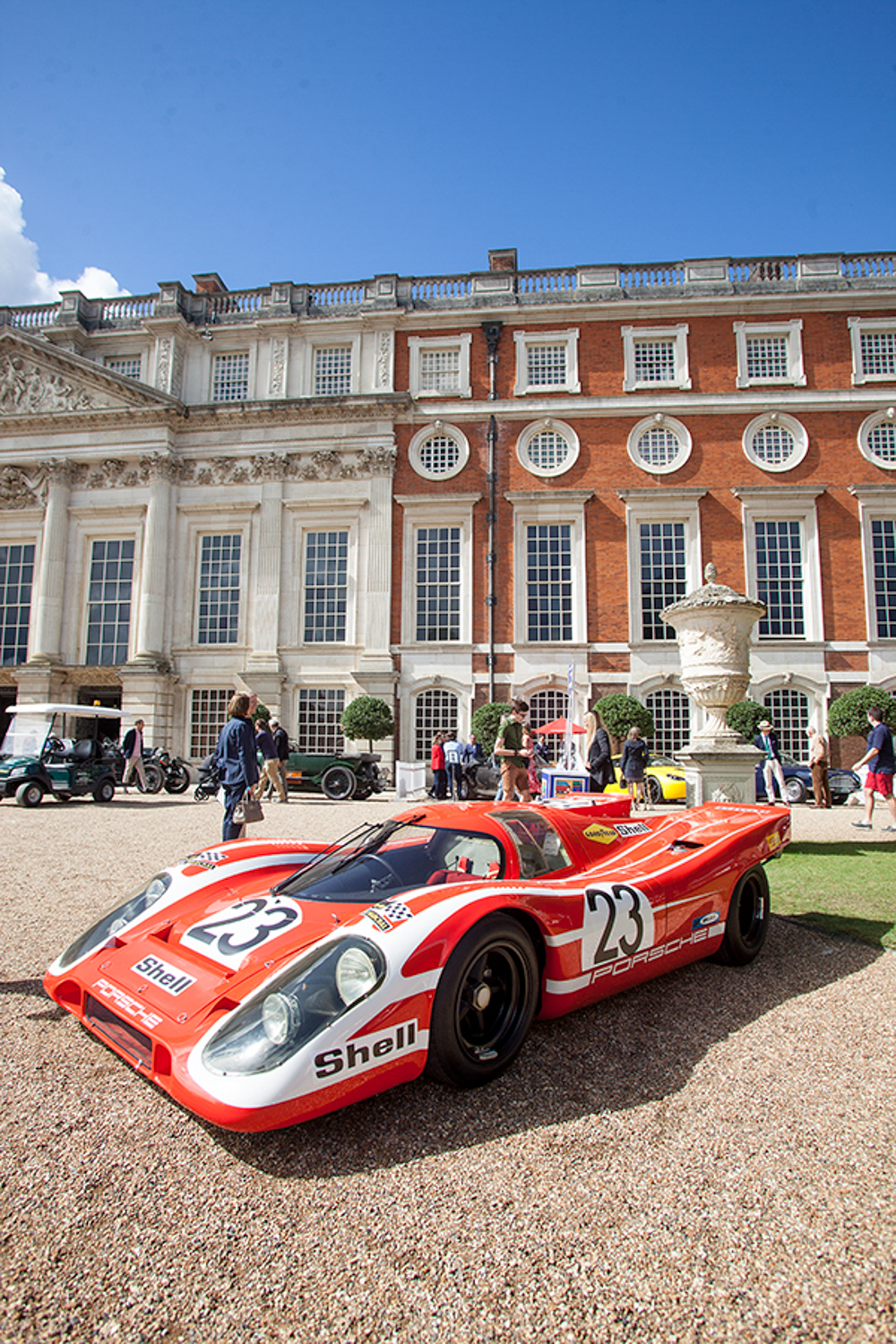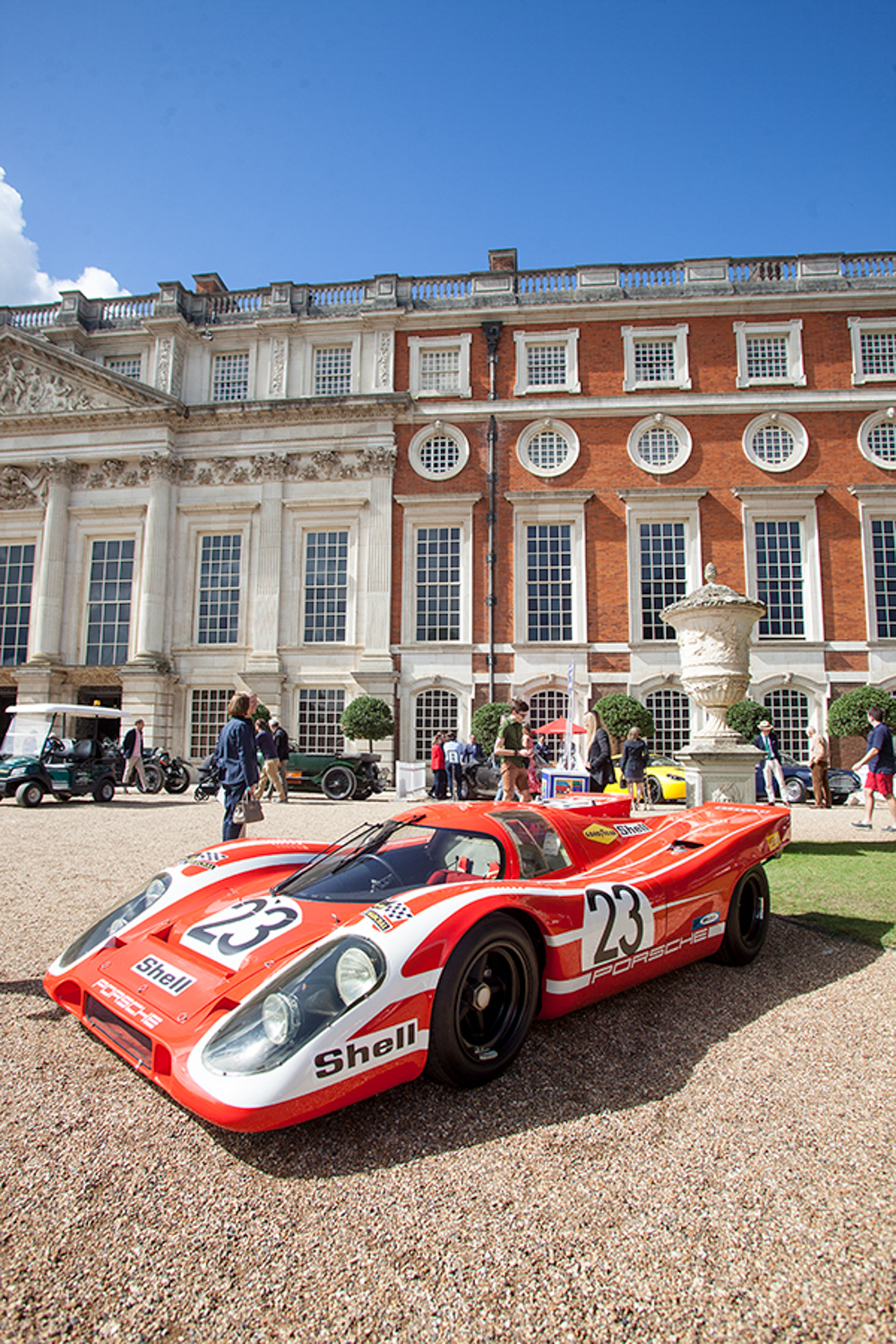 From a workhorse to the victorious, in the Fountain Gardens and at Le Mans, Best in Show, voted by fellow competitors, and winner of the Pullman Trophy was the 1969 Porsche 917 KH. This car was driven to Porsche's first overall Le Mans victory in 1970 by Richard Attwood and Hans Herrmann still resplendent in its distinctive Porsche Salzburg red and white color scheme.
2020 saw a reduced number of cars competing at the Concours but this was inevitable due to the problems caused by the worldwide pandemic; despite this the organizers gathered an interesting and stimulating selection. More racing machinery than is usual for a prestige event, this made a welcome change, as is expected all the vehicles on display were rare and unusual but what made many stand out was their fascinating history.
Gooding & Company also hosted its first sale outside of the USA at the Concours of Elegance, with a display of the lots hosted within the Tudor Courtyard of the Palace. One of the most significant vehicle collections ever gathered for sale was crowned by a Bugatti Type 59 from 1934, previously owned by King Leopold. In a record-breaking sale, this highly original car set the highest price ever for a Bugatti at auction, achieving £9,535,000. A Type 35C sold for £3,935,000 and a Type 57S Atalante for £7,855,000, setting respective records for these models. The auction also included the highest price ever for a Vauxhall 30-98 and the highest price ever for a Miura, as the SV Speciale sold for £3,207,000.
The dates for the 2021 event are set for September 3rd-5th 2021.
Class Winners:
Best in Show – 1969 Porsche 917 KH
Pre-1915s – 1904 Fiat Type 24/32
1920s – 1929 Alfa Romeo 6C 1750
1930s – 1930 Bentley 4.5-Litre 'Blower' by Gurney Nutting
1940s – 1948 Land Rover Model 80 #001
1950s – 1958 BMW 507
1960s –  1965 Ferrari 275 GTB Competizione Clienti
Post-1970s –1970 Ferrari 365 GTB/4 Daytona
The Royal Automobile Club Trophy – Messerschmitt KR200
Jaguar Trophy – 1950 Jaguar XK120 Roadster
Bentley Trophy – 1926 Bentley 4.25-Litre by Mulliner
The Junior Concours – Porsche 917
The Bridge of Weir Design Award – Bugatti Type 57 Atalante by Gangloff
Future Classics – Aston Martin Victor
Classic & Sports Car Club Display Award – Saturday: Jaguar XK120 Roadster
Classic & Sports Car Club Display Award – Sunday: Lotus Eclat
Classic & Sports Car Pre-90 Car Park Award – Saturday: Iso Grifo
Classic & Sports Car Pre-90 Car Park Award – Sunday: Mercedes 230 SL 'Pagoda'