A 1958 BMW 507 Series II Roadster was named Best of Show at the 15th annual Keeneland Concours d'Elegance at the historic Keeneland Race Course.
The show field featured three classes of this year's featured marque, BMW, as well as classes of horse-drawn carriages and modified examples of modern sports cars and hatchbacks. The cars on display ranged from a 1910 Oakland "30" Model 24 Runabout to a 2018 Porsche 911 GT3.
The organizers, staff and volunteers for the Keeneland Concours are nothing if not resilient.  The evening before the concours, a vicious line of thunderstorms moved through the Lexington, Kentucky, area.  Power was out, tree debris came down, and at Keeneland, a tree was uprooted. At 7:00 am, when the cars began being placed on the show field, there was little of the chaos caused by the storm. A nice breeze even worked to dry the grass. Despite a threatening forecast for show day, the show benefited from blue skies, puffy clouds, and lots of sunshine.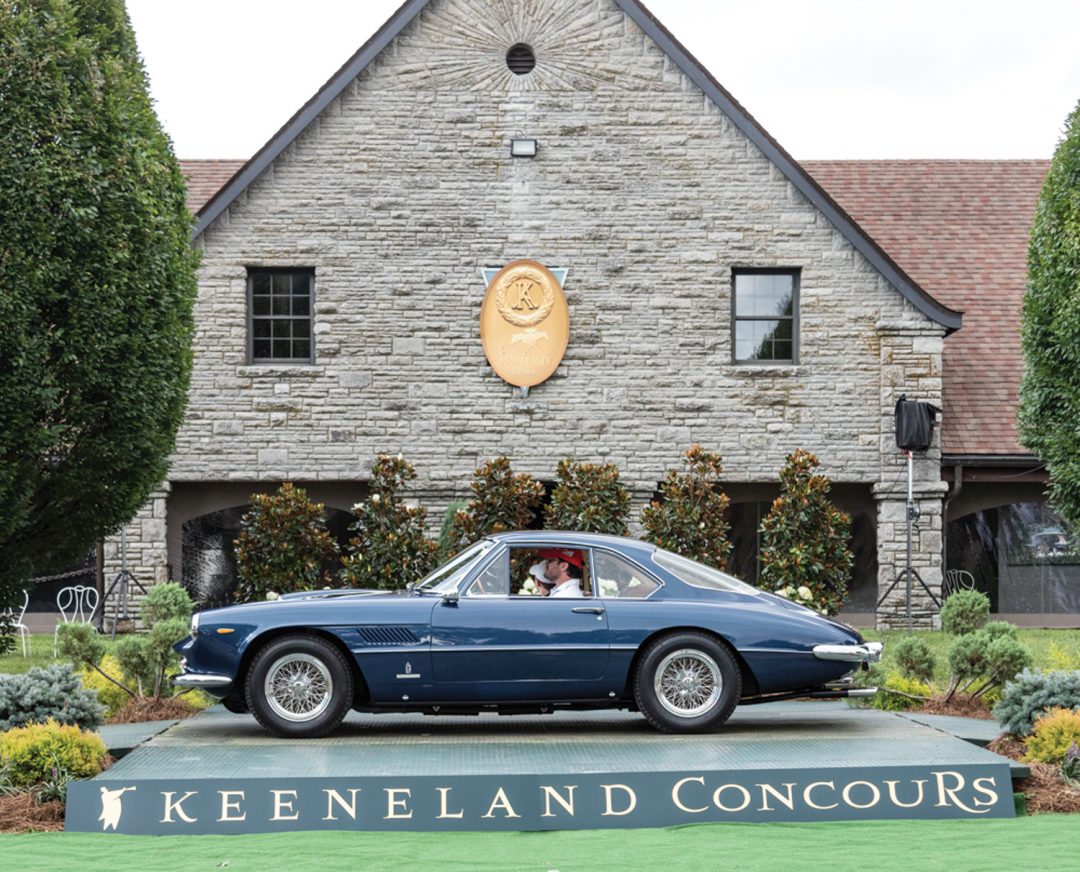 "With 2018 in the books, the Concours Team would like to thank the entrants and attendees for a wonderful event," said Tom Jones, Concours Chairman. "We would like to offer a special thank you to Charlie and the Keeneland grounds crew who worked through the night to clean up the previous evening's storm damage including fallen trees. While not a record attendance — we were blessed with not a single drop of rain, mild temperatures, and no humidity. Some say the best weather in our 15 year history!"
The Judge's Choice Award went to a 1931 Chrysler CG Imperial Dual Cowl Phaeton. A 1961 Ferrari 400 Superamerica SWB won the People's Choice Award, and a 1959 Ford Fairlane Skyliner was named Children's Choice winner.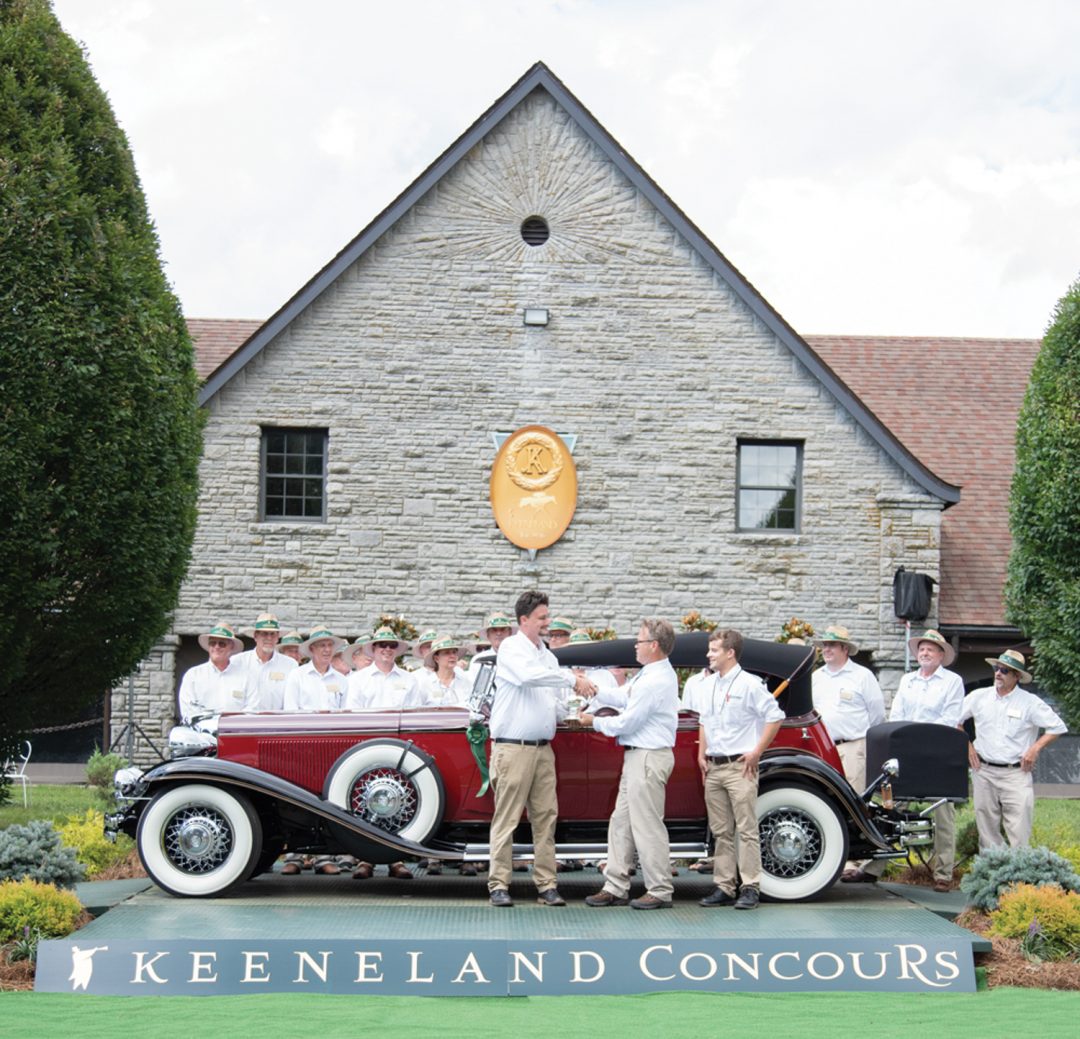 The 1958 BMW 507 Series II Roadster was presented by The Patterson Collection of Louisville, which also took home top honors at last year's concours with a 1933 Delage. The 507 Series II is one of only 251 ever built, and is the only example in North America to have been raced in period.
Aston-Martin will be the featured marque for next year's Keeneland Concours d'Elegance, July 20, 2019.
2018 Keeneland Concours Class Winners
| | | | | |
| --- | --- | --- | --- | --- |
| Class | PLACE | Car ID | Make/Model | Owner |
| 1. Antiques thru 1924 | Winner | 01_02 | 1910 Oakland "30" Model 24 Runabout | Paul & Janice Phillips |
| 2. Vintage 1925 -1948 | Winner | 02_04 | 1935 Ford Tudor Standard Sedan | Tommy Harper |
| 3. CCCA 1915 – 1949 | Winner | 03_02 | 1930 Auburn Model 8-95 Cabriolet | Manns Restoration |
| | | | | |
| 4. Coach Built Classics | Winner | 04_07 | 1938 Delahaye 135 MS Coupe | Robert & Alice Jepson |
| | | | | |
| 5a. Collector American 1947-75  (Open) | Winner | 05a_05 | 1961 Studebaker Lark Regal Convertible | Matt & Lisa Frushour |
| | | | | |
| 5b. Collector American 1947-75  (Closed) | Winner | 05b_08 | 1966 Ford Mustang GT | Rick & Marilyn Elmore |
| | | | | |
| 6. Collector Foreign | Winner | 06_06 | 1936 MG PB | Reed & Jan Tarwater |
| | | | | |
| 7. Sports Classics | Winner | 07_03 | 1960 Chevrolet Corvette | Randy & Lisa Todd |
| | | | | |
| 8. Sports Contemporary | Winner | 08_08 | 1981 Delorean DMC 12 | Diane Bailey |
| | | | | |
| 9. Contemporary Classics | Winner | 09_05 | 1973 Ferrari 365 GTB Daytona/4 | Kevin Cogan – The Cogan Collection |
| | | | | |
| 10. BMW – Motorsports Heritage | Winner | 10_02 | 1975 BMW 2002 Turbo | Scott Hughes |
| | | | | |
| 11. BMW – Sports Classics | Winner | 11_01 | 1958 BMW 507 Series II Roadster | The Patterson Collection |
| | | | | |
| 12. American Performance 1955 – 1975 | Winner | 12_06 | 1971 Ford Mustang | Jack Anderson |
| | | | | |
| 13. Electric – All Years | Winner | 13_01 | 1919 Walker LA-10 | Jay Crist |
| | | | | |
| 14. Carriages | Winner | 14_06 | 1901 Brewster & Co. Station Brougham | Hillcroft Farm – James & Misdee Miller |
| | | | | |
| 15a. BMW Motorcycles | Winner | 15a_01 | 1927 BMW R42 | John Landstrom |
| | | | | |
| 15b. Motorcycles | Winner | 15b_01 | 1937 Indian Four Cylinder | Rocky & Beverly Corsmeier |
| | | | | |
| 16. Future Classics | Winner | 16_04 | 2013 Shelby GT500 | Tucker Bulleit |
| | | | | |
| 17. Loud & Furious | Winner | 17_07 | 2012 Toyota XB | Travis Rake |
| | | | | |
| 18. IFRC | Winner | 18_02 | 1957 Ford Skyliner E-Code (51A) | Bill & Chris Nolan |
| | | | | |
| | | | | |
| --- | --- | --- | --- | --- |
| Childrens Choice | Winner | 18_06 | 1959 Ford Fairlane Skyliner | Frank & Al Doner |
| | | | | |
| Peoples Choice | Winner | 07_04 | 1961 Ferrari 400 Superamerica SWB | Kevin Cogan – The Cogan Collection |
| | | | | |
| Judges Award | Winner | 04_02 | 1931 Chrysler CG Imperial Dual Cowl Phaeton | Evergreen Historic Automobiles |
| | | | | |
| Junior Judges Award | Winner | 08_06 | 1974 Jaguar XKE Series 3 | Tony Dehner & Beth Barden |
| | | | | |
| Best of Show | Winner | 11_01 | 1958 BMW 507 Series II Roadster | The Patterson Collection |