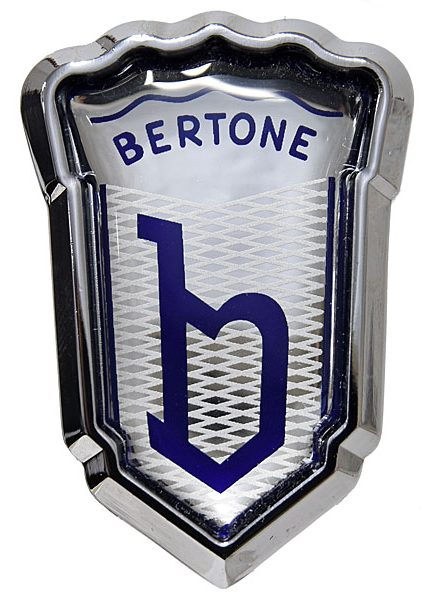 Although marriages of Italian styling with German machinery are seen as a rarity, the clever way that Bertone clothed a Type 964 911 Carrera, in 1994, showed that creativity and ingenuity from Turin worked well on a chassis from Zuffenhausen.
The binomial of "Bertone Porsche" is well remembered for the Italian designer's racy roadster on the 911 platform shown at Geneva in 1966. This was a wonderful interpretation of an open two-seater in the Italian idiom, commissioned from the Turin coachbuilder by California Porsche distributor John von Neumann. He saw it as having commercial potential that regrettably did not mature.
Twenty-eight years later, Bertone returned to the theme of Porsche with a striking concept car that deserved both admiration and respect. Geneva was again the venue for its disclosure, in the 1994 Salon. The Karisma was noteworthy for its adoption of a full four-passenger package at a time when Porsche's abandonment of its own four-passenger project—the 989—was still bright in many memories.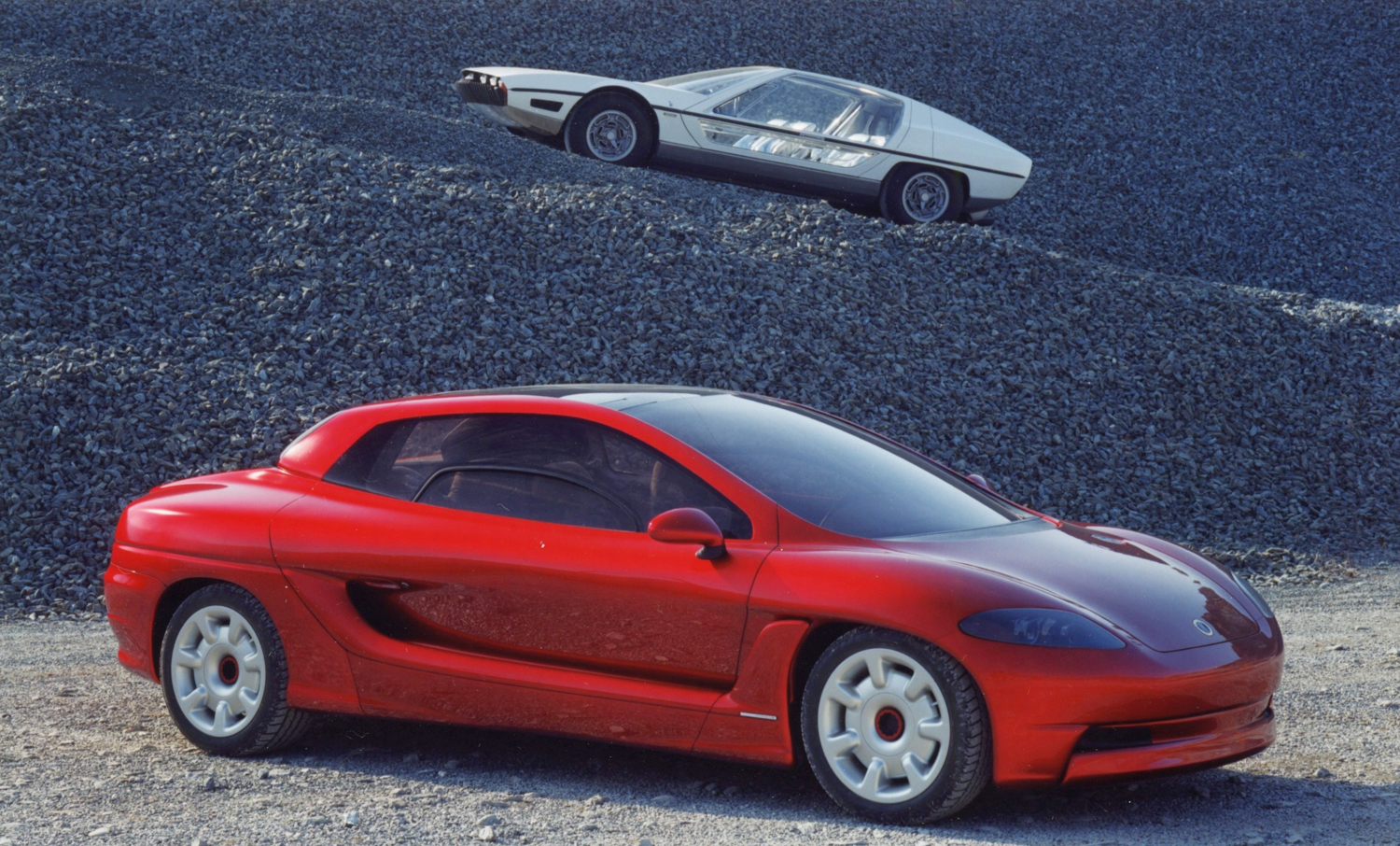 Nuccio Bertone described his thinking in his choice of the project as follows: "In my entire career I have never wanted a concept car to disturb my competitors or the car manufacturers, who are also my clients. I do not want to be considered a man who gives lessons to others. So with Porsche having abandoned its own four-seater car project, and given that such a solution has never been tried with the rear-engined 911, I decided we could create the Karisma without disconcerting anyone."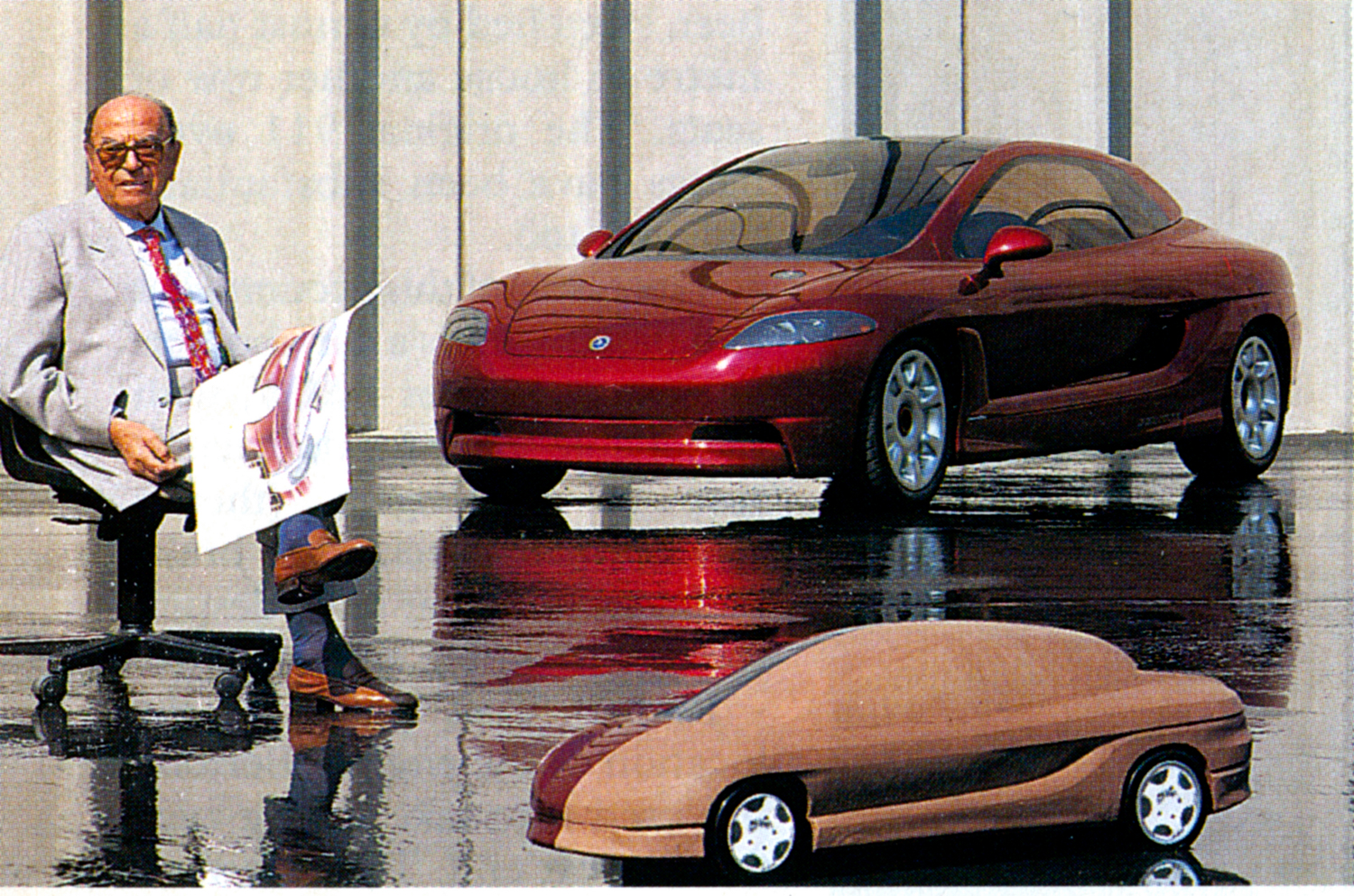 With work on the Karisma starting in April of 1993, the Type 964 version of the 911 was the basis for its creation. "Porsche has no direct role," added Bertone. "We asked if it had anything like our project on the go and it said no. To be completely independent we bought a second-hand 911. I think that if we asked Porsche we probably would have had one for free. But we were looking for total creative freedom to be in the position to create a brand-new shape, a truly Bertone concept car and not just another face for the 911."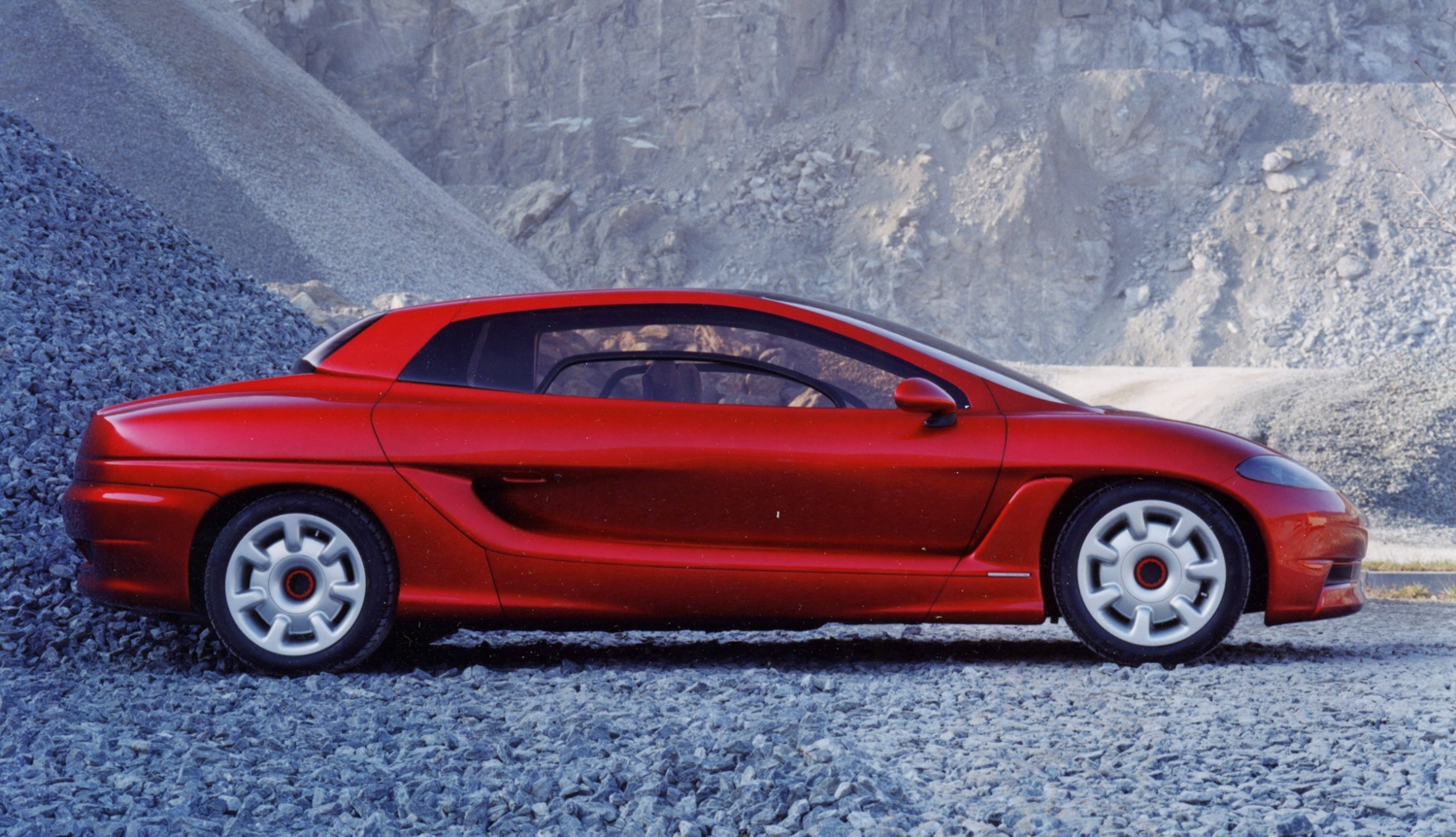 Bertone strode confidently into new territory. Porsche itself had struggled to create a full four-passenger rear-engined car at the end of the 1950s but finally balked at its implementation. Californian William Dick ordered up a four-door 911 that broke no new ground in the design sense. As Bertone said, combining a longer 911 platform with radical new styling was an opportunity waiting to be exploited.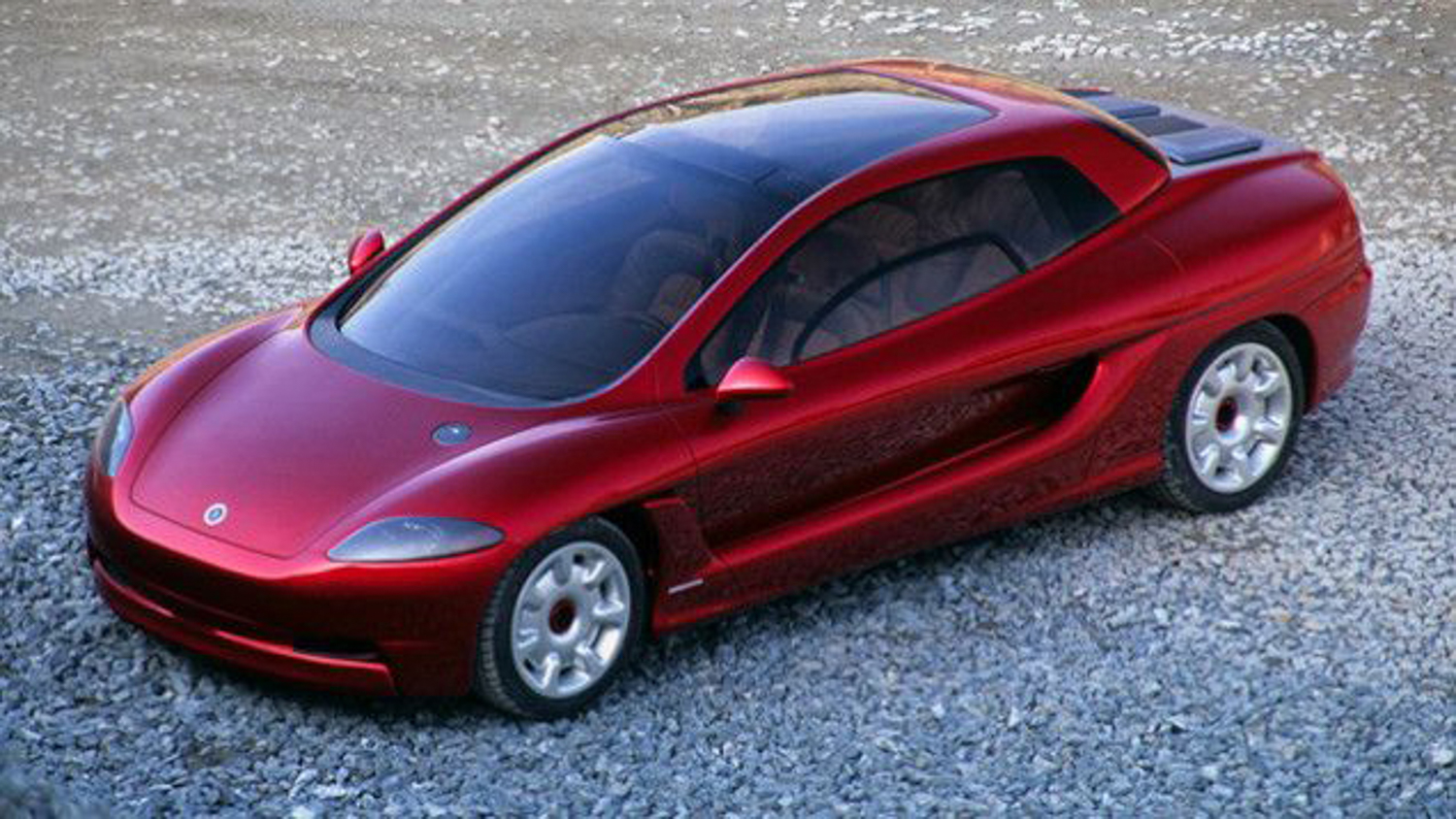 The Turin coachbuilder's record qualified him eminently for the job. "We have always given special attention to concept cars with midship or rear engines—and not just two-seat coupes," the 80-year-old Bertone pointed out. "We've done the celebrated Marzal and there's also another lesser-known concept car—the Trapeze of 1973, powered with the NSU Ro80 rotary engine. It was time to do something around Porsche's lovely engine again."
Nuccio's mention of the Lamborghini Marzal was a reminder of one of his most stunning creations, made when his chief designer was Marcello Gandini. Displayed to an astonished world at Geneva in 1967, it was rear-engined with a transverse, six-cylinder, twin-cam engine derived from Lamborghini's V-12.
A full four-seater, the Marzal impressed with huge gullwing doors for all four occupants that were glazed both above and below its very low belt line. Bertone achieved the publicity coup of having it driven around the course of the Monaco Grand Prix before the race by Prince Rainier and his glamorous wife Princess Grace.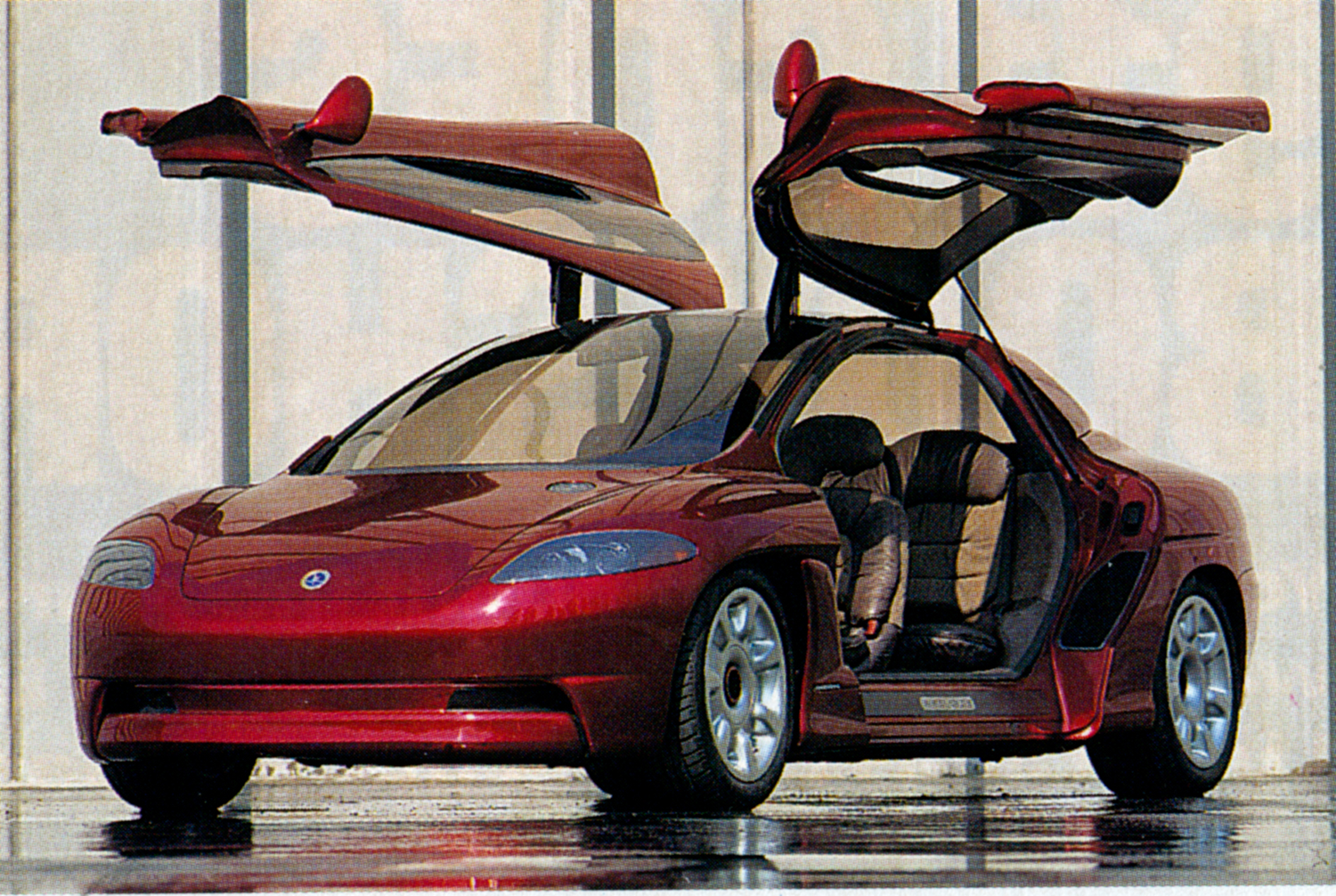 In its four-passenger layout and huge swing-up doors the Karisma of 27 years later openly echoed these attributes of the Marzal—named after the Spanish for the month of March. Where the Marzal was angular, however, the Karisma was sublimely and sensually curvaceous. "We made four different scale models," Nuccio Bertone said, "all the time evolving and reviewing the Karisma shape. There is nothing that offends me or that I would like to change. I think it is an interesting and very 'Bertonean' shape."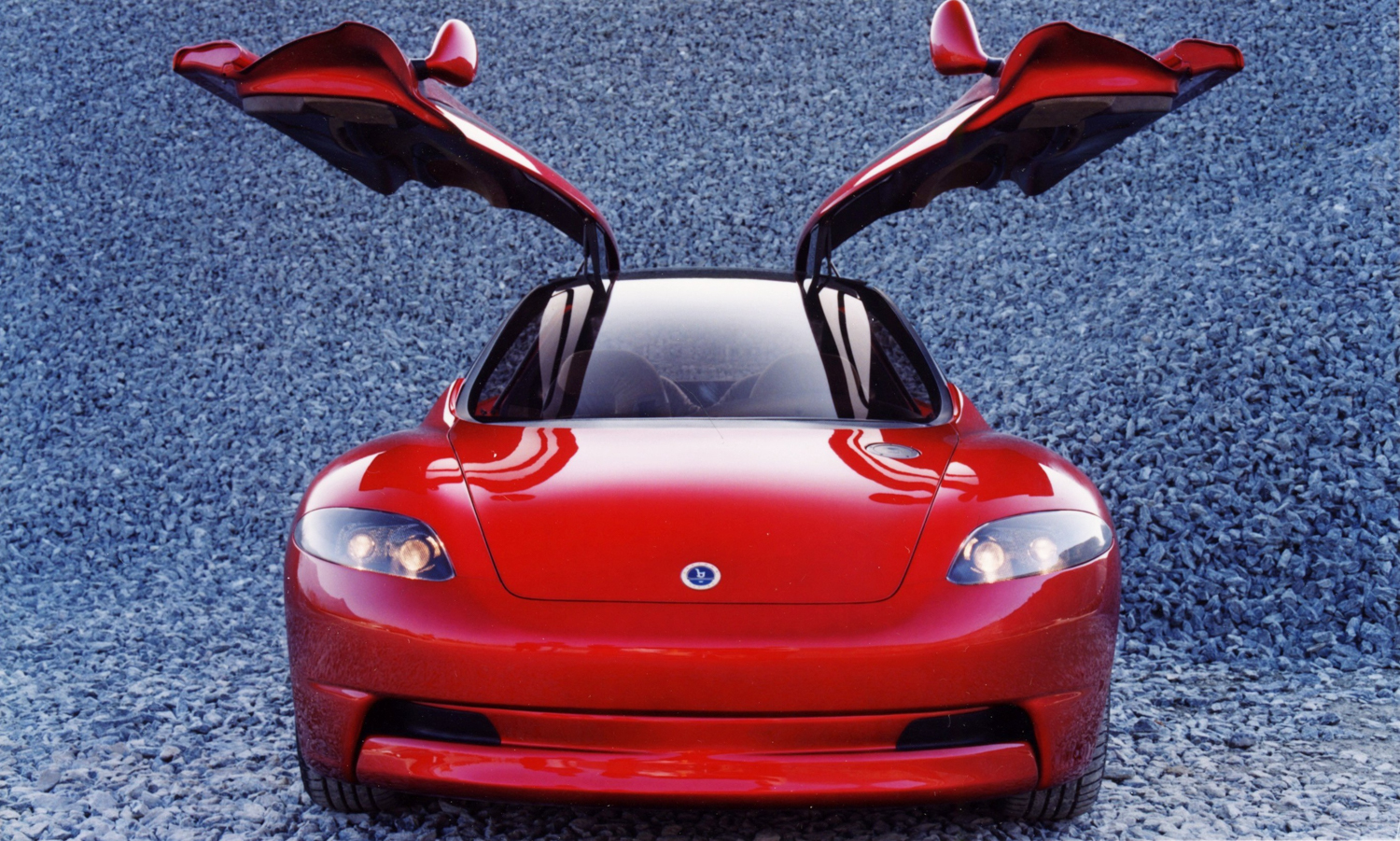 From every angle the Karisma displayed unusual and innovative surface solutions—indeed a Bertone attribute through the years. It spurned the usual huge wheels of concept cars to have tires of a practical size that encroached less on interior space. Stretched by 20.7 inches from the Type 964, its wheelbase was 110.2 inches. Overhangs were curtailed so that the increase in overall length was only 9.1 inches. Width was increased by 8.3 inches—a function of the doors and voluptuous flanks—and height by a scant 1.4 inches.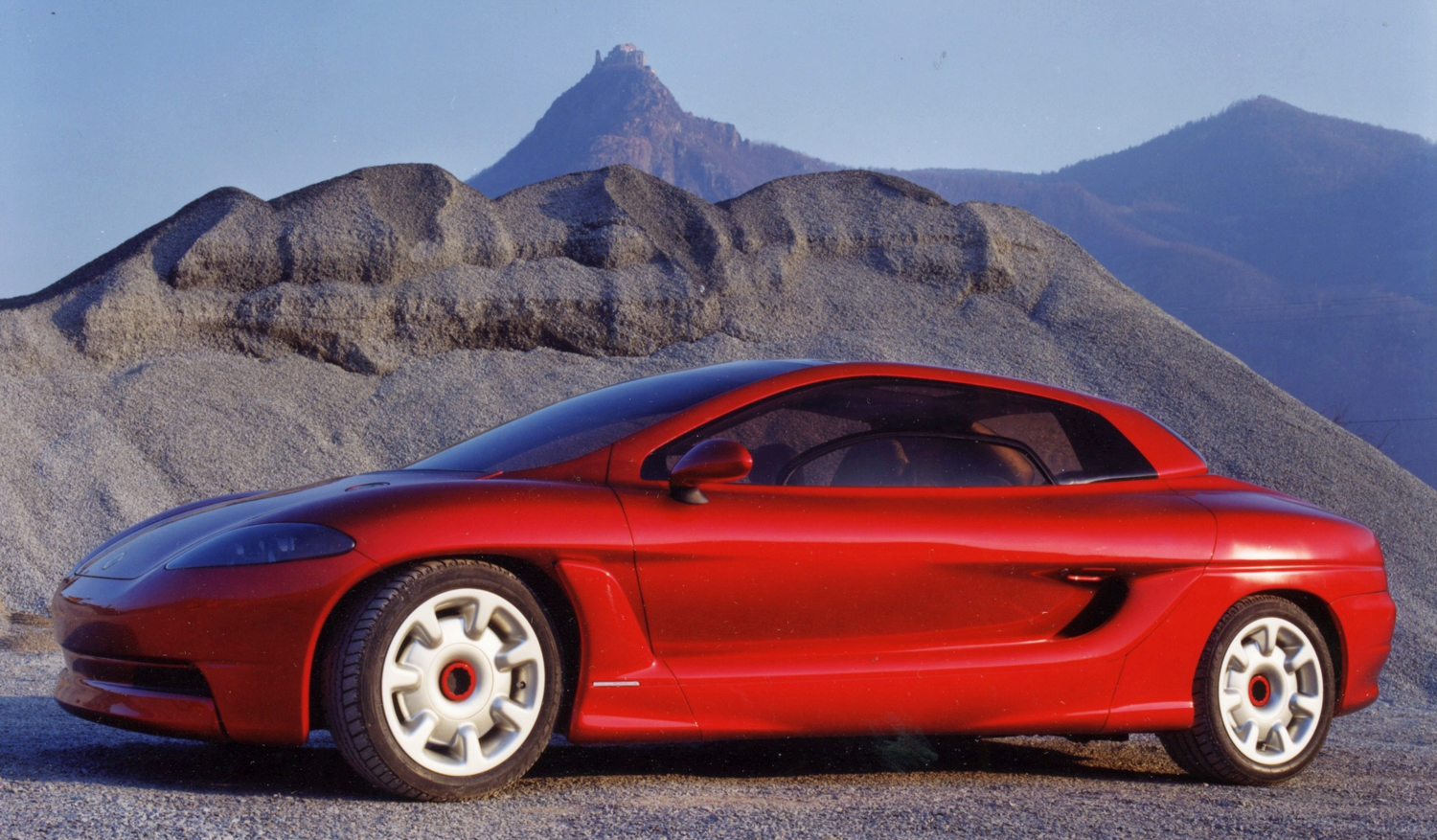 Especially striking was the Karisma's upper with its sweeping windscreen, overhead glazing and long side glass, eliminating the usual B-pillar. Inserts in the glazing were electrically lowered. Bertone was personally satisfied by its "…glass greenhouse with its thin, rakish C-pillar. On sedans of this size and prestige we are used to seeing huge, bulky C-pillars. I am very happy with our solution—it's sporty and classy at the same time.
"I also like the double-curved backlight," Bertone added, "a detail we finalized after working by trial and error on the styling models." The rear window curved forward at its base, a subtly striking feature behind which were the concept car's rear lamps. This ingenious design coup allowed the car's rear end to be smooth as a baby's behind.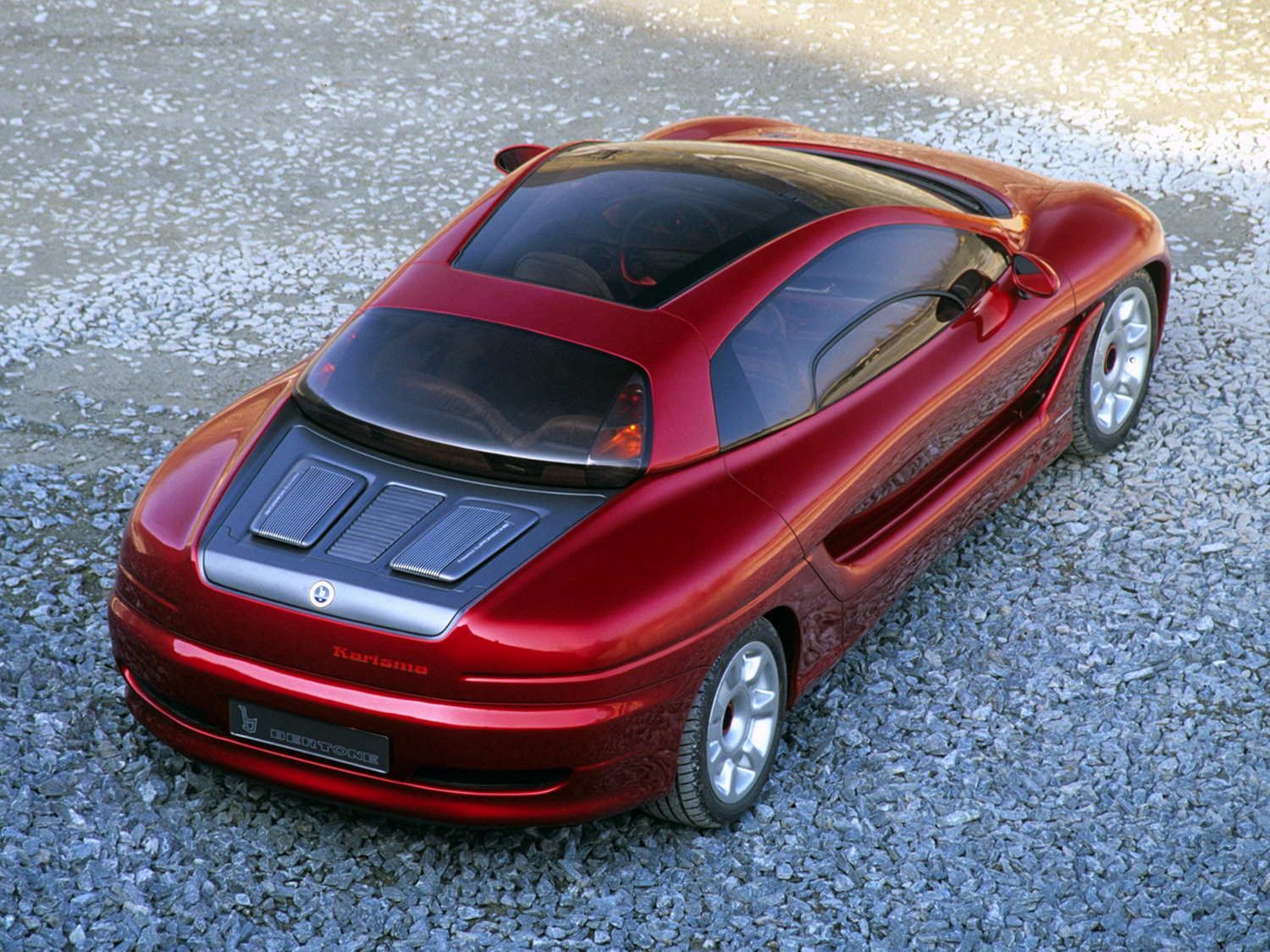 Instead of hiding the Karisma's rear-mounted engine Bertone flaunted it with a titanium-hued lid featuring air inlets and outlets marked by "powered by porsche" placards. Air entered through side inlets as well, forward of which were blades to guide the flow along the body's recesses. Brake-cooling ports featured at the periphery of the Karisma's nose, which otherwise was executed with masterful restraint.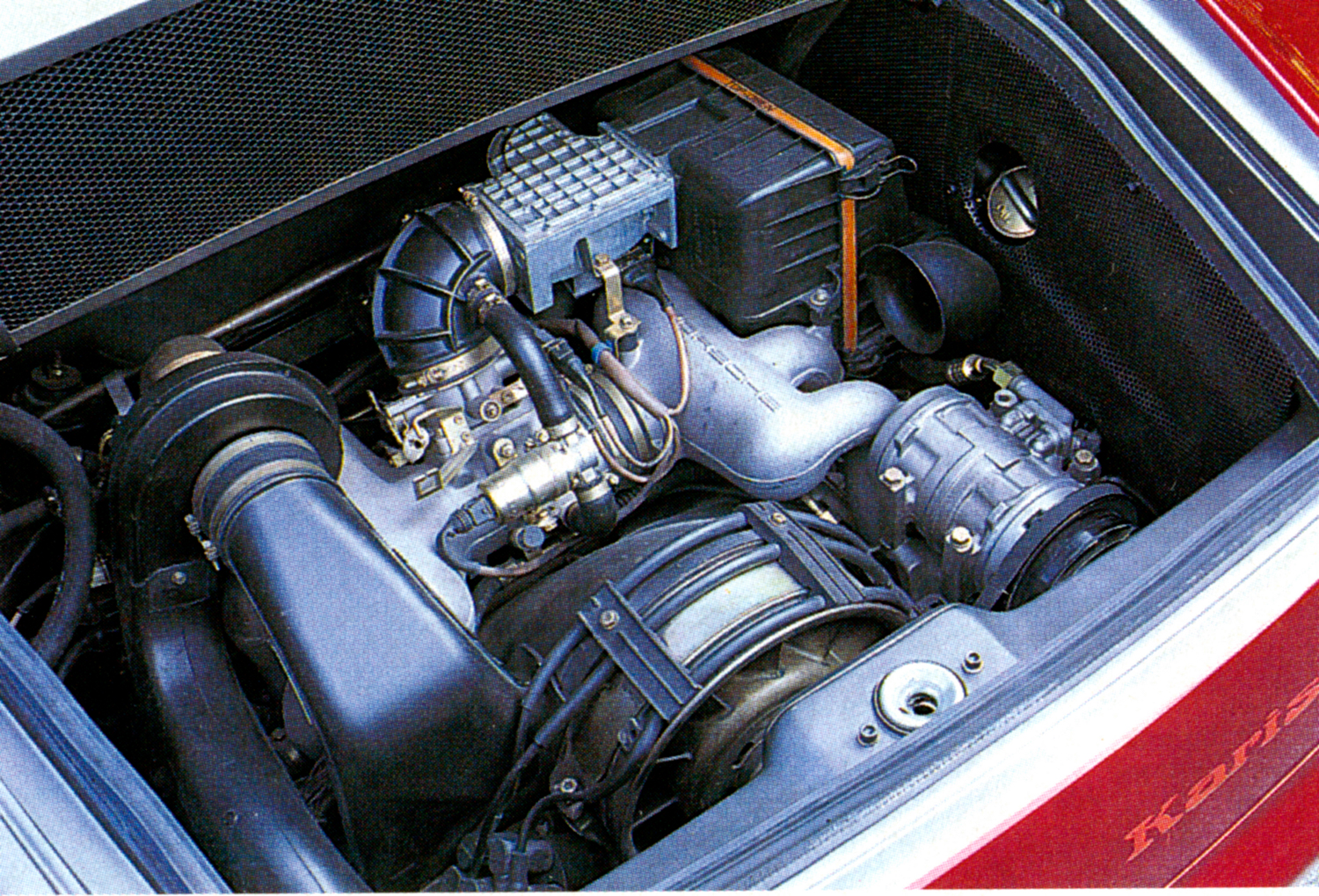 Wearing Bertone badging at its nose and tail and along its door sills, the Karisma declared its independence from Weissach's thinking. "We were not looking for a simple evolution of the 911," Bertone stressed. "Porsche has done that perfectly itself with the revamped 911. We wanted to investigate the proportions and the surface treatment of a compact GT sedan. In fact the Karisma is not a four-seat coupe but a sporty GT sedan with its clear and well-defined tail."
Underpinnings were carried over from Porsche's Carrera 2. As the Karisma was completed its suspension travel diminished because its weight was higher, 3,395 pounds against the donor 911's 2,975 pounds. Stiffer springs were ordered to restore full wheel travel and concomitant ride quality.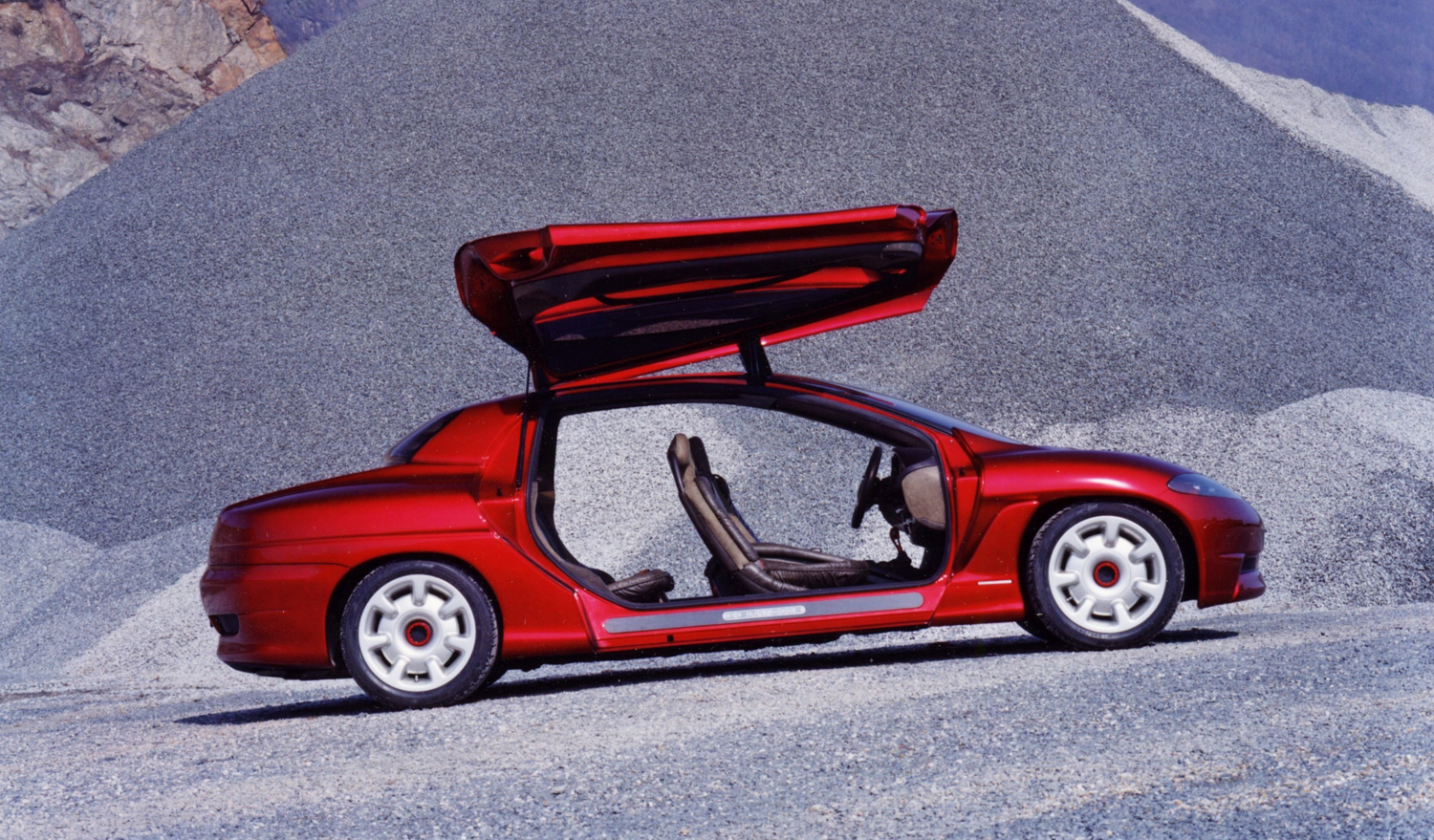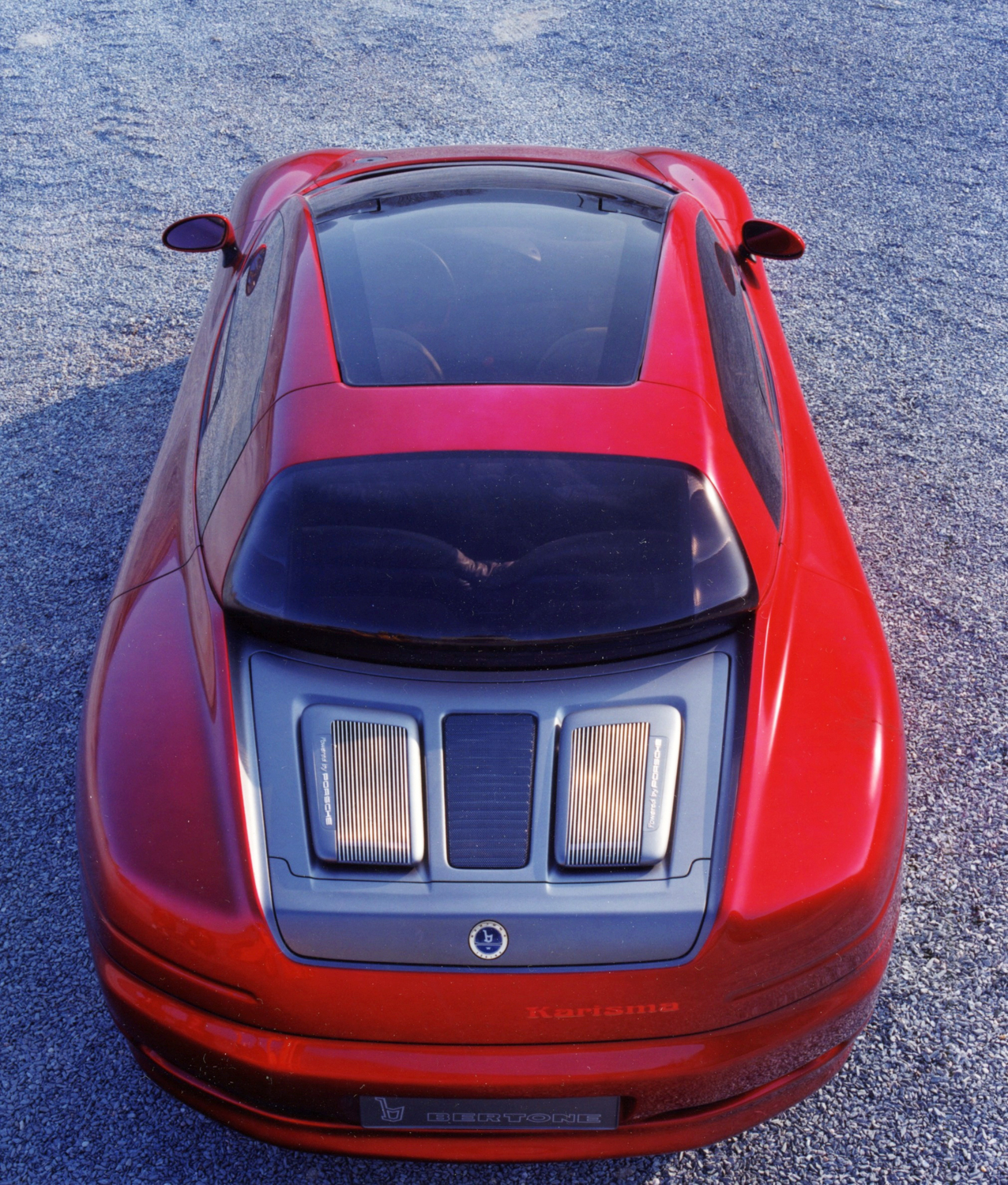 Had the Karisma been unveiled at the later Turin show as originally planned it would have been 550 pounds lighter, 220 pounds of which would have been contributed by the adoption of composite doors and aluminum paneling. The decision to bring its launch forward to the Geneva Salon meant that Bertone had to fabricate everything in-house, hence the use of heavier steel throughout. Ultimately, it represented a million-dollar expenditure and 34,000 man-hours of skilled craftsmanship.
This investment was especially evident in the Karisma's interior, where the use of burled wood surfaces was consistent with the objective of a GT sedan. Porsche's gauges rested in a wood-trimmed cove above a lower panel for minor controls and wood accents on the console. Wood also carried a console for the rear-passenger amenities. Upholstery was in the loose-leather look that was then fashionable, given a dark-brown rattlesnake-skin surface treatment.
Autocar journalist Luca Ciferri was given access to the Karisma soon after its appearance at Geneva. He found "reasonable space for the second row of passengers despite the rear-mounted engine. The seats are very thin, to offer improved space for four passengers, but they are comfortable and supportive. Only once you are sitting in the car do you realize that the bottom of the screen is so far forward that you have the same sense of space as in an MPV.
"It comes as no surprise that the Porsche engine fires at the first turn of the key with a familiar, reassuring roar," added Ciferri. "The engine revs quickly and the 6,100-rpm red line is reached much sooner than expected. You need to give the clutch a hefty prod with your left leg and the gearshift could do with more refinement. The travel is too long so fast shifts are out of order but the main inconvenience is that when you engage odd gears your hand crashes into the dash and in the even cogs you hit the central tunnel. A cure is appar­ently on the way.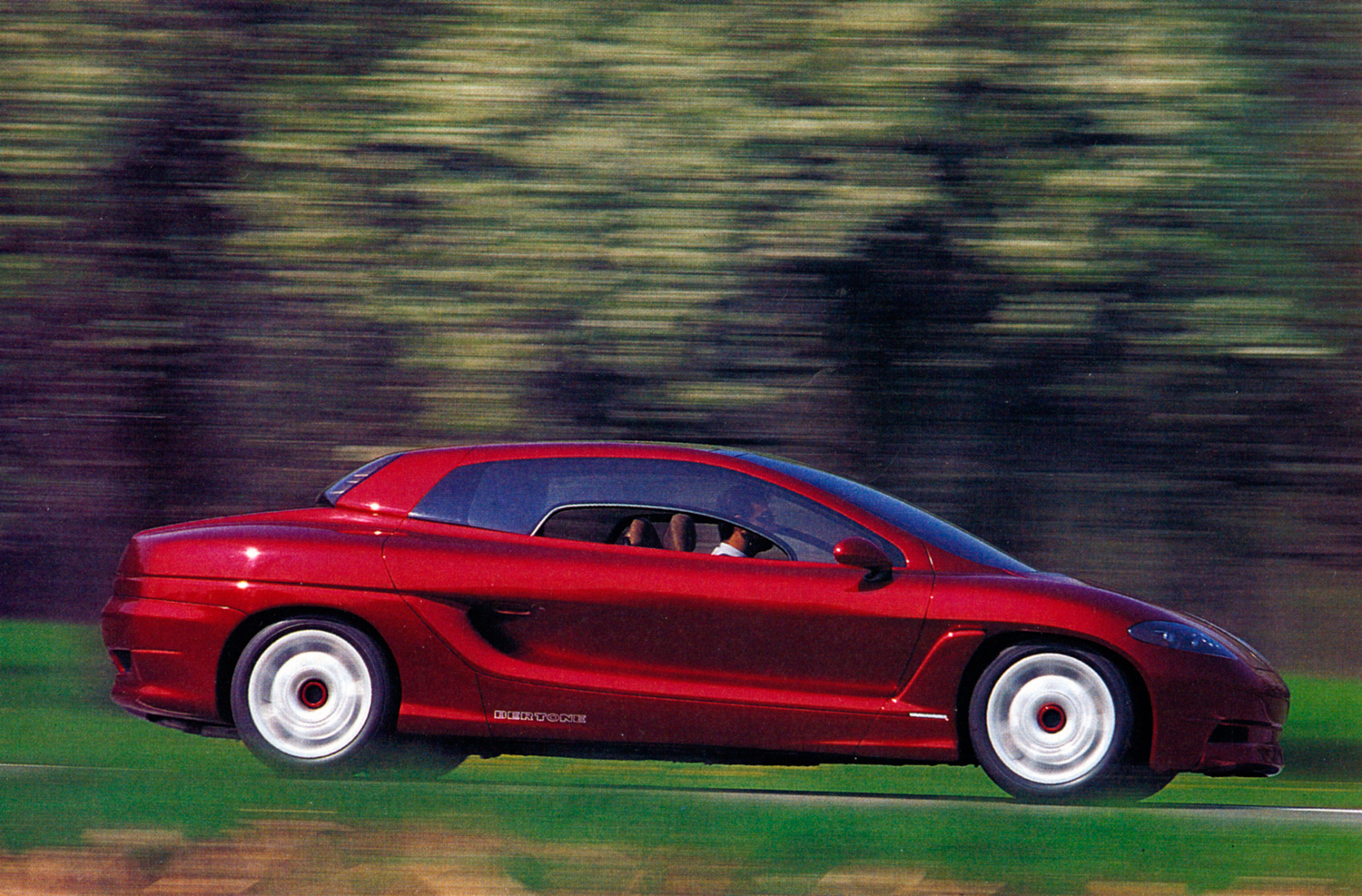 "The longer wheelbase means you always need more steering lock than in an ordinary 911 to turn corners," the lucky journalist found. "Once you've become accustomed to this it's not a problem during normal driving but it means parking can be a real effort. Power steering will be more than welcome.
"With the longer wheelbase," Ciferri reported, "the Karisma feels extremely stable and well behaved. Unwanted oversteer through corners is all but eliminated. At higher speeds the Karisma shows off its efficient aerodynamics with wind noise audible from pretty well its side mirrors only. Maybe it doesn't have the all-out driving appeal of the latest 911 but it still ranks pretty high." High enough, in fact, to evoke disbelief that this design is more than 25-years old.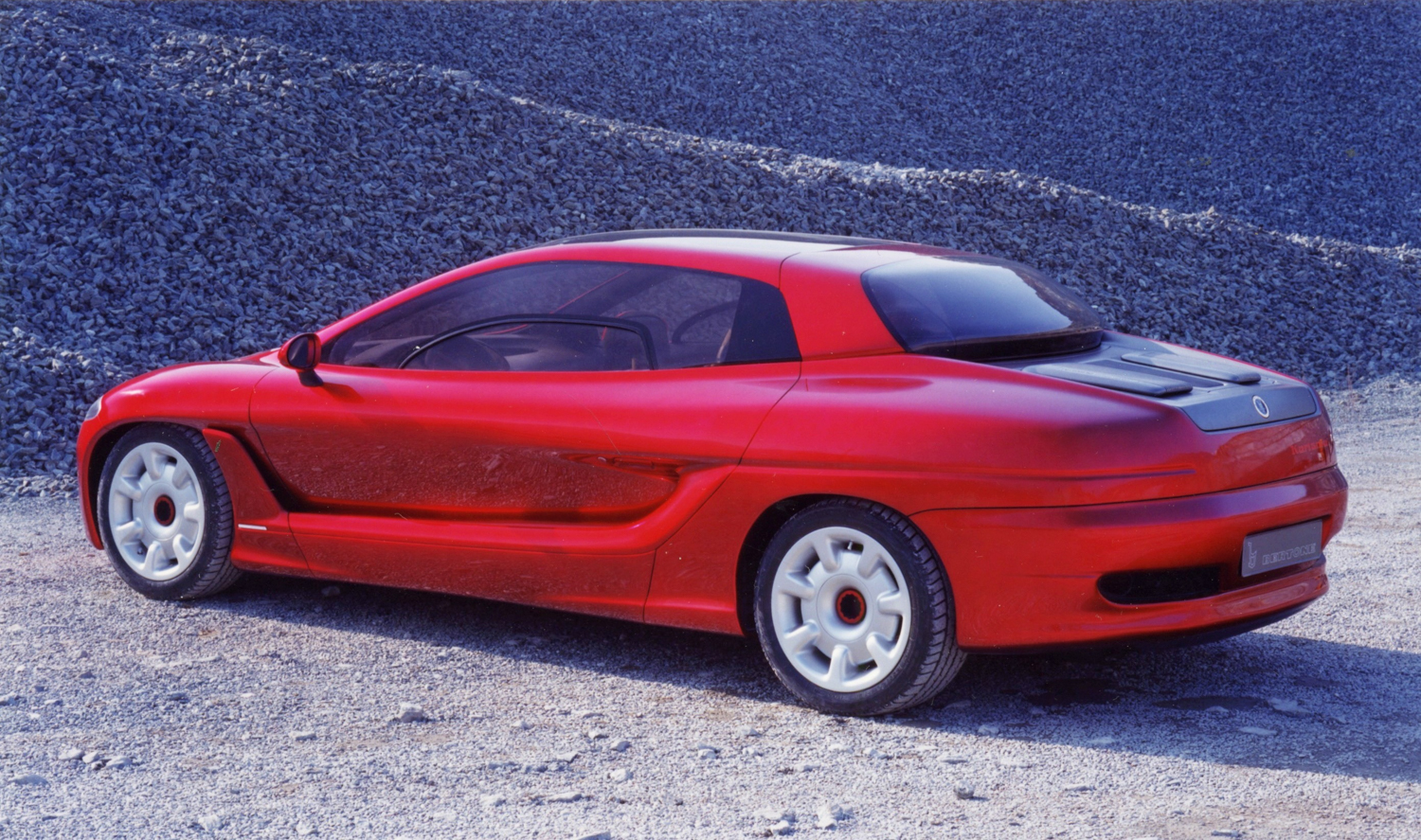 In fact, Luca Ciferri's perception of the Karisma's handling echoed that of the Porsche engineers who drove the longer-wheelbase experimental versions of the Type 356. They found distinct advantages in handling and stability. "This is definitely a car you enjoy driving," concluded the Autocar reporter. The Karisma was a lovely concept that enjoyed no issue, then or later. Like its predecessor the Marzal, the Karisma was and remains an attractive idea awaiting real-world exploitation.