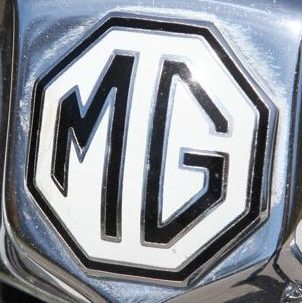 When I moved to Tennessee a few years ago, one of the first things I did was look for a British car club. I have a split personality when it comes to cars – I prefer Italian and British automobiles. The club I found, Southern British Car Club (SBCC) is a group of great LBC (Little British Car) enthusiasts, and they own a wide variety of British cars, most of them very nice. One of those very nice cars is the 1955 MG TF owned by club member Scott MacAllister.
Morris Garages – The Kimber Years
Any discussion of MG cars must start with Cecil Kimber. Without him, there would never have been an MG, and the marque would not have become one of the most recognizable sports cars in history. Kimber was born in 1889, in England, and developed a love for gadgets and mechanical things, including motorcycles. His father, a manufacturer of printing ink, was not pleased with his son's lack of interest in printing ink or with his interest in motorcycles. After a serious accident on his motorcycle, which left him with one leg shorter than the other, Kimber's father disowned him. His injury made him unfit for military service in WWI but may have saved his life, since so many men of his generation died in that war.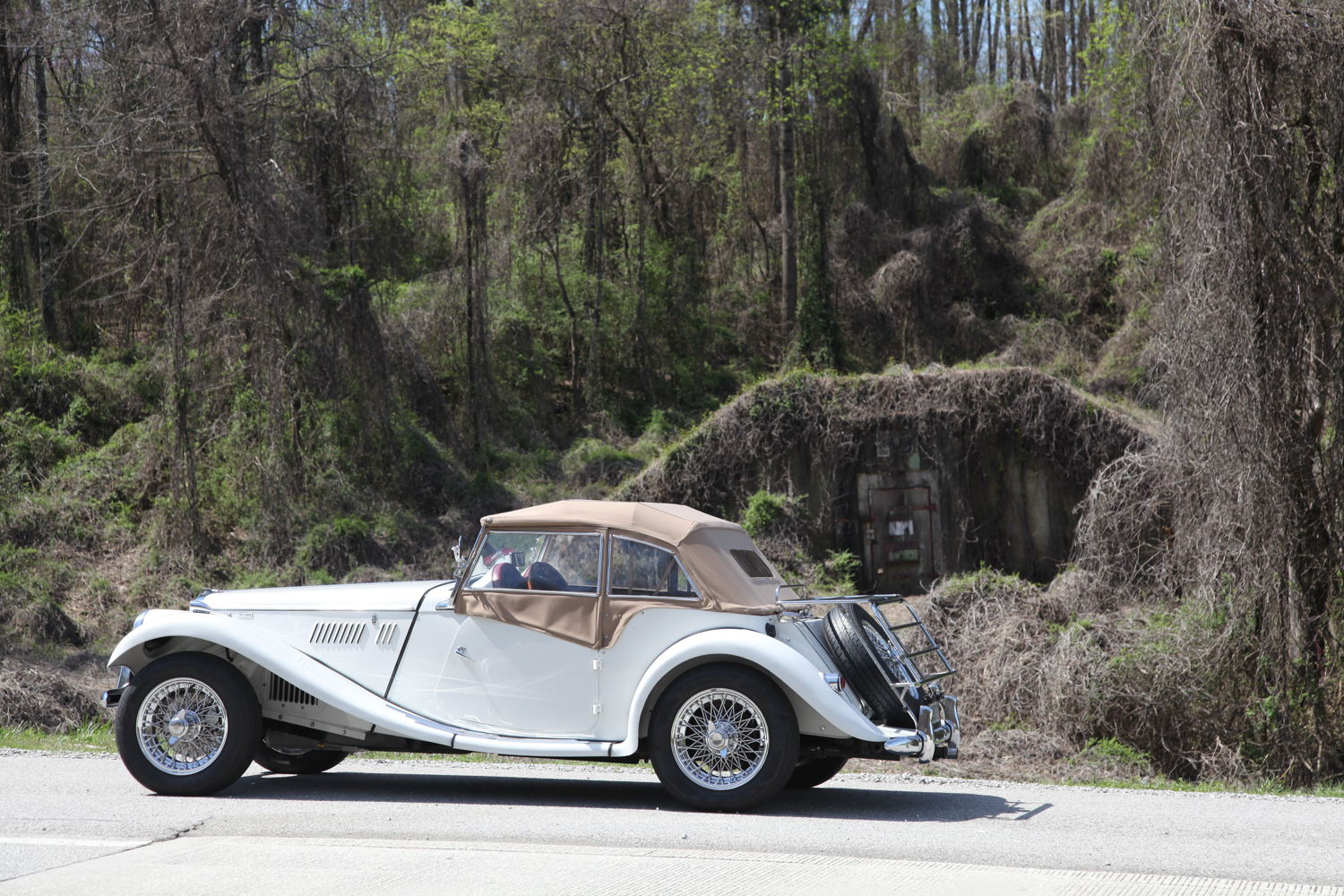 Kimber's interest in mechanical things led him to work in the automotive field at a company that manufactured axles and transmissions. One of the company's customers was William Richard Morris, aka Lord Nuffield. Morris was a very demanding customer and often visited the companies who supplied his business with parts. He met and was impressed with Kimber and offered him a job in 1921, as sales manager at his Morris Garages in Oxford. The business, created to build Morris cars, was initially called WRM Motors Ltd and then operated as the Oxford Garage, before it was expanded in 1910 and renamed Morris Garage. Somewhere along the way, the name became plural – Morris Garages.
Theirs was an unusual relationship. F. Wilson McComb (Automobile Quarterly, Volume IV, No. 2) described Kimber as an artist – "dreamer, idealist, impulsive," while he categorized Morris as an artisan – "realist, hard-headed businessman." Kimber was treated differently by Morris than the other employees of WRM Motors. Kimber was good as sales manager and was advanced to be the General Manager when his predecessor committed suicide. But he wanted to do more than sell Morris cars, he wanted to create. In 1922, re-bodied Morris cars were coming out of the Morris Garages, and by 1924, ads were appearing with that still familiar Art Deco badge of an octagon around "MG." Kimber drove the car he called "Old #1" in the Land's End Trial in 1925.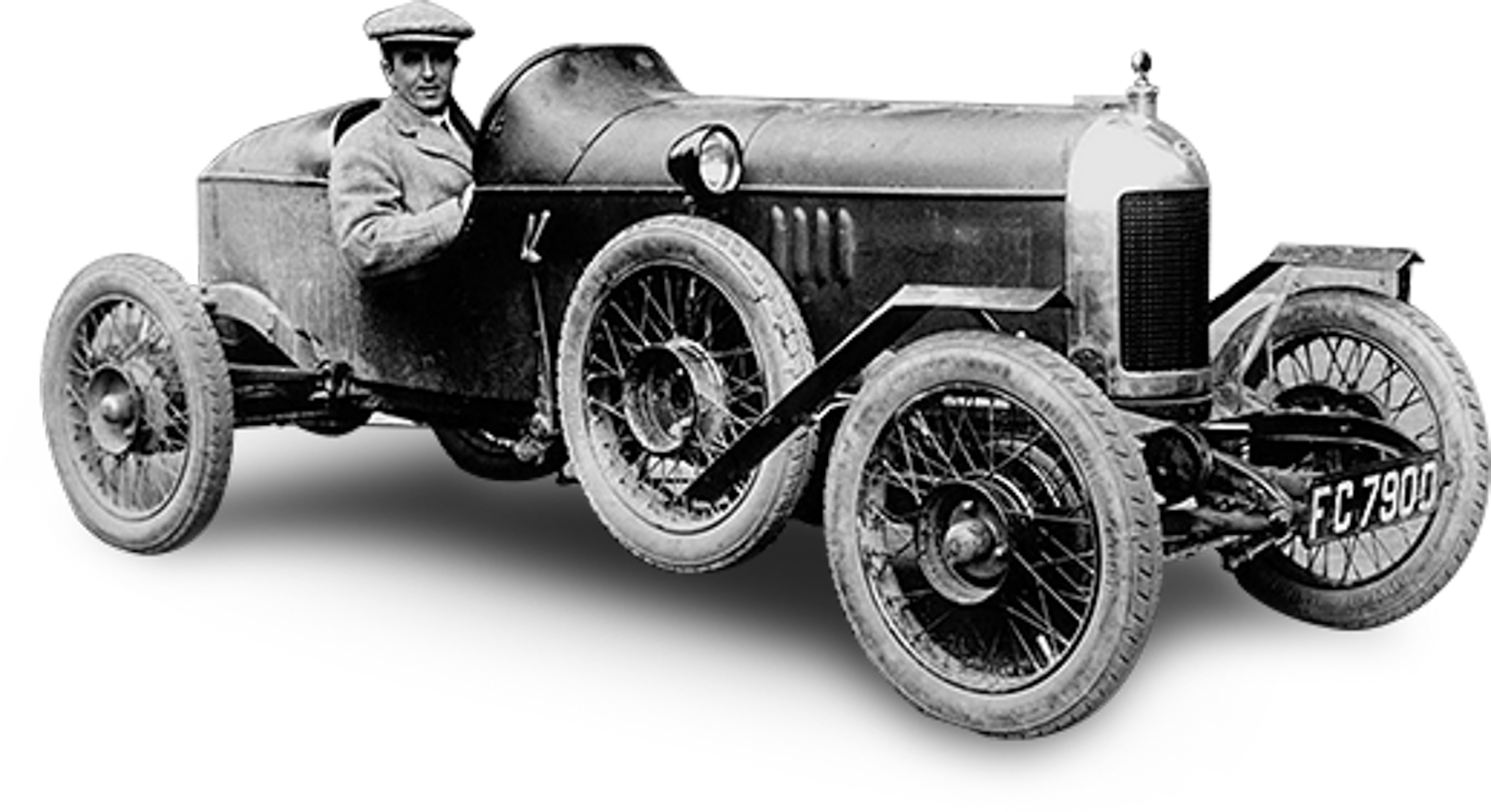 It was the first car he built that was not a modified Morris, although he still used many Morris bits. The car was more expensive than Morris cars, but it was attractive and very sporting, so sales were strong. The workers at Morris Garages repaired Morris cars during the day and built MGs at night in a shop that was now very cramped.
Morris agreed for Kimber to take over a part of another factory in 1926, and MGs were then built in the new plant, in Crowley, in 1927. The company, now officially called "The MG Car Company (Proprietors: The Morris Garages)," had its first race win with an MG 14/28 in late October 1927, in Argentina, even though the cars were more tourers than racers. That changed when Morris produced a new overhead-cam six-cylinder. It was exactly what Kimber wanted. He built a new chassis for his 1928 MGs, cars that included what has become the classic MG grille. The MG Midget also appeared in 1928. It was a two-seater with a fabric-covered, plywood, boat-tailed body powered by an 847-cc engine. Sure of success, Kimber ordered 498 bodies for his Midgets in 1929, and he was correct. The new cars were popular for both road and track, and MG was soon out of space again. In September 1929, Kimber moved the company to a disused factory in Abingdon, a town now familiar to every MG enthusiast.
More changes came in 1930. The company name was changed to MG Car Company Ltd with Sir William Morris as governing director and Kimber as the managing director. Kimber continued to innovate, producing the 18/80 MKII, which became the basis for possibly his most advanced race car, the 18/100 MKIII/Tigress. The Tigress was a pure racecar and used a dry sump, dual ignition and twin-plug head. Sadly, the worldwide depression was being felt, and the economic slump in the UK caused production of the Tigress to stop at five cars. 18/80 production was also affected and stopped in 1932.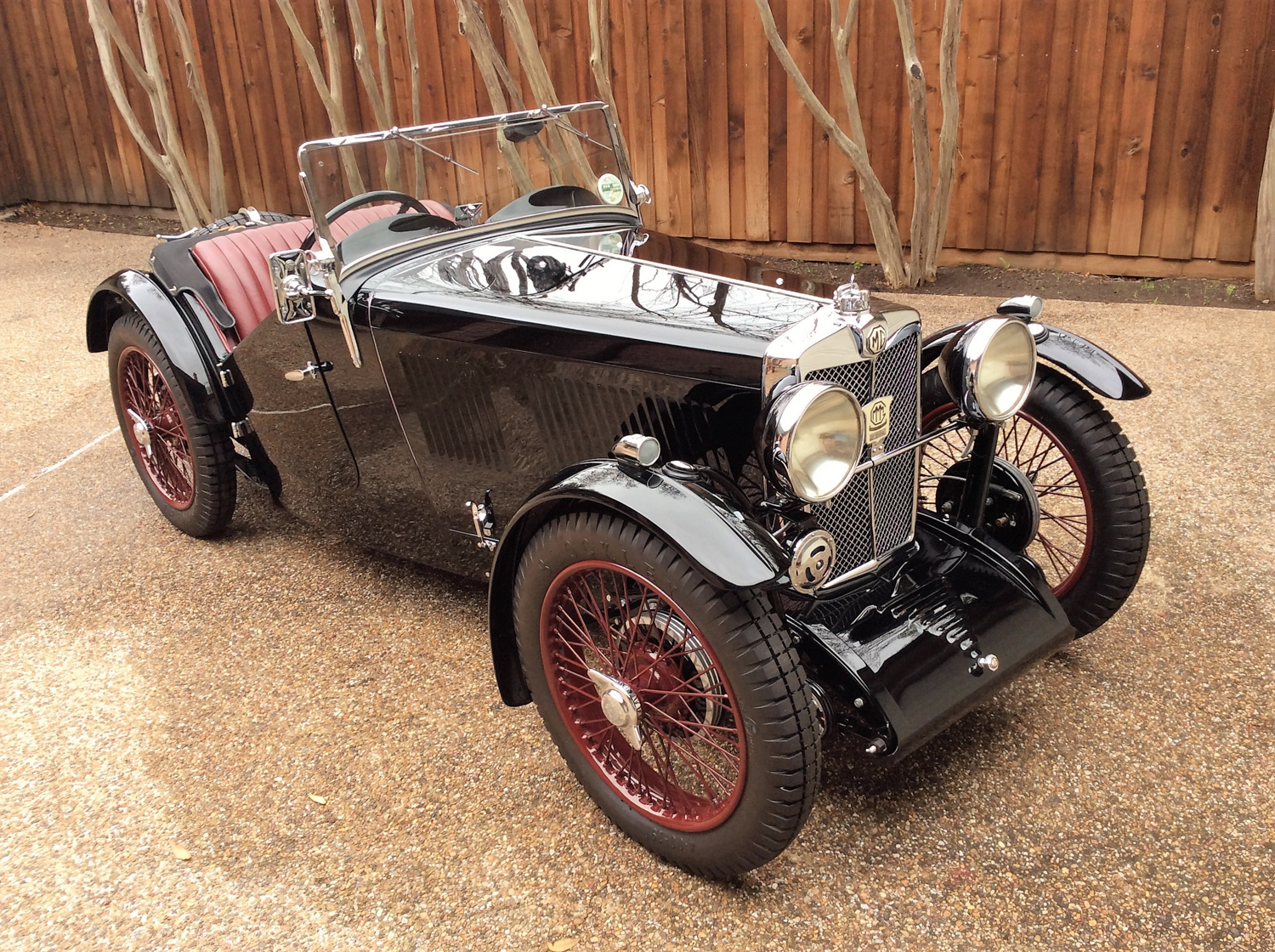 A positive effect of the economic slowdown was that Kimber concentrated on the Midget and the new M-Type cars. Successes in competition made the cars very visible to the public, and racing developments, like a cross-flow head, were quickly transferred to the road cars, making the Midgets, Magnas, and Magnettes very desirable. One of the classics of this period was the J2. It had a folding windscreen, cut down doors, and the flat fuel tank with mounted spare tire. The latter became a design element seen on nearly all MG sports cars right up through the TF.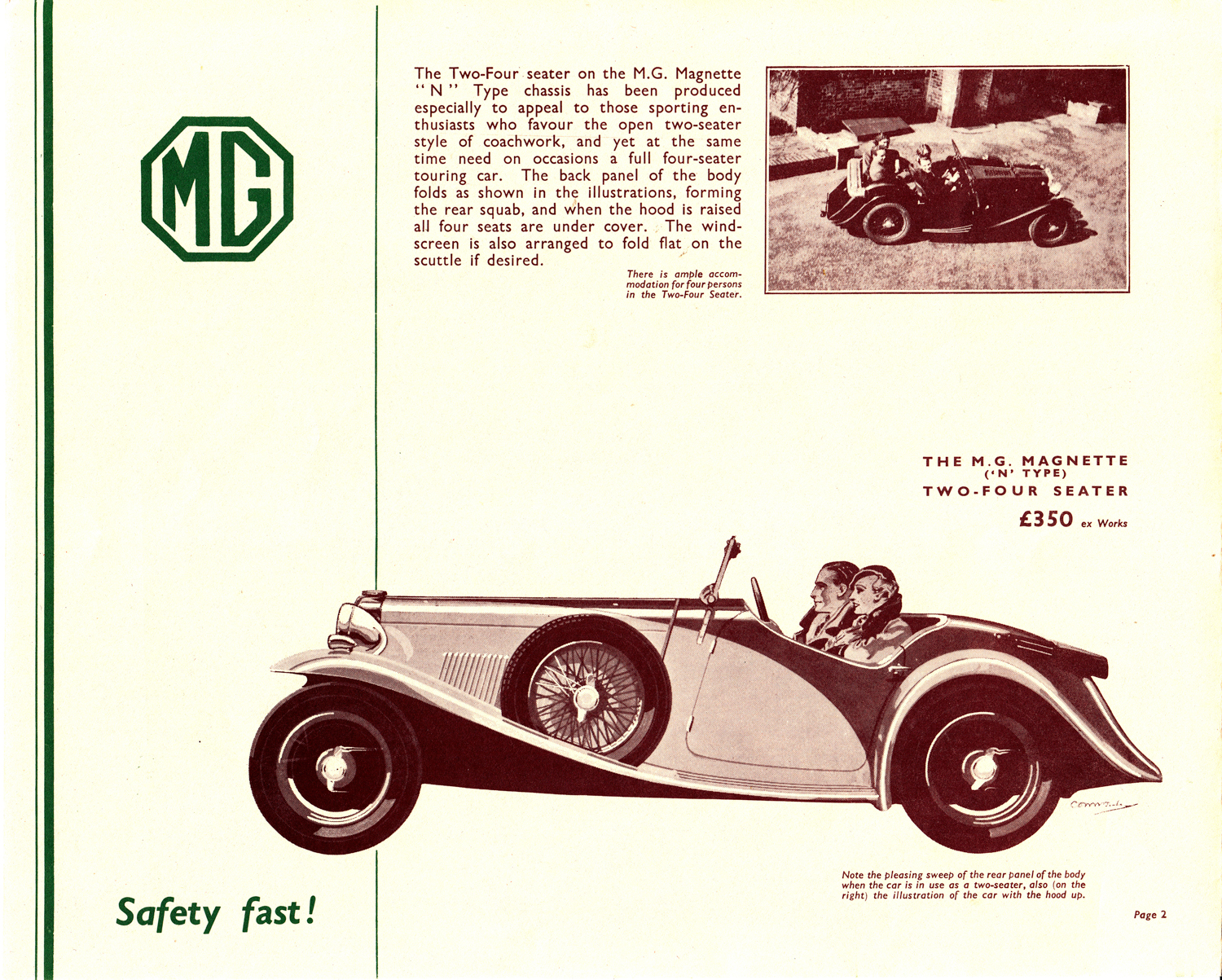 Successes in racing and sales resulted in a plethora of new models almost requiring a spreadsheet to keep track of them all. There were multiple versions of the Js and Ks, a six-cylinder Magnette, an L Magna, the P-Type came before the N Magnette, and there was a new Q-Series 750-cc race Midget. The experimental department, referred to as the "Insomnia Squad," produced an excellent sports racer in the K3 supercharged Magnette. Three were entered in the 1933 Mille Miglia and took first and second in the 1100-cc class. A new rigid, Y-shaped chassis was created for the R-Type single-seater, which won in its first race at Brooklands in April 1935.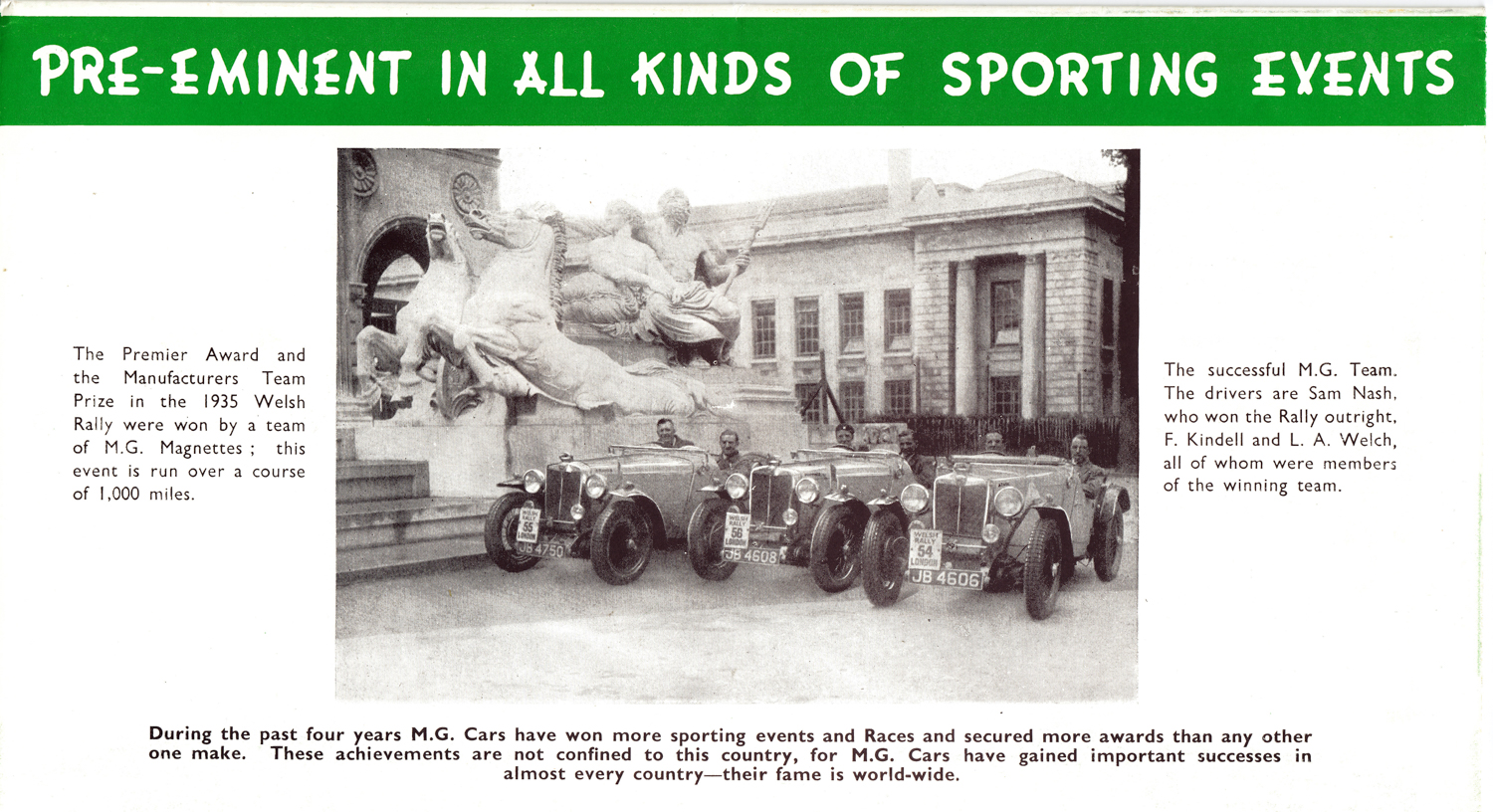 Then it all came to a screeching halt. Lord Nuffield, aka Morris, sold MG and Wolseley in 1935 to Morris Motors, Ltd, a public company, which stopped all racing involvement. The image change from racecars to only road cars included some advances for the new models, such as hydraulic brakes, as well as retrogrades, such as pushrod, overhead valve engines. These were the first pushrod engines since "Old #1." With the TA-Series, pushrods and non-crossflow heads were now standard.
These changes did not sit well with Kimber, and friction developed between himself and Sir Miles Thomas, the company's chairman. Eventually, it led to Kimber's resignation. Sadly, Kimber was killed in a railroad accident in 1945. Had he lived, he certainly would have added his creativity to the post-war British automobile industry.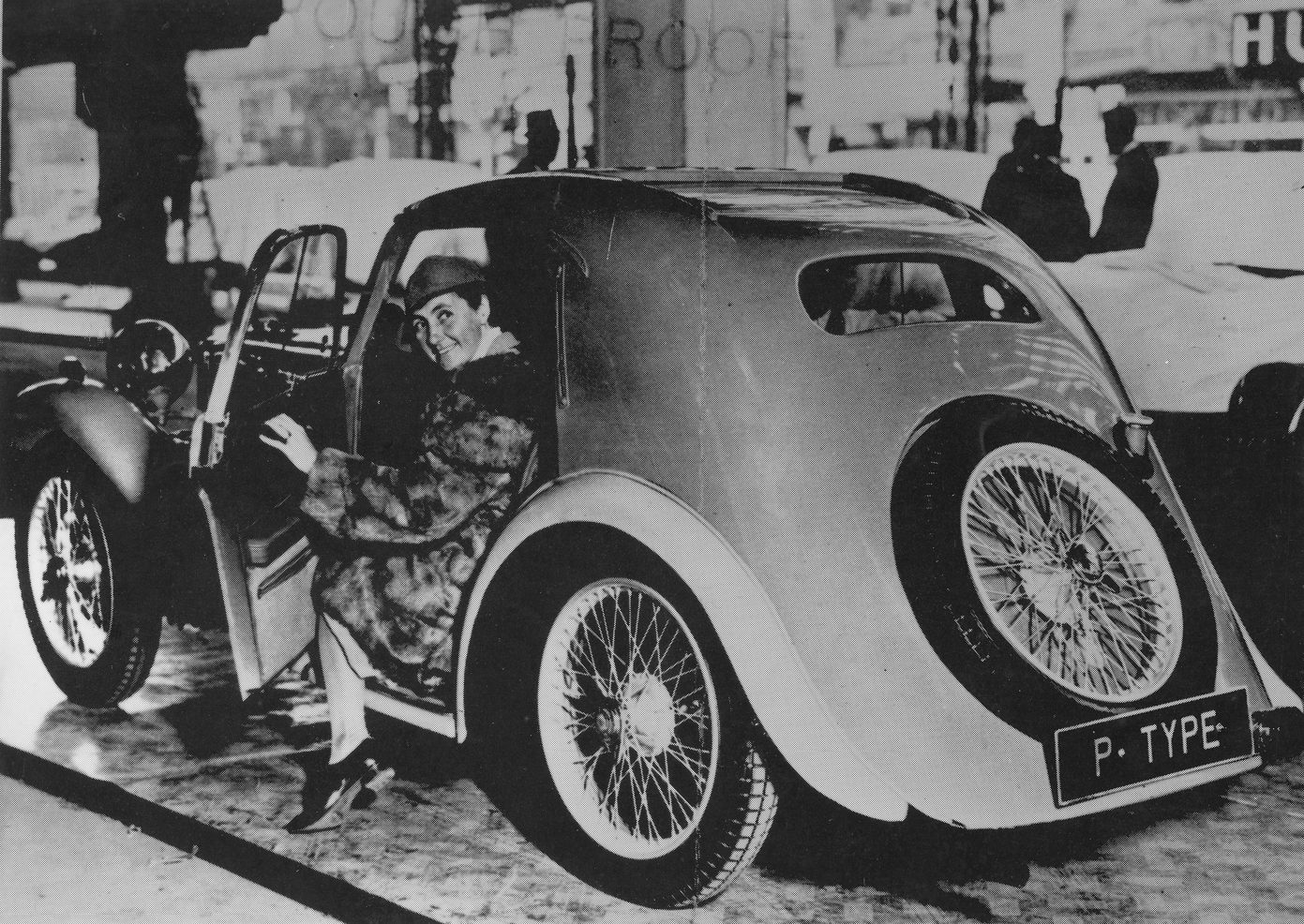 Post Kimber
The MG Car Company joined the war effort in 1939, producing tanks, armored cars and airplane engines. The company was quickly able to return to civilian production after the war with its new TC Midget, which was announced in October 1945.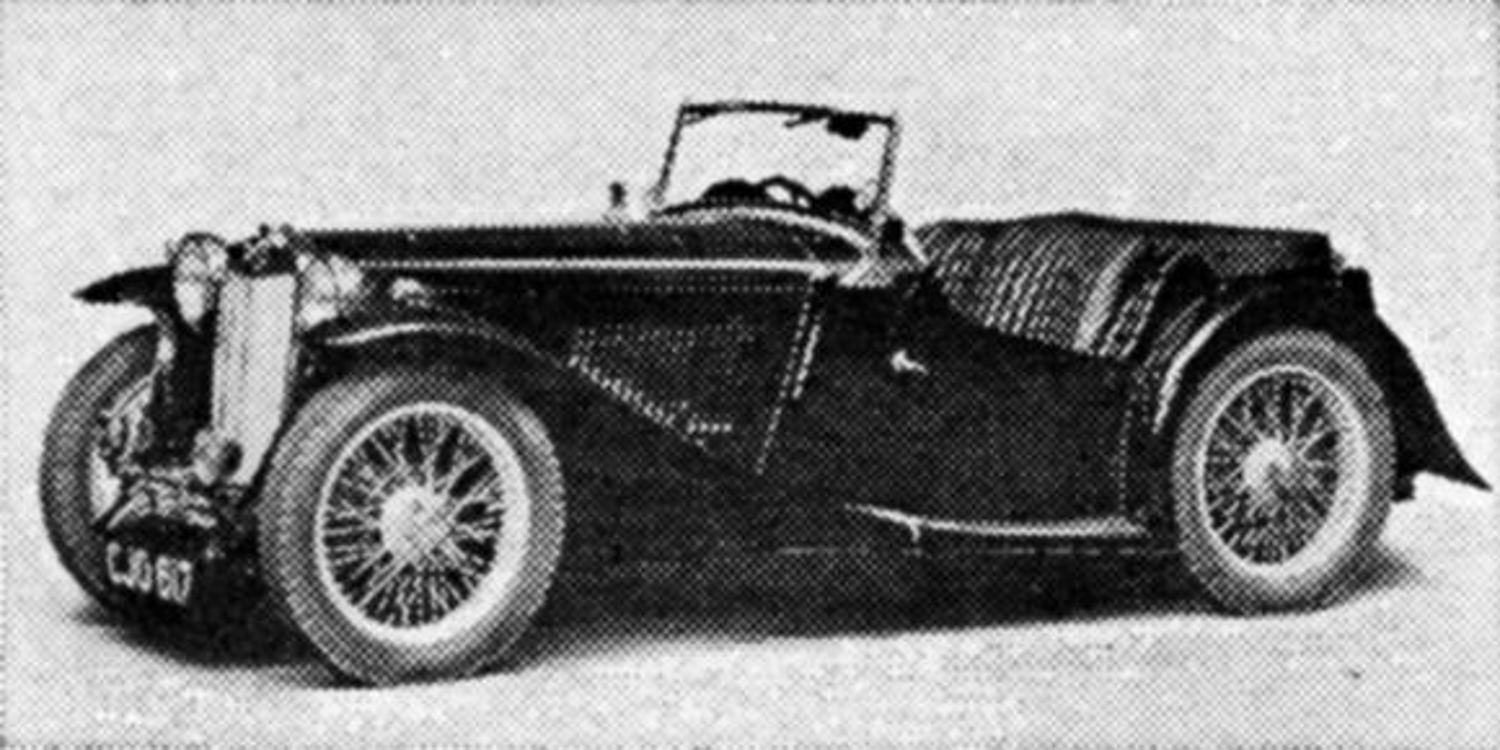 While styled much like its TA and TB predecessors, the TC had a four-inch wider cockpit and a more conventional suspension that produced a smoother ride. The TC was fun to drive, and interest in the car swelled. Sales were strong in the Commonwealth countries, but the best thing for the company was the surprise interest in sales in the U.S. Returning U.S. service members were bringing the TC home, and soon there was enough demand that MG built a North American version of the TC. It still had right-hand drive, but chrome bumpers were added. There were 1600 TCs produced in 1946, and yearly production nearly doubled by 1948. In all, 10,000 TCs were produced from 1945 to 1949. Among American TC owners were a number of motorsports notables, including Phil Hill, Briggs Cunningham and John Fitch, and the car was widely raced in the U.S. Interest in racing TCs resulted in the Boston MG Owners Club eventually morphing into the Sports Car Club of America.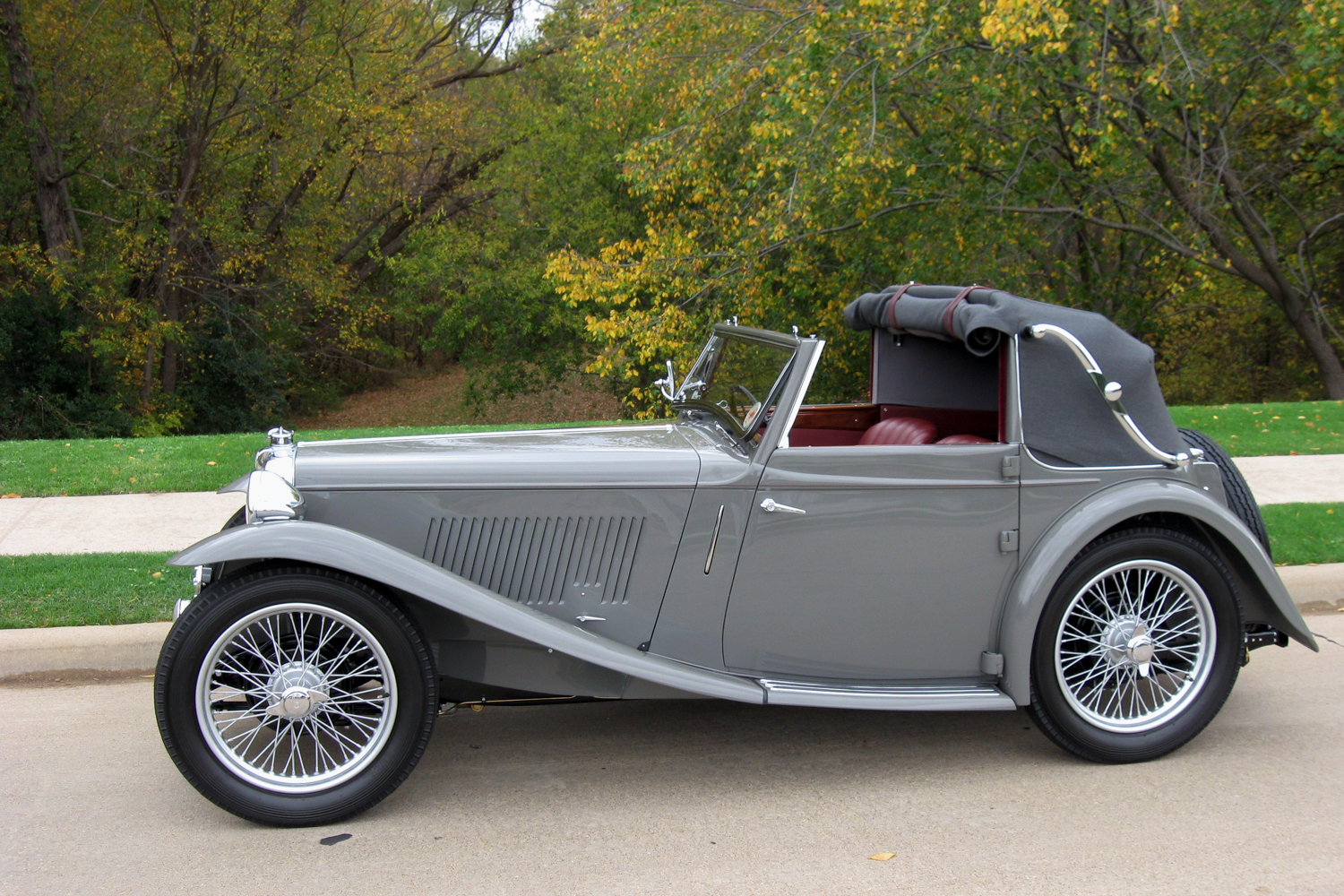 There were other MG vehicles produced at the same time as the TC. The Y-Type Saloon had been designed before the war and was going to be released in 1941, but was delayed by the war. It was followed by the YB Saloon and the YT Tourer, but none of these sold very well when compared to the TC.
In 1950, the new Midget was released. The TD had an all-new chassis, rack and pinion steering, coil and wishbone independent front suspension, a hypoid rear end, and noticeable styling changes that were more than subtle. The TD was an evolution rather than a revolution, even though every panel was different. The only unpopular change was replacing the wire wheels with steel disc wheels. The TD was to become the most popular MG up to that time, but it was developed in an amazingly short time. Syd Enever, Alec Hounslow and Cecil Cousins had a small design team but no money for the project. To save money, there were no preliminary drawings done. The team went straight to a prototype. They took a YA Saloon chassis, cut five inches from the center, and welded the halves together. A TC body was chopped and dropped onto the chassis. This was done in two weeks. The prototype was deemed acceptable to the Nuffield Organization and only then were production drawings made.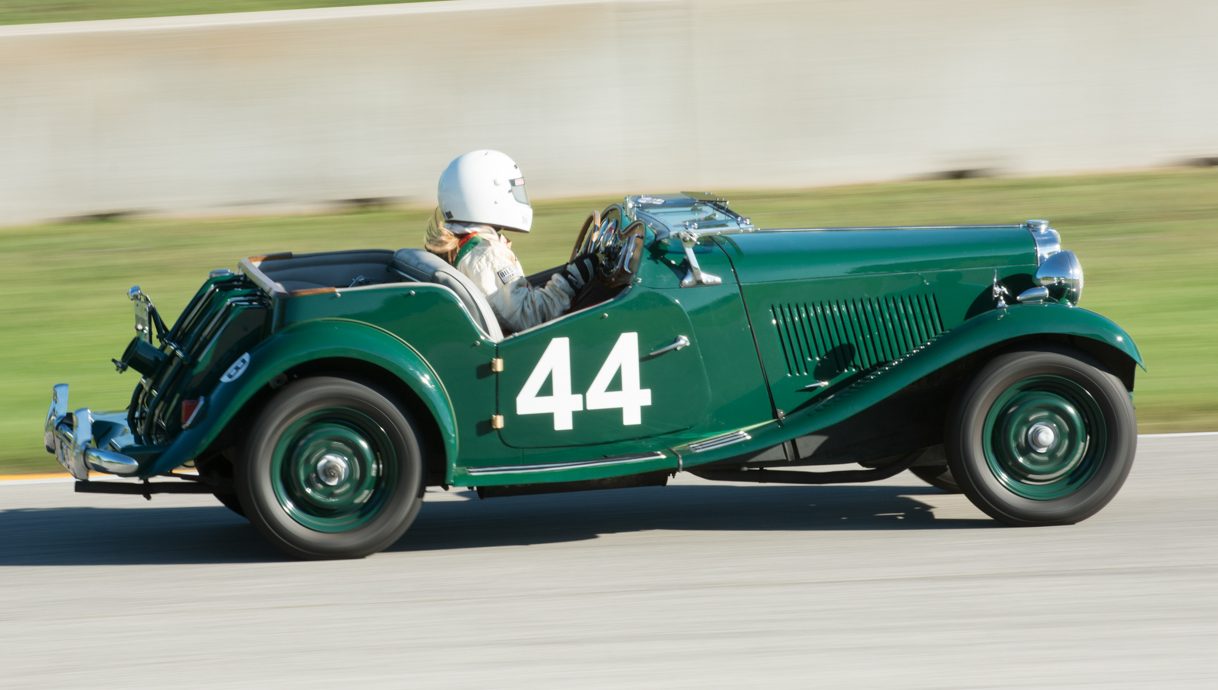 With its improvements, the TD was a much easier car to drive, and there was a left-hand drive option for the Americas and Europe. The engine was mostly from the TC, but the Y-Type Saloon provided the clutch housing, dynamo, sump, rocker cover, starter and engine mounts. As different from the TC as it was, the TD was still a very traditional T-Series MG. It had separate front fenders, separate headlights, running boards, vertical slatted radiator, centrally hinged hood, and slab fuel tank with the spare attached. It still had cut-away doors, folding windshield, and side curtains. It still had an ash wood frame. And it still had no heater, radio or adjustable seats.
One thing the TD did have was standard chrome bumpers, with overriders, front and rear. Richard Monk explains why these were added in his book, "The MG Collection – The Post-War Models:" "These weighty additions were not welcomed by enthusiasts but were essentially fitted to protect the car against the poor parking techniques employed by the drivers of lumbering North American vehicles!" The exclamation point was Monk's.
The decision to use smaller disc wheels was made to avoid having to develop and produce new wires that would work with the rack and pinion steering. It was not a popular decision, but discs were certainly easier to clean and much less prone to damage. Another unpopular aspect of the TD was that it was slower than the TC because it weighed in at 200 pounds more than the earlier model. The saving grace was that the 57 bhp engine was easily tuned to produce as much as 90 bhp.
A total of 29,664 TDs left the factory in the four years that it was produced. In 1952, 10,328 were sold, which is more than the total number of TCs produced. The devaluation of the British pound in September 1949 certainly helped with the export sales. 23,500 left-hand drive TDs were exported to the U.S. alone.
Toward the end of TD production, a MK II was introduced. It had 5.5% more power, the result of an increase in the compression ratio from 7.25:1 to 8.1:1, larger valves, larger twin SU H4 carburetors, and a modified intake manifold. It also had twin fuel pumps to provide better fuel supply at high speeds. Externally, there were few noticeable differences. Most prominent was a slight hood bulge.
MG TF
The MG Car Company had planned on another new version of the T series (possibly a TE?), but they were overruled by their new bosses. In 1952, MG became part of the British Motor Corporation, which wanted to focus on the Austin-Healey 100. A decision was made to facelift the TD while an MG of a very different sort was developed. The result was the MG TF, which was launched at the Earls Court Motor Show, in London, in October 1953. It was on the stand with the new ZA Magnette Saloon. It was not well received. One unnamed journalist called it "a TD with the front pushed in." While it was seen as old fashioned in 1953, it has become one of the most sought after MGs today and is considered the ultimate MG T-Series car. Sales though told another story about its desirability; 9600 TFs were sold in the 19 months of its production – not bad for a stop-gap model.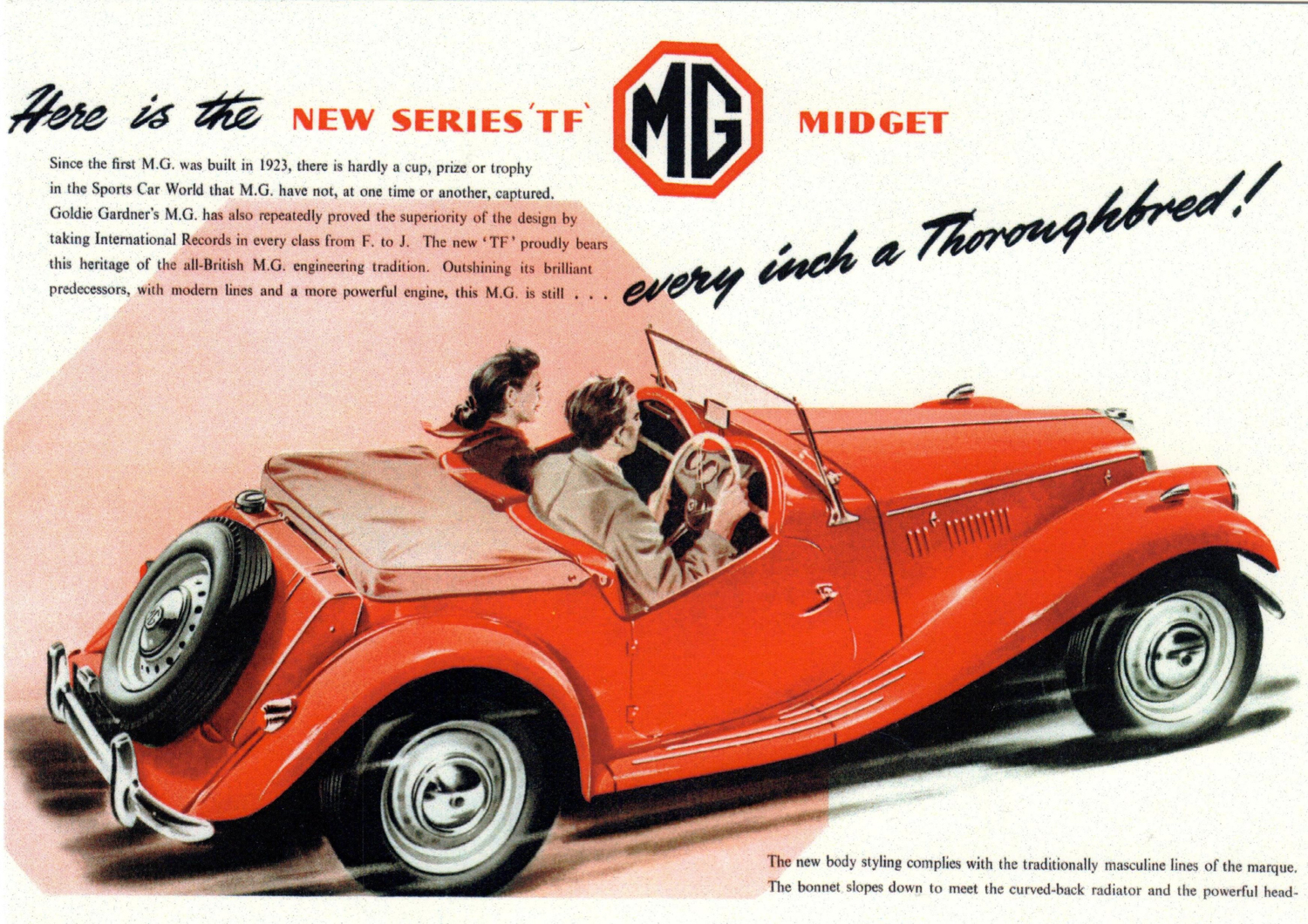 The TF initially had the same chassis and engine as the TD MK II, so it was the TF Midget 1250. The changes from the TD included a sloping radiator grille with a separate radiator, both lowered 3 ½", headlights faired into the fenders, and a more sloping rear end. Inside the cockpit, the changes were more radical. For the first time, a T-series had adjustable seats, the instruments were in beautiful, centrally-located octagonal housings, and two glove boxes were provided. These changes meant fewer interior modifications were required to make the cars right-hand or left-hand drive. Wire wheels were an option, as were a grille badge bar, fog lights, and a chrome luggage rack. One thing still missing was a fuel gauge; there was only a fuel warning light.
The TF was intended to compete with the Triumph TR2, and it was priced to be competitive at £550 compared to the Triumph's £555. But the TR2 was faster than the TF, so something had to be done. Changes in the bodywork were not possible, since the emphasis was on the T-Series replacement, EX182, due to appear in 1955, so the only reasonable choice was more power. The XPAG 1250-cc engine was bored to 1466-cc and became the XPEG, and the car was badged as a TF 1500.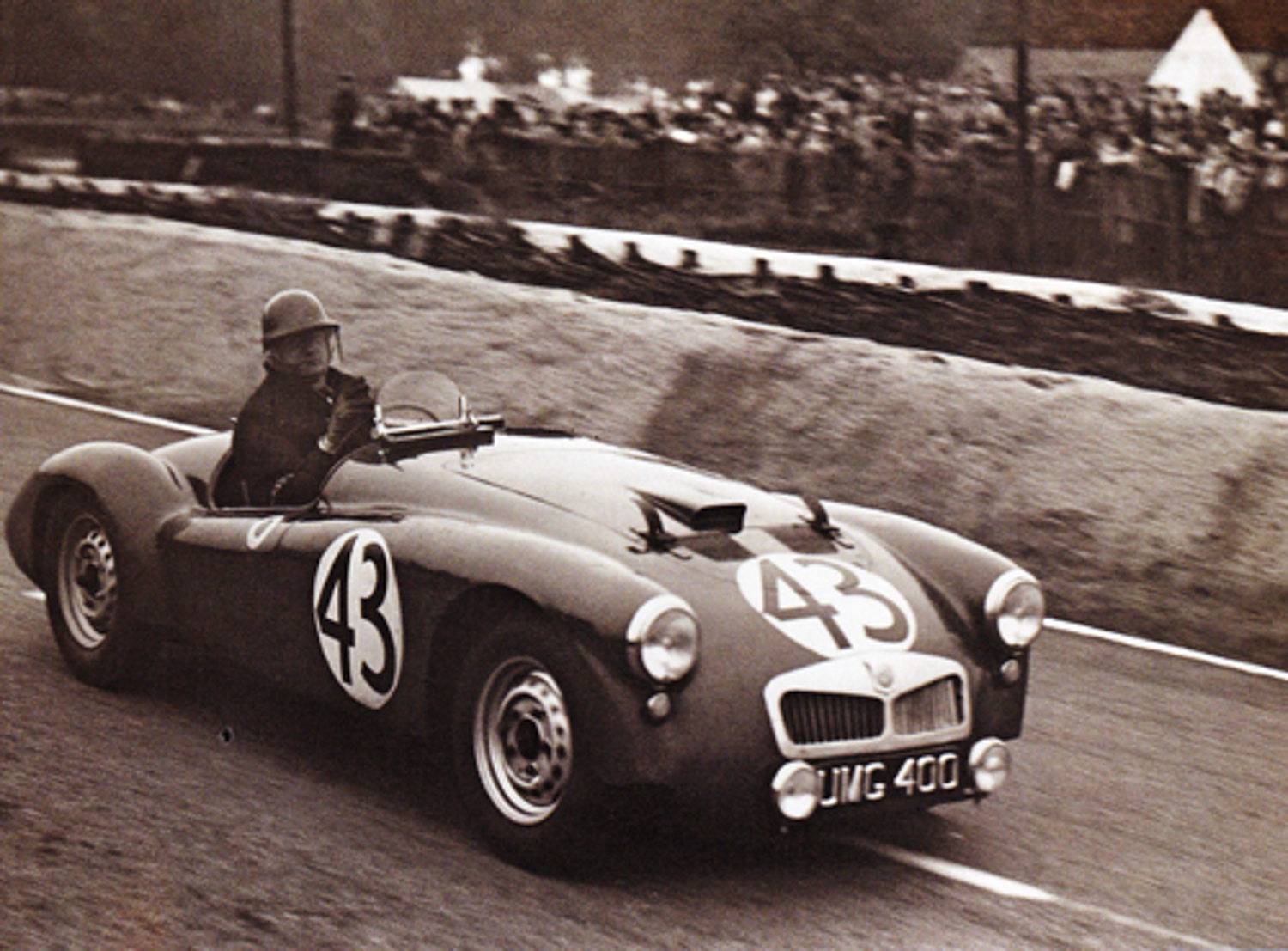 EX182 became the MGA and initially used the 1466-cc XPEG engine. The design was reminiscent of an MG TD with an aero body that raced at Le Mans in 1951. That car's aerodynamics produced a top speed of 118 mph. While it suffered a Did Not Finish, it influenced the design of the MGA.
MG TF SN: HDB 46 8095
Our subject TF is owned by Scott MacAllister, a retired civil engineer and sports car enthusiast, who is almost solely responsible for the condition of this beautiful example of the best of the MG T-Series cars. MacAllister found the car years ago and has restored and improved it so that he, his wife, and their dog often climb aboard for trips of hundreds of miles, over several days. He is also very good at telling the story of the car: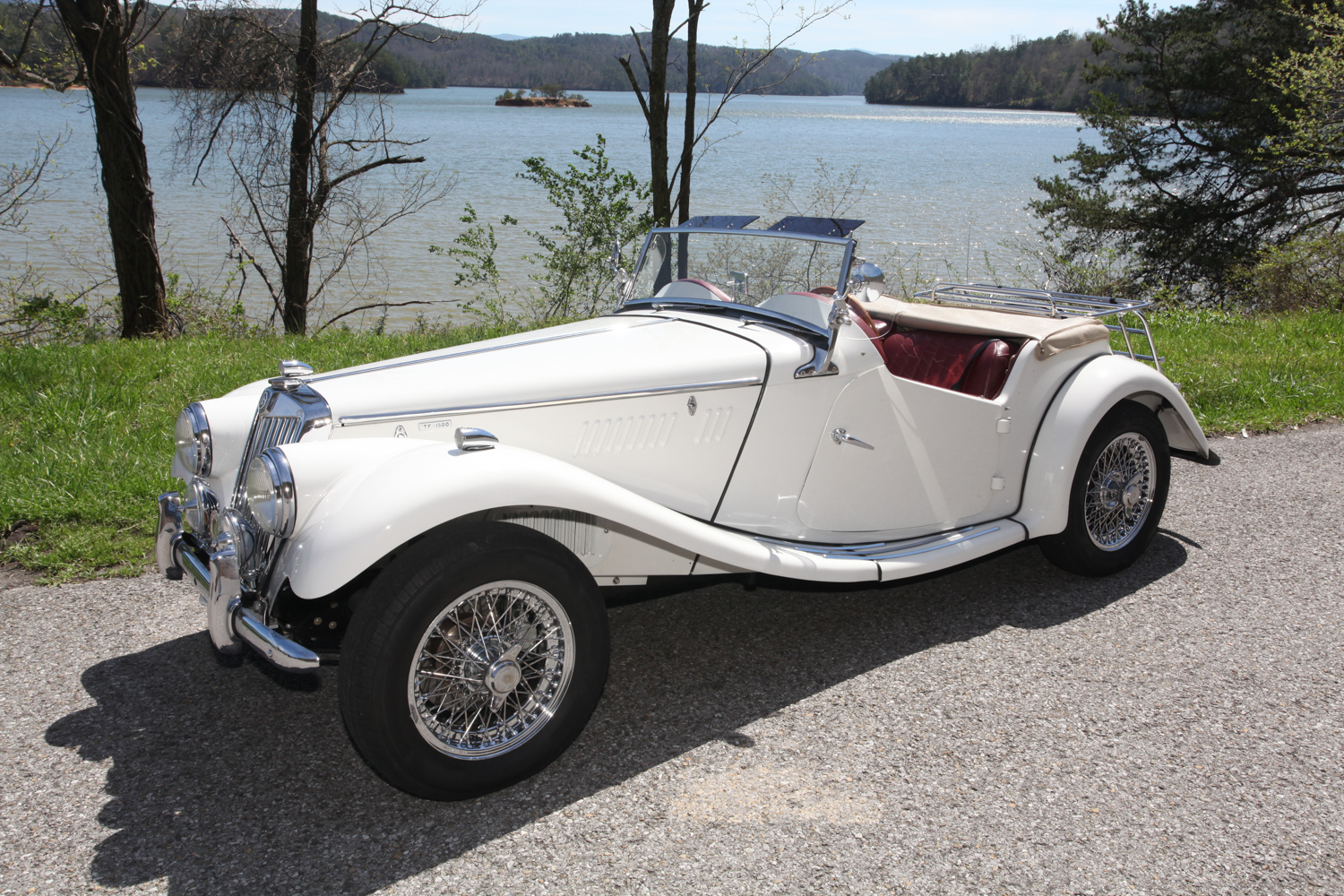 "Of the 9,600 MG TF cars built in Abingdon, 3,400 were TF1500's, most of which were exported to North America. I purchased TF 8095, in 1983, from Commander Patrick Wendt in Fairhope, Alabama. Commander Wendt was, at the time, director of the USCG Antarctic Operations and also a Coast Guard aviator. Patrick and his wife purchased the TF in 1966 from a used car lot in Pensacola, Florida, where he was attending flight training at the Naval Air Station. The TF was their daily driver for several years, including the first few years of their daughter's life. Eventually, it became a second car and was used by all members of family until 1983 when they decided to sell their beloved MG to fund the completion of a beach house. At the time, I was looking for a sports car to restore and had found several MGB's and a TR6 that were acceptable candidates, but none of which had peaked my interest to the point of purchase. 1983 was before the days of eBay, Craig's list, or any of the other online tools we use today, so my vehicle search was confined to the local newspaper or Hemming's Motor News."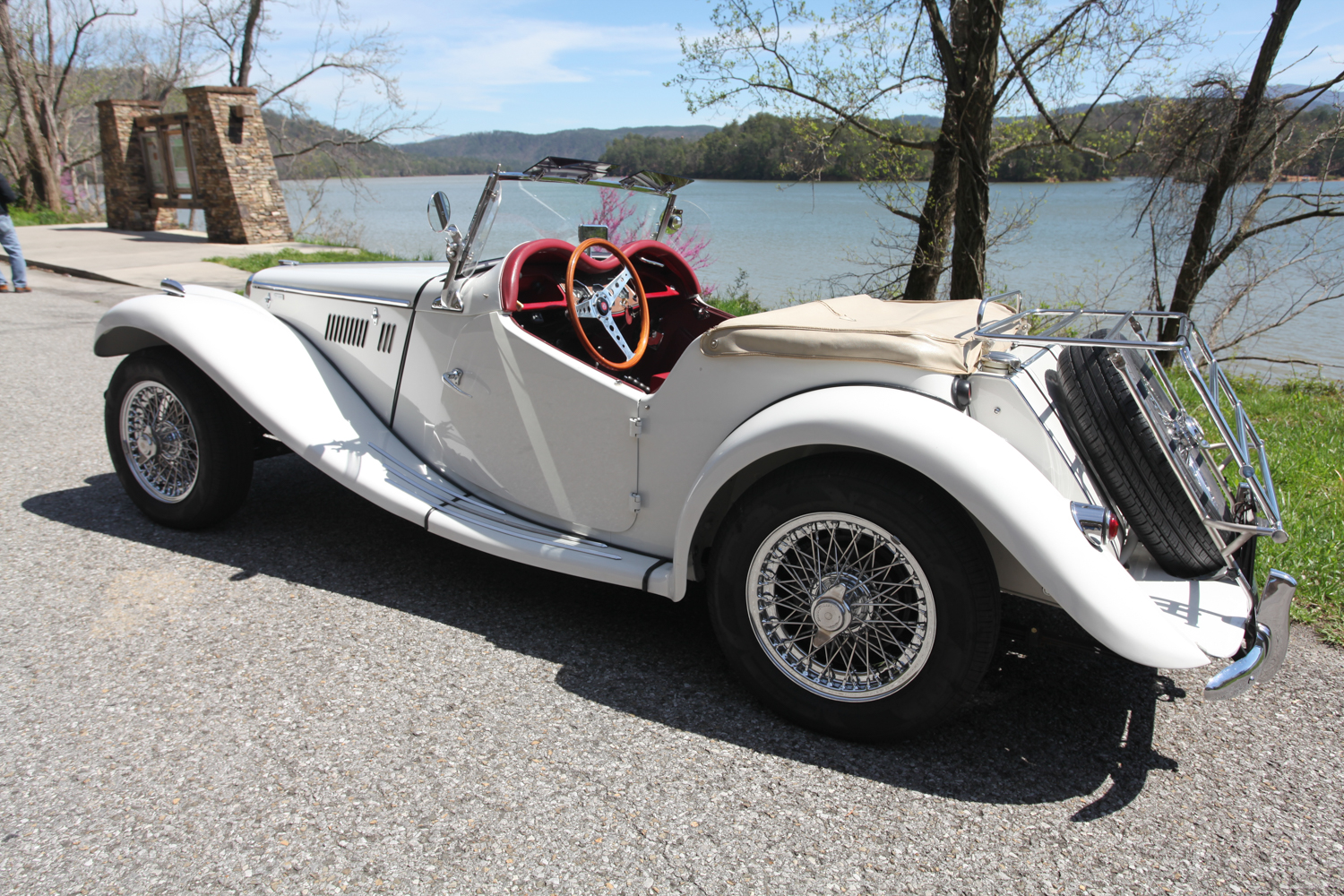 "When an MG TF appeared in the classified ads of the Mobile Press Register, I had to go take a look. I had not seen a TF since I was about 10 or 11-years old, [when] the high school kid across the street came home with a used TF one day. I thought that car was about the coolest thing I had ever seen and hoped that I could also own one someday. Well that day had come, and, as soon as I saw it, I knew I had to figure out a way to buy it. I did not know what the significance of the 1500 designation was, but Commander Wendt explained the rarity and advantages of the larger displacement engine compared to the 1250-cc engines in the TDs and other TFs. That was also his explanation for what appeared to be a rather inflated asking price. I told him I definitely wanted the car and then got busy figuring out how I was going to pay for it. That all worked out, and I brought the car home on a trailer that was included in the deal, but also with a warning that the brakes were not very good and should be addressed immediately. So my first project on TF 8095 was to replace all of the hydraulics and brake shoes so that it would be safe to drive. That all went well and I just drove the car for the remainder of the year before starting to tackle the restoration."
"Restoration began in early 1984, and I rapidly learned what a challenge a T-Series MG can be. The drivetrain and sheet metal were in descent condition with only the normal amount of oil dripping from the rear seal and no rust in the body panels. What was not apparent or visible to my untrained eye was the rotten wooden framing of the body tub. To properly repair the wooden coachwork framing in one of these cars everything must be disassembled. Wings (fenders), bonnet (hood and side valence panels) and body tub are removed from the chassis, and then the sheet metal must be carefully removed from the wood framing. Rotten wood is removed and new pieces fitted and installed. Separate wooden pieces are available in the proper Ash species but they are not perfect and laborious shaping and fitting is required. At the time, I had very few woodworking tools and even less knowledge of how to do this, so it was quite an ordeal for me."
"At times, with the car completely dismantled and spread all over my garage, I was doubtful I could ever get it back together again. Having invested way more than I should have in the car to begin with, I had no choice but to continue on this journey and see it to the end. A year and half later, in the spring of 1985, I finished the car, other than installing the new canvas top, and drove it to Gulfport, Mississippi, for an AACA car show in a beachfront park. Beautiful day, and I got a 2nd place trophy. Got beat by a TR3, only because I had not yet installed the top!"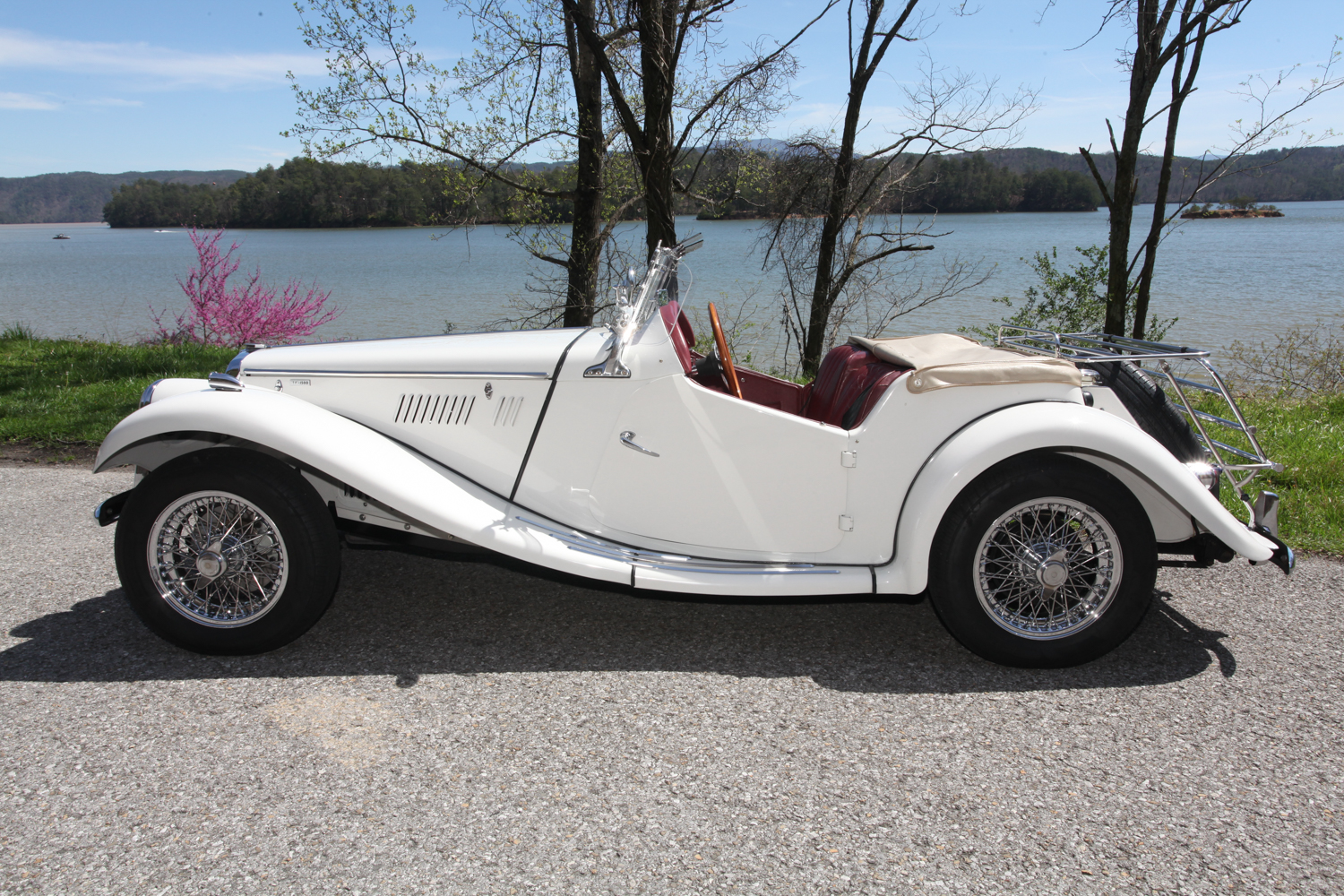 "Anyway, the car ran great and I was very happy that I had not given up when looking at that disarray of parts in my garage a year earlier. I did all of the work myself and spent a total of $3,160 on the restoration. Later that year, I met a few more British car owners at an open car show in Mobile, and we discussed starting a British car club for the area. Several months later we had the first meeting of the South Alabama British Car Club. This was a great opportunity to learn more about these cars while socializing and, most importantly, getting the cars out on the road. These were all day drives, and I really did not trust the car enough to venture too far from home without a group. It was not until moving to Tennessee and joining the Southeast MGT Register out of Atlanta that we actually started to venture into taking longer trips in the TF. The SEMGTR was loaded with folks who had owned T-Series MG's for decades and knew every nuance, weakness, and worthwhile upgrade for these cars. As things would break or fail on my car, I would use the advice of my fellow members to fix and improve whatever was wrong. Unfortunately, those wonderful folks are all gone now, and the club no longer exists. Although the SBCC has very few T-Series MGs, there are lots of great people with other makes and models that help to keep the hobby enjoyable. Now, with the resources available on the web, technical help comes from all over the globe and not just from your local group.
"TF 8095 has, over the years, had plenty of revisions and is certainly not as it came from the factory. I have never really been concerned with originality and do not aspire to attaining any type of AACA national or concours type honors. For me, most British sports cars (or most cars in general) are meant to be driven and not be treated as art objects hidden away in a trailer until the sun is shining on a show field. My philosophy is that it is your car so make it the way you want it and then drive the piss out of it on a regular basis. So, my TF now has the following modifications that make it exactly the way I like it and for the exactly the way I use the car:
"Drive train (Most of these were done during my second restoration in 2017 and cost considerably more than the original restoration): Billet crankshaft with custom journals to accept MGB rod bearings. (Good quality MGT rod bearings are no longer available but rod bearings for the very common 5-main "B-series" are still produced in the UK). The original XPAG/XPEG is notorious for failure and mine broke in spectacular fashion several years ago. This was part of my attempt to make the engine 'bullet proof'. Forged pistons and custom rods to match the journals on the billet crank. (Second part of making the engine 'bullet proof'). Roller cam with 'street performance' profile. Len Fenelli came up with this design to alleviate the wear problem with modern oils and the old flat tappet design of the MGT engines. (Last upgrade aimed at making the engine 'bullet proof'). Cylinder head ported per period performance recommendations for the XPAG/XPEG engines. Distributor rebuilt and recurved to match the roller cam specifications. T9 Ford 5-speed transmission. 4.3 ring and pinion set installed in the differential. This is the MGA diff gearing and provides much better highway cruising RPM that the original 4.874 gears. 2" exhaust from the muffler back (probably does very little for performance but sounds really neat). Exhaust extraction system for improved crankcase ventilation. (This is what I am working on now. I have gone through several different configurations and the current system is working very well, eliminating the chronic oil leaks from the rear main seal that plagues so many British engines.)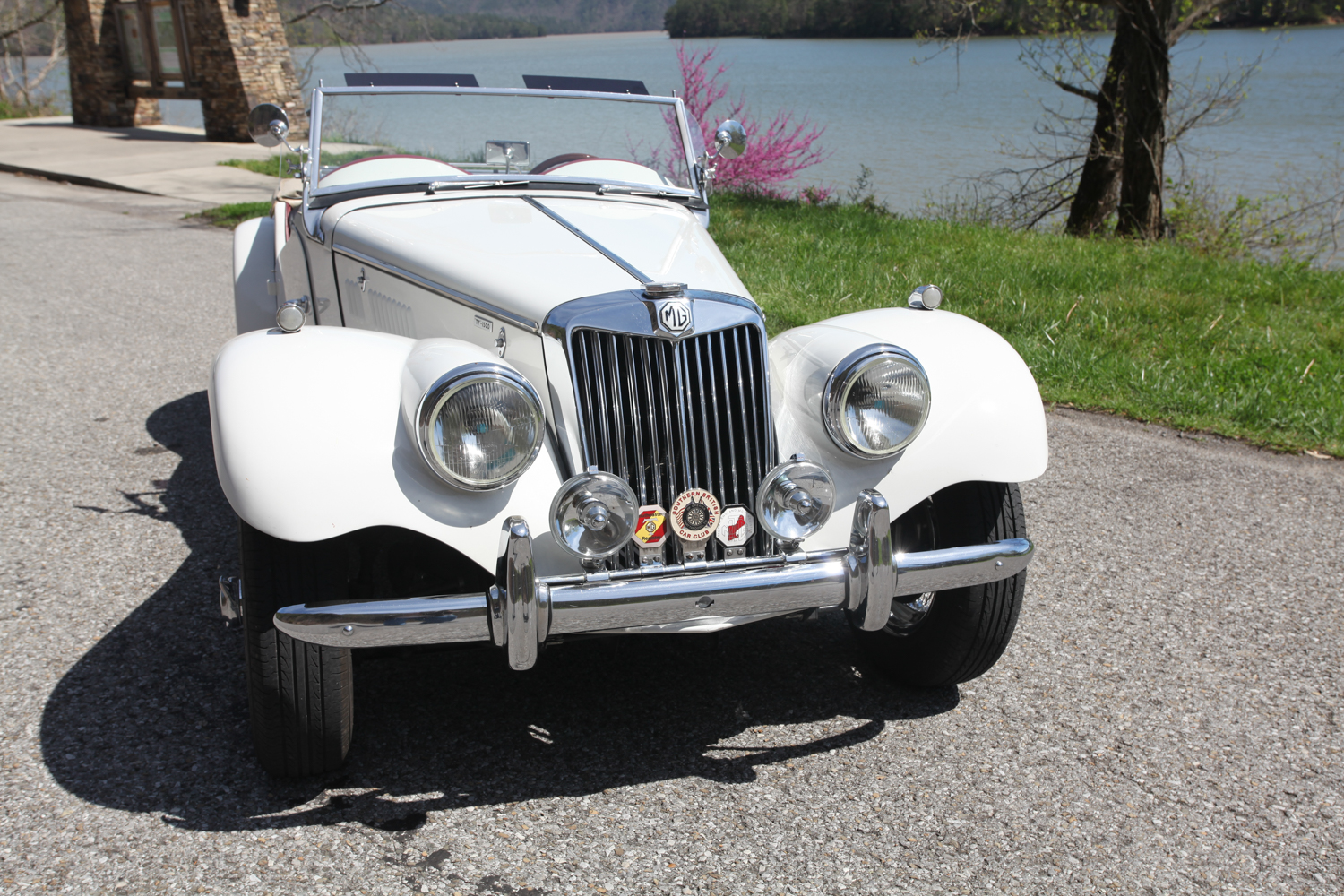 "Electrical: Change from positive to negative earth (ground). Converted from original generator to a Dynamator (an alternator disguised as an original generator complete with tach drive gear on the rear of the unit). Redundant fuel pump, switchable from the cockpit. Modern fuse panels and relays to feed all components as well as hard wire grounds to the front and rear of the car. (The original electrical system had two fuses for the entire wiring harness and grounds, in some cases depending on the body sheet metal for connection). LED lights everywhere.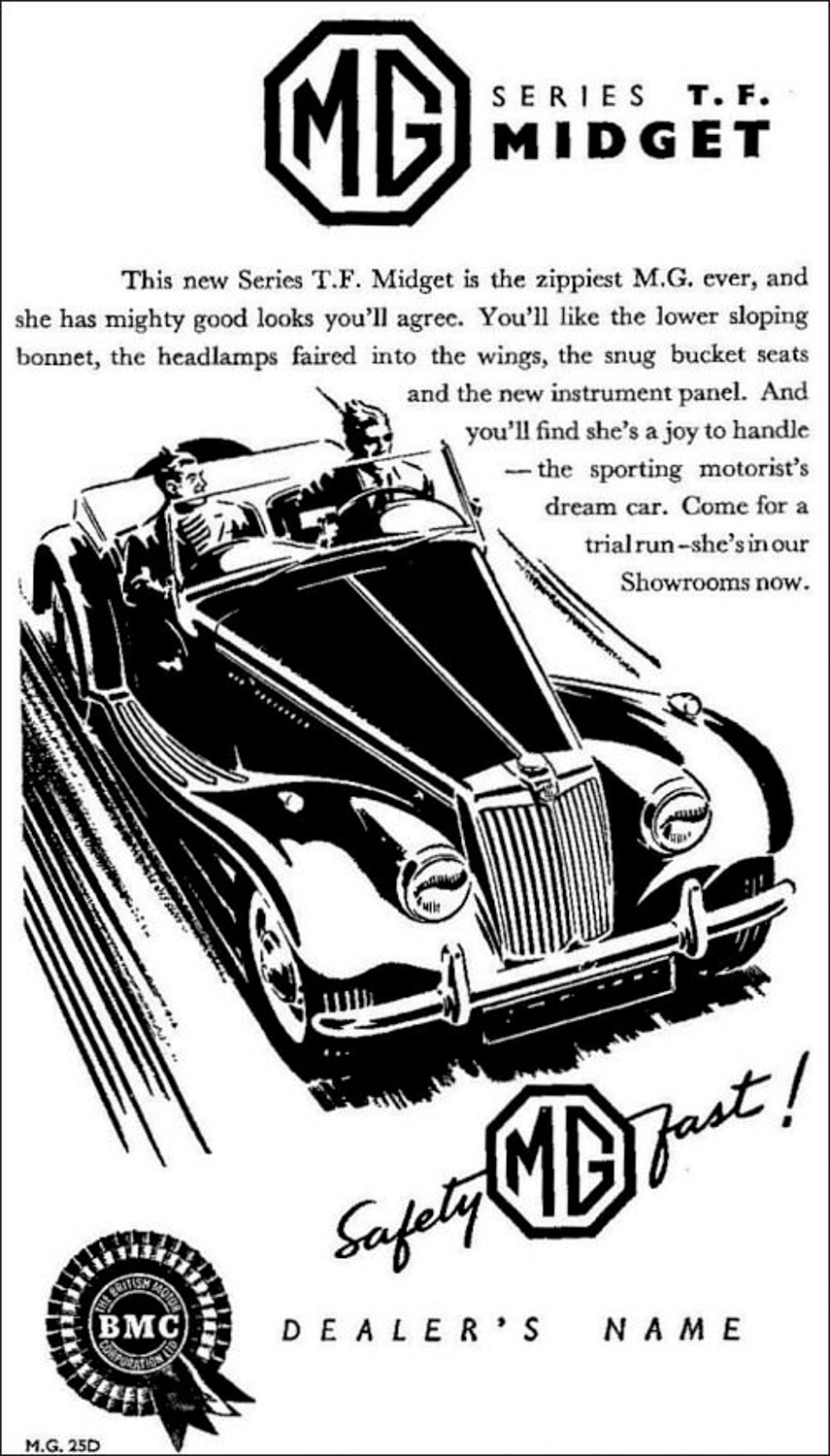 "Suspension: MGB front sway bar and polyurethane A-arm bushing. Koni tube shock conversion in the rear.
"Other Stuff: Heater in the cockpit (to keep my wife warm on winter rides). Cruise control (to relieve my aching right knee). Wind wings and sun visors (for comfort and safety). Double level luggage rack (for overnight trips when Vickie needs to take much stuff). Trailer hitch and small trailer (for those really long trips when Vickie has to take lots of stuff)."
When asked about the lack of a gas gauge, MacAllister said: "There is a 'low fuel light' on the dash that comes on with about 4 gallons left in the tank (supposed to be 2 gallons but I know it takes longer for me to notice that the light has illuminated), and I have a stainless steel dipstick (stays in the tank except during re-fueling) that has been calibrated in gallons. I usually check the dipstick before venturing on to roads that might have long distances between gas stations, but at 30+ mpg, I usually have time to find fuel after the light catches my attention. Actually, I don't think I have ever run out of fuel in that car." It's obvious that MacAllister is an engineer.
Driving Impressions
Some of us just don't fit in every car. There have been several that either my girth or my legs have prevented me from being able to comfortably (and safely) drive. This time it was mainly the size of my feet. I fit behind the wheel just fine, but my legs are long and my feet are big (12-wide), and I could not fit my shoes on the pedals without covering two pedals at once and only then by shifting my butt so my legs fit in the footwell. So, I got to ride with MacAllister in a car he knows very well. This is sometimes an advantage, since I am reluctant to drive someone else's car as hard as he or she might.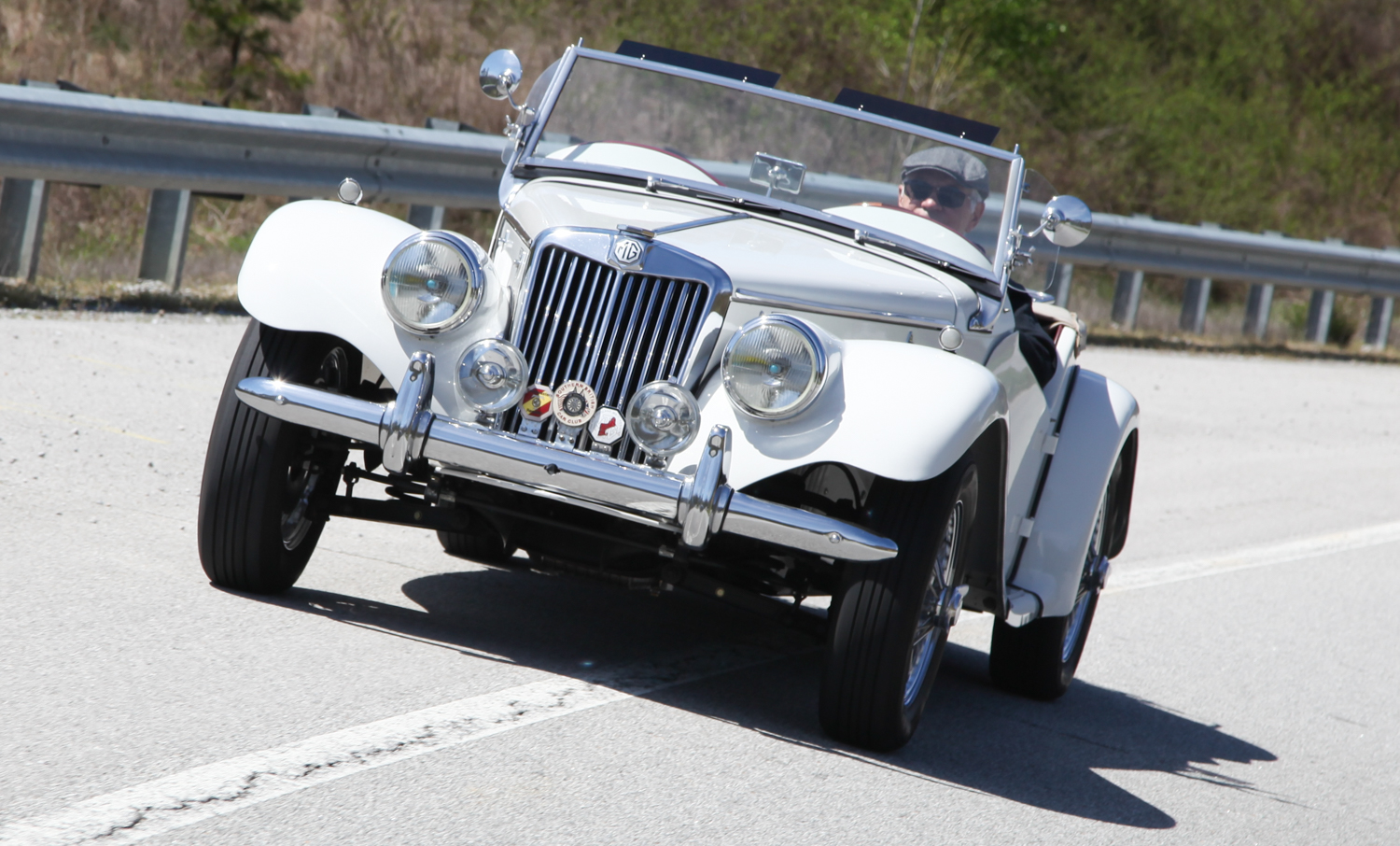 As always, we went over the controls after I slid into the passenger seat. I love the octagonal gauge bezels – so appropriate to an MG. As mentioned, all gauges are in the center of the dash. From the driver's point of view, the tach is on the left, then there's a center cluster with water temperature, oil pressure, and ammeter. The speedometer and clock are on the right. Controls include the choke, accessory light switch, headlight switch, starter knob, and panel lights. Starting the car is simple – turn the key and pull the starter knob.
We did the static photography along the Ocoee River in the Cherokee National Forest, so MacAllister took me for a ride along the U.S. highway that follows the Ocoee River. The car rode surprisingly nice for a car that's in its 65th year. Then he turned onto a road that took us up the mountain. Not nearly as smooth as the U.S. highway and full of sweeping turns and several tight hairpins. MacAllister's car is a smile machine! His changes to the suspension have produced a car that corners flat, even in the hairpins. This TF accelerated very well on the straights and out of the corners, and shifting was smooth. It was easy for MacAllister to keep the car on the right part of the torque curve. MacAllister was familiar with the roads in and around this valley having been involved in the SCCA pro rallies that ran here. That familiarity made it possible for him to anticipate the turns and keep his TF in its sweet spot. The end result was that we were both smiling when we reached the overlook several miles up the road – what a view. I'm determined to do that drive in my Lotus, but I doubt I can make it any quicker than MacAllister did in his MG – it will be my first time up that mountain, but I suspect it won't be my last.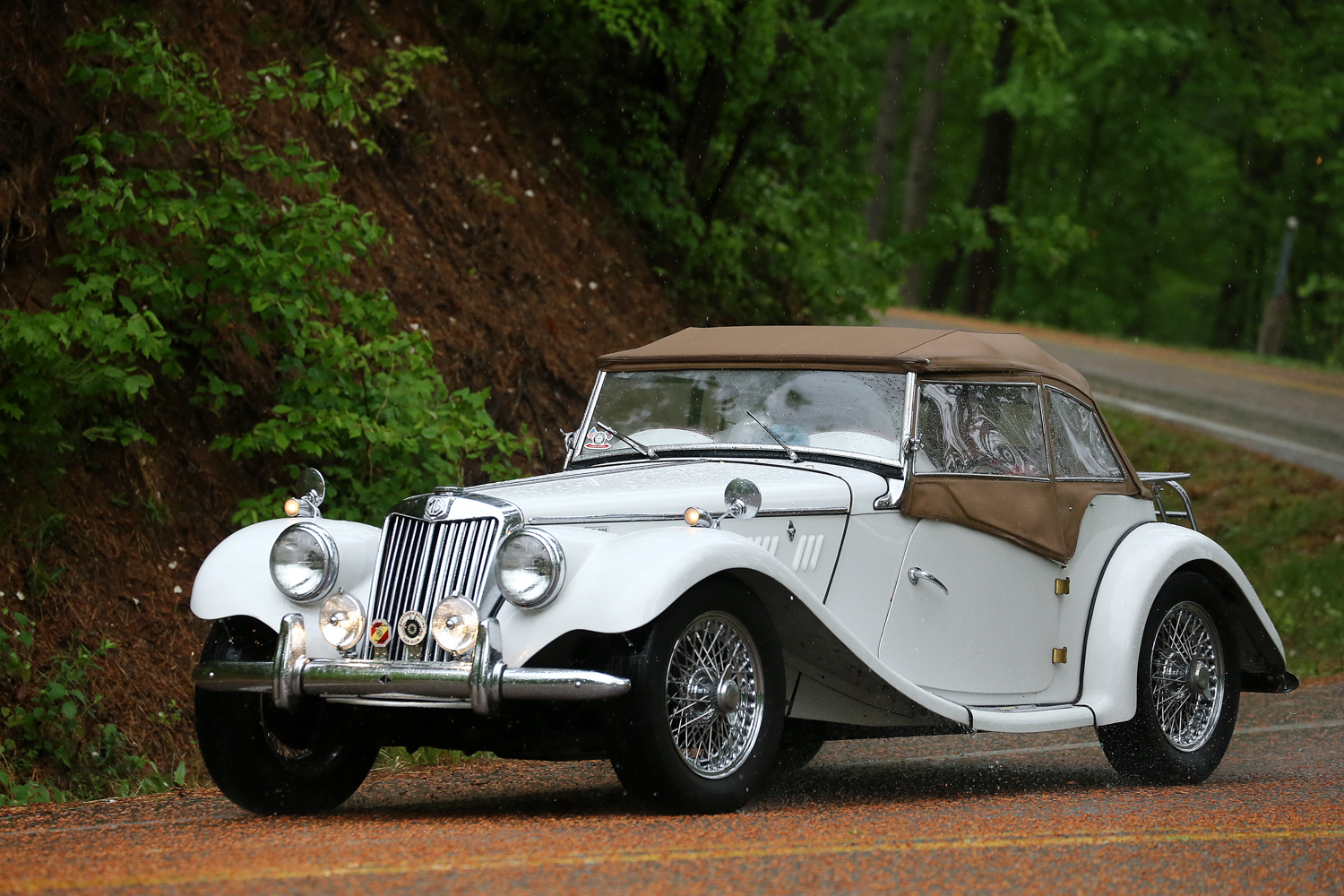 MacAllister's MG TF is a sweet car. Probably one of the best examples of the model I've ever seen. His modifications and improvements have kept the car very British and turned it into a car he has no reluctance to head south to the Florida Panhandle or take on a multiple day's drive in any direction. It might have been a stop gap model, but it was a great way to end the "square rigger" MGs.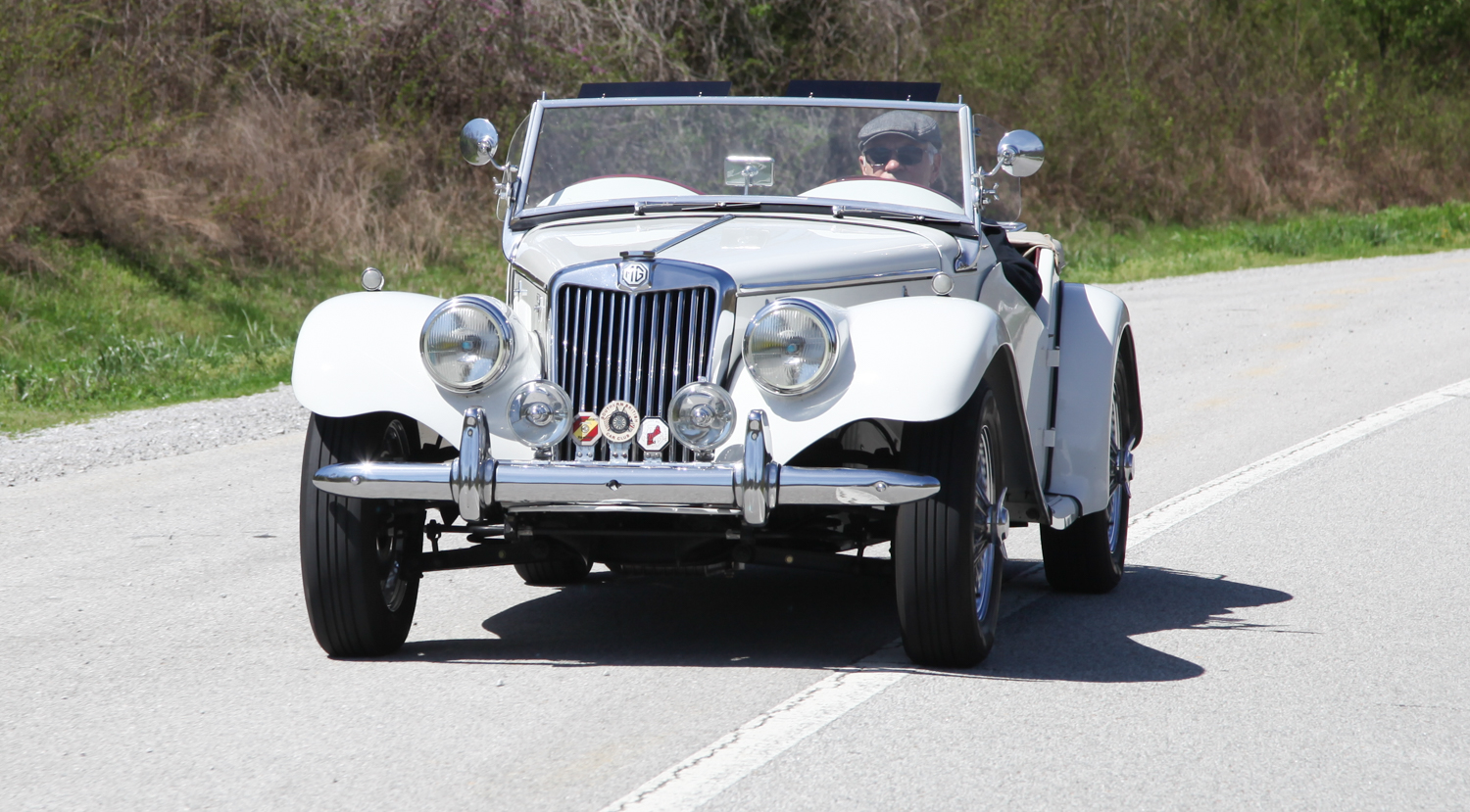 Post T-Series
EX 182 became the MGA 1500. More than 13,000 were built in the first full year of production, 1956. It was the right car at the right time. It was modern… well more modern. It was followed by the MGA 1600, MGA 1600 MK I Deluxe, and the Twin Cam. Then came the MG we see most often – the MGB, a car that was in production for 18 years.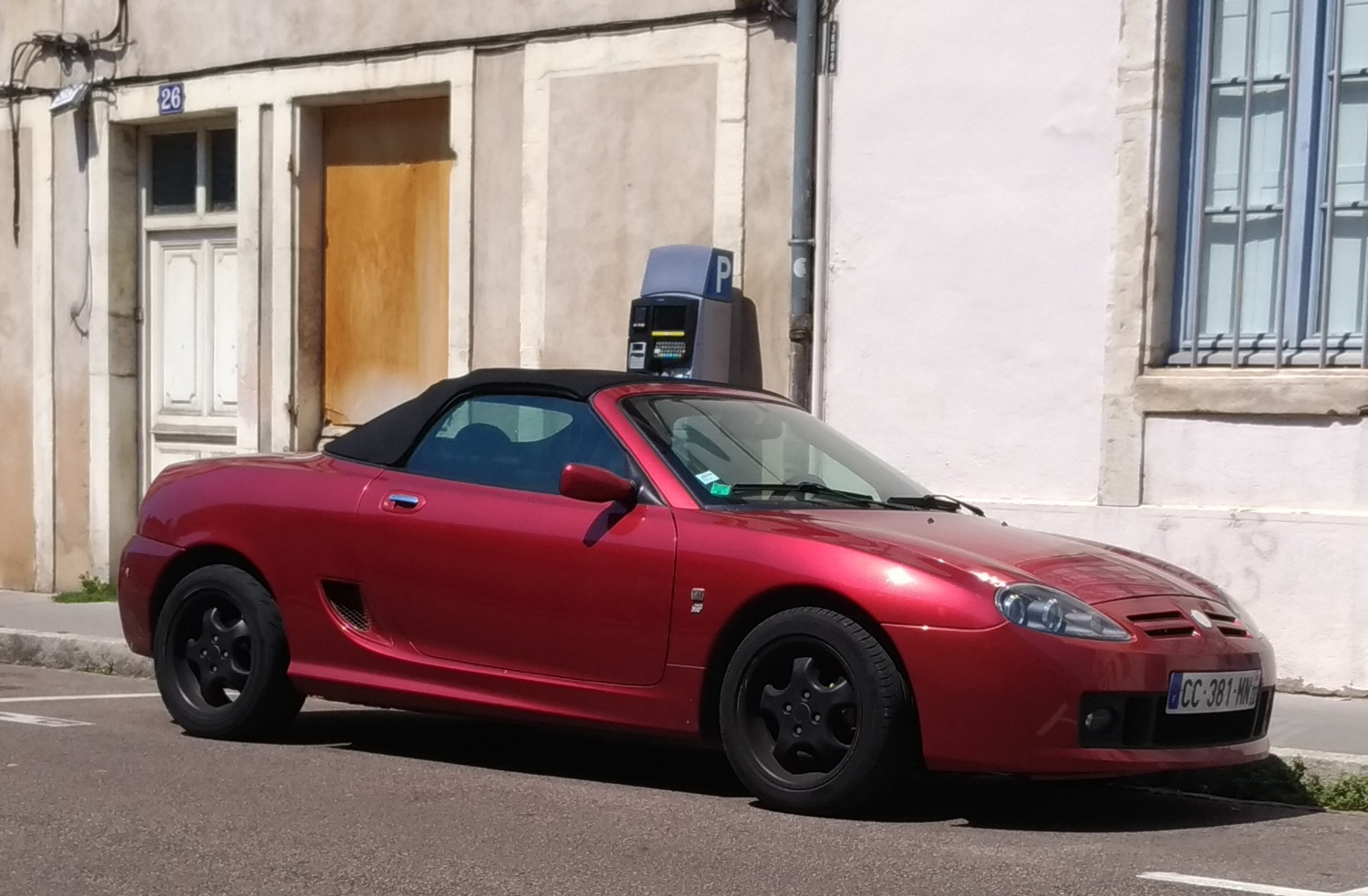 There would be many more changes to come for MG. In March 1995, the Rover Group introduced a new MG F – a mid-engined, rear-wheel drive roadster. They updated the car in 2000, calling it an MG TF. When MG Rover went into "administration," in 2005, the business was sold to Nanjing Automobile. The TF was produced by Nanjing from 2007 until 2011. But it never was as cool a car as the original TF.
Specifications
| | |
| --- | --- |
| Body Style | 2 Door Roadster |
| Length | 3734 mm/147 inches |
| Width | 1518 mm/59.75 inches |
| Height | 1314 mm/52.5 inches |
| Weight | 864 kg/1905 lbs |
| Wheelbase | 2388 mm/94 inches |
| Front Track | 1204 mm/47.4 inches |
| Rear Track | 1270 mm/50 inches |
| Engine | MG XPEG 4 cylinder, overhead valves, 2 valves per cylinder |
| Displacement | 1466 cc/89.1 cid |
| Bore | 72 mm/2.83 inches |
| Stroke | 90 mm/ 3.54 inches |
| Compression Ratio | 8.3:1 |
| Power | 47 kW/63 bhp at 5000 rpm |
| Torque | 106 Nm/78 ft-lbs at 3000 rpm |
| Induction | Twin SU H4 carburetors |
| Transmission | Ford T9 5-speed manual |
| Front Suspension | Independent with control arms, coil springs, and MGB sway bar |
| Rear Suspension | Koni shock conversion |
| Steering | Rack and pinion |
| Tires | 5.50×15 |