During Ferrari's formative years, there was a relentless evolution of its infamous V-12 engine, driven by the pursuit of power and reliability. As time progressed, the 12-cylinder Ferraris saw a systematic increment in displacement, culminating in a remarkable milestone with the unveiling of the 340 series in 1950. This model was equipped with a notable 4.1-liter V-12, designed by the revered Aurelio Lampredi. It was essentially a modified version of the powerhouse that fueled Ferrari's subsequent generation of Grand Prix vehicles. When harmoniously paired with a five-speed transmission and an aerodynamic body, the 340 America became the preeminent sports car of its era.
The new model proved itself in one of motor racing's greatest trials, the Mille Miglia, when Luigi Villoresi won the event outright in 1951 in a Ferrari 340 America Vignale Berlinetta. And although production totaled fewer than 30 examples, the 340 America also had a disproportionate influence on American enthusiasts, who quickly began to associate the sight, sound, and competition successes of the Ferrari marque with these large-displacement sports cars.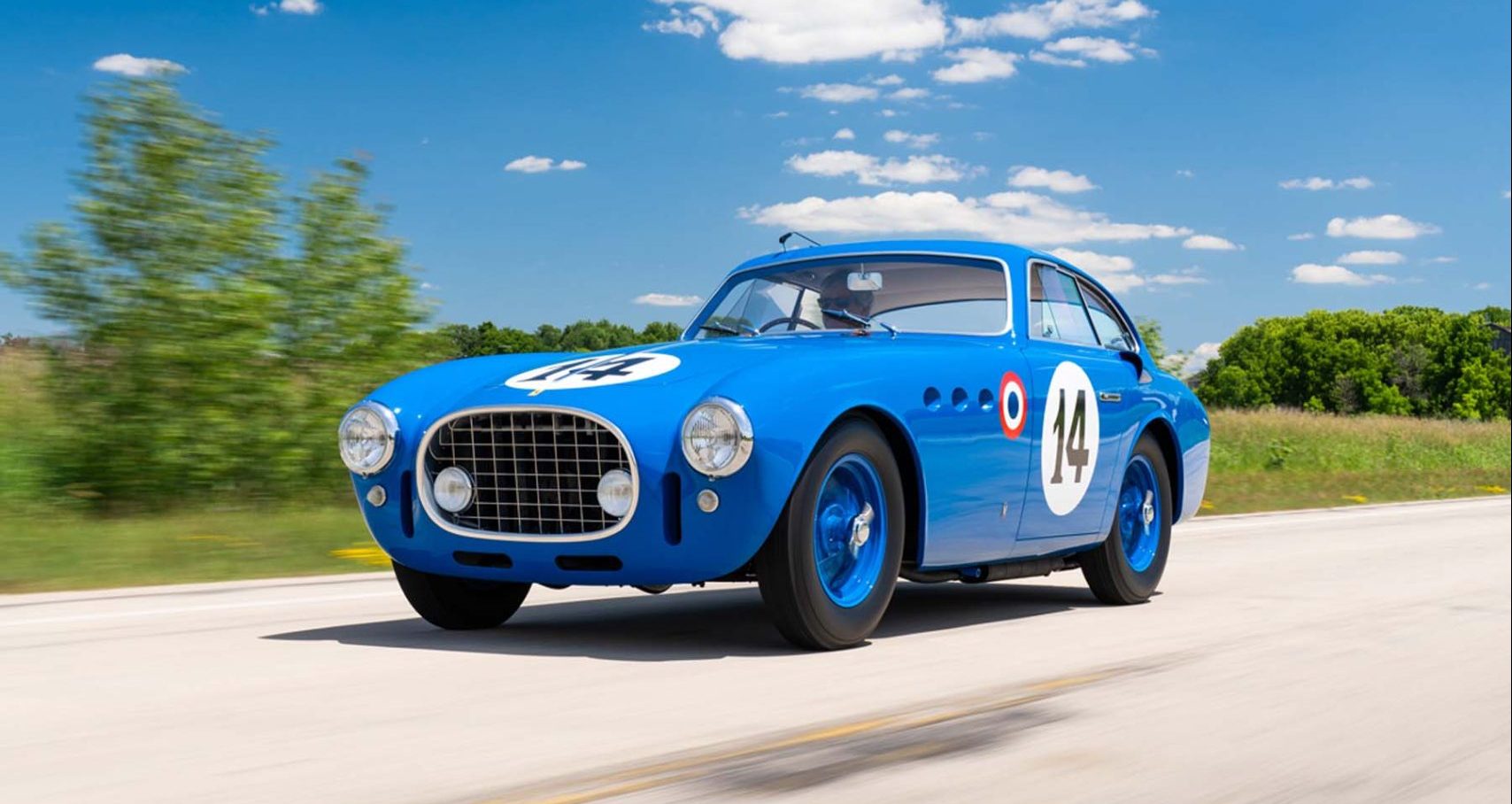 This fascinating and significant example, chassis 0202 A, possesses a rich history and impressive racing results, and was campaigned by some of the greatest drivers of all time. The factory first tested chassis 0202 A on June 1, 1952, and five days later, was sent to France to contest the 24 Hours of Le Mans, entered by Ferrari distributor Luigi Chinetti. Painted French Racing Blue and wearing race no. 14, the car was piloted by French privateer racers André Simon and Lucien Vincent. Showing exceptional speed from the start, 0202 A was leading the race overall ahead of Stirling Moss' Jaguar until its fuel tank began to leak. Once repaired, the Ferrari continued on, but Vincent soon skidded into one of the circuit's famous sandbanks. He lost time digging the car out and dropped to 17th Place. However, a heroic drive during the middle of the night brought 0202 A home in an impressive 5th overall, despite a bad clutch and only two working gears when it crossed the finish line. Copies of numerous period photos on file document the various stages of this dramatic race and bring to life this historic result.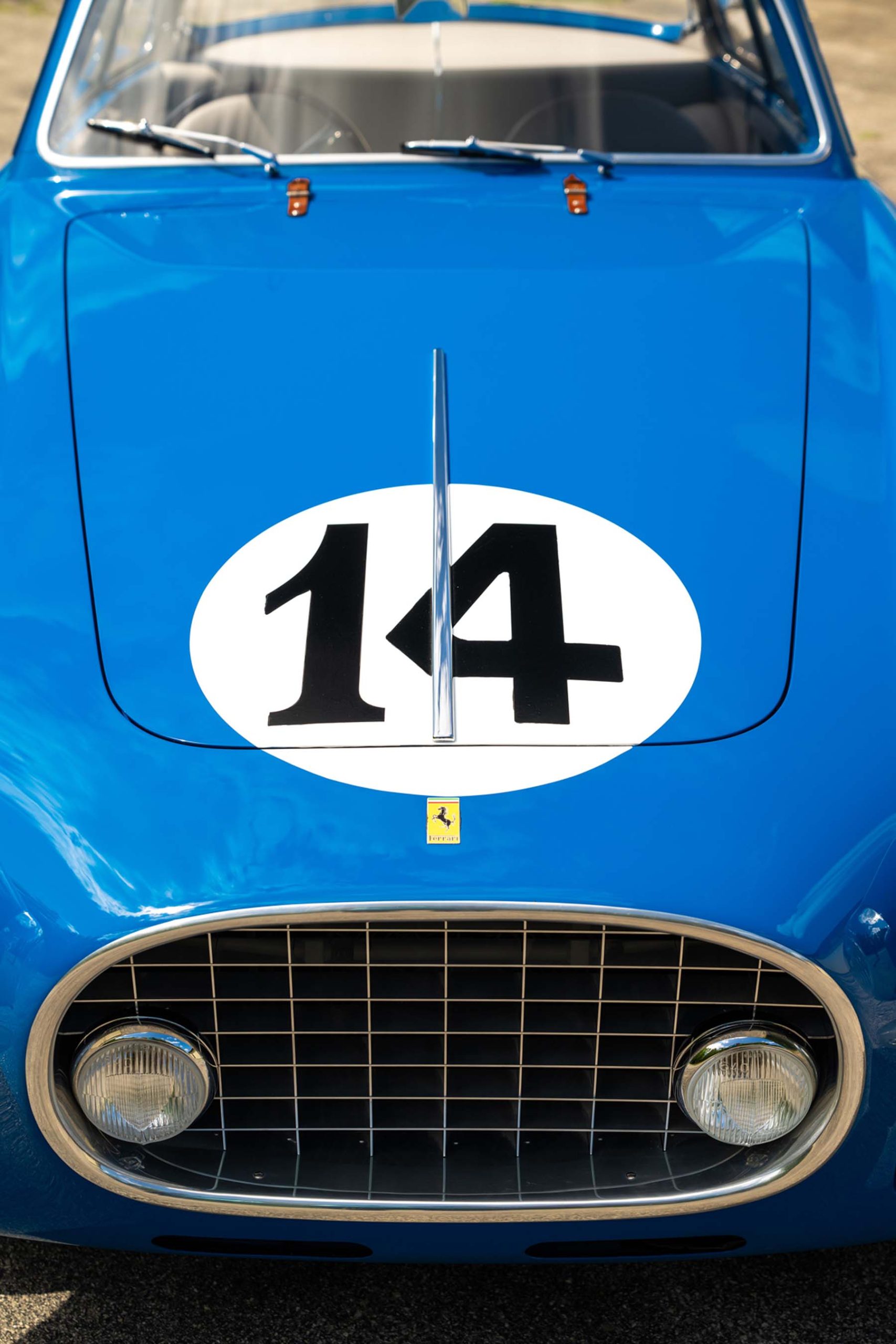 Highlights of chassis 0202 A
Fifth Overall and Second in Class at the 24 Hours of Le Mans in 1952
Raced in the US by Masten Gregory and Jack McAfee
Restored and Certified by Ferrari Classiche in Maranello
Retains Its Matching-Numbers Chassis and Engine per Ferrari Classiche Certification
A Historically Significant and Extensively Documented Early Competition Ferrari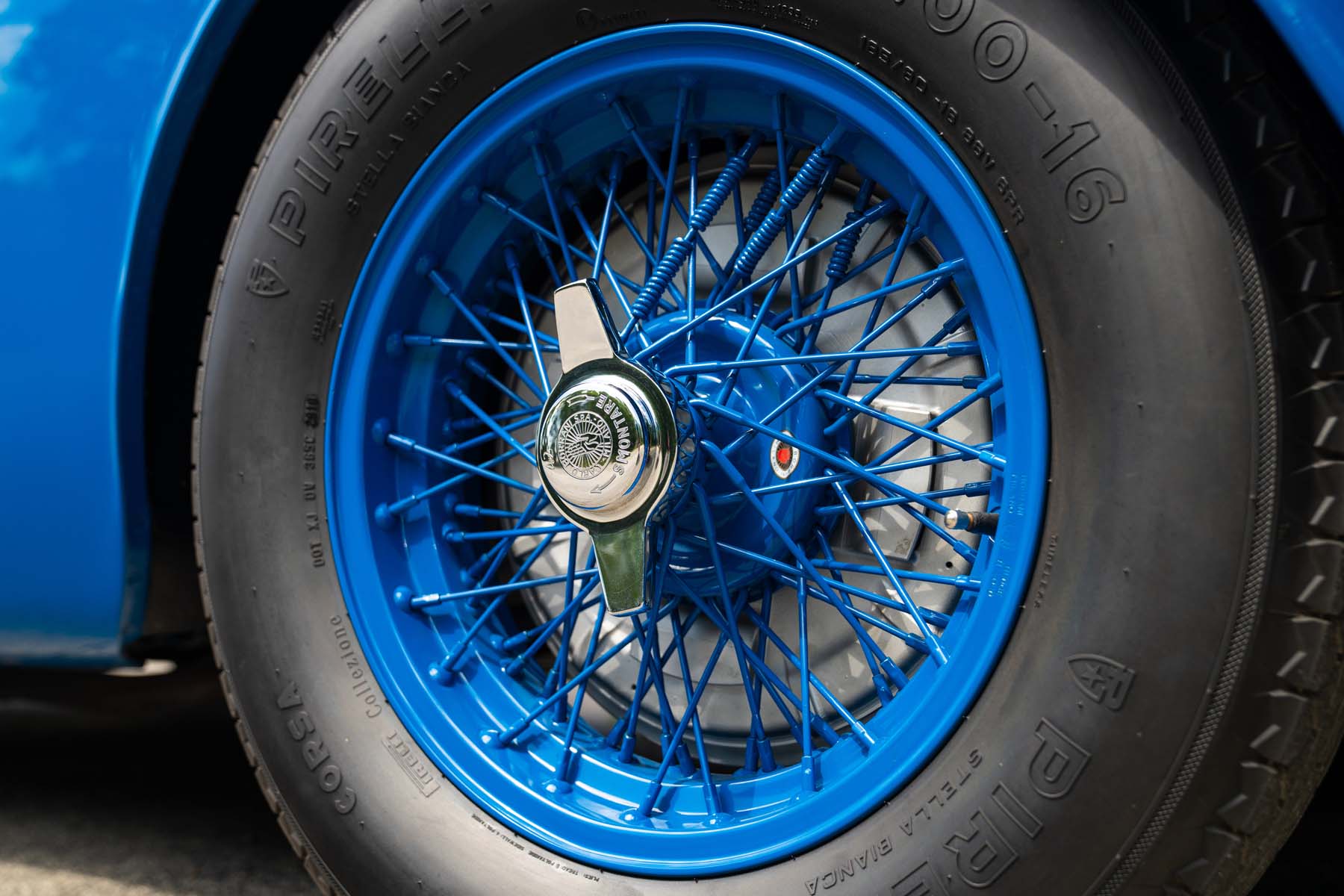 Technical Specs
4,101 CC SOHC Tipo 340 V-12 Engine
Three Weber 40 DCF3 Carburetors
220 BHP at 6,000 RPM
5-Speed Manual Gearbox
4-Wheel Hydraulic Drum Brakes
Front Independent Suspension with Transverse Leaf Spring and Houdaille Shock Absorbers
Rear Live Axle with Semi-Elliptical Leaf Springs and Houdaille Shock Absorbers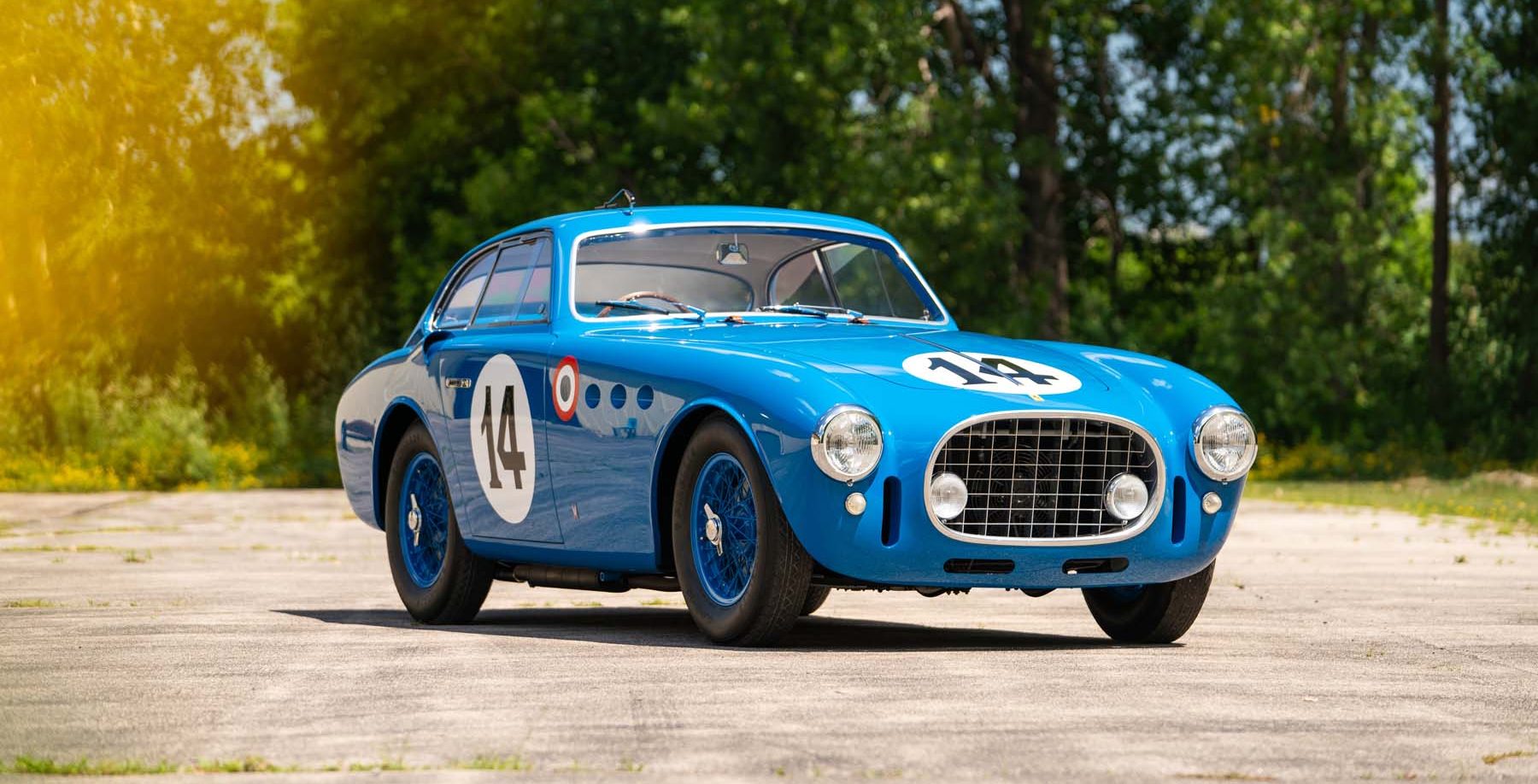 Ownership
Luigi Chinetti, New York, New York (acquired in 1952)
William "Bill" E. Devin, Fontana, California (acquired from the above in 1953)
Ernie McAfee, Los Angeles, California (acquired from the above in 1953)
Masten Gregory, Kansas City, Kansas (acquired from the above in May 1953)
Dale Duncan (acquired from the above in 1954)
George Sawyer, Lafayette, California (acquired from the above in 1954)
Jim Hall, Houston, Texas (acquired from the above in 1955)
Dr. Ernest C. Miller, New Orleans, Louisiana (acquired from the above in 1956)
Paul Owens, Houston, Texas (acquired by 1958)
Andy Herron, New Orleans, Louisiana (acquired in 1958)
Bill Owens, Houston, Texas (acquired by 1959)
John W. Mecom Jr., Houston, Texas (acquired from the above in 1960)
John Douglas, Salt Lake City, Utah
Jerry Klous, Lake Forest, Illinois
Mike Sanfilippo, Frankfort, Illinois
Tom Shaughnessy, Oceanside, California (acquired from the above in 2006)
Current Owner (acquired from the above in 2013)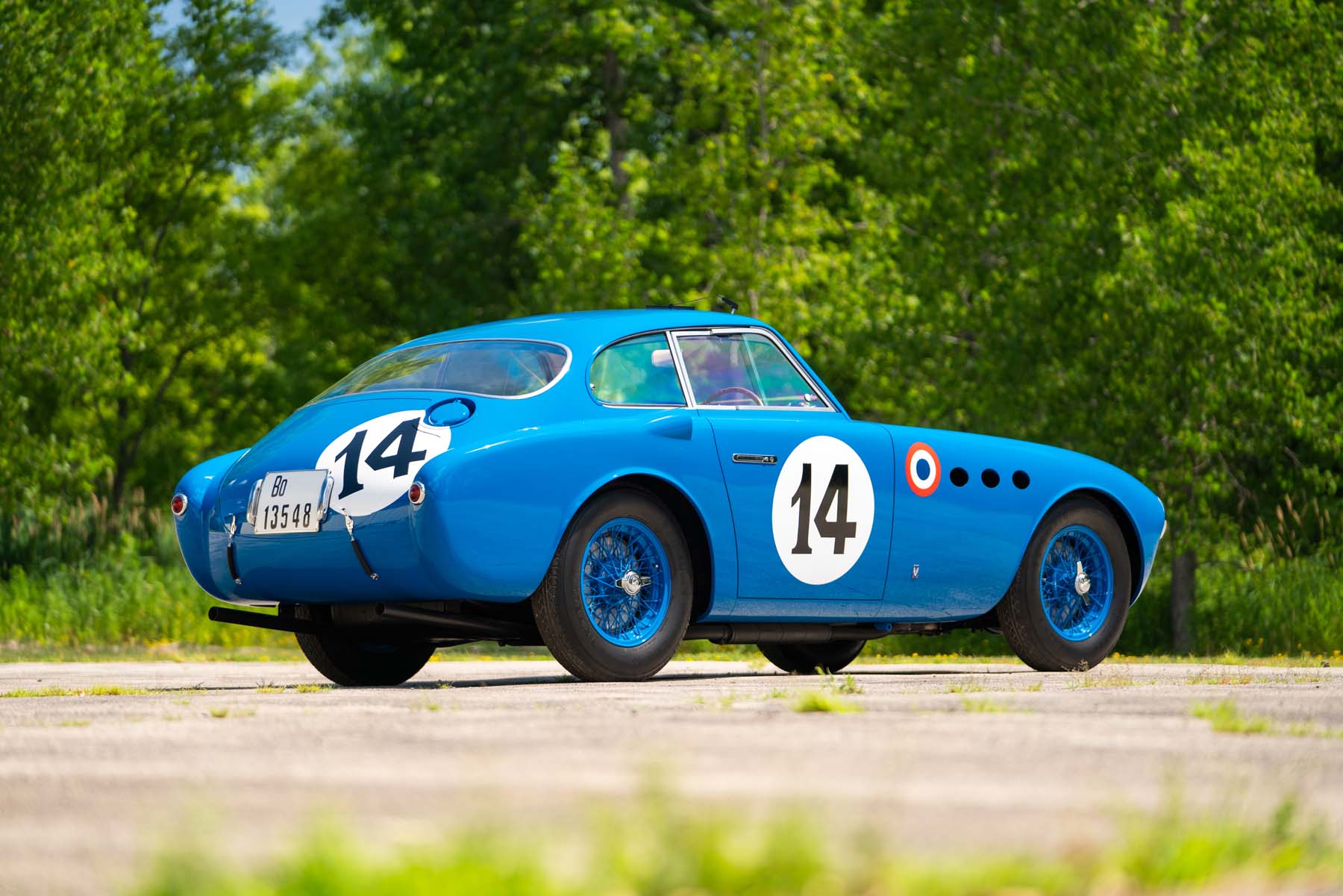 Race History
Monaco Sports Car Grand Prix, June 1952, Simon, No. 98 (DNS)24 Hours of Le Mans, June 1952, Simon/Vincent, No. 14 (2nd in Class, 5th Overall)
Circuit de Vitesse, France, July 1952
Mont Ventoux Hill Climb, July 1952
Circuit de Vitesse, France, September 1952
Montlhéry, Autumn Cup, France, September 1952, Vincent, No. 137 (6th in Class)
Montlhéry, Paris Salon Cup, France, October 1952, Marchand (3rd in Class)
Lone Star National Sports Car Races, Texas, April 1953, Jack McAfee, No. 75
Madera Road Race, California, September 1953, Gregory, No. 78 (3rd)
Iowa City Sports Car Races, 1954, Gregory, No. 82 (2nd)
Stockton Road Races, California, March 1955, Sawyer, No. 106
Santa Rosa Road Races, California, June 1955, Sawyer, No. 106 C
Buchanan Field Sports Car Races, California, August 1955, Sawyer, No. 106
Mansfield Sports Car Races, Ohio, November 1956, Miller, No. 50 (4th in Preliminary, 20th in Main Event)
Hammond Sports Car Races, 1956, Miller
Mansfield Sports Car Races, Ohio, 1958, Herron, No. 15
Lake Travis Hill Climb, Texas, 1960
Post Le Mans
After Le Mans, 0202 A was sold to Luigi Chinetti, and was raced throughout the summer and fall of 1952, including at the Circuit de Vitesse and Mont Ventoux Hill Climb. With Lucien Vincent again behind the wheel, 0202 A finished 6th in Class at Montlhéry in September, and a month later René Marchand also raced the car at Montlhéry, finishing 3rd in Class. In early 1953, the Ferrari was sold through Chinetti to noted racer, distributor, and constructor Bill Devin of California, who then sold it to successful Los Angeles-based racer Ernie McAfee. A copy of a beautiful color photo on file, taken by Phil Hill, captures this period of the car's life, picturing the Ferrari at Bergstrom Air Force Base in Texas when Jack McAfee raced it in the Lone Star National Sports Car Races.
In May 1953, chassis 0202 A was sold to one of the most famous racing drivers of the period, Masten Gregory. Known as "The Kansas City Flash," he was among the first Americans to compete consistently in Grand Prix racing. Known for his thick eyeglasses and famous mid-crash bailouts, Gregory honed his prodigious sports car skills with 0202 A, finishing 3rd at the Madera Sports Car Races in California in 1953 and 2nd at Iowa City in 1954. Gregory would eventually win the 24 Hours of Le Mans in 1965 behind the wheel of a 250 LM.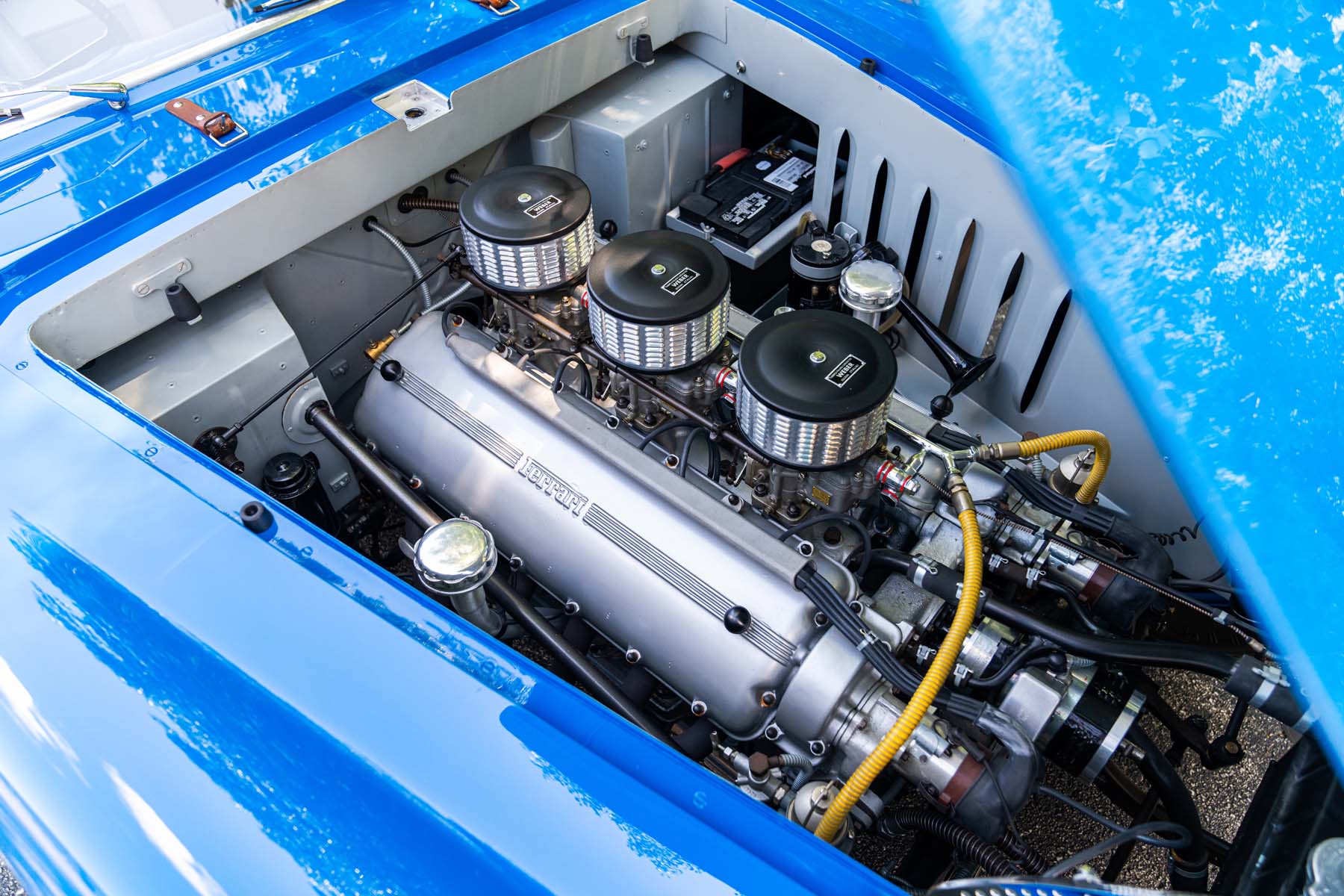 In September 1954, the Ferrari was advertised by Dale Duncan, Gregory's brother-in-law, as "perfect condition, asking price US $8,750, new red paint with black interior." It was purchased by George Sawyer of Lafayette, California, who raced it once at Stockton and then removed the original Vignale Berlinetta coachwork and re-bodied the car with a new spider body of his own design, complete with cutaway front fenders and 340 Mexico-type ventilation slats. Sawyer raced the Ferrari in this configuration a few times in California, and in 1956 it was sold to Dr. Ernest C. Miller of New Orleans, who raced it in several local SCCA races.
In 1958, the 340 America was purchased by 16-year-old Paul Owens of Houston, who got the car on trade for an OSCA 1500 and promptly installed a Chevrolet V-8. Sadly, 0202 A was then crashed on a Dallas freeway, where it flipped, apparently killing its passenger. After this incident, the car received a Devin fiberglass spider body, with final work done by Texas oilman and Ferrari legend John W. Mecom Jr. Eventually, Mr. Mecom purchased the 340 America in 1960, and in 1961 the car's original engine was sold to Hall-Shelby Sports Cars in Dallas, who resold it to Lee Sturtevant of Chicago. After being owned by several other US-based enthusiasts and still clothed in a fiberglass body, 0202 A was sold in 2006 by Mike Sanfilippo of Illinois to Ferrari specialist Tom Shaughnessy. Remarkably, Shaughnessy was able to locate 0202 A's original engine, which was still in Illinois.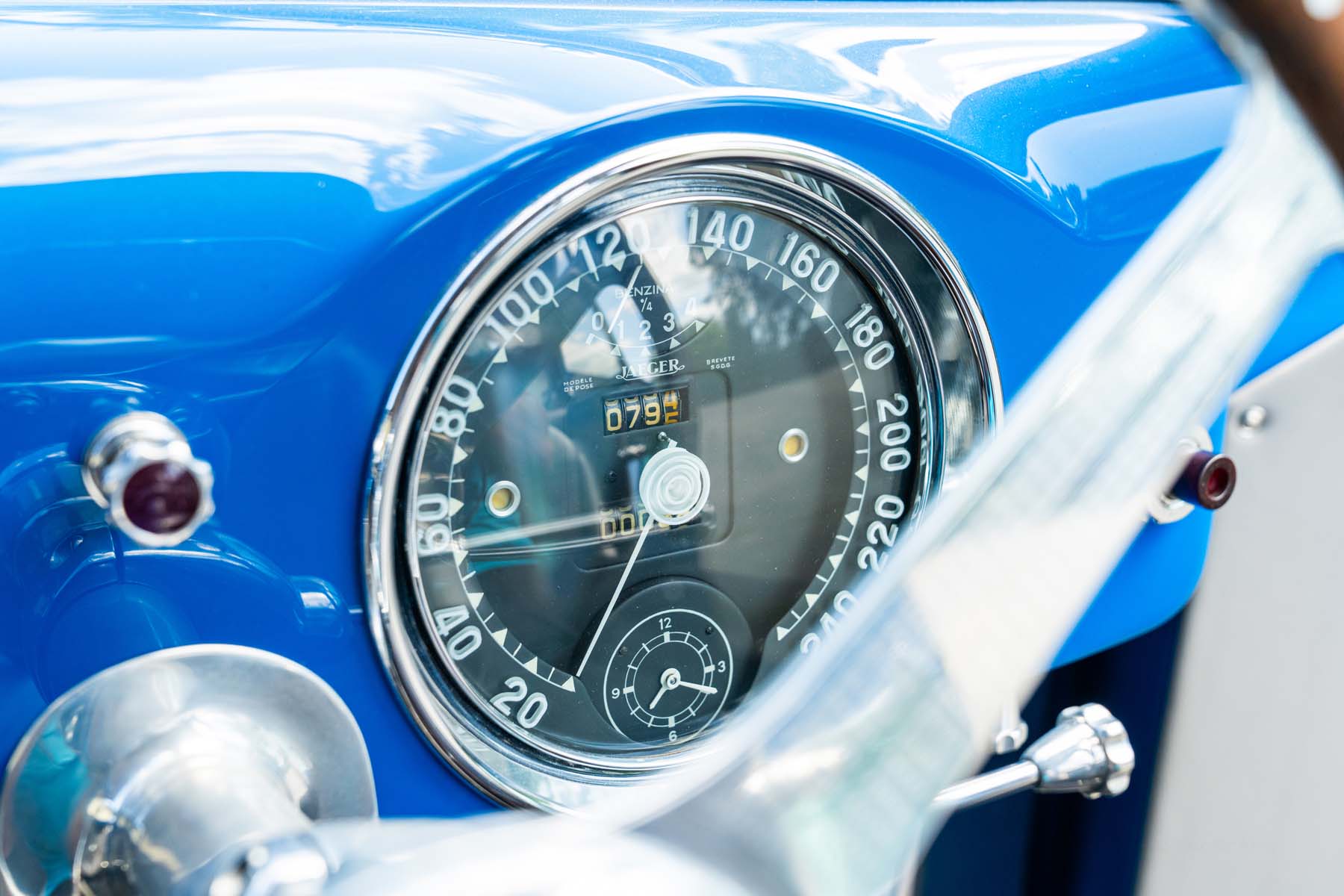 In 2013, chassis 0202 A and its original engine were sold to the consignor, who then had the Ferrari Classiche Department in Maranello restore the car to its 1952 Le Mans configuration, including the construction of a new Berlinetta body to its as-raced Le Mans appearance. The 340 then made its post-restoration debut to great acclaim at the Ferrari North America display held at the 2019 Pebble Beach Concours d'Elegance®. This 340 America is certified as having its original engine and chassis by Ferrari Classiche, with accompanying Certificato per Vetture da Competizione and white-striped Red Book. The Ferrari is also offered with a report from historian Marcel Massini, as well as a wealth of additional documentation, including copies of period photographs and factory records, research, news clippings, and race results.
Exceptionally fast, dramatically styled, and historically significant, the 340 America is one of the most charismatic sports racing cars of the 1950s. As an early, even-serial-numbered competition car, 0202 A will always maintain an important place in the history of the marque. This Ferrari possesses not only a distinguished racing pedigree and Ferrari Classiche restoration, but also a rich and well-documented provenance, having been owned by some of the most important figures in racing history.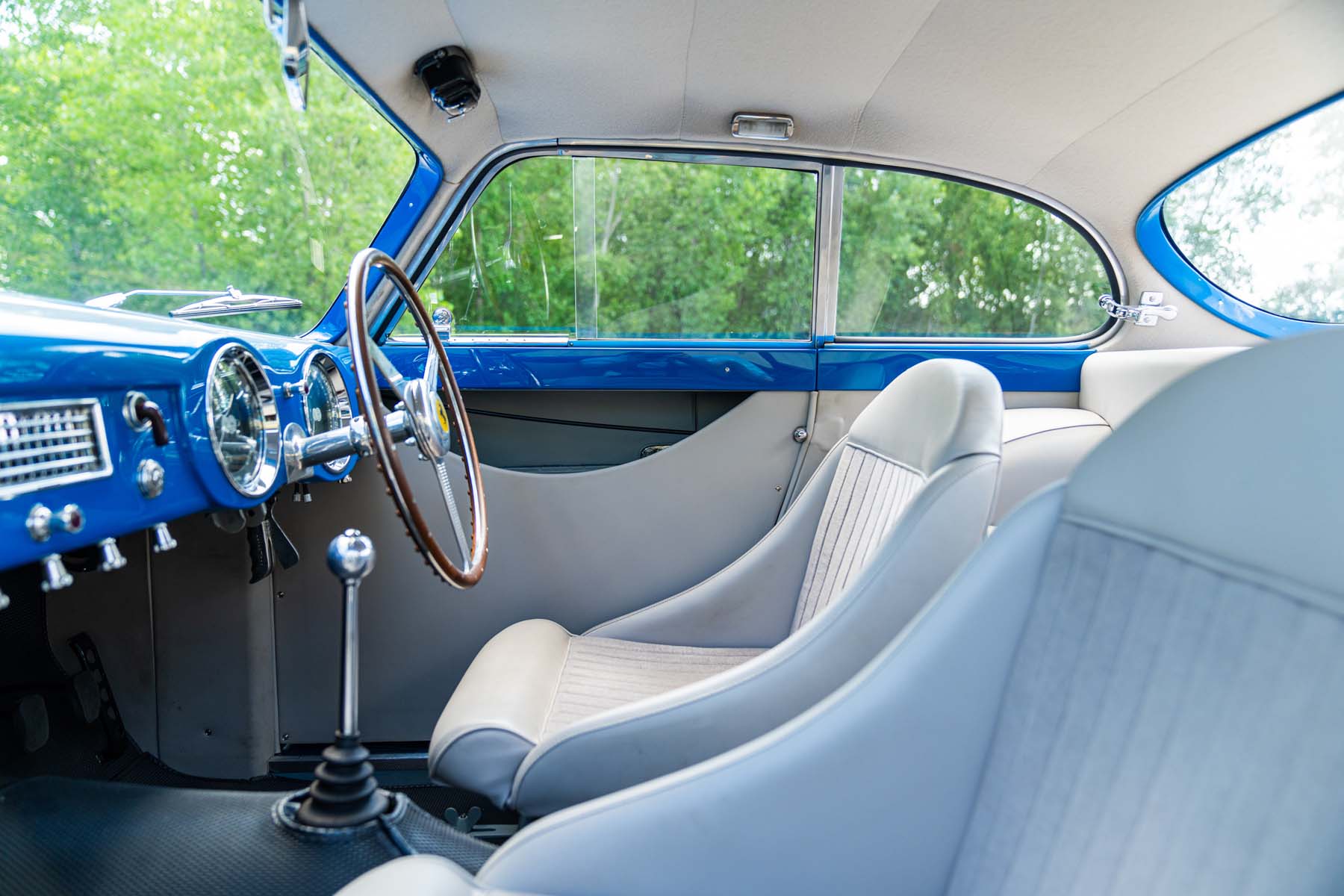 While any 340 America is a car of immense appeal, 0202 A, with its significant international racing record and further US racing success, is a historic offering sure to appeal to discerning collectors, and is eligible for the most exclusive motoring events worldwide. With an estimate between $3M and $4M, it will be quite interesting to see where this rare piece of automotive history lands.
Available HERE during Monterey Car Week.