While I wasn't sure if I'd ever be able to say this again—I really enjoyed watching this year's running of the Indianapolis 500. Though I want to come back to this in a future column—as I thought this was one of the best Indy 500s in recent memory—there was one pre-race occurrence that captured my attention.
As I watched the pre-race telecast, the announcers previewed the fact that, when they came back from the commercial break, they would be showing us a unique insight into the life of Scottish driver Dario Franchitti. Upon hearing this, I yelled across the house for my wife to come watch. Because my wife, and all her family, are from Scotland, any driver racing with the St. Andrews cross on his helmet has a special place in Mrs. Annis's heart. And so it was that moments later she came streaking in, just in time to see "her boy" Dario take to the screen.
With great fanfare the announcer proclaimed that there was a new love in Dario's life—hmm, you'd think Ashley Judd would have sufficed—as the shot moved to Dario climbing into his new jet-black, personal helicopter. I couldn't help myself, but I think I let out a small gasp. "What?!" my wife snapped. I could only shake my head in the same sad way that fathers do when they are about to tell their kids that "Fluffy" won't be coming home from the vet's. "I wouldn't get too attached to Dario, if I were you," was all I could reply.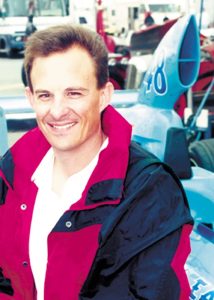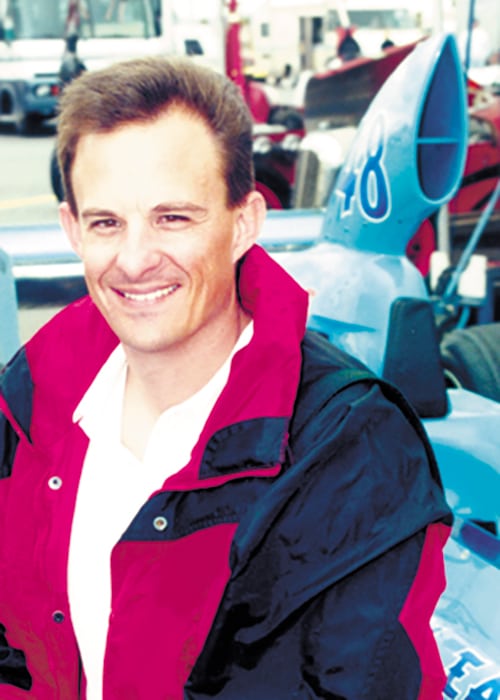 See, to my way of thinking, there are certain combinations of elements on this planet that always add up to no good: gasoline and home barbeques, children and super glue, chainsaws and flip-flops, and last, but by no means least, racing drivers and flying machines. Think about it for a moment; besides actual racing accidents, the single greatest killer of racing drivers over the past 50 years has been airplanes and helicopters.
Sadly, the list of drivers lost in aeronautical accidents reads like a virtual "Who's Who" of racing. The roll call includes Al Holbert, Ron Flockhart, Don Yenko, Harald Ertl, Davey Allison, Alan Kulwicki, Juan Carlos Pace, David Purley, Tony Bettenhausen, Curtis Turner, Lance Reventlow, Richie Panch, Silvio Oltra, Wilbur Shaw, and of course, one of the most sensational racing losses, Graham Hill and teammate Tony Brise. The common thread in many of these tragedies is the fact that the driver in question was piloting the plane.
I suppose it doesn't take a Ph.D. in clinical psychology to see the connection between racing drivers and aircraft. Racers obviously love speed, love fast machines and derive tremendous satisfaction from controlling those machines in inherently dangerous situations—in its most reduced form it is perhaps all about the intoxicating exhilaration of cheating death. Finally, take the ego required to make it to the top level of professional racing, mix in a vehicle that travels 250 mph, 15,000 feet above the ground, and you have another one of those unnatural combinations I mentioned earlier.
In the tragic case of Graham Hill and Tony Brise, Hill was flying Brise and four other members of the Embassy Hill team from France to London on Nov. 29, 1975, in his Piper-Aztec. While weather reports indicated deteriorating conditions, Hill must have thought he could manage the situation, despite not having appropriate instrumentation to fly with no visibility. Once over England, Hill became lost and disoriented as the fog grew more dense. Outside of Hertfordshire, Hill was flying just 60 feet off the ground when he struck a grove of trees near a golf course, causing the plane to crash and burst into flames. All six passengers on board were killed.
Back at Indy, as I saw Dario spark his new helicopter to life and take one of the announcers on an aerial tour of the Speedway, I couldn't help but think of NASCAR driver Davey Allison who was killed trying to land his own helicopter at the Talladega Speedway in 1993. And if this isn't enough to convince you that racers and aircraft don't mix, you only have to look back as recently as a few years ago, when David Coulthard (Och, another Scot, noo less!) and his girlfriend amazingly walked away from a fiery crash that claimed the life of his two pilots, or poor Emerson Fittipaldi, who was nearly paralyzed after crashing his ultralight plane into a Brazilian swamp.
No, to my way of thinking, if the FIA wants to get serious about driver safety, they ought to clip their drivers' wings!