I've been disease free for almost two and a half years. That is… until a couple of months ago.
I had been doing so well. Two and a half years without any symptoms or flare-ups. But just like previous relapses, the holidays for some reason seemed to trigger The Fever. It starts out benign enough – a little itch here, a twinge there. But then it starts to build up strength, keeping you awake until all hours of the night, making it difficult to work or, in extreme cases, carry on a normal life. This disease, which is once again wrapping its insipid fingers around me, is the dreaded "Restoration Fever". The telltale signs of Restoration Fever are easy to spot – scabbed or bloody knuckles, discolored fingernail tips (black, blue, or red, depending on which brand of gasket sealer you use) and, of course, frequent coughing spells caused by inhaling too many solvent fumes. I know… I know. It's not a pretty sight. But please don't turn away in disgust. One small mistake – a quick unprotected fling with a TR3 from the wrong side of town when I was young and foolish – and now I must pay the price for the rest of my life.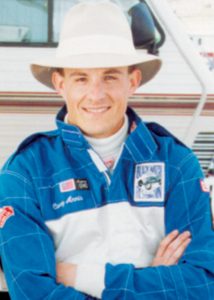 It all started innocently enough. For some strange – inherently masochistic reason – I had gotten it into my little peabrain that I wanted to restore a classic car. I found a suitably dilapidated TR3, paid too much for it, and then drove it two hours home, at night, on one of the coldest days California had seen in a decade. Good thing the fever kept me warm. When I got the car home, I gathered the family around to look at my newly acquired disease – I mean "project". My grandmother took a long, hard look at it, gazed at me with that grandmotherly "what-are-you-doing-with-your-life" look and said, "Well, at least you're young." My nine-year old cousin was less sympathetic, "That baby's really ugly!" But, after a year and a half of bruises, cuts, inhaled rust particles and paint fumes, the car looked like it had just rolled off the assembly line at Coventry. I thought I was cured. Little did I know… I hadn't cured the disease; I just made it more virulent.
The doctors pronounced my case "terminal" when an infected friend and I decided to build/restore our first vintage racecar. Misguidedly thinking that a Triumph would be the least expensive way to go vintage racing, we began searching for a TR4. We found it – a miserable excuse of a car that had served as a possum den in an overgrown field in Pacoima, California. For some reason, my afflicted friend and I were obsessed with rust in those days. No matter what, we didn't want a rusty British car. Since this car had virtually no rust, it seemed like the ideal project, so we bought it. However, in our zeal to avoid the ferrous cancer, we neglected to notice the fact that the engine was missing, the frame was bent and the difficult-to-replace hood had been "narrowed" to accommodate a badly "catty-whompus" front end. And, of course, in feverous "I'll-never-find-another-one-like-it" style, we paid waaaaay too much for the car. The owner of this "project" must have peed himself with laughter all the way to the bank.
In order to make up for overpaying on the initial purchase of the car, we carried out every aspect of the restoration ourselves – including painting the car. Considering neither of us had ever painted a car before, it proved to be a learning experience. We used my friend's one-car garage in his condominium complex as our "spray booth." We put a gigantic fan at the front of the garage and a little household fan at the back and voila! A professional-quality spray booth! One of my most lasting memories of that restoration was coming over to my friend's condo one night, pulling into the complex and seeing this blue fog rolling down the street. As I got nearer and nearer to the garage, the fog got thicker and thicker. When I finally got into the garage, my friend was standing there half-blind and Mercedes blue from head to toe. His hair was so blue I thought he was going to an audition for a revival of the Lawrence Welk show. For some reason, the kids on the block called him "Papa Smurf" for the next month and a half.
I guess the "Surgeon General's Warning" in all of this is be careful. The Fever is highly contagious, very expensive and has no known cure.