John Von Neumann is an important name in the history of the second half of the twentieth century. A Princeton professor, he was an eminent mathematician and physicist, instrumental in the development of computer science, a participant in the Manhattan Project to develop the atom bomb and a Nobel laureate. Undoubtedly a genius, in his spare time, he speculated about economics and invented game theory.
There was, however, another John Von Neumann who was important to the development of the post-WWII sports car craze. We called him "Johnny." And, interestingly, the two have more than the same name in common. Both families added the "Von" to their name (neither was from German peerage). Both fled Austria when Chancellor Kurt Von Schlusnik turned their country over to Adolf Hitler. Both immigrated to the United States.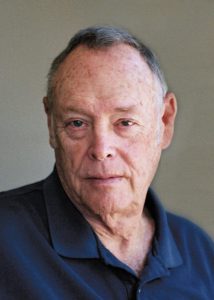 The professor's name was pronounced "Noy," while Johnny's was "New." At one time because of the similarities, I wondered if there was a familial connection. Although this isn't to say there isn't any, I couldn't make a connection with my fumbling Internet surfing. (If any of you can do better, I would be interested in hearing from you.)
Our Johnny was one of the three who created the California Sports Car Club, which, in the sixties, was to become the largest Region of the SCCA. He was the first to race Porsches on the West Coast and championed Ferraris on the track, both for himself and also for some top drivers. From a small foreign-car repair shop, he built an empire that became the largest Porsche-VW distributorship in the United States and was a particular friend of Ferry Porsche and Enzo Ferrari.
Johnny was born in Vienna in 1921. His father was a distinguished surgeon who treated royalty including the kings of England and Spain. Due to the Anschluss, the family fled to Switzerland. In 1939, Dr. Von Neumann was invited to become a lecturer at Columbia University and the family—including Johnny, his mother and two sisters—moved to New York City. Unfortunately, the doctor died that year. Johnny enrolled at New York University. An aficionado of the musical theater and a stage-door "Johnny," he became enamored with a Ziegfeld Follies dancer—Elinor—who he later married. In 1940, Johnny loaded up his Lagonda—purchased with part of his inheritance from his father—and transferred to the University of Southern California.
In 1942, Johnny sold the Lagonda and enlisted in the U.S. Army. He was—serendipitously—sent for basic training to Camp Callan near San Diego where, in the next decade, he would compete in the first sports car race at Torrey Pines, no longer an Army base. Because of his language fluency, Johnny became a member of the fledgling Central Intelligence Agency. In 1944, he participated as an intelligence officer in the invasion of Germany and, after the surrender, was sent to Salzburg, Austria, where he worked in the de-Natzification program.
With the war's end and mustering out, Johnny got a job as a salesman at Roger Barlow's International Motors in Beverly Hills. Interested in competition, Johnny, along with Roger and another employee, Taylor Lucas, formed the California Sports Car Club. Their first event was a time-trial held in the hills of Palos Verdes in August 1947. Johnny won in an SS100 Jaguar. After putting on a number of other trial-type events, the club staged its first road race at Palm Springs in April 1950. After blowing the head gasket in his supercharged MG, Johnny borrowed a Riley and competed in the production race. The next month, he won the very first race held through the forest at Pebble Beach in his MG.
Meanwhile, Johnny, along with another enthusiast, wealthy Secondo Guasti, opened a small speed shop they called Competition Motors. Soon, they were selling, as well as modifying and repairing, foreign cars. Johnny acquired one of the first Porsches, cut the top off, then entered and won his event at the 1952 Torrey Pines. That same year, Johnny became a Porsche dealer and the next year, established a Porsche-VW distributorship. By 1956, the network included 37 dealerships selling almost 10,000 cars a year. His wife, Elinor, who was considerably older, was also active in managing the business. Johnny was her second husband. The first was Joe Bigelow, who was Jack Benny's chief writer. Elinor and Joe had a daughter, Josie, who strangely enough, had some facial features similar to Johnny's. He would become irritated when anyone took Josie for his real daughter since she was only a few years younger than he was. (Josie died in March 1997.)
Although Johnny's early racing was at the wheel of MGs, he soon changed to Porsches. Then in 1954, he bought a 500 Mondial Ferrari from Porfirio Rubirosa. When Johnny couldn't beat Ken Miles's MG Special (R-1), he hired Ken to work at Competition Motors, put Ken in Porsches and drove Ferraris. One time I asked Johnny if he had kept track of his racing. He replied that he had been in so many races, he couldn't remember. (A record was compiled by Michael Lynch and can be found in his book, American Sports Car Racing in the 1950s.)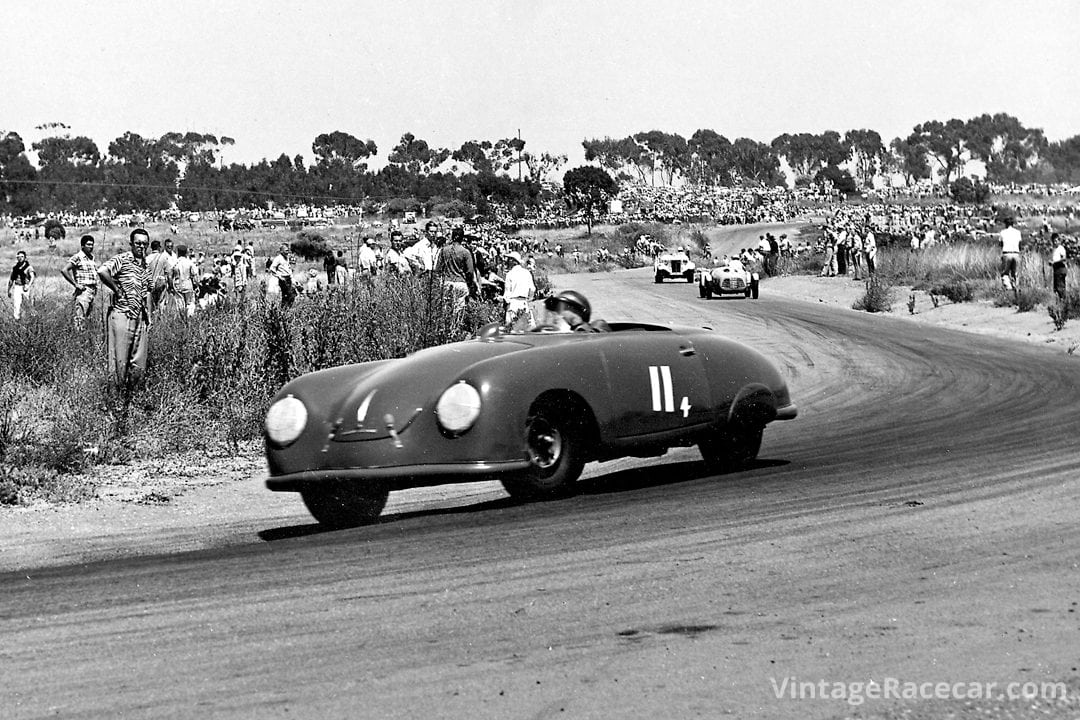 Even though he was often in the winner's circle, Johnny was conservative behind the wheel and seldom took untoward chances. His only accident occurred at March Field in 1954. Johnny had entered a new 550 Porsche Spyder. During Saturday practice as he was coming down the pit straight, when an MG pulled out directly in front of him. The Spyder was demolished, but Johnny walked away without a scratch!
Johnny's best year as a race driver was 1957. He had ordered a new 625 TRC Ferrari and it was shipped from Italy to Mexico for the April Avandaro event, which Johnny won. Five additional overall wins followed that year, as well as numerous class victories.
Others who drove for Von Neumann in addition to Ken included Phil Hill, Richie Ginther, Jack McAfee and his stepdaughter Josie. One time, he even gave a ride at a hill-climb to actor John Hart, the last Lone Ranger.
In 1957, he had added a Ferrari franchise to his empire—Ferrari Representatives of California—managed by Richie Ginther. In 1959, Johnny and Elinor parted ways. The Ferraris and the Ferrari business went to her in the divorce settlement. Johnny's last year behind the wheel was 1959.
Afterwards, Von Neumann started to spend considerable time in Europe and, in 1965, acquired the Ferrari franchise for the country of Switzerland. In 1973, the Porsche-VW distributorship was sold to the factory and Johnny joined the ranks of the super wealthy. Next, he turned his enthusiasm for yachting into a successful business, and then performed the same financial magic after acquiring a Lear Jet.
Although we knew one another during the fifties, Johnny and my family became close more than 25 years ago when we became neighbors in Palm Springs. His house is across the street a few blocks away. Porsche expert and Johnny's close friend, Vasek Polak, also had a house on the same short street. Vasek and Johnny often enjoyed dirt biking in the area before it became overdeveloped. The last time we saw Johnny was on the occasion of my grandson's christening in January 2003. At the subsequent party at our house, Johnny was the first to arrive and the last to leave.
During those years, Johnny usually wintered in Palm Springs and lived the rest of the time at his chalet on Lake Geneva, his condo in Beverly Hills or his live-aboard yacht—complete with captain, crew and chef—on the Med. Although he had a young wife—named Monica—we never saw her in Palm Springs. There was, however, a succession of live-in girl friends. One was a European model born in Tunisia. One day he asked me to photograph her posing with his latest Ferrari. I gave Johnny the negatives as well as the prints, so I can't reproduce one here.
In the fall, 2003, Johnny suffered a stroke and died that Christmas Eve. There was no service of any kind, but eventually Monica scheduled a remembrance gathering at the Petersen Museum. However, she suddenly cancelled it without explanation, and, I understand, abruptly left for Switzerland. Perhaps she had heard about his living arrangements in Palm Springs.