First Principles: The Official Biography of Keith Duckworth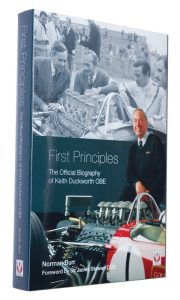 By Norman Burr
While we've had to wait a little longer than anticipated, hats off to technical journalist Norman Burr for writing this excellent book about the man who changed the face of Grand Prix racing with the Cosworth Double Four Valve (DFV) engine. Keith Duckworth, OBE, who passed away some ten years ago, was a very modest man who shied away from many well deserved accolades. As a journalist, I remember on more than one occasion trying to interview him about certain aspects of his career, and he'd often say his memory wasn't that good. So, it's good to see someone has taken the time to chronicle the life and times of the engineering genius who has possibly made a bigger impression than anyone else on motorsport over the last 60 years.
Although a good part of the book is dedicated to the development of the DFV, Burr spreads his net far and wide to incorporate other aspects of Duckworth's life, including his creative interests in the worlds of motorbikes, motorboats, airplanes and even steam engines! This is not a dry book of facts and figures, but a thoroughly informative, revealing and entertaining work peppered with typical Duckworth quotes and a sense of humor that will bring a wry smile to the reader's face and will resonate in the minds of those who knew him. While looking back, we are reminded that Duckworth was a man born ahead of his time. Fully vindicated and appreciated is his vision of producing more fuel-efficient engines—that was way back in the late 1970s, when fuel efficiency was a subject "not for our generation" and a time when many engineers in his field thought gas guzzling engines were here to stay. The book looks a little into Duckworth's personal life too, making this a truly rounded book of a truly remarkable man. Well done, Norman Burr, for reminding many and educating others about the life, times, brilliance and person of the much-missed engineer Keith Duckworth.
Available for GB£35.00 / US$59.95, direct from publisher Veloce at  www.veloce.co.uk or www.velocebooks.com 
Reviewed by Mike Jiggle
---
Le Mans Panoramic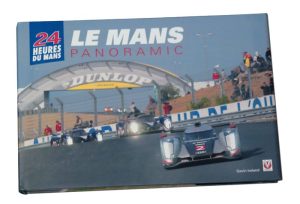 By Gavin Ireland
If you understood not a word of either English or French, the two languages of this book, it would still be a treasure simply for the author's images as he captures the spirit of the legendary event on a historic racing circuit near a fabled French town. Some 220 pages burst with illuminating images of not only that town, but also the cars and teams competing there and the throngs of enthusiastic fans who travel from all over the world in the several hundreds of thousands just to watch them.
This book shows both city and circuit before giving glimpses of what it's really like out there in the heat of competition. When that action has run its course twice around the clock, one of racing's most inspiring moments transpires as the victorious are celebrated by fans converging from all around the circuit, flooding the pit lane and main straight seeking a glimpse of those who prevailed over time and distance. The result is a podium scene unrivalled in all of racing—save perhaps for Monza when a Ferrari wins the Italian GP. This book may not be a trip to France, but it's pretty close to the next best thing.
Available for US$69.95 / GB£35.00 at enthusiast bookstores or direct from publisher Veloce at www.veloce.co.uk
Reviewed by John Zimmermann