Regularity race specialist Giuliano Cané won the Mille Miglia for a record ninth time on May 13th, driving a BMW 323 MM. Navigated by his wife Lucia, the Bologna industrialist won the 24th re-run of the glorious old race with 14,849 points after dropping down as far as 35th place due to a problematical start. But by the ninth timed section, Cané had worked his way back up the field to 5th, went on to take the lead on the 24th stage and kept it until the end.
Cané also won the race in 1992/4/6/8/9, 2000, 2002, 2004, almost all of them with his wife in the navigator's seat.
Second place went to last year's winner Luciano Viaro in an Alfa Romeo 6C with 13,882 points and 3rd was Ezio Perletti in a Fiat 514 Coppa delle Alpi with 13,409 points.
The sedate regularity run from Brescia to Rome and back to Brescia again, for 375 cars built between 1927 and 1957, was a huge success once more, attracting millions of spectators along its 1,000-mile route. Tens of thousands of applauding enthusiasts literally surrounded some of the entrants. For instance, Italian soccer hero Massimo Natili and his beautiful showgirl navigator Giulia Montanarini were given a 10-minute standing ovation at Viterbo, the player's home town and historic time control of the old race: and while all that was going on, their 1953 Jaguar XK 120 was locked in, completely unable to move through the sea of fans that encircled it.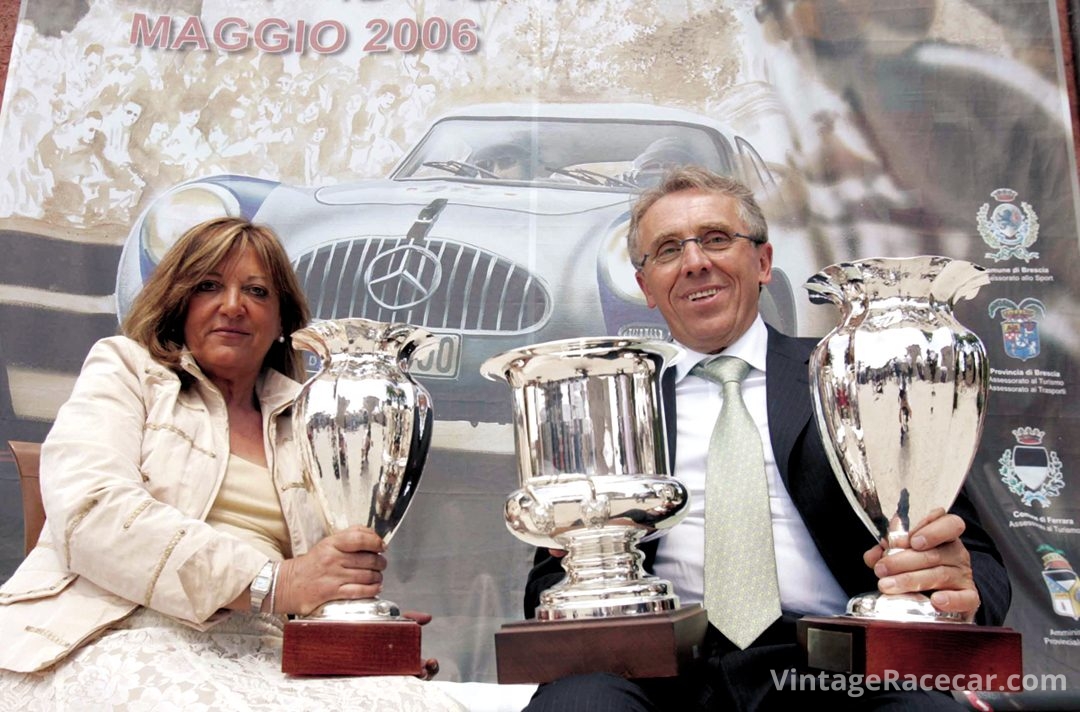 While the regularity drivers were all out to win, racers young and old drove the route for the fun of it. The much-applauded double world rally champion Miki Biasion, 48, who did the event in 2005, said at scrutineering, "I am a racer and don't really like regularity runs. Last year, I did my best without achieving a good result, but I was amazed at the great deal of technological research carried out by some competitors, who were armed with satellite equipment, photoelectric cells and sensors to get to the time controls with extreme precision."
Jacky Ickx, 61, is another one who was not too interested in the competitive side of the regularity race. He drove a Porsche 550 RS with Karl-Friedrich Scheufele, co-president of the Swiss watchmaker and jeweller Chopard, and said, "I have never raced here with a competitive spirit, even if it is part of my DNA. The important thing for me is to stop the car and admire a medieval town or the beauty of Spoleto and a thousand other dream-like places and then arrive late at a time control, instead of earning a pile of points and taking no notice of the wonderful country I am driving through. I do not criticize those who set out to win, like the talented Giuliano Cané and Luciano Viaro. My philosophy is different, that's all."
This was a view shared by the ultra-courageous Alex Zanardi, 39, two-time CART champion and currently competing in the World Touring Car Championship for BMW. Zanardi navigated last year but in May he drove a specially-adapted BMW 507 with the accelerator behind the steering wheel and a braking device near the gear lever. He shared the driving with the president of BMW Italy, Marco Saltalamacchia.