F5000 stalwarts Kevin Bartlett, Howden Ganley and Ken Smith used a visit to a very special workshop in Salinas, California, during the Monterey Motorsport Reunion, to help officially launch the 16th annual SAS Autoparts MSC NZ F5000 Tasman Cup Revival Series.
This season's series again kicks off with a round at the ITM Auckland SuperSprint Virgin Australia Supercars meeting at Pukekohe Park Raceway over the November 3-4 weekend.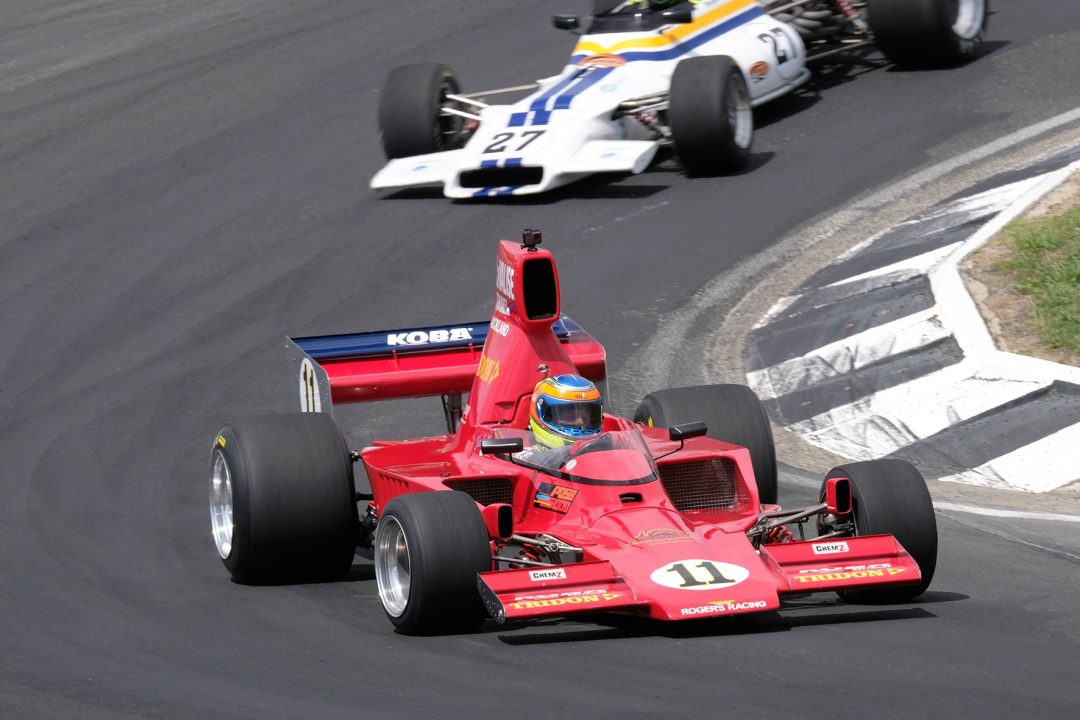 There is then a break until an Antipodean mid-summer run of three meetings over three consecutive weekends starting with the annual Historic Grand Prix at Taupo's Bruce McLaren Motorsport Park (Jan 19-20, 2019)  before heading north to support the Toyota Racing Series at the HRC/TRS meeting at Hampton Downs on Jan 26-27, then south to Christchurch's Mike Pero Motorsport Park, at Ruapuna, to headline the annual Skope Classic on February 2 & 13. Hampton Downs then hosts the season's series final, at the  HRC's big Legends of Speed meeting on March 23-24.
Though the calendar has been ratified for a few weeks, members of the committee that organizes the series thought they would wait until after the two big Rolex Monterey Motorsports Reunion meetings in the U.S. before officially announcing the 2018/19 date/venue info.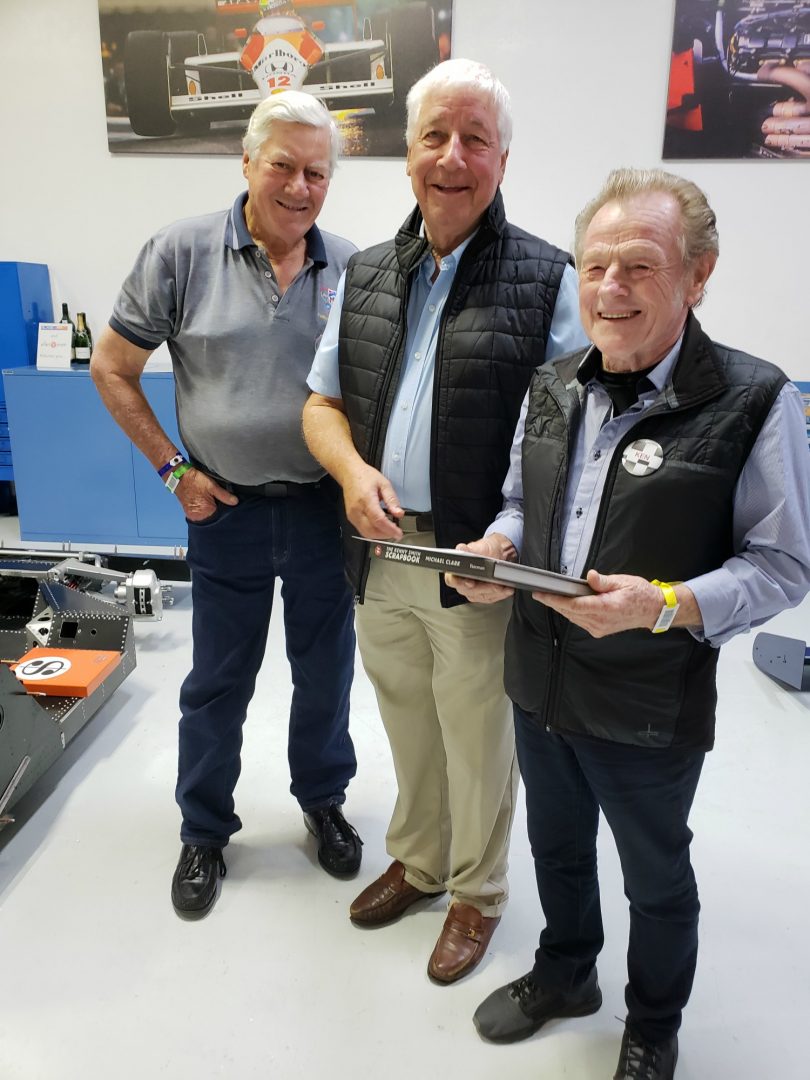 Committee spokesman David Abbott said, "Because they (Kevin Bartlett, Howden Ganley and Ken Smith) were heading to Salinas we decided to do it there. And it worked very well. It is honestly unbelievable the interest there is in our little series up here in the 'States and even if we don't receive entries from – in particular – some of the US-based guys this coming season, I think you will find we will in 2019/20. 
"Really, I can't overestimate how important it has been for us to be here with a field of quick, reliable, well-driven cars. It's really put us on the map."
Legendary Australian single-seater ace Kevin Bartlett and Kiwis Ganley and Smith were invited to visit the workshop in the city of Salinas of Nick Slade, the son of Bob Slade, a New Zealand-born race engineer and race engine builder with close links to the UOP Shadow team of the late Don Nichols.
Fourteen Kiwis from the SAS Autoparts MSC NZ F5000 Tasman Cup Revival Series shipped their F5000 cars to the United States this year to help celebrate the official US 50th anniversary of the category at the annual Rolex Monterey Motorsports Pre-Reunion and Reunion meetings at the WeatherTech Raceway Laguna Seca circuit in Northern California this month.
The first race at the Pre-Reunion meeting was won by series' young gun Michael Collins (McRae GM1) from Melbourne-based series' regular Paul Zazryn with the first 'local' drivers, Kyle Tilley (Lola T330) and Craig Bennett (Shadow DN6) third and fourth respectively. Former SAS Autoparts MSC series champion Steve Ross (McRae GM1) joined Christchurch 22-year-old Collins on the front row of the grid, but was caught and passed by Zazryn then Tilley and Bennett to cross the finish line fifth.
The locals got their revenge in the second Pre-Reunion race on Sunday, won by Craig Bennett from Milford, Michigan, in the unique Dodge-engined Shadow DN6, with Australian driver Paul Zazryn (Lola T332) again second and US-based Brit Kyle Tilley again third in his Lola T330.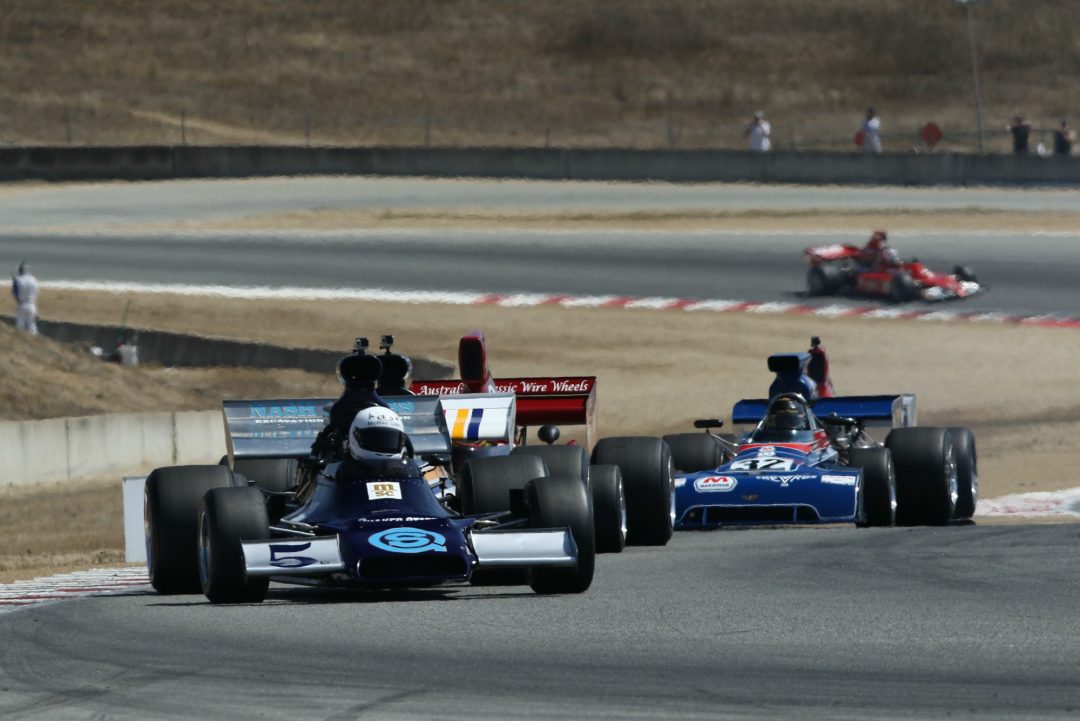 First race winner, Kiwi Michael Collins (McRae GM1), was in the mix up front in the second race as well but the other front-runners got a better run off the re-start after a mid-race Safety Car period, shuffling the young Kiwi back to fourth place ahead of fellow McRae GM1 driver Steve Ross from Dunedin, Brit Greg Thornton (Chevron B24) and Kiwis Andrew Higgins (Lola T332), Brett Willis (Lola T330),  Grant Martin (Talon MR1A) and Tony Galbraith (Lola T332).
You can follow the series on Facebook at F5000 New Zealand or on the NZ F5000 Association's website www.F5000.co.nz