After bettering the Shelby team's efforts in the 1969 Trans-Am season, Bud Moore Enterprise's competing Ford Mustang team was awarded full backing by Ford Motor Company and Ford contractor Kar Kraft for the 1970 season. Parnelli Jones and George Follmer remained Moore's drivers. The Bud Moore Trans-Am Boss 302 Mustangs dominated the season in a series of epic races, with Jones scoring five wins and Follmer one to secure the 1970 Trans-Am Championship for Ford. Seen in retrospect, that 1970 Trans-Am season signified the peak of the classic muscle car era that, in passing into history, also bequeathed lasting historical automotive icons in the Moore Boss 302 racers that still draw appreciative crowds at vintage events.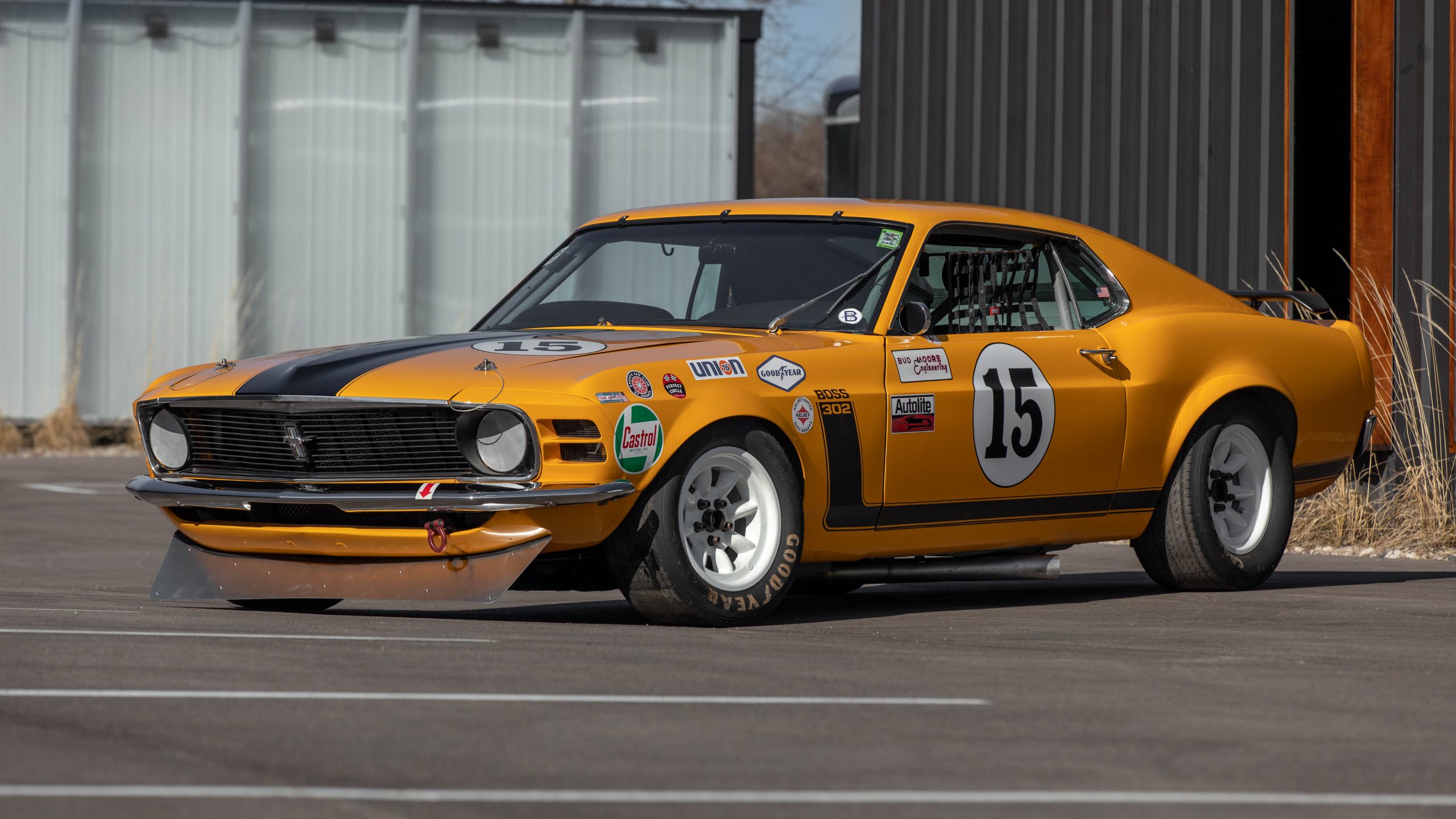 Late in the 1970 season, Ford decided to pull its factory support of Trans-Am racing, but supplied four Mustang Sportsroof "bodies in white" to the Moore team for use in the 1971 season. Three were prepared for racing, one of them in a backup role, while the fourth, BME 4-1971, was never completed. Thanks to the efforts of dedicated enthusiasts and Bud Moore himself, BME 4-1971 was finally completed after Steven Johns of Arizona acquired the car in 2008. Bud Moore stated in a letter, which is part of the car's documentation, that he and his son Greg contributed to the car's restoration, which was completed in 2011.
In 2015, an experienced vintage racer and important Ford customer purchased it and prepared it thoroughly for vintage racing. The work included a complete rebuild of the car's Boss 302 engine by Hertel Racing Engines in Spartanburg, South Carolina, part of which included custom headers and side exhaust that replicate the originals. Final dyno tuning produced an impressive figure of 525 HP at 7,700 RPM. As of 2018, the fully dialed in Boss racer had made one on-track appearance in Brian Redman's Targa Sixty-Six event at Palm Beach International Raceway. Offered for sale at Mecum Auctions' upcoming Indy sale (May 14–22), with two extra sets of Minilite wheels and Bud Moore's signature on the dashboard, this Bud Moore 1970 Boss 302 Trans-Am Mustang is eligible for a wide array of vintage racing and show events, and it will provide its new custodian a driving experience like no other.
For more information visit www.mecum.com