The centenary of the first running of the Indianapolis 500 was celebrated at the Goodwood Festival of Speed (July 1-3) by a gathering of 15 drivers with an astonishing 26 wins at The Brickyard between them. Some original Indianapolis bricks have been permanently inserted into the start line and the fanfare and pageant of the famous race was recalled by Goodwood's "Gasoline Alley" and the 33-car-and-driver parade headed by a marching band.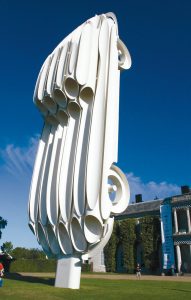 Goodwood has always excelled at matching cars and drivers, and this year was no exception with Parnelli Jones (1968 Lotus 56 Turbine), Bobby Unser (1981 Penske PC9B-Cosworth), Al Unser Jr. (1970 PJ Colt-Ford Johnny Lightning Special and 1994 Penske PC23-Mercedes that he shared with Emerson Fittipaldi) Johnny Rutherford (1974 McLaren M16C-Offenhauser and 1980 Chaparral 2K-Cosworth), Emerson Fittipaldi and Danny Sullivan (1985 March 85C-Cosworth), Bobby Rahal (1986 March 86C-Cosworth), Kenny Bräck (1977 Coyote-Foyt), Eddie Cheever (1951 Stevens-Offenhauser), Gil de Ferran and Helio Castroneves (2003 Panoz GForce GF09-Toyota), Scott Dixon (1957 Kurtis Kraft-Offenhauser), Dario Franchitti (1965 Lotus 38-Ford and 2008 Dallara-Honda) joining this year's Indy winner, Dan Wheldon, in his home country. Arie Luyendyk was also present.
Lining up in Gasoline Alley alongside the cars in action were static displays brought over from the Indianapolis Motor Speedway Hall of Fame museum, and among these was the Marmon Wasp, winner of the first race in 1911, and fitted with what is thought to be the world's first rear-view mirror. Together, they represented the greatest collection of Indy racers outside of the USA. It would be difficult to imagine a more unlikely place to exercise these Speedway legends than up the 1.16-mile long, narrow hill that passes in front of the Earl of March's family seat in England's rural West Sussex!
The overall theme was "Racing Revolutions—Quantum Leaps that Shaped Motorsport." This year marked 75 years since Auto Union won the European Championship with a ground-breaking rear-engined car, 30 years since the Audi quattro heralded rallying's four-wheel-drive age, and the McLaren MP4/1 that introduced carbon fiber to F1. All were represented at Goodwood along with a host of drivers. Sir Stirling Moss, a Patron of this event since its inception in 1993, drew loud cheers as he demonstrated his own Porsche 718 RS61 despite recently announcing his retirement from vintage racing. Only a few entries opt to participate in timed runs, and this culminated in a top ten "shoot-out" for the fastest climb of the Hill. Dan Collins was narrowly fastest in a 1981 Lotus 88B "twin-chassis" that itself was a racing revolution, albeit one never allowed to compete in period.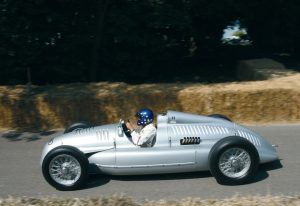 Among other famous names taking part were Jean Alesi, Derek Bell, Martin Brundle, Jenson Button, Vic Elford, Lewis Hamilton, Damon Hill, Nigel Mansell, Jochen Mass, Arturo Merzario, Brian Redman, Nico Rosberg, John Surtees and Mark Webber. The present-day Formula One drivers and cars attract many of the spectators who hopefully gain an insight into motorsport history when they see their heroes also piloting cars from a previous era. It seems that most of today's stars relish meeting their heroes from earlier times and many stories are exchanged. For others it is one big reunion at the world's fastest garden party.
The central display in front of Goodwood House traditionally features a marquee celebrating an anniversary, and the stunning 90-foot-high creation this year reflected 50 years since the launch of the Jaguar E-Type. Gerry Judah had crafted a recognizable fixed-head coupe from what resembled giant organ pipes, said to weigh as much as 122 real E-Types! Mounted nose down, it looked like it had just landed from outer space. Many competition examples of the iconic model were also driven on the Hill, including the recently restored Lidner/Nöcker lightweight, lovingly brought back to life by Peter Neumark's Classic Motor Company. Jaguar also celebrated 60 years since its first Le Mans win.
Every conceivable variation of four- and two-wheeled vehicle could be found around the Festival site. A walk up the increasingly steep Hill rewards the visitor with a view of the cars completing their climb, and just 40 feet away the top rally cars of past and present are performing on the 1.7-mile forest rally stage that draws its own devotees.
The next event at Goodwood is the circuit Revival Meeting on September 16-18. As always, entry is by advance ticket only and these are available at www.goodwood.com/tickets.
By Keith Booker