If you've been reading the editorials written by Casey Annis for a long time, you might already know of me. As his eldest daughter, I've had a couple of mentions throughout the years, like when I first learned to drive or when I got into college. Having a racecar driving/car historian father meant that growing up, I spent a lot of time around the racetrack. I remember spending countless hot summer days at Laguna Seca eating hot dogs stuffed in baguettes, or marveling at the shiny cars worth millions of dollars. The first couple of times, I thought it was fun, but as I got into my angsty tweens, spending my birthday weekend around loud cars driving around in a circle was the last thing I wanted to do. In fact, for the better part of my life, race cars weren't a "thing" for me at all.
As my dad has also written about, my mom became obsessed with the Netflix show Drive to Survive, like so many other Americans who were clueless about the European-centric sport. One weekend, while I was home visiting my parents, I watched a few episodes with her, including the infamous "Man on Fire" episode that showcased Romain Grosjean's life-threatening crash at the 2020 Bahrain Grand Prix. I remember watching Grosjean pull himself out of the still-burning fire and thinking, these drivers are both insane and insanely impressive.
Suddenly, just like the start of a race, my love for the skill and artistry of racing went from 0 to 100 in a heartbeat, and my life changed forever.
I finally decided to take a break from the mind-numbing reality dating shows my father berates me for watching and sat down to watch Drive to Survive from the very beginning. Fourteen near sleepless days later, I finished the entire series and was fully hooked. Much to my father's surprise, I'm now more of a rabid fan than either he or my mom! I follow all the drivers on social media, and I watch all the practices, qualifying, and races live, no matter the start time. I have my favorite team (Scuderia Ferrari), drivers (Charles Leclerc and Daniel Ricciardo), and even my favorite team principal (Guenther Steiner of Haas Ferrari).
Ultimately, I think what drew me into this sport was my love for the emotional and real human stories behind the drivers. In fact, my newfound obsession with following the drivers (and their fan accounts) even enabled me to stump my "Old Man" with an historical connection he wasn't aware of. Shocking, I know.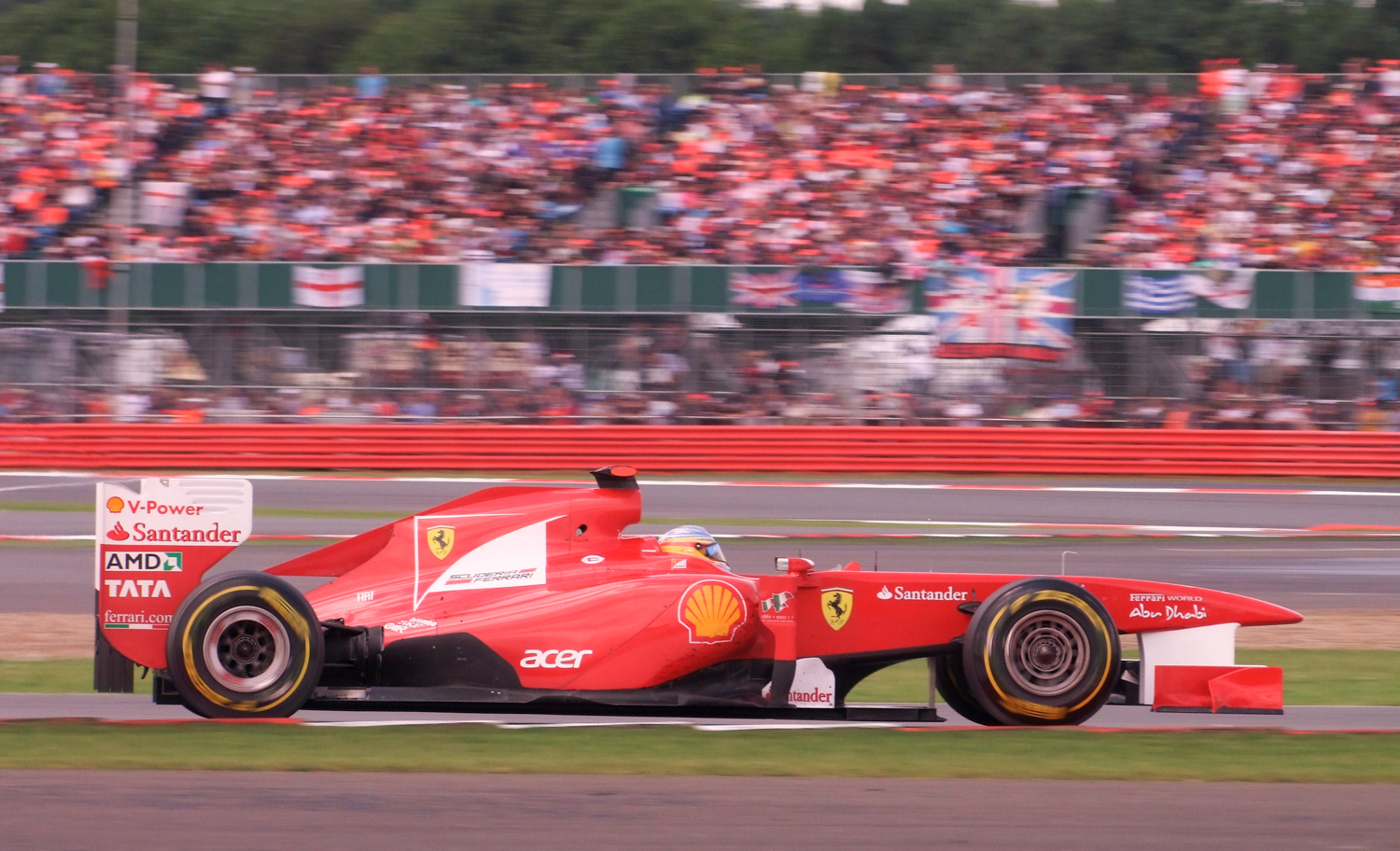 One day, while on one of my deep dives into the F1 Twitter-sphere, someone posted a graphic comparing Fernando Alonso to Niki Lauda. I knew of Niki Lauda from watching Rush with my dad and from his death being documented in Drive To Survive, but I learned there are some mind boggling parallels between him and Alonso. Both Lauda and Alonso retired as two-time champions, in 1979 and 2018, respectively.  Both drivers retired and then returned to F1 after two seasons out, in 1982 and 2021. Both drivers, in their third season after coming back, were with British teams (McLaren and Aston Martin), and both cars had a German engine (TAG-Porsche and Mercedes). For Lauda, this third season post-return with McLaren led him to winning the Driver's Championship. With all of the stars appearing to align, and Alonso getting third place on every podium thus far this season, will he have the same victorious season ending as Lauda?
It's still too early to tell, but there are plenty of races for Alonso to continue to get points ahead of the Red Bull drivers. Or better yet, plenty of time to win his first race in 10 years, with his last win being in 2013 at the Spanish Grand Prix with Ferrari. For the sake of the story (and, honestly, to push Red Bull down a peg), I hope Alonso really is able to follow in the historic footsteps of Lauda. The only thing that would be more compelling to me is Charles Leclerc winning the Driver's Championship with Scuderia Ferrari in honor of his late godfather Jules Bianchi (with current leader Max Verstappen falling victim to the "Bahrain Curse"!) But that's a story for another day.
Speaking of Alonso, he took Twitter by storm last week when he posted a hilarious response to George Russell after regaining third place in Saudi Arabia.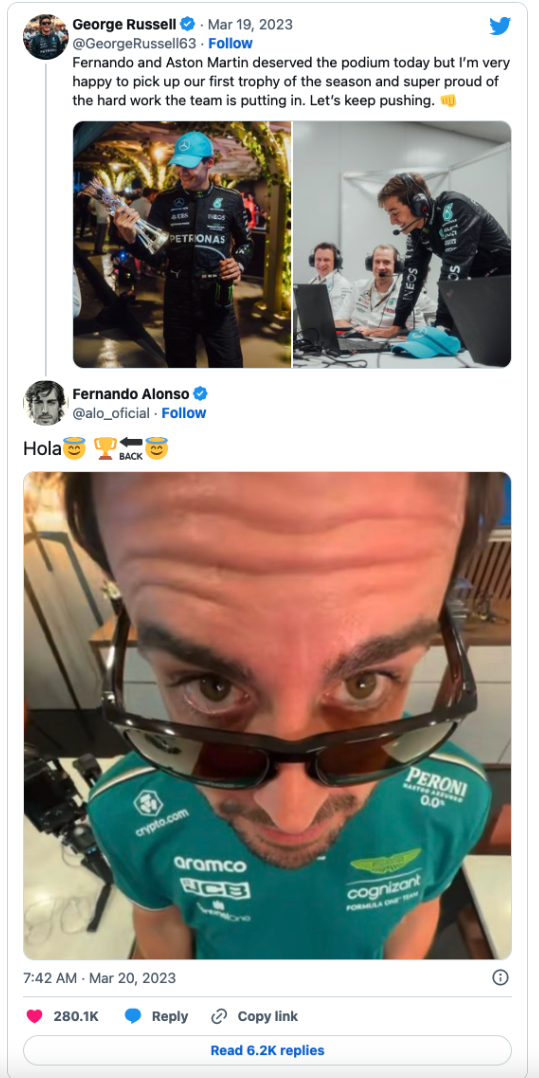 Despite marinating in racing for most of her young life, Gillian Annis is an Executive Assistant in television production at NBC/Universal… and daughter of Editor-in-Chief Casey Annis