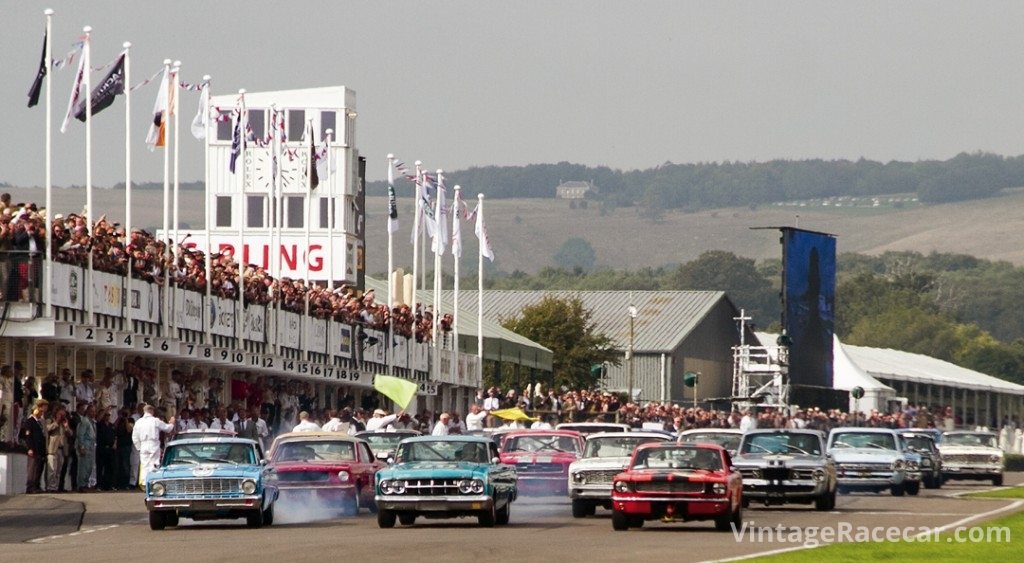 As the middle weekend of September drew near, it was time to dig out service uniforms and vintage clothing of the '40s, '50s and '60s and make your way to the English county of West Sussex for the Goodwood Revival for a nostalgic weekend extravaganza. Historic motor racing, aerial displays of WWII aircraft and street theater with a generous sprinkling of public participation are the ingredients, just like a recipe for a favorite cake, for one of the most anticipated treats on the historic motor sport calendar.
The decorations on this cake are the many racing celebrities willing to participate too, making themselves available to sign autographs and a willingness to have many "selfies" taken with fans. Yes, the 17th edition of the Goodwood Revival still grips the imagination of spectators with that certain "magical step back in time" after all these years. In fact, tickets sell out earlier and earlier prior to the event as the years go by.
Past mechanical heroes of the track were celebrated this year, as the Centenary of the Maserati provided a recreation of the Autodromo Nazionale di Monza pit complex housing a splendid array of 250Fs—celebrating 60 years since they first appeared in Grand Prix racing. Sixteen of them took part in high-speed demonstrations over the weekend. Eight competed in the Richmond Trophy race, but 2nd place was all that Tony Woods could manage in a 1959 "Tec-Mec" Maserati. The race was destined to be in the hands of Julian Bronson's Scarab right up to the last lap when he pulled to the side of the track, head in hands, and retired, leaving the door wide open for VR subscriber Roger Wills to take the flag in his Lotus 16-Climax.
The 60th Anniversary celebrations of the D-Type Jaguar were marked by a race for 25 of them. Former Jaguar test driver Norman Dewis said, "This is the biggest ever gathering of D-Types. It's just wonderful." On track skirmishes in the Lavant Trophy included drivers like Derek Bell, Andy Wallace and Nick Mason, but none of them could match the driving skill and performance of Gary Pearson, who took the victor's flag in a 1955 long-nose version of the D-Type.
Fifty years of Mustang were celebrated when a number of them did battle against other notable American muscle cars as they vied for the Shelby Cup, in honor of the late Carroll Shelby. However, like the Maserati race, there was always going to be a party pooper for Mustang. This time it was the Ford Falcon Sprint driven by Mike Gardiner and Nick Faulkner that took the spoils, some 14 seconds ahead of the 2nd-placed Mustang of Henry Mann and BTCC favorite Matt Jackson.
On the human side of things, it was the 50th Anniversary of the discovery of a certain "wee Scot," now Sir Jackie Stewart, who was spotted in 1964 by the then Goodwood track manager, Robin McKay, as a potential champion. McKay mentioned this to Ken Tyrrell and the rest, as they say, is history. Significant cars raced by Sir Jackie formed a magnificent track parade on all three days. Everything from the Marcos GT Xylon that he drove in his first race through to the last F1 car he competed with, the Tyrrell 006-Cosworth, were driven line astern headed by the "Flying Scot" himself. In true Stewart modesty he thanked all those who had given him the opportunity and great cars with which to win races and championships.
A panoply of racing, everything from Formula One to Tin-Tops, played a part in yet another memorable weekend. The driving, particularly in the St. Mary's Trophy sedan race was quite aggressive. Indeed, in qualifying for the race an Austin A35 driven by Neil Brown rolled several times, thankfully leaving its driver uninjured, but leaving a mechanical nightmare for his team of mechanics to get it ready to race overnight. The race itself was littered with door bashing and bumping—seemingly with no respect for vehicles—and ended with victory for Anthony Reid in a 1959 MkI Jaguar, former Le Mans winner Emanuele Pirro took 2nd in a 1959 Alfa Romeo Giuletta, and current BTCC Champion Andrew Jordan 3rd in a 1958 Austin A40. If there is one criticism to be made, it surely has to be of the track itself.
The blue ribbon race, the RAC TT, was once again fully subscribed—as are all races—with a mouth-watering 30-car field of Cobras, Astons, Ferrari GTOs, E-Type Jaguars, et al. Like the touring car race, it was again the red mist that descended on a number of competitors, littering the race with spins, bumps and assertive driving. While we all like to see full-on racing, drivers must take responsibility for their actions. Historic racing cars do not have the structural integrity of the modern racing machine. One simple act of recklessness could indeed bring the curtain down, or severely restrict the openness of this wonderful event. Oliver Bryant, who shared the ex-Salvadori Cobra with Andy Priaulx, had his dreams once again shattered as he pulled to the inside of the track and retired just over a lap from the finish. The race was won by another Cobra driven by David Hart and former Grand Prix driver Guido van der Garde.
It has to be said, once again, Lord March and his team provided the paying public with a truly generous helping of motor racing, theater and nostalgia. It is difficult to see what if anything on the historic motor racing calendar could possibly come anywhere near to equaling or topping this event. So, just like kids waiting for Santa, we too will all have to wait for the second weekend of September 2015 to get our 18th Revival fix.