This past Saturday, December 8, RM Sotheby's achieved $39.8 million in total sales at the company's final auction of 2018, at the renowned Petersen Automotive Museum. Leading the group of 64 vehicles and 77 lots of memorabilia representing a cross-section of significant eras and 10 categories in collector car history—of which 88 percent found new homes—was the remarkably rare 1956 Ferrari 290 MM, which sold for $22,005,000, entering the ranks of the top ten most valuable motor cars ever sold at auction.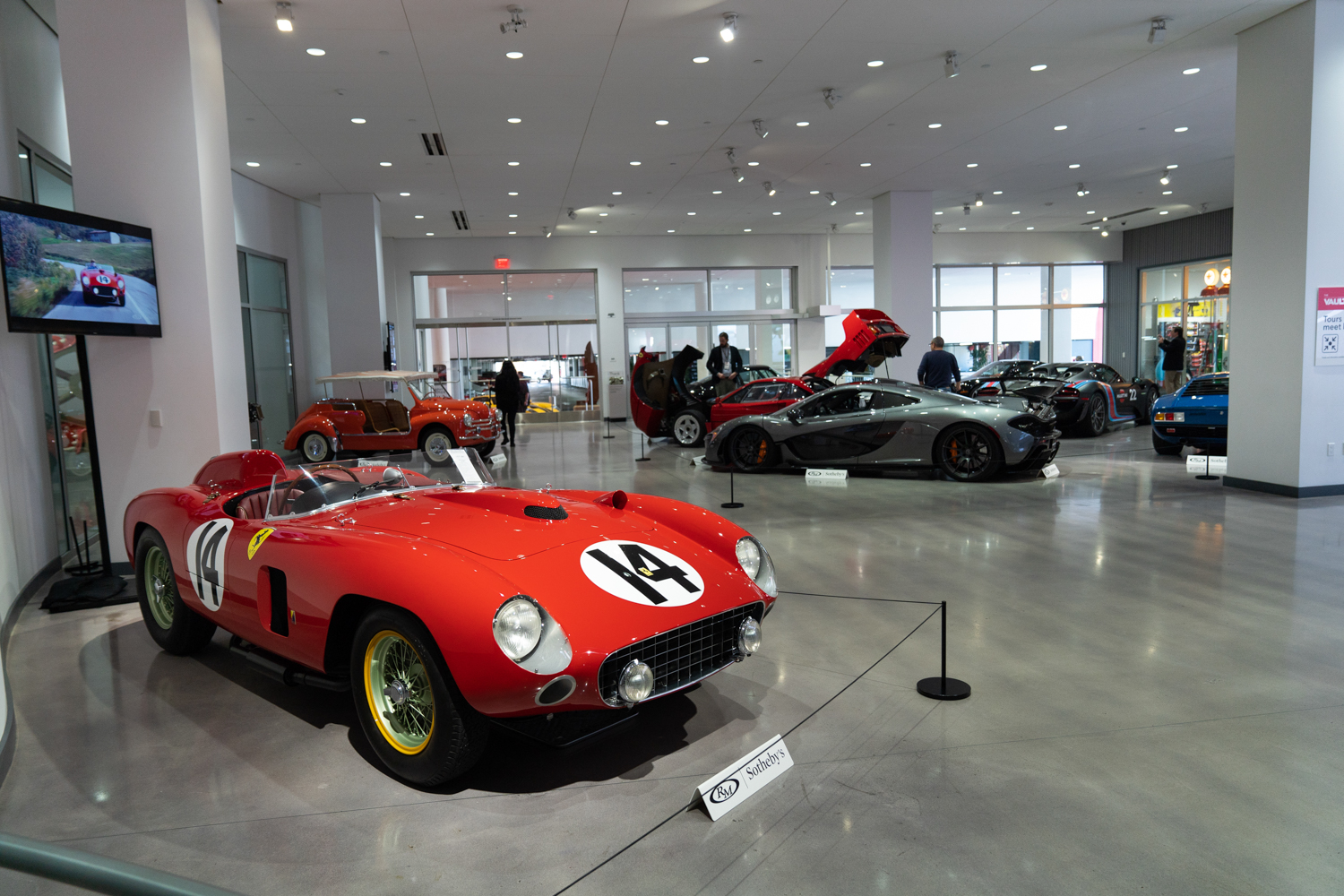 The Ferrari 290 MM, chassis no. 0628, ignited an extended bidding contest between three collectors over the phones before selling for a final $22,005,000. The fully matching-numbers, Classiche-certified 290 MM was campaigned by Scuderia Ferrari for the 1956 and 1957 seasons, piloted by an amazing roster of factory team drivers including Juan Manuel Fangio, Phil Hill, Peter Collins, Wolfgang von Trips, Olivier Gendebien, Eugenio Castellotti and later, under private ownership, Sir Stirling Moss, in some of the most prestigious events of the period.
Additionally, supercars and modern hypercars once again shined, with six models exemplifying the pinnacle of high performance from their respective marques found in RM Sotheby's Los Angeles top ten sales. Leading the group is a fantastic example of the original supercar, a 1971 Lamborghini Miura P400 SV by Bertone, the only Miura SV originally finished in Bleu Medio, which realized $2,205,000 on the podium (Est. $2.1/2.5m). Additional highlights include a 279-mile 2015 Porsche 918 'Weissach' Spyder in Factory Matte Black wrap and Martini livery, which sold for $1,534,000 (Est. $1.5/1.7m), a 350-mile 2015 McLaren P1 accessorized with a host of McLaren Special Operations options, which achieved $1,435,000 (Est. $1.3/1.7m), and a 4,000-km 1989 Ferrari F40, which drew tremendous interest and fetched a final $1,545,000 (Est. $1.2/1.6m).
RM Sotheby's Petersen Automotive Museum Auction – Top Ten Sales
| | | |
| --- | --- | --- |
| Lot 241 | 1956 Ferrari 290 MM (CHASSIS NO. 0628) | $22,005,000 |
| Lot 200 | 1971 Lamborghini Miura P400 SV (CHASSIS NO. 4912) | $2,205,000 |
| Lot 201 | 1989 Ferrari F40 (CHASSIS NO. ZFFGJ34B000080161) | $1,545,000 |
| Lot 227 | 2015 Porsche 918 'Weissach' Spyder (SERIAL NO. 652) | $1,534,000 |
| Lot 208 | 2015 McLaren P1 (SERIAL NO. 233/375) | $1,435,000 |
| Lot 199 | 1955 Mercedes-Benz 300 SL Gullwing (CHASSIS NO. 198.040.5500695) | $1,270,000 |
| Lot 196 | 1972 Ferrari 365 GTB/4 Daytona Berlinetta (CHASSIS NO. 14999) | $775,000 |
| Lot 222 | 2005 Porsche Carrera GT (CHASSIS NO. WP0CA29855L001164) | $775,000 |
| Lot 207 | 2018 Aston Martin Vanquish Zagato Villa d'Este (SERIAL NO. 79/99) | $637,500 |
| Lot 234 | 1965 Lamborghini 350 GT (CHASSIS NO. 0232) | $555,000 |