As Ferrari's successor to the long-running 250 GT, the 275 GTB debuted at the October 1964 Paris Auto Salon alongside the open 275 GTS. Powered by the Colombo-derived 3.3L Tipo 213 SOHC V-12 engine, the 275 series followed Ferrari tradition with its numerical model designation signifying the 275cc swept volume of each cylinder. Importantly, the 275 ushered in a new era as Ferrari's first road model equipped with fully independent suspension and a 5-speed rear transaxle delivering ideal weight distribution and superb handling.
Designed by Pininfarina, the sleek and seductive 275 GTB bodywork was the handcrafted product of Scaglietti's artisans. Minute, almost imperceptible, differences between them make each car a unique masterpiece. Running updates during production brought an attractive "long nose" frontal treatment for greater high-speed stability, and by early 1966, a desirable torque-tube driveline configuration offering lower vibration. According to Ferrari experts, as few as 453 examples of the early short- and long-nose 275 GTBs were produced altogether in 1965-66 before the advent of the "four cam" 275 GTB/4 produced in 1966-68. Given Ferrari's low-volume production processes and elite clientele, it was predictable that higher-performance versions of the 275 GTB would be made available for greater on-road performance and the possibility of entering circuit races or road rallies.
This wonderfully preserved 1966 Ferrari 275 GTB is one of those rare, higher-specification examples, factory-equipped with an upgraded intake system mounting six Weber twin-choke carburetors versus the customary triple-Weber setup. While the "normal" triple-carbureted 275 GTB was rated approximately 280 HP at 7,600 RPM, output of this six-carb 275 GTB/6C is understood to be on the order of 300-305 HP. Serial No. 08431, this 1966 275 GTB is an original long-nose, torque tube example, documented in "Ferrari Serial Numbers" by marque authority Hilary A. Raab as an original, factory-built six-carburetor model.
Finished in Giallo Fly (Fly Yellow) paint over Nero (Black) leather upholstery, the colors it retains today, 08431 was completed in April 1966 and delivered to Chinetti Motors of Greenwich, Connecticut, where it was purchased new by FCA (Ferrari Club of America) stalwart John Egan. The vehicle eventually joined Egan on his moves to Michigan and North Carolina during his ownership, and he and his wife, Jo, showed the Ferrari at various FCA meetings, including the annual Grosse Pointe Yacht Club event near Detroit, where it garnered Best of Show in 1973. In 1977, Egan sold 08431 to John Levy of Arlington, Virginia, with the car then being sold again in 1978 to Ron Spangler of Prancing Horse Farm in Bel Air, Maryland, where the car was displayed in 1980, followed by exhibition at Al Turner's Spring Party in 1981. In 1982, the Ferrari was sold to Marc Tauber of Morristown, New Jersey, who offered the car for sale later that year, advertising it as being exceptionally original with 9,600 miles and "… virtually brand new in every respect." Mr. Tauber sold 08431 to Jim Wickstead of Cedar Knolls, New Jersey, who retained the Ferrari until 1997, when a subsequent owner acquired the car, under whom the engine was rebuilt and the suspension and brakes upgraded. In early 2017, 08431 was acquired by the current owner.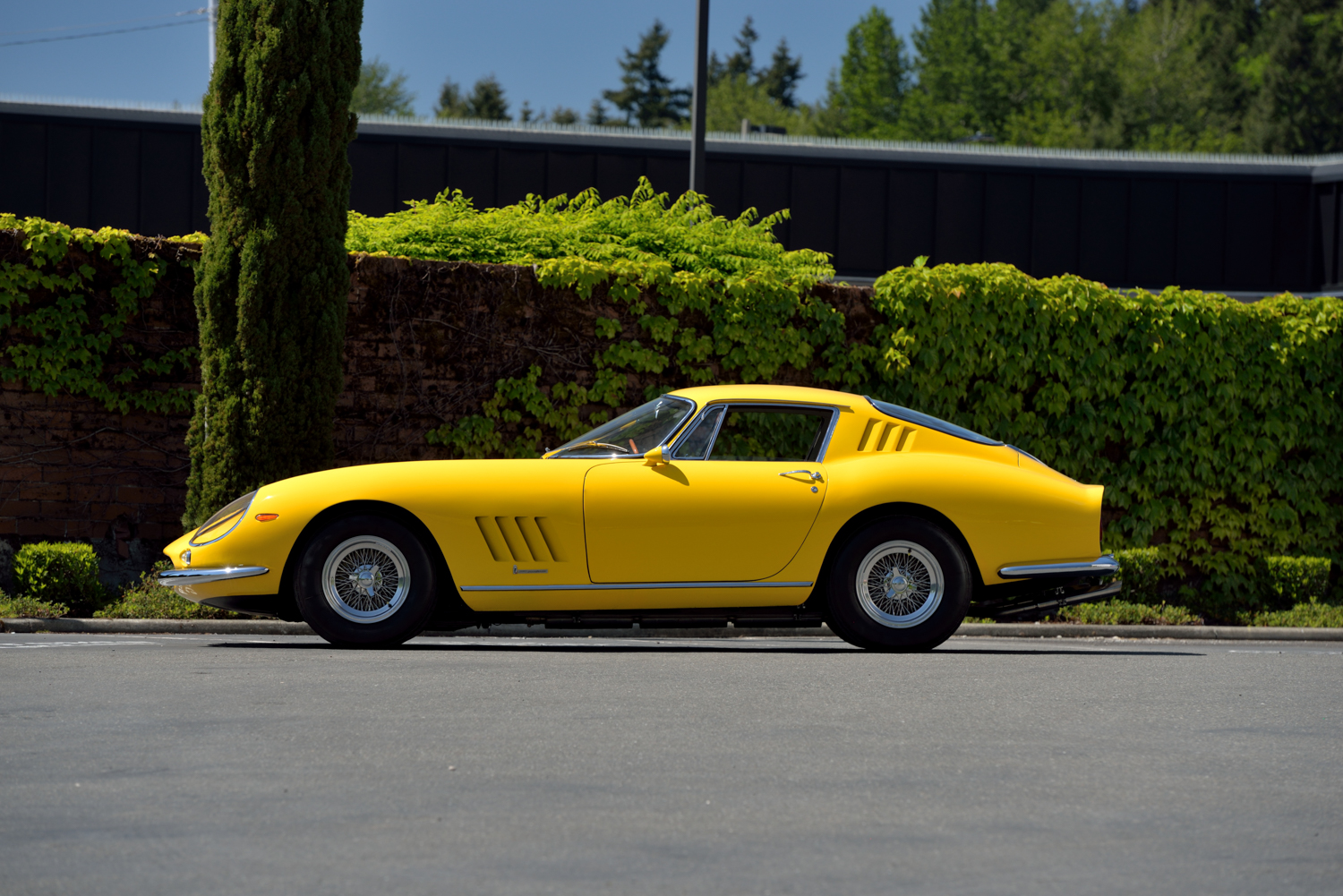 As offered, this high-specification, six-carb 275 GTB has accumulated only 21,000 miles, believed original, and retains the matching-numbers 3.3L Colombo V-12 engine, mated to the proper 5-speed manual gearbox/rear transaxle. The Fly Yellow paint finish remains mostly original, with the exception of light touch-ups above the radiator opening and at the top of the front clip, complemented by the original black leather interior. An iconic set of Borrani knock-off wire wheels provides a beautiful finishing touch.
Rare and highly coveted when new, the 275 GTB remains a true design and engineering masterpiece in every respect. Extremely rare with its documented six-carburetor intake system, beautifully preserved and highly original with limited mileage and sparing use over the past 55 years, 08431 is undoubtedly one of the most desirable "Classic Era" Ferrari models ever produced and will be offered for sale at Mecum's August 12–14, Monterey sale. For more information visit www.mecum.com