I can think of few feelings worse than that moment of instant shock, when you turn the ignition key and are greeted with a…click. While at some level, I'm slightly less shocked when it happens in a classic car, when it happens in my daily driver, there's not only shock, but a quick succession of emotions including panic, "What?!"; rage, "Damn it!"; and blame, i.e. this has to be someone's fault!
And so it was one recent morning, as I climbed behind the wheel of my daily driver Ford truck, only to hear the clicking of the solenoid. After much sweating and cursing, I broke out my lithium ion jumper battery (these things are an automotive Godsend) and discovered that my truck's batteries (yes, it has two!) were deader than the proverbial doornail. Crap!
After a quick run to the local auto parts store, I returned home with two batteries and then set to work hoisting these 50-pound behemoths into and out of the engine bay. Roughly an hour later—a little dirtier, a little more sweaty and $300 lighter in my wallet—I again climbed behind the wheel, turned the key and…vroom, I was back in business…or so I thought.
A few days later, when I again climbed behind the wheel…click. "Are you f-ing kidding me?!" I, of course, made the classic mistake of curing the symptom and not the disease. While I addressed the immediate issue I could readily fix myself of the batteries beingdead, I never considered the upstream issue of whywere my batteries dead? That answer was, of course, a dead alternator. On a big diesel-powered truck like mine, that is a much bigger job than I want to take on, which also means it comes with a much bigger price tag than I'd like to take on! So into my local shop it went and 4 hours and $800 later, it came back, purring away. For a week…
One week later, I got another stab of panic, when my check engine light came on. "Seriously?!!" So back in to the local shop it went, but within an hour they called to tell me it would have to go to the dealer because there was a problem with the Exhaust Gas Recirculating (EGR) system and that was out of their depth. Crap!
Now, besides the obvious Russian Roulette of how much is this going to cost—from $0 (under warranty) to "just go ahead and sign over the deed to your house."—I had the added hassle of what was I going to drive for the multiple days it would be in the shop (nothing comes out of the dealer same day!)?
This actually turned out to be a much more existential question than I thought, because for the past 8 years or so, I've enjoyed the luxury of always having an extra car around the house. Between my two teenaged daughters, I've grown accustomed to always having at least one "beater" dripping oil in my driveway. But now my oldest had her car with her at school and much to my horror, now that my youngest has just gotten her license, she's driving herself to school every day. Crap!
So that night, at the dinner table, I explained to my youngest that for the next few days I was going to need to confiscate her vehicle, "…just for a few days Maam…official household business." As you might imagine, this was not well received by my 16-year old daughter, who responded, "Whaat?! Why?! What can't you drive your black car?"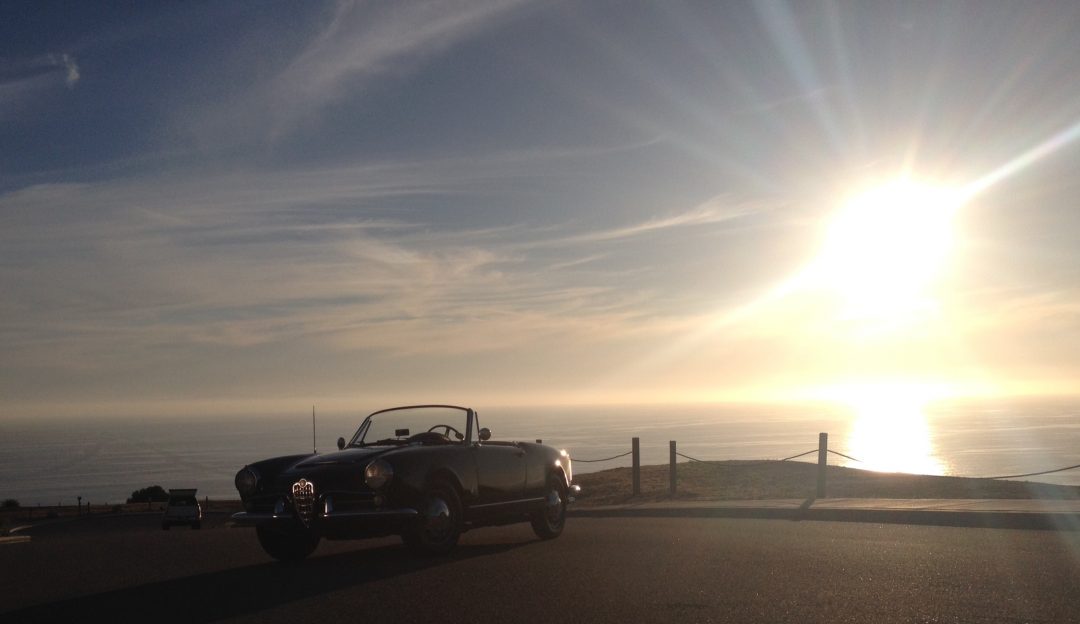 My black car? You mean my Alfa?! Such impertinence! There were a host of good reasons why that was a ridiculous suggestion. The added mileage…though I really didn't have to go anywhere but around town. The weather…forecast was clear skies for the next week.It would be way too hot to drive around in a black on black convertible…actually the weather had been delightfully mild. Truth was I really had no good reason to not drive the Alfa, other than my instinctive fear and loathing of using it as a "Daily Driver." Damn kids…
So the next day, I got up, climbed behind the wheel and began the pumping and grinding ritual, which is part and parcel to awakening a cold pair of Weber sidedrafts after several weeks of deep sleep. By about the third or fourth round of pumping the accelerator and delicately feathering the throttle—while my long-suffering Magnetti Marelli starter endlessly grinds away—I finally coaxed the old girl back to life. I didn't do a ton of driving that day (tough to break that fear & loathing), but as the day went on, the car actually got fully warmed up—Look at that! The water temperature gauge does work!—and I, in turn, got more and more comfortable leaving it in the parking lot at places like the post office and the gym.
The next day when I climbed behind the wheel, she fired right up—Hey, that's a nice change of pace!—and puttered around town, on several different trips throughout the day. By the third day—What are they doing to my truck?!—the Alfa was not only purring along like a proper daily driver, but I was immensely enjoying the experience of driving around, with the top down, in my 56-year old classic, as I carried out my usual day-today activities. This was alright!
Driving home from gym that afternoon, I really stopped thinking of it as my "classic car" and really just enjoyed driving it as a car…not some sacred relic to be pampered and revered. As I pulled onto my street, I could see that my truck was finally home, parked in front of my house (at least the dealership does pick up and deliver). As I put the Alfa away in the garage and shut off the ignition, I sat there for a moment with a heightened sense of satisfaction with the car. I briefly toyed with the notion that maybe I should use her more frequently for my day-to-day trips to and fro.
Nah! Who am I kidding? I know I'll have an endless list of reasons why the conditions, or the circumstances, or the astrological signs won't be right. But occasionally, it is kind of nice to get pushed out of your comfort zone and be forced to reconnect—on a more utilitarian level—with your classic.
Besides, not only did I get to enjoy those three wonderful days of driving, but my truck ended up being covered under warranty too!