Worldwide Auctioneers has announced that an exceedingly original Grand Prix Bugatti Type 35A—believed to be the first car raced by Louis Chiron in a circuit event— will be offered for sale at their Sept. 1–3, Auburn sale.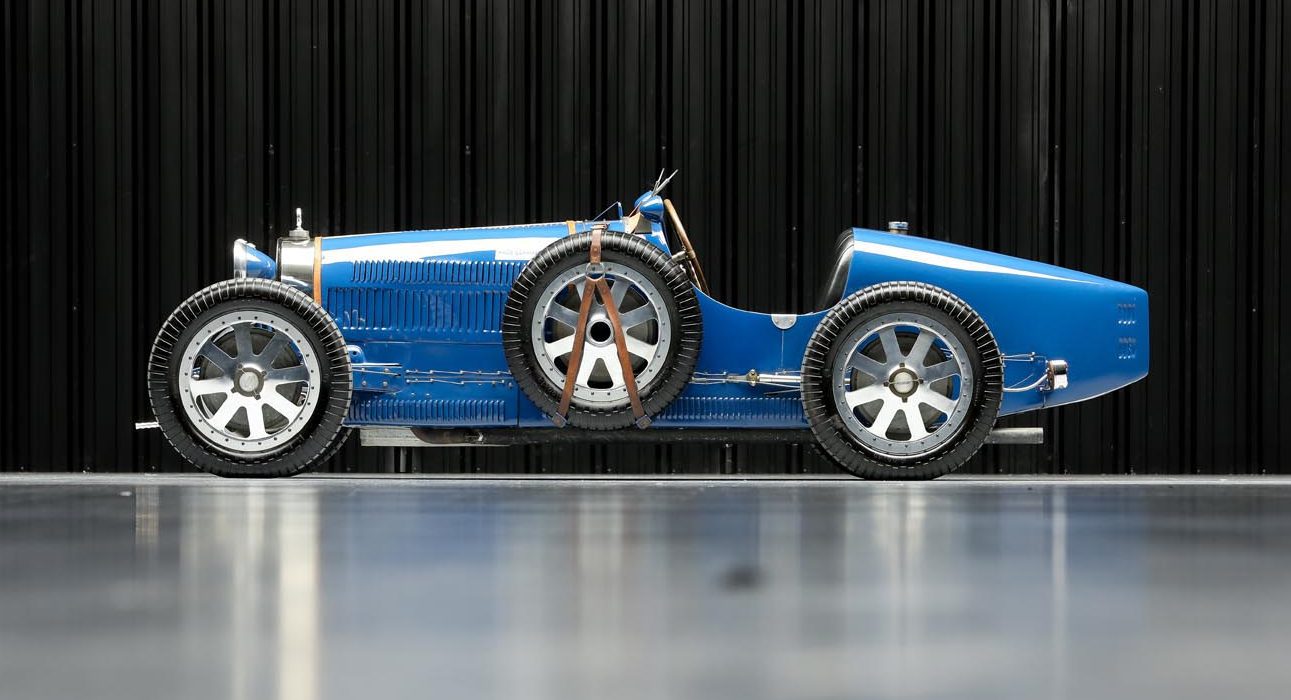 Numbered 4631, this wonderful 1925 Bugatti Type 35A is an exceptionally pure example, blessed with fascinating history from new, all carefully documented in the pages of the American Bugatti Club Register and by internationally renowned Bugatti consultant David Sewell. It was built with engine 43A – the unit it retains today – and was 1 of 10 Type 35As (Chassis 4625 – 4632, 4634 and 4635) constructed during September 1925. Type 35A was essentially a two-litre Type 35 intended for fast touring with body and chassis identical to the racing Type 35 while offering relative ease of maintenance and operation with the Type 38 engine a simpler ball bearing crankshaft, battery-and-distributor ignition in lieu of a magneto, and wire-spoked wheels. Internally designated a "Course Imitation" and often nicknamed 'Tecla' after a well-known line of cultured pearls, the T35A was certainly a formidable performer for the era's rudimentary roads, capable of approaching 100 mph at 4,500 rpm in top gear. This example, however, is an interesting and unusual hybrid of the roadgoing T35A and all-out T35. According to Mr. Sewell, "Unusually for a Type 35A this car has evidently been fitted from new with Bosch magneto ignition and an under-seat oil tank and transfer pump as on a Type 35, the chassis top rail even having the correct small plate riveted under the pump to stiffen its mounting. The front axle is of a larger diameter than a standard Type 35A beam and is not numbered so is probably a Type 35 hollow axle. The front springs have an extra sixth top leaf as featured on most Type 35B and 35C models with their larger 330mm diameter brakes."
As chronicled by David Sewell, Type 35A 4631 was delivered new to Dr. R. Zublin of Strasbourg via local Bugatti agent Camille Fise on October 9, 1925, but soon after returned to the factory by Dr. Zublin and replaced with a Type 30. Interestingly, just one day before 4631 was delivered to Dr. Zublin, Marseille Bugatti agent Jean Ollivier had ordered a Type 35A from the factory. Chassis 4631 was then allocated to Ollivier following its return to the factory by Dr. Zublin, with the car delivered to Ollivier in Marseille during early December 1925 and registered '8831 M7' in his name on December 8, 1925. The American Bugatti Club Register contains a photograph provided by The Bugatti Trust of Jean Ollivier and his mechanic, Francois Antiochia at the Miramas (Provence) circuit with 4631, which was painted white and retaining its factory headlamps. According to David Sewell, the photograph had to be taken in January 1926, and not during the actual running of the Provence GP, since Ollivier sold Chassis 4631 to Pierre Granier later that month, who returned the car to the factory. Sewell cites factory records showing the car was then delivered to a man named Hoffmann in Paris, using trade plates '1660 WW5' issued to the car from January 23 to February 2, 1926. Mr. Hoffmann was in fact Alfred (Freddie) Hoffmann, heir to the Hoffmann-Laroche pharmaceutical company, who was an ardent racing enthusiast and owner of the Nerka racing spark-plug company of Marseille, with offices in Paris. In partnership with Henri Giraud, Hoffmann took over the Bugatti franchise of Ollivier by mid-1926 and became the patron to up-and-coming young driver Louis Chiron, who enjoyed great success in hill climb events with Brescia and Type 30 Bugattis under the tutelage of ex-works driver Ernest Friderich.
According to Mr. Sewell, Pierre Granier sold 4631 to Hoffmann's company, Société Nerka of Marseille on March 20, 1926. On March 28, 1926, Louis Chiron made his circuit-racing debut in the 2nd Provence Grand Prix at Miramas at the wheel of a GP Bugatti. The race was held over five 50-kilometre class heats preceding a 250-km final, with Chiron finishing second in the third heat for two-litre cars, with the top four finishers all driving Bugattis. Chiron went on to finish fourth in the final event. According to Mr. Sewell's research and expertise, "On the strong circumstantial and chronological evidence presented herewith, it would seem that Chiron's car must have been Type 35A Chassis 4631, the subject of this report, which had just been provided for him to race by his new patron Freddie Hoffmann." Continuing, Mr. Sewell wrote, "Although Chiron may well have driven the car in local hill climbs during the remainder of the 1926 season there is no evidence to suggest that he drove it again in circuit racing."
Type 35A 4631 was eventually sold to Jean Arnaud of Nice in March 1927 and passed through 10 more owners before WWII. On April 15, 1938, 4631 was registered to Jean Le Her of Bourges, who is believed to have stored the car throughout the war years. The next owner was Javier Guillemelle, a mechanic from Trouville, where 4631 was registered on August 10, 1948, followed by Yves Rousvoal, who in turn registered the car in November 1950. In 1958, the Bugatti was purchased by John Youman, reportedly from a squabbling couple in front of a French wine shop, and then exported to the United States and sold to Peter Seferian of Brighton (subsequently Cambridge), Massachusetts, who restored the car from 1958-62. Following Mr. Seferian's passing, the Bugatti was stored from about 1963 until David Carroll of Lexington, Massachusetts purchased it during October 1997. Later, Mr. Carroll commissioned Donald Koleman of Competition Motors in Portsmouth, New Hampshire, to comprehensively restore 4631, with the job completed in late 2004. As reported by the American Bugatti Club, restoration work included an engine rebuild with a 5-main-bearing, 2.3-litre crankshaft, effectively "…making it in fact a 35T," according to Mr. Sewell, who inspected the car during restoration.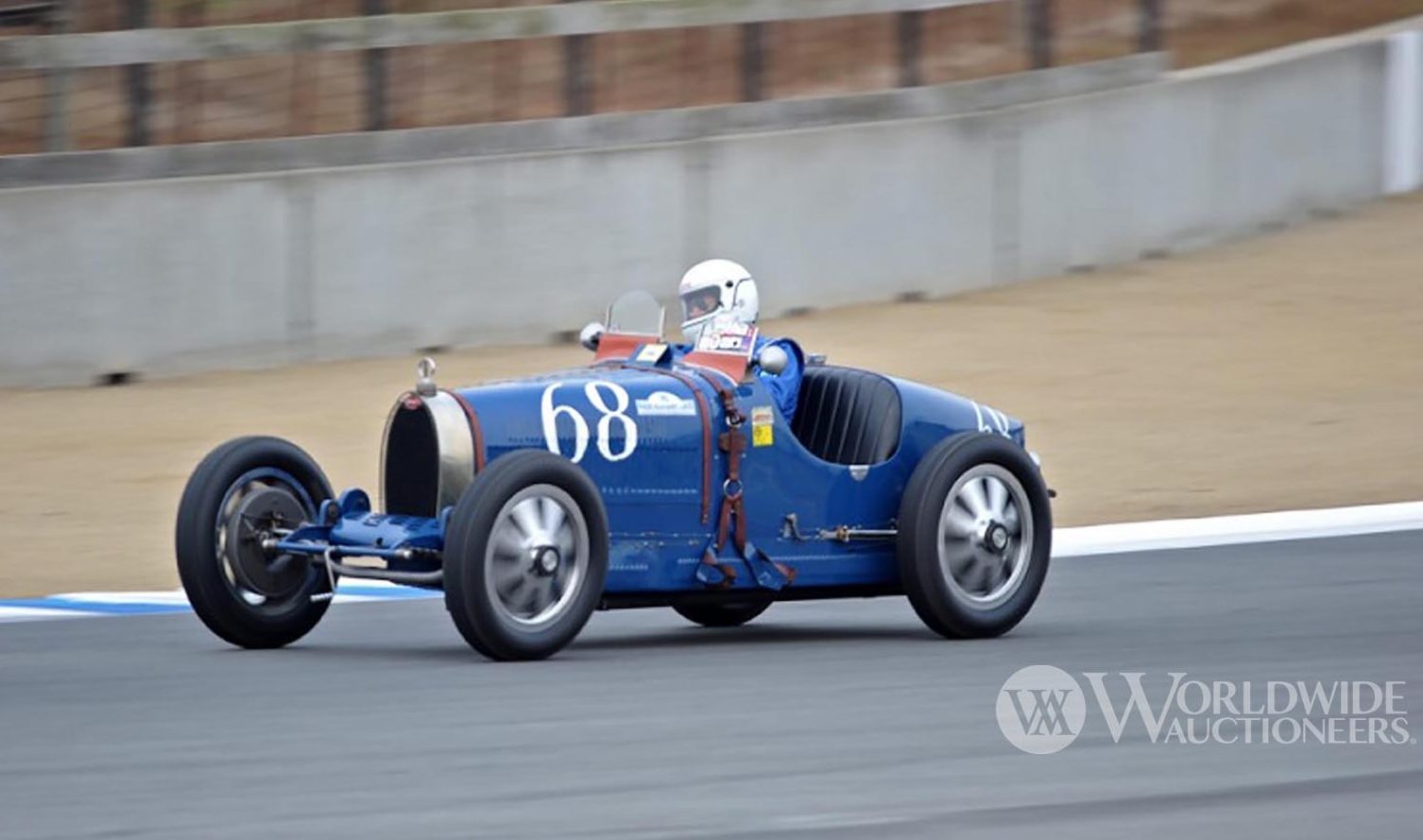 The consignor purchased 4631 in 2005 and later fitted the alloy wheels. Maintained "on the button" ever since purchase, 4631 and the consignor won the Rolex Monterey Outstanding Performance Cup at the 2009 Monterey Historic Races at Laguna Seca and completed three editions of both the Colorado Grand and Copperstate 1000 long-distance rallies. During 2016 and 2017, the consignor and his wife toured 4631 in Europe, covering 4,200 miles over 16 months through Holland, Luxembourg, Germany, Switzerland, Nice, Monaco, Italy, Sardinia, and of course France, where they and 4631 participated in celebrating the 50th Anniversary of the French Bugatti Club. The original louvered lower-body side shields are included with the sale of 4631, and it has been on display at the Louis Chiron exhibit held in 2019 at the Phoenix Museum of Fine Arts, as one of the earliest Bugatti's driven by the racing icon, alongside his last, an OSCA. It has recently benefitted from the touch of noted Bugatti expert and restorer Jim Strandberg and was a featured exhibit at the 2022 La Jolla Concours. Possessing outstanding integrity, 4631 is universally considered one of the most original and complete Bugattis of its kind available. As offered, it marks an exceptional and truly rare opportunity to own an authentic, beautiful and significant piece of living motorsports history.
For more on this car and other lots on offer visit worldwideauctioneers.com