The Bugatti Chiron Super Sport 'Golden Era' stands as perhaps the pinnacle of Bugatti's bespoke engineering challenges. Spawned from a two-year-long meticulous craftsmanship journey, it showcases unparalleled techniques, transforming it from mere automotive machinery into an artistic endeavor.
ic marvel. This unique creation exemplifies Bugatti Sur Mesure's commitment to actualizing customer dreams that exceed even Bugatti's expansive customization boundaries through an intricate collaboration with their design maestros.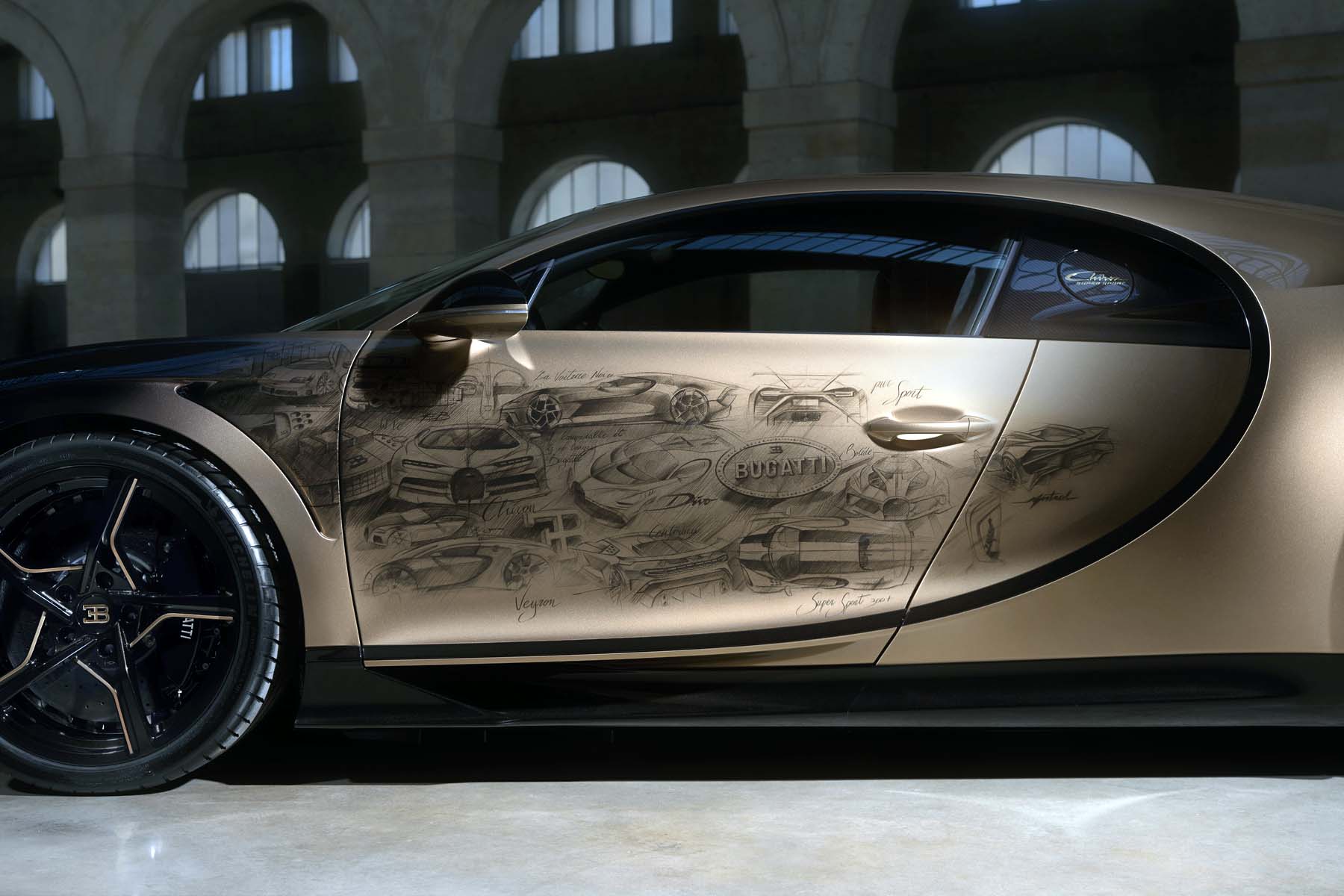 Customer request
This distinct vision was conceived by a seasoned Bugatti connoisseur with a profound reverence for Bugatti's storied past and the sophisticated engineering underpinning the W16 engine. The Chiron Super Sport, for this aficionado, wasn't just an automotive marvel; it was an opportunity to commemorate the journey culminating in the W16 engine's inception. Entrusted with this idea, Bugatti's designers crafted a narrative epitomizing Bugatti's essence, narrated through its most emblematic creations, leading to the inception of the 'Golden Era.'
Achim Anscheidt, the erstwhile Design Director at Bugatti, elucidates the genesis of the 'Golden Era': "Our clientele possesses boundless creativity, and we ardently bring their aspirations to fruition. However, grandiloquent undertakings of this magnitude remain an infrequent indulgence—perhaps one or two such marvels annually. 'Golden Era', given its magnanimous vision and the labyrinthine ideation encapsulating it, stands as the zenith of bespoke endeavors our ensemble has embarked upon.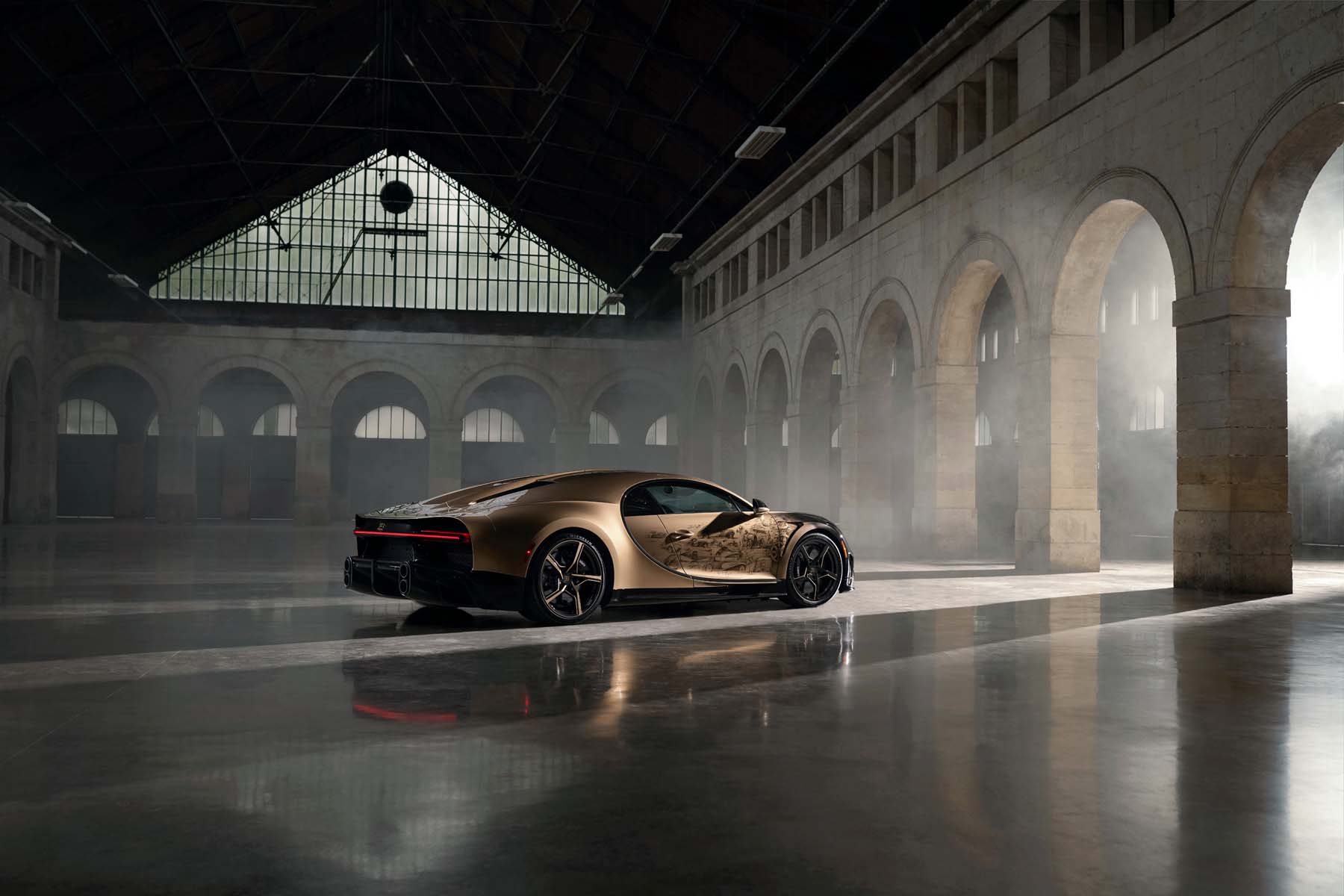 This distinguished patron, in our dialogues, postulated that the Chiron Super Sport and its W16 engine signified an automotive watershed. Aiming for unparalleled singularity, we delved into Bugatti's illustrious annals, uncovering pivotal epochs—spanning Ettore Bugatti, Jean Bugatti, and Roland Bugatti's tenures—that earmarked Bugatti's first renaissance. Subsequently, juxtaposing it with the contemporary Bugatti era post-1987, we spotlighted the emblematic models that crystallized Bugatti's legacy. Our concept encapsulated 45 artisanal sketches of these paragons, etched directly onto the vehicle—a concept that the connoisseur instantaneously embraced. Materializing this vision, though seemingly linear, demanded an unparalleled magnitude of dexterity and precision."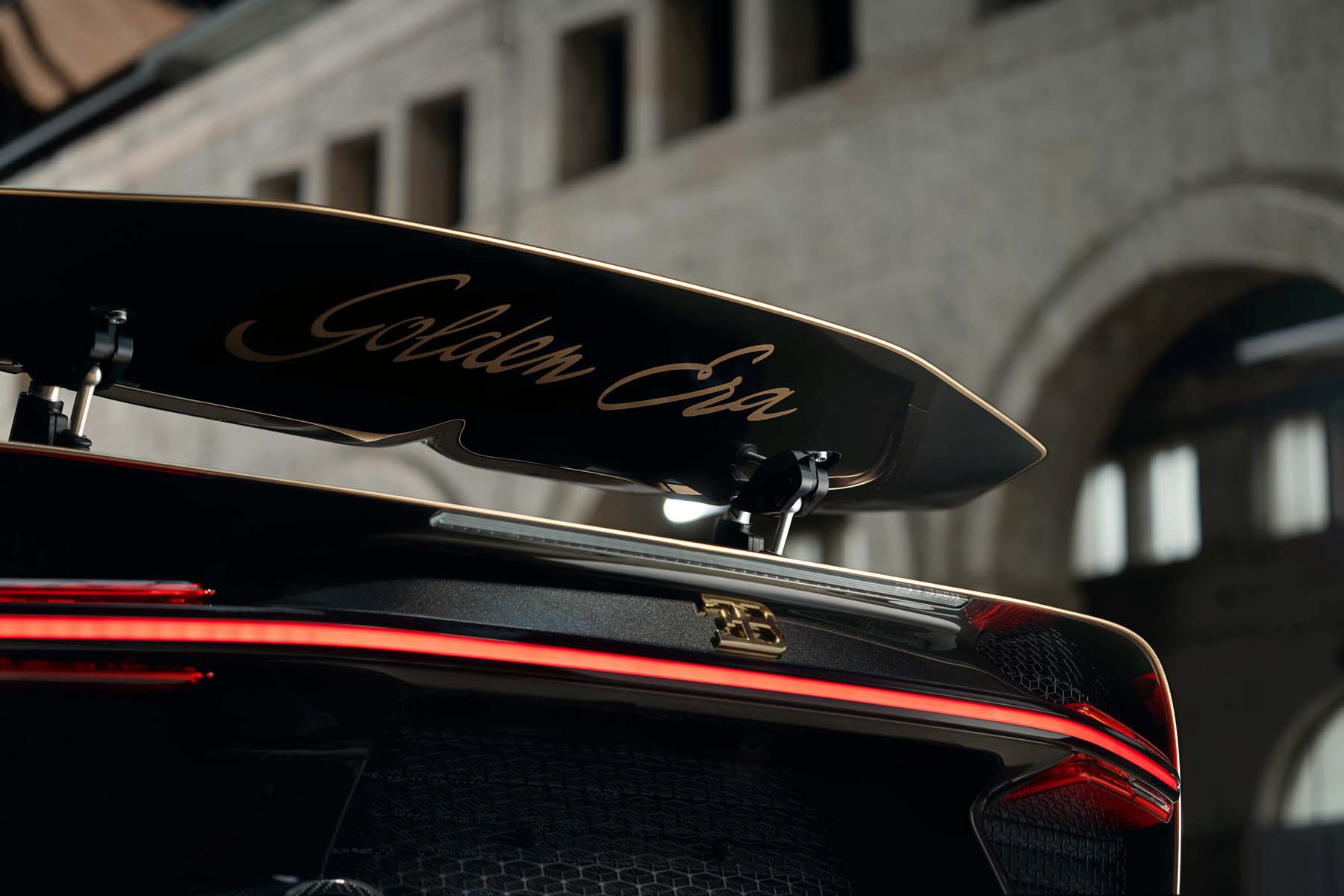 Weaving the past with the present
This ambitious venture encapsulated Bugatti's unparalleled lineage, a tapestry woven from intricate sketches symbolizing Bugatti's game-changing milestones. The passenger facade reveals 26 masterpieces, including the Type 41 Royale, unveiled in 1926 as the epitome of luxury, and the Type 57 SC Atlantic, an apotheosis of design aesthetics. This narrative highlights Bugatti's revolutionary strides in automotive innovation. Conversely, the driver's side features 19 delineations charting Bugatti's renaissance post-1987, mapping trajectories from the EB110 to the Veyron and Chiron. Central to this narrative is the W16 engine, a magnum opus with its 3,712 components, celebrated in this automotive tableau.
The design cognoscenti, seeking the perfect backdrop, introduced a bespoke 'Doré' gold hue, transitioning seamlessly into a metallic 'Nocturne Black', laying the foundation for their monumental task of sketching on this hypercar. The hand-drawn undertaking, demanding unparalleled precision, compelled Bugatti's design virtuosos to elevate their expertise, striving for sheer perfection. This odyssey, demanding over 400 meticulous hours, stands as a testament to the artwork's intricacy.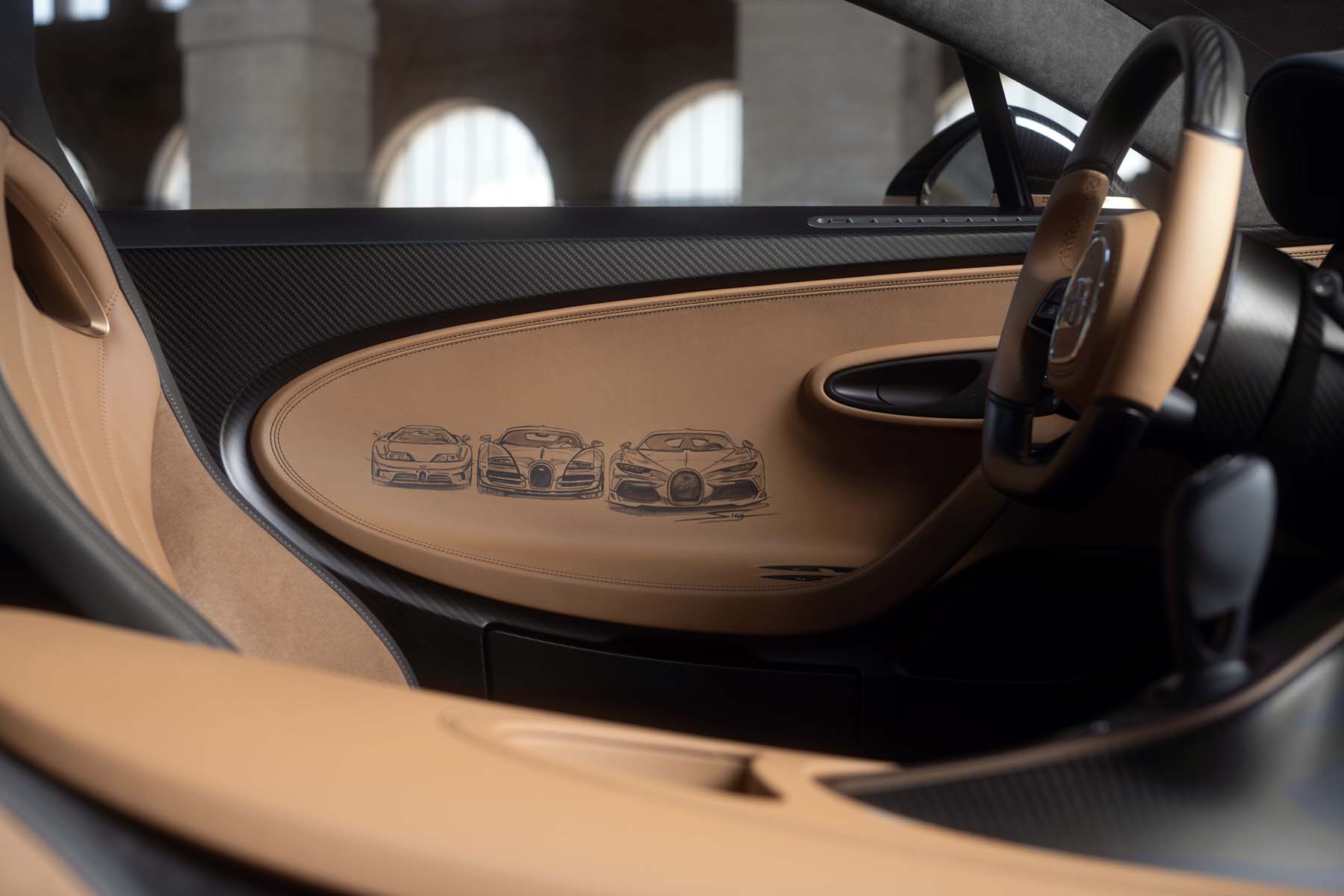 More details inside
Interior detailing mirrored the exterior magnificence. Each door panel was adorned with three Bugatti legends, applied using a proprietary paint, allowing for hand sketching on leather. The juxtaposition of contemporary legends—the EB110, Veyron, and Chiron—with their inspirations—the Type 35, Type 57 SC Atlantic, and Type 41 Royale—signifies Bugatti's perpetual evolution. New methodologies ensured longevity for these intricate designs, further accentuated with 'Golden Era' embroidery and exclusive 'One-of-One' motifs.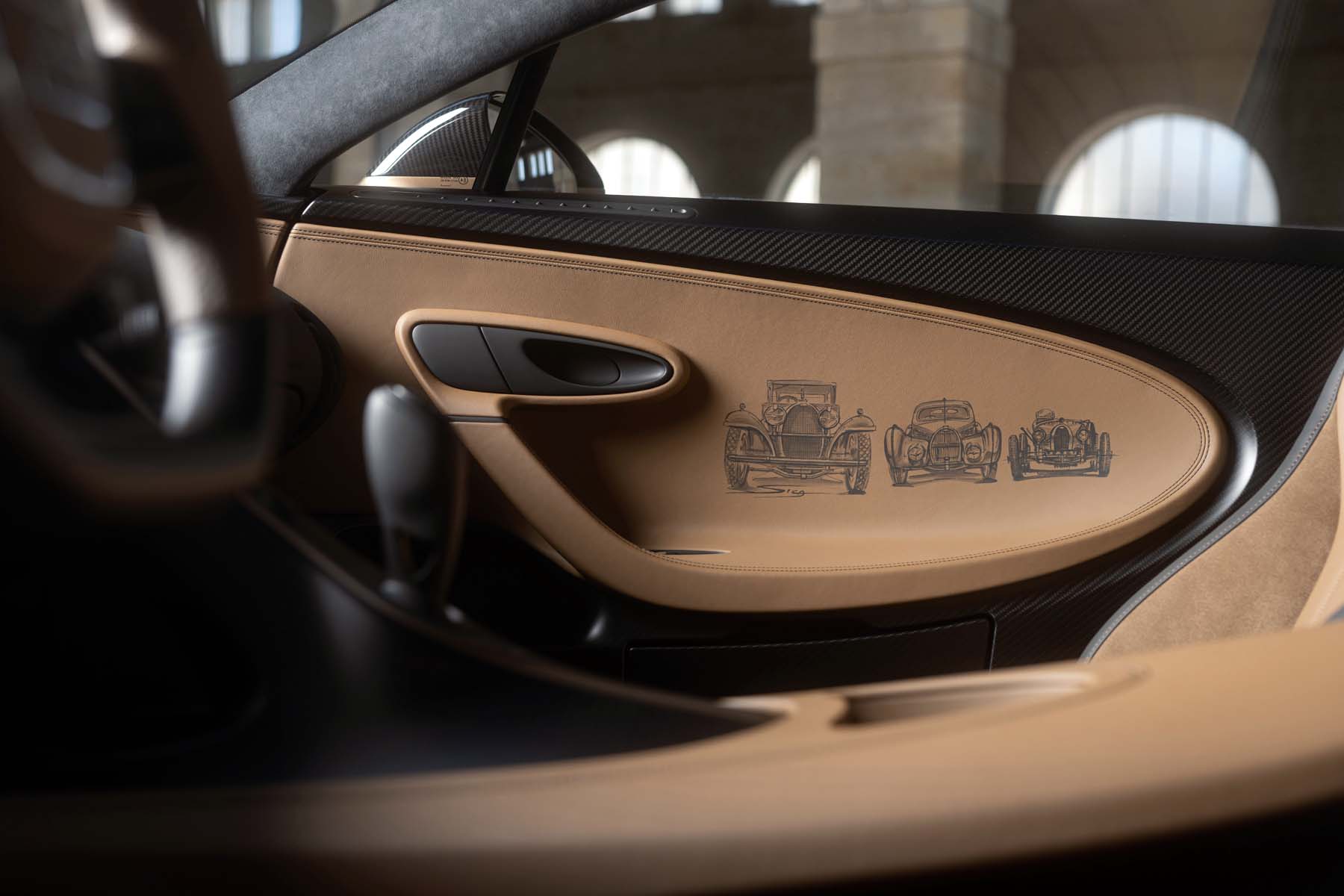 In its entirety, the Chiron Super Sport 'Golden Era' is an unparalleled ode to Bugatti's illustrious epochs. Its unmatched bespoke grandeur is a testament to the passion of true Bugatti aficionados and the impeccable craftsmanship of Molsheim artisans. Awaiting its Monterey Car Week debut, this automotive masterpiece is poised for its ceremonial handover.