Worldwide Auctions has announced that it will be offering for sale the historic Bob Estes Special at its Pacific Grove Auction, this coming Thursday, August 23.
The family of the late Bob Estes has chosen Worldwide's Pacific Grove sale to offer the first car campaigned at Indianapolis by Bob Estes, the 1948 Bob Estes Special Indianapolis Racing Car, a wonderful piece of Indianapolis 500 and California racing history that also launched the Indy careers of A.J. Watson and Jud Phillips, and was even photographed in 1950 with Hollywood icon Clark Gable at the wheel.
The 1948 Bob Estes Special was Estes' first "big" championship car, appropriately with stock-block Mercury V-8 power. With the birth of Estes' son Dale, a wonderful caricature of him graced the hood of the car, along with the 'Dale Boy' legend underneath. Built and raced in partnership with Conrad "Connie" Weidel, this car was first driven by Californian Manuel "Manny" Ayulo. The 1948 Indianapolis qualifying attempt also marked crew member and soon-to-be Indianapolis 500 winning constructor and crew chief A.J. Watson's first time at Indy. While the car and team failed to qualify for the 1948 Indianapolis 500 race, they would return for 1950, given Estes' acumen and firm belief that a semi-stock V-8 engine could compete against the "Offy" dominated field.
Returning to Indianapolis in 1950, the Bob Estes Special was re-equipped with a 268-cid Mercury V-8 equipped with exotic Ardun OHV "hemi" cylinder heads. This qualifying attempt was the first appearance there of Jud Phillips, who would become one of the toughest chief mechanics at the Speedway, with 32 consecutive starts at Indy including Bobby Unser's 1968 win. Driven by Californian Joe James, the Bob Estes Special was one of 99 entries vying for a starting position. The team and car performed very well, with James even setting two world stock-block records on May 27th and he initially qualified to start, only to be bumped on the last day of qualifying. Nonetheless, the team made a strong showing at Indy that year and garnered from Benson Ford, thanks to the many factory-stock Ford/Mercury parts used so effectively by the Bob Estes Special and its inventive crew.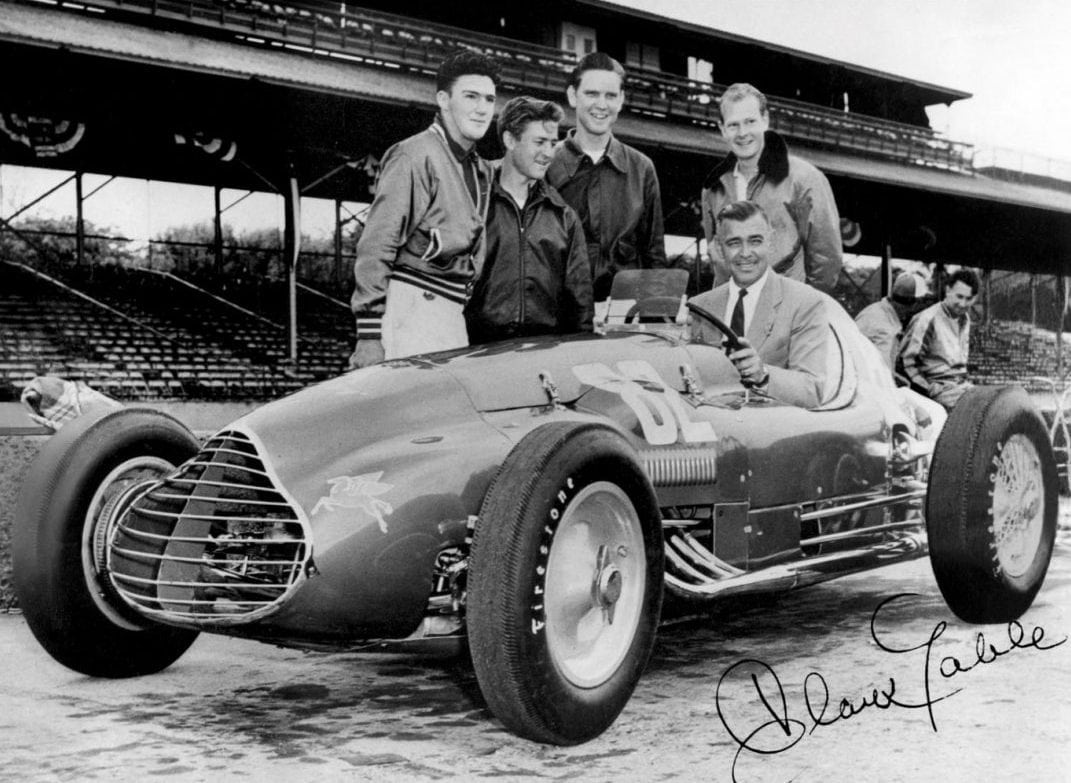 The Bob Estes team had another interesting encounter at Indianapolis in 1950 with screen legend Clark Gable, who happened to be at the Speedway while filming the racing drama, To Please a Lady. He posed behind the wheel of the Bob Estes Special for a photo, including Estes team members Jack Doulin, Joe James, Jud Phillips, and Dick Ford, with Henry Banks, the AAA National Champion, seen atop the wall in the background. Bob Estes then asked Gable if he recalled losing a few bucks to a brash young man in a black Model T in a late-night drag race on Santa Monica Boulevard back in the 1930s. Gable replied, "I sure as hell do!" When Bob identified himself as that young man, Gable asked "Where's the nearest bar? We'll have a drink; we have a lot to talk about."
In 1951, the Bob Estes team returned to Indianapolis with two cars, including his original Bob Estes Special, the car offered here, now powered by the very first four-cam stock-block Ford/Mercury engine ever to run at Indy, engineered by Joe Davies. Bob Scott drove the Bob Estes Special well during qualifications and was lapping solidly until a blown head gasket forced retirement. In addition to its three Indy qualifying attempts, the original Bob Estes Special ran at Pikes Peak during 1950 and 1951. That first time in 1950, Russ Snowberger drove it to 23rd place, with car and driver pictured taking at the finish for the January 1951 edition of Speed Age. This drive was Snowberger's last in his long and successful driving career, after which he focused on his business and racing sponsorships. Interestingly, Snowberger and the Bob Estes Special shared a page in that article with eventual Le Mans and Formula 1 World champion Phil Hill, who competed at Pikes Peak with a Mercury-powered Allard.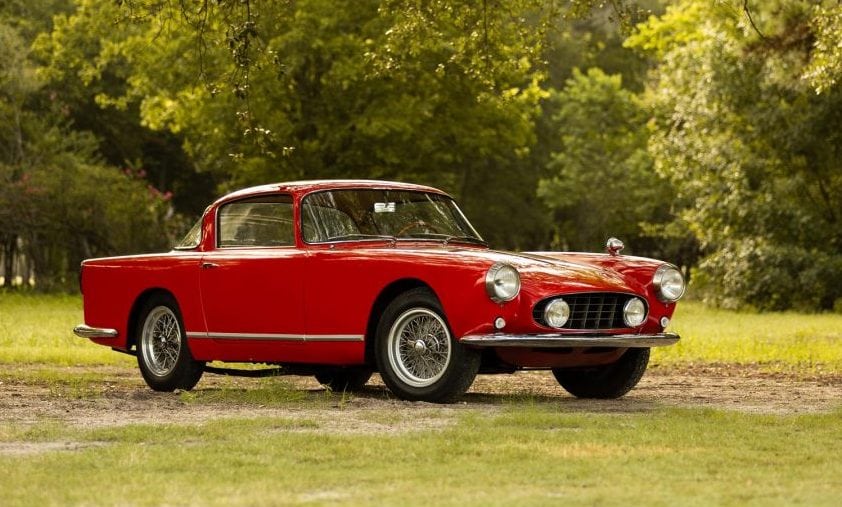 Also on the docket will be a remarkable line-up of rarely available sports cars, pre-war automobiles, exotics and American and European classics, many of which have benefited from single or very limited owner rosters. Among them is a highly original 1958 Ferrari 250 GT Ellena, documented as the last of just 50 250 GT Ellena coupes produced, a numbers-matching example with history compiled by Ferrari historian Marcel Massini. With only two owners from 1976 to 2018, 0887 GT was largely unknown to Ferrari collectors and for many of those years it resided quietly hidden from sight in a horse stable. Only a fraction of the 50 Ellenas produced survive intact today with their original bodies and engines, making this 1958 Ferrari 250 GT an exceptionally exciting discovery. Enjoyed by a single custodian since 1976 is an impeccably restored 1962 Shelby Cobra, extremely rare as one of only 75 first-generation 260 Cobras, with the original engine, transmission and body panels augmenting its exceptional authenticity. Movie buffs will get a chance to bid on Shirley Temple's very own1993 Mercedes-Benz 300TE Station Wagon, owned by Ms. Temple-Black from new until her passing in 2014, titled in her nameand employed as her official state vehicle as US Ambassador. The Pacific Grove Auction is scheduled for Thursday, August 23rdat 5pm, oceanside at the Pacific Grove Golf Links, the first of the catalogue auctions out on the Monterey Peninsula.
The Pacific Grove Auctionwill again be presented at Pacific Grove Golf Links, adjacent to the famous 17 Mile Drive and perfectly positioned at the tip of the Peninsula for both Monterey and Pebble Beach.
The sale starts at 5pm on Thursday, August 23rd,with vehicle preview Tuesday and Wednesday, August 21st and 22nd, from 9am to 6pm and Thursday, August 23rd, 9am to 4pm. To view the entire Pacific Grove Auction catalogue or to register to bid, visit worldwideauctioneers.com or contact Worldwide at +1.260.925.6789 or 880.990.6789 or email info@worldwideauctioneers.com.