BMW's rich history in motorsports competition began prior to World War II. The 328 (1936–'48) driven by Ernst Henne won in its 1936 Nürburgring debut, setting the standard for the 2-liter sports car class. BMW 328 Brescia open roadsters took 3rd, 5th and 6th place during the1940 Il Gran Premio Brescia delle Mille Miglia.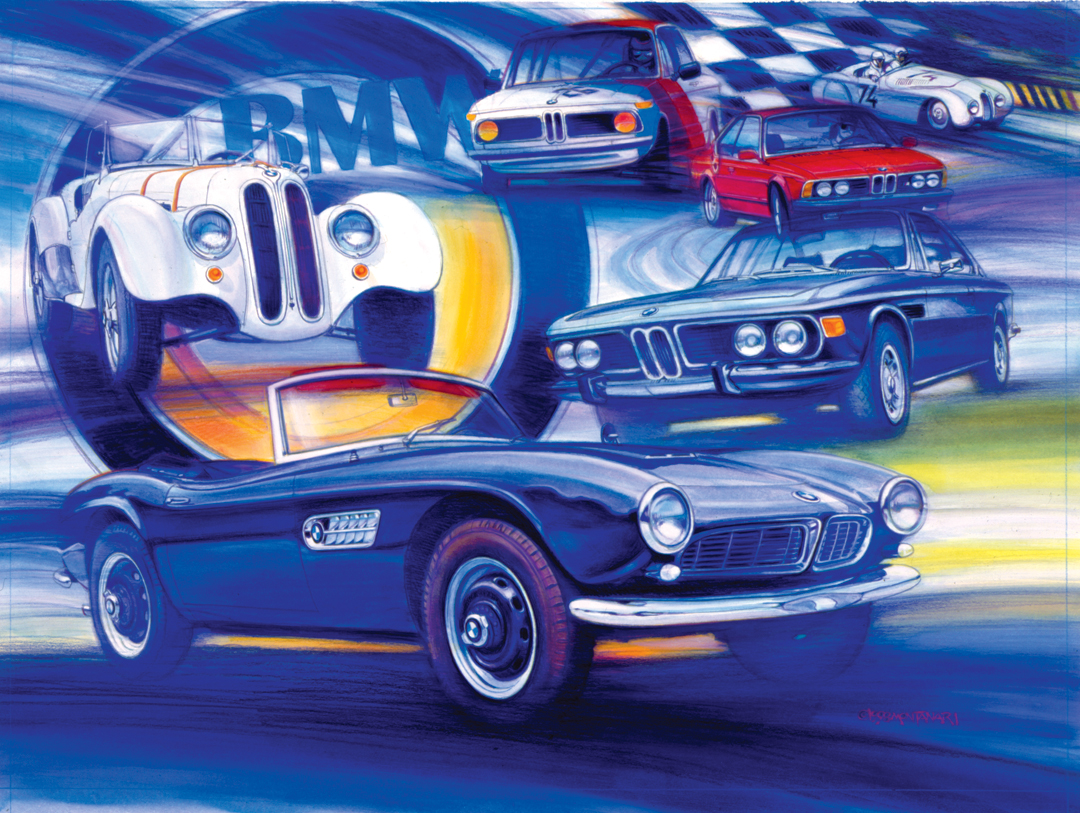 Penned by Graf Albrecht von Goertz, the 507 housed Germany's first postwar automotive V-8 and is arguably one of BMW's most beautiful designs. The 2002 (1969–'78) won the 1969 European championship under the Alpina arm and continues to race competitively in SCCA and vintage events throughout the United States. BMW's CSi and CSL coupes won six European championships. A partial list of coupe pilots includes Hans Stuck, Chris Amon, Niki Lauda, Ronnie Peterson, Jacky Ickx, Dieter Quester, Derek Bell and stateside, notably, Sam Posey, Brian Redman and Peter Gregg in IMSA competition. Continuing on that success the BMW 635CSi coupe won the 3.4-liter European championship which spawned the development of the M635CSi and the 24-valve M6. Today, the M Brand anchors the success of BMW in motorsports competition.
To purchase giclée prints, lithographs, or commission paintings contact:
Thom Montanari Studio, 609-466-7753 or go to www.avantimotorsports.com
The "BMW Marque of the Year"—Pittsburgh Vintage Grand Prix 1998 is available as a signed & numbered limited edition (125) lithograph.