Argentinean husband and wife team Juan Tonconogy and Barbara Ruffini doused each other with champagne on the traditional winners' ramp in Viale Venezia, Brescia, Italy, on May 19 after winning the 36th Mille Miglia Storica in their 1933 Alfa Romeo 6C 1500 GS (number 85). For Tonconogy, the 2018 victory was his third, having also won the event in 2013 and 2015.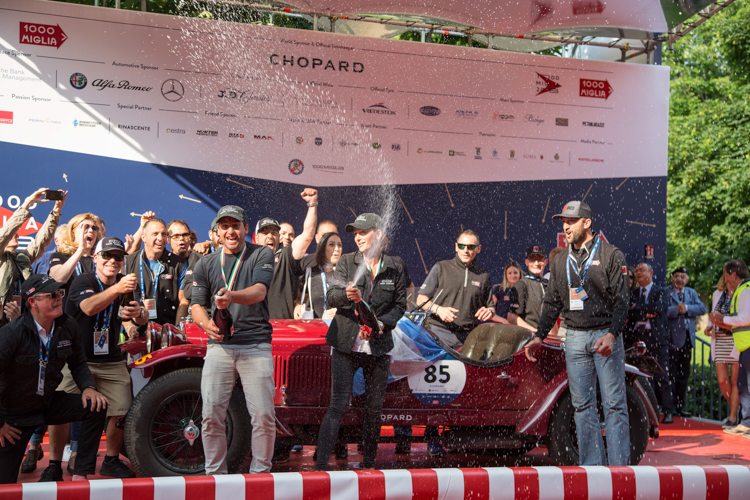 The couple and their Alfa beat 449 other competitors driving a fabulous array of cars, all built between 1927 and 1957 that wove their way to the delight of millions along the 1,000-mile route from Brescia to Rome and back. Second – more than 600 points adrift – were Dr. Giovanni Moceri and Brescian journalist Daniele Bonetti in their 1928 Alfa Romeo 6C 1850 SS Zagato and in third previous winners Andrea Vesco and Andrea Guerini driving a Fiat Siata 514 MM.
The only thing to mar the event was the theft of Dutchman Jeroen Branderhorst's 1942 Alfa Romeo 6C 2500 Sport the night before the start. The car was locked away in a closed trailer and parked in the street outside the Hotel Nice, Brescia, where the owner was staying. Despite Branderhorst's appeal for the car's return – including on Facebook – the Alfa never appeared, so the car and crew were unable to compete.