Since the first race in 1911, the Indianapolis 500 has always been considered America's greatest race, attracting huge crowds and media attention around the world.  200 laps around a 2.5-mile oval was a grueling test of driver and his car, a real test of endurance.  From the beginning, the winning cars were designed with the engine in front with names like Miller, Offenhauser, Duesenberg and Kurtis regularly appearing in the winner's circle.
However, in 1960, a small English racecar manufacturer and their top driver created a sensation at Indy when they appeared for practice with a tiny, mid-engine car.  John Cooper (head of Cooper Cars) and Jack Brabham (a Formula One driver) brought the two liter Climax engine T-54 Cooper to see how it would perform in a two-day test. They shocked the Indy establishment by turning a lap of 135 mph on their initial run, eventually hitting 144 mph, which would have put them on the third row of the race grid.  Instead of racing, they decided to build a car specifically for the Indy 500 and return the following year.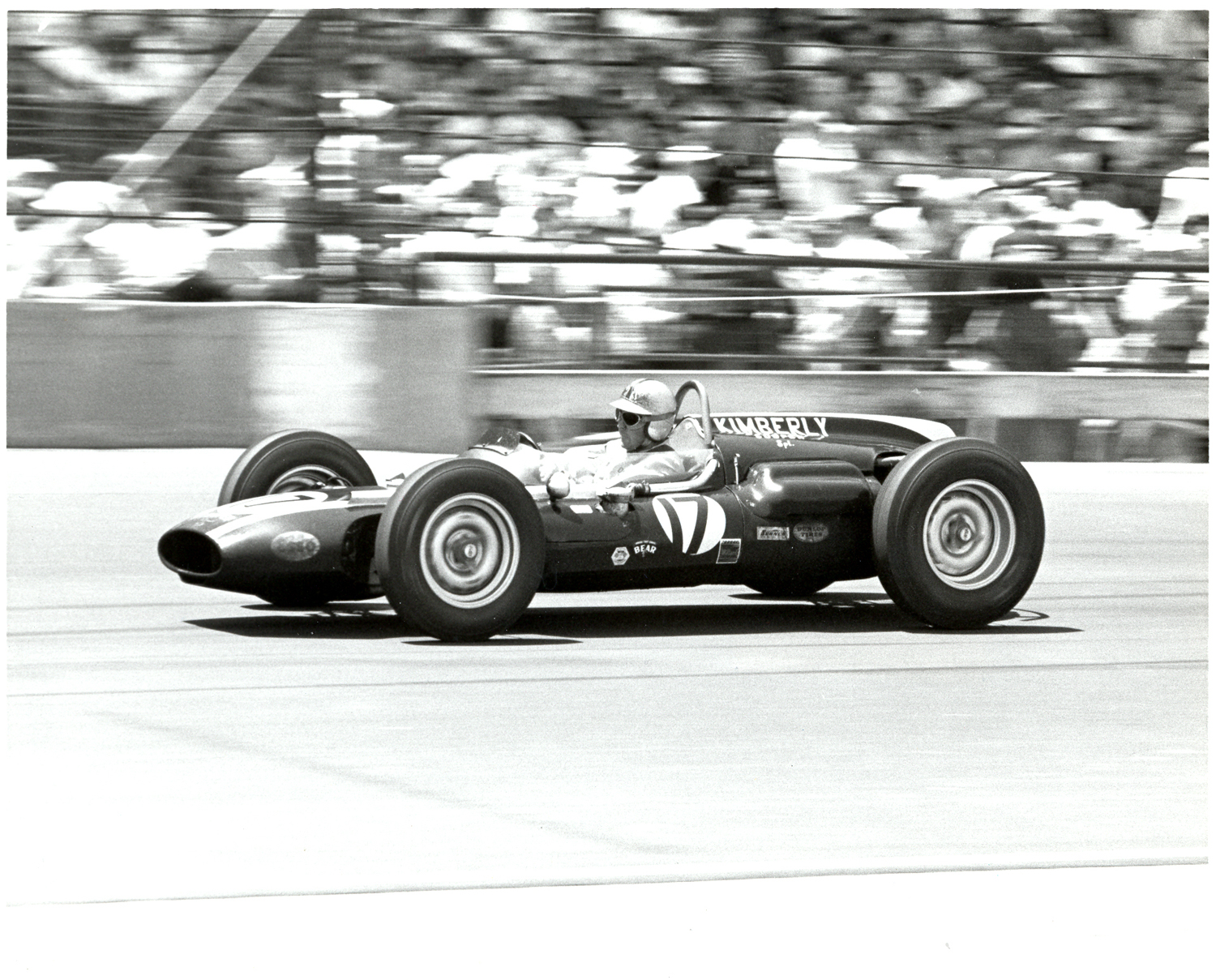 They returned the following year to race with a car only slightly different than their Formula One car but with  larger 3-liter engine.  After qualifying at 145 mph, which was good enough for the fifth row, Brabham ran a steady race to finish ninth, a very credible race for a car that was down on power compared to the big Offy's.  Many of the old-timers had taken notice of how well the small, lighter car handled and gave better gas mileage.  The revolution had begun.
Gurney, Clark and Lotus
Dan Gurney had become good friends with Jim Clark while each competed in Formula One. Seeing what Cooper had accomplished at Indy the previous year and how he was impressed with the monocoque Lotus 25, Gurney arranged a meeting between the Ford Motor Company and Colin Chapman of Lotus to discuss the possibility of racing in the Indy 500.  A plan was hatched and after Clark had won the Grand Prix at Watkins Glen in October, they took their Lotus Climax 25 to Indy for testing. Even though the car was down almost 250 horsepower on the Offy-powered cars, Clark ran a lap of 143 mph, a few mph below the winning speed of the previous years race.  They would be back the following year.
In 1963, Lotus introduced their model 29 and coupled with the new Ford 260 HP V-8, they had a car with great potential.  The design goals were for a car with lighter weight, lower power, great handling and lower fuel consumption compared to the venerable Indy Roadsters. Clark qualified fifth but Gurney crashed and raced a cobbled together car but made the grid.  In the race, Clark lead for several laps with Gurney in second but they eventually finished second and seventh respectively. The Indy Roadster owners had seen the demise of their front-engine cars, it was a harsh reality to deal with.
Motivated by their success and the money, Chapman planned on returning to Indy in 1964. He built a new car, the Type 34 married to a new quad-cam, four valve per cylinder engine producing a nice boost in horsepower.  Clark qualified on pole with Gurney in the second row.  In the race, Clark lead for several laps but on the 40th lap, his left rear suspension collapsed resulting in a crash.  Gurney's car was taken off the track as a precaution.
Mission Accomplished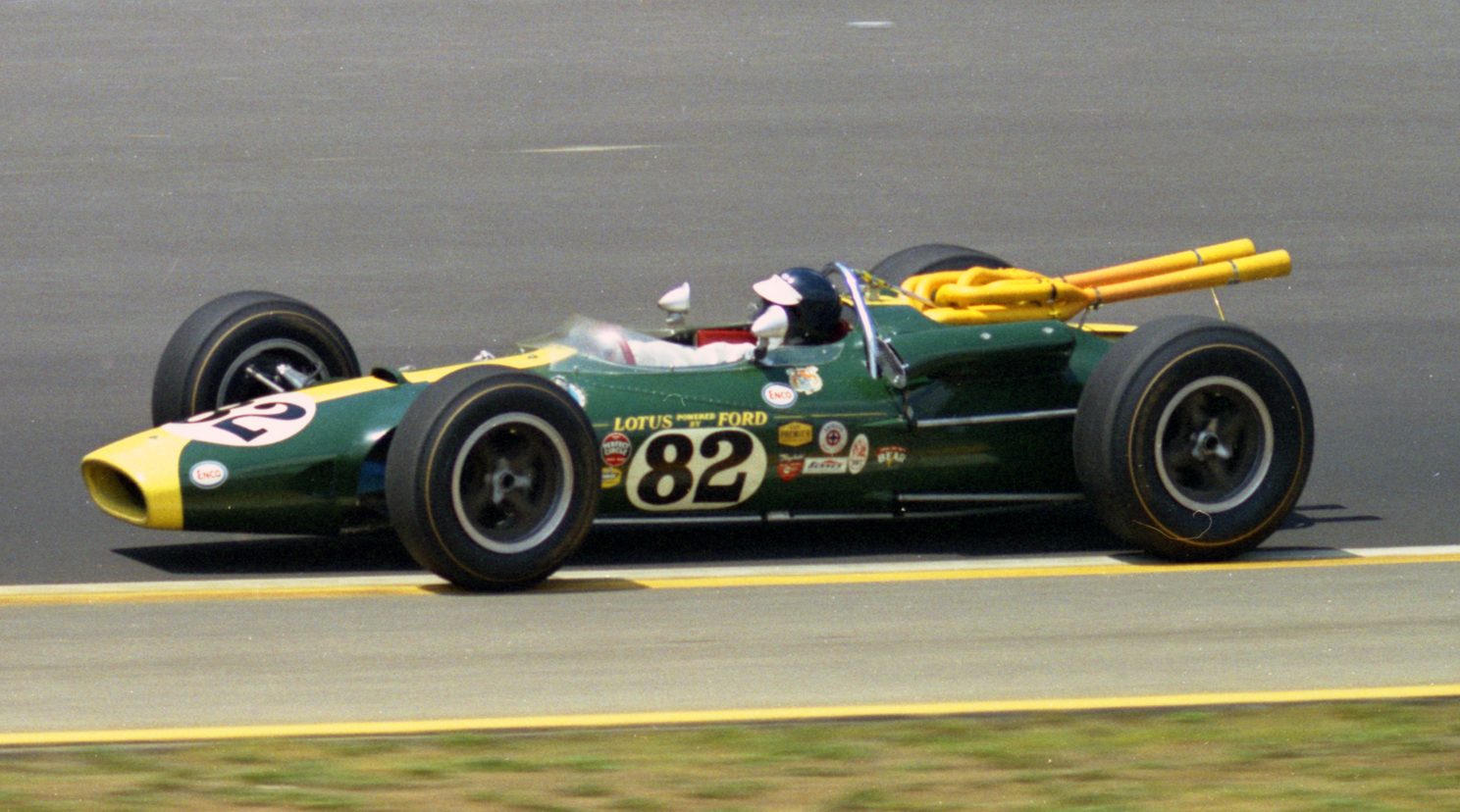 With the promise shown by the Type 34 Lotus Indy Car, Chapman brought in Len Terry to design the latest car for Indy, the Type 38.  This design had several major changes including a fully stressed-skin, tube monocoque for greater chassis stiffness; increased fuel capacity by 40%; a more aerodynamic, smoother body shape; it was longer and the track wider; larger disc brakes and modified suspension completed the major car updates. Ford had refined their engine increasing the horsepower to 500 on alcohol, which runs cooler and thus enabled a smaller radiator to be used.  Unlike previous years, the tires would be the tried and true Firestones.
Lotus went to Indy fully prepared with two team cars for Clark and Gurney, plus they enlisted the famous Wood Brothers stock car crew to handle the pit work. All went according to plan as Clark and Gurney qualified the Type 38s on the front row.  Lotus had built and sold a few other Type 38s for customers including Parnelli Jones (qualified fifth), Al Miller (qualified seventh), A.J. Foyt (qualified first) and Bobby Johns (qualified 22nd).  At the green flag, Clark took off and led almost the entire race for the victory and in the process, set a race record by averaging 150.686 mph.  The four other Type 38s finished second (Jones), fourth (Miller) and seventh (Johns). Clearly, the Cooper and Lotus efforts at Indianapolis had made a huge impact on the race and changed it forever.
Clark and the Type 38 returned in 1966 to go for a repeat victory in a single-car effort.  In addition, many other teams had entered cars based on the Lotus design further evidence of the cars superiority.  Gurney was racing an All-American Racers Eagle, his first in-house built Indy Car designed by Len Terry, just hired from Lotus who had penned the Type 38.  In addition, many other teams had entered cars based on the Lotus design—further evidence of the cars superiority.  In the race, Clark lead a total of 68 laps and thought he had taken his second victory in a row but was surprised to learn he had been beaten by Graham Hill racing a Lola T-90/Ford.
Unfortunately, Clark's story at Indianapolis did not have a happy ending. He qualified 16th, in 1967, but in the race he dropped out with a holed piston after just 35 laps. But this was not his last appearance at Indianapolis since just a few weeks before his fatal crash in Europe, he tested the STP-Lotus turbine powered car and reportedly was quite excited by its performance.  However, Clark and the Lotus Type 38 will always be remembered for their historic victory in the 1965 Indianapolis 500.