There is always an argument at the Monte Carlo Historic Rally as to whether the drivers or the cars are the stars. Fortunately, 2005 saw a good mix of both. Formula One was represented by Erik Comas, who was driving one of the Alpine A110s prepared by his own company, Team Comas. The easygoing Frenchman saw his complete team finish the event and enjoyed the driving himself: "All the cars made it back after nearly 3,000 kilometers. I enjoyed it; I was hoping for more snow but actually there were good special stages on Sunday and Monday morning and some ice in the Ardeche. I didn't have any problems with the car in the conditions, but it is a very difficult event…it makes you work very hard."
Ex-Ferrari Formula One star Patrick Tambay was enthusiastic about driving a Citroen DS19, while former rally champion Jean Ragnotti was seen pushing his Group 4 Alpine very hard on several of the stages. American rally champion John Buffum drove a Porsche in 2004 but was sharing a much bigger Plymouth Barracuda S with Ralph Beckman this year, and their efforts were rewarded with 2nd place overall.
There were several veterans of past Monte Carlo rallies present, including Peter Barker, who was 3rd in 1963 in a Mini Cooper. His co-driver was Willy Cave, who competed in the 1950s and '60s and finished 14th in 1959. This year marked Cave's 50th anniversary of his first participation. Jean Louis Vial, in a Renault 4CV, was 5th in 1954 and Claude Roure, who had been 3rd with J.P. Nicolas in 1970.
Current rally star, Mitsubishi driver and local resident Gilles Panizzi was on the starting ramp to wave off the early cars. The previous week he had put in a brilliant run to finish 3rd in the WRC Monte Carlo Rally.
As in years past, 350 cars started from Oslo, Monaco, Turin, Barcelona and Reims and an amazing 290 finished, in spite of some difficult conditions on part of the route.
The Historic Rally always brings out rare, unique and unusual cars, and there were several again this year. While not very rare, it was an achievement for John Buffum and Ralph Beckman to get their huge Plymouth Barracuda S home in 2nd place. Another big car, the Mercedes Benz 300SE of Juntgen/Muller, was 3rd overall and previous winners Karlan/Moland had their Volvo 142 in 5th.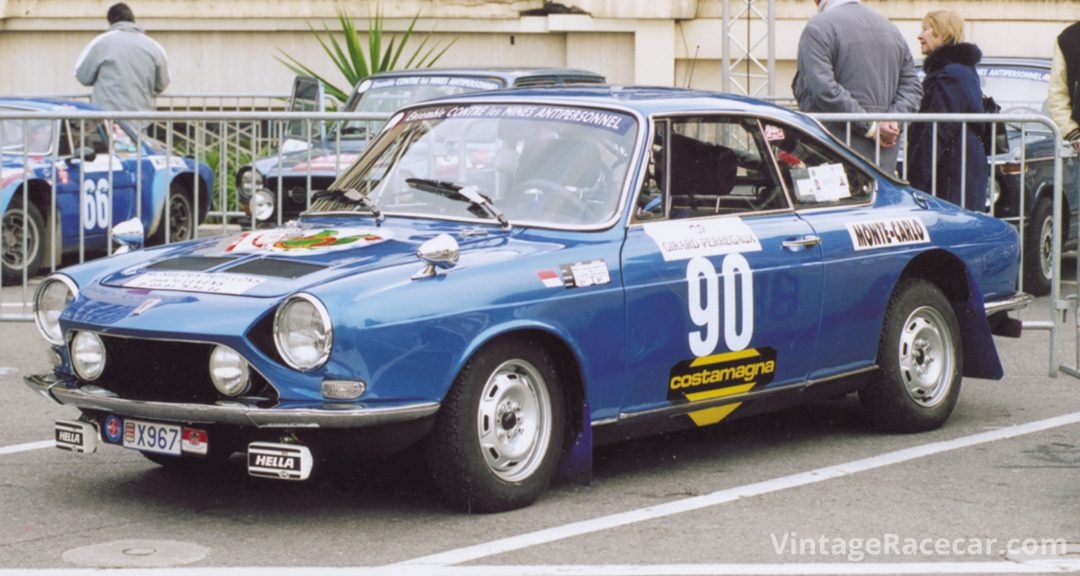 A fine performance came from the tiny Autobianchi A112 Abarth of Aime/Aime in 9th overall and the amazing production Fiat 500 of Ferry/Ferry was in 12th. On the route, the biggest cheers were for the noisy Alpine A110—27 of them!—the Porsches and the Ford Mustangs. Hanser/Hueber had an ex-Ford France Mustang, and there were three genuine ex-Ford works Escorts, the Castelein/Claerhout car having been driven by Timo Makinen.
Some of the rarer cars included a 1971 FSO Syrena, an Alfa Romeo 1900, a Citroen SM, a 1953 Citroen 11B, an NSU 1200 TT and a pair of exquisite Simca 1200 S with Bertone bodies. There were several Lancia Stratos and a tiny 1951 Panhard Dyna X86. With so many cars making it to the finish, the 2005 "rolling museum", as Patrick Tambay called it, was a success.
Submitted by Ed McDonough