Driving down to Laguna on Thursday morning, my compatriot Bill Wagenblatt and I were reminiscing about past vintage Laguna events. From the earliest Steve Earle events, to this just past Rolex Monterey Motorsports Reunion we had been to them all. The early events had us both excited to get to the track and capture the first views of all the exotic vintage machines racing that year. Somehow, we had lost that tingle of excitement as we arrived at the track. Last year, Jeff O'Neil and his band of warriors had brought that excitement back. This year?
Velocity Invitational combines vintage racing with good food and wine for the spectators. I'll stick to describing the vintage cars and racing. I am out and about the track with little or no time to be enjoying good food and wine. That said I did hear from spectators that the food and wine experience was first class and enjoyable.
Another Monterey Laguna Seca experience is weather. We started off Friday morning with intense "Monterey Sunshine", otherwise known as fog to the rest of the world. The fog burnt off by late Friday afternoon followed by a photographer's dream of a heavy overcast Saturday. Sunday had intermittent overcast. All in all the weather added opportunities to capture unique images of the cars on track.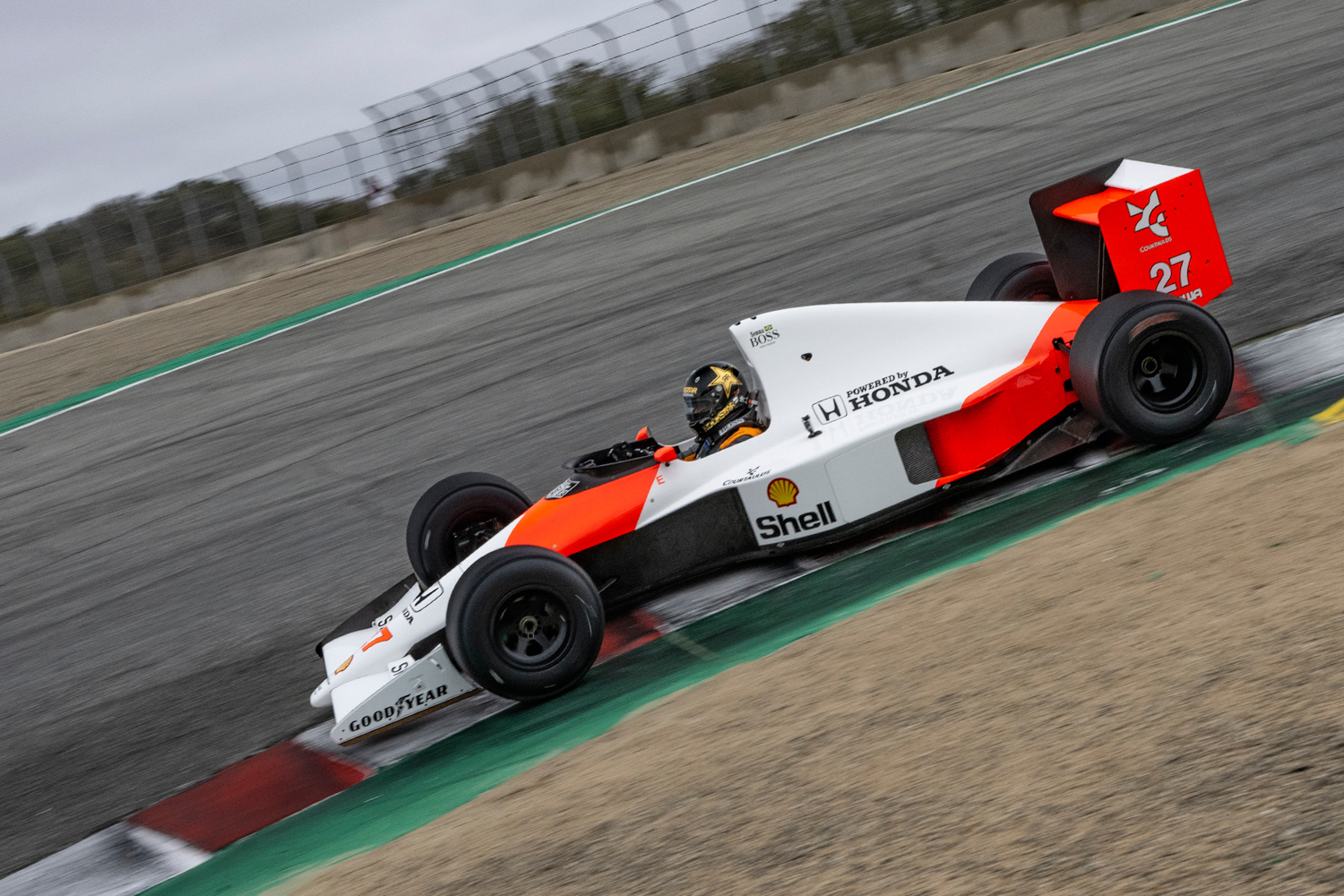 Zak Brown of McLaren brought a group of cars from the McLaren collection: a 1996 McLaren F1GT12R that raced at Le Mans; a 2013 MP4/28A F1 car; Ayrton Senna's 1990 F1 World Championship car MP4/5B-07; and the Alain Prost 1985 World Championship F1 MP4/2B-3. Then, the highlight of the weekend? The 2013 McLaren MP4/28A being driven at speed by Mario Andretti. Mario did not dawdle, he pushed it around the track quite rapidly. The other McLaren drivers were Indy Car's Pato O'Ward and Formula 1 World Champion Mika Häkkinen.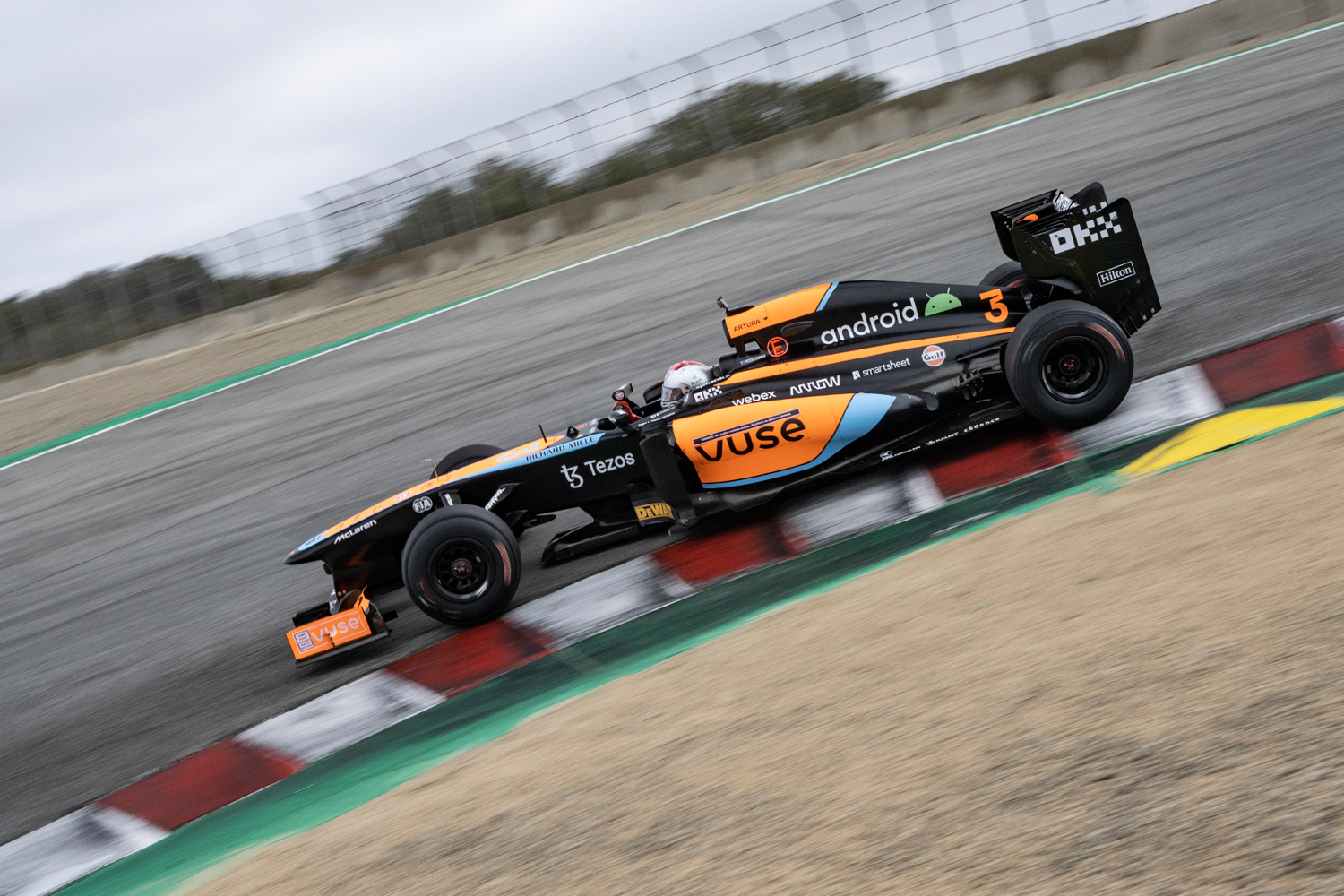 As for the vintage cars, they were organized into 10 groups.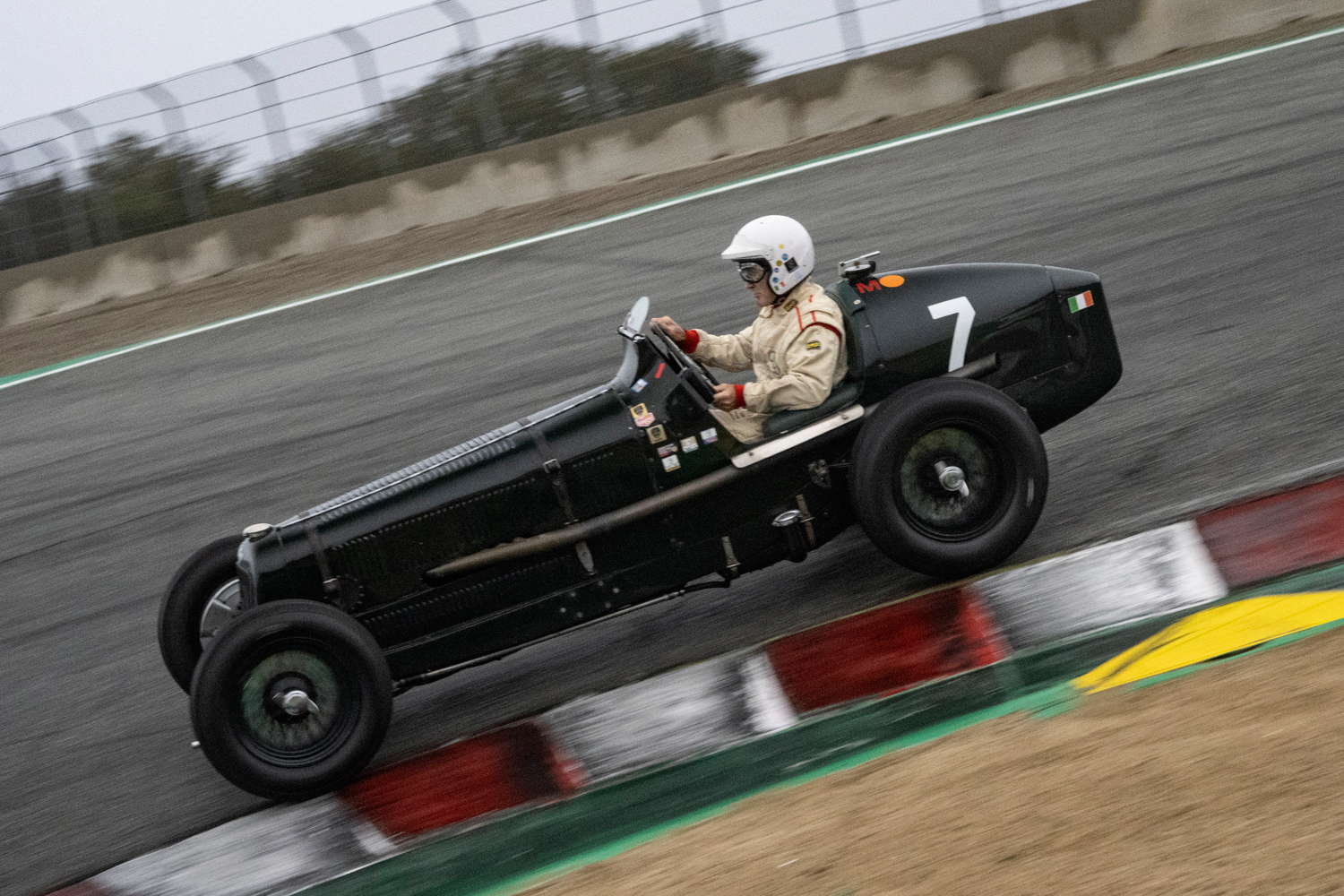 Group One ran from a 1928 Bugatti T-37A to a 1946 Delage D6. Paddins Dowling in his 1934 ERA R2A was the class of the field. Paddins leaning out of the car looking past the front into the turns. In the Corkscrew, as he went by, he was visible moving the steering wheel then, as he dropped down the Corkscrew, the dashboard was visible. With the drivers so exposed, spectators were treated to a small taste of what it takes to get one of these cars around Laguna quickly.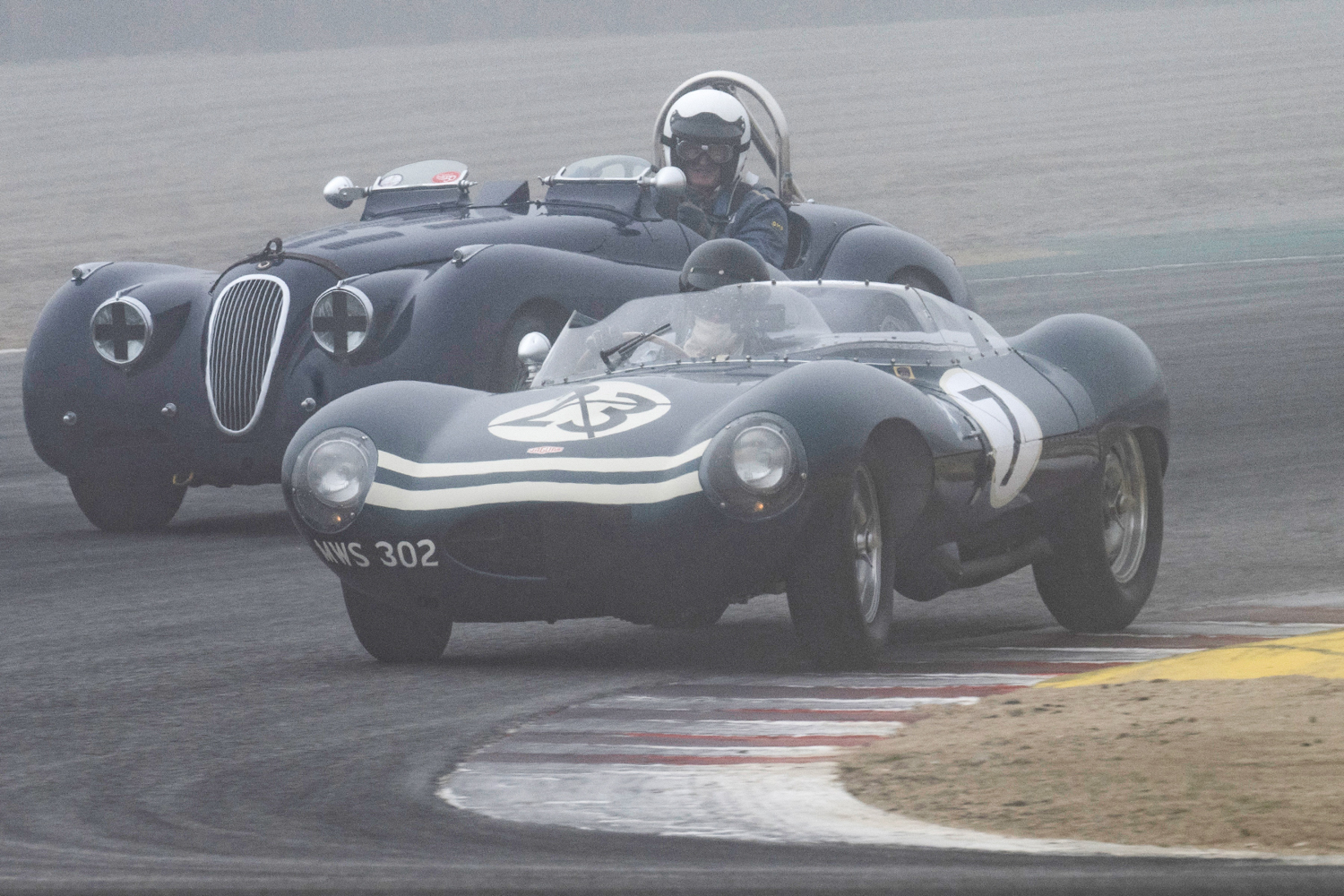 Group Two had cars from the 1949 Jaguar Parkinson Special to the 1955 Jaguar D-Type. The D-Type, perhaps the most beautiful competition car ever built, was quick and had a wonderful sound. Friday morning it would come out of the fog suddenly exposed with only one headlight burning…it is British after all. To capture images of the D-Type combined with one or two Jaguar XK-120s in the fog was a real thrill.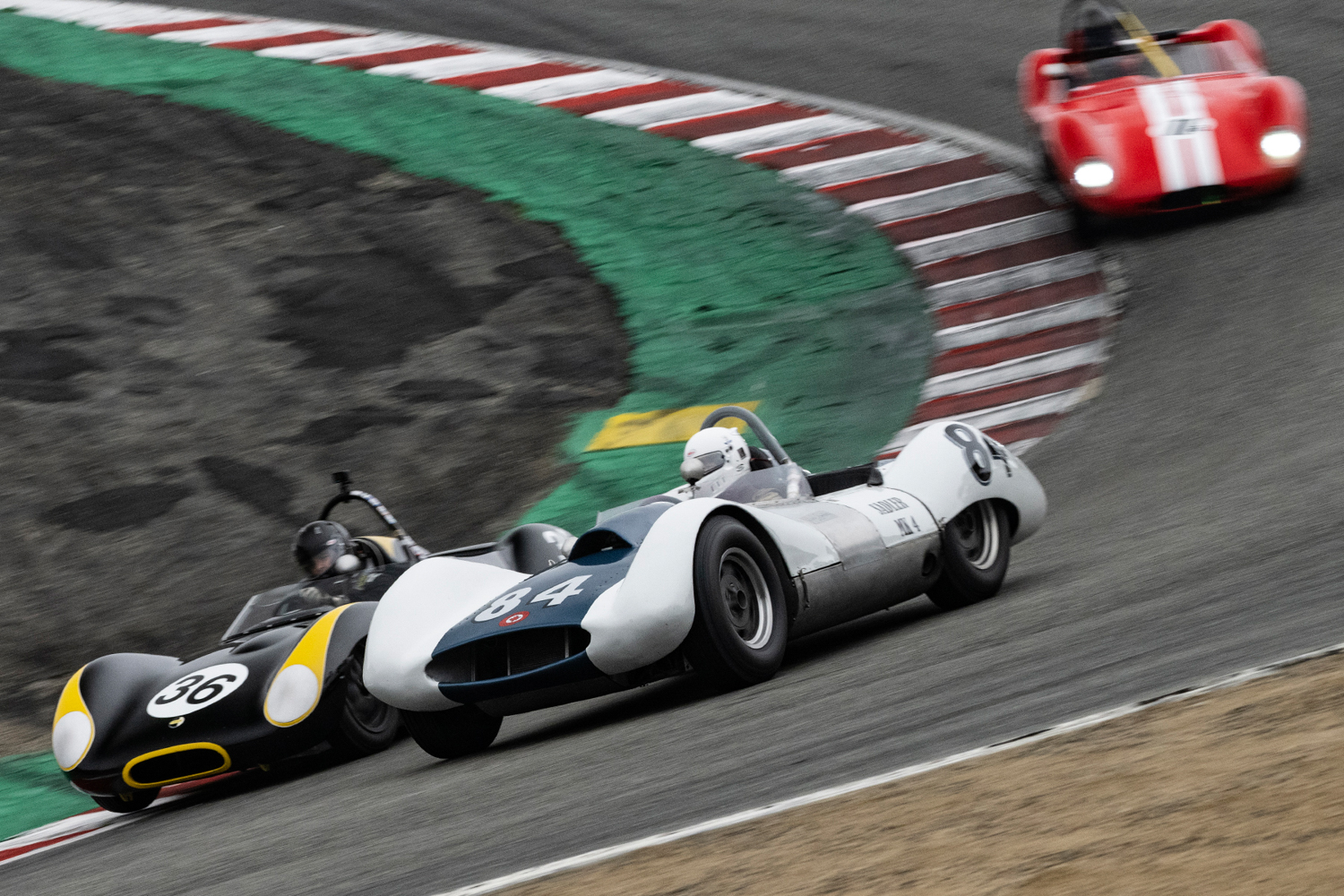 Group Three had cars ranging from the Lotus Elevens (That's Eleven not 11) to the 1960 Maserati "Birdcage" Tipo 61. Hard to pick a favorite in this group, but Greg Meyer's 1959 Sadler Mk.4 was a keeper. Just at the apex of Turn Two, Greg's Sadler would lift the inside front tire off the pavement then drop it back down. Down the following straight, as Greg would shift from third to fourth, the inside front tire would again lift off the pavement a good eight inches. Fun to watch. The two Ferrari 250 Testa Rossa's driven by Chase Johnson and Anthony Wang added to the symphony of sound from this group.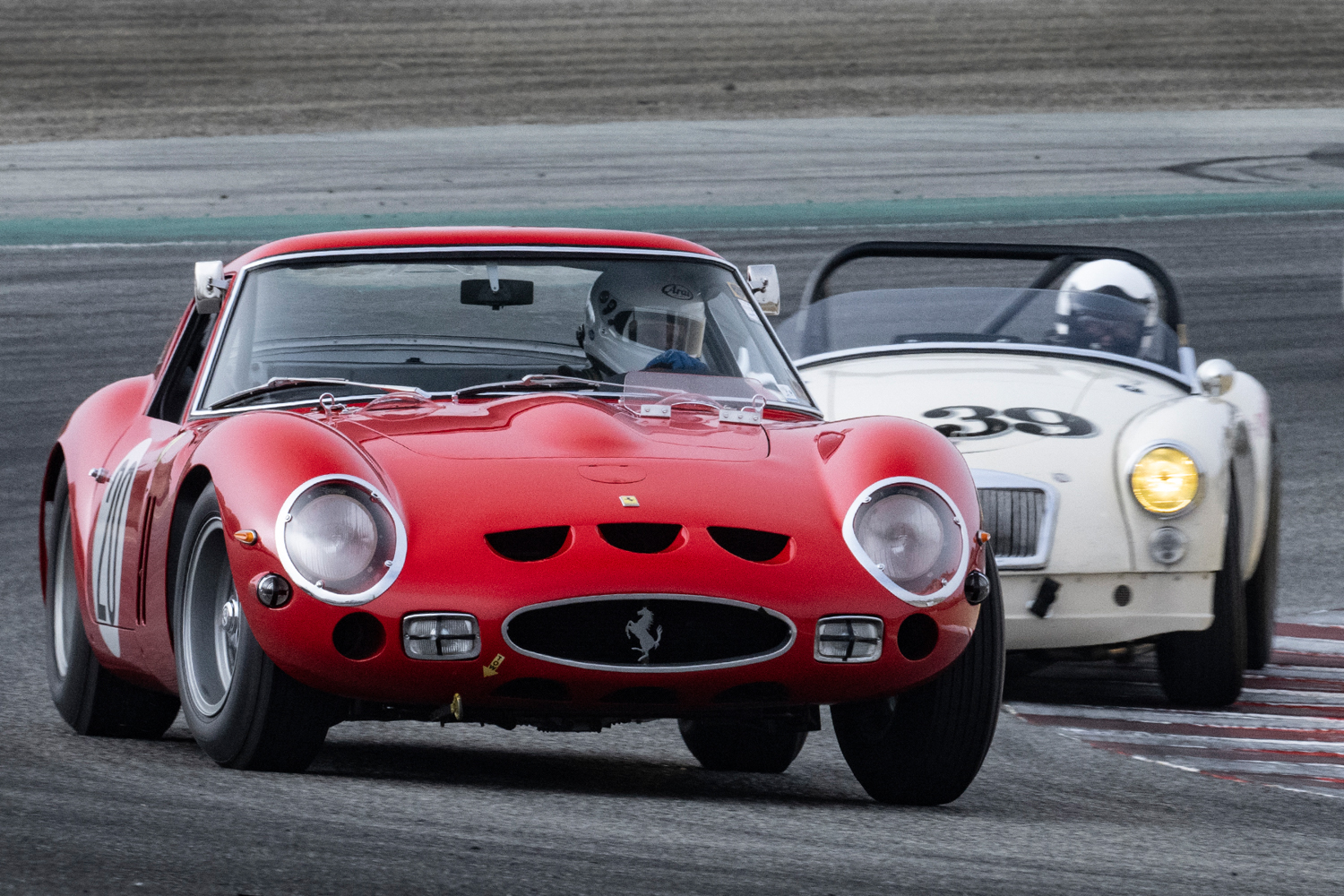 Group Four had among many, a Ferrari 250 GTO, a Ferrari 250 GT SWB, a Ferrari 250 GT TDF, at least four Alfa Romeo GTZ, two Porsche Abarth Carreras, and a gaggle of really quick 356 Porsches. This was another group that created a symphony of sounds combined with good racing. Saturday watching Jeff O'Neill in the GTO come through the pack chasing down Rob Walton's 250 GT SWB was worth the price of admission.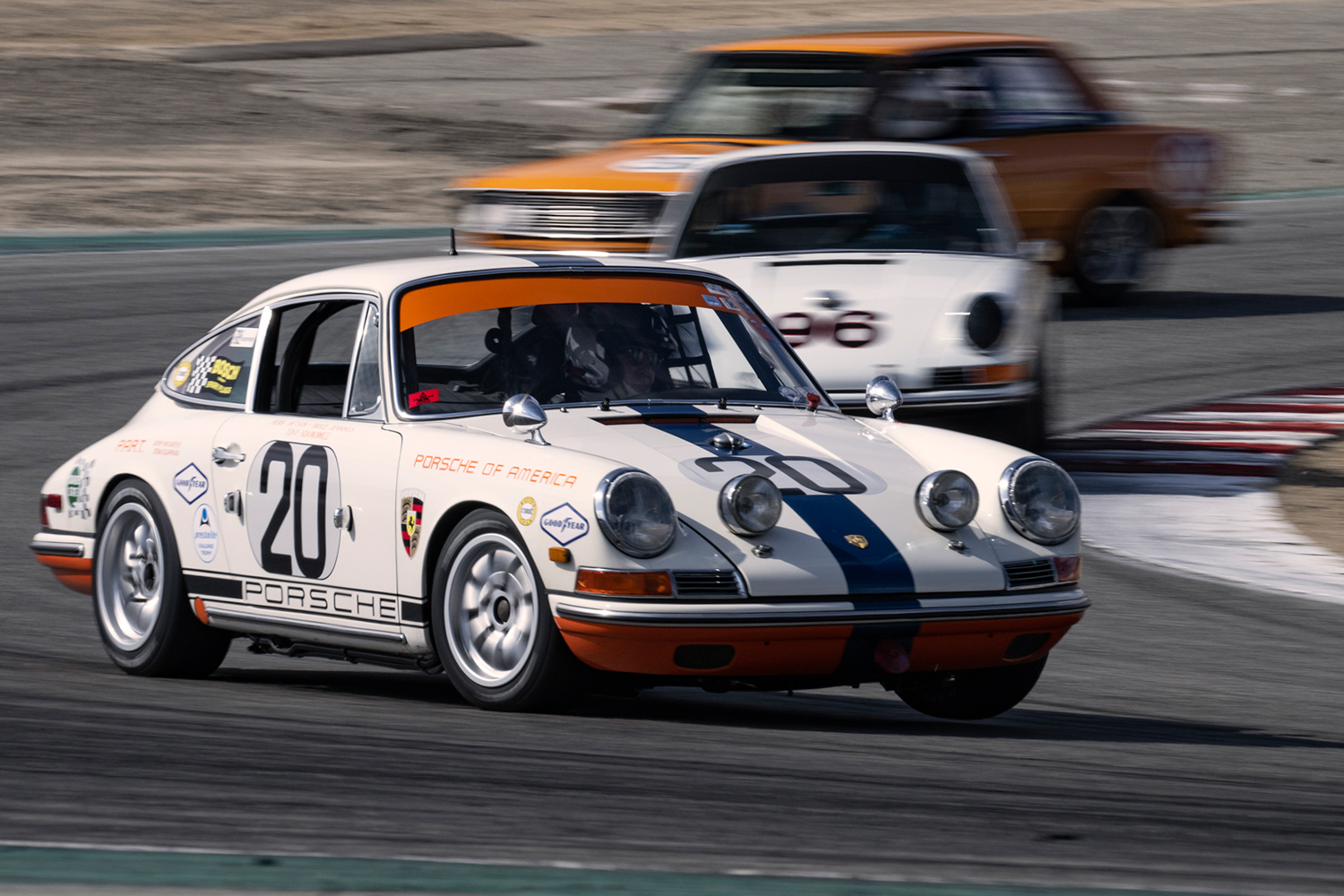 Group Five was a cross section of "Big Inches" and German engineering with a smattering of Japanese and British engineering. Porsche 911s of various specifications, Datsun 240Z and 260Z cars, BMW 3.5 CSLs, Corvettes and one Ford Capri RS 3100. Good racing with tight finishes.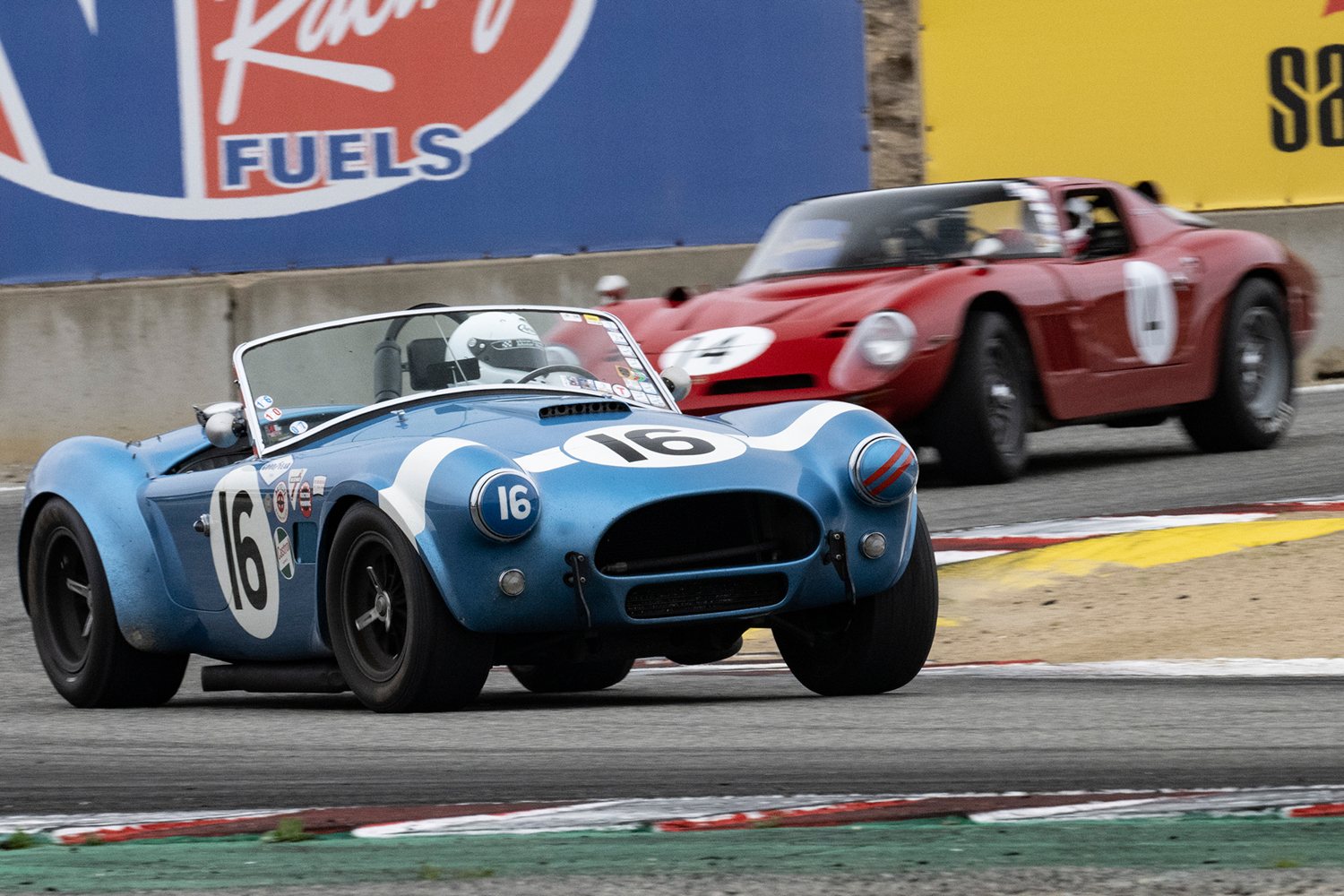 Group Six was a crowd favorite. Cobras, Corvettes, Lotus 23B, Lotus 26R, Ford GT40, Bizzarini 5300GT Strada, Sunbeam Tiger and Chevron B16 made up this group. The "Park Gang" led by Lynn Park, added to the festivities by running their three 289 Cobra's nose to tail for may of the laps, giving photographers a rare opportunity to capture three Cobras nose to tail in one image. It has been awhile since I have seen a Ford GT40 driven this quickly on a track. Thanks to Rob Kauffman and his 1965 Ford GT40.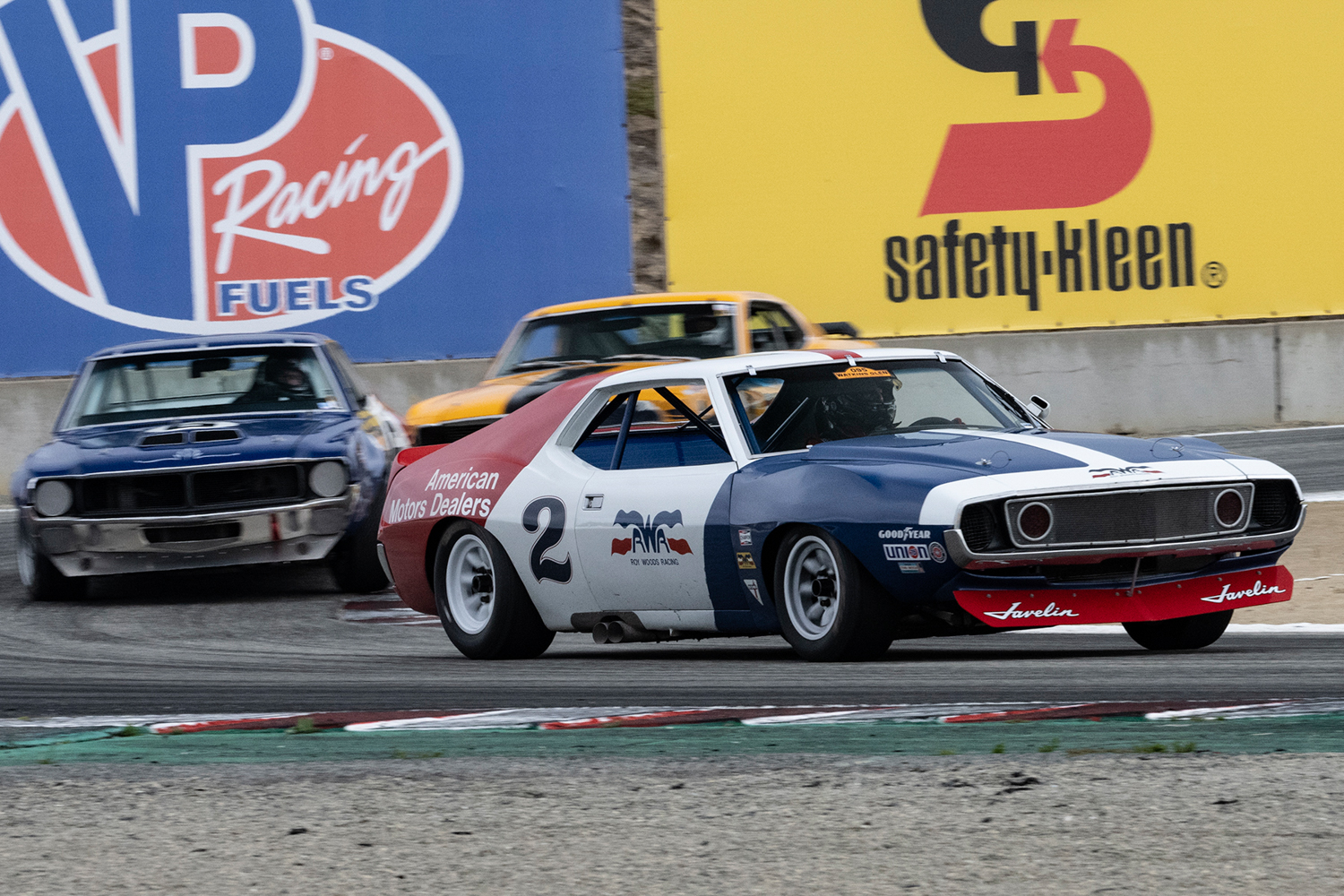 Group Seven was Vintage Trans-Am. Nose to tail racing with changes every lap, often every turn, for the lead and back down the group. Bruce Canepa in his ex-Penske 1970 AMC Javelin, Ken Epsman in his ex-Penske 1972 AMC Javelin and Jim Hague's 1970 Mustang Boss 302 put on a pass and re-pass exhibit both Saturday and Sunday. Fast loud racing.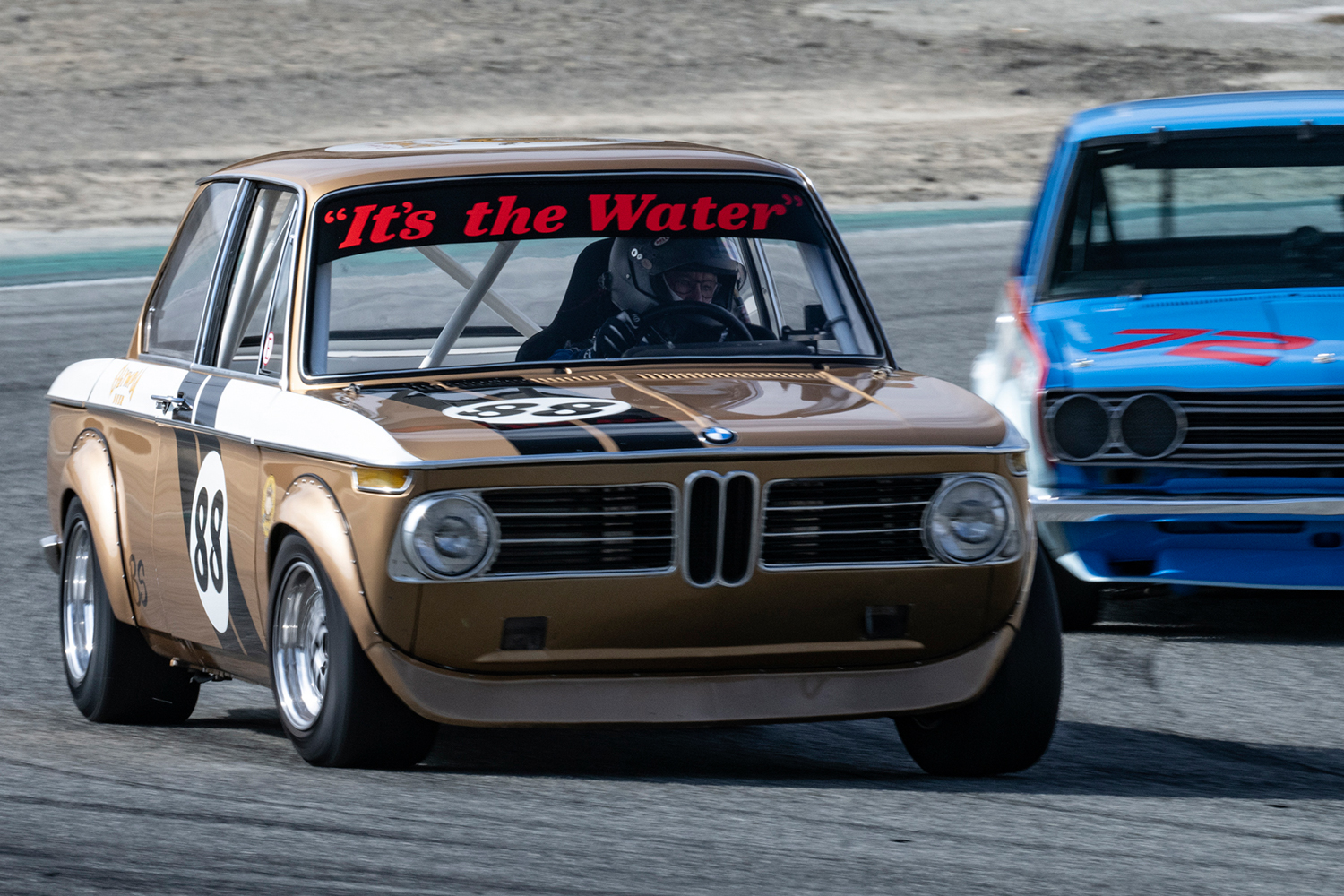 Group Eight was the Under 2.5 Trans-Am Challenge race. BMW 2002s, Datsun 510s, Alfa Romeo GTA and GTVs, VW "Beetle", Dodge Colt, Porsche 911s, and a Ford Cortina. Good racing but the high light for me was meeting Pete Brock. I was at Turn Two talking with a gentleman and spotted a man that looked familiar but I was unable to place him. Just to help me out his wife finally said, "You know this is Pete Brock." One of the reasons to come to the Velocity Invitational is the opportunity to meet legends of our sport like Pete Brock.
Group Nine and into the "Big Noise" of the event. Porsches, Corvettes and even a Cadillac CTS-V. Standing outside Turn 11, next to the wall, as those two Corvette C5Rs went by was an auditory experience. Not only the volume, but the vibration. These two C5R Corvettes were fast and loud bringing the crowd to their feet every time they dropped through the Corkscrew.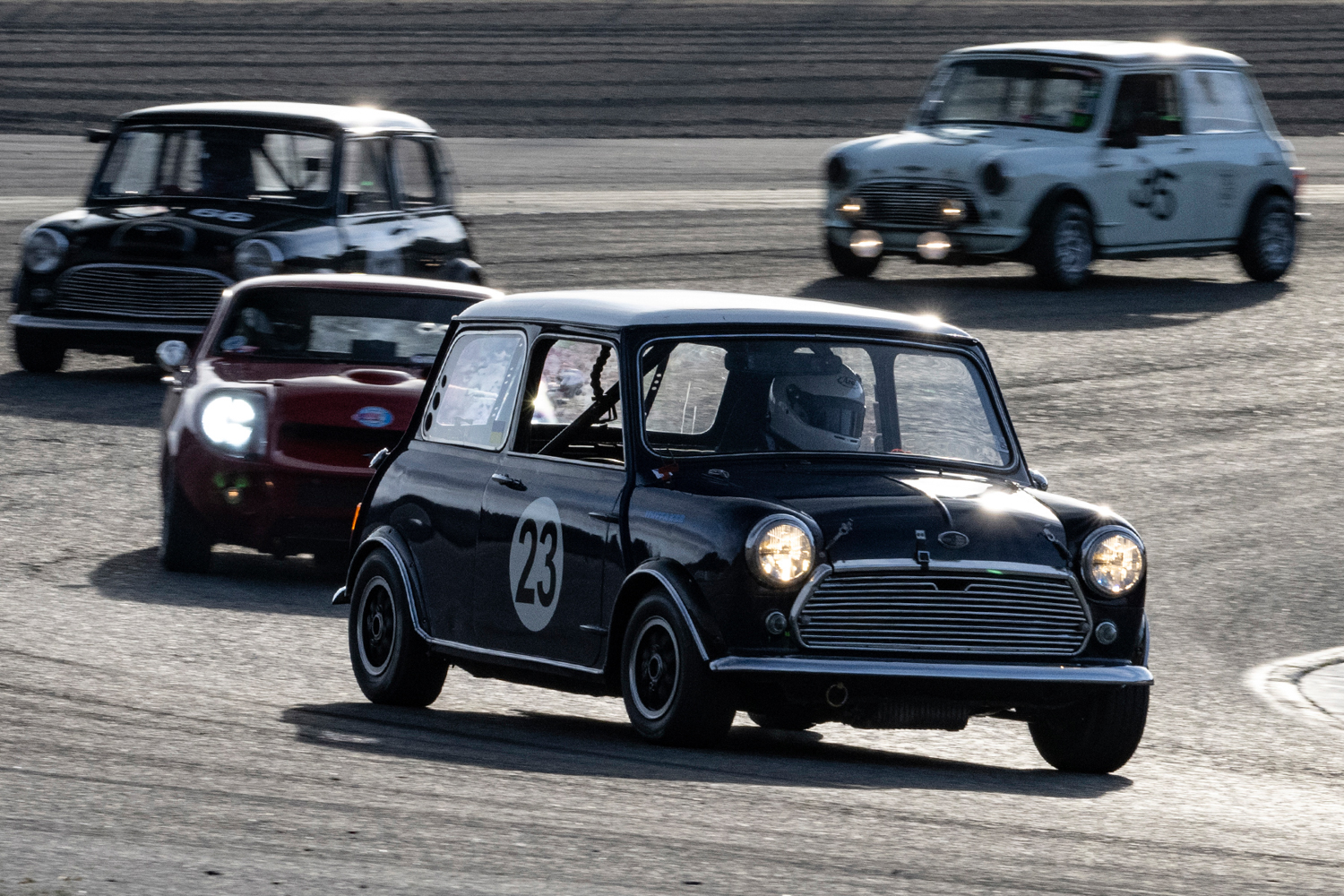 Group Ten, the now famous Mini vs Mustang race, finished each day off with racing into the setting sun. Shelby GT350, Mustang Fastback, Ford Falcon, and Mustang against a gaggle of Austin Mini Cooper S, Morris Minis,  and even a Mini Marcos GT Mk.2. Fun racing as the sun got lower and lower and the shadows got longer and longer. What a way to end a day.
Check out the following gallery of images and the separate gallery for subscribers. If I missed anyone, and I am sure I have, it's because of publishing deadlines and not animosity. Send me a request for images. Even better leave comments on the gallery and article. Please remember I am a photographer and not a reincarnation of Ernest Hemingway or Denis Jenkinson.