American Customer Sports Racing Cars of the 1950s
Everyone has heard of the scandalously beautiful Scarabs, the ground-pounding Cunninghams and the tantalizing Corvette Monza SS. These cars and others were the products of companies determined to win at any cost… which was a good thing since Lance Reventlow, Briggs Cunningham and Chevrolet spent fortunes building their creations without regard to whether or not they ever made a nickel. But there were many others in the U.S. who did not have the luxury of an unlimited bankroll and who dealt with the double whammy of having to produce a car they could sell in sufficient enough quantities and at a reasonable enough price to turn a profit.
In many ways, commercially produced racing cars are the most fascinating vintage racers of all, since the odds of finding a "lost" Scarab or C-4RK is essentially nill. What I mean by this is, when they only built one or two, it's no real trick to account for all of them. But there are other great limited-production sports racers out there just waiting to be discovered and put back on the track – some for much less than an equivalent Ferrari or Lister, others for less than a tired Miata. Let's take a look at some of these domestic bargains, relegating ourselves to companies that built complete cars in kit or assembled form, not just bodies. We won't be covering cars, like the Arnolt Bristol Bolide, that were built in Europe for American companies.
ALKEN
This little-known Venice, California, marque made the first fiberglass kit car body for the VW Beetle chassis. The Alken D-2 was a stylish convertible designed for easy installation on a stock-length VW pan. I would not include it with this article except that the prototype was raced at Riverside in June 1958, thereby giving it a "works" race history. Road & Track tested one in November 1958 and was impressed with the construction and ease of assembly. The D-2 body shaved about 300 pounds off the weight of a VW. Although the only VW engine available at the time was the 1192cc version, a full line of speed equipment was available from Okrasa for extracting more performance. Alkens hit the market in 1958 and were gone by about 1961 due to a high price of $1,295 for the complete body kit at a time when some kits were selling in the $300 range. Alkens are very rare today, and one would be a real conversation piece at most historic races. With an inexpensive 1380cc conversion on a 1200cc VW and a few speed parts, it would be quick enough to have some fun on a very tight budget. Although I have not seen one come on the market, I would expect to pay under $10,000 for a very nice one or as little as $500 for a rough example.
BOCAR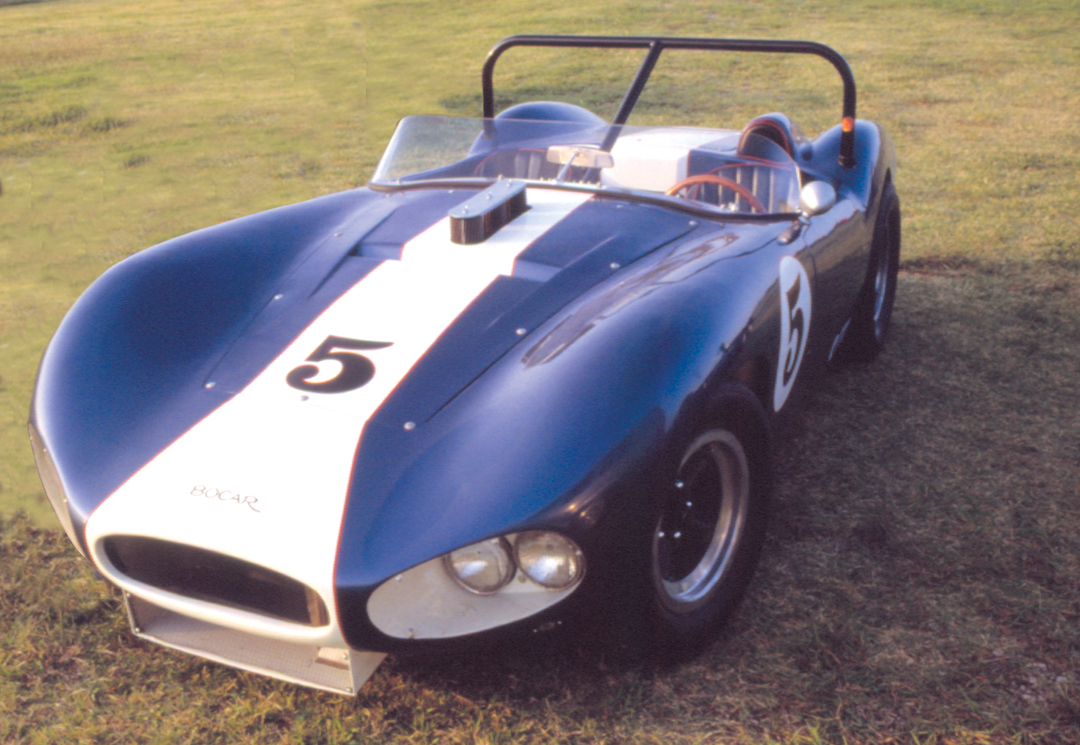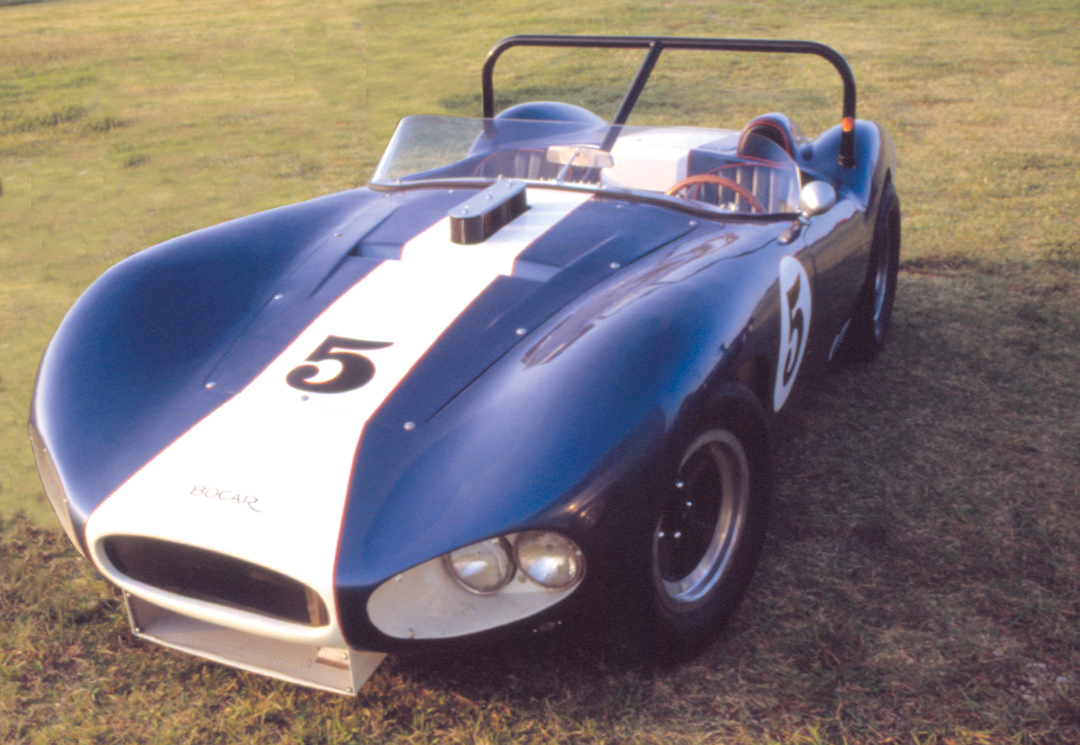 "A screamer from the Rockies" was how Sports Car Graphic described the Bocar XP-5 in its June 1959 road test. Indeed, the sub-2000-pound racer was as sleek and quick as anything in production… at least in a straight line! The creation of colorful Lakewood, Colorado race driver Bob Carnes, the first Bocar appeared in 1958. Carnes was a certifiable character, fond of loud, public arguments and a wild, loose driving style. He had fiery red hair, which exactly matched his temperament.
The X-1 prototype was built from oval-section tubing and had a Chevy 283 engine, Jaguar front suspension, a live axle in back and Jag drum brakes. The fiberglass body was a stunner, with low quad headlights enclosed under plexiglass covers. After shaking it down at the Pikes Peak hillclimb in 1958 (where he finished 5th in class), Carnes sold the prototype and it went on to a distinguished career in drag racing.
The XP-4 was the first production model, but the oval tubes were replaced by a round-tube space frame made from 4130 Chrome-moly tubing. Up front was a VW/Porsche 356 torsion bar assembly with trailing link suspension and a VW rear torsion bar springing a 4-link rear axle setup (the bottom arms were connected to the torsion bar). An A-bracket attached to the top of the differential located the axle. Brakes were standard Chevy drums, with a choice of steel or wire wheels. One was fitted with Jaguar XK-150 disc brakes, but Carnes didn't like them and they were removed. Most had the fuel-injected 283 Corvette engine, although at least one used a Pontiac V-8. Three dueces and Hillborn injection were also fitted in period.
The XP-5 was almost identical, but with a choice of Chevy Cerametallic or Buick Alfin drums. The XP-5 was sold fully assembled for around $6,400, or in kit form. An undetermined number were sold with estimates of under 50 complete cars and a larger number of kits. The body alone was a popular seller. A number of XP-5s were raced, most notably by Art Huttinger and Meister Brausers Harry Heuer and Augie Pabst. The grill area proved to be too small and many were opened up by subsequent owners as well as at the factory.
The XP-6 that followed in 1960 was stretched 14" to cover a front-mounted GMC supercharger driven by a Potvin adapter. The Bocar system used Rochester FI air metering units on the intake side of the blower and a tube that connected it to the standard Rochester "doghouse" on top of the engine. The injectors remained in their standard location in the intake manifold. Carnes claimed 440 hp. Front suspension was changed to a Kurtis-style live axle with leading arms and torsion bars and brakes were Buick Alfins. Only one XP-6 was built, and it was retained by Carnes as his personal racecar.


The XP-7 that followed was a simplified XP-6, with the long chassis but the old VW front suspension. The body was similar to the XP-5, with the nose opened up for better cooling. They were sold in rolling chassis form for normally aspirated or supercharged engines. There was also an XP-7R for racing. Only a handful were raced, most notably by Graham Shaw. His car used a 283 Chevy with Hillborn injection. Very few XP-7s were built, but Popular Science tested one in their January 1961 issue.
The final Bocar variant was the Stiletto. This was essentially a revamped XP-6 with a hotter engine (Carnes claimed up to 658 hp – probably closer to 450-500) and a radical body that looked like a cross between a Lotus 15 and a Bonneville streamliner. Brakes were Chevy Cerametallic and wheels were Boranni wires. The Stiletto was a serious road burner in a straight line, but Carnes was unable to develop any of his cars into serious rivals to the Scarabs. Less than five complete Stilettos were built, perhaps as few as two. One of them was sold less engine and raced with an injected Chevy by Graham Shaw at Nassau. One Stiletto later showed up in Missouri, where it was raced by Bob Spooner in the mid-1960s. It had a front-mounted blower, but the Rochester FI pieces had been replaced with a Hillborn injector. This car is currently owned by Chuck Haines and is soon to be restored. Another is owned by Gaylon Curley in Colorado. Bocar closed in 1961 following a fire that destroyed the plant, and Carnes passed away in 1970.
There are a number of Bocar XP-4 and XP-5s active on the vintage scene. The XP-6 disappeared and only a couple of XP-7s are accounted for, along with the two Stilettos. They all make interesting vintage racers. XP-5 handling is not as twitchy as you would think from a 90" wheelbase and trailing link suspension, but the steering is heavy. Race-prepared Bocars with factory chassis should be selling in the $40,000 to $100,000 range, depending on equipment and history, with partially assembled or street cars going for a bit less. Bocar-bodied specials on homemade or production car chassis, like most old kit cars, should bring $2,500 to $25,000, depending on equipment, condition and race history. Bocar bodies have been fitted to Triumph, Willys, Jaguar and other chassis.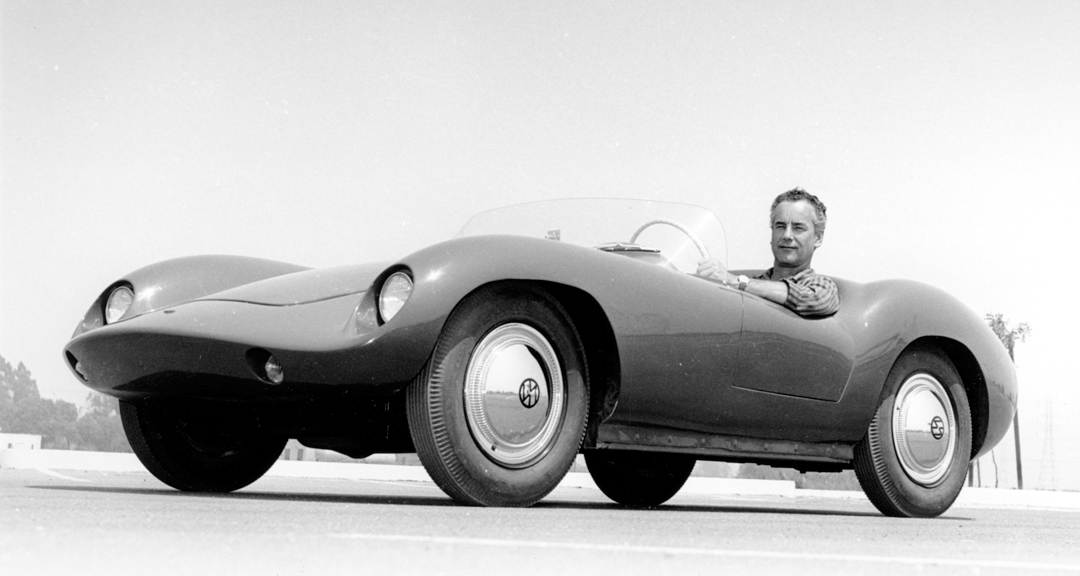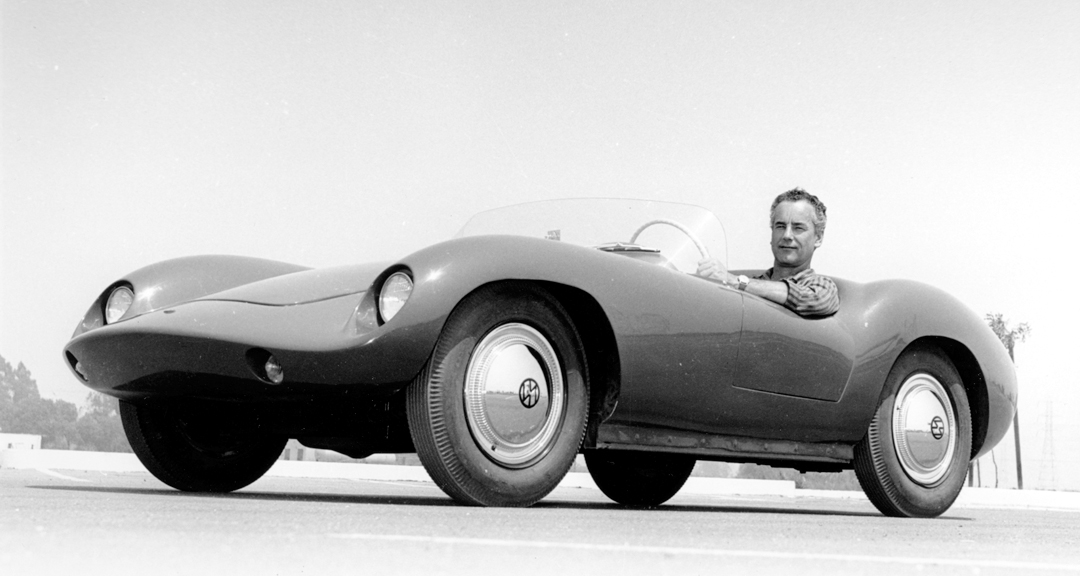 One car, now raced by Gaylon Curley, was fitted at the factory with Mercedes coil-spring front suspension. Although most had 283 Chevies, Duane Capps raced one in 1959 with a 350" Chevy, courtesy of a radical bore and stroke job. All had T-10 4-speeds and 15" or 16" wheels. Race prep includes decambering and strengthening the front end as per Porsche 356 practice and using either Porsche or aftermarket off-road racing front hubs and spindles.
There were also a number of Bocar-bodied specials on other chassis, including the well-known Petersen Special, which finished 2nd in the sports car class at the 1962 Pikes Peak hillclimb driven by builder Frank Petersen. It had a modified Jaguar XK-120 chassis and is now raced by Don Johnson.
DEVIN
Devin was a regular competitor in California events in a very quick Crosley Hotshot and a series of Ferraris, but he longed to build his own cars. He began building customer racecars in 1954 with the introduction of his Devin-Panhards. He opened Devin Industries in Fontana, California, after buying the parts inventory from a defunct Panhard dealer. Devin then pulled a mold from a Deutsch-Bonnet racing car he had taken in trade. He reproduced the body in fiberglass and popped it onto a square-tube ladder frame he designed to take Panhard suspension and running gear. It had an 84" wheelbase and weighed about 950 pounds. The Panhard engines were initially offered in 850cc or 750cc sizes to run in G or H Modified. Devin offered eight stages of tune, from 38 to around 60 hp with the aid of an optional supercharger. They started at $2,135 in kit form and 15 were sold. A few were fitted with a Devin invention, the first belt-driven overhead cam engine! Devin adapted the flat 2-cylinder Panhard engine to take Norton Manx motorcycle pistons, cylinders and heads, and drove the overhead cams with newly developed Gilmer-toothed belts. Unfortunately, he did not patent the idea which is now almost universally used on production cars. These "cammers" were very successful, with Jimmy Orr winning the 1956 SCCA H-Modified championship. Other Devin-Panhards were driven by Jean-Pierre Kunstle and Dr. Chet Burgraff. Several are currently being raced in vintage events, most notably by Alva Rodriguez on the West Coast.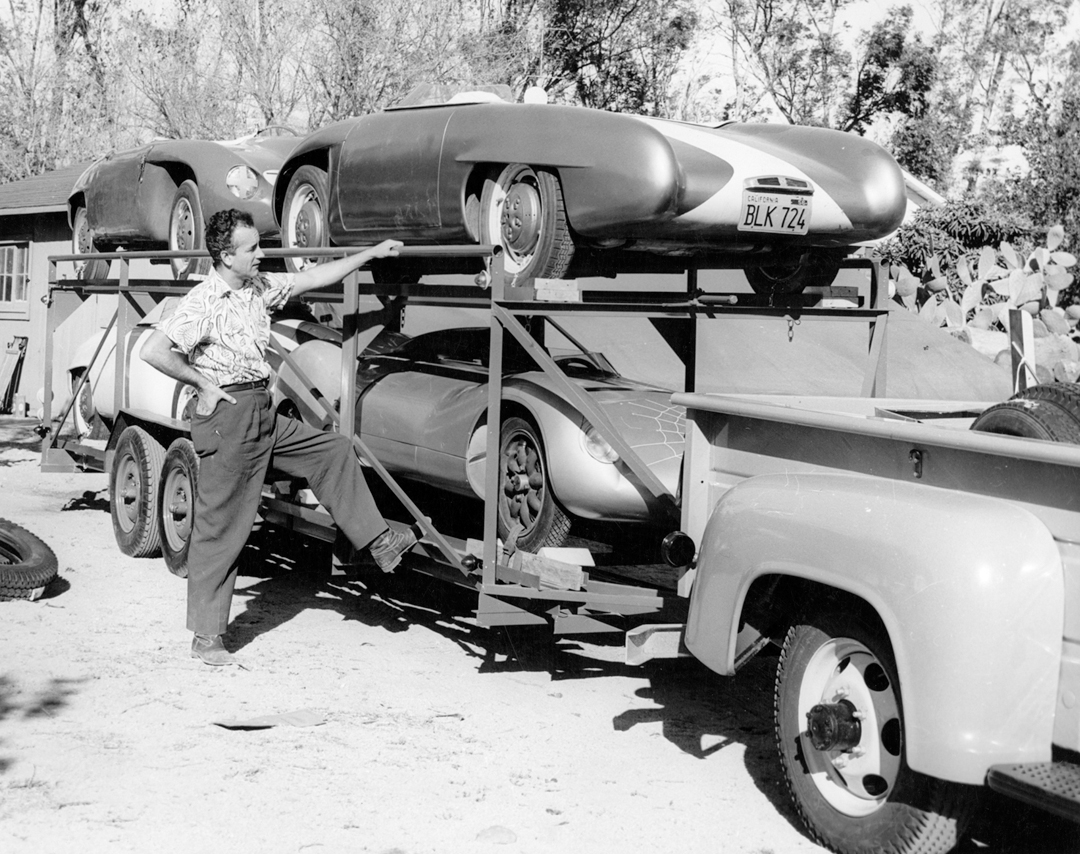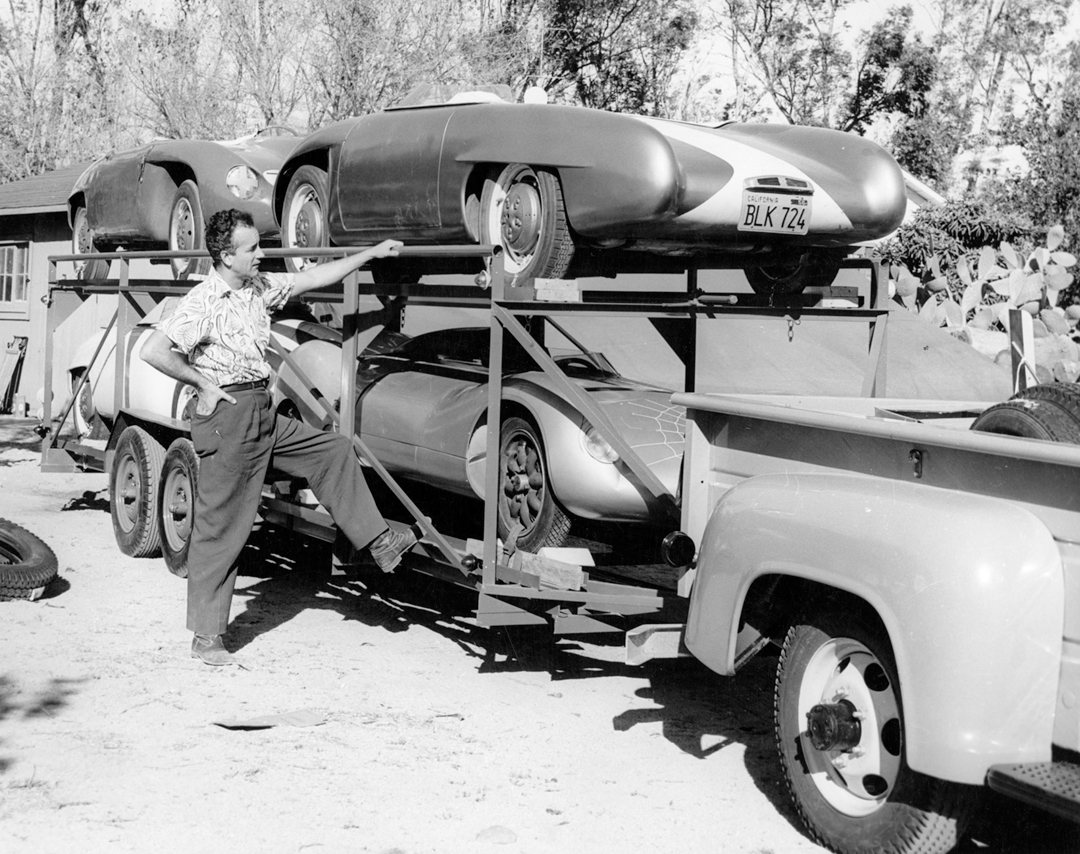 The next Devin project was a series of kit bodies to be fitted to any chassis the builder desired. He came up with a striking body loosely based on an Ermini sports racer, and offered it in a variety of lengths and widths. They were fitted to everything from Corvettes to Porsches, and on some of the best specials built by Ak Miller, Joe Huffaker and Dean Moon (not to mention the amazing Echidnas). Devin sold thousands of these bodies. Devin-bodied specials are readily available, with restorable examples on production car or homebuilt chassis starting under $5,000 for rough projects and usually reaching a high of under $50,000, depending on condition and history. Driveable Devin-bodied specials are frequently available in the $15,000-$25,000 range and are an excellent choice for running in an exclusive race group on a budget.
In 1958, Devin stunned the American automotive press with the introduction of the fearsome Devin SS. This ultra-high performance sports car had a lightweight tube frame designed and built in Ireland and clothed in a revamped fiberglass body. Power came from a Chevy 283 with one or two 4-barrels. Suspension was the same as Lister practice, with equal-length front a-arms and a DeDion unit at the rear. Coil-over shocks were used and braking was by Girling discs with alloy calipers. A Salisbury rear end was initially used with inboard brakes, but Devin soon devised his own housing that accepted a Chevy Positraction unit. The SS looked sensational and weighed about 2,100 pounds. Eighteen chassis were laid down in Ireland, and 15 were shipped to Devin. Of the 3 retained in Ireland, one was stolen and the others were later shipped to the US and completed. Devin was not satisfied with his Irish connection and began building his own chassis, later referred to as the "California chassis". These are identical to the Irish ones except that the outside chassis rails are rectangular tube instead of round (however, several California chassis have been modified back to Irish specs). Devin says he built seven of these, plus five less expensive V-8 models with live axles and VW, Ford or Corvair front suspension. Three more were built with Pontiac Tempest transaxles and swing axles.
Devin was unable to capitalize to go into mass production, and the SS's that were sold in the 1950s went for $5,950 to $10,000. They were raced by Andy Porterfield, Roger Ward, John Brophy and Pete Woods, with Woods winning the 1959 Cal Club C-Modified championship. Today there are a number of SS's competing in vintage events, but expect to pay dearly for the privilege…an SS can bring $100,000 to $200,000. However, considering that an SS is a contemporary to seven-figure Testa Rossas and D-Type Jags, it's still a relative bargain today. For racing, be wary of the MGA kingpins and spindles – Listers have the same problems. Heavy-duty racing versions are available.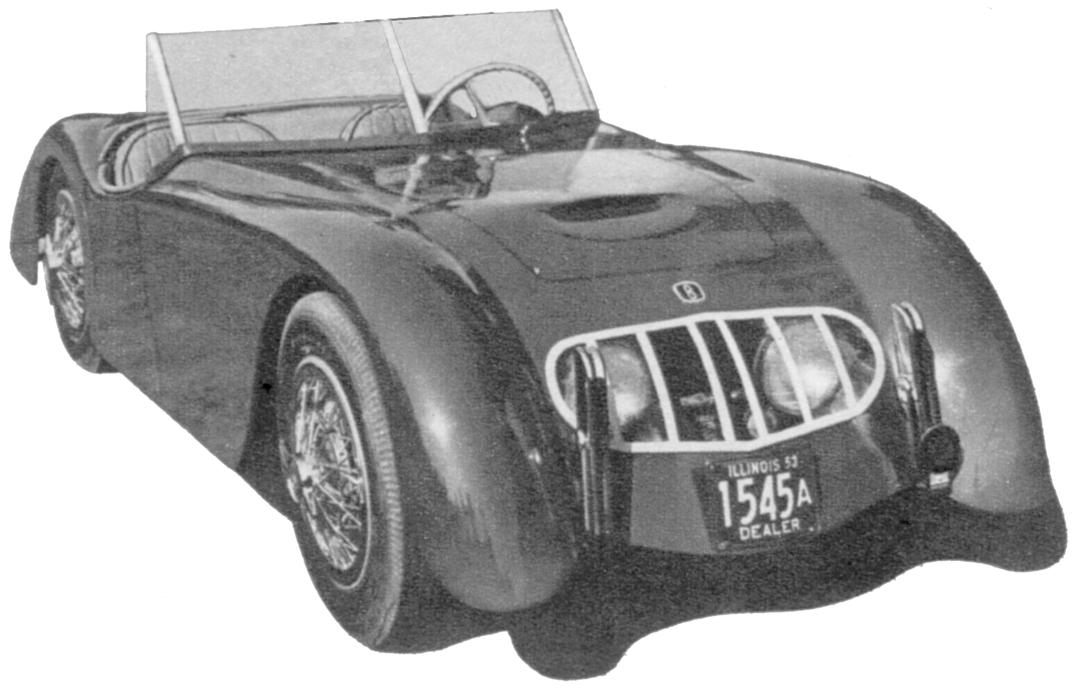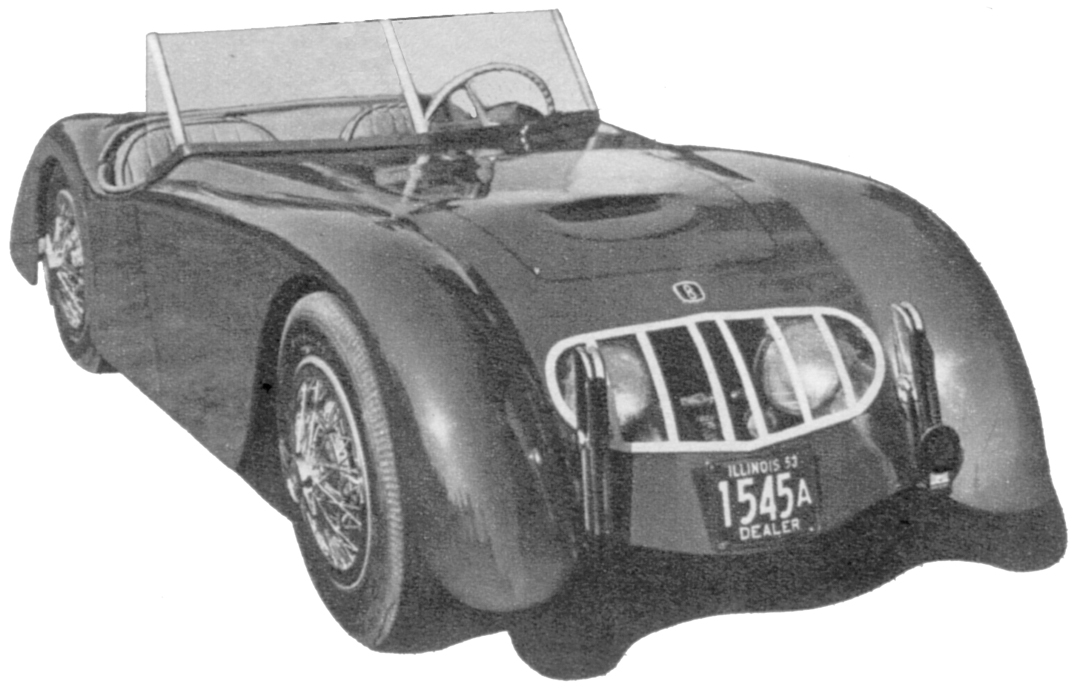 In late 1958, Devin brought out the Devin D, which was based on a combination of VW and Porsche running gear. A rectangular tube chassis was used with VW suspension front and rear. Although VW drum brakes were standard, Porsche drums were an option. The engine in the first series was a Porsche industrial engine, intended for stationary use and in boats. It was a mildly detuned 1600cc Normal with a single carburetor and drove through a VW transaxle. The D was not specifically intended for racing, but a number were put on the track, both here and in Europe (they were also made under license in Belgium and Czechoslovakia). Later, the D was offered in kit form and many were built with VW and twin-carb Porsche engines. A number of Ds are running in vintage racing, where they can be made into potent racers with modified Porsche power. Although rough VW-powered Ds occasionally turn up at bargain prices, Porsche-powered vintage racers usually sell in the $35,000+ range.
In 1959, Devin swapped the new Corvair engine, transaxle and rear suspension into the D chassis, creating the Devin C. Optional disc brakes were offered all the way around, and turbo and supercharged versions were very quick. Pete Woods drove one in the Pikes Peak hillclimb and finished quite well in the sports car class. They were also the terror of California slalom racing in the early to mid-1960s. Expect to pay about the same for a C as for a Porsche-powered D.
One big plus for Devins is that Bill Devin still maintains a supply of spare parts for the C, D and SS in his Yucaipa, California, shop. Look up his web page at http://devincars.com.
FIBERSPORT
This limited-edition racer was built by John Mays and John Burmaster of Bloomington, Illinois. They started racing a Crosley Super Sport in 1951 and developed it into a competitive performer. In 1953,s they introduced their own sports car with a modified Crosley chassis and a stylish fiberglass body. Fifteen-inch wheels replaced the Crosley twelve inchers and a Morris Minor transmission was added. The body was built by pulling a female mold from a plaster mock-up. Two versions of the body were made, a lightweight racing shell with only one door and no trunk, and a thicker, stronger street version with twin doors. Later, they added a tubular frame of their own design. Total weight was reported to be 1,100 pounds. Fibersport sold race-ready cars for $2,850, with street bodies going for $870 and the race version for only $580. They all fit the 85" Crosley chassis. They appear to have been out of business by 1955, and I don't know how many were built (probably not many). At least one Fibersport is currently running in vintage racing. Expect to pay between $2,500 to $15,000, depending on condition and history.