Mecum Auctions has announced that it will be selling the 1965 Ford GT Competition Prototype Roadster GT/109, the only open-cockpit Ford GT to compete at Le Mans, at its Jan. 3–13 sale in Kissimmee, Florida.
This stunning 1965 Ford GT Competition Prototype Roadster GT/109 was driven in the 1965 running of the 24 Hours of Le Mans by legendary French racers Maurice Trintignant and Guy Ligier. The sole open-cockpit GT to ever compete in the French classic, this GT Competition Prototype Roadster is a forerunner to all of the glory that Ford garnered in its historic run to four consecutive overall victories at the 24 Hours of Le Mans from 1966 through 1969. This Pebble Beach award-winning gem is the product of a meticulous three-year mechanical and cosmetic restoration that was completed in 2016.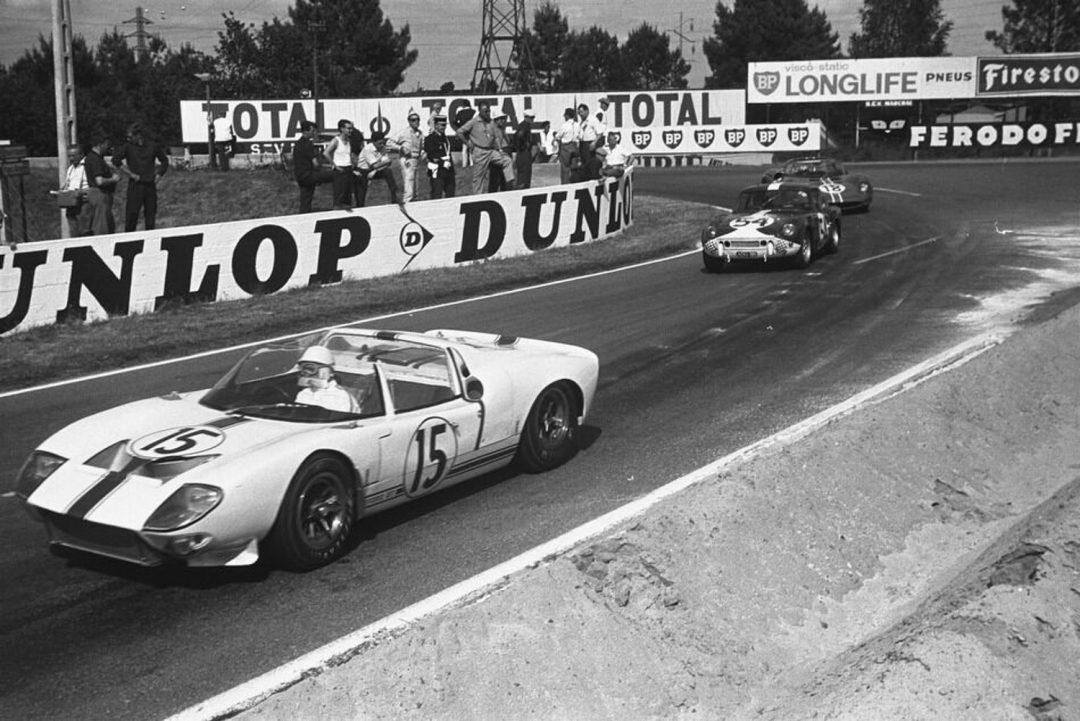 The well-known tale about the genesis of the Ford GT program is that Henry Ford II, known popularly as "The Deuce," thought he had a deal with Enzo Ferrari to purchase the famous Italian automaker in 1963. Ford was in the process of introducing the Total Performance Program that would lead to a wildly successful dual program birthing incredible performance cars on both the street and race track—in other words, "Win on Sunday sell on Monday." Fords were winning in NASCAR, drag racing and in sports car racing with Ford-powered Shelby Cobras.
The Deuce made the decision that Ford was going to build its first sports car, go road racing in Europe and win the 24 Hours of Le Mans. The problem was that Ford had never gone road racing in Europe, had never made a sports car and did not have the facility to build one. In concert with Ford Division General Manager Lee Iacocca, the decision was made to purchase Ferrari. Ferrari would design and build Ford's first sports car.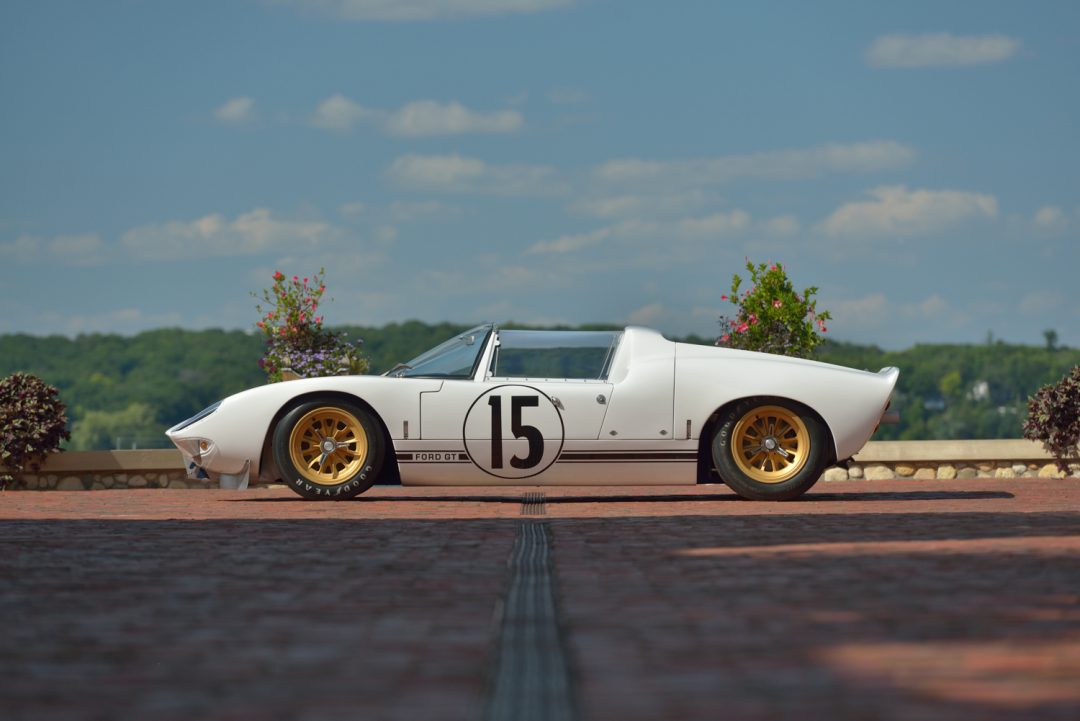 Ferrari, the man, had a history of aggravating business associates, already having enraged repeat customer Ferruccio Lamborghini so much that Lamborghini decided to start his own car company to compete with Ferrari. Likewise, Ferrari really angered Ford at their meeting in Italy to close the deal for the Italian carmaker. Ford famously declared war on Ferrari. "If I can't buy Ferrari, I'm going to beat Ferrari." This led to the genesis of the Ford GT Le Mans effort in 1964.
By 1965, The Deuce had ordered Iacocca to undertake a "win at all costs" NASA-like program to defeat Ferrari at the French endurance classic. What followed was the stuff of legends—a Ford-versus-Ferrari heavyweight bout for supremacy in sports car racing, and the GT Competition Prototype Roadster was an important piece to the puzzle.
Completed in March 1965 by Ford Advanced Vehicles (FAV) in Slough, England, GT/109 is one of 12 prototypes built by Ford between January 1964 and April 1965. A mere seven Ford GTs actually raced at Le Mans in 1964 and 1965, with four Prototypes—including the lone Roadster GT/109—known to exist today. A Carroll Shelby-led Ford of France crew entered GT/109 as No. 15 at Le Mans for the June 1965 running of the classic endurance race. When the brilliant red, white and blue French flag dropped to signal 55 drivers to run across the track to their cars, this GT Competition Prototype Roadster made history by becoming the only GT Roadster to ever compete in the 24 Hours of Le Mans.
The Ford GT Prototype had debuted in April 1964 at the Le Mans time trials as one of the most technically advanced racecars ever. It was also beautiful and provably capable of incredible speeds. Highly respected former Aston Martin team leader John Wyer was hired to manage the effort, but the cars debuted with inadequate testing and development. With the GT Prototype program not producing the expected results—the first two cars had been destroyed in crashes at Le Mans and then Monza, not to mention the team had failed to finish a race during the season—Iacocca decided to make some changes. In December 1964, two GT Competition Prototype Roadsters, GT/103 and GT/104, were sent to Shelby American in Los Angeles, where they were placed in the care of Shelby Chief Engineer Phil Remington and his very capable crew to be readied for the February 1965 season opener at the Daytona Continental. An intense period of testing and development produced the GT's first race victory—and its first finish—when Ken Miles and Lloyd Ruby co-drove GT/103 to the overall win.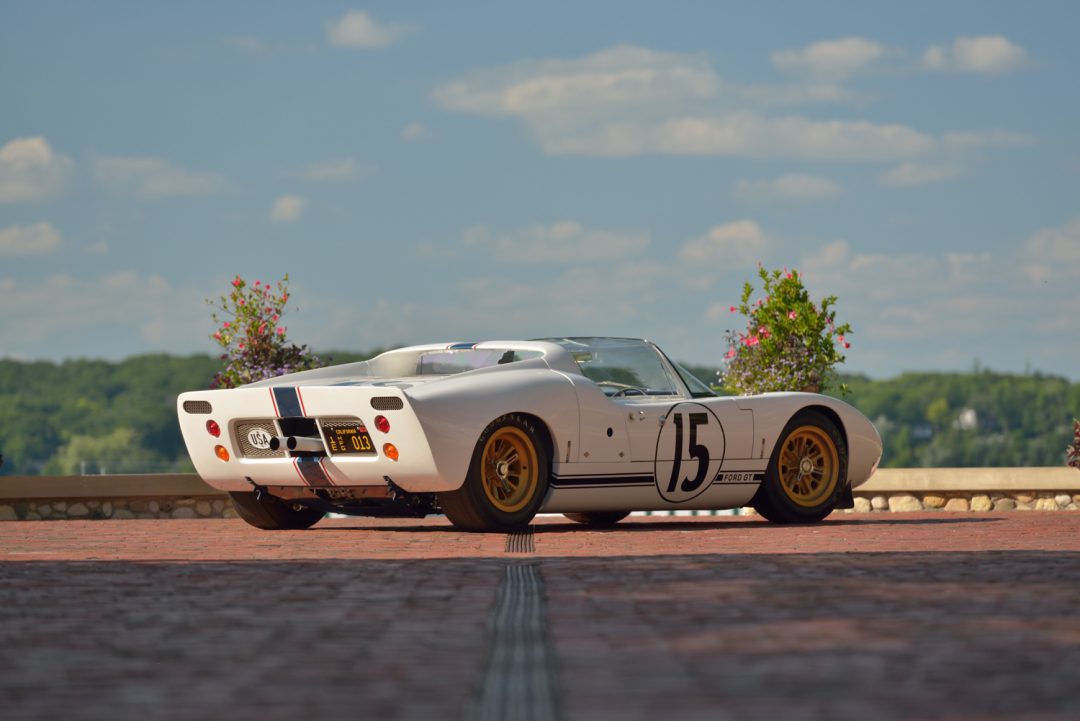 If the Miles and Ruby win at Daytona proved the GT's vast potential, it also reaffirmed Shelby American's already renowned reputation for thorough development and preparation, both of which came into play when Ford ordered the first two of five GT Prototype Competition Roadsters for testing and evaluation, numbered GT/108 and GT/109. The latter arrived at FAV in bare-chassis form in October 1964; documentation indicates GT/109 was a special-order chassis, as indicated by the following notation in the FAV status report of October 1, 1964: "Dearborn Experimental Car With 3" longer chassis-Not Now Required." In addition, while GT/108 and GT/109 appeared virtually identical, closer study revealed GT/109's removable rollover section.
The Ford Total Performance Program's dual purpose was fully realized when GT/108 was utilized for road use and GT/109 was supplied to Shelby in March 1965 for use by Ford of France in the 24 Hours of Le Mans. Shelby American Work Order No. 15116 was opened on May 19 to "perform necessary repairs and mods to GT/109." Completed on June 9, GT/109 shared many of the modifications performed to the Daytona-winning Miles and Ruby car, including Halibrand magnesium wheels in place of the factory-installed Borrani wire wheels, front corner air dams and a Cobra-spec 289 CI engine connected to a ZF 5-speed gearbox.
Additional race modifications to the GT/109 included the first use of side-mounted engine oil radiators, the addition of rear-body exit vents to relieve pressure that tended to build up under the rear-wheel arches, a higher rear-end spoiler to balance out the front splitters, four quick-release removable Dzus fasteners, center-section electric fuel pumps, a water radiator expansion tank and a center-section rollover cover that gave easy access to ancillary engine systems. The removable rollover section and other changes meant that GT/109 was race ready without the need for further modifications.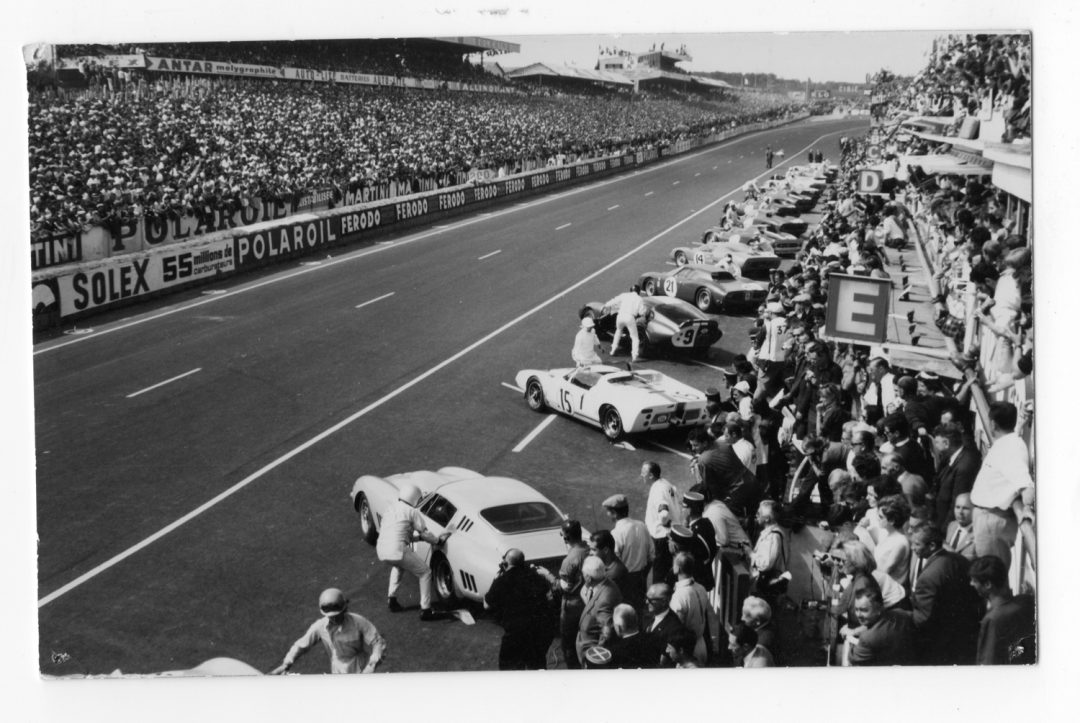 Preparations for the 1965 Le Mans race were pressing for the Ford team. Upon arrival in France, the car's number was changed from 9 to 15, and testing was performed by Andre Simon and Jo Schlesser. GT/109 was finished in Ford of France's racing livery of white paint with a dark blue center stripe bordered in red.
It was driven in the Le Mans 24 Hours by French racing stars Trintignant, who had driven a Daytona Coupe for Shelby in the 1964 Tour de France, and Ligier, who would go on to race in Formula 1 for two years before becoming a long-time F1 constructor in 1968. GT/109 started the race with Trintignant behind the wheel, however, it dropped out on the 11th lap with a failed gearbox.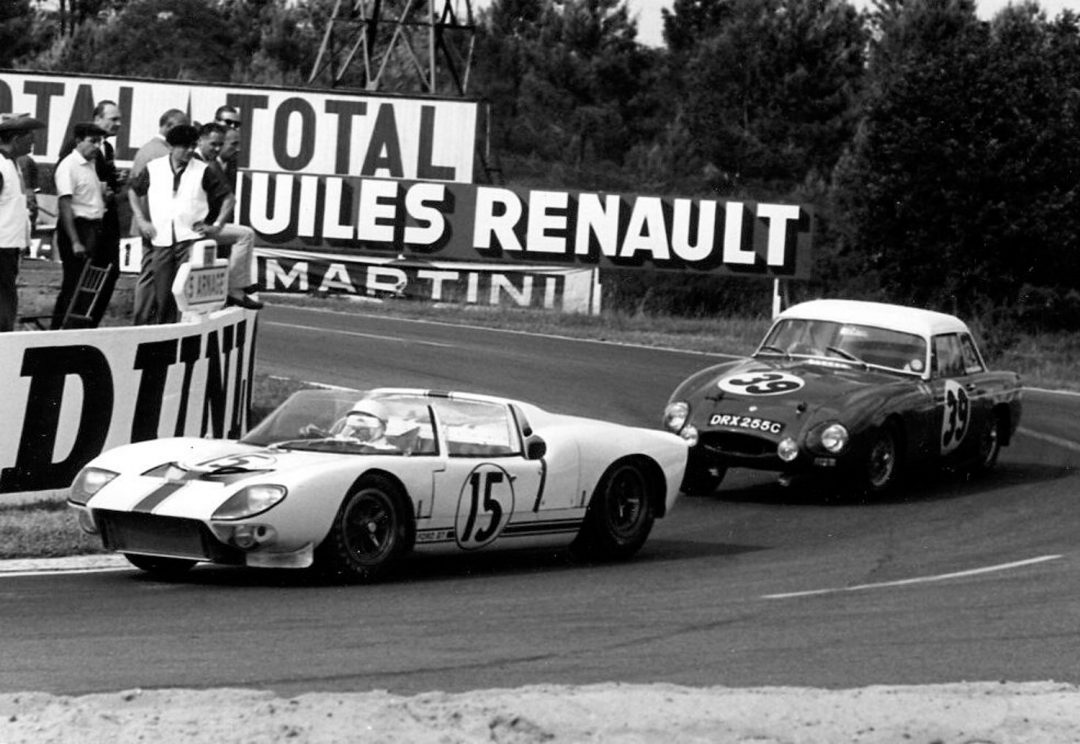 Following Le Mans, GT/109 was returned for service with Shelby American and Work Order No. 10059-2, dated June 28, was opened to "rebuild after Le Mans GT/109." GT/109 was then sent to Kar Kraft to be used as a development vehicle for the J-Car project, Kar Kraft's automatic transmission, Ford's Weber-carbureted 4-cam Indianapolis engine, brake systems and various other experimental parts and components. Utilizing the Shelby American race modifications that first appeared on GT/109—along with extensive engine upgrades—help explain why the subsequent aluminum-chassis GT/110 427 CI Roadster won the 12 Hours of Sebring, making it the only GT Roadster to conquer an FIA-sanctioned endurance race.
GT/109 was later returned to Shelby American, where it was rebuilt and then stored for approximately two years before being transferred to a Ford warehouse in Detroit. The car was discovered there in 1968 by Hollywood stuntman and California automotive customizer Dean Jeffries, while visiting Detroit with A.J. Foyt to meet with Ford Racing Director Jacques Passino. Seeing the car in the warehouse, Jeffries asked to purchase it, to which Passino replied, "No problem, you can have it. We're done with the GT Roadster program."
By the 1960s, Jeffries had built a great reputation in the young "go-fast" scene in Southern California. Jeffries was the man who painted "Little Bastard" on James Dean's 1955 Porsche 550 Spyder and he had built a strong relationship with Carroll Shelby working on the Cobra project. When Carroll Shelby built his first Cobra prototype, it was Jeffries who painted the car the night before it was presented to Ford executives for approval. After receiving a thumbs up from Ford, Carroll Shelby created the illusion that production was underway by asking Jeffries to repaint CSX2000 multiple times for the different magazine road tests so the media would think Carroll Shelby had built more than one Cobra.
In a November 1997 "Autoweek" interview, Jeffries recounted his GT discovery, describing GT/109 when he found it. Jeffries set about a prolonged restoration, briefly installing a 4-cam Indy engine before changing course and using a Shelby-built 289 CI racing engine given to him by Carroll Shelby, who stated, "We used this engine at Le Mans in #109."
Twenty years after Armour Productions of Palm Desert, California, featured the car under restoration in a 1983 video titled "Ford GT," it was displayed at Ford's "100 Years of Racing History Celebration" at the Monterey Historics in August 2003.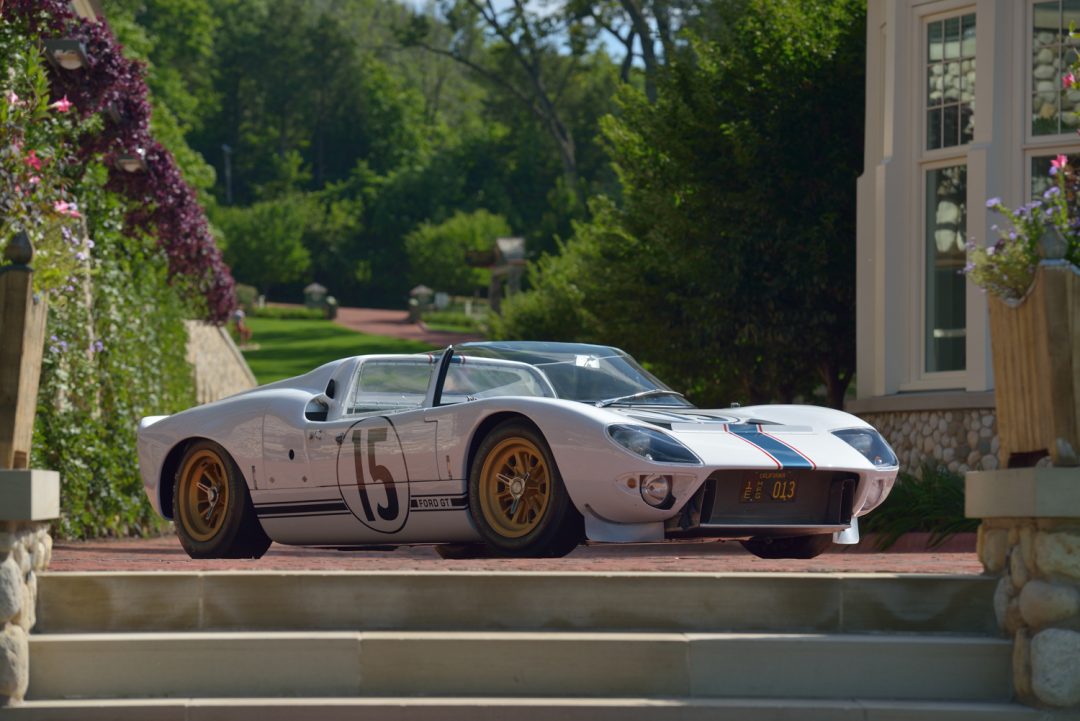 The ownership history of GT/109 includes a mere three private owners since new. After racing at Le Mans, the car was owned by Ford/Carroll Shelby. In 1968, it was purchased by Dean Jefferies, with whom it remained until his passing. Dana Mecum purchased GT/109 from Jeffries' son in 2013 and commissioned Harley Cluxton III of GTC Mirage Racing to perform a concours-quality restoration to its original configuration incorporating the correct bodywork, including the front clip with its early air intake design.
The original Shelby-supplied Hi-Po 289 CI racing engine was rebuilt, dyno tested and installed by Brian Duffee. The engine sports a Ford/Shelby experimental intake manifold and 4×48 IDA "Made in Italy" Weber carburetors as fitted with Shelby-supplied "Bundle of Snakes" exhaust utilized on the GT/109 during testing. Other period-correct components on this GT Competition Prototype Roadster include a rebuilt 1965 ZF 5DS-25/0 transaxle, SEV Marchal Headlights over Cobra Daytona Coupe Cessna landing/driving lights and Halibrand magnesium wheels mounted with 1965 NOS stickered 550/15 and 700/15 Goodyear Sport Car Special Blue Streak tires. Interestingly, this car is one of three known to exist with NOS Ford GT Trico wiper blades and also features Carroll Shelby's signature "On/Off" brake-light switch that is original to GT/109.
At the 2016 Pebble Beach Concours d'Elegance. GT/109 took home Second in Class, second only to the 1966 Le Mans winner that was driven by Bruce McLaren and Chris Amon. One week later, GT/109 won Best of Show at the Milwaukee Concours d'Elegance.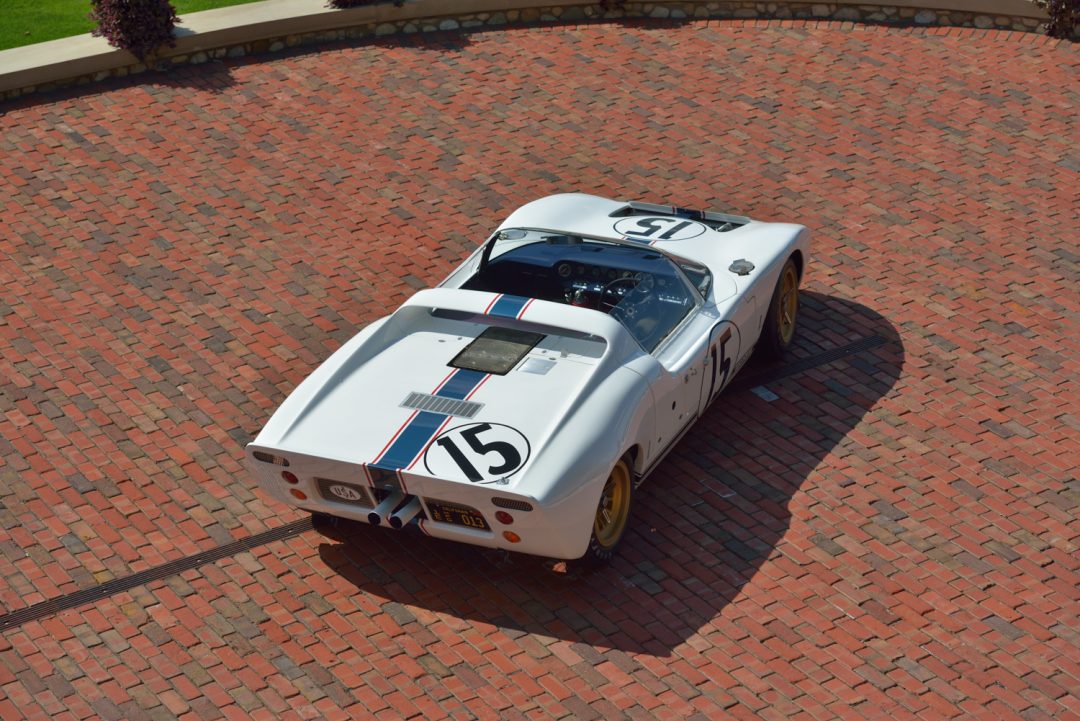 One of two surviving Ford GT Competition Prototype Roadsters and the only one to have raced at Le Mans, GT/109's key accomplishments were the blueprint for Ford's domination of Ferrari on the world's stage, which established Ford as the first international racing dynasty of any American manufacturer. The Ford GT (pre-GT40) was not only Ford's first international sports car, it is considered by most to be the world's first supercar.
GT/109 will be offered for sale (along with its later Ford 4-Cam Indy ) at Mecum Auctions' January 3–13, 2019 Kissimmee sale, For more information visit www.mecum.com