The RM group of companies — RM Sotheby's and Auctions America — will offer select automobiles from the Riverside International Automotive Museum (RIAM). The group of 49 vehicles offered from the So-Cal museum collection will be divided between Auctions America's upcoming Santa Monica sale, June 25-26, 2016 and RM Sotheby's Monterey event, August 19-20, 2016, both in California.
Founded by racing enthusiasts Ray and Doug Magnon in 2006, the Riverside International Automotive Museum is the result of the passion and appreciation of the father-son team, dedicated to preserving and displaying the rich history of California's motor sports heritage.In addition, tying to the family's Italian roots, the museum features one of the largest and most comprehensive collections of Maserati road cars in the United States, including an example of every Maserati model that has been made available in the U.S. since 1951. To house their growing collection, the family built a 20,000-square foot facility in Riverside, California in 2006, opening the museum to the public in December 2007.
Following Doug Magnon's passing in 2015, select vehicles from the museum will be offered at auction this summer, providing opportunity for other passionate enthusiasts to enjoy the cars, just as Doug did, and to continue his legacy for preserving and celebrating automotive history.
"It's an absolute privilege to be involved with the sale of such an important collection as the Riverside International Automotive Museum," said David Swig, Car Specialist, RM group of companies. "The collection is truly representative of the genuine enthusiasm of the Magnon family, specifically Ray and Doug, for the Maserati marque and AAR Eagle Indy cars in particular. When it comes to the Maseratis, it's unprecedented to have the opportunity to offer such a complete 'library' collection, and certainly an occasion we expect will command the attention of Maserati enthusiasts worldwide. Additionally, the significance of the series of Gurney Eagles to Indy racing and the history of American racing car construction cannot be overstated. We're honored to have this opportunity to pay tribute the passion of Ray and Doug Magnon, and to share their legacy with the global collector community."
Philip Yanni, board member for the Riverside International Automotive Museum, added, "Doug was well-known and respected in the Maserati community, and his passion for Italian cars was renowned. He was passionate about Maserati and Eagle race cars in particular, and his collection reflects that. His cars didn't collect dust – he actively drove them, raced them, and enjoyed them."
Auctions America will present 34 vehicles from RIAM as a featured highlight at its upcoming Santa Monica sale, June 25-26. The group, which will be offered entirely without reserve, comprises a series of American and European racers and sports cars from the 1950s through early 2000s. Of particular note is a group of 14 Maseratis, which run the gamut from a 1967 Maserati Mistral Coupe (Est. $110,000 – 140,000) following through to successor models such as the Indy and Merak, as well as late-model collectibles including a 2005 Maserati Spyder 90th Anniversary Cambiocorsa (Est. $35,000 – $40,000), and a 2006 Maserati Gran Sport Victory Cambiocorsa (Est. $55,000 – $75,000).
Additional highlights slated for the Auctions America podium include:
2008 Alfa Romeo 8C Competizione, showing 3,300 miles (Est. $250,000 – $300,000);
2006 Ford GT, finished in metallic grey with stripes and sporting only 1,900 miles from new (Est. $250,000 – $300,000);
1994 Jaguar XJ 220, a substantially original example of Britain's most iconic supercar (Est. $225,000 – $275,000); and,
Series of Ferraris, including a very original 1977 308 GTB (Est. $80,000 – $100,000), through to a 2001 360 F1 Spider (Est. $70,000 – $90,000); and a 2007 F430 F1 Spider (Est. $90,000 – $120,000).
Held June 25-26 at the Barker Hangar in Santa Monica, the RIAM cars will join a docket of 300 automobiles and select automobilia at Auctions America's Southern California sale. A complete list of offerings from the RIAM collection is available here.
RM Sotheby's will also support the sale of the RIAM Collection, presenting 15 vehicles from the museum at its 2016 Monterey sale, August 19-20 during the Pebble Beach Concours d'Elegance week. The offering is again highlighted by a group of Maseratis — 11 in total, spanning 54 years of production — which range from an example of the marque's first true production car, a 1951 Maserati A6G/2000 Coupe bodied by Pinin Farina, through to a 2005 Maserati MC12, one of the most significant modern Italian supercars.
Produced from 1946 to 1957, only 139 A6s were built, of which 60 were A6G/2000 examples fitted with the twin-cam 2-litre engine, and 16 bodied by Pinin Farina. Under Mr. Magnon's ownership, this coachbuilt Maserati was restored to original specifications for the marque's 100th anniversary celebrations at the 2014 Pebble Beach Concours (Est. $400,000 – $500,000). The Maserati MC12 is offered out of single-ownership with the Magnon family since new, showing 6,200 kilometers (Est. $1,250,000 – $1,500,000).
Also included on RM's Monterey docket is a 1965 Maserati Mistral Spider, one of approximately 120 built and accompanied by a rare factory hardtop (Est. $400,000 – $500,000), alongside the 1975 Maserati Khamsin, previously featured on Jay Leno's Garage (Est. $100,000 – $140,000), and an all-original 1971 Maserati Quattroporte Prototipo by Frua, one of two built, this one for the King of Spain (Est. $175,000 – $225,000).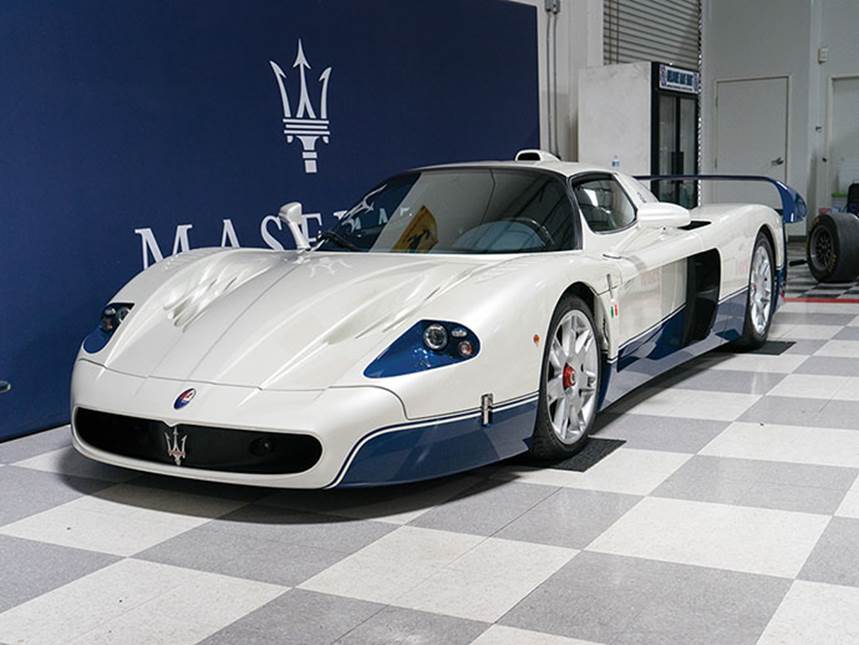 Other highlights set for RM's 2016 Monterey podium include a selection of Dan Gurney's AAR Eagle racing cars, led by the 1966 AAR Eagle Indianapolis #31, Dan Gurney's personal 1966 Indy car (Est. $600,000 – $800,000). Following in this car's lineage is the turbocharged 1969 AAR Eagle Santa Ana Indianapolis #42, driven by Formula One World Champion Denny Hulme at the 1969 Indianapolis 500 (Est. $175,000 – $225,000).
A complete list of cars to be offered from the RIAM Collection at RM Sotheby's Monterey auction will be posted at rmsothebys.com in the coming days.
For further information on the sale of select vehicles from the Riverside International Automotive Museum Collection, along with details on Auctions America's upcoming Santa Monica auction and RM Sotheby's Monterey sale, call toll free at 888.990.3910 (or +1 310 559 4575 outside of North America).
[Source: RM Sotheby's; photos: Karissa Hosek]